Best 5 Free Partition Recovery Software 2022
Want to find free partition recovery software? This post offers the best five partition recovery tools. We've analyzed the pros and cons of each program and compared their price, scan speed, interface, required skill level, and supported file systems. In conclusion, WorkinTool Data Recovery is high-recommended for its completely free price, versatile usage scenarios, and outstanding performance.
1. Free without hidden costs or ads
2. Quick scan modes
3. Multiple storage devices and file types supported
4. Easy to use without technical skills required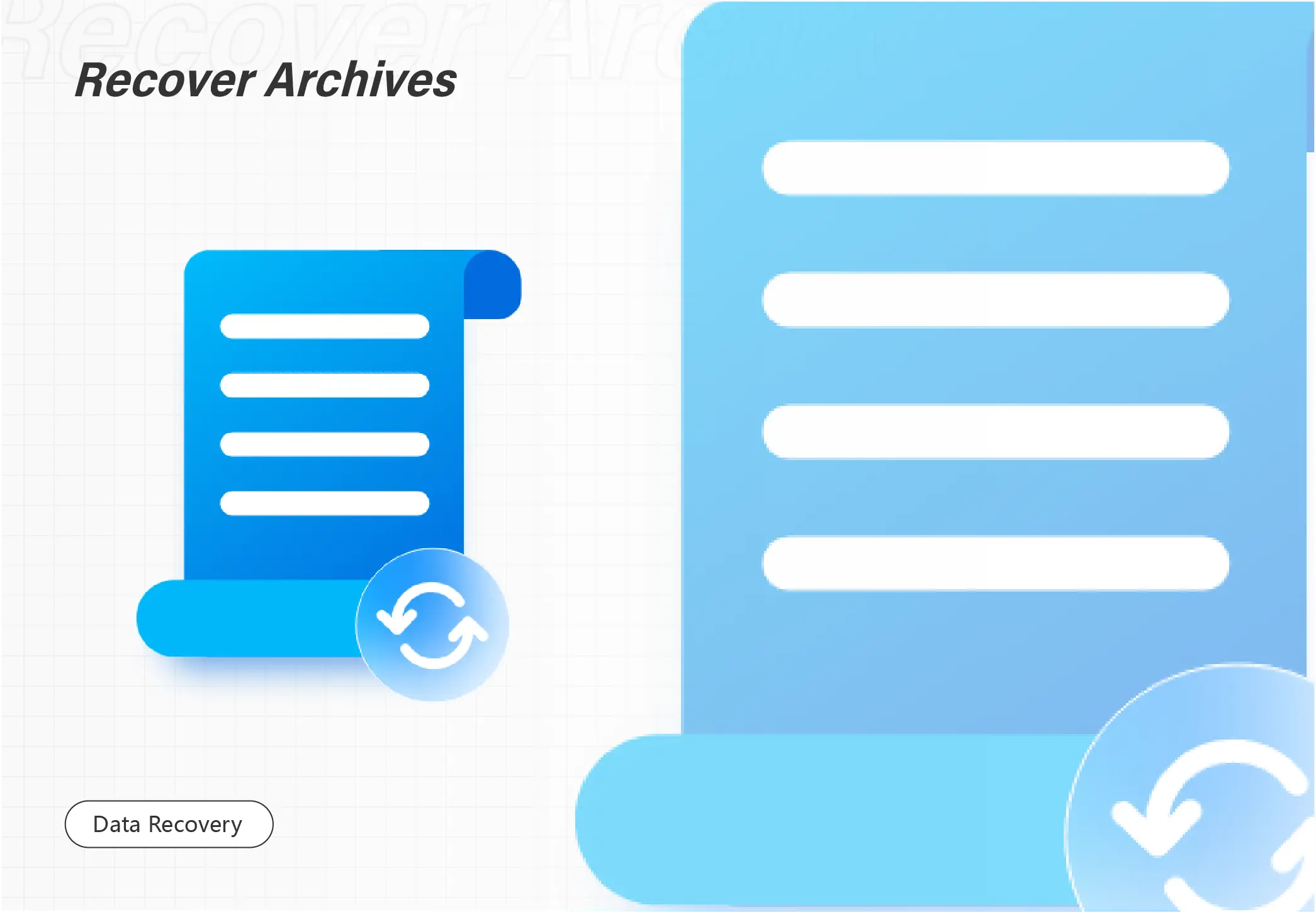 Best 5 Free Partition Recovery Software 2022
Your computer partitions may accidentally get lost or deleted for various reasons, such as unexpected power failure, malicious software attacks, virus infection, mistaken deletion, and more. If you didn't back up disk data, you need to resort to partition recovery software to get the lost or deleted data in partitions back. There are so many partition recovery tools on the market. So selecting one truly free partition recovery software might be a little challenging.
Don't worry! Here is the best five partition recovery software in 2022. We've introduced each tool's primary features and listed its pros and cons. At the end of the post, there is a comparison sheet showing their performance, price, and all other things you may care about. Read on to learn more!
---
5 Best Free Partition Recovery Software 2022
WorkinTool Data Recovery
Minitool Partition Wizard
EaseUS Partition Recovery
DiskInternals Partition Recovery
Disk Drill
After our research and evaluation, we've summarized the above five partition recovery software you can use for free. And you can pick the one that suits you most after reading the following software details.
1. WorkinTool Data Recovery
WorkinTool Data Recovery is a truly free partition recovery software on Windows 10/11/8/7. It has and only has one version right now. Its fully free version sets no restrictions on data recovery and recovery size limits. Data from different file systems like FAT16, FAT32, ex-FAT, and NTFS are retrievable. It can read both bootable and unbootable disk partitions, so you can even find unknown partitions when the partition name is unclear.
Except for disk partition recovery, WorkinTool data recovery software is applicable in multiple scenarios, including formatted recovery, deletion recovery, USB/memory card recovery, and so on. Recovering data from lost, deleted, and inaccessible disk partitions requires no technical skills with it. Users can get their videos, photos, audio files, office documents, archives, and all other types of files back in seconds through its quick or deep scan.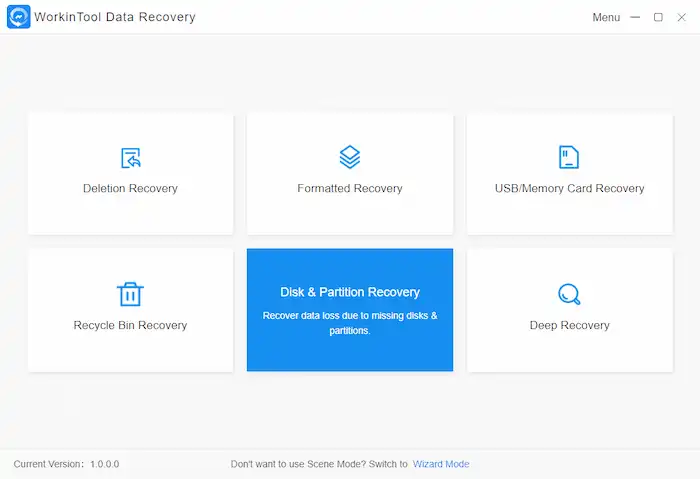 🌕Pros:
A long-term free version without registration requirements or other limits
Able to recover versatile file types from lost, deleted, and inaccessible partitions
A straightforward interface with easy operation steps with no technical skills required
Two-level scan modes, quick & effective
Applicable in many scenarios except for disk partition recovery
🌑Cons:
Windows only
No preview feature
2. MiniTool Partition Wizard
MiniTool Partition Wizard is a one-stop data recovery solution that provides users with data recovery, partition recovery, data backup, disk benchmark, space analyzer, disk copy tool, and partition migration tool. This partition management program for hard drives is applicable to Windows systems.
With its partition recovery feature, you can locate and recover lost and deleted partitions due to virus and malicious software attacks, computer updates, absent-minded deletion, and more. It offers two scan modes, full or quick scan, and allows you to set the scanning range as an entire disk or specified sectors.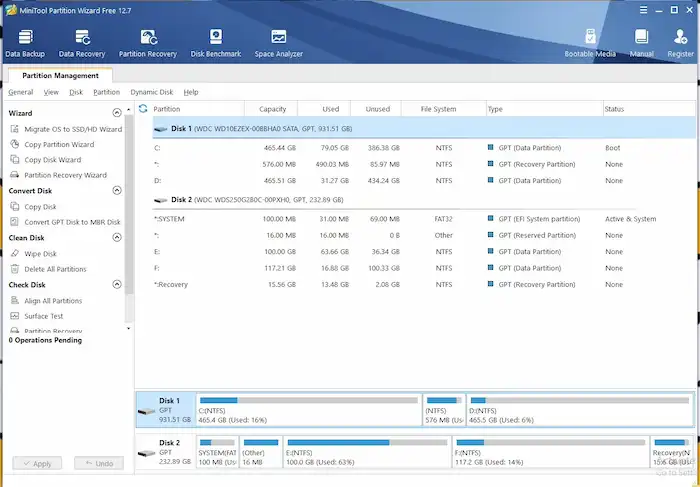 🌕Pros:
Easy to use, without special skills
A one-stop and professional partition management tool
Data backup tool available
Two-level scan modes, quick & effective
🌑Cons:
Windows only
In-program ads
No free partition recovery space for the free version
3. EaseUS Partition Recovery
EaseUS Partition Recovery is a safe and efficient server to restore lost and deleted partitions. This partition recovery tool offers to protect your data from accidental loss. It can search all sectors of a disk in seconds. With intuitive and simple operations, you can restore FAT, NTFS, and Ext2/3 partitions under Windows systems. Anyone, even a computer novice, can efficiently perform complete data protection.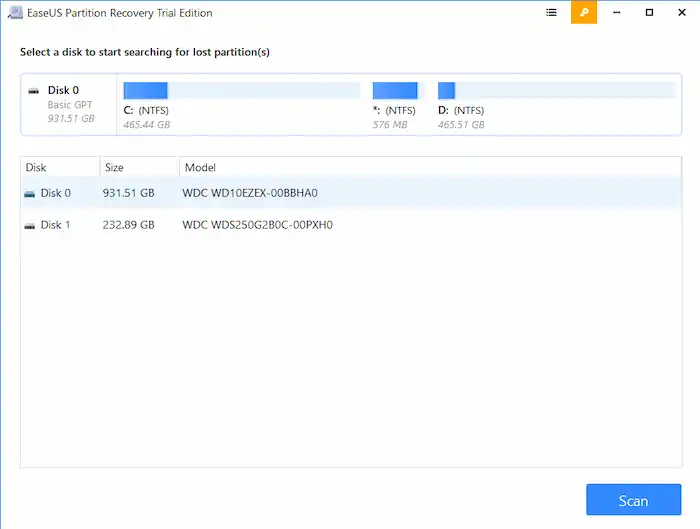 🌕Pros:
Easy to use, without IT experience required
Quick scanning speed
Multiple file systems are supported.
🌑Cons:
Windows only
Not truly free.
You can't customize the scanning range of a disk.
4. DiskInternals Partition Recovery
DiskInternal Partition Recovery is one of the best partition recovery software on the market. It is attainable on both Windows and Mac computers. It offers three modes when restoring a lost or deleted disk: Full recovery, Fast recovery, and Reader. You can apply the Reader mode to access unreadable disks and restore your data. Both ordinary and professional users can use this magic wand to retrieve data from multiple storage media.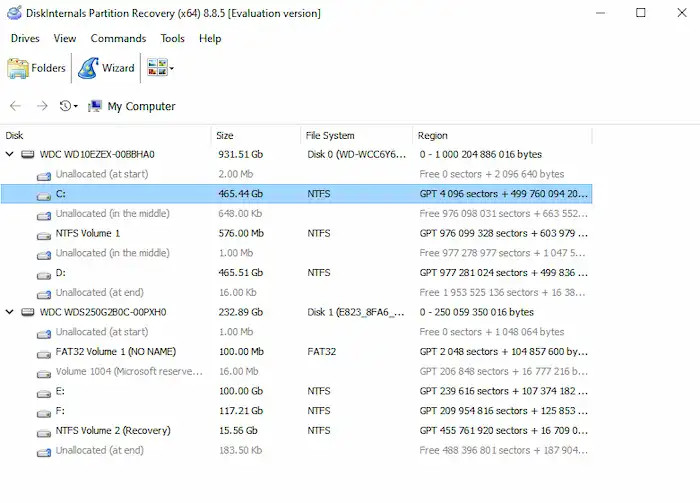 🌕Pros:
Multiple file systems are readable.
Able to scan lost, deleted, formatted, and inaccessible partitions
Applicable on both Windows and Mac
🌑Cons:
Outdated interface
Limited usage with a free version
Moderately slow scanning speed
5. Disk Drill
Disk Drill is also an effective data recovery software. It can recover any file on Windows and Mac, including office documents, videos, photos, audio files, and even messages. This free partition recovery software can restore files from multiple storage devices like computer disks, HDDs, SSD, USBs, cameras, etc. It also offers a data protection feature, Recovery Vault, to substantially increase data recovery chances in case of accidental file loss.
Disk Drill offers quick and deep scans that enable you to effectively get back lost or deleted partitions. It also provides users with drive backups for better data protection.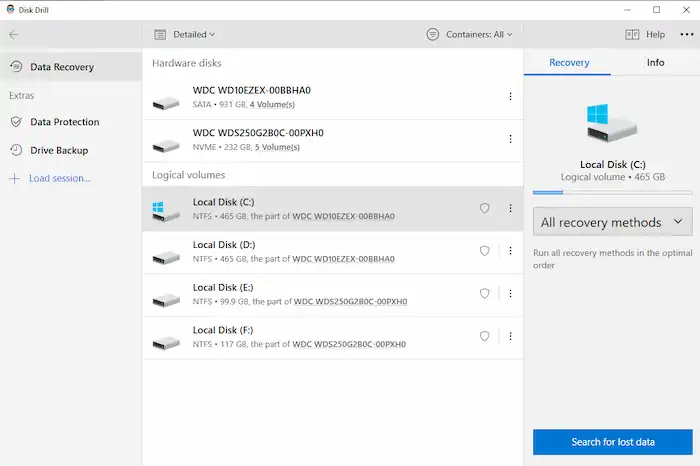 🌕Pros:
Easy to use with a straightforward interface
No professional skills required
Data backup is supported.
Applicable on both Windows and Mac
🌑Cons:
Only 500 MB for free partition recovery
---
Comparison of the 5 Free Partition Recovery Software

---
Why Do You Need Partition Recovery Software?
Partitions are separately created regions of a computer hard disk. A newly installed hard disk is usually divided into several partitions, making it easier and more convenient to manage each region. Users can store data and files in different partitions according to their tastes.
But if a partition you've created accidentally gets lost or deleted, it is not easy to find the original path of the lost data in computer hard drives. In this situation, you may need to download the partition recovery software to restore accidental loss and backup files. up.
---
The Bottom Line
There is the best free partition recovery software available to pick from. You can select one that best meets your demands and need. We sincerely recommend WorkinTool Data Recovery because it is effective, efficient, and, most importantly, free without any charges and ads. This software can restore any file type from any storage device. It can recognize both bootable and unbootable partitions. Why not download it for free and give it a simple click?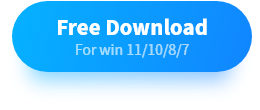 Products Reviews:
TrustScore
4
|
323
reviews