How to Recover Formatted Partition on Windows 10 for Free
Files on formatted disk partitions and external hard drives don't permanently disappear unless new data overwrites them. The sooner you take measures, the higher the recovery rate. This blog provides two free options that enable both normal users and computer experts to recover formatted partition files on Windows 10. A professional partition recovery software is recommended for the highlights below.
😉 Completely free without any limitation.
😊 Simple to operate with an intuitive interface.
😄 Suitable for versatile file formats and storage devices.
😀 High recovery success rate.
😃 Deep scan with fast speed.
How to Recover Formatted Partition on Windows 10 for Free
Have you accidentally formatted a partition in your Windows computer with a huge data loss? Do you know how to recover files after formatting Windows 10? No worries! In this blog, you can get the most effective way to recover data from formatted partitions and hard drives.
Can Data Be Recovered after Formatting a Partition?
The short answer is—Yes! When a partition or hard drive is accidentally formatted, its data doesn't disappear permanently. Instead, the lost files become inaccessible from the partition. And the remaining data is invisible from devices. Users who have formatted their storage devices can recover these data unless it has been overwritten.
Therefore, if you want to rescue the lost data, immediately STOP USING the drive, find a practical way to restore it, and get the lost files back. You can get powerful formatted partition recovery software to assist you in recovering files after partition formatting.
📢Note: Formatted partition recovery is feasible only when you post a quick format. If you performed a full format on SSDs and HDDs, those deleted files are permanently gone and can't be retrieved in most cases.
---
How to Recover Formatted Partition Files on Windows 10?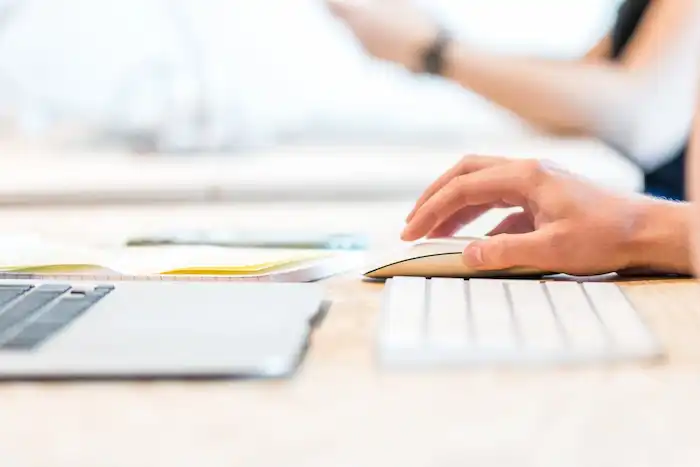 Many people don't habitually perform regular backups of data on the hard drive. Therefore, it is essential to know how to recover formatted partition files without backup. Take it easy! Free formatted partition recovery on Windows 10 is possible through partition recovery software like WorkinTool Data Recovery, which offers a free, reliable, and high-efficient way to restore data from formatted partitions.
Developed with advanced algorithms, WorkinTool Data Recovery can help you recover formatted hard drives and partitions for free on Windows 11/10/8/7. As a top-notch data recovery software, it has been assisting numerous users worldwide recover files after partition formatting.
How to Recover Formatted Partition Files with Free Software
Step 1. Get the partition recovery software
Click the button below to free download and install this data recovery tool. You can use all its features for free. It is the full version and the only version of this software.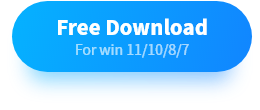 Step 2. Start scanning
Launch this software and hit Formatted Recovery on the home page. Then select a computer disk or an external drive (Ensure that you have linked the external drive to the computer) to scan.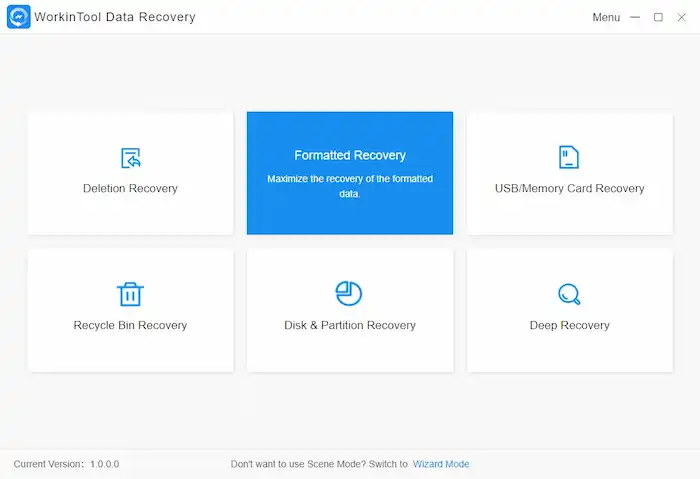 (The first five scan modes you can see from the picture will perform a quick scan. And the last option—Deep Recovery, scans deeper and takes longer. It can detect more files that the first five options can't reach. You can try normal scan mode first. If you fail to find the files you want, resort to the last one.)
Step 3. Recover your formatted files
On the scan result page, you will see three menus, File Type, File Directory, and Deleted Files. Go to the Deleted Files menu, hit the Select All button below, and press Recover to recover formatted partition files in seconds. (Or you can retrieve specific files using the Filter option, which looks for the formatted files by type, size, and deletion date.)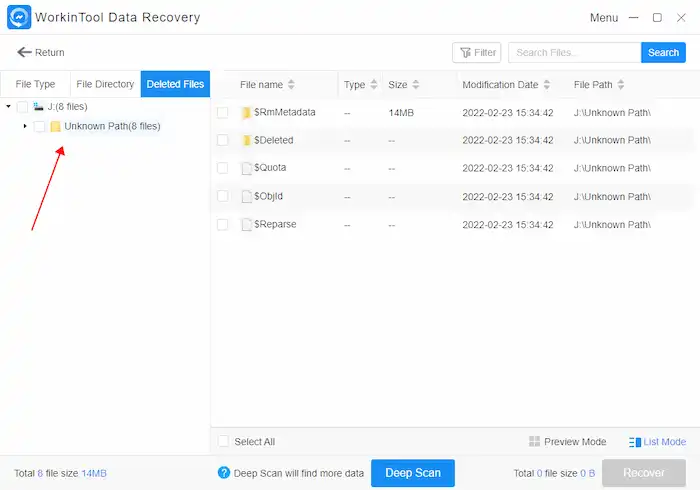 💎More Features💎
In addition to practical formatted partition recovery, this data recovery program also sparkles in terms of pricing, ease of use, recovery success rate, quick response, support of files and devices, etc.
101% FREE

: This free partition recovery software has no limitations, locked features, or paid ads.

Easy to use

: An intuitive and modern interface makes this tool suitable for users of any age and skill level.

Supported files and devices

: Hundreds of file formats, including videos, audio, pictures, documents, etc., and both internal and external storage media are supported.

Suitable scenarios

: It can recover formatted partitions, permanently deleted files, and corrupted files on various devices.

High success rate

: Advanced algorithm technologies promise users a high recovery rate.

Quick response

: Users can perform a quick or deep scan in seconds. The response speed is fast without lags.
How to Recover Data from Formatted Partition with CMD?
You can also use a command-line app—Windows File Recovery, to recover formatted partition files on your local disk. Here is how you can get started.
1. Download and install Windows Files Recovery from Microsoft Store.
2. Type Windows File Recovery in the Windows search field and open it.
3. Use the command in the following format to recover lost files: winfr source-drive: destination-drive: [/switches].
You can go to Microsoft's official website to learn how to recover lost files on Windows 10 from the extensive guide.
---
Common Reasons for Formatted Partitions
It is necessary to identify the reasons that cause partition formatting. If you don't want to lose important files again, consider the following situations to prevent future data loss.
🎆Accidental deletion

: It is a typical slip-up that can happen even to skilled users. Users may format a hard disk partition on a computer when they need to clean data on another hard drive.

🎇Bad sectors

: If your disk has too many bad sectors, your partition may become unrecognizable to the operating system.

✨Power changes

: Sudden power changes such as power outages or surges can lead to improper device shutdown and result in the inaccessibility of system files.

🎉OS reinstallation

: When you reinstall an operating system on a computer, the file system of a hard disk may change, thus leading to the formatting of a partition.

🔆Virus/malware attack

: Some malicious viruses and software will attack your computer and format hard disk partitions.

🎊Partition corruption

: You may need to format a disk partition to fix unknown errors.
You don't need to worry too much about the formatted partitions. As long as you proactively take instant measures with reliable partition recovery software, you can recover files from formatted partitions without great possibility.
---
Conclusion
The two formatted partition recovery methods, WorkinTool Data Recovery and Windows File Recovery, are free and convenient. Compared to Windows File Recovery, which needs more technical skills, WorkinTool Data Recovery is easier to operate. Users can recover files after partition formatting with free software without learning complicated commands and syntax. Therefore, WorkinTool Data Recovery is worth a try. Download and try this freeware to recover formatted partition files. You will not regret it!