How to Find Appdata Folder on Windows 10/11
To find the AppData folder on Windows, you can check File Explorer and make the folder unhidden. You can also use the cmd to launch the folder, just type in %AppData%. For accidentally deleted AppData folders, you can use WorkinTool Data Recovery to retrieve them. It is:
🧡 Recover deleted data for free within 500MB.
💛 Quick and deep scan the hard disk
💚 Easy to target the AppData Folder
💜 Recover all files with no limits
💙 High data recovery success rate
How to Find Appdata Folder on Windows 10/11
We inevitably need to install several applications on our computers for daily use. Therefore, the program always has numerous operating data saved on our device. Suppose you are a novice to the computer area; you may have a headache finding and organizing these AppData. Furthermore, things will get worse if you accidentally delete the crucial AppData. This guide will talk about how to find AppData folder on Windows 10/11 and recover the deleted AppData folder. Continue scanning to learn more about app data on a computer.
👀 What is the AppData Folder
Every PC has an AppData folder. It is hidden by default. The AppData folder contains custom settings and other information required for operating PC system programs. For the Windows system, the AppData folder is usually saved in C:\Users\<username>\AppData. Generally speaking, users need not cope with this AppData frequently. However, since AppData takes up a lot more storage space, you may accidentally delete it from your device. However, some data is indispensable. If you find that your app cannot run properly, it is very likely that you cleaned up some of its AppData. Check how to see the missing or hidden AppData folder below.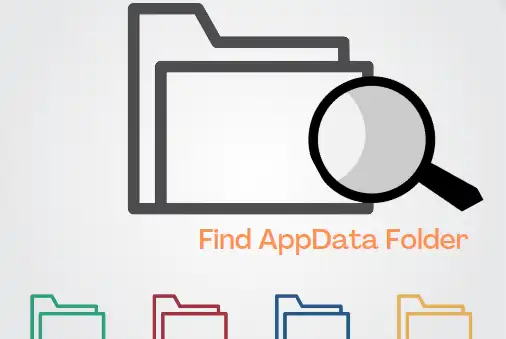 Where to Find AppData Folder on Windows10/11
Since the AppData Folder is hidden by default, sometimes you may wonder where is the AppData folder on the computer. Typically, there are two easy ways to find AppData Folder on Windows10/11. One is to make the hidden AppData folder appear. Another option is to use the cmd command to open the application data folder on the computer. Check it out in the following steps.
📌 How to Find AppData Folder in File Explorer
Step1.

Press Wins+ E to open File Explore on your computer. Then click Windows C> Users and select your username folder.

Step2.

Choose View on the top menu bar and pick Hidden items to check the AppData folder. If you need to unhide the AppData folder, click the folder and press Hide selected items on the toolbar to make it unhidden.
📌 How to Find AppData Folder with CMD
Step1.

Press Win+ R to launch the cmd and hit OK.

Step2.

 Type in %AppData% to check the AppData roaming. Then you can open the AppData folder directly.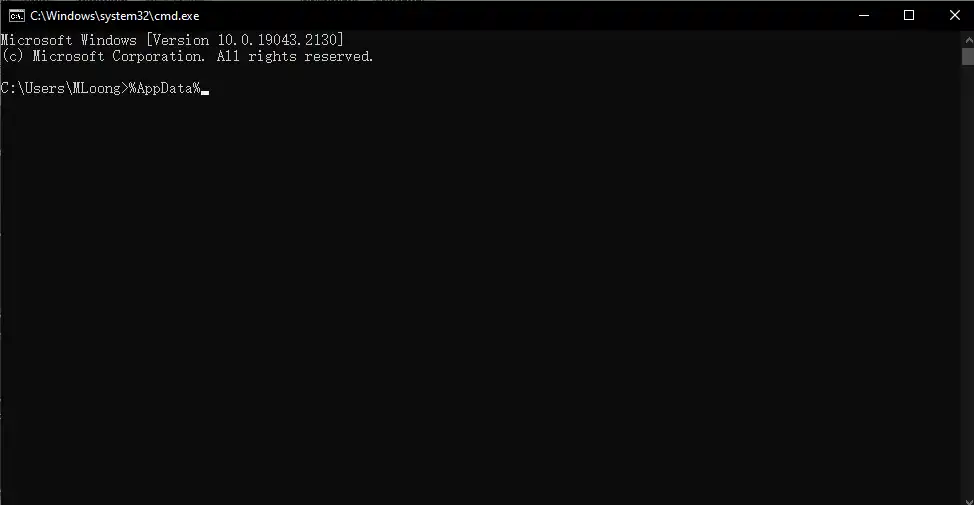 Reference: Lifewire solutions on finding AppData Folder.
How to Recover Deleted AppData Folder
The AppData folder usually contains profile data, such as chrome bookmarks, google chrome history, email programs, game data, etc. It is indeed a hassle that you lost this crucial data. Don't worry. With several data recovery methods, you don't have to reinstall the program to let it run properly. Those critical data can be recovered as well. See how to recover missing or deleted AppData folders in detail.
📌 Recover Deleted Appdata from Recycle Bin
In general, the recently removed files on your computer will be preserved in the Recycle Bin first time. However, if you are accustomed to cleaning the recycle bin regularly, the deleted files will be permanently removed from your PC. You'd better check it before you download data recovery software.
How to see the missing AppData folder in Recycle Bin and recover it:
Click on the Recycle Bin icon on your desktop. Search for AppData to check all the files. Right-click the target folder and click Restore to recover it.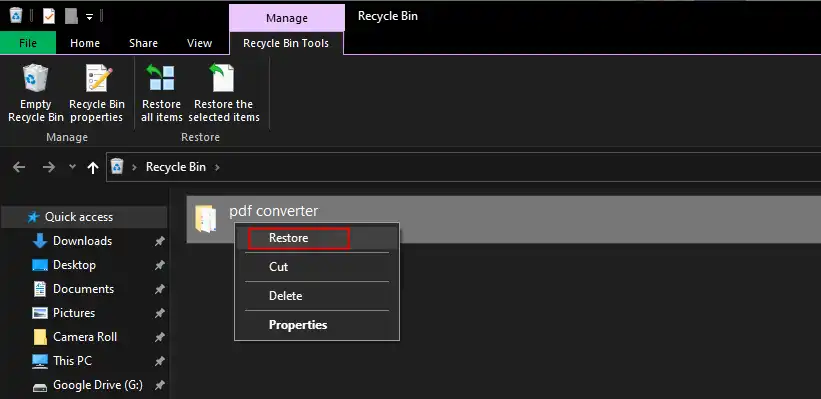 📌 Recover Deleted Appdata Folder with Data Recovery Software
Professional data recovery software is a good option for recovering the permanently deleted AppData folder. You can pick WorkinTool Data Recovery among various data recovery products. Using this WorkinTool data recovery software, within seconds, you can check all the deleted or lost AppData and retrieve them. It is effortless to use with an intuitive user interface. Moreover, it leads to a fabulous data recovery result. It supports restoring nearly all file formats from internal and external hard drives, like HDD, SSD, USB, SD card, memory card, digital camera card, etc. Also, the recovered files will maintain the original formatting and quality without corruption. The software is now available on the Windows system. You can free download it and recover all the critical AppData folders.

How to find and recover deleted AppData folder with WorkinTool Data Recovery
Step1. Open the Software and Scan Hard Drive 
Launch the WorkinTool Data Recovery software on your computer. Then hit Deletion Recovery on the dashboard. Then select the central hard drive to scan (the AppData is default saved in the C drive).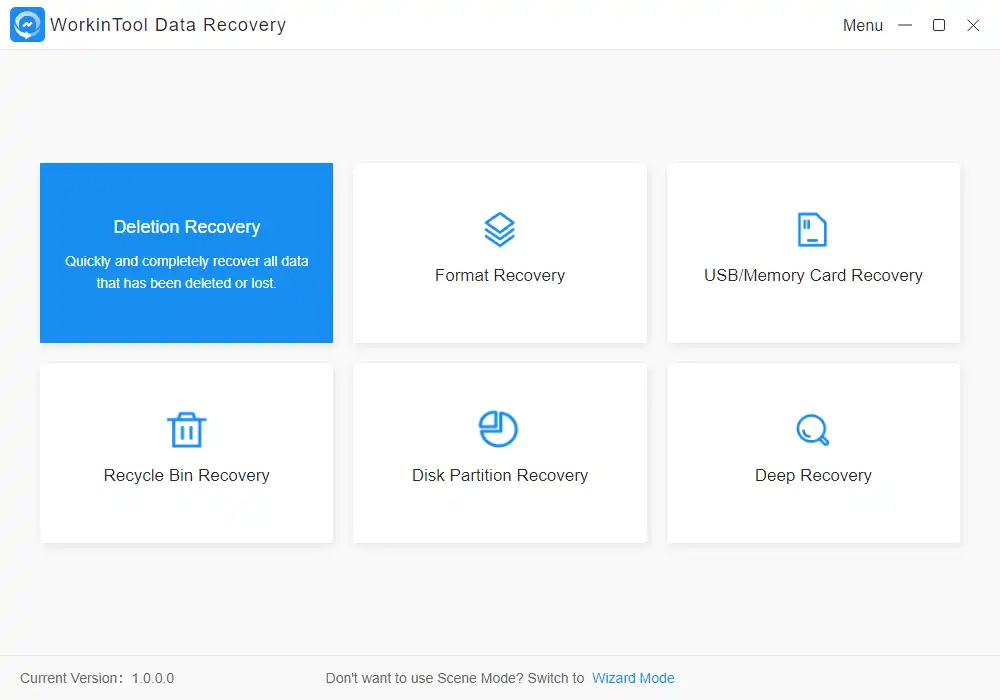 Step2. Find AppData Folder    
Click on Directory on the top menu bar and select Users> AppData to check all the program data. Then select the AppData folder you want to recover by referring to the folder name.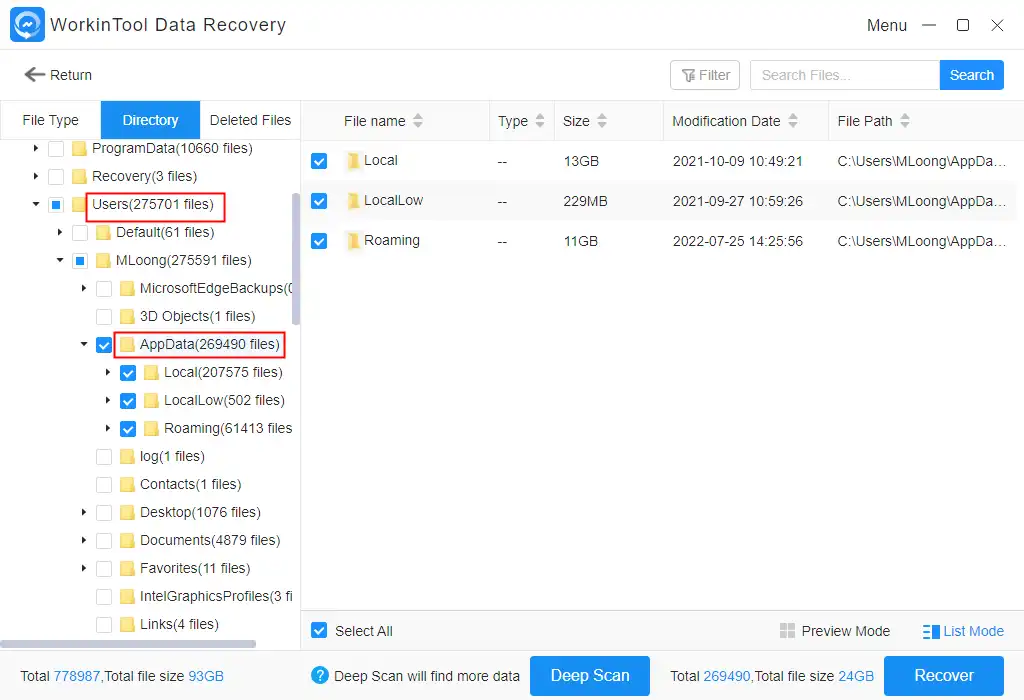 Step3. Recover the AppData 
Pick the target folder and press the Recover button. And choose a new local folder to save the recovered folder, then press Sure to start.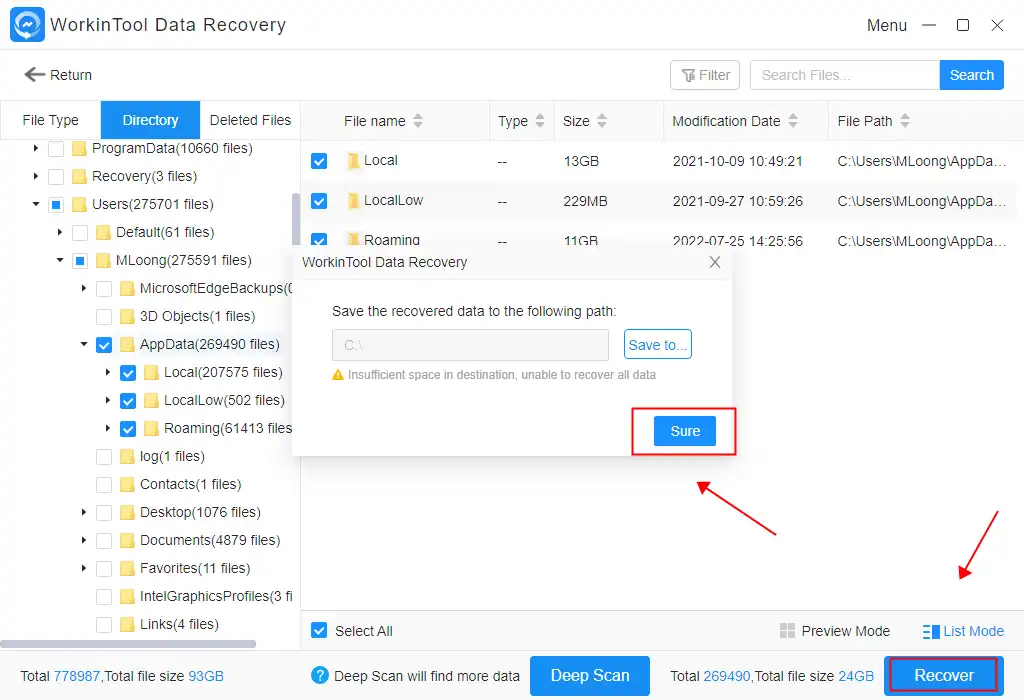 Other Tutorials for Data Recovery 
FAQs on AppData Folder
📍 Why is my AppData folder missing?
The Windows system hides the AppData folder by default. Therefore, you cannot directly check the AppData folder in File Explorer. To open the folder, you can make it unhidden. You can do that in File Explorer. Go to View> Hidden items. Click on Folder and press Hide selected items to set.
📍 How do I clean up the AppData?
Uninstalling programs cannot help you to clean up the AppData. To do so, Press Win  + I and click System > Storage> Temporary files> Remove files to clean it up.
📍 What happens if AppData is deleted?
Some data in the AppData folder is essential. Deleting it may cause you to lose critical files or make you unable to use the app properly. After that, you can check the recycle bin on Windows to restore the deleted App data. If not, install data recovery software to retrieve it.
Bottom Line
This post has elaborated on how to find the AppData folder on the Windows system, like Windows10 and 11. AppData folder always occupies space on the central disk. If you need to clean them up, you must notice not to delete crucial data in the folder. If you deleted them by mistake, WorkinTool Data Recovery is an excellent option to retrieve permanently removed app data.