How to Recover a Deleted Word Document on Windows
It is really a pain in the gut if you lose unfinished Word files and really need them at the same time. There are still ways to get those lost data back. We cover three methods to specifically recover deleted files due to sudden mistakes. They are divided into two ways to restore deleted files. For one, you can try WorkinTool Data Recovery Software to perfectly recover all data loss due to various situations like deletion, formatting, and virus attack. Download now to experience all the magic yourself to retrieve your previous data.
1. 100% FREE to use all the features without any limit.
2. User-friendly to users of all ages.
3. Quick scan and recover with high-quality output.
4. Cover all file types for recovery.
5. Available for all USB flash drives and disk partition recovery.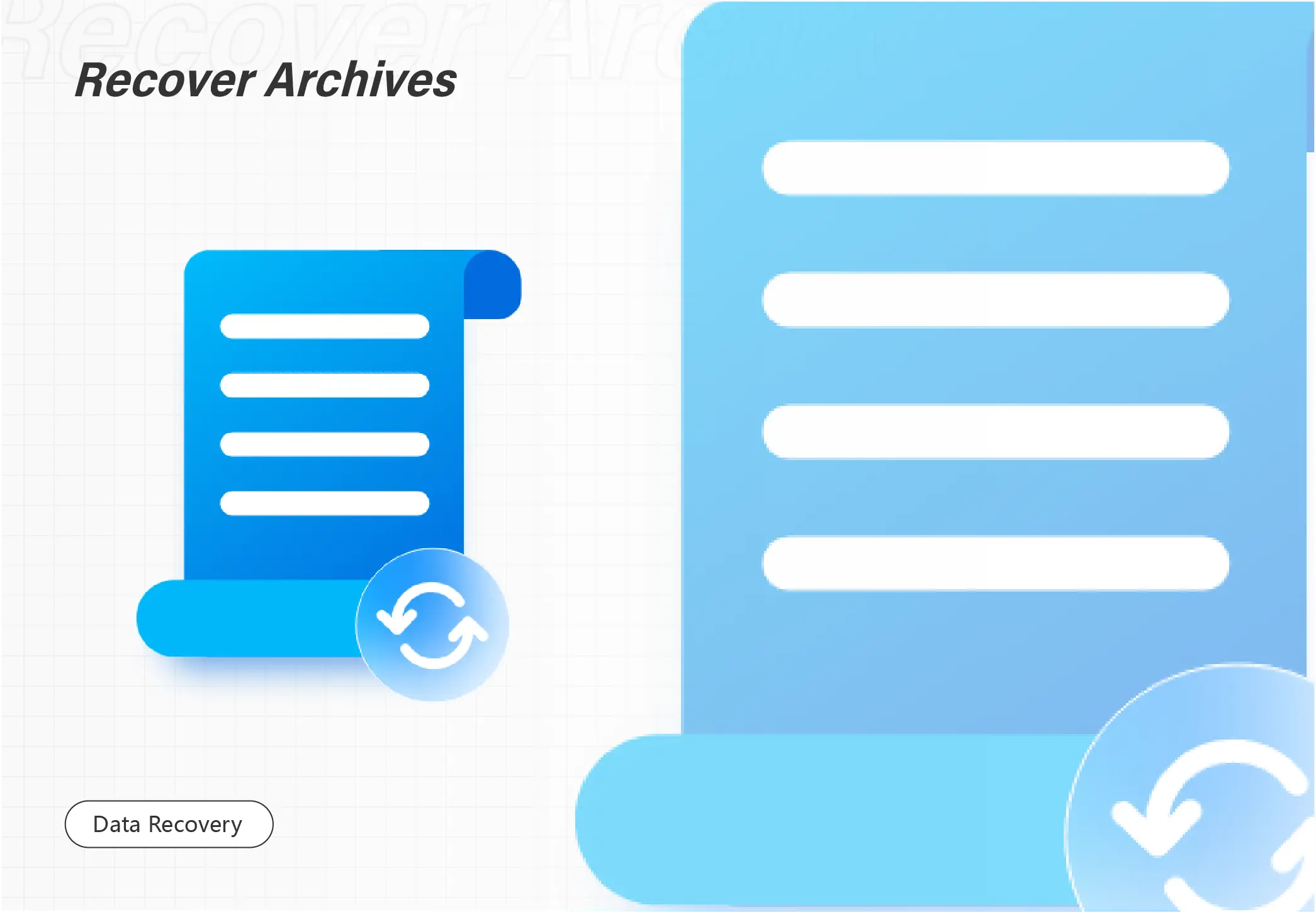 How to Recover a Deleted Word Document on Windows
Like many others who have experienced the dilemma of losing a Word document that requires a lot of time to finish, I personally feel the same panic of the work disappearing when there are only a few steps before completing. Whether you are an office worker, a school staff, a business owner, or a college student, it is almost inevitable for everyone to use Word to save data. Also, when that kind of bummer happens, it is unavoidable that finding a solution on how to recover a deleted Word document is way better than recreating this file from the beginning.
If you are reading this article for the same methods to retrieve your lost Word documents, you have come to the right spot. We will cover three different ways to deal with the problem due to various situations of data loss. For example, if you know you lost it in the Recycle Bin, check for our first approach to recover the file from the Recycle Bin. You can go directly to the guided title for the solution to restore your files and get back to work. However, if you don't know where to start, please try all three in order to get a suitable answer.
---
How to Recover a Word Document from Recycle Bin
If you find that something on your computer is missing, the first place you should look for is the Windows Recycle Bin (Trash for Mac). You can see it as a particular folder that temporarily saves all your deleted files. Before you manually empty it, those files will stay there for your next move. You can recover them quickly at this time. Now, let's see the steps for recovering deleted Word documents from the Recycle Bin: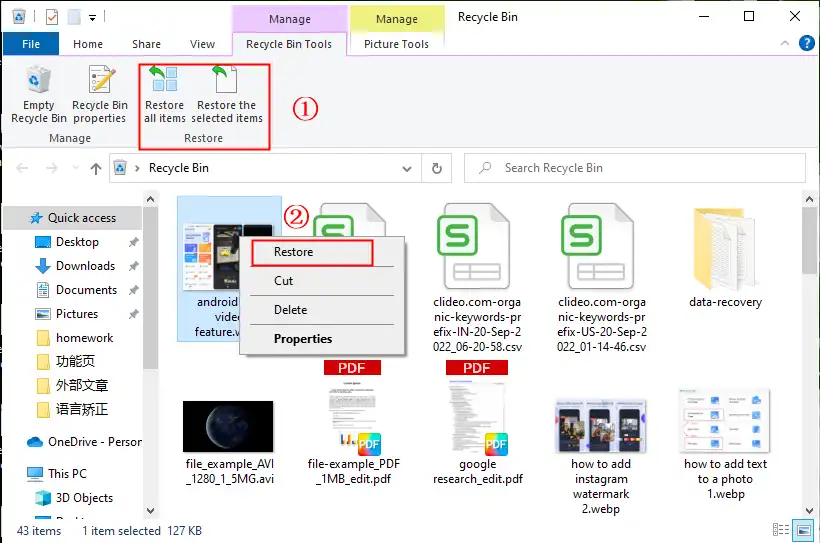 🔔 Notice:
This method is only available for files that are still in the Recycle Bin and have not been emptied. When you delete a file, the icon and marker are deleted. It will still exist in the exact location until the new data overwrites it. Until then, there are still chances for you to recover them.
---
How to Recover a Permanently Deleted Word File
If you cannot find the deleted Word files in the Recycle Bin, there is a high chance that your files have been removed already. But don't worry. If you cannot restore those files from the Recycle Bin, find other solutions to retrieve them. It's just that the methods can be a little bit more complicated, but as long as you can get your treasured documents back, there won't be any difficulty. Besides, the methods we offer are free and the most convenient.
Here we will present you with two ways to recover them. One is to use a third-party data recovery software to do that. This is for situations when you don't have any backups on your computer. The second one is to make a data recovery through the system backups. Let's take a look at it together.
WorkinTool Data Recovery
The first solution we recommend is to find data recovery software to do the job for you. If you have no idea when or why your files are missing, using recovery software can maximize your chances of getting them back. But how do you know which tool on the market really works for your condition? How can you find a device that is both free and easy to use for users with no experience? If you don't know which one to use, well, WorkinTool Data Recovery Software is definitely the first one you should try.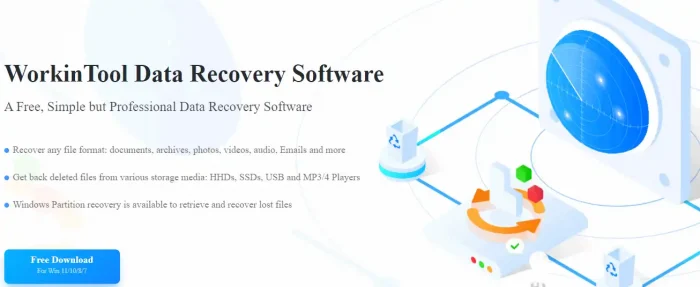 WorkinTool Data Recovery is an all-in-one professional tool for all kinds of situations that cause data loss, like deletion mistakes, partition formatting, virus attacks, and system breakdown. And it's not just the local computer's file loss that can be recovered. You can also use it to recover any lost data from USB flash drives at your fingertips. Besides, you can restore your deleted Word documents here. It also allows users to retrieve videos, audio, and emails and return deleted pictures. All you need to do is scan your computer and filter your desired ones to recover.
Of course, a good data recovery tool is not just about functionality. Simple-designed interface and user-friendly procedures are also considered in one of the criteria. Fortunately, it has to meet these needs. Whether you've used similar recovery software before, it can help you quickly and skillfully retrieve the files you need in a flash. Most of all that matters, users can use all those features without paying a penny, and there are no export restrictions. Come and try it.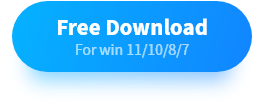 Steps to Recover your Permanently Deleted Word Files:
1. Launch WorkinTool Data Recovery and select Deletion Recovery. (If your Word Documents are lost in the flash drive, connect it to the computer, and click the third option: USB/Memory Card Recovery.)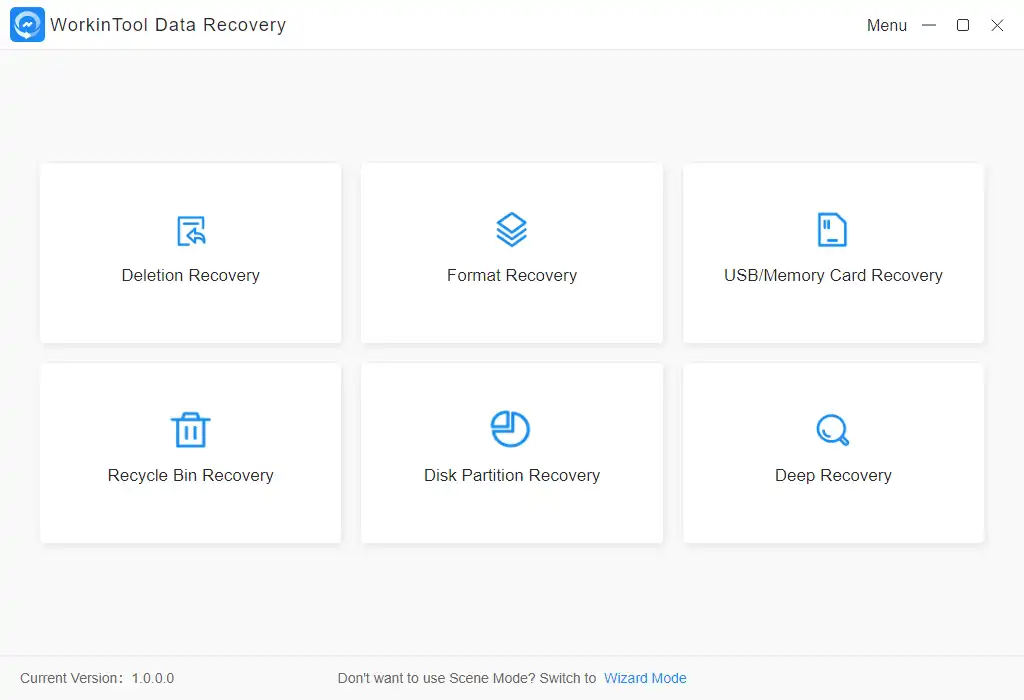 2. Locate the disk partition where you saved the Word file before, then click Scan Now.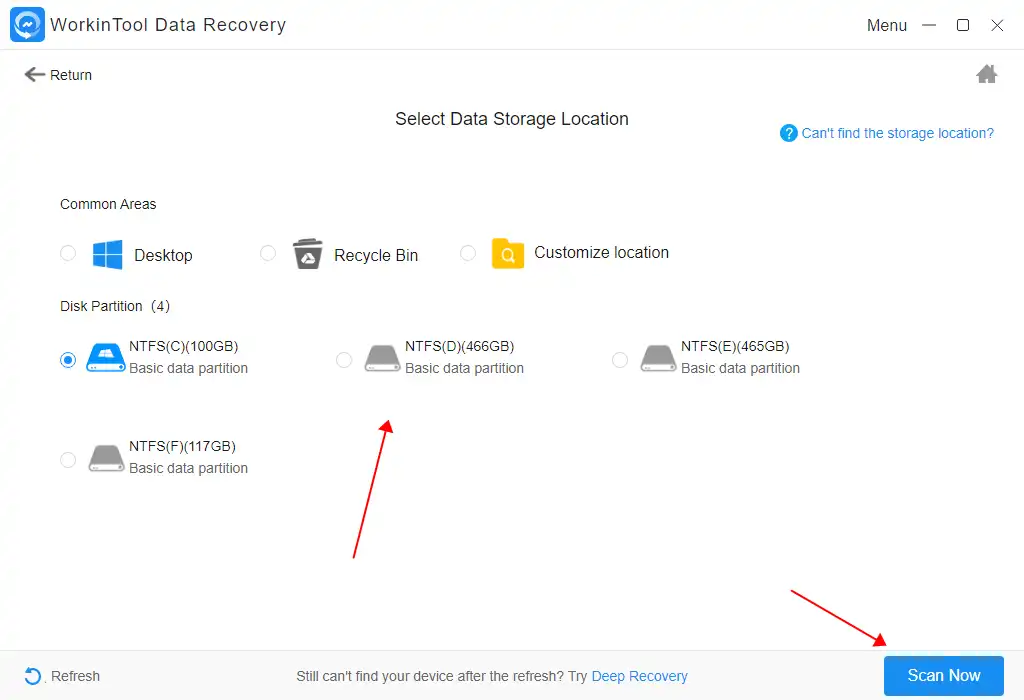 3. Select Files from the File Type menu and check the DOCX folder to find the desired Word documents.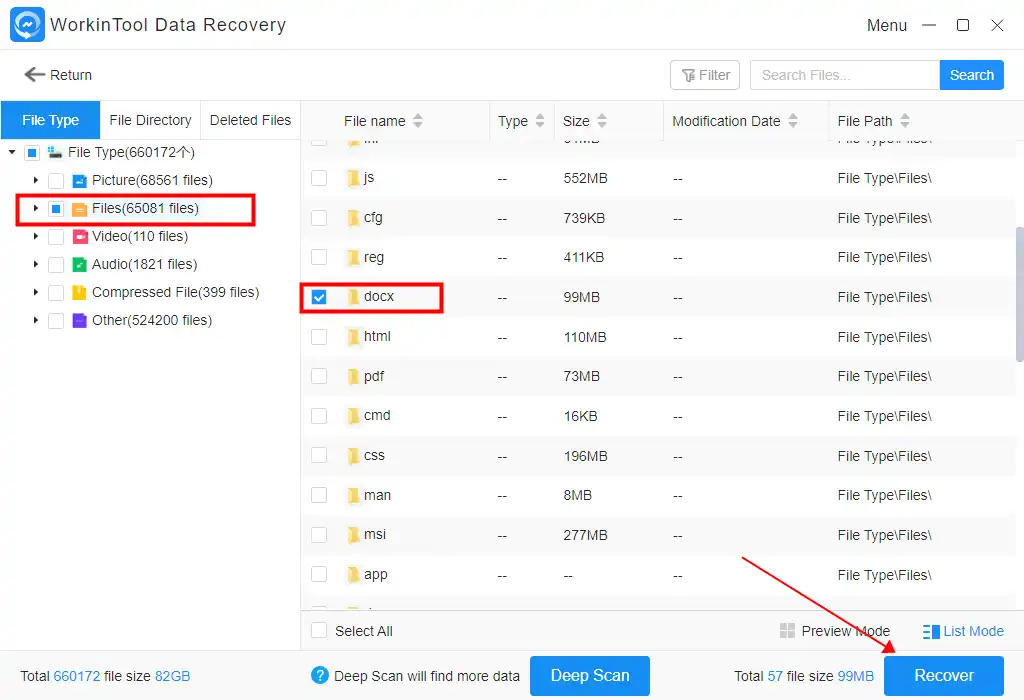 4. Finally, tap Recover and set your saving path. Then you can wait for the recovery result to come out.
📣 Notice:
Deep Scan is also available if you cannot find your lost Word files after scanning. This feature can go deeper through your storage and see your desired data loss. However, it will take you more time to do that. Please be patient with the scanning results so that you can restore your precious files.
---
Recovery from Backups
As we said, in most cases, when losing Word files, users won't have any backups for them to recover. So the best way is to find a data recovery tool to help them. However, if you are lucky enough to enable the backup feature before. Then you can try this method. Here, we will show you how to use existing backups with File History to recover deleted Word documents. Check out these steps: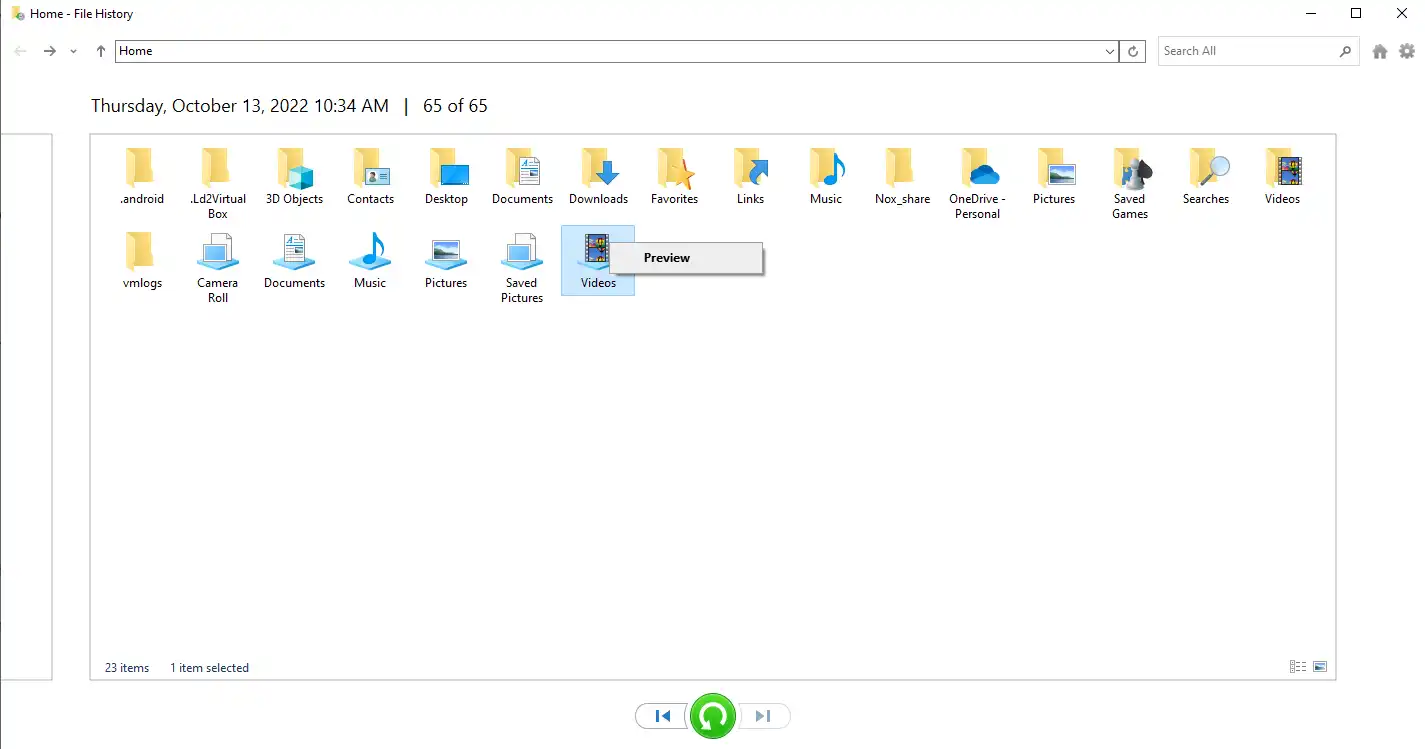 Type

 File History

 in the search box and select 

Restore your files with your File History

.

Locate your desired Word files and right-click to 

Preview

 them.

If this is correct, tap 

Restore

 to recover the file. 
📣 Notice:
You can only recover your files back to the state where the backup has saved them. Changes made after the backup won't be able to restore. However, it is still a good thing to recover the file.
---
Bottom Line
There are many more ways how to recover deleted word document. In this article, we have offered you the three most common and practical methods and some helpful tips to improve your recovery success rate. If you want to recover your lost Word documents at the fastest speed possible, we suggest you try the WorkinTool Data Recovery Software. It saves time and helps you solve problems.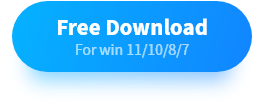 Products Reviews:
TrustScore
4
|
323
reviews