How to Recover Deleted Files from SD Card FREE 2023
If you suffer from the panic of data loss on an SD card and search for a free solution to get the lost files back, read this post, and you can find reliable solutions. In this post, we explain the strong possibility of getting deleted files back. You can find solutions to:
1. Recover deleted files from SD memory card for free on Windows
2. Recover deleted flles from SD memory card on Mac
3. Retrieve deleted files from a memory card without software
4. Recover data from an SD card on mobile
5. Perform microSD card recovery with ease
How to Recover Deleted Files from SD Card FREE 2023
"What should I do? I accidentally deleted important photos and videos from the Sandisk memory card on my Android phone! Does the SD card have a recycle bin? Can I restore permanently deleted files from an SD memory card?"
Have you ever lost important documents or precious photos from an SD card like the above? Well, many users suffered this sudden data loss. If you are searching for ways to retrieve deleted files on an SD memory card, you are at the right place! This post explains the chance to get deleted files back from an SD card and presents two free solutions that would be of great help on Windows and Mac. Read on to know the details.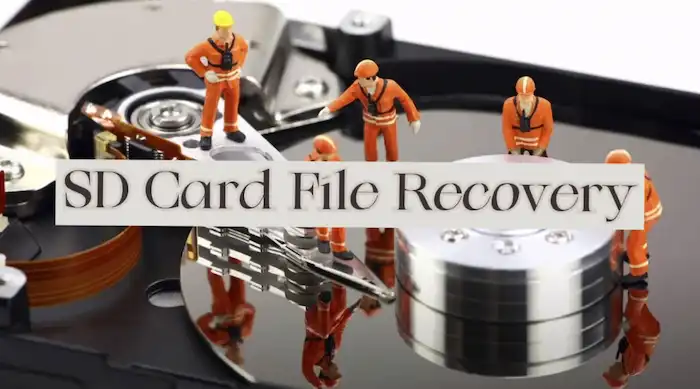 ---
🔍Where Do Deleted Files from SD Card Go?
Many people will ask whether the SD card has recycle bin. To be honest, there is no such item in an SD card unless you delete files when the card is connected to your PC. You can find the deleted files in the computer system recycle bin or trash folder.
However, the files deleted from your SD card are not wiped immediately. The data is still there, but its structure, index, and links are out of order. The deleted content will remain intact if you don't save new data to the card (overwriting the card). It just becomes invisible to users and the file system. It is not impossible to recover deleted data from SD card.
---
🔍Can I Get Back Deleted Files from SD Card?
You can still restore the lost or deleted content if you don't overwrite new data on the card. So, when you lose or delete files from SD cards, HDD, or USB sticks, immediately STOP USING and perform deleted sd card recovery as soon as possible. There are multiple free SD card recovery tools in the market, many of which are free to use, like WorkinTool Data Recovery Software. And computers often provide built-in programs like recycle bins or backup features to bring lost files back without software.
However, if you fail to recover deleted files from memory card using the preinstalled computer programs, you can try the following methods. We recommend the two free SD card recovery software ahead of built-in programs because they are reliable enough, enabling you to restore SD card data in seconds without sophisticated skills.
---
🧿How to Recover Deleted Files from SD Card for Free on Windows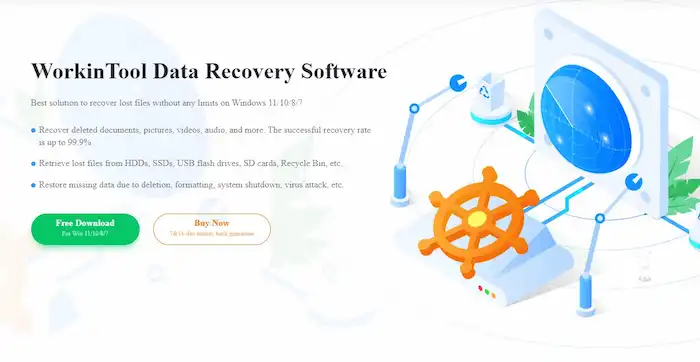 This program is specially designed for Windows users. A straightforward interface makes it easy and friendly to users of all ages and skill levels. Since its release, this data recovery software quickly stands out from the competition for its reliable functions, simple operations, excellent running speed, and high-level security.
Main Features

How to Recover Deleted Files from SD Card with WorkinTool on Windows 10
It only takes a couple of clicks to start SD card deleted file recovery using WorkinTool. This method is suitable for deleted file recovery from SD cards and works when retrieving a deleted folder in Windows and recovering formatted SD cards. As long as you can unplug the SD card from a phone, you can also use this software to recover deleted files from memory card on Android phones. Follow the detailed steps of use below.
1. Select your SD card
Connect your SD memory card to a computer. Open WorkinTool Data Recovery Software, and you will see an interface showing all the currently active storage media. You need to select your SD card in the 'Partition on mobile device' menu.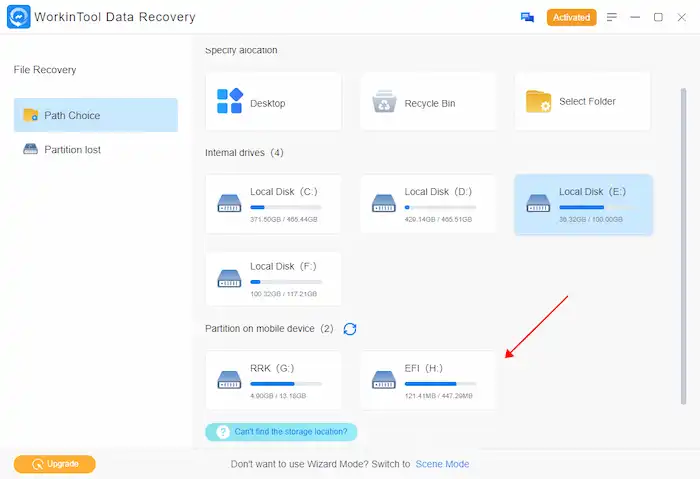 📢Note: Switch to the Scene Mode, and you will see different scenes, including Deletion Recovery, Formatted Recovery, USB/Memory Card Recovery, Recycle Bin Recovery, Disk Partition Recovery, and Deep Recovery. You can also click on USB/Memory Card Recovery to get started.
2. Select a recovery mode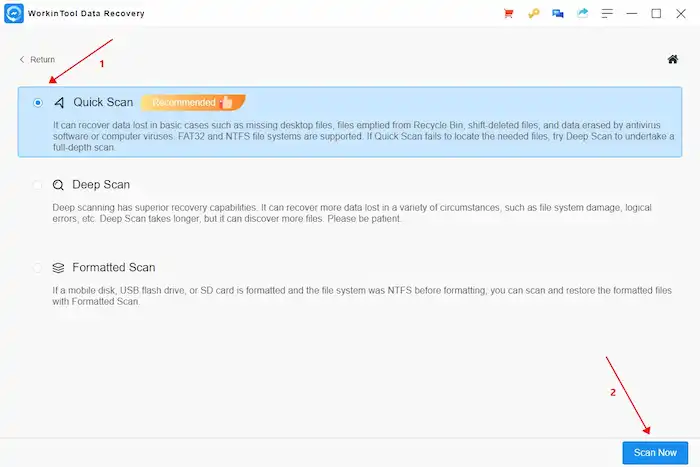 After clicking on your SD card, a window will pop up, enabling you to select a scan method from Quick/Deep/Formatted Scan. Here we need to perform a quick recovery at first.
3. Select and recover deleted files from memory card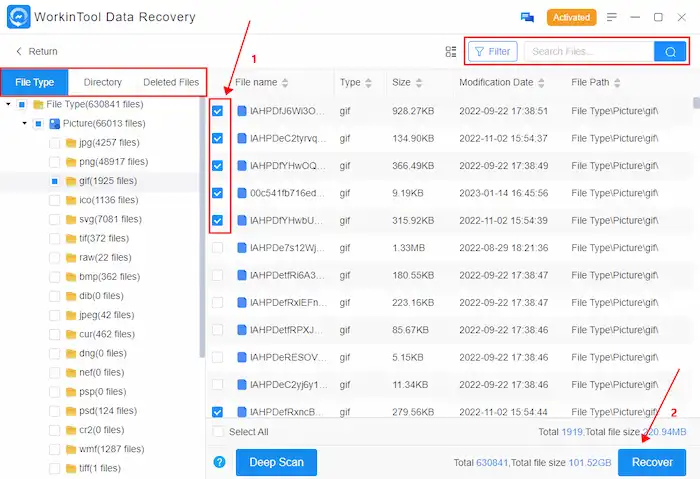 You will see a panel that shows File Type, File Directory, and Deleted Files. You can click on the left-side content in the Deleted Files menu to manually locate your files. Or use the Filter feature and the search box to look for the deleted files by modification date, size, name, and type. Once finding the deleted files, tick them and click Recover to recover deleted files from memory cards.
📢Note: If unsatisfied with the result, click Deep Scan at the bottom to relaunch a scan and get a complete result.
---
🧿How to Recover Deleted Files from SD Card on Mac
Disk Drill SD card recovery software also enables users to recover lost files on Mac effortlessly. Its free version offers reliable features for many users. The free plan is practical enough if you don't employ data recovery software very often. Whether an IT nerd or a computer novice, you will find this tool simple to operate without any complicated techniques.
How to Retrieve Lost Files from SD Memory Cards via Disk Drill
Read the guide below to learn how to recover deleted files from SD card for free on Mac. This guide also suits internal and other external hard drive scanning and recovery. As long as you can unplug the SD card from a phone, you can also use this software to recover deleted files from memory card on Android phones.
1. Select the target SD card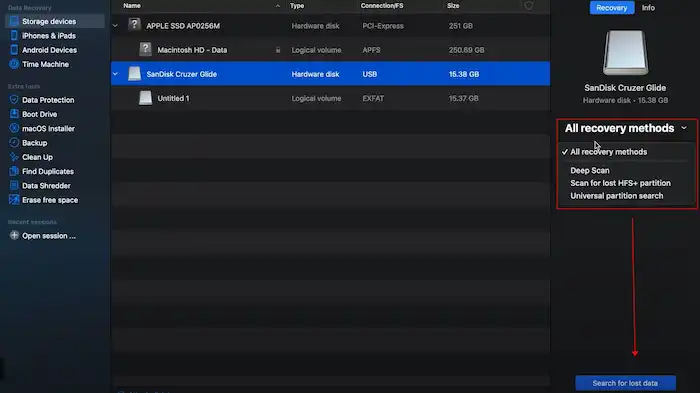 Connect your SD card with a reader to your Mac computer. Then launch Disk Drill and select the target SD card in the storage device list. You can press Search for lost data directly to run a quick scan.
2. Review the found items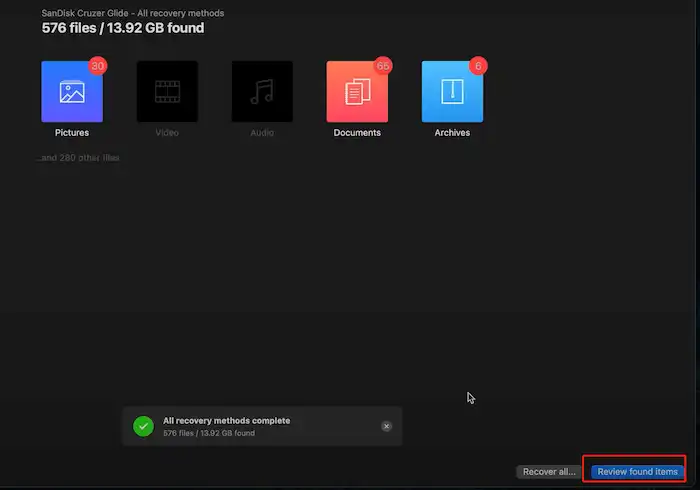 The quick scan mode will complete an overall scan in a few seconds. Wait for a while, and press Review found items to see all the files as they never left. Then find the files you wish to get back. It is easy to find items using the left categories, including pictures, videos, audio, documents, archives, etc. You can review files in this software as well.
3. Restore the deleted files

Tick correspondent files and press Recover to bring them back. Choose a safe destination to store the to-be-recovered data. You can save the files to the computer desktop in case of overwriting or corruption.
---
FAQs
🔖1. How to recover deleted files from an SD memory card without software?
You can try SD card file recovery on laptop using the command prompt CHKDSK. Command Prompt, also called CMD, is a built-in program in Windows systems. It can find lost data and fix errors on storage devices like USBs, SD cards, and hard drives.
⚡2. How to recover data from an SD card on mobile?
The best solution is to unplug the SD card, connect it to a computer, and apply professional data recovery software like WorkinTool and Disk Drill to perform deleted file recovery.
🔖3. How to recover deleted files from a micro SD card?
It is nothing different for deleted file recovery on SD cards. You can apply the two easy-to-use data recovery software to undelete files from micro SD cards by following the same steps.
⚡4. What is the best SD card recovery software free?
There are various data recovery tools in the market. However, it is hard to find the best one that is reliable, cost-effective, easy to use, fast, and user-friendly. Don't worry! You can check this post to find the best 5 SD card recovery software and learn their pros, cons, and features in detail. 5 Best SD Card Recovery Software Free Download 2023 > >
---
Conclusion
SD cards are less used in mobile phones nowadays. It seems impossible to repair lost files without a computer or on mobiles like iPhone and Android phones. If you want to recover permanently deleted photos and videos from SD cards, the most effective way is to download SD card recovery software. 
You probably know how to recover deleted files from SD card on Windows and Mac for free now. Both WorkinTool Data Recovery and Disk Drill are reliable and practical tools. Select one according to your taste and get your deleted files back as soon as possible!