How to Recover Data from a Corrupted SD Card FREE [2023]
Having trouble recovering files from a corrupted SD card? Want to rescue your valuable photos, videos, and documents from a corrupted SD card? WorkinTool understands your worries and pain. Hence, it comes to your side and is ready to solve all your recovery hassles for free. You can recover multiple file types not only from corrupted SD cards but also formatted disk partitions, damaged HDDs, and more. No more hesitations! The sooner you download WorkinTool, the better recovery results you will have.
⭐ 100% FREE to scan and recover without limits or ads.
⏰ Just three clicks to get back what you want.
📝 Various file systems are supported.
💾 Various storage devices are supported.
🏆 Success rate up to 99.9%.
How to Recover Data from a Corrupted SD Card FREE [2023]
SD card is the witness of technological development. Its appearance shows the convenience and simplicity brought by technology. In our daily life, we can store photos, videos, documents, and other files in this magical tiny SD card. We can easily manage and browse them anywhere or anytime as long as the SD card is connected to your device. However, it is very fragile and sometimes fails to work due to a virus attack or file system error. As a result, all valuable files will be inaccessible and lost forever. If you are in this terrible case, you are in the right place because this article will tell you how to recover data from a corrupted SD card for free.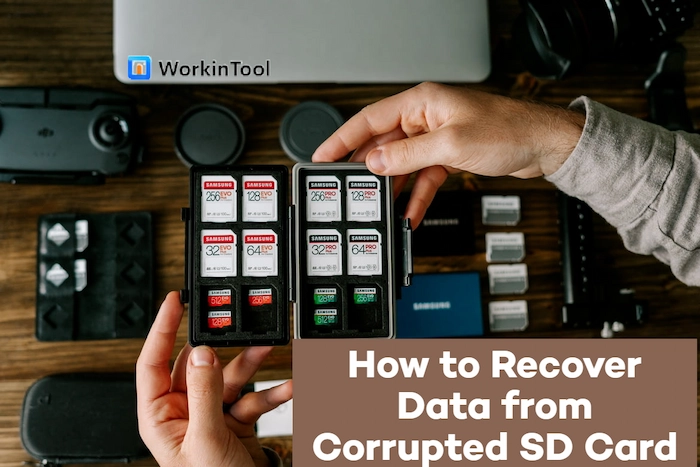 How to Recover Data from a Corrupted SD Card FREE
#1 Recover Files from a Corrupted SD Card on Windows
Suppose your files are inaccessible or missing from a corrupted SD card, and you want to recover them on Windows. In this case, you can try a specialized recovery software – WorkinTool Data Recovery. It is a 100% free and all-in-one SD card recovery tool. It can quickly recover photos, videos, emails, music, and more from your corrupted SD card. 
Moreover, there is no point worrying about the safety of your files because it only performs the read-only mode, which will not damage your original files. As for its recovery ability, you can restore files to different versions if files have been edited many times with multiple filenames. However, other products can only recover the first file.
🌝 More Sparking Points of WorkinTool:
01

Utterly Free without Ads: All its functions are free without restrictions. Moreover, no annoying ads appear on your screen to interrupt your recovery.

02

Various Data Loss Situations: Other than corrupted SD cards, it can retrieve files from other demanding cases like dead SSDs, damaged HDDs, formatted disk partitions, etc.

03

Accessible to Use: It has a user-friendly interface that is super clear for you to know the next steps. Only three steps will bring all your lost files back.

04

High Success Rate: Due to advances in technology, it can find more buried files with faster speed, and the success rate is as high as 99.9%.

💡 Tutorial on Recovering Corrupted SD Card with WorkinTool
Step 1. You need to connect your corrupted SD card to your PC first. Then open WorkinTool and select USB/Memory Card Recovery.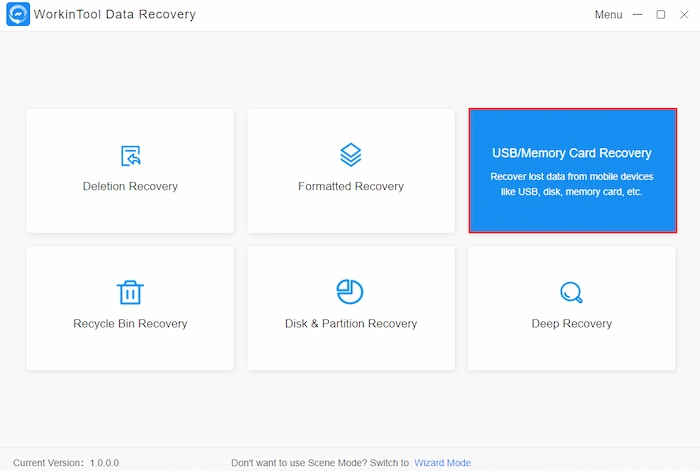 Step 2. Click on the hard drive name of your damaged SD card and tap on Scan Now to scan your lost files.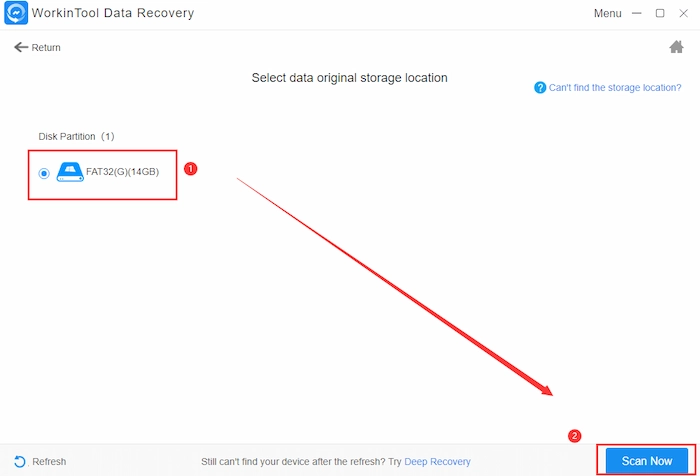 Step 3. Within seconds, all your missing files will appear on your screen. Then click Select All and Recover to recover data from a corrupted SD card. (If any files are still missing, you can try Deep Recovery mode, which will dig out as many inaccessible files as possible.)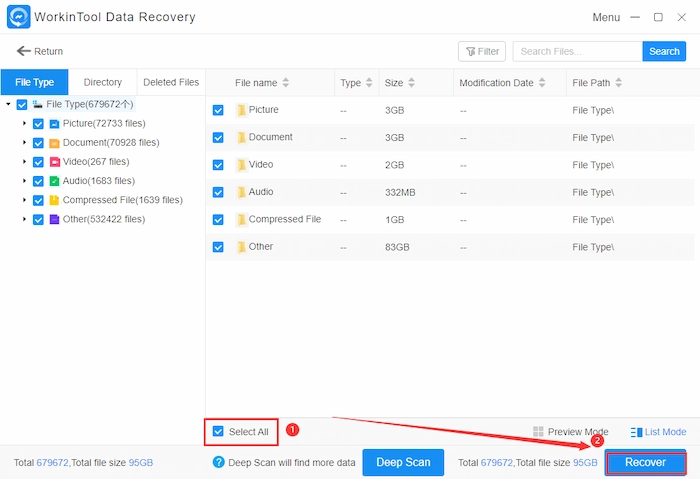 More Features You Probably Like
#2 Make a Corrupted SD Card Recovery on Mac
If you want to return the lost files to their original location on Mac, Cisdem Data Recovery is your all-in-one solution to handle all recovery hassles. Only three simple steps will retrieve all your videos, documents, photos, audio files, and over 200 other file types from corrupted SD cards.
Furthermore, you can quickly recover what you want not only from corrupted SD cards but also formatted disk partitions, damaged HDDs, and more. However, if you use the free version, you can only enjoy the preview and scan feature, not including recovering. And the pro version price varies from $69.95 to $149.95 according to your demands.
💡 Tutorial on Recovering Corrupted SD Card with Cisdem
Step 1. Download and open it. Once you connect the damaged SD card to your Mac, click on the SD Card Recovery > your SD card name and tap on the Search for lost files button to start.
Step 2. After a quick scan, your missing files from the damaged SD card will be listed on the screen. You can preview and filter what you want. Of course, you can click the Select All button without filtering.
Step 3. Lastly, tap on the Recover button to get the desired results.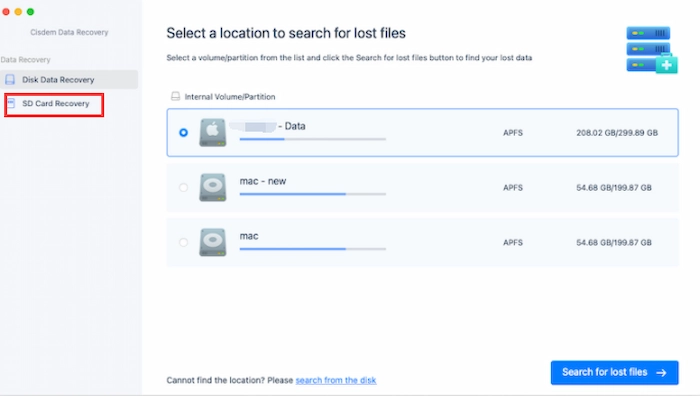 #3 Recover Data from a Corrupted SD Card with Backup
If you are used to backup your SD card files with third-party backup software or other storage devices, you can quickly find your lost files from a corrupted SD card in your backup files. It's not necessary to spend a long time scanning your corrupted SD card.
Moreover, these steps are super easy to recover data with backup files. You just find the place where you store the copy files and have a quick look at them. Then select the files you want and copy them to your new storage device. However, if you fail to back up your files, relax and you can try the methods mentioned above. Moreover, you can try to have a good habit of backing up your important files regularly.
How to Identify Whether SD Card Is Corrupted
SD card corruption is traceable with signals or symptoms. If you learn to tell whether the SD card is damaged by the signs, you can boost the chance of recovering files and prevent more files from storing on this dangerous SD card. Below are the common signals for a corrupted SD card.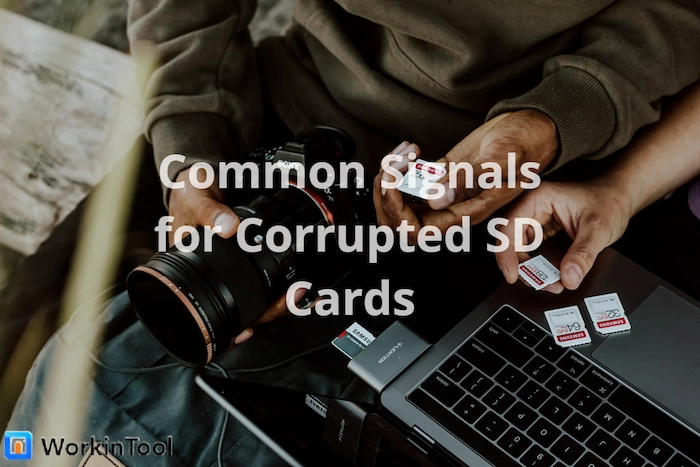 #External Signals
📡 SD Card not Recognizable:

When you insert it into your device, the PC has no response to your SD card and fails to show it. The situation is likely because you inserted your SD card improperly and you can reconnect it. Physical damage to the SD card can also cause this situation. However, it takes a lot of effort to recover data.

🔐 SD Card not Readable or Writeable:

If your SD card sends read/write failure to you while transferring or opening files, your SD card might be corrupted. And you should stop using it again to prevent the old data from overwriting.

🐌 Slow or even No Response:

When you open the files on the SD card, a loading circle appears. Or no matter where you click, the computer doesn't respond. If you encounter these situations, you should be alert because your card is on the verge of breaking down.
#Internal Signals
📉 Missing Files:

If you notice the amount of SD card files is reducing but essential documents still exist, you cannot let down your guard since unknown viruses invade and damage your SD card secretly.

📲 Unknown Files Appear:

 Besides erasing your files, viruses or malware can also add some unknown files to your SD card. Never look down on these unknown files because they might corrupt your SD card.

🔎 No Media Usage on SD Card:

If you find your SD card is blank or empty, it is probably under damage, which may lead to file loss. Or you tap on the format button, which will also empty all your files.
How to Fix a Corrupted SD Card with/without Formatting
Sometimes, you need to recover data from a corrupted SD card after fixing it first or repair the card before reusing it. Luckily, there are two common ways to help you, including with/without formatting methods. And to your surprise, the method to repair damaged SD cards on Android phones will also be expounded. If you would like to learn more about them, just keep reading.
#Method 1. Using CHKDSK Utility
CHKDSK (check disk) is a built-in Windows utility that can find and repair your file system errors on hard drives. You can run this utility through multiple methods like File Explorer, Command Prompt, installation media interface, etc. The easiest-to-operate way for novices is the first one because the Error Checking in File Explorer equals the UI of the CHKDSK utility in Command Prompt. Moreover, this way will repair your corrupted SD card without formatting or losing data.
Check how to fix a corrupted SD card with the CHKDSK utility:
Step 1.

 Connect your corrupted SD card to your computer. Next, click This PC on your desktop. Then right-click on your SD card drive and tap on Properties.

Step 2.

 Click on Tools > Check. Then the CHKDSK utility will start checking the error on your SD card.

Step 3.

 If there are no errors, it will notify you that "You don't need to scan this drive." But if you want a deep, all-range scan of your SD card, you can click Scan drive. If errors are found, you can choose to fix them. After minutes, the repair process will end and your corrupted SD card will be healthy as the original.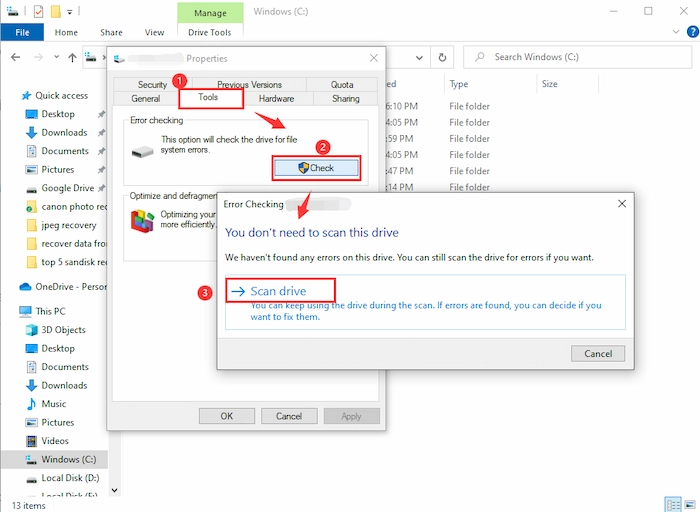 #Method 2. Format Your SD Card
Formatting is a very potent medicine for malfunctioned/corrupted SD cards. However, before formatting, we'd better save the recovered files from the corrupted SD card properly because formatting will erase all old data. After you check the other safe place of your copy files, you can follow the steps.
Let's see how to format SD cards together:
Step 1.

 Connect your SD card to your device and click on 

This PC

. Then right-click on your SD card.

Step 2.

 Click on the Format… button. And you can choose the desired file system and deselect 

Format options > Quick Format

.

Step 3.

 Lastly, once you click on

 Start

, it will automatically format your corrupted SD card.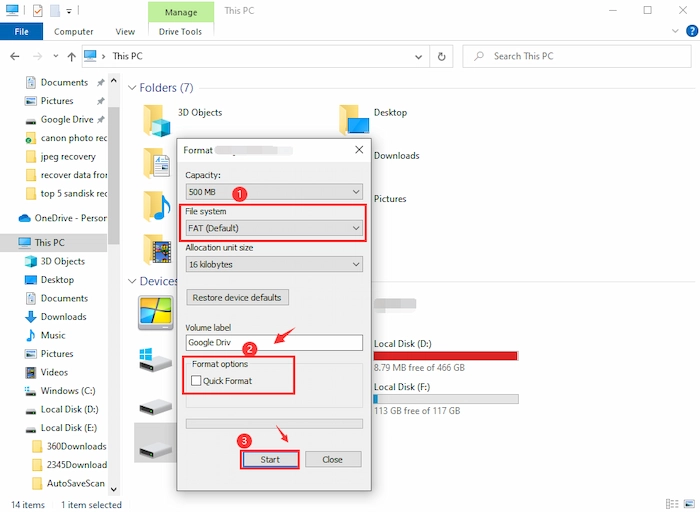 #Bonus: Repair Corrupted SD Card on Android
If your Android SD card is damaged, you can use the above two methods by connecting to a PC. However, if you would like to fix a damaged SD card on Android without a computer, you can try to format SD card with Android settings. Specific methods vary slightly among different Android devices. Hence, the following method only takes Android 11 as an example.
Let's see how to fix a corrupted SD card on Android:
Step 1. Go to Settings > Battery and device care > Storage.
Step 2. Touch the three dots >Advanced in the top right corner.
Step 3. Select your Android SD card and press Format. Lastly, your Android SD card will be repaired.
Tips to Protect Your SD Card 
No one wants to face a corrupted SD card again. Hence, we'd better learn some valuable skills to protect our SD card from damage again.
🔌 Eject Your SD Card Safely:

It's dangerous to pull your SD card from the card reader when transferring data to a computer since a sudden pause will disturb the normal reading process and damage your healthy SD card. You'd better click the eject button on your computer before you take out your SD card.

❌ Not Connected to Unknown Devices:

 There is a risk of inserting your SD card into an unvaried or unknown storage device, for the device might carry an unknown virus that will hurt the files on your SD card.

📂 Store SD Card Properly:

 You need to keep SD cards away from hot and humid places, which will corrode their delicate electronic parts. And you'd better store them in a fixed place if you forget the storage location when you want to use them.

💾 Backup Files Regularly:

You can make a copy of your essential files from SD cards from time to time in case of data loss. It is the easiest way for you to retrieve missing data.
---
Summing up
This article provides three free ways for you to recover data from a corrupted SD card. And WorkinTool Data Recovery is the most outstanding one for its powerful recovery features and 100% free price. Additionally, two practical methods are elaborated for you to repair your corrupted SD card. All in all, the editor sincerely hopes these methods will work out salient and help you immensely.