How to Restore Audio Files on Windows and Android 2023
This post explains how to restore deleted or lost audio files from Android phones and Windows computers with reliable solutions.
1. Restore audio files On Android using two data recovery software.
2. Recover audio files from Windows using Recycle Bin, backup, and software.
How to Restore Deleted Audio Files on Android and Windows 2023
Different from audio quality repair, this post mainly covers situations of accidental audio loss. Sometimes the audio files accidentally disappear or are deleted due to maloperation. And the problem gets worse if they are permanently deleted. It is a disaster to lose precious audio files. Wondering how to perform deleted audio recovery? You are on the right page! After reading, you will understand how to restore your deleted or lost music lists, podcasts, audio recordings, and other audio files without quality loss.
| | |
| --- | --- |
| 💬 | This post covers everything you want to know about audio recovery. We provide practical file recovery methods and detailed operation steps, covering both built-in features on your devices and reliable third-party audio recovery software. |
Read on to learn how to restore audio files on Windows and Android. With the solutions below, you can regain lost or deleted audio files in seconds.
---
Why Your Files Get Lost?
To begin with, we need to check why your audio files disappear and select the best solution according to the actual situation. There are common causes of file loss and correspondent measures.
❓Causes
➡
💡Measures

Accidental deletion or maloperation
Permanent Shift+Delete deletion
Virus or malicious software attack
Unintentionally formatted storage devices without backing up files
Objective reasons like a power surge or device shut-down

Recover deleted audio files from Recycle Bin, Trash, and Recently-deleted folders.
Restore the file folder to previous versions or use audio recovery software.
Scan your system with a built-in defender or antivirus software, then apply an audio recovery tool.
Use an audio recovery app to rescue formatted files.
Perform audio recovery from backups, file history, or data recovery software.
---
Can Lost Files Be Restored?
Of course, if you haven't overwritten new data on your devices, such as an SD card, internal disk drive, or another external hard drive, you still have a chance to restore audio files.
❗

As a note, if your devices have read and written new data after the file loss, retrieving the lost or deleted audio files is impossible because the data structure is renewed. Therefore, please 

immediately STOP USING

 the drive, or you will not be able to find your files.
---
How to Restore Deleted Audio Files on Android?
Many people recommend Google Drive to restore audio files. However, the truth is that audio files will not be synced with Google Drive unless you manually upload audio to the drive. If your Google Drive contains no audio data, how can you restore your audio files? Here are two feasible methods worth a try.
Perform Android Audio Recovery on Windows Computer
This method is applicable to Android phones with an SD card. If the deleted audio recordings, music, and other audio files are not in the trash folder or have no backups, this is the best solution you can consider—recovering audio files on a laptop using data recovery software.
After searching and testing for a long time in the audio recovery software market, we find WorkinTool Data Recovery Software is reliable, enabling you to get lost or deleted audio files back without complicated operations or skilled techniques.
Main Features of WorkinTool Data Recovery
Restore 500MB of files for free and offer unlimited recovery space starting at a low cost of $29.99/month.
Retrieve deleted data comprehensively from SD memory cards, USB drives, Recycle Bin folders, disk partitions, and formatted hard drives.
Recover deleted MP3 files, OGG files, voice recordings, podcasts, music files, and all formats of audio files.
Able to handle various data loss caused by accidental deletion, unintentional formatting, virus attacks, system crashes, power surges, etc.
Fast scanning speed and easy operation, recovering files in no time
Make a quick scan or a deep scan as you desired

📝How to Recover Deleted Audio Files from Android Phone via WorkinTool
1. Connect the Android SD card to a computer and open WorkinTool Data Recovery Software. Then select your SD card in Wizard Mode.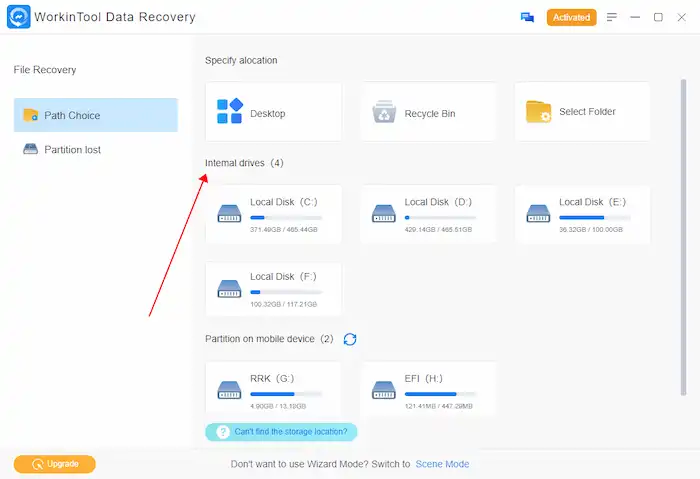 2. Select a scan method from Quick Recovery, Deep Recovery, and Formatted Scan in the pop-up window to launch a scan.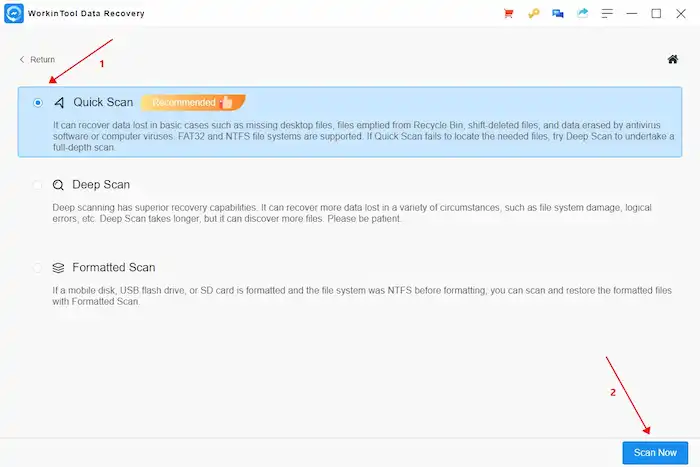 3. On the result page, use the left navigation pane to search by audio file type, or try the filter or search box on the upper right to locate your files precisely. Then tick the checkbox next to the deleted audio files you want to get back, press Recover, and select a new path to store the to-be-deleted files.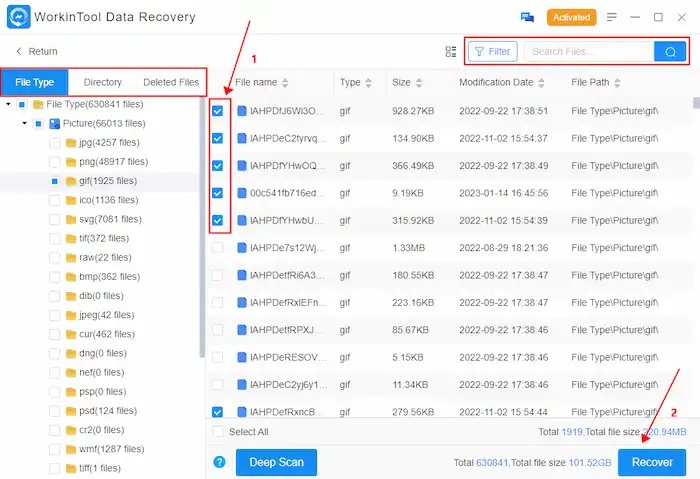 How to Restore Audio Files On Android without a PC
Since different types of Android phones vary in their interface, it is better to download a professional audio recovery app for audio scanning and recovery. Audio Recovery is a simple and lightweight audio recovery app for Android by which you can recover deleted audio files like MP3, AAC, voice recording, voice mail, etc.
However, its scanning speed is a little bit slow. And sometimes, not all files can be successfully recovered, such as audio files lost a long time ago. But you can rest assured that no data will be collected or shared with third parties.
📝How to Get Music Files Back via Audio Recovery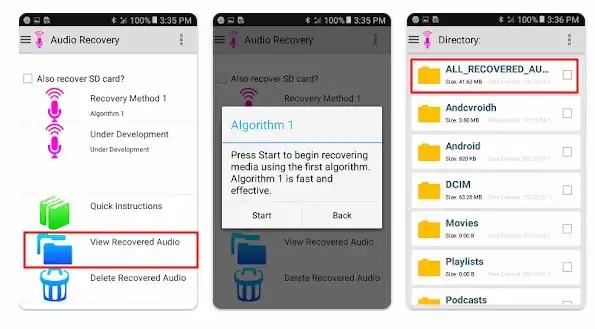 Install and open this app on your phone. Then tap

Audio

> 

Recover Audio

> 

Recover Deleted Audio

 or 

Recover Lost Audio

.

Wait for detection. Then choose the audio you need in the detected audio files and tap

Recover

.

Select

View Recovered Audio

> 

ALL RECOVERED AUDIO

to check the deleted or lost audio files.
📢Note: Make sure your phone has a sufficient storage place for the recovered data and avoid interruption when using this audio restoration app
---
How to Restore Audio Files on Windows?
If you lose files on a computer, it is much easier to get them back. The Windows system offers a few built-in tools to recover deleted or lost audio files. And you have multiple options for audio restoration software like WorkinTool Data Recovery Software on the market.
Here we'll introduce the frequently-used preinstalled tools in Windows and share how to recover deleted audio files from a computer with those built-in tools and WorkinTool. You can freely choose one based on your situation.\
Recover Audio from Recycle Bin
The first and the most straightforward way to retrieve deleted voice recordings and other audio files on a computer is—Recycle Bin. It just takes a few steps.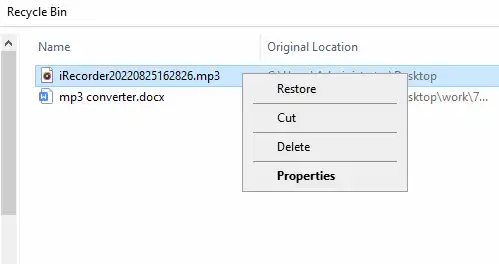 Open Recycle Bin on your Windows computer.
You can sort deleted files by name, original location, date deleted/modified, size, and item type in ascending or descending order. Or search audio files in the upper-right corner search box.,
Select and right-click the files you want to bring back. Click Restore.
Retrieve Audio from Backup
If your computer has a backup drive or you have created a cloud backup like OneDrive, and the File History option is turned on, you still have a chance to restore lost audio files. The backup you created using the Backup and Restore tool on Windows 7 will is till available in later versions.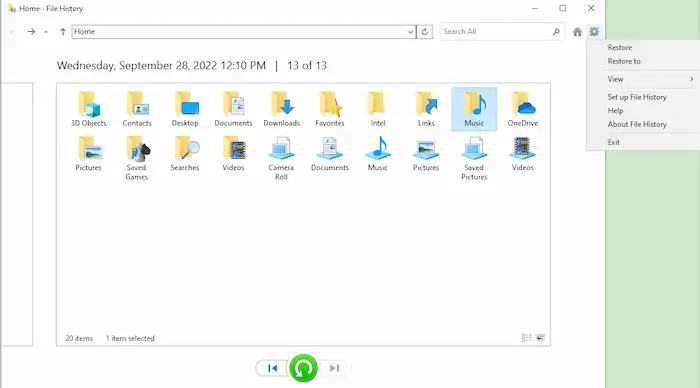 Firstly, type

Restore files

in the Windows search field and select

Restore your files with File History

.

Then select a folder that stores the original audio file, or search your file in the search box.

When you find the correct audio, you can preview it and click the upper right gear icon >

Restore to

/

Restore 

to bring it back.
🧿One-click Restore Audio Files via Software
If you still can't find the deleted files in Windows, you can employ third-party software to help you with that issue. The operation steps to recover deleted audio files back on a computer don't differ much from recovering data from SD cards, like the first section we introduce. You can also apply the same steps to recover other formats of files.
1. Firstly, launch WorkinTool Data Recovery Software and select a location to scan in Wizard Mode. Or you can switch to the Scene Mode and select specific data recovery scenarios.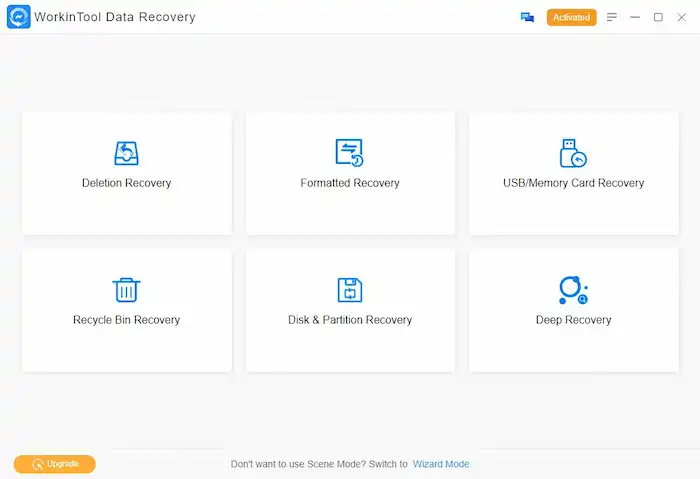 2. Select a recovery method from Quick/Deep/Formatted Recovery and then press Scan Now.
3. Finally, search audio files from the navigation pane or use the filter feature. Then tick the files you want to restore and press Recover to save them to a new directory. (If you can't find the deleted or lost audio files, click Deep Scan to get a more detailed result).
Available Data Recovery Scenarios in WorkinTool
Deletion Recovery: Suitable for mistakenly deleted files.
Formatted Recovery: Recover audio files from formatted storage media, like internal computer drives, USB drives, SD cards, external hard drives, etc.
USB/Memory Card Recovery: Get files back from SD cards, USB flash drives, HDDs, and other external storage devices.
Recycle Bin Recovery: Scan and retrieve permanently deleted files in Windows Recycle Bin.
Disk & Partition Recovery: Scan and get files back from different disk partitions.
Deep Recovery: A deep and time-consuming scan that can detect more deleted or lost files.
---
Conclusion
Since online audio recovery tools may have potential risks, it is better to choose built-in programs or offline audio restoration software. The four methods above may help retrieve severe data loss. WorkinTool Data Recovery Software is highly recommended among the four tools for its cost-effective performance, powerful features, and easy operation. Try these methods with ease. Hope you can restore audio files successfully!