How to Recover Deleted Vimeo Videos [Easy Guide]
Worried about recovering deleted/lost Vimeo videos? Relax. WorkinTool Data Recovery is your loyal and best friend who can easily solve all your recovery hassles. It will quickly recover deleted/lost/formatted Vimeo videos from any storage device in various data loss situations. More importantly, it truly realizes the free price for its extensive recovery functions without limits. Just get a free trial immediately!
💌 Scan and recover 500MB of files for free.
💌 Just three clicks to get back what you want.
💌 Various video formats are supported.
💌 100% Safe and no damage to files.
💌 High success rate.
How to Recover Deleted Vimeo Videos [Easy Guide]
Vimeo has been one of the most popular video-sharing platforms in recent years. It enjoys over 260 million users and allows us to turn ideas into videos and share them with potential clients. However, the deletion of Vimeo videos often occurs due to your accidental click. If your uploaded file exceeds the size limits or contains some sensitive violations against the regulation, Vimeo officials will delete your videos without warning. Regardless of which dilemma you are in, never abandon recovering your valuable Vimeo videos. Luckily, this post will explain how to recover deleted Vimeo videos for free. If you want to find out the answer, please continue reading.
#1 Is It Possible to Recover Deleted Vimeo Videos?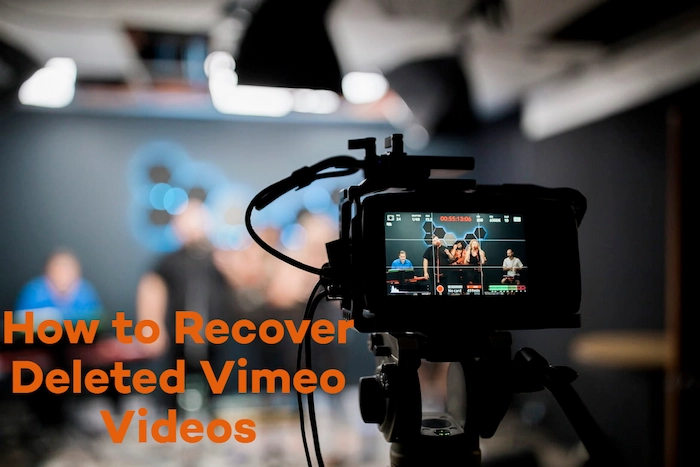 The answer is not absolute. There are some cases where you cannot restore them. However, in most cases, you can get the original Vimeo videos in your hands. (1) On the one hand, if Vimeo removes your video works, the authorities will keep the deleted videos in their archive for one year. Suppose you desire to restore them. You need to subscribe to a premium plan. Don't have a spending budget? You're in the right place. The following will give you a free step-by-step tutorial to retrieve deleted Vimeo videos. (2) If it is you who inadvertently deleted the uploaded Vimeo videos and didn't have a copy, the following guide will also help you a lot.
#2 How to Recover Deleted Vimeo Videos
"Oops, I am so tired that I had a hand slip on the deletion button to erase my Vimeo videos. Even worse, I didn't back up these files, and the Vimeo customer service staff said they could not help me. What should I do to rescue my Vimeo videos? Does any third-party software work well? It doesn't matter if it costs as long as it can retrieve my Vimeo videos."
This situation is common in our daily life. No matter how carefully we store our Vimeo videos, we might delete or format our files. Don't blame yourself. The professional video recovery software will reverse the tide of adversity. It's essential to pick a reliable and excellent tool in the recovery product market. Unverified software or malware will worsen the case. After several turns of testing and contrasting, WorkinTool Data Recovery is on the top recommended list.
WorkinTool Data Recovery is a comprehensive Vimeo video recovery software for all Windows users. Three simple clicks will quickly restore your deleted, lost, and formatted Vimeo videos. Other than videos, it can also recover documents, music, emails, photos, and more from various file systems and storage devices.

🙋‍♂️ Ten-Second Tutorial on Vimeo Video Recovery with WorkinTool Data Recovery
Step 1. Free download and launch this software. Click on the first mode – Deletion Recovery. (Certainly, you can select other modes based on your demands, including Formatted Recovery, USB/Memory Card Recovery, Recycle Bin Recovery, Disk & Partition Recovery, and Deep Recovery.)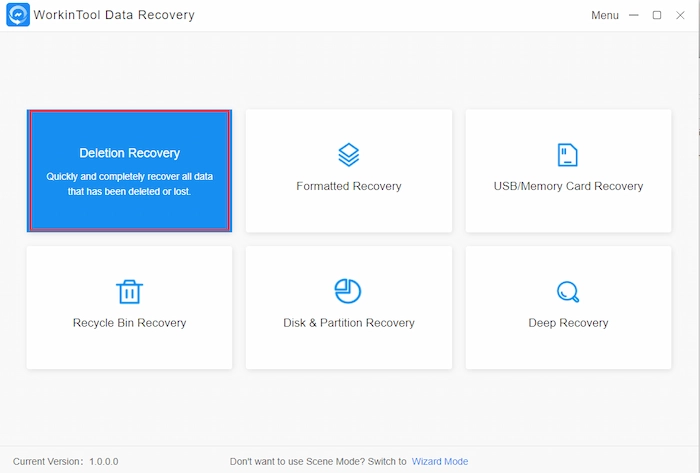 Step 2. Choose the storage location of your deleted Vimeo videos. Then click on Scan Now to start the Vimeo video recovery process.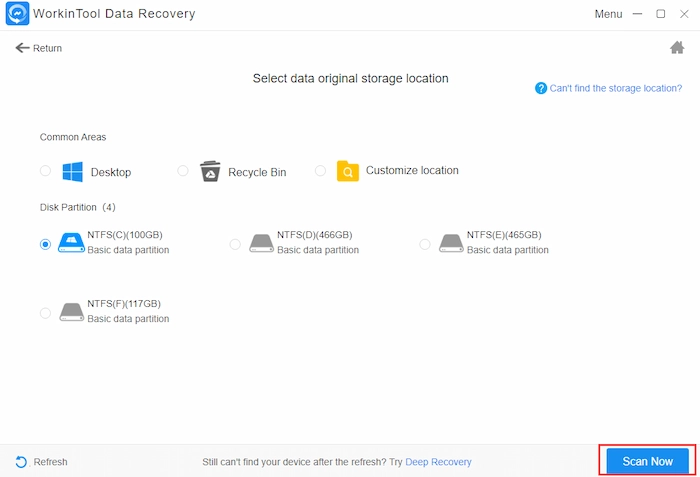 Step 3. Go to Filter > File Type and click on Picture. Moreover, you can select the modified data and file size as you need to narrow down the recovery range. After selecting, you can tap on Sure and choose the files you want. With the last click of the Recover button, everything you lose will return to your computer immediately.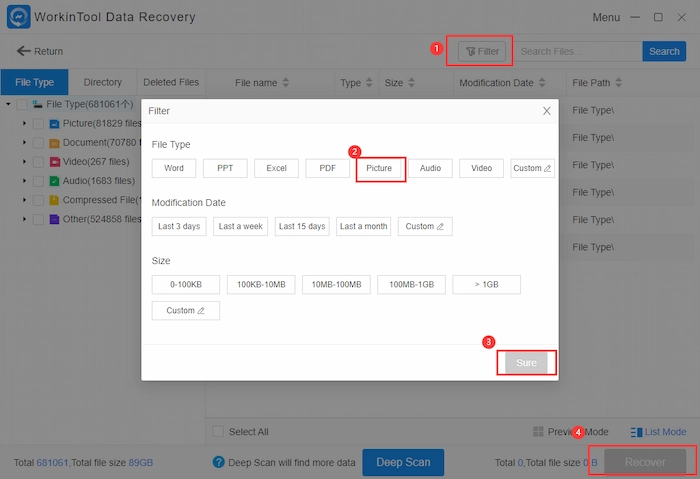 📕 Note: If you still fail to recover deleted Vimeo videos you wish, you can try Deep Recovery, which can seek more buried or inaccessible files. Instead of rescanning, it will continue scanning based on the original results.
More Features of WorkinTool Data Recovery
# 3 Common Reasons for Vimeo Video Loss
Various reasons will lead to Vimeo video loss. Here are some common reasons why Vimeo videos are missing.
😒 Unintentional Deletion:

 An accidental click on the deletion button will remove the Vimeo videos permanently.

🔌 Virus Infection:

 A virus attack happens unexpectedly and will damage your Vimeo videos on your computer. The worst is to erase your files forever.

❌ Vimeo Deletion:

 If your videos exceed the scope specified by Vimeo or contain sensitive topics, Vimeo will directly erase them without you knowing.

🔐 Wrong Formatting:

 If you mistakenly format a disk partition where your Vimeo videos are stored, all data on that disk will be gone.

💾 Empty Recycle Bin:

 Recycle Bin is the home of deleted data, including Vimeo videos. However, suppose you manually empty it. Your deleted videos will be emptied as well.
---
#4 FAQs – Recover Deleted Vimeo Videos
📝 Why does Vimeo remove your videos?

As you can see from the price table, different levels of premium users enjoy various upload spaces. If you only have a free trial of Vimeo, you will be entitled to upload up to 500 MB per week and 5 GB in total. Hence, if your videos exceed the maximized range, the Vimeo authorities will remove your videos. In fact, they do not erase your videos while they save videos in their archive for one year. However, you are unable to preview or watch them again. If you want to retrieve them, you need to buy any premium plan on the table.
Moreover, if your video contains any harmful or illegal content, Vimeo will also delete your Vimeo videos from their website. So before you upload your video to Vimeo, you'd better check the content and file size carefully.
📝 How do I delete a video on Vimeo?
It's easy to delete unwanted videos from Vimeo. Step 1: Just log in to your Vimeo account. Then tap on the Videos menu on the left toolbar. Step 2: Select the unwanted video and click on … > Delete below it. Step 3: Once a tip box pops up on your screen, enter your password to ensure you are the account owner. Lastly, click on Delete, which will automatically erase the video you don't like.  
---
The Bottom Line
It's a nightmare to delete or format your significant Vimeo videos. However, with technology development, professional recovery software like WorkinTool Data Recovery will significantly facilitate you. It will quickly restore deleted/lost/formatted Vimeo videos from any storage device in various data loss situations. If you want to recover deleted Vimeo videos, using WorkinTool Data Recovery will not make you regretful. Just get a free trial immediately!