Video Recovery Online: How to Recover Deleted Videos FREE 2023
If you accidentally lost your video files from your local computer or flash drive, there are still ways to get them back. WorkinTool Data Recovery Software can perfectly recover all video loss due to various situations like deletion, formatting, and virus attack. Download now to experience all the magic yourself to retrieve your previous data online.
1. FREE recovery capacity and cost-effective plans
2. User-friendly to users of all ages.
3. Quick scan and recover with high-quality output.
4. Cover all file types for recovery.
5. Available for all the USB flash drives and disk partitions recovery.
Deleted Video Recovery Online Free
How to Recover Deleted Videos FREE 2023
Admit it. It is super common to lose your data from your computer. Sometimes you don't even know what exactly happened, but you cannot find the file you used yesterday. This is especially hard for video creators. No matter how much effort you put into recording or editing your videos, a single mistake or one second of negligence could make all your work go for nothing. Thanks to the Internet, you can still find ways to get your videos back under certain kinds of situations. So, how to recover deleted videos online?
Can You Retrieve Deleted Videos Online?
Affirmatively YES! Your chances of getting the deleted or formatted videos from your drive back are still high. But here are some suggestions that you should take as a reminder. Otherwise, the original video wouldn't be restored, and the other files on your computer or flash drives would be gone, too. Check them out before going to the fundamental steps of video recovery.
🚁 Start your video recovery process as fast as you can. You have to know that the earlier you recover videos, the better chance of success you get.

💣 Do not use an online data recovery product that does not have a security guarantee, even if it is free to download.

💥 If your videos are already lost, do not add more new data to the drive storage in case it overwrites the early videos you want to restore.
Here are three easy video recovery methods on Windows and one on Mac that will help you to recover deleted videos. Now, let's see what exactly you can do to retrieve your videos back.
---
How to Recover Deleted Videos on Windows Online
Method 1: Use Online Video Recovery Software for Windows
I know how frustrating it can be if your hard work disappeared or was accidentally deleted. Even more devastating is that you don't have any backups to recover from. So you definitely need a handy deleted video recovery tool online to help you find your lost data. Well, even though there are tons of data recovery software on the market, you will need a universal recovery software tool that is convenient and easy to use. I would recommend that you use this tool – WorkinTool Data Recovery.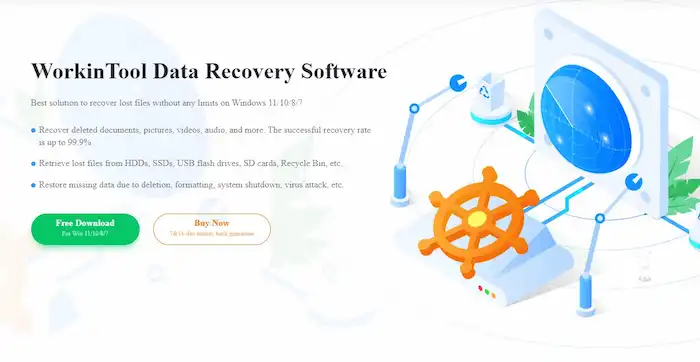 WorkinTool Data Recovery is professional when it comes to video recovery. It only takes several steps to find your lost videos back to where they belong. This tool also has a wide range of scan regions. Whether you lose videos on your computer's hard drives or want to recover data from flash drives, this video recovery software can help you get them back.
Since it is called Data Recovery, you can do more than just restore videos. With simple navigation and a straightforward interface, users can quickly and safely find any lost data right back in a flash. Whether you have your computer infected with a virus, mistakenly deleted the file, formatted the disk, or for other reasons lost the data you need, you can use WorkinTool Data Recovery to get those precious files back at your fingertips. Plus, you can complete all the data recovery processes in batches.

Here is how to use this video recovery software to recover deleted videos
1. Open WorkinTool Data Recovery Software and pick the mode where you lost your videos (If you accidentally deleted your videos, choose Deletion Recovery. If you want to recover video files from your flash drive, choose the third mode.)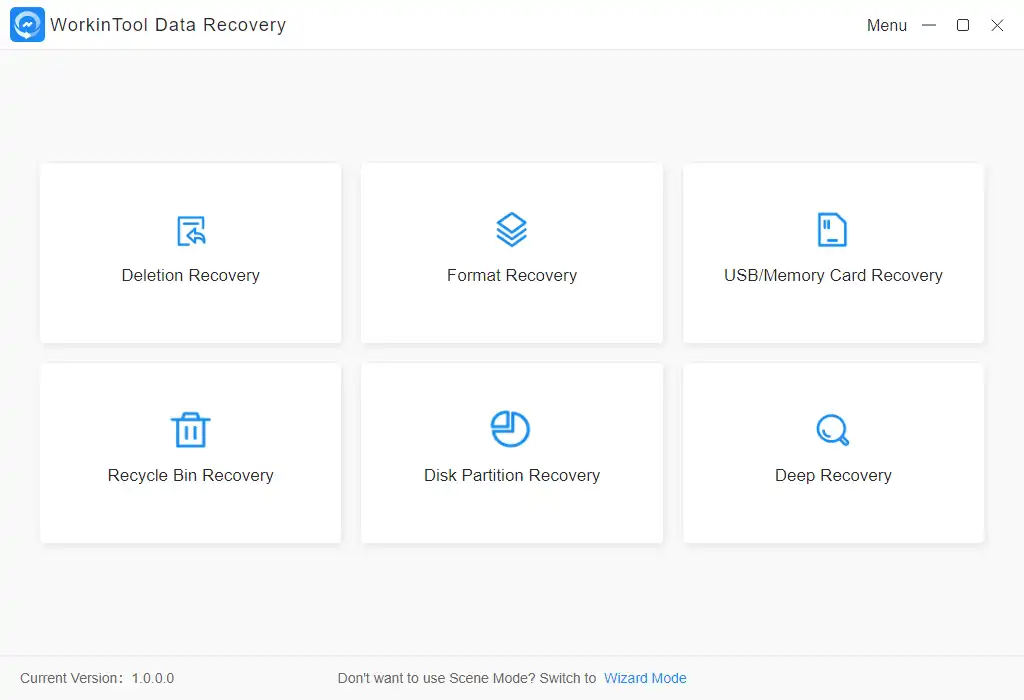 2. Select the partition where you lost videos and click Scan Now.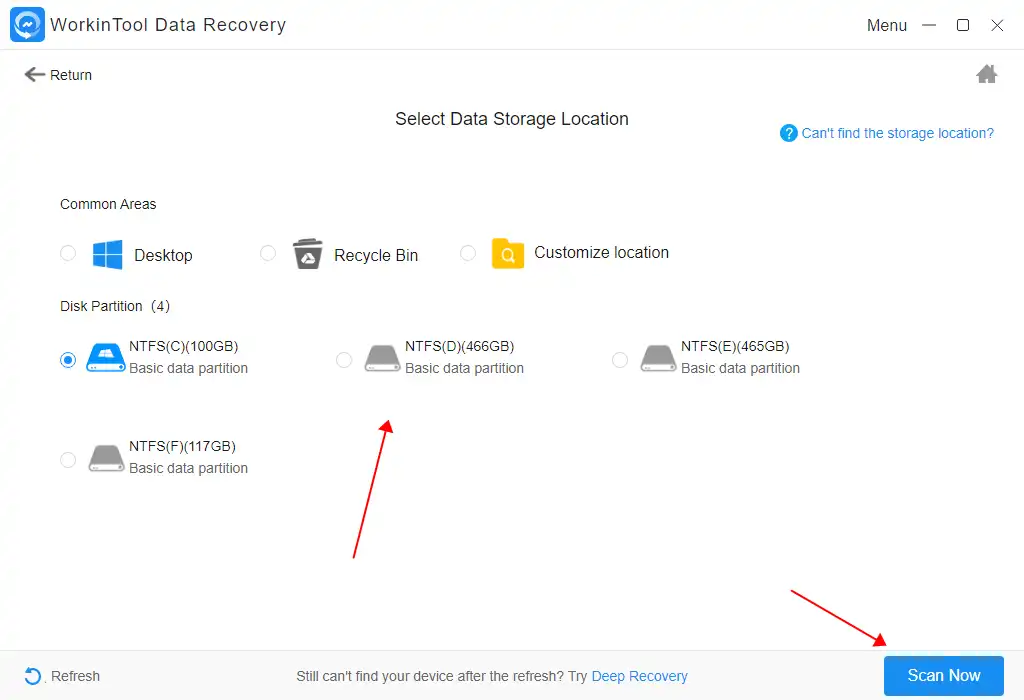 3. Tap the Video option in the File Type menu, then find your lost files and click Recover to get them back.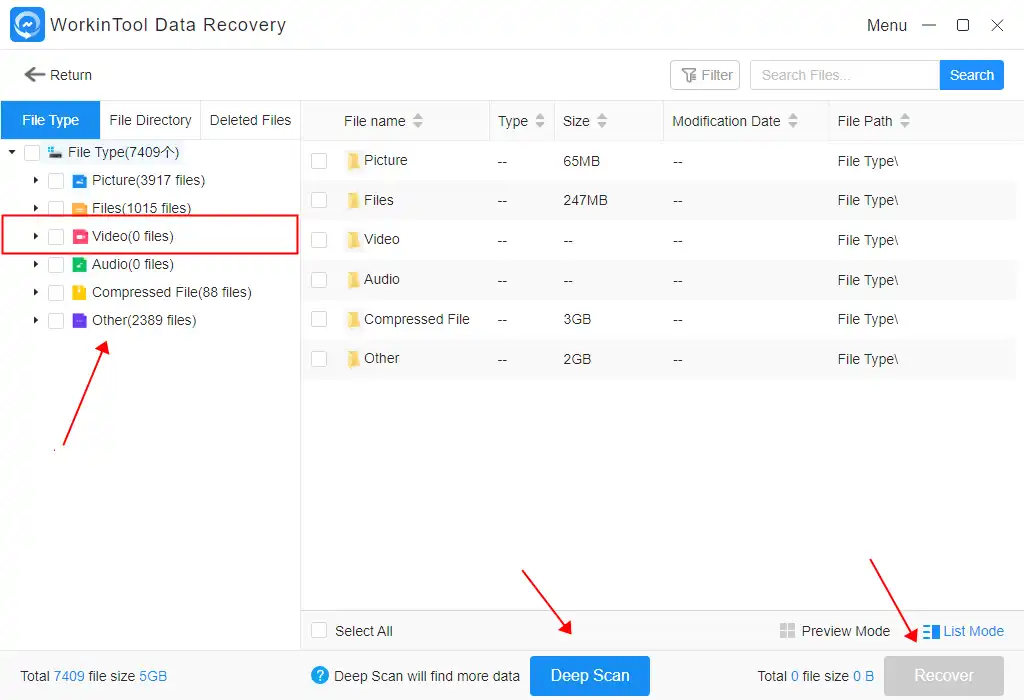 📣 Notice:
Please use Deep Scan mode if you still cannot find your videos. It will dig deeper through your computer storage to find data loss. But in the meantime, it will take more time compared to the standard scanning mode. So, be patient if you want to retrieve your precious ones.
---
Method 2: Check Your Recycle Bin
If your videos have disappeared from where you saved them, you should first check to see if they're in the recycle bin. The recycling bin is a Windows program designed to store files that need to be deleted temporarily.
Follow these steps to restore your videos.
1. Double-click the Recycle Bin icon on your desktop or right-click to open it.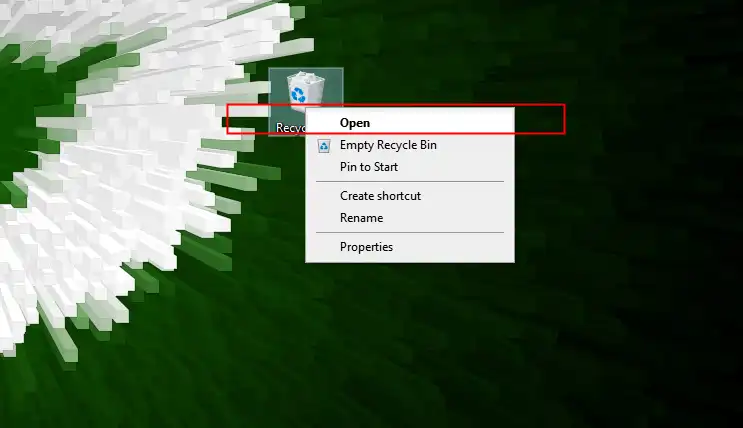 2. Find your video in the recycling bin and right-click it to restore it.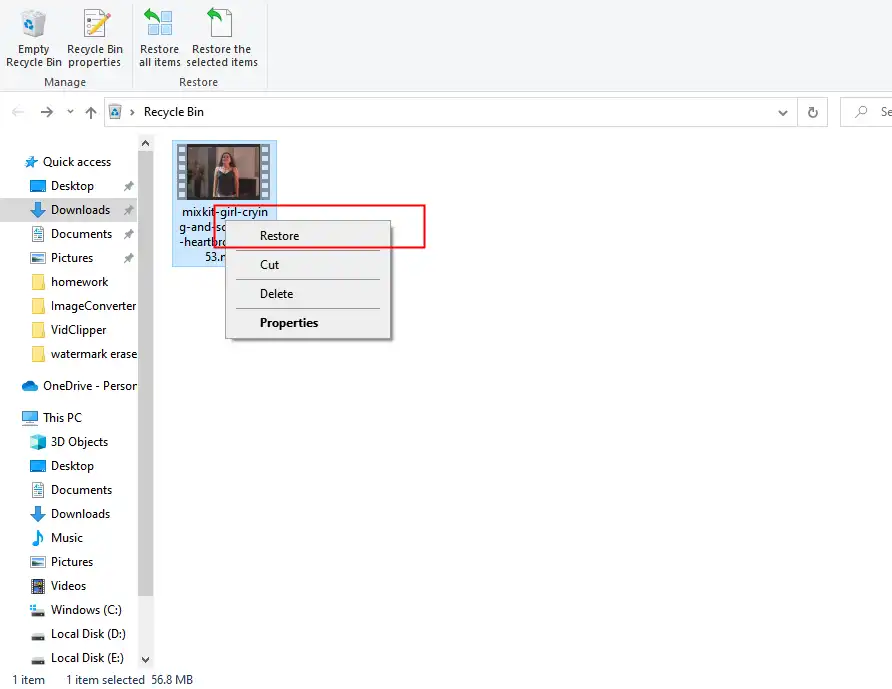 📣 Notice:
You need to know that not all the deleted files will be in the recycle bin. For instance, if you use the Shift + Delete combo to delete files, these files will directly disappear permanently. Even if you find your files in the recycle bin, you have to process them as soon as possible because it can only store them for up to 30 days. Once the time is up, the recycling bin might delete them permanently.
---
Method 3: Recovery from a File History Backup
Except for the recycle bin, there is a second place you can check on Windows. You can check the File History feature, designed to back up files located in your computer's file folders.
To recover permanently deleted videos from a File History backup:
Open the 

Control Panel 

on your computer.

Go to System and Security > File History > Restore personnel files.

Find the video storage location and see if there is a backup that contains them.

Click the Restore button to recover deleted videos.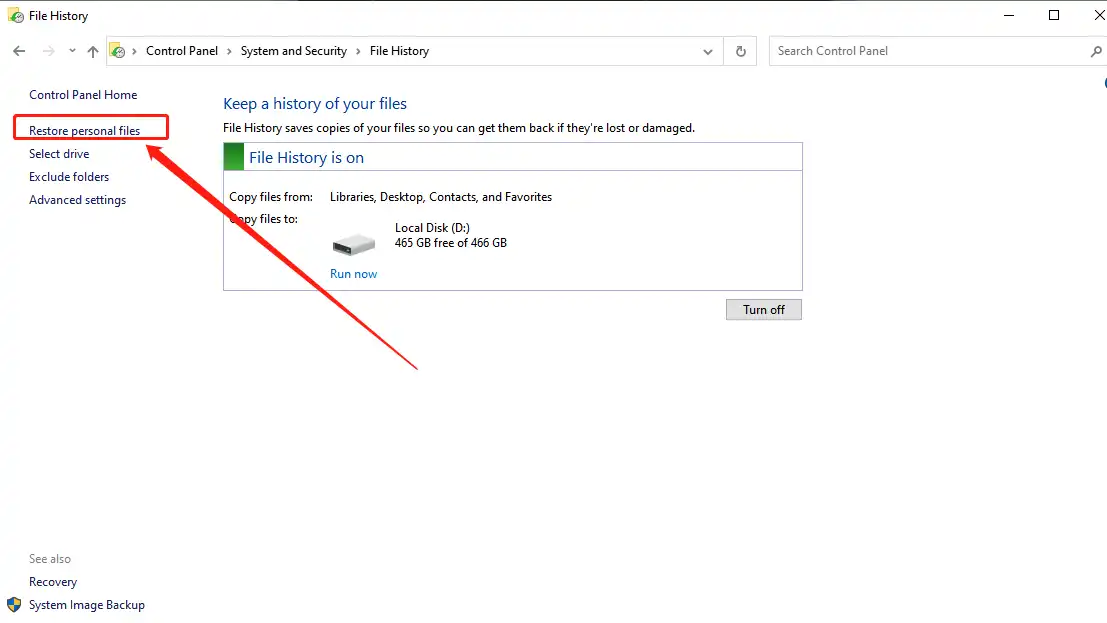 📣 Notice: 
Use this recovery feature only if you have a backup that you have turned on in advance. If you didn't turn it on before, there's no way you can restore it. But if you keep this backup on all the time, it will take up a portion of your computer's memory and slow it down. So it would be best if you weighed the pros and cons.
---
How to Recover Deleted Videos on Mac Online
In addition to the general idea of recovering deleted video files from the Trash folder, the Mac computer also comes with two ways to help users recover video loss.
Method 1: Recover from the Photos App
The fact is that when you delete some video files, they don't necessarily go to the Trash folder for temporary storage. People only assume that the Photos app is a tool to manage their photos and videos. But seldom has known that it is equipped with its own Trash equivalent, the Recently Deleted folder. You can use it to recover the deleted videos on your Mac.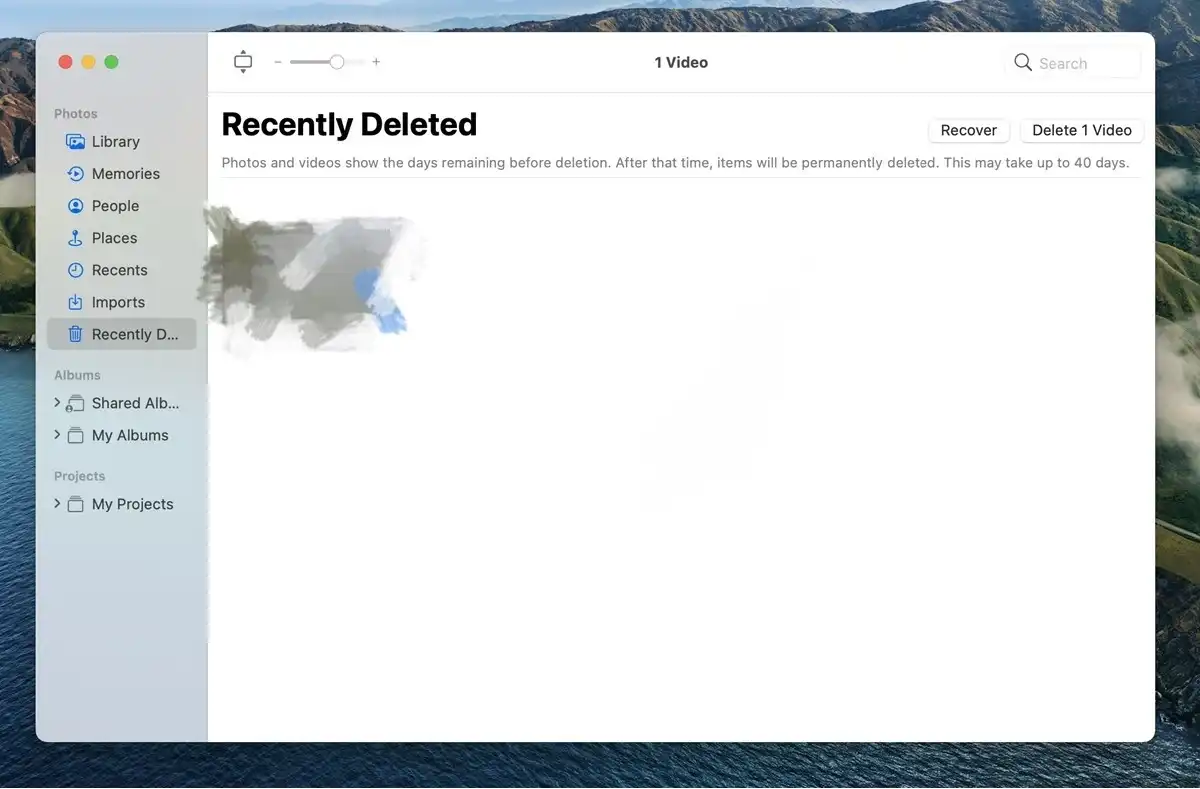 Launch the Photos app.

Find the 

Recently Deleted

 folder on the right side menu.

Pick the videos that you want to recover.

Click 

Recover

 to get the wanted videos back to your Photo library.
📣 Notice:
The time box at the bottom of each file tells you that the file will be permanently deleted in a few days. But don't let your guard down just because of this feature, thinking it won't matter for a few days. Then there's a good chance you'll miss the deadline. The best way to avoid this problem is to recover the files you need as soon as possible. Do it before it is too late.
---
Method 2: Recovery from a Time Machine Backup
Suppose you cannot find the videos you want to recover using the method described above. Don't give up just yet. If you're in the habit of backing up your Time Machine at any time, you should have a chance to restore the contents of your computer to what it looked like the last time you backed up. That's when all the videos you need are still there. This will also save you a lot of unnecessary trouble.
First, Open the 

Time Machine

 application. (If you can find this app, tap on the 

Command Key (⌘)

, open

 Spotlight

 to type the name, and press 

Return.

Go to the folder where your videos were lost and select a backup that contains them.

Then, pick the videos you want to recover.

Click the 

Restore

 button to recover them.
If you want to use this feature, be sure to enable the Time Machine function first on your Mac computer. Otherwise, it cannot help you. However, you can still check if you have any backup drives that you can use to recover video loss.
---
Bottom Line
So, this is my gift to you. You now completely understand how to get your deleted videos back. No matter if it is because you accidentally lost them or deleted them on purpose, and now you've regretted doing so, you have the correct method to recover them this time. We have provided you with ways on both Windows and Mac. We highly recommend that you use WorkinTool Data Recovery Software for third-party Data Recovery Software. Not because it can help users recover all the lost data, it is robust in use, simple in interface, quick in scanning and recovery, and most of all, it is 100% FREE without any limit.
Please don't wait any longer and go and try to restore them immediately.