How to Recover Deleted TikTok Videos for Free 2023
Want to use downloaded TikTok videos for editing but find they are accidentally deleted? Anxious about finding the disappeared videos? No worries. This guide shares four reliable methods to bring deleted TikTok videos back on Windows, iPhone, and Android.
1. Backup – Windows
2. Video recovery software – Windows
3. iCloud – iPhone
4. Google Photos – Android
We also provide a brief introduction on how to recover TikTok drafts and liked videos.
How to Recover Deleted TikTok Videos for Free on Windows/iPhone/Android
"How can I get deleted and lost TikTok videos back? I've spent a lot of time editing a short video. But it accidentally goes nowhere. Can someone tell me if there is an effective way to get it back?"
TikTok is a top-rated video-sharing social networking app. It has been gaining surging popularity these years. This social media platform attracts the attention of a wide range of video creators and viewers. Everyone is used to swiping their phone screen and watching short videos. Even people around us like to take and share TikTok videos.
However, users will likely suffer unwanted data loss when creating TikTok videos. Even the saved TikTok videos can be accidentally deleted. If you accidentally delete a TikTok video, can you get it back? Whether you are an ordinary user or a creative content maker who enjoys a huge fan base, you must prepare for the inevitable.
Thankfully, this post shares how to recover deleted TikTok videos you saved on local devices and how to recover draft videos from TikTok. Keep reading and get your valuable TikTok video back!
---
How to Recover Deleted TikTok Videos on Windows
Some users like to look through and download TikTok videos for editing purposes. If your saved videos are accidentally lost, and you can't find the videos from TikTok, you can try the following methods to get the deleted TikTok videos back. This section shares two effective and free solutions to retrieve your deleted TikTok videos on Windows computers.
Restore Deleted TikTok Videos from the Backup
The simplest way to find your lost data is to check the recycle bin. However, if you empty your recycle bin or use Shift+Delete to delete a video, the file is permanently gone, and the easiest recovery method is no longer available.
In this case, you can try File History and get the deleted TikTok videos from the computer backup. As long as you've activated the File History backup option, you can restore the folder that stored the video to the previous versions. The steps are straightforward. See how to recover deleted TikTok videos with windows backup below.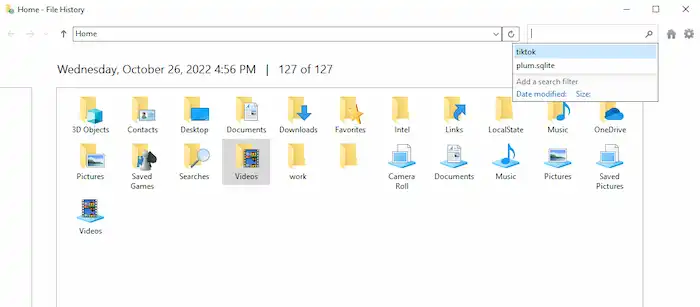 Type 

File History

 in the search box of the Windows taskbar and press 

Enter

 to open the folder.

Type 

TikTok

or the file name

 in the search box. All the TikTok-related videos and documents will show up.

Click the file you need to recover to preview. Then click the gear icon in the upper right corner to restore it.
Retrieve TikTok Videos with Video Recovery Software
Suppose you failed to find any TikTok videos from the backup, or you didn't activate the backup feature. In that case, this free third-party TikTok video recovery software—WorkinTool Data Recovery will be of help.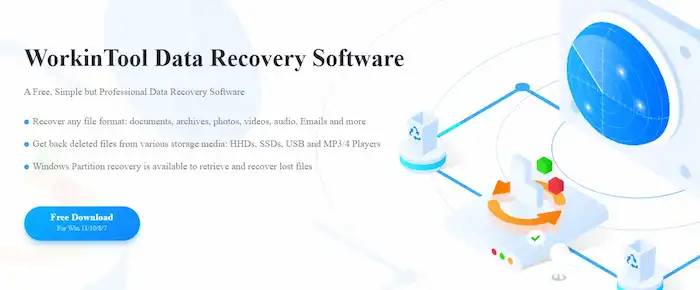 It is a newly-released data recovery program for Windows users. It can recover any lost and deleted files in a couple of clicks. In addition, no matter for what reasons that cause file loss, maloperation, system upgrading, suddenly failed power supply, attacks from viruses and malware, etc., WorkinTool Data Recovery can successfully bring them back for you.
The reason why I recommend this file recovery software is as follows. You can have a try by pressing the download button below.

How to recover deleted TikTok videos with 

WorkinTool

.
1. Choose a recovery mode.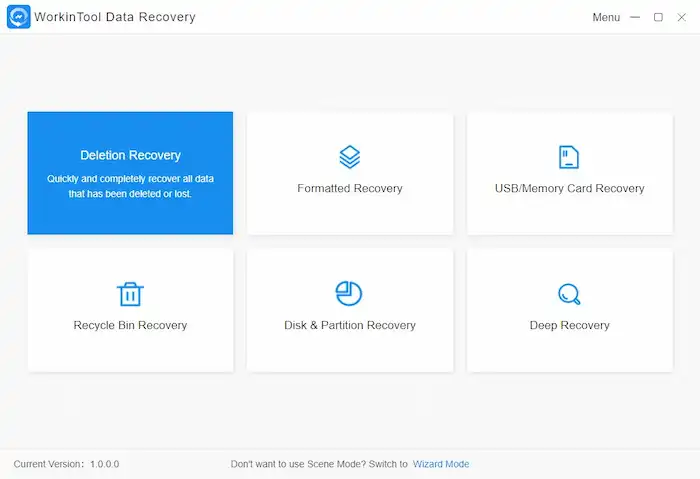 After downloading and installing this TikTok video recovery software, open it and select Deletion Recovery. (There are five other modes suitable for different occasions, like USB/memory card recovery, formatted device recovery, recycle bin recovery, disk & partition recovery, and deep recovery. When the first five scenes fail to find the items you need, you can try the deep recovery to run a deeper detection.)
2. Search for lost items.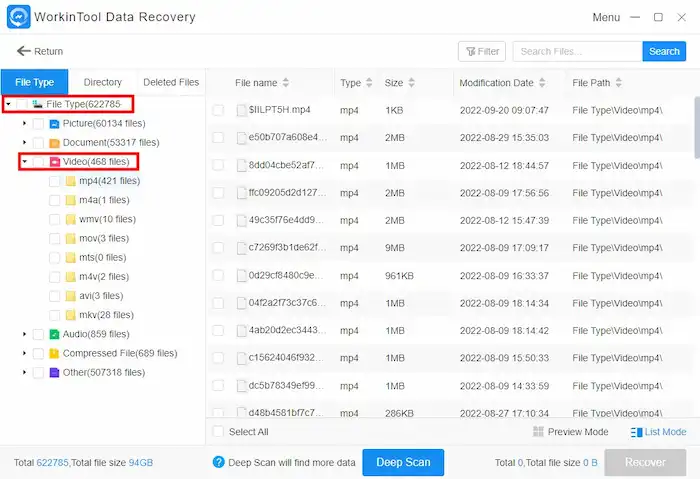 Select the video's original storing place, and press Scan Now to launch a quick scan. Wait for a while, and you will see a panel showing the detected items by file type. Then go to File Type >Video to check your deleted TikTok video files.
You can use the Filter option and the search bar in the upper right corner to sort and search your files more quickly by the modification date, file type, file size, etc.
3. Recover deleted TikTok videos.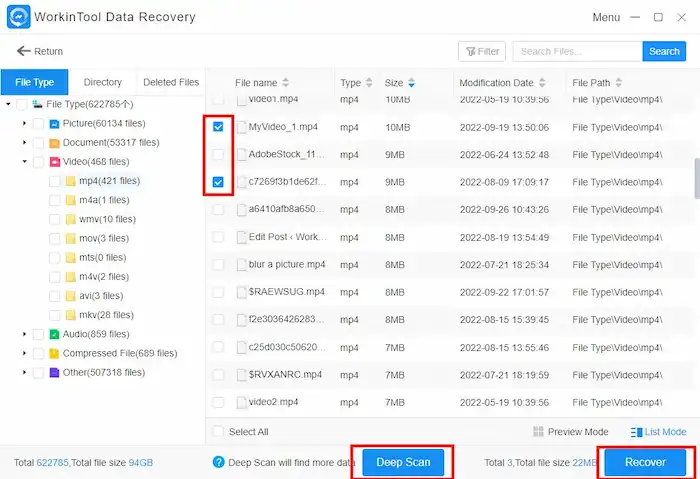 After finding the deleted TikTok videos, you need to tick them and press Recover to bring them back to their original place or restore them to another location. Besides, if you didn't find the lost videos, press the bottom Deep Scan to perform a deeper detection.
---
How to Restore Deleted TikTok Videos on Phone
When you accidentally delete TikTok videos on your phone, the first place you should check is the backup of the default photos app. If you have activated the automatic uploading of video and audio files to the cloud, take advantage of the following methods.
How to Restore Deleted TikTok Videos on iPhone
iCloud is the default storage place for iOS data. If you can't find the TikTok files you need in the Photos app, try the following steps to look for them in the iCloud backup. Make sure the iCloud backup setting is on (Check it in Settings > Apple ID > iCloud > iCloud Backup). Here are the detailed steps.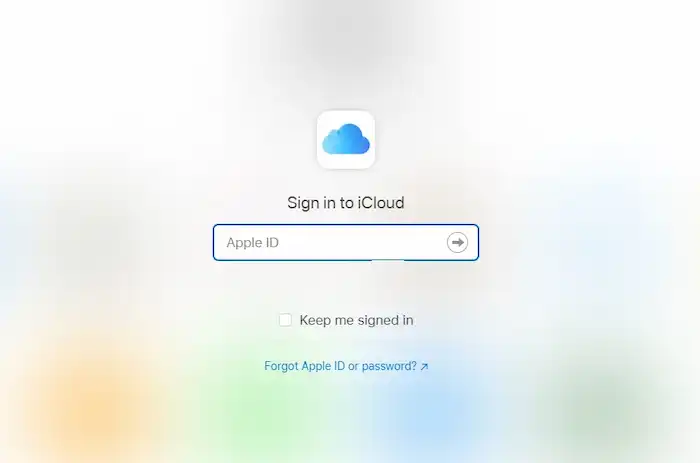 1. Go to iCloud.com and sign into your account.
2. Access Settings > Advanced > Recover Files to search the deleted TikTok videos.
3. Tap Restore to retrieve the deleted videos.
How to Recover Deleted TikTok Videos on Android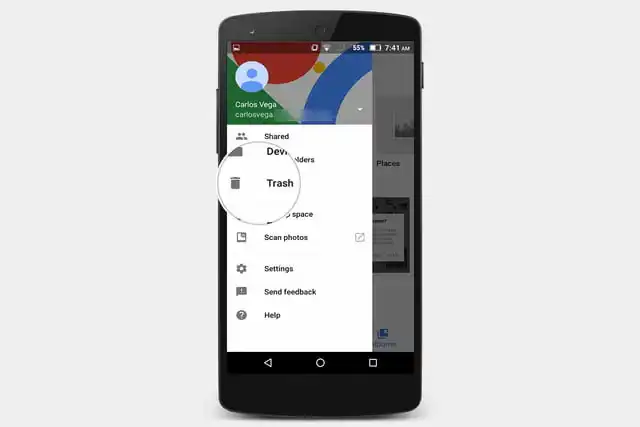 If you can't find the TikTok videos you saved in the Google Photos app, you still have a chance to bring them back. Still, you should check if the backup feature is on (Check it in Google Photos > tap your account profile > Photos settings > Back up & sync). If it is turned on, the deleted photos and videos will stay in the Trash for 60 days before being permanently deleted. Here are the specific steps.
1. Open the Google Photos app and tap Menu in the upper left corner.
2. Go to Trash and select the TikTok videos you wish to recover.
3. Tap the Restore icon to bring them back.
---
FAQs
Finally, after learning how to recover deleted TikTok videos, here come some frequently asked questions you may be interested in.
How to Recover Deleted Drafts on TikTok?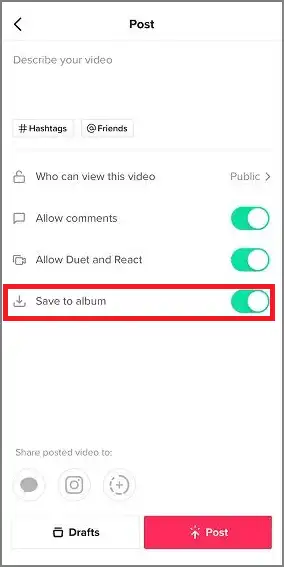 After editing a video on TikTok, you may save it as a draft or directly post it. You can find the edited video draft in your default photos app if you have enabled the Save to album option. If not, the draft can't be recovered.
How to Restore Liked Videos?
TikTok provides a dedicated section for our liked videos. To restore liked videos, you need to click the video you wish to recover and tap the three-dot icon > Save Video to download it to your phone.