How to AI Generate Cat Profile Pictures: Best AI Cat Generator
WorkinTool Image Converter is an easy-to-use and efficient tool that enables users to create stunning cat profile pictures effortlessly. Its advanced features and user-friendly interface make generating comprehensive and feature-rich visuals a breeze. Whether you're looking to create cat images in a particular style, WorkinTool Image Converter is the go-to option for taking your AI-generated images to the next level. So, why wait any longer? Experience the power of WorkinTool's cat generator creator today and bring your ideas to life with vibrant and high-quality images!
😍 1. FREE AI Image Converter try-out.
🤩 3. Easy operating steps with AI technology.
😎 4. Multiple customized options to generate AI images.
🥳 5. Cover all the features that you can on the market and interesting filters.
😊 6. Available for image conversion, compression, matting, watermark, and more.
How to AI Generate Cat Profile Pictures: Best AI Cat Generator
Cat lovers all over the world can attest to the joy that comes from seeing adorable feline faces on the internet. Having captivating cat profile pictures has become increasingly important for individuals and businesses alike, as it can help enhance their online presence and attract more attention. Thanks to recent artificial intelligence (AI) technology breakthroughs, generating unique and stunning cat images is now easier than ever. These generators can produce a wide range of cat breeds, colors, and poses, allowing users to customize their cat images to their liking.
In this article, we'll explore the world of AI Cat Generators and how to use them to create eye-catching cat profile pictures. We'll discuss the types of AI Cat Generators available, their benefits, and some tips for making perfect cat profile pictures. Whether you're a social media user, website owner, or content creator, this article will provide you with all the information you need to create captivating cat images to make your online presence stand out.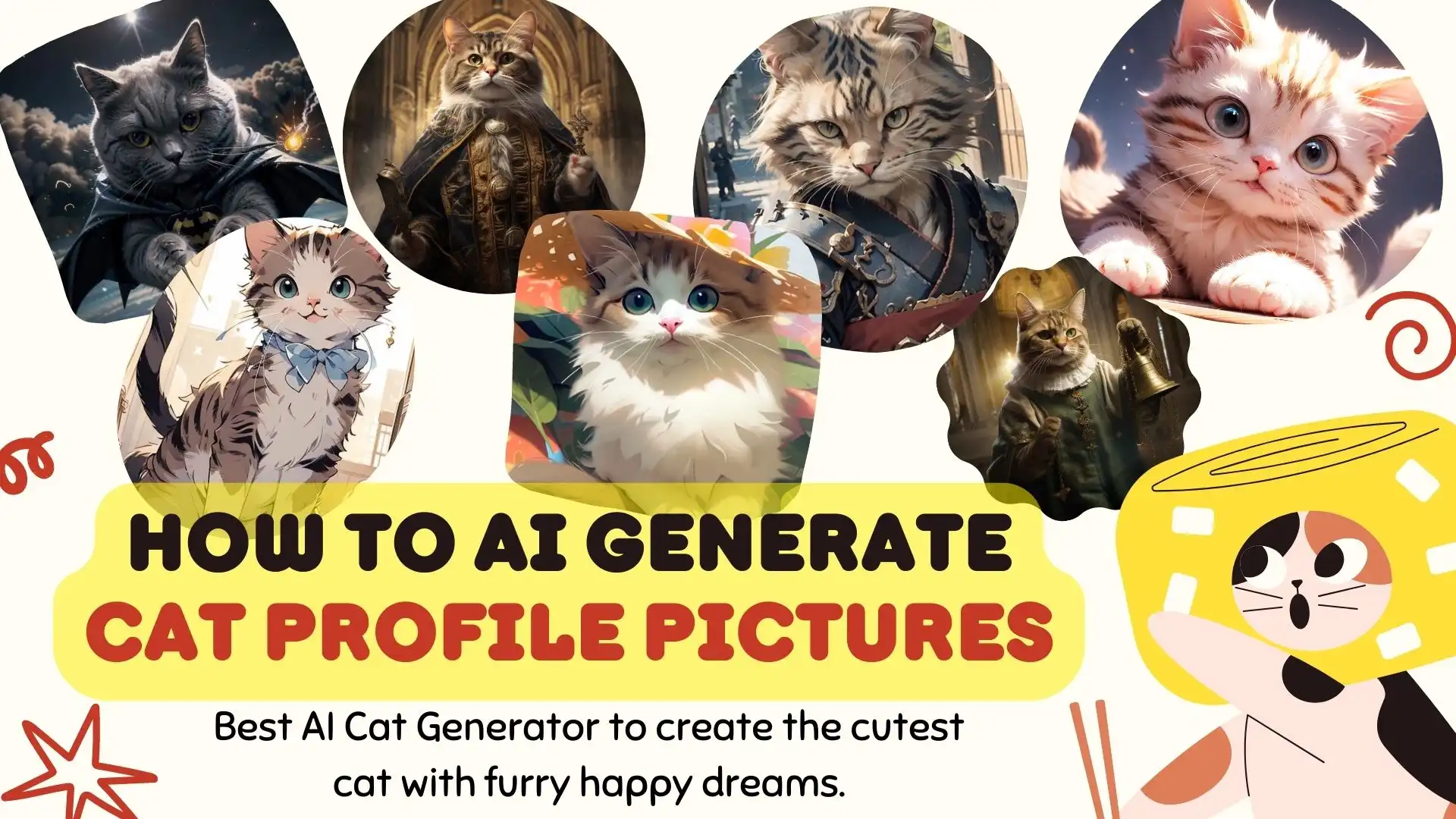 ---
What is an AI Cat Generator?
An AI Cat Generator is an AI-powered tool that uses advanced machine learning algorithms to generate unique cat images in various styles. These generators use large datasets of cat images to learn the patterns and features that make up a typical cat's appearance. It combines and modifies the learned characteristics. In this way, The AI then uses this knowledge to create new, never-before-seen cat images. The most powerful and commonly used AI Image Generators include:
Midjourney is a well-developed AI-powered tool that turns written descriptions into lifelike images using machine learning and neural networks. It is popular among those who want to create visuals using AI, as it works seamlessly within Discord. Midjourney's capabilities improve with each use, resulting in increasingly impressive artwork.

However, currently, it only has two AI models. Also, it's important to note that Midjourney has discontinued its free services. Users must now pay a fee to access it. And it isn't cheap.
Stable Diffusion is a remarkable software that uses Latent Diffusion Models to generate high-quality images from text inputs. The best part is that it's completely free and open-source, meaning developers worldwide can quickly contribute and enhance the tool. The software offers thousands of user-provided models that can be downloaded, enabling users to create unique images that cater to their requirements. Moreover, users can deploy Stable Diffusion locally.

However, it's worth noting that beginners may find installing and setting up the software time-consuming and challenging. And it requires good equipment to run well.
As you can see, both have their fatal weakness. And that is why we want to recommend something else. Compared to them, you can try a third option. That is WorkinTool Image Converter. Popular as they seem to be, both of them have different weaknesses. For example, MJ only has two models and charges expensive. The installation of SD is complex and requires high hardware. That is why we would like you to try the third option.
WorkinTool Image Converter.
---
How to AI Generate Cat Profile Pictures

: WorkinTool Image Converter
As Midjourney's free trial has ended, the choices for AI image generation have become limited. Although Stable Diffusion is an open-source option, it can be difficult for novices to install and operate. Meanwhile, online AI generators either require quite an investment or generate subpar images. Nevertheless, there is still hope for those searching for a trustworthy AI cat generator. So, here comes today's recommendation: WorkinTool Image Converter.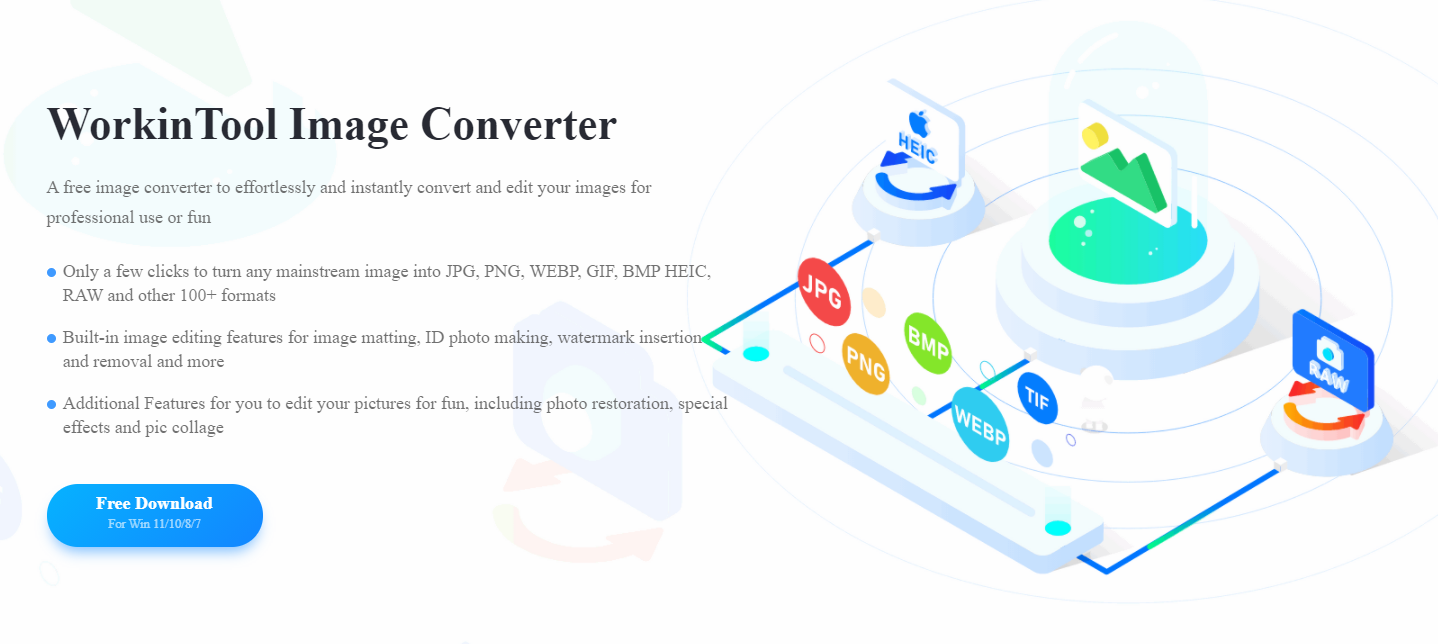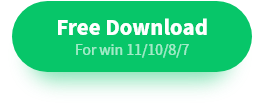 WorkinTool Image Converter is a powerful application that employs cutting-edge AI technology to edit and transform images. It offers many editing features that users can utilize to enhance their photos. In its latest version, WorkinTool has upgraded its AI image generation feature, fueled by Stable Diffusion. And we can use it to generate wanted AI cat profile pictures. Users can select between text-to-picture or picture-to-picture generation and customize them to create one-of-a-kind and cut cat images in seconds. Moreover, it offers over 300 models to make adorable cats in various styles. With endless possibilities, WorkinTool Image Converter is an incredible tool anyone can use to harness the power of AI in their image editing and conversion endeavors.
This cat picture generator now provides users with unlimited trial picture generation with watermarks. Users can try it out a few times to see if the results are satisfactory before committing to the full version.
📒 Look how it works with WorkinTool:
1. Open this tool and decide if you want to generate cat pictures from pictures or text.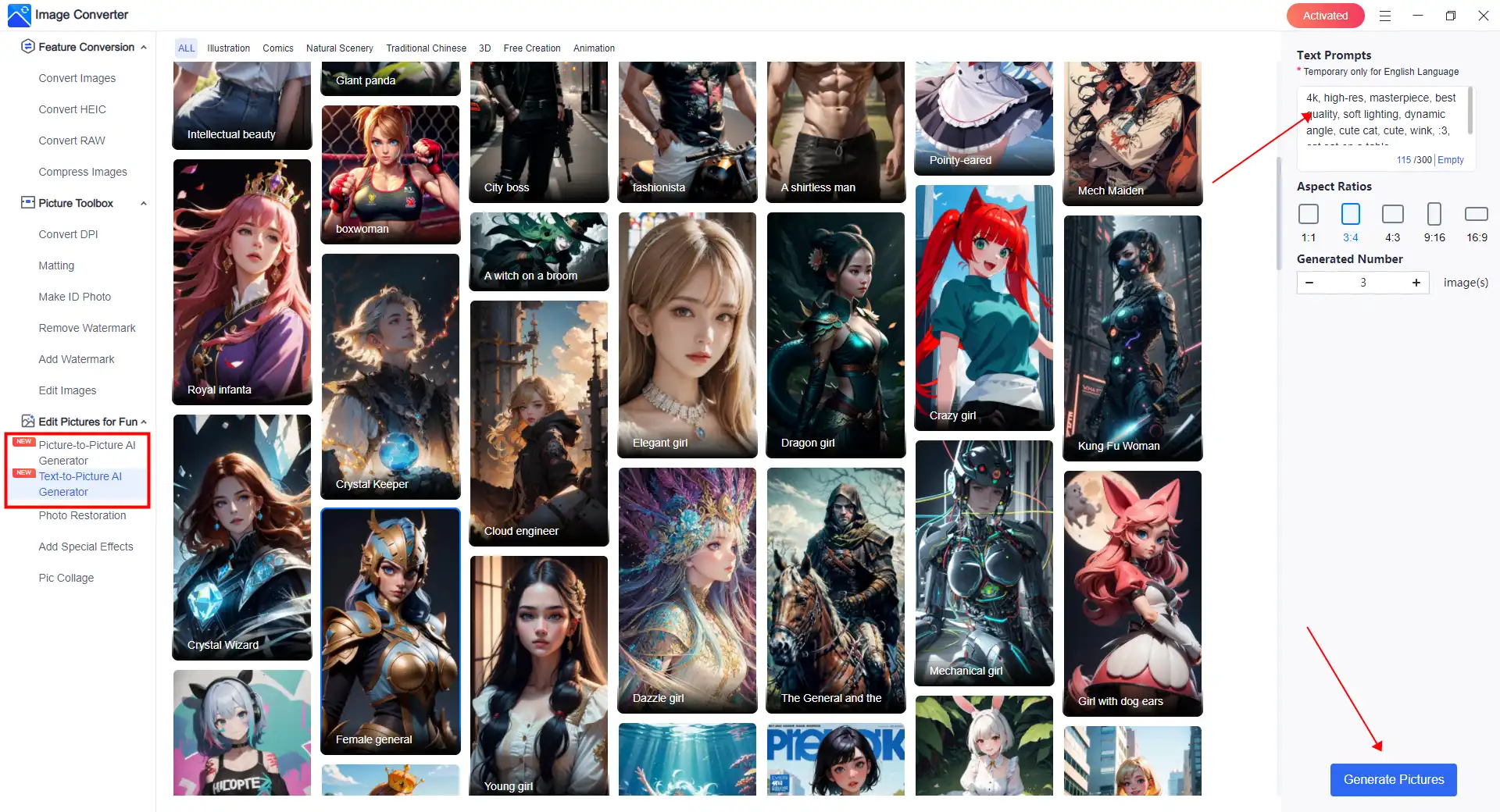 2. Click the chosen model and enter the prompt you wish to generate your cat AI images. 
For example, if you want to create cute anime cats as cat profile pictures, the input prompts could be:
(4k, high-res, masterpiece, the best quality, soft lighting, dynamic angle, adorable cat, cute, wink, the cat sat on a table.)
3. Afterward, click Generate Picture.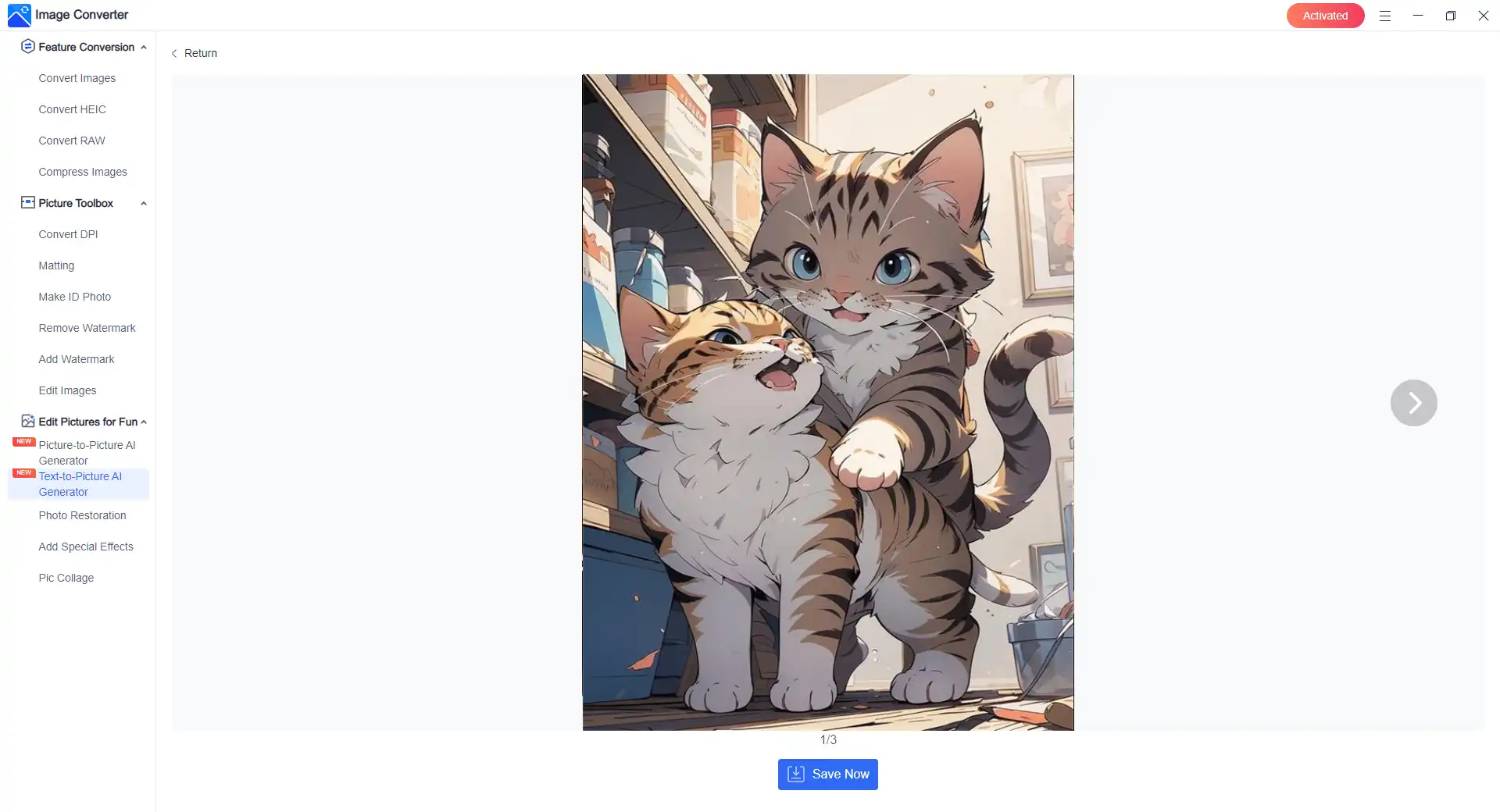 4. When finishing generating the cat, preview the result and click Save Now.
WorkinTool Image Converter boasts an impressive collection of more than 300 models, with frequent additions of new ones. These models empower users to create diverse cat profile pictures, such as 3D reality, comic book-style, and movie-inspired ones. If you're intrigued and eager to explore the app's features, give it a try and see what you can create.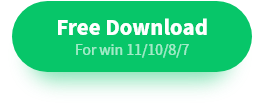 💖 More Additional Features for WorkinTool Image Converter 💖
---
Utilizing AI Cat Profile Images
AI-generated avatars have various applications in both personal and professional settings. Some common uses include:
Social media profiles: An AI-generated cat profile picture can be used as a profile picture on various social media platforms, such as Facebook, Instagram, and Twitter.
Online gaming avatars: AI cat profile pictures can be used as avatars in online gaming communities and forums.
Blogging: Bloggers can use AI cat profile pictures as their author portraits on their blogs.
Email signatures: An AI-generated cat profile picture can be used in email signatures to add a personal touch.
Chat applications: AI cat profile pictures can be used as profile pictures in chat applications like WhatsApp, Telegram, and Slack.
Online dating profiles: AI cat profile pictures can be used in online dating profiles to add a fun and playful touch.
Online forums: AI cat profile pictures can be used in online forums to represent a user's identity.
Business profiles: Companies can use AI cat profile pictures as team member portraits on their websites or social media profiles.


---
Conclusion
As a result, AI Cat Generators like WorkinTool Image Converter have revolutionized the way we create online profile pictures, allowing us to generate an endless variety of adorable cat images. By following the simple steps outlined in this article, you can create your own personalized cat profile picture that reflects your unique style and personality. With just a few clicks, you can explore a wide range of options, from classic to quirky, and find the perfect image that matches your online persona. Whether you're looking to add some feline charm to your social media profiles, business cards, or personal websites, AI cat generators offer a fun and innovative solution. So, what are you waiting for? Embrace the world of AI-generated cat images and let your creativity run wild!