How to Convert HEIC to PDF on Windows and Mac Free
Even though HEIC format can save half-space than JPG format of the same photo while maintaining the quality. But the incompatibility makes it hard to replace the original JPG format on other systems. And it is super-inconvenient when sharing photos with others. Therefore, you can convert HEIC to PDF format to solve this problem. For the Windows system, I highly recommend WorkinTool Image Converter. It is a professional image processor. You can use it to convert multiple files at the same time. Moreover, it is 100% free to use. Come experience the magic right now.
I personally have experienced the most annoying thing, which is that when I had hundreds of pictures waiting for me to edit but suddenly realize they are all HEIC format and I cannot open a single one by any app that I have installed on this computer due to the incompatibility. But I can't be alone right?  For Apple users, this kind of thing happens all the time. HEIC is the Apple-specific image format and can only be opened by Apple devices. But this format makes it much more difficult to work in the office. What if the office computers are not from Apple? What if you want to convert HEIC to PDF?
Then you must wonder, why don't you convert HEIC to JPG? Why do you need to convert HEIC to PDF? Well, you have to know that even JPG is the most supported image format in the world, however, HEIC is only used in the Apple community. It was originally designed to replace the JPG format. Although it contains animations and can save half the space a JPG can take with the same quality, the mainstream images are still leaning toward JPG format. But if you convert to JPG the image size would become bigger, and the sharing problem still remains.
In order to deal with such a problem, we can adopt a compromise solution. And that is to convert HEIC to PDF. In this way can it be more convenient for users to work, and will not be the format of the trouble or won't open. Here's why and how to do it.
---
What Is a HEIC File?
HEIC (stands for High-Efficiency Image Container) was created in 2015. The primary thought of HEIC format is to replace the use of JPG or JPEG for images to save space. It can store images and GIF animations in a smaller size. The main reason is that the HEIC format uses more advanced compression technology to save 50% image size while retaining the image quality. More to mention, HEIC format will get images a wider range of color palettes. Originally to these advantages over other digital image formats, HEIC format could be the first commonly used image format. However, it is not compatible with most operating systems that are used by most people. So, this kind of problem blocks the possibility to get HEIC format to become image mainstream. HEIC is currently only supported on Apple device systems like iOS and Mac.
Why Convert HEIC to PDF?
A common case that often runs into Apple users is that when sharing photos with others, they will use the HEIC format. And you have to know that, when you're sending photos by email, rather than JPG or JPEG normal image format, the embedded photo will be sent as HEIC, the image itself. But you know, not everybody is a fan of Apple and uses their products. So, as a result, your friends or clients who receive the photo might not be able to open it correctly. In this scenario, converting HEIC to PDF might be a better way to solve this problem.
---
How to Convert HEIC to PDF
💡 On Windows System
The first method I am going to introduce is to convert HEIC to PDF on Windows. The tool I want to recommend is the WorkinTool Image Converter. Just as the name tells you, it is a professional image processing tool. The basic function for it is to convert image format. You can use it to convert JPG to SVG, JPG to WEBP, TIFF to JPG, and more. Except for converting format, you can also operate it to do more advanced stuff like make yourself look like a cartoon character, editing photos, swapping your gender, and so on. Of course, in addition to the function, this professional image processing software also considers beginners' use. A pretty simple and easy-to-use operation process won't shut users out from the start of trying. Plus, it is totally free to use all the features within.
For the function to convert HEIC to PDF, WorkinTool can perfectly work it out. All you have to do is upload your HEIC file into the software, wait a few seconds, and it will prompt you to convert successfully. In fact, not only PDF format, you can convert HEIC to other formats as well. For example, you can directly turn HEIC into JPG images. And it supports batch processing by users. This means that you can convert multiple HEIC files to other formats at once. So that it saves the user a lot of time and energy to deal with other more important things.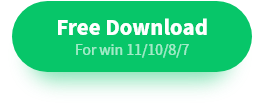 Check how to make it work.
First, download and install this image converter on your computer.
Open it and find "Convert HEIC" to put your targeted HEIC files into the processing page.
You can convert multiple HEIC files at the same time. Find the "PDF" option in the "Output Format" section. Or, if you want to transform them into other formats, you can select those formats as well. It won't affect the final quality. You are also welcome to change the saving folder. Then hit "Start" to begin the conversion.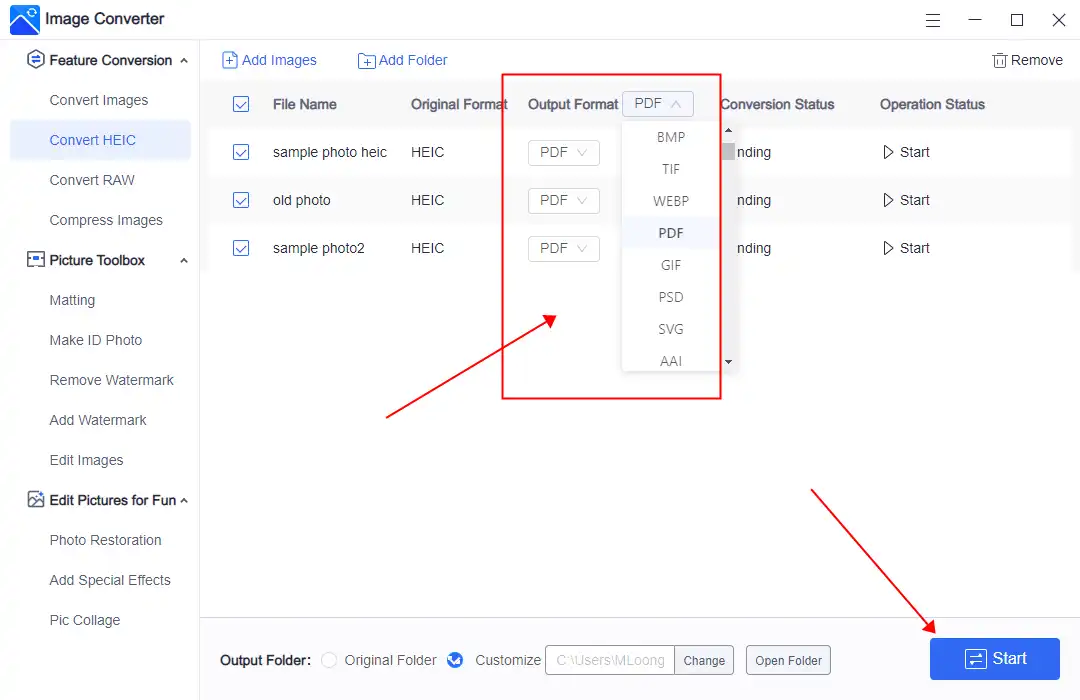 Last, after the conversion is over, you can check the processed file on your computer. Here you can see the comparison of the same file in HEIC and PDF formats. After converting to PDF, the size only changed from 67kb to about 69kb. You can basically ignore it.
So, you have finished the process of converting HEIC to PDF.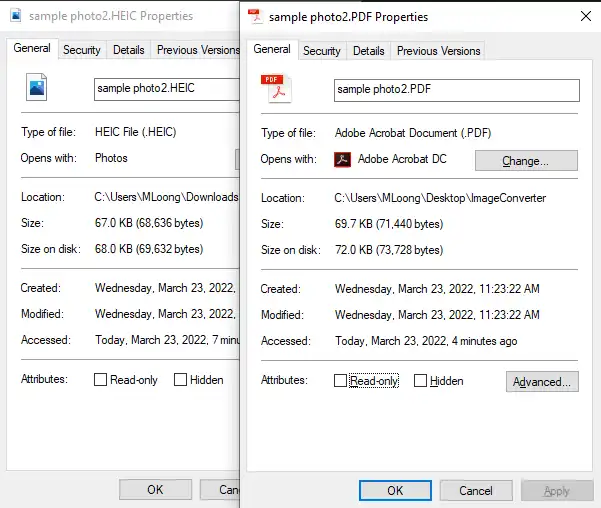 ---
🎯 On Mac System
Since HEIC is the default image format, it is easier to convert HEIC to PDF on the Mac system than do it on Windows. You don't need any third-party applications to complete it. Preview is more than qualified. You can use Preview to check photos, edit photos, and of course, convert the format, including PDF.
In order to convert HEIC to PDF by Preview:
Double-click the HEIC file to open in Preview.
Find "File" > "Export…" in the menu.
Choose "PDF" in the "Format" section, and change the saving location, file name, and other options.
Click "Save" to finish converting.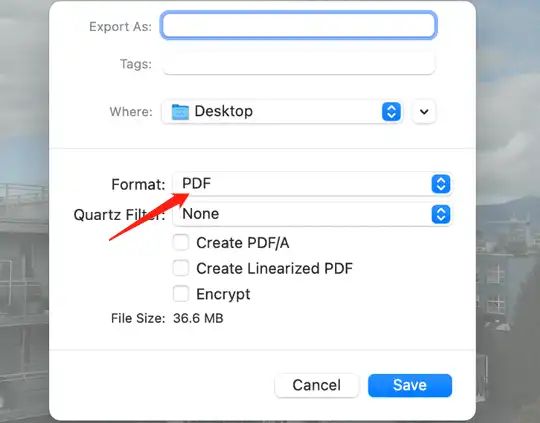 ---
More to Share
As you can see, it is more convenient and easier to share HEIC photos if you can convert them to PDF format. And I'm sure you must have known one thing or two about how to do it after this thorough guide for the methods on two different systems. What I can say is that WorkinTool Image Converter's conversion on Windows is absolutely superb.
Whether you take or not our method, we hope this guide can be a help for your current dilemma.