How to Crop a Screenshot on Windows and Mac
Troubled by cropping screenshots to the ideal size? Want to add annotations on snips? You're on the right page! In this article, we've summarized how to take, crop, edit, and annotate a screenshot on Windows and Mac. Four free and easy-to-use screenshot editors are mentioned. Read on to learn how to crop a screenshot without breaking a sweat!
How to Crop a Screenshot on Windows and Mac
When you take a screenshot on a PC, you will probably capture a picture containing unnecessary visual information. You may have encountered situations like watching a live streaming video, joining a meeting, or watching online courses where you need to catch up with the flow and have no time to edit your screenshots. Perhaps you only want to keep a person or a piece of key information in a picture.
In this case, you may need an image cropper like WorkinTool Image Converter to snip off unwanted parts of a screenshot. This guide will show you simple solutions to take, crop, and edit screenshots on your PC, including Windows and Mac. You can have screenshots cropped in the easiest and fastest way without costing a penny.
---
How to Crop a Screenshot on Windows 10/8/7
You can use the pre-installed screenshot capturer for Windows 10/8/7 system. It allows you to draw, add text to a screenshot, and crop a screenshot manually. But the shortcoming is that you can't precisely control the aspect ratio and image size. In this situation, WorkinTool Image Converter can help you to solve that problem. Read on to learn how to take a screenshot and fine-tune it on the Windows system.
How to take a screenshot on Windows?
The Windows system has a built-in screenshot tool. You can use the Snipping Tool to capture screenshots for any parts of your screen without installing commercial software. It allows you to take free-form, rectangular, window, and full-screen snips with ease. You just need to enter the snipping tool in the search box or press Win+Shift+S to open this program. The screenshot you captured will be added to the clipboard. You can double-click the clipboard pop-up to make basic annotations and aspect ratio adjustments,

How to crop a screenshot with high quality?
However, editing the screenshots saved to the clipboard when the floating window goes away is not feasible. And they will not be auto-saved to the local folder. Some lower versions of Windows computers cannot use the Snipping Tool or Paint 3D successfully. But you may need to do post-production on the screenshots.
In this case, WorkinTool Image Converter comes into being. For image editing on Windows with high quality, here we highly recommend WorkinTool Image Converter—a free and all-featured screenshot editing tool.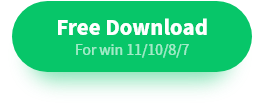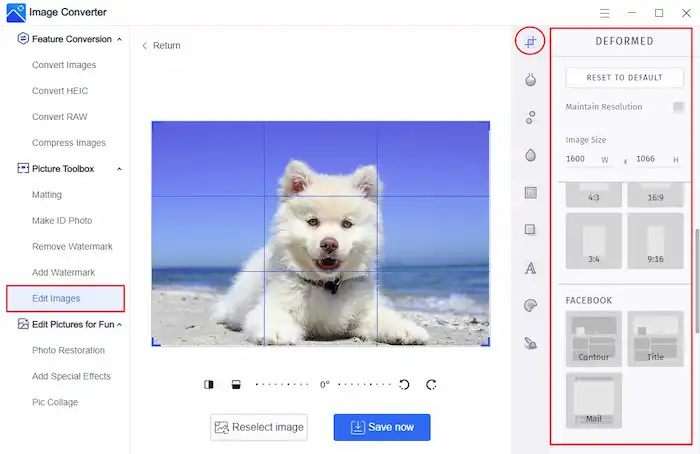 It is specially designed to crop and edit pictures on Windows. It provides you with standard aspect ratio presets like 1:1, 9:16, 3:4, and more. Templates that meet social media requirements are also attainable, such as Facebook banners, Instagram stories, and Twitter portraits. You can manually change the pixel width and height with freeform or the original proportions. Here is how to crop a screenshot in WorkinTool.
Launch WorkinTool Image Converter.
Picture Toolbox > Edit Images, upload a screenshot, hit the crop icon, and edit the image size as desired.
Click Save now to save the cut screenshot.
How to annotate a snip?
Apart from cropping, WorkinTool Image Converter also allows you to draw lines, add text, put stickers on the screenshot, blur a picture, and more. So it is a piece of cake to annotate a snip on Windows using the WorkinTool image editor.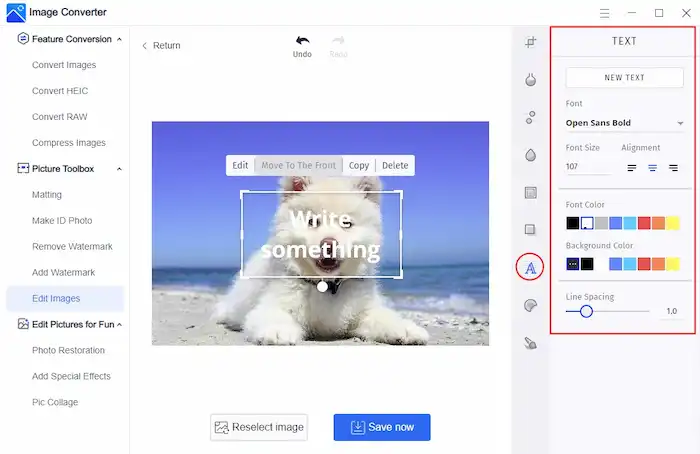 ---
How to Crop a Screenshot on Mac
There are a number of built-in options and third-party alternatives to take and crop a screenshot on Mac. This section will help you get started. After reading, you can cut screenshot margins, mark up the images, or make other advanced changes on screenshots with ease. Before learning to edit screenshots on Mac, we need to know how to capture the screen with shortcut keys first.
Hotkeys for taking screenshots on Mac
Mac built-in screenshot-taking tools can be called out using these shortcuts:
Taking a full-screen screenshot: Shift + Command + 3.
Capture a window on Mac: Shift + Command + 4 + Space bar.
Capture a part of the screen: Shift + Command + 4.
Crop screenshots in Preview or Photos
Once you've taken a screenshot, you will notice a floating thumbnail in the bottom right corner. Click it to bring up the cropping tool, or it will become unattainable after the pop-up disappears. In addition to the default cropping tool, you can use the following screenshot editors to cut unnecessary parts. Preview and the Photos app are two of the best screen editing programs, enabling you to crop and mark up screenshots with ease.
Using Preview
In Finder, double-click a screenshot to bring up Preview.
Hit the Show Markup Toolbar icon, and use click and drag to select the part you want to keep.
Press Tools in the menu bar and select Crop from the drop-down.
Utilizing the Photos app
The Photos app is also a built-in app to make basic edits on pictures on MacOS. You can quickly edit the screenshot aspect ratio using this photo editing tool. Here is how to crop a screenshot with it.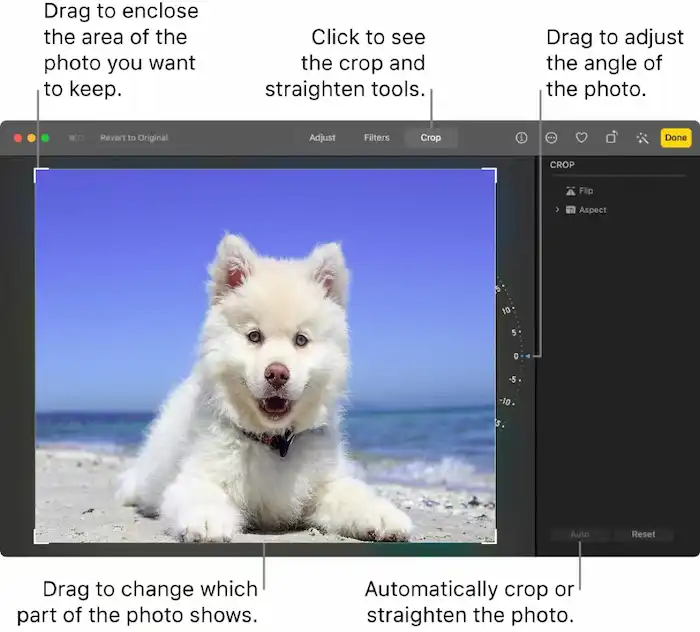 Run Photos, and click File > Import to bring a screenshot in.
Double-click the picture you imported, then hit Edit.
Press Crop at the top to select the area you want to keep.
Click Done to save the adjustment.
---
Wrapping up
In summary, we have introduced four free ways to crop and edit screenshots on Windows and Mac. When putting them into use, we will find that the default cropping tools bundled with built-in screenshot capturers often are limited in time and features. In this case, it is better to use another picture editing software. You can install WorkinTool Image Converter on Windows and use Preview or the Photos app on Mac.
All the tools we mentioned above are free and easy to use, allowing you to edit picture aspect ratio in the fastest time. Try them once, and you will know how to crop a screenshot without breaking a sweat.