How to Convert CR2 to JPG for FREE on Windows and Mac | 4 Solutions
CR2 image format gets high-quality content at the expense of its convenience. Because it's huge in size, this format is very inconvenient for sharing. That's why we recommend converting CR2 to JPG if you have the need. Among all four conversion tools mentioned, WorkinTool Image Converter works best. It supports various image conversions, and it is easy to work with. With its help, you can easily convert any popular format.
😍 1. Up to FREE 5 image batch conversions and compression try-out.
🤩 3. Easy interface for users to edit with 3 STEPS.
😎 4. Support more than 100 different image formats to operate.
🥳 5. Cover all the features that you can on the market and interesting filters.
😊 6. Available for image conversion, compression, matting, watermark, and more.
How to Convert CR2 to JPG for FREE on Windows and Mac | 4 Solutions
There is no doubt that if you take photos with your professional digital camera, the quality of your photos will be excellent. For example, we take Canon's digital camera to take pictures. It uses a CR2 image format to store a large amount of data to get the best picture quality. However, This kind of RAW image format can cause many problems. Accessing this CR2 file format using other devices is challenging as most devices are incompatible. Let alone its huge size and inconvenience for sharing. When the time comes to this, you may want to know some methods on how to convert CR2 to JPG.
---
The Comparison between CR2 and JPG
As the image format for Canon digital image files, CR2 contains tons of data and information, just like any other RAW format. Those data are not processed or compressed when passing through the camera sensor. But this also needs some help when transmitting or uploading to social media. So, sometimes it is best to convert it to another format with a smaller size and better compatibility.
Here is our detailed comparison between CR2 and JPG image formats, where we can see their best and worse parts.
Why Convert CR2 to JPG
Although we have to admit that CR2 is excellent in image quality, which benefits users, there are also many situations that the CR2 format doesn't fit anymore. For example, Check out the most common three that you might meet in your daily life.
---
How to Convert CR2 to JPG on Windows for Free
Because PCs in the Windows system are not equipped with software that can help users directly convert RAW images, your best choice to achieve it is to try a professional image conversion tool. But you want to save time finding one, right? How about trying WorkinTool Image Converter?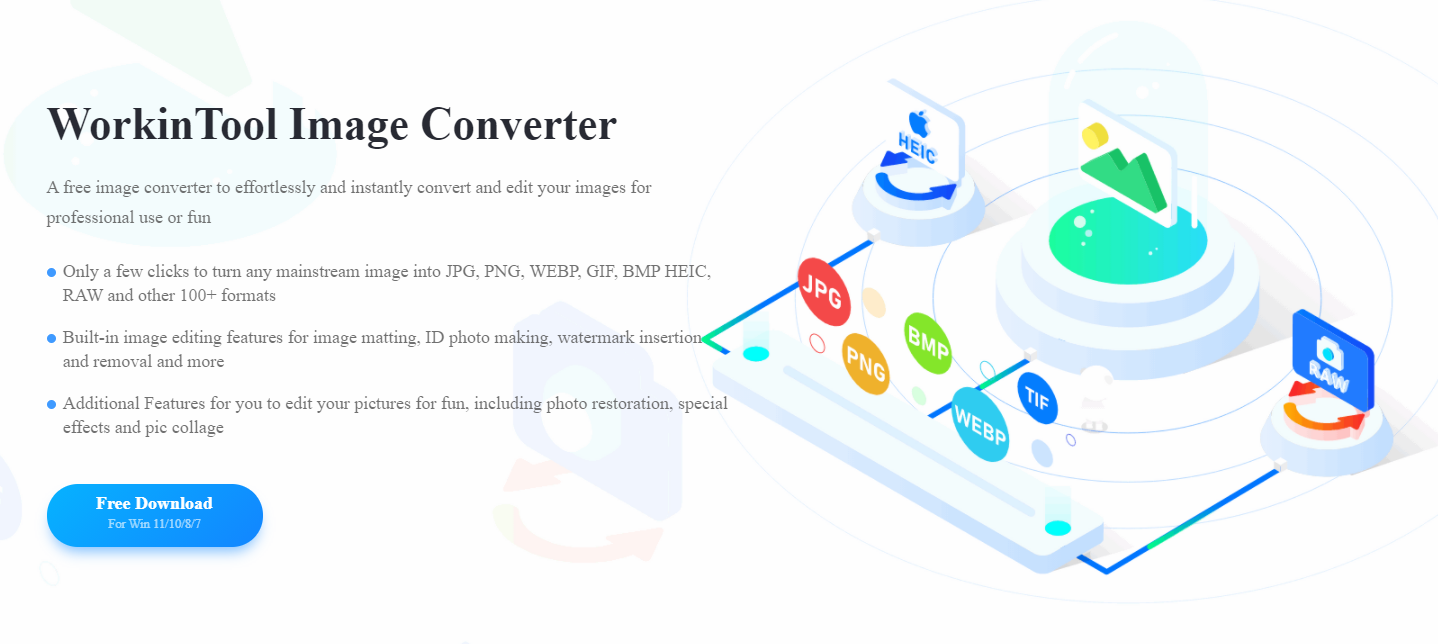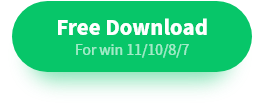 If you want to convert CR2 to JPG, WorkinTool Image Converter can get you a helping hand. It is a versatile image solution. This tool supports more than 100 different image formats to convert, compress, and edit. You can also input five images for batch conversion for free. Of course, this is more than just a converter. It concludes all the image-related features like compression, adding or removing watermarks, background replacement, editing details, and so on. And unlike other image editing software, it is effortless to use. You can see the whole institution on the main page. Three steps can make a conversion.
100 +image formats conversion available

Customize to enlarge or compress images

Add or remove photo watermarks

Change or remove the image background

More than 65 image filters to apply
Look how it works with WorkinTool:
Step 1. After opening this tool, click the Convert Images button and upload your CR2 picture(s).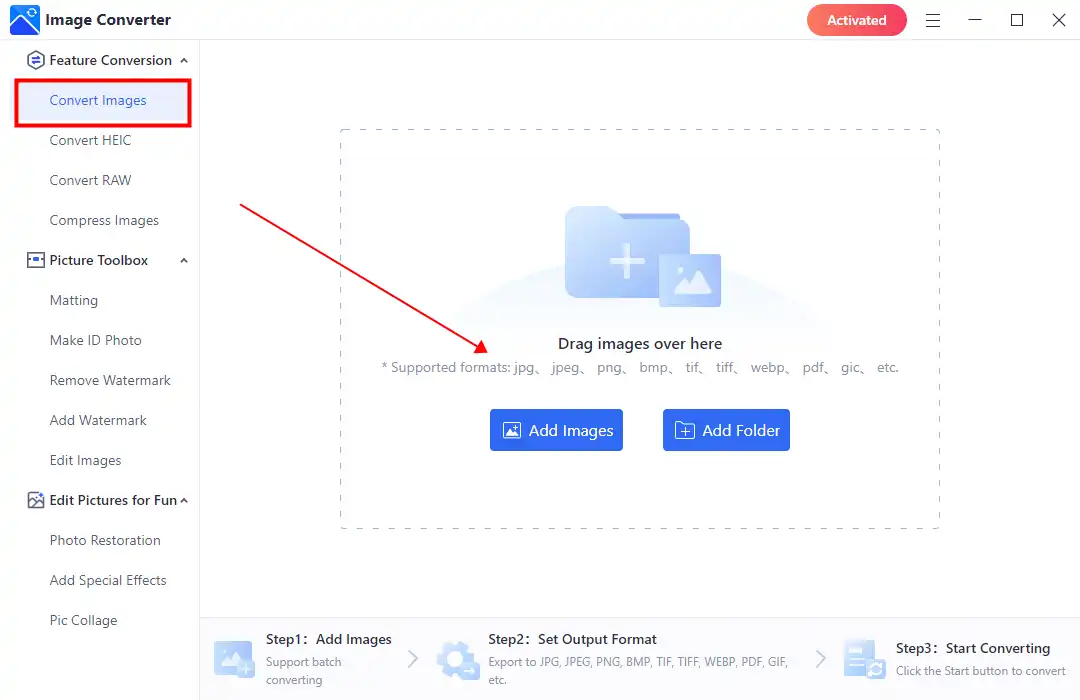 Step 3. Select JPG from the drop-out menu in Output Format and Start the conversion. (You can select multiple formats to convert.)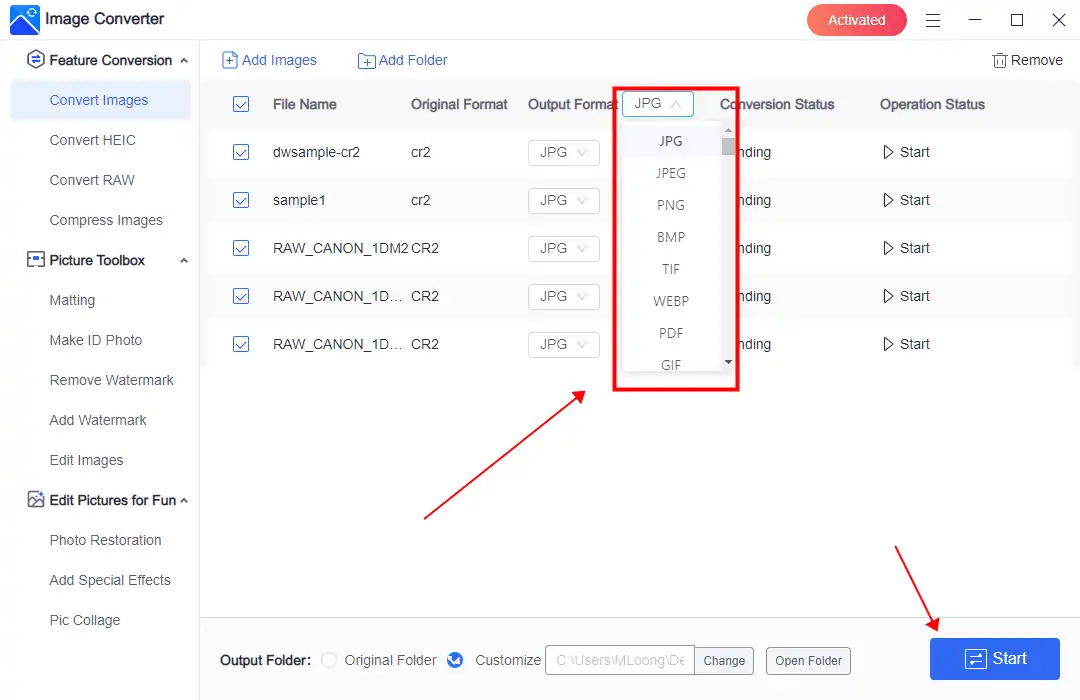 Step 4. Once finished, click View now to check your converted images.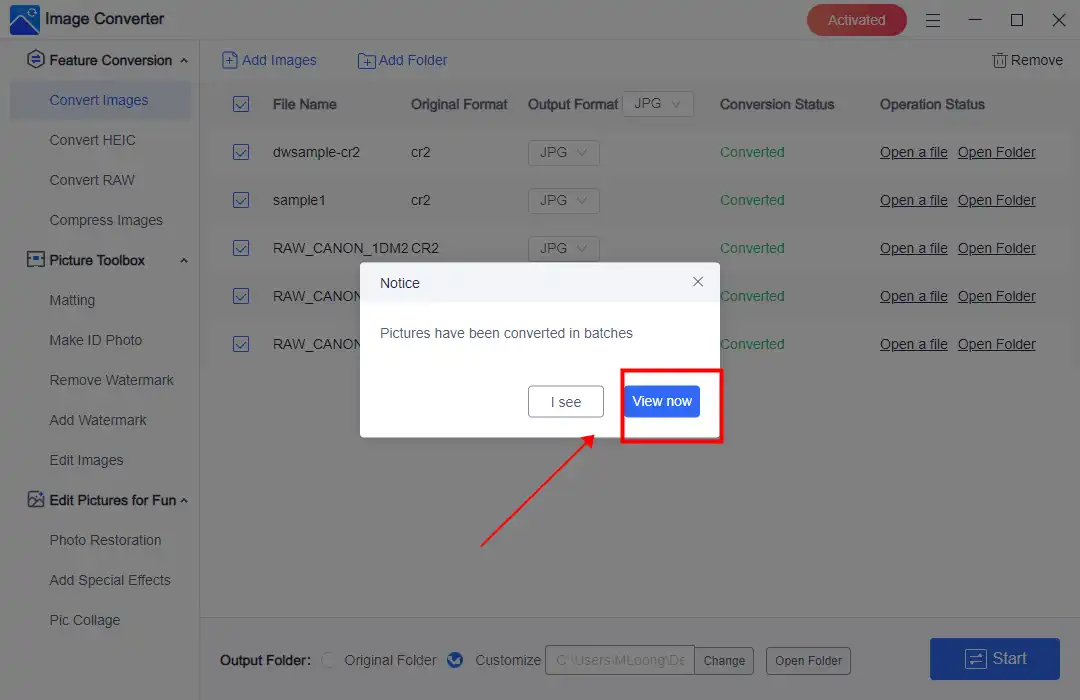 💖 More Additional Features for WorkinTool Image Converter 💖
---
Special CR2 Converter
There is another free CR2 converter that you can use. Canon Raw Image Converter is an easy-to-use tool for Canon image format conversion. You can convert as many CR2 images as you want. Also, it supports batch conversion. You can upload multiple CR2 pictures and convert them to popular formats like JPG, PNG, BMP, and others. Plus, it is very user-friendly to users. All first-time users can figure out how it works when they first see the home page.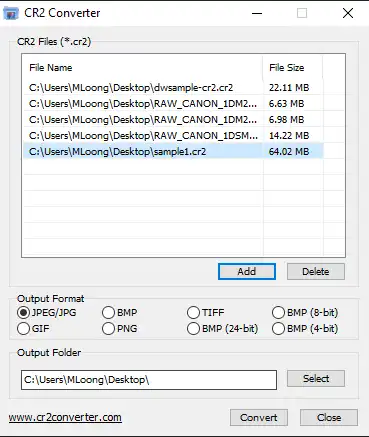 ---
How to Convert CR2 to JPG on Mac
As the Canon RAW image format, CR2 can still work on the Preview app, which means we can also use it to convert CR2 to JPG. So, in this part, we will show you how to use Mac built-in Preview app to make a conversion. This tool can provide the essential function for users to view and make some fundamental changes to PDFs and Images.

The conversion steps are as follows:
Step 1. Right-click on your CR2 image and open it with the Preview app.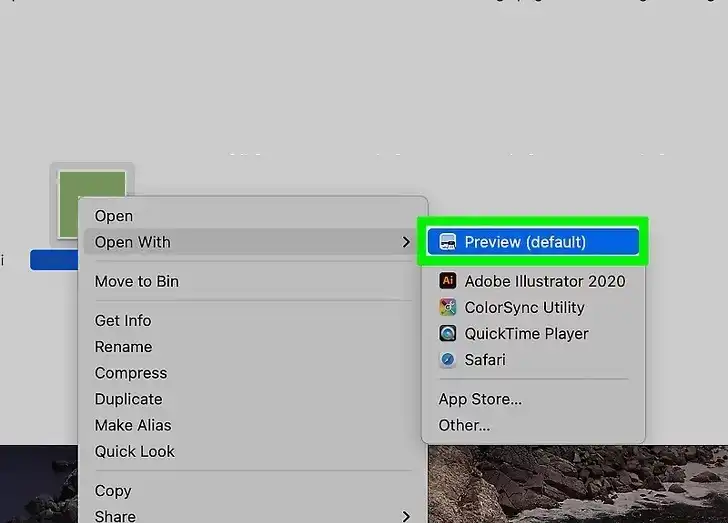 Step 2. Select the Export option in the drop-down menu of the File option.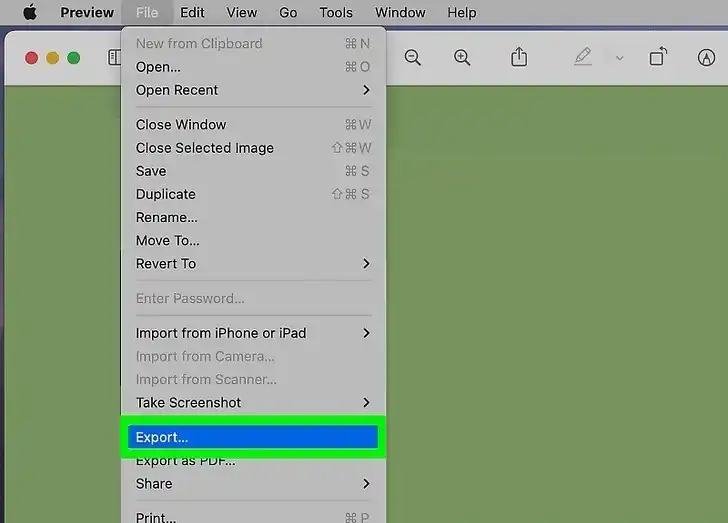 Step 3. Pick JPEG in the section of Export As. Then you can save it to your computer.
---
Alternative: Online CR2 Converter
If the CR2 image you want to convert isn't involved too much personal privacy, or if you are okay uploading it to the network, you could try using an online image converter to turn the CR2 format into the desired JPG format. For example, you may use Convertio CR2 to JPG. 
Convertio is a famous online tool based on the website. It provides all the file conversion services you can use in your daily life. And it also allows users to convert files in batch for free. All you need to do is to upload your CR2 image and click the conversion button.
Convert CR2 to JPG using an online Converter:
1: Visit Convertio with your website explorer.
2: Upload your CR2 picture(s) and set the converting format. You can upload multiple images.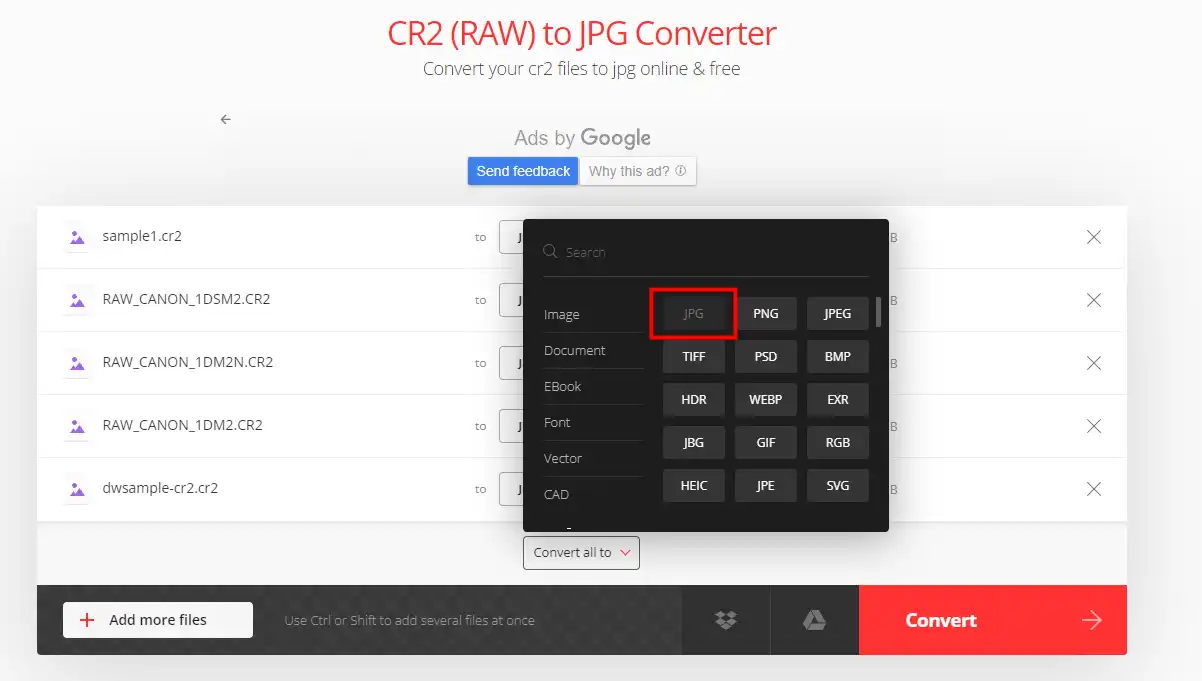 3: Click Convert and wait a few seconds. Then you can download images in JPG on your device.
Notice:
Since it is still an online tool, there are some limits you might need to know:
---
More to Share
It's easy to convert RAW image formats like CR2. As long as we can find the corresponding and suitable tools can be quickly done. This article shows you four free CR2 format converters for different platforms. All four of them are proven to be effective in conversion. However, if you really need one that is excellent in every way, we still recommend using the first tool – WorkinTool Image Converter. It is free for image batch conversion. It supports more than 100 different formats. Moreover, it is super easy to use. What could you possibly want?