How to Convert a Screenshot to a PDF on Windows, Mac, and Online
Turning a screenshot pic to a PDF at home can be challenging, requiring a professional image conversion tool. Hence, it is essential to convert screenshot to pdf. Try to use WorkinTool Image Converter (It's easy, convenient, and free for conversion. Also, it supports batch conversion.) Download and start your conversion journey now.
😍 1. Up to FREE 5 image batch conversions and compression try-out.
🤩 3. Easy interface for users to edit with THREE STEPS.
😎 4. Support more than 100 different image formats to operate.
🥳 5. Cover all the features that you can on the market and interesting filters.
😊 6. Available for image conversion, compression, matting, watermark, and more.
How to Convert a Screenshot to a PDF on Windows, Mac, and Online
Learning how to convert a screenshot to a PDF is essential in today's digital age. It can be incredibly useful in many situations, such as when you must document a conversation, preserve a webpage, or share a design mockup with others. By converting your screenshot to a PDF, you can ensure that your content is easily shareable and accessible to others, regardless of their device or operating system.
Fortunately, this comprehensive guide will explore various ways and tips to help you achieve this task seamlessly. You will learn how to take a high-quality screenshot, choose the right format for your PDF, and optimize your PDF for different use cases. Additionally, you will discover some of the best tools and software available for converting your screenshots to PDFs, along with step-by-step instructions on how to use them.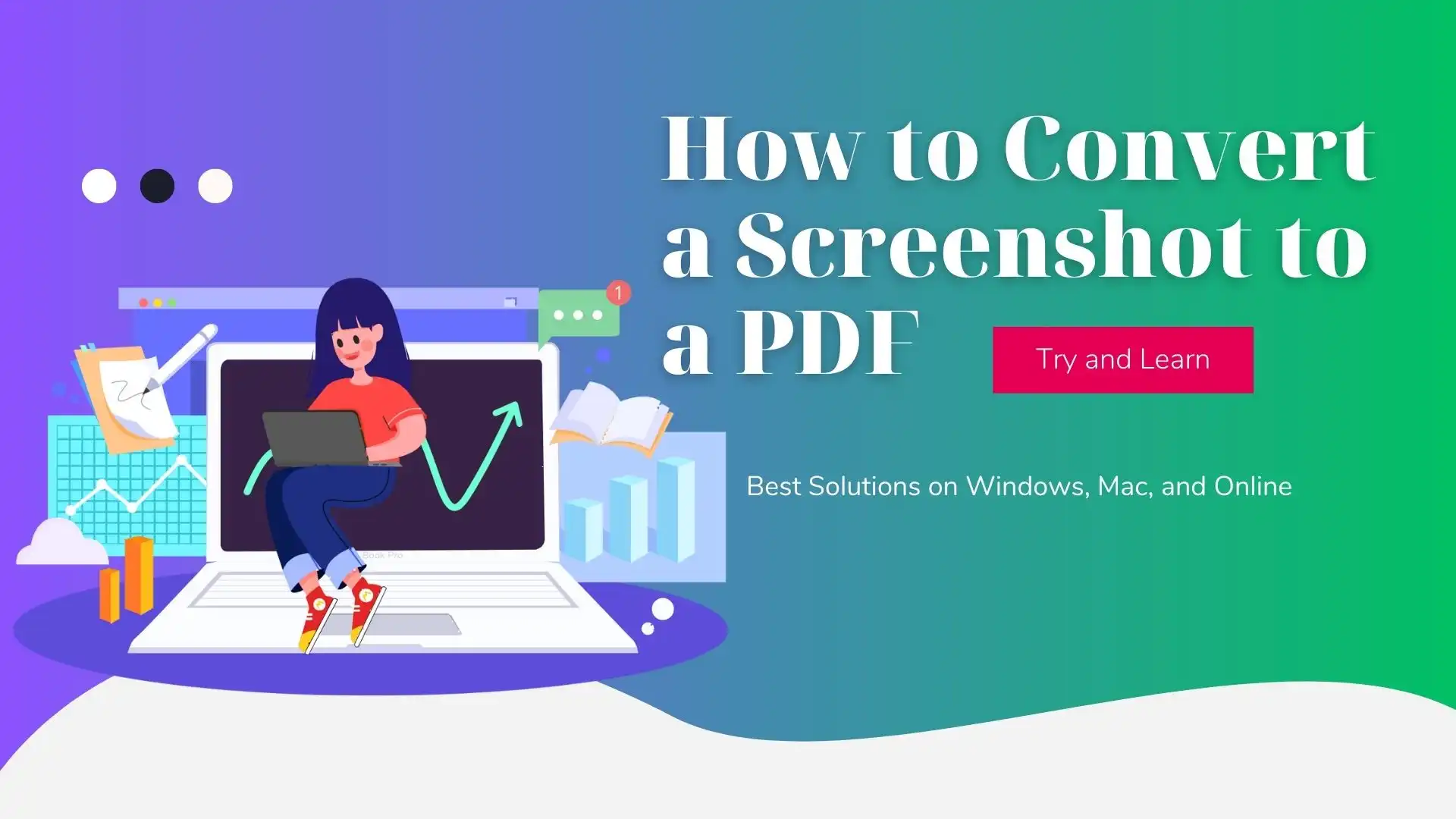 ---
Why Convert a Screenshot to a PDF
You might want to convert a screenshot to a PDF for several reasons. Here are a few:
Compatibility:  PDFs are easily shareable across different devices and platforms, making them a convenient format for sharing screenshots with others. Whether you send a screenshot to a colleague, please share it on social media, or embed it in a document, a PDF ensures the recipient can access the content without any compatibility issues.
Preservation:  Converting a screenshot to a PDF can help preserve the content for future reference. PDFs are a stable format that can be easily stored and retrieved, ensuring your screenshot remains accessible even if the original source is unavailable.
Professionalism:  PDFs are a professional-looking format that can enhance the appearance of your screenshot. They allow you to add annotations, watermarks, and other elements that can help convey important information or branding.
Legal Compliance:  In some cases, converting a screenshot to a PDF may be necessary to comply with legal requirements. For example, if you need evidence of a conversation or transaction, a PDF may be the preferred format for submitting the information.
Ultimately, converting a screenshot to a PDF can help improve the usability, accessibility, and professionalism of your content, making it a valuable skill to have in today's digital world.
---
How to Convert a Screenshot to a PDF on Windows
If you have a screenshot image waiting for you to become a PDF, don't worry! You can use image conversion methods to convert this screenshot to the needed PDF. Luckily, there are many tools available that can help you create PDFs from screenshots. In this article, we'll introduce you to converting tools you can use. Our top recommendation is the WorkinTool Image Converter, which we believe will be an excellent solution to your problem.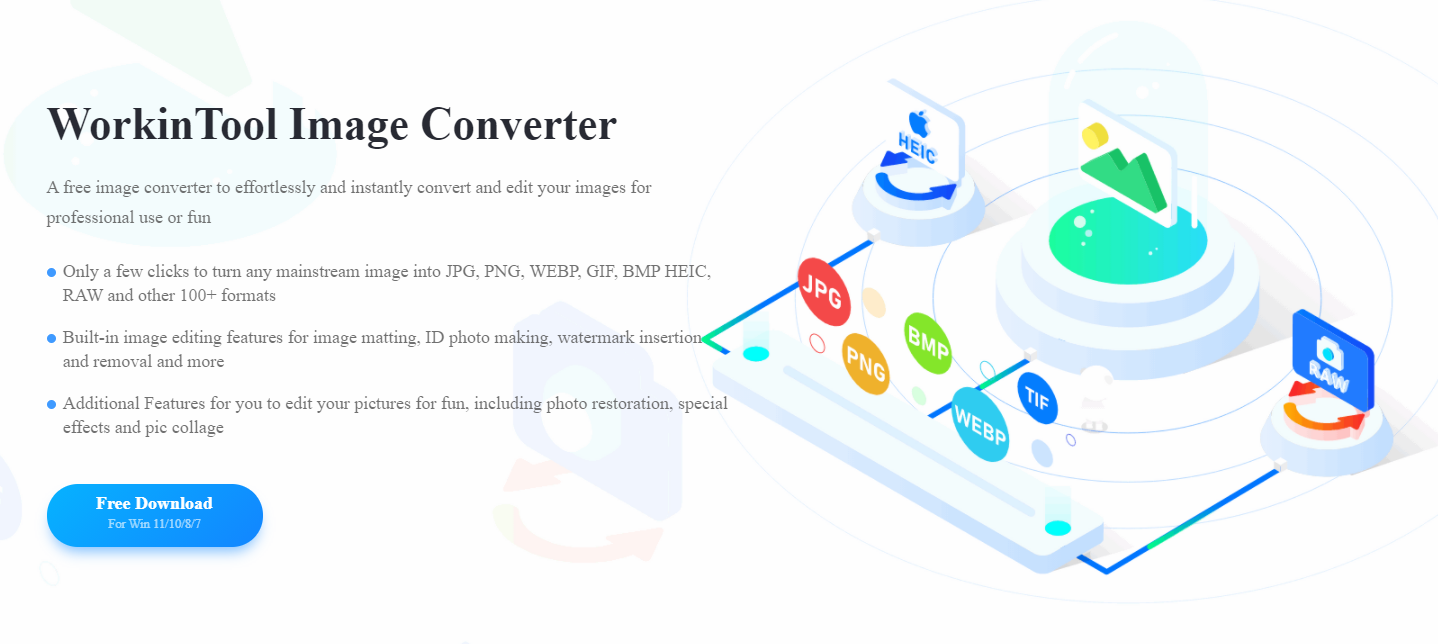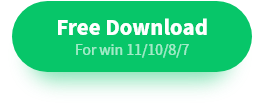 Looking for a versatile and user-friendly image editing tool? Look no further than WorkinTool Image Converter! This all-in-one solution can tackle any image-related problem you may encounter. With support for over 100 image formats, you can rest assured that it will provide a high-quality service for your needs. And, of course, converting a screenshot to a PDF is definitely one of its features. But that's not all – WorkinTool Image Converter also has powerful picture editing functions. You can compress, edit, add, or remove watermarks, text, filters, stickers, and more. Mostly, you can convert all your pictures for free.
And if you're looking for even more advanced features, the premium pro option offers unlimited service at just half the cost of Photoshop. Don't settle for subpar quality or inconvenient editing tools. Give WorkinTool Image Converter a try today and elevate your image conversion and editing skills to the next level.
100 image formats conversion available

Customize to enlarge or compress images

Add or remove photo watermarks

Change or remove the image background

More than 65 image filters to apply
📕 How to convert a screenshot to a PDF using WorkinTool
First, obviously, you will have to screenshot something you like.
Then, open this tool and click Convert Images to input your screenshots.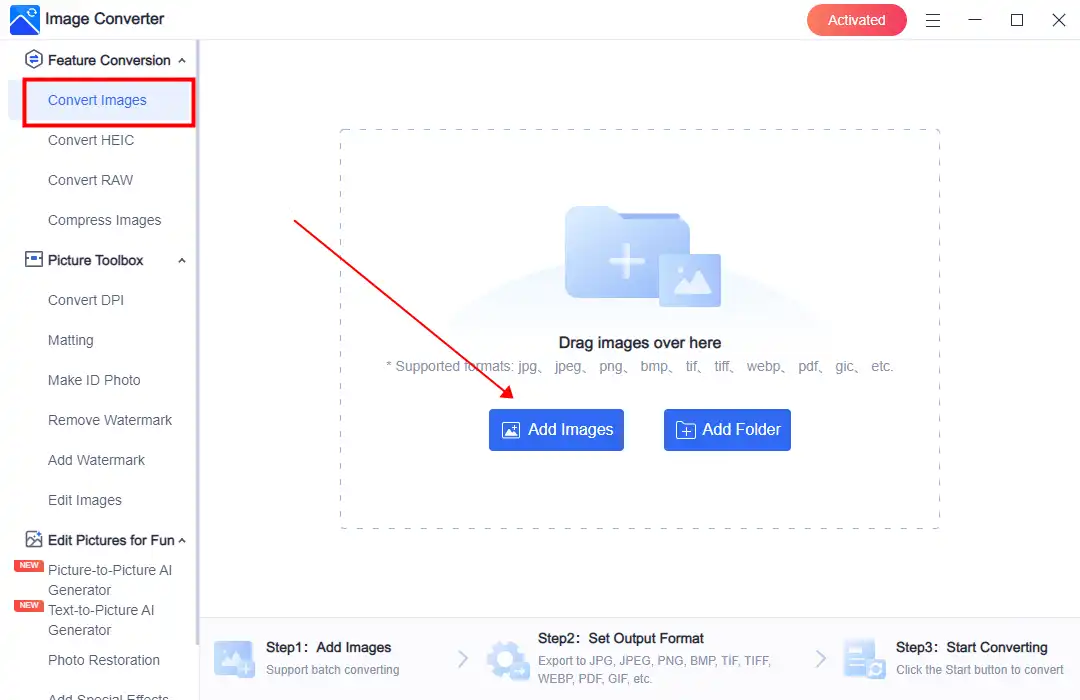 Select PDF from the format selection menu of Output Format. And hit Start to process.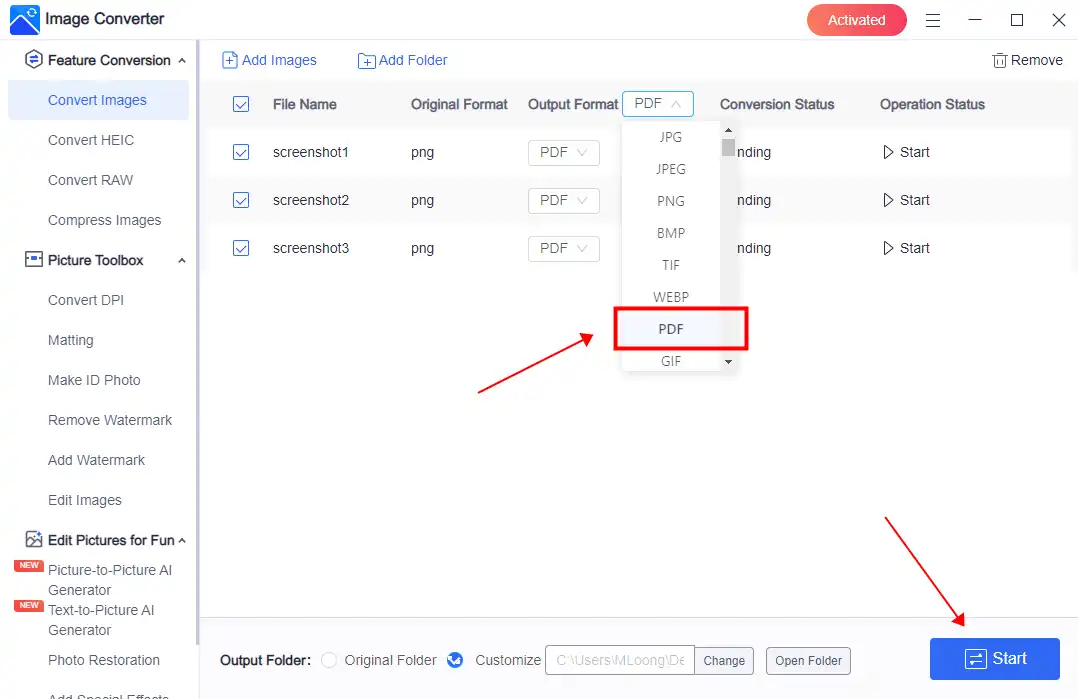 Please wait for it to finish and click View Now to check the result in your folder.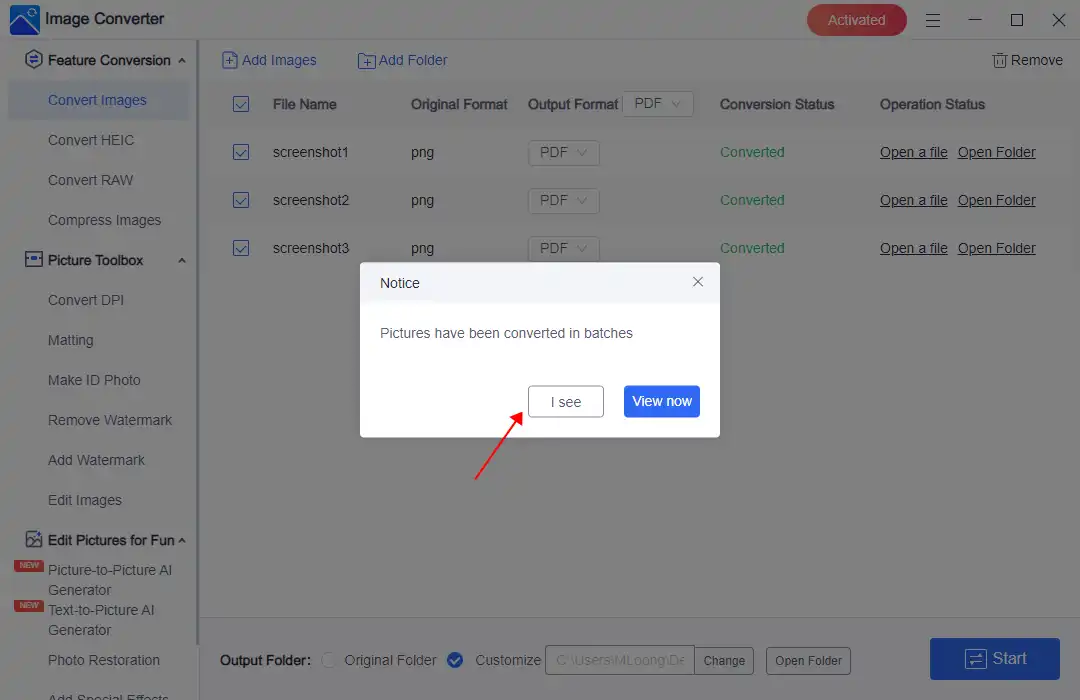 💖 Additional WorkinTool Image features 💖
---
Save a Screenshot as a PDF – An Alternative Way
As we all know, PDF is the original format of Adobe Acrobat. Therefore, you can totally rely on it to save your screenshot pics to PDF files. Adobe Acrobat is the creator and acclaimed professional PDF editing tool globally. With many powerful features in it, you can do everything to your PDFs. However you cannot use it for free, and it can be a little expensive for the payment. It still provides a 7-day free trial version for all users. Here, we will show you how to use it to save your Screenshots in PDF format.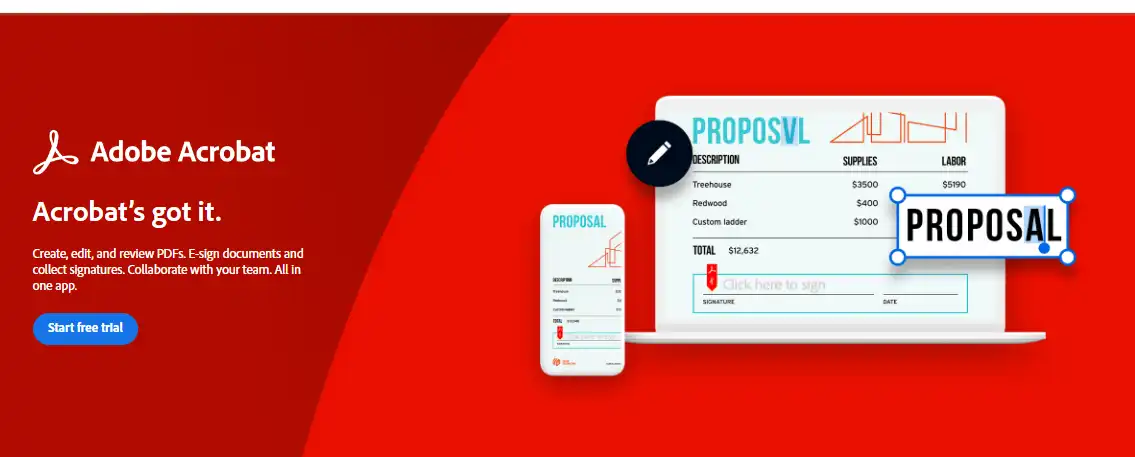 Open Adobe Acrobat and click "Create PDF" in the Tools menu.
Browse to the location of your screenshot and select it.
Click "Open" to import the screenshot into Acrobat.
If needed, make any adjustments to the document using Acrobat's editing tools.
Click "File" > "Save As" and choose a location to save your PDF.
Notice:
Well, the good news is that Adobe Acrobat is easy to use, and it is ensured to have a high-quality outcome. However, it doesn't support batch conversion. Also, once the free trial expires, you must pay for continuous use.
---
Online Conversion – A Convenient Way
Are you looking for a way to create PDFs from images without downloading any software? Maybe you're traveling for work and don't have access to your computer. Don't worry! You can still do this using an online tool. A quick Google search will reveal many online image conversion tools, but remember that they will require you to upload your images online.
If you want to convert screenshots like PNG to PDF, Convertio's online conversion tool is a great option. It's a versatile website that offers conversions for all types of digital file formats, making it a top choice for many users. However, it's important to note that using any online tool involves uploading your images online. It means there's a risk of that information being leaked if you use an online tool.
📕 How to turn PNG to PDF Online:
1. Visit the online tool and add your screenshot file(s).

2. Adjust the converted format to PDF and click Convert.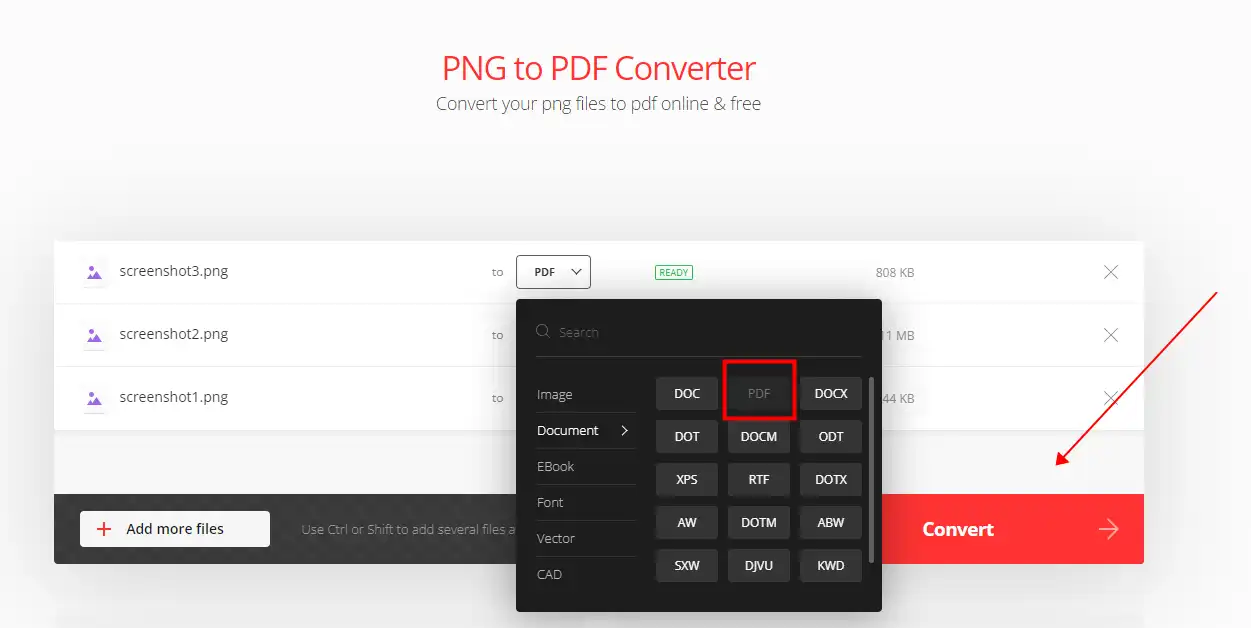 3. Then, download your converted PDF when it is finished.
Notice:
Suppose users need to convert images into batches. Here are the free online limits:
The Max file size: is up to 100 MB each.

Max number of conversions in the last 24 hours: 10 files per 24 hours.

Max number of concurrently launched conversions: 2.
---
Conclusion
Converting a screenshot to a PDF is a valuable skill that allows you to share, secure, and organize your visual content. With the methods and tips presented in this guide, you can easily create high-quality PDFs using online converters, desktop applications, or mobile apps. Whether you're preserving a webpage, documenting a conversation, or sharing a design mockup, converting your screenshots to PDFs ensures compatibility, security, and accessibility for everyone.