How to Resize a PDF File for Printing and Email
How to resize a PDF file? Generally, there are two different results you can find online, One is to crop and scale PDF pages. Another is to compress the PDF file size. Screening solutions that suit you may be time-consuming. However, this article answers the two questions together with five solutions in total. Most of them are free, except for Adobe Acrobat Pro. Whether you are using Windows system or macOS, I believe you can find an ideal solution to resize a PDF for printing or email.
How to Resize a PDF File for Printing and Email
How to resize a PDF file? Actually, the word "resize" has different meanings. You may want to modify the height and width of a PDF file. Others may need to compress a large PDF file to a smaller size. When you look for tips online, the search engine generally will show two kinds of results, thus making the searching process a little time-consuming. However, in this article, you can find solutions suitable for all, whether you want to modify the scale for printing or reduce the size of a PDF file for email and court.
How to Resize a PDF File for Printing
This chapter mainly introduces how to change the height and width of a PDF file so that you can perfectly print it.
WorkinTool PDF Converter
WorkinTool PDF Converter is a free and powerful PDF converter and editor based on the Windows system. You can convert a PDF document from or to any other format including Word, PPT, Excel, Image, and HTML. Batch processing is supported. It is just a breeze for this PDF editor to resize a PDF. Just as a note, it does not scale a PDF to fit the paper size that can be done on any PDF reader or the local PDF printer, but crop a PDF to remove the unwanted parts.
You can use it to manually remove headers, footers, footnotes, page numbers, etc. WorkinTool also designs an online version of the PDF editor that enables you to resize PDFs online. You can try some online features first before downloading this software.
How to resize a PDF file size using WorkinTool on Windows 10
Click on View & Edit > PDF Edit to upload a PDF file.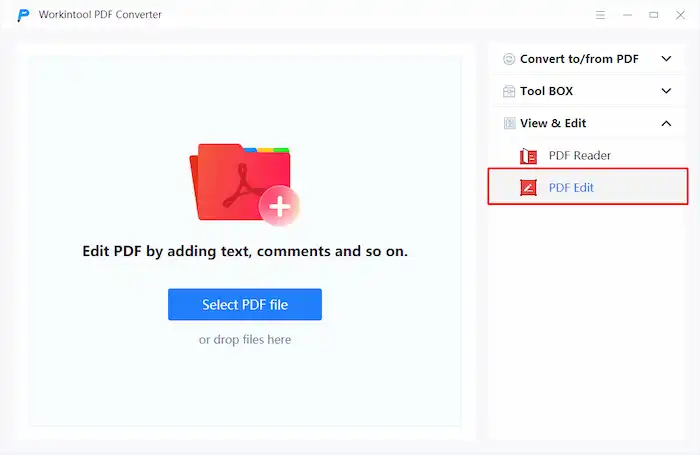 Click Document Crop in the top toolbar.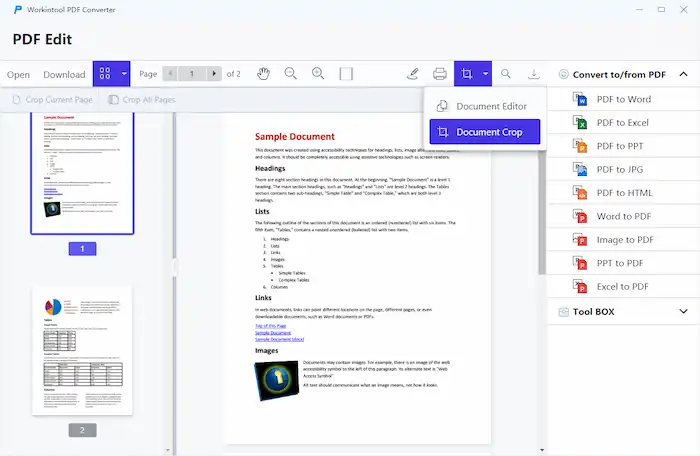 Select the area you want to keep and apply it to the current page or all pages.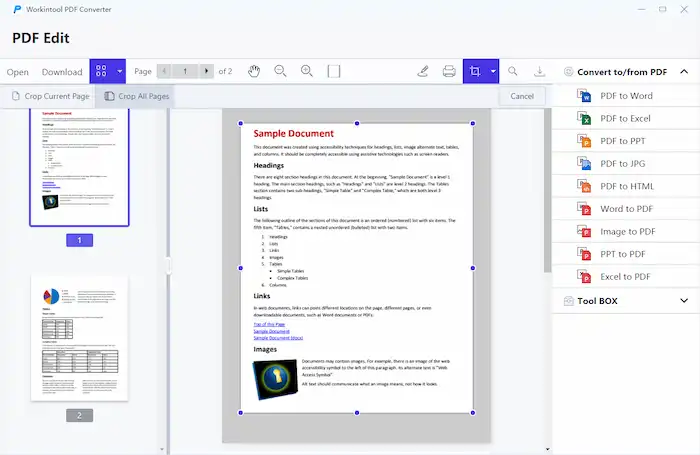 Export the changed file as a copy.
Adobe Acrobat Pro
Adobe Acrobat Pro can resize the pages in a PDF to fit the selected paper size. It supports you to automatically scale the PDF pages to fit the paper and enlarge or reduce PDF size manually by percentages. It also supports cropping PDF pages by inches like resizing a PDF to 24×36 inches and applying the settings to odd pages or even pages as desired. Adobe, as the creator of Portable Document Format, entitles Acrobat Pro with powerful features to create, edit, convert, and print PDFs.
You can easily resize PDF documents for printing with this tool. However, these powerful features come at a cost. If you don't mind a cost of $14.99 a month after the 7-day free trial, this tool will definitely be worth a shot.
How to resize a PDF file using Acrobat Pro
Hit Tools> Edit PDF > Crop Pages, double-click on the space.
Adjust parameters based on page size, margins, and page ranges as desired, then press OK.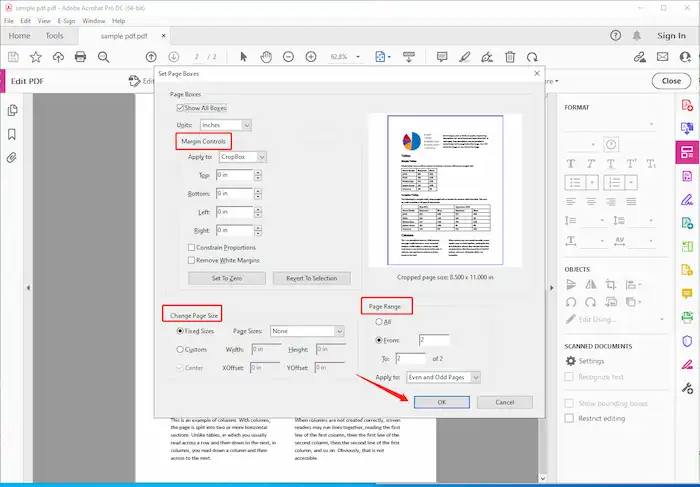 File> Print, you can also fit or shrink PDF pages here manually or automatically.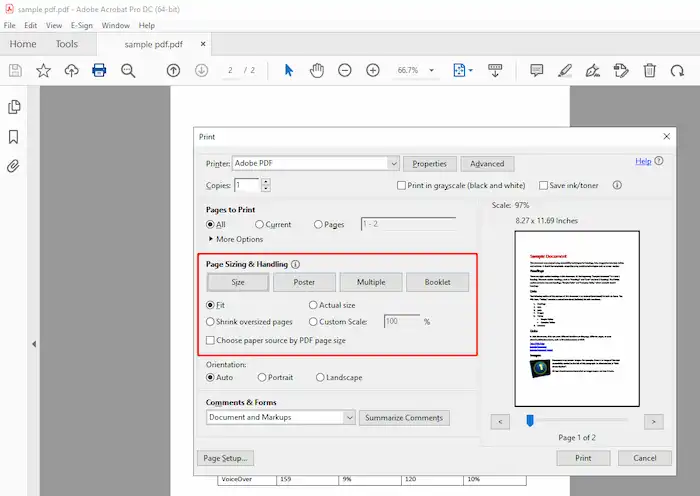 File> Save as, save the changes as a copy.
How to Resize a PDF File for Email
We have talked about how to change the PDF height and width. If you are looking for solutions to compress PDF files for email, court, and other occasions that need the PDF to be small in MB or KB size. This chapter will fix that.
How to resize a PDF file by WorkinTool PDF Converter
Sure, we have previously shared how to crop a PDF using WorkinTool PDF Converter. But it doesn't mean you cannot achieve other effects with this software. It also provides a feature to reduce PDF file size. You can batch convert multiple PDFs in a single try. It is simple to manipulate as well. By the way, you can also compress PDF online with its browser version.
WorkinTool PDF Converter operation steps on Windows 10 
Tool Box> Compress PDF, upload PDF files.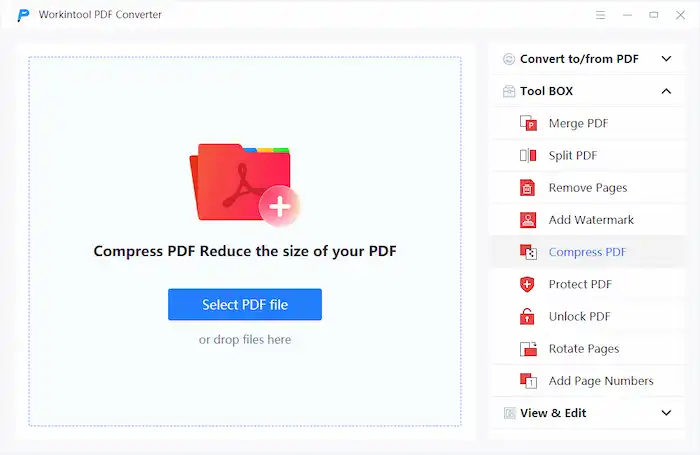 Select compression mode and click Convert (Normal Compression means compressing the PDF to medium size with good quality. Extreme Compression means reducing PDFs to the smallest size).
The compressed files will be automatically saved to your PC.
WorkinTool File Compressor
Generally, there is a size restriction on eFiling for many courts, with a maximum size of 25 MB or 35 MB. If you need to reduce PDF file size to a certain MB or KB, you should choose a reliable compressor software like WorkinTool File Compressor.
It is a free and professional compressor compatible with both Windows and Mac systems. As an all-in-one program, it allows you to shrink images, videos, PDFs, Word documents, and PowerPoint Presentations without losing quality. For PDF compression, it provides three levels: Smaller Size, Normal COMP, and Clearer Output to meet different demands. This file compressor also supports batch conversion. That is to say, you can have your work done in a few seconds.
Reduce PDF files using WorkinTool File Compressor on Windows 10 and on Mac
Open this tool and click on PDF Compression.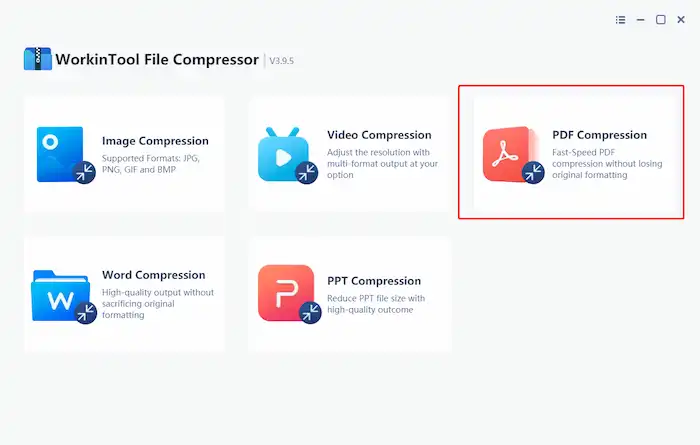 Select COMP Priority and hit Compress.
After compressing, the PDF files will be auto-saved to your PC.
How to resize a PDF file with Mac Preview
If you are using Mac systems, you can resize a PDF without downloading any applications. Mac Preview is a built-in PDF viewer and editor that can meet your basic needs to edit and compress a PDF file. It is convenient and completely free to use. Before compressing a PDF in preview on Mac, you can click Tools and check the original PDF file size parameters in Show Inspector. It is very simple to operate as well.
But the downside is that you can only compress one single PDF file at a time. And you can't select the compression level because Preview will auto-match the PDF size with the best quality.
Mac Preview operation steps
Open a PDF file with Preview.
File> Export > Quartz Filter, scroll down, and select Reduce File Size.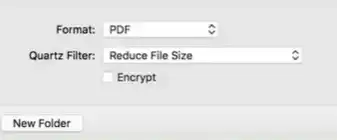 Click Save to reduce the PDF size.
Conclusion
To summarize, we have talked about how to change PDF page size and how to resize a PDF file by compressing it. Five methods in total are provided. Among the five solutions, WorkinTool PDF Converter is highly recommended. It can meet nearly all your needs to edit, convert, read, and compress PDF files with minimal effort. I believe you already know which one is the best for you. Now go and resize your PDF!