How to Crop a PDF for Free on Windows [2023 New Solutions]
If you need to crop your PDF files on Windows, just have a free trial of WorkinTool PDF Converter. It is easy to operate. Just upload a PDF file, and crop it as you want, then save it to your local folder. You can crop a page in PDF or crop all pages with one click. Functions like converting PDF to Word, PPT, Excel, JPG and merging, splitting, unlocking, protecting, and rotating PDF are available in it. There are no limits to employ PDF Edit to crop a PDF for free users at all. Just download it right now.
⭐ A handy tool to resize PDF pages
⭐ Long free trial to fix PDF issues
⭐ Safe and reliable program
⭐ No ads, pop-ups, watermarks
How to Crop a PDF for Free on Windows [2023 New Solutions]
With the rise of the Internet age, people are more and more inclined to choose electronic files instead of paper files in the office and study. PDF has many advantages over other document formats, among many electronic file formats. The PDF file format can encapsulate text, fonts, formats, colors, and graphic images independent of device and resolution in a single file. This format file can also contain electronic information such as hypertext links, sounds, and moving images. It has high integration and security reliability. However, it is these characteristics of it that make it not editable. If you want to edit the content in PDF, you need a professional PDF editor. Today, I'll mainly elaborate on how to crop a PDF on Windows with a free and effective PDF editor – WorkinTool PDF Converter. Hope it can help you figure out your problem.
📌 How to Crop a PDF with WorkinTool PDF Converter
WorkinTool PDF Converter is an all-in-one PDF editor that is composed of multiple helpful functions. Although it was launched recently, it has already attracted many users, for it is powerful and free to crop PDF with minimal effort. It is very easy to use, and its operations are friendly to beginners. You can easily trim a PDF in just a few steps, whether you want to clip a single page or clip every page in a PDF file. Meanwhile, the conversion process won't take any bad toll on the clarity and formatting of the original file. You can use it with ease. Except for cropping PDF, it can also merge and split the PDF, protect and unlock it, and convert it to Word, Excel, PPT, image, and vice versa.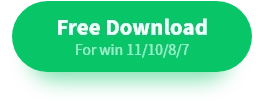 Now, let's have a look at how to crop a PDF file step by step with WorkinTool PDF Converter
Step1. Launch the software, and click View & Edit> PDF Edit. Then select a PDF file from the folder or drag it to upload directly.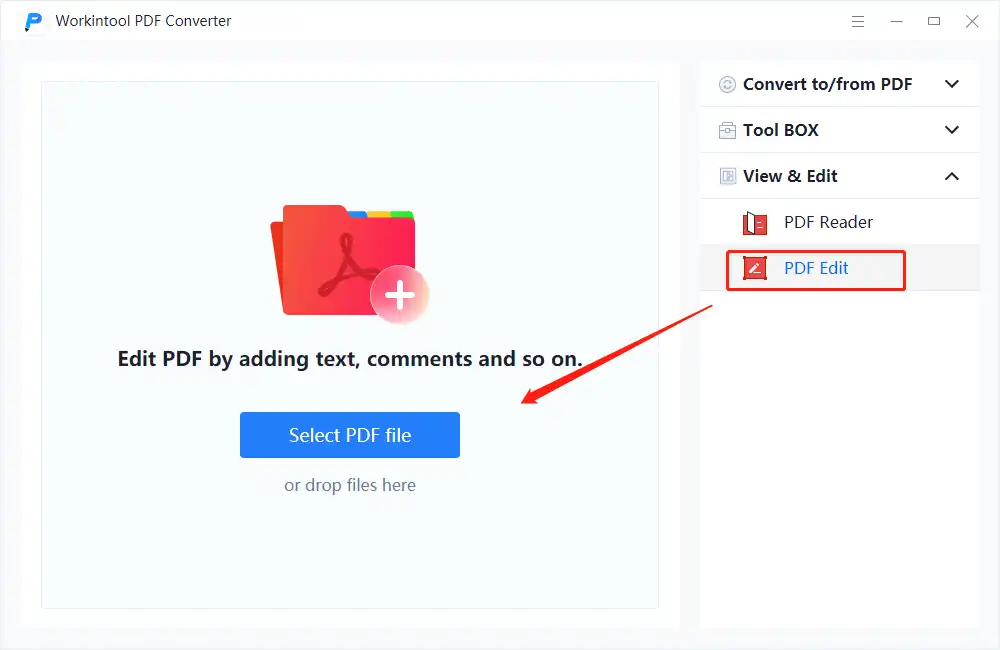 Step2. Pull down the document edit icon, then select Document Crop.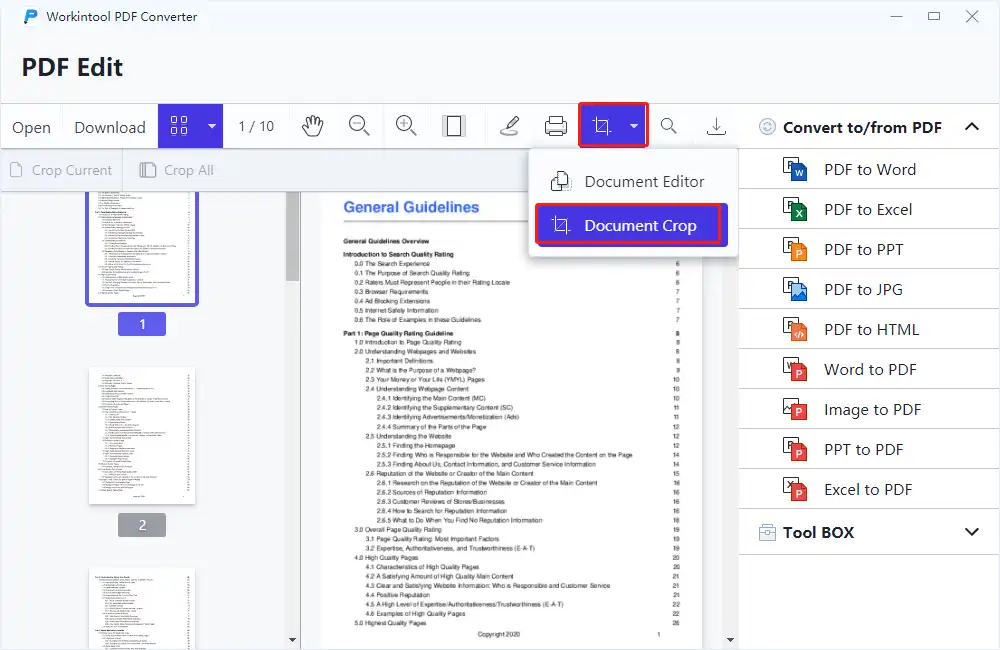 Step3. Drag the mouse to select the clipping area, then decide to crop the current page or crop all PDF pages.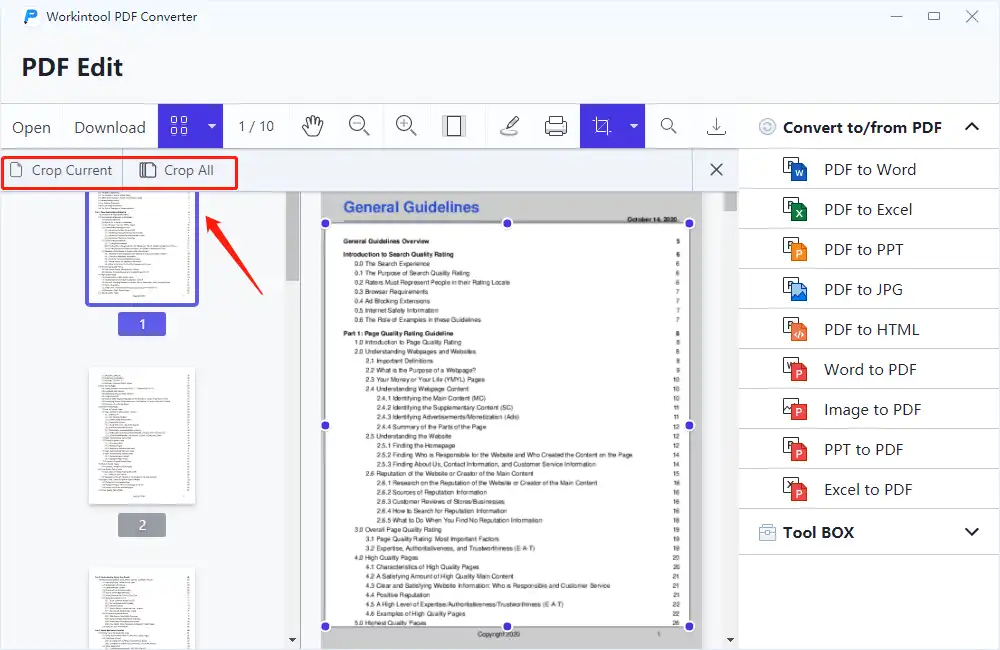 Step4. Click Download to save the converted PDF file to your local folder. Then press Open file to check the result.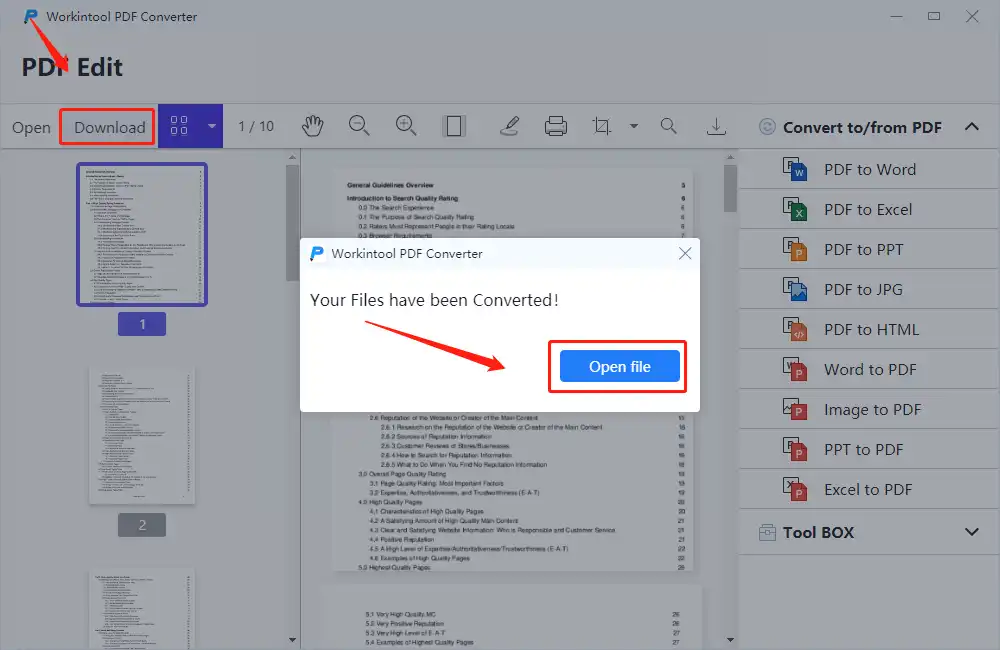 Here is the result of cropping a PDF with WorkinTool PDF Converter.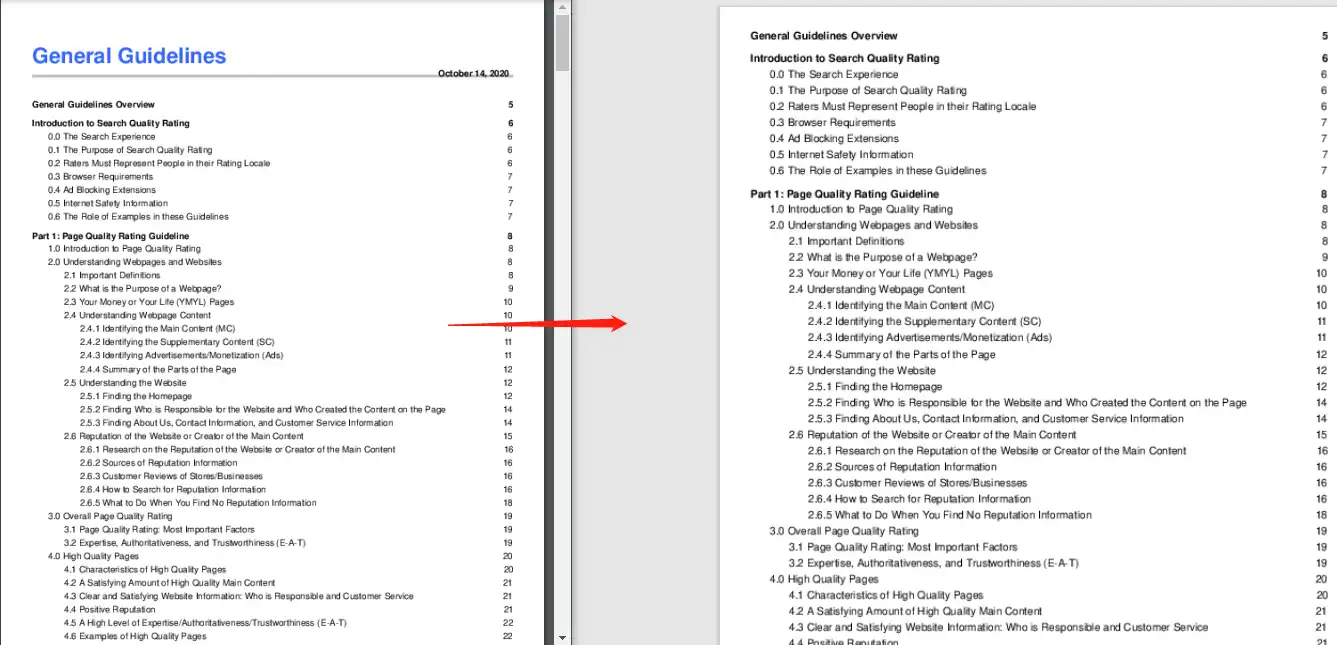 Why Choose WorkinTool PDF Converter
Among the various PDF editors in the market, WorkinTool stands out for many reasons. Here is a conclusion of the key advantages that make it so popular.
| | |
| --- | --- |
| Free to crop PDF | WorkinTool PDF Converter provides a long free trial to exert PDF Editor tool to crop PDF without any limits. You can use it no matter how many times. |
| Quick and easy to use | With simple clicks, you can crop the PDF file as you want. Batch cropping is available as well. With this function, you can trim all PDF pages with one click. |
| Clear interface without ads | The distribution of multiple tools is clear. You can easily find the tool you want. In addition, there are no advertisements at all during the conversion process. |
| Data privacy guaranteed | The uploaded PDF file will be deleted directly from the software after you save it to the folder. It doesn't ask for your registration as well. Data privacy and personal information are ensured. |
| Clear output | The conversion process will not affect the quality of the PDF file. |
| Multiple tools | It combines multiple PDF editing tools into one. It can deal with nearly 90% of PDF troubles. |
Other PDF Editing Functions of WorkinTool PDF Converter
Note: WorkinTool also provides a free online PDF converter for all users, which can cope with numerous PDF problems. You can absolutely use it to crop a PDF online. But it has fewer features than the desktop version. Many functions are still developing corresponding online tools so that you can look forward to it.
📌 How to crop a PDF online for free:
Go to the online WorkinTool PDF Editor. Upload the PDF file.
Click on the Document Crop feature and resize the pages.
Download the cropped PDF to your device.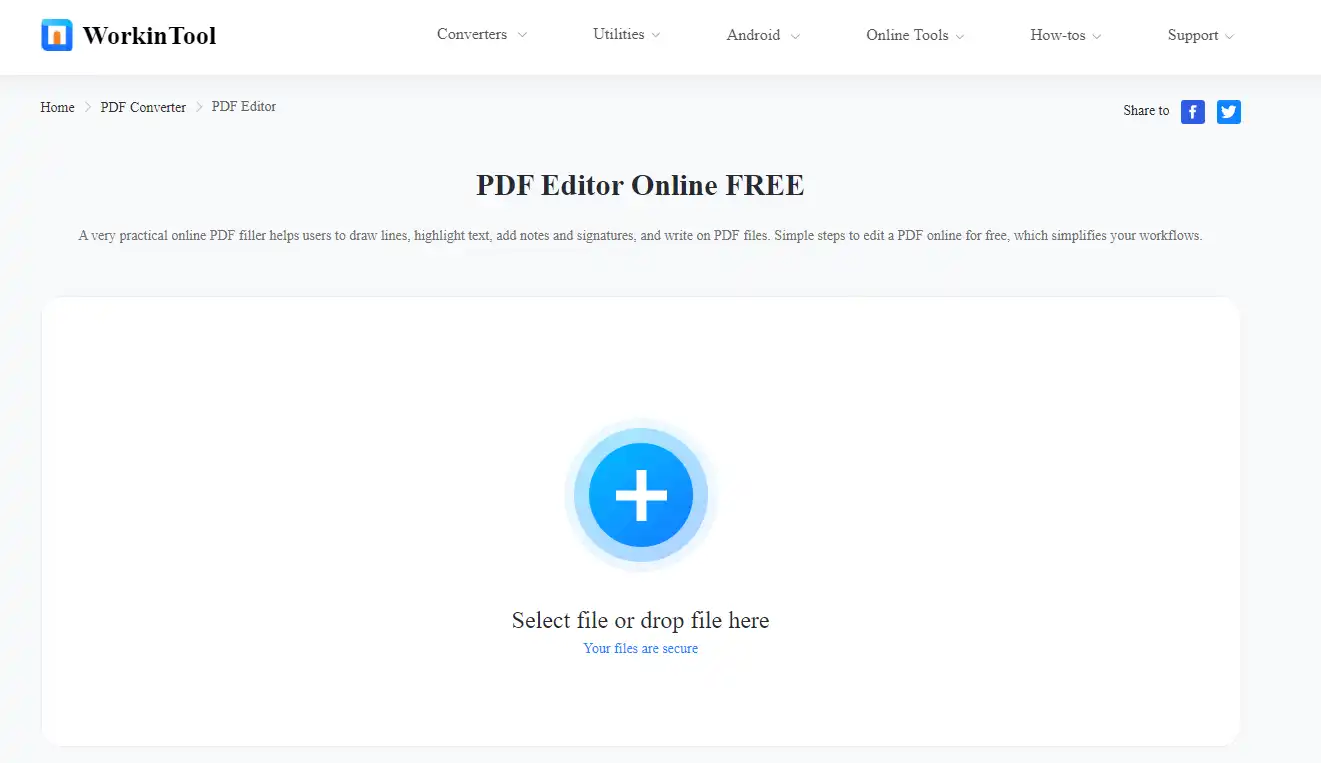 📌 More to Share: How to Crop a PDF with Acrobat
For people who use office tools frequently, Adobe is all too familiar. After all, Adobe is the creator of the PDF format. You can undoubtedly crop a PDF in Adobe Acrobat. However, it is not designed for trial. And to use it, you have to log in or create a personal account. It only provides a seven-day free trial for new users. If you have never used it, you can have a look at how to crop PDF files in Acrobat here.
Step1. Open the PDF file in Acrobat, then click Edit PDF.
Step2. Click the Crop Pages icon, and then pick the area you want to crop.
Step3. Select to crop one page or all pages, then save the converted file.
Note: To get the free trial, you have to subscribe and fill in your payment information. So don't forget to cancel your subscription after the free trial.
Wrapping Up
If you are always having trouble editing and converting PDF files, give this free and effective PDF processor – WorkinTool PDF Converter a try, for it proceeds with countless benefits: effective, powerful, easy-to-operate, user-friendly, etc. Although Adobe Acrobat is better known, it only offers a short free trial and has a high subscription price. Unlike other PDF converters, WorkinTool is FREE to use PDF Edit and PDF Reader tools and support single file within 2MB in other features. It has many PDF editing tools like Acrobat, but it is more convenient and faster than it, so there is no need to waste time logging in information. If a downloaded program is a hassle for you, don't worry, it already has the online version, and the function of cropping a PDF online will be updated very soon. Want to learn more about practical PDF tutorials? You can visit our official website – WorkinTool.