How to Reduce Scanned PDF File Size Without Abode
The scanned PDF file size is definitely one of the painful moments for someone with occasional or frequent interaction with this file format. Are there any quick and simple ways to compress a scanned PDF file? The answer is affirmative. Today, this problem can be effectively solved after you read this article that focuses on how to reduce scanned PDF file size in Windows. All the solutions here prove to be easy and helpful Adobe alternatives without a license payment. The following topics will be introduced: How to Reduce Scanned PDF Size Without Adobe in an Offline Way (a tool called WorkinTool PDF Converter) and How to Compress a Scanned PDF Without Adobe by an Online Method (an online tool named WorkinTool PDF Converter online). It is highly recommended to try the first approach as it is:
💖 Lightweight and Simple
🧡Two Compression Modes Optional
💛Batch and Unlimited Compression
💚High-quality Outcome Guarantee
💙Free to Compress Single File within 0.5MB
💜Green
💝Secure and User-Oriented
How to Reduce Scanned PDF File Size Without Abode in Windows [Offline and Online]
SOS! I was thrilled to receive the offer from my dream school today and signed the acceptance form immediately. However, the PDF file saved from the scanned images was too large to upload onto my application system. Also, I tried in vain to send it to the admission office via Email due to its excess of the file size limit. What can I do as the acceptance deadline is approaching? Could somebody help me?
This is definitely one of the painful moments for someone with occasional or frequent interaction with PDF documents. Are there any quick and simple ways to compress a scanned PDF file? The answer is affirmative. Today, this problem can be effectively solved after you read this article that focuses on how to reduce scanned PDF file size in Windows. All the solutions here prove to be easy and helpful Adobe alternatives without a license payment.
The following topics will be introduced:
How to Reduce Scanned PDF Size Without Adobe in an Offline Way?
How to Compress a Scanned PDF Without Adobe by an Online Method?
Now, please move on to start your exploration with us.
---
How to Reduce Scanned PDF Size Without Adobe in an Offline Way
Can I reduce the size of a scanned PDF file without Adobe? Yes. Here, we would like to present a new way to help you fulfill this task. You can resort to a practical tool called WorkinTool PDF Converter to shrink a scanned PDF file for Email or uploading.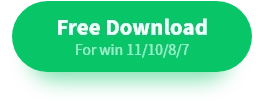 📕How to Reduce Scanned PDF Size in Windows with WorkinTool PDF Converter?
Step 1. Open the tool, find Tool BOX > Compress PDF and then click Select PDF file or drag to upload your file(s).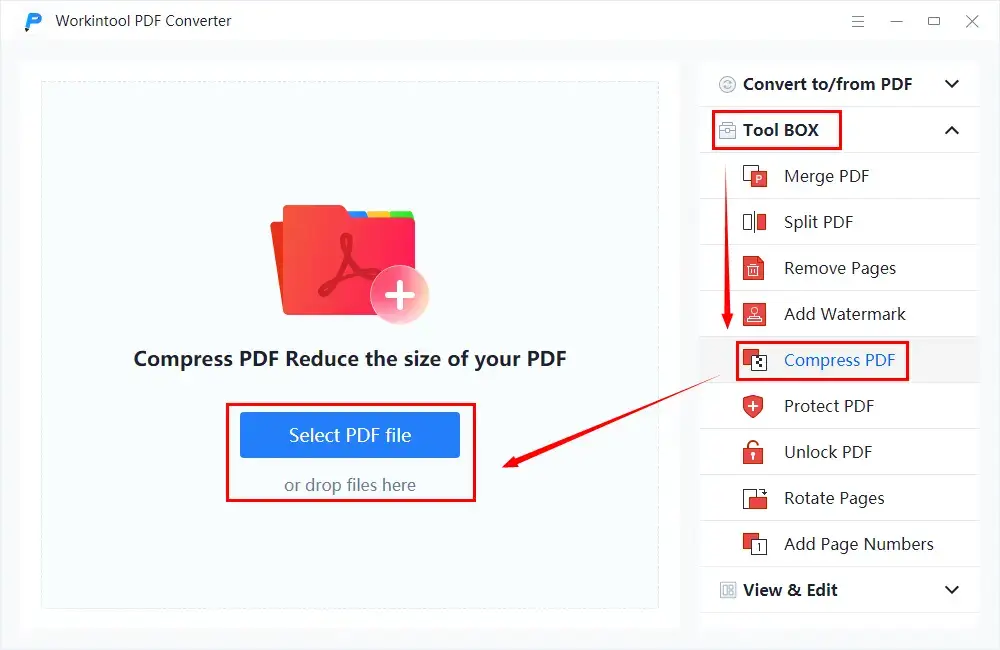 Step 2. Pick a compression mode, set your save path and then hit Convert.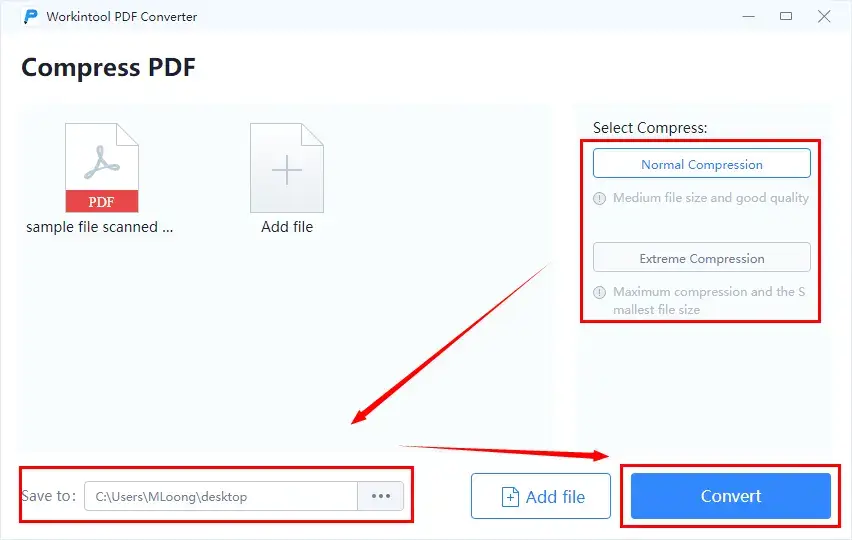 📢Notes
There are two compression modes to choose from:
Normal Compression: The result will focus more on the quality instead of the size compression. You will expect a PDF file with a medium reduced size but the best quality. Your file will normally be shrunk to 65-85% of its original size.
Extreme Compression: The outcome will emphasize the size reduction to produce the smallest file possible without losing quality. The estimated compression will be 85-95% of the original file size, but the quality of the reduced file will be 100% guaranteed.
Step 3. Click Open file to lead you to the compressed scanned PDF document.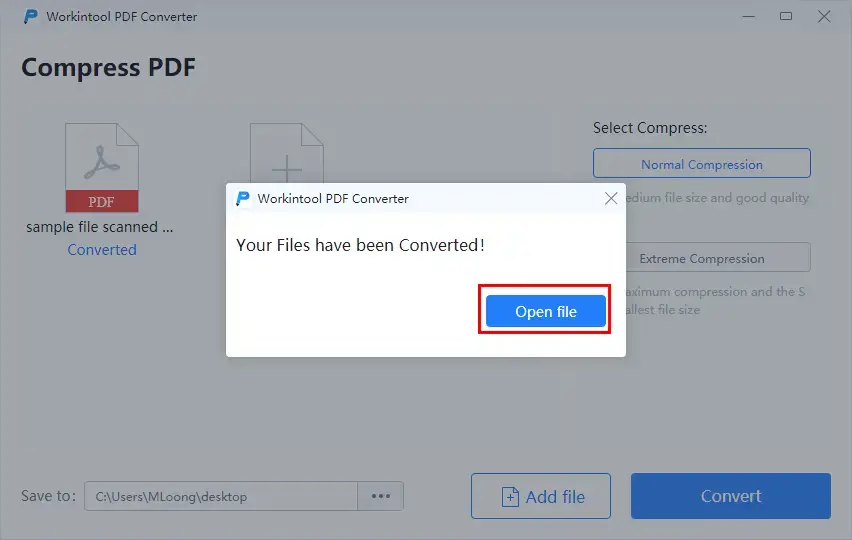 The Outcome

Additional Words
📌Why should you select WorkinTool PDF Converter?
WorkinTool PDF Converter is the first member of the WorkinTool product family. It is a powerful and helpful all-in-one PDF reader, converter and editor that wins quick recognition in the market. These are the specific reasons for picking it:
Lightweight and Simple: WorkinTool PDF converter boasts a user-friendly interface, making even beginners feel convenient and simple to operate.
Powerful: WorkinTool is a practical PDF reader, editor and converter. In addition to PDF size optimization, it allows you to convert and edit your PDF files. It proves to be a great help in the modern workplace and at school.
Batch Conversion: WorkinTool PDF converter enables you to complete your PDF compression in batches, effectively enhancing your working efficiency.
High-quality Guarantee: The shrunk PDF file will be exported without losing quality.
FREE to Compress Single File within 0.5 MB: If you upload single PDF file within 0.5MB, WorkinTool PDF Converter is entirely free and you can enjoy all its features without license payment and personal registration.
Green: No advertisements will be involved during your PDF page organization, while no intrusive watermark will be inserted into your outcomes.
Secure and User-Oriented: Your safety is our priority. Therefore, we will spare no effort to protect your data privacy and information security. Your voice matters. We will listen carefully to what our customers say, doing our utmost to satisfy all their needs and upgrade our products accordingly.

📌What can WorkinTool PDF Converter do about a PDF or a scanned PDF file?
You can use the tool to
---
How to Compress a Scanned PDF in Windows by an Online Method
If it truly bothers you to download and install a third-party tool, you can turn to an online tool for help. Here, please take a look at the online version of WorkinTool PDF Converter. It is a useful website equipped with all of and even additional features of its desktop version. You can try its Compress PDF to shrink the scanned PDF file size.
📕How to compress a scanned PDF in Windows by WorkinTool PDF Converter online?
1. Open WorkinTool official website and navigate to Online Tools > PDF Converter Online > Compress PDF.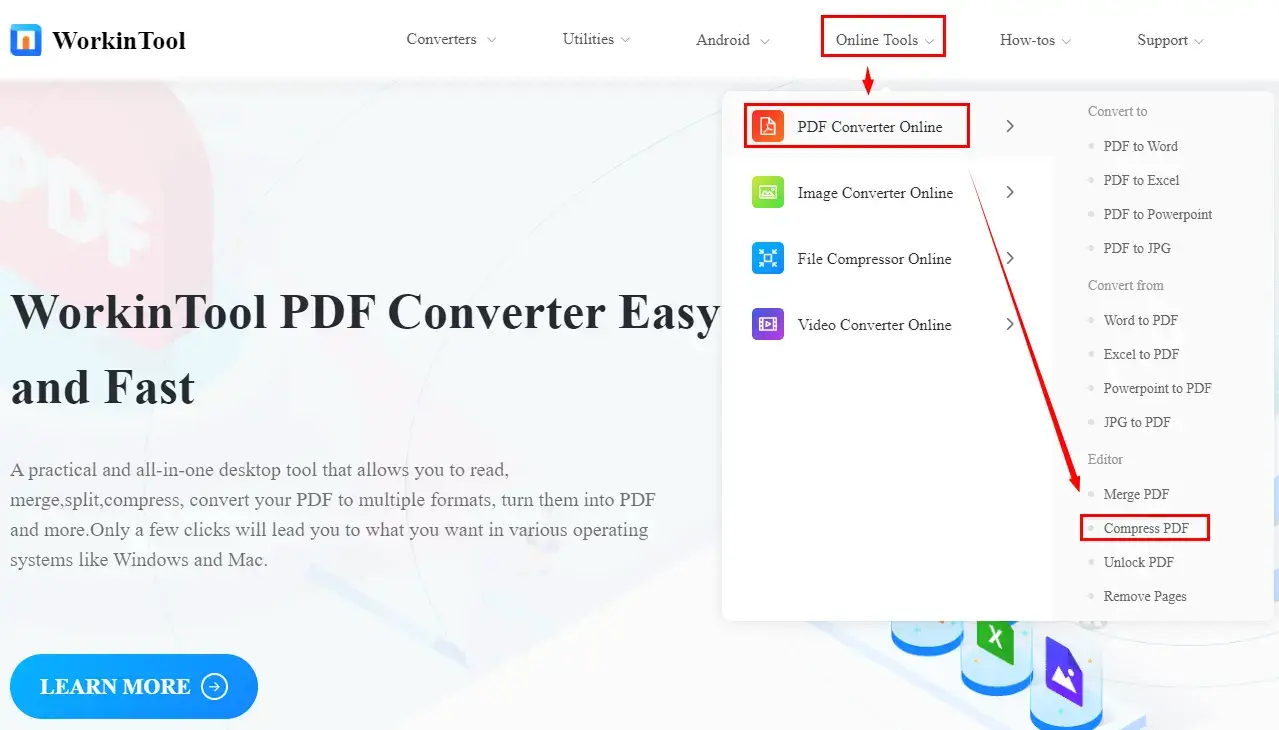 2. Click the red + button or drag your file(s) to complete the step of file uploading.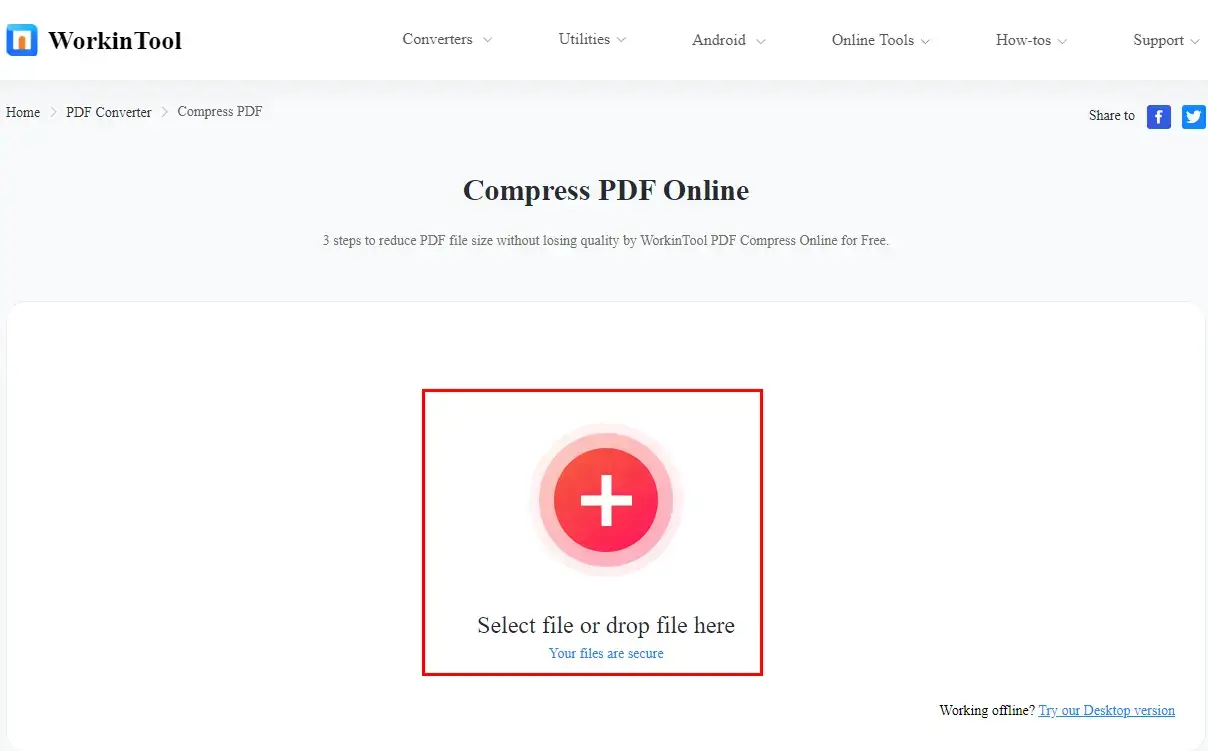 3. Set the compression mode and then hit Convert.
(The same rules mentioned in the desktop version apply to the two modes online.)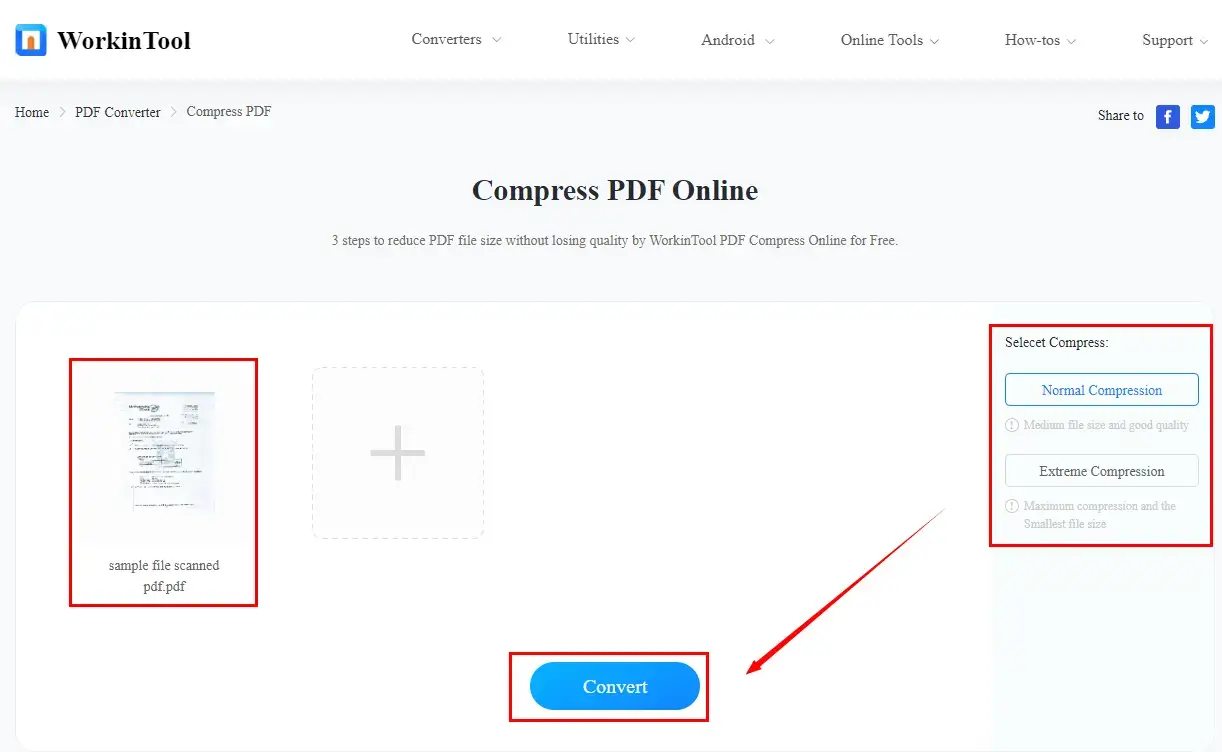 4. Press the Download tab to get your compressed scanned PDF document.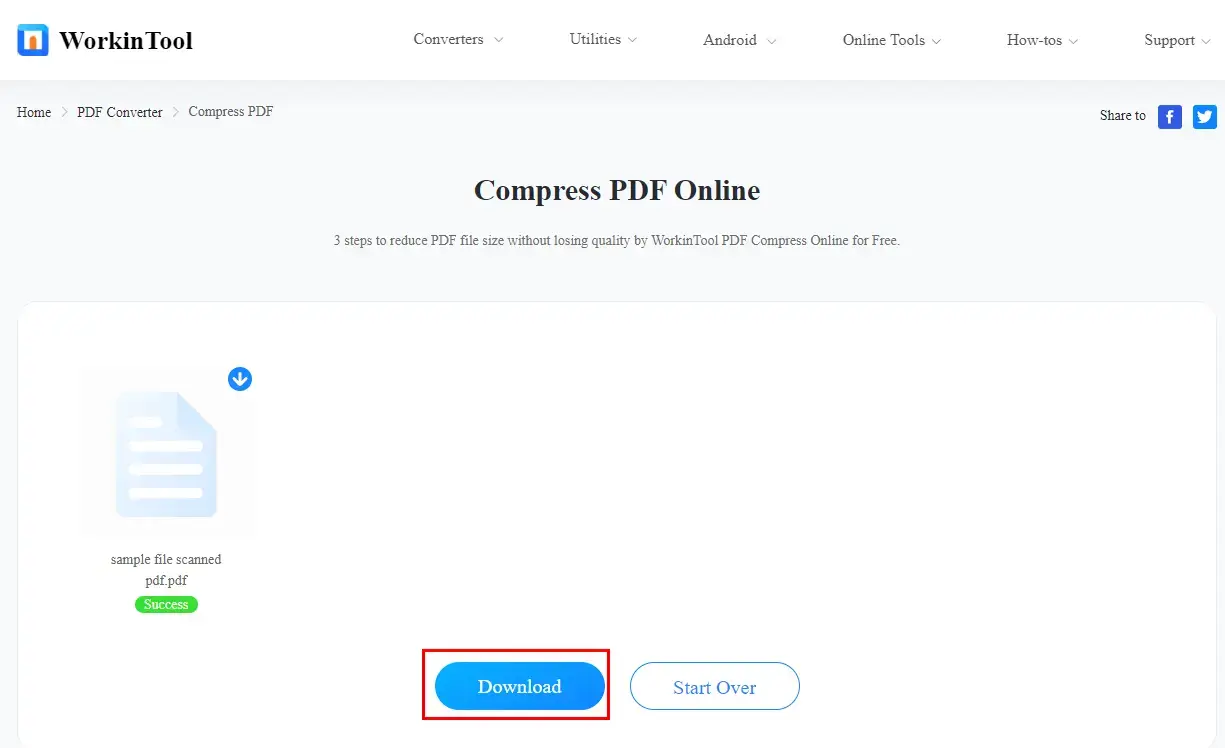 The Final Effect
📣Attention
1). Some limitations are worth noticing in WorkinTool PDF Converter Online:
File Size Limit: The maximum size of each uploaded file is 0.5 MB.
File Number Limit: Although batch PDF file size reduction is also available in WorkinTool PDF Converter Online, only four files can be processed each time simultaneously.
Unstable Converting Speed: The converting speed will be heavily dependent on your internet connection.
2). The effect of size compression completed by Workintool online is less impressive than that exported by its desktop version, as is proved by the outcomes.
If you want a more stable and smooth experience regarding scanned PDF compression, you'd better use the desktop version of WorkinTool PDF Converter.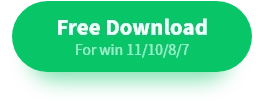 ---
Something Beyond Scanned PDF File Size Reduction
💡How to Reduce Scanned PDF File Size with Adobe?
Adobe Acrobat, despite its relatively complex interface and costly license payment, has still been the most prevalent PDF-related issue resolver worldwide. It captures the global users' minds with its powerful features able to cope with almost every PDF-associated challenge and unlimited entitlement to all its functions within the seven-day free trial period. So if Adobe Acrobat is still your option, please read the following guidance:
Step 1. Open Adobe Acrobat and import your scanned PDF file by clicking File > Open.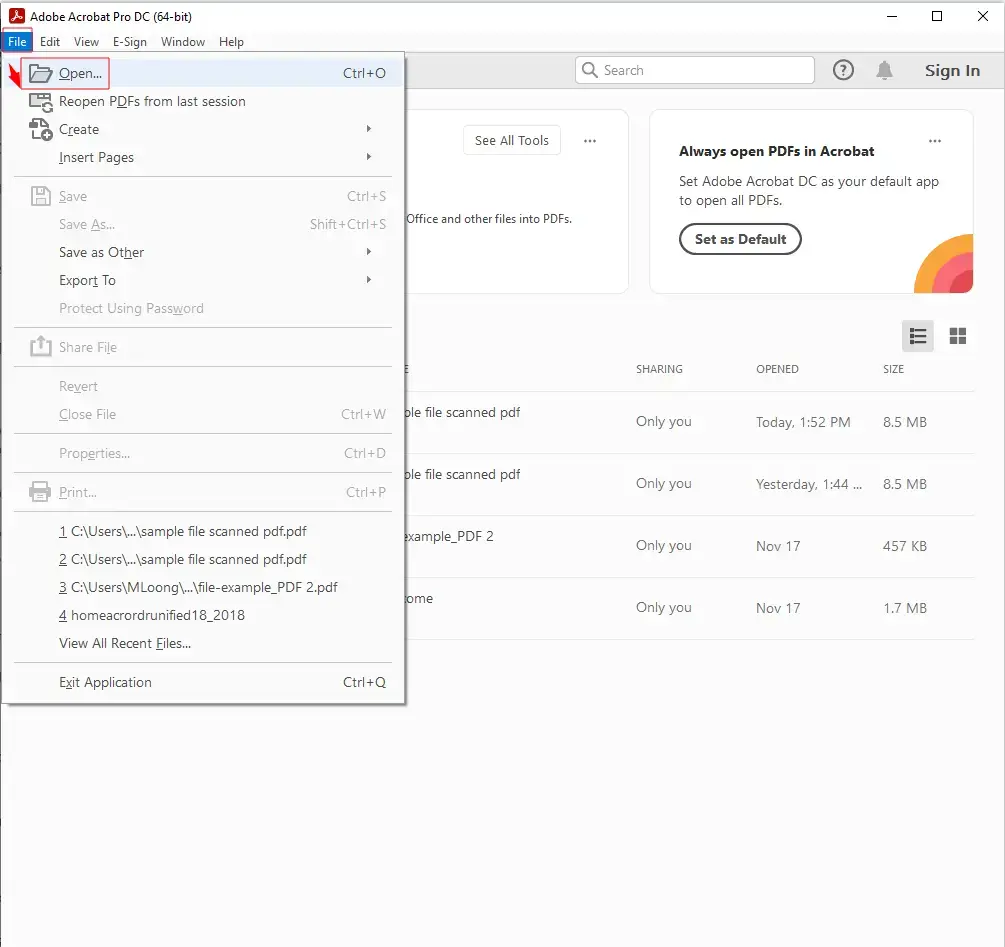 Step 2. Navigate to File > Save as Other > Reduce Size PDF.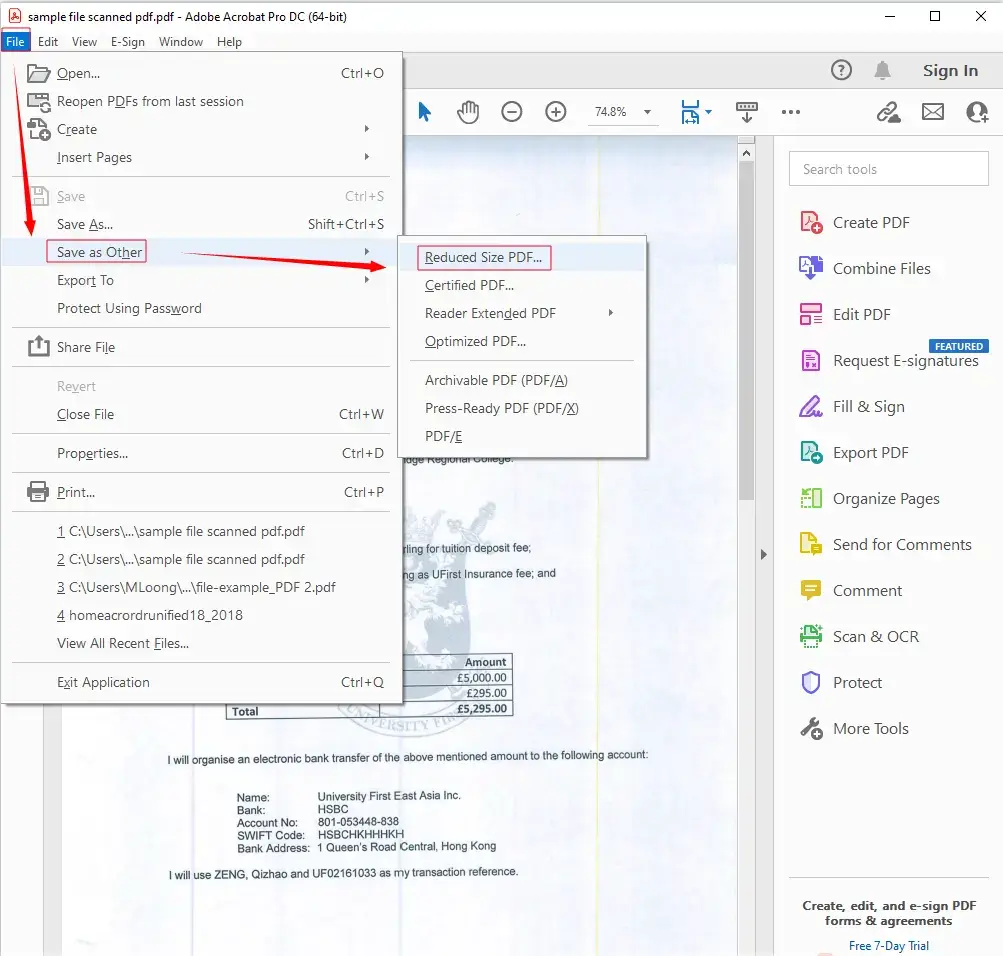 Step 3. Click OK to activate a new window to set your save path.
(Click Apply to Multiple Files to reduce the size of multiple scanned PDF documents.)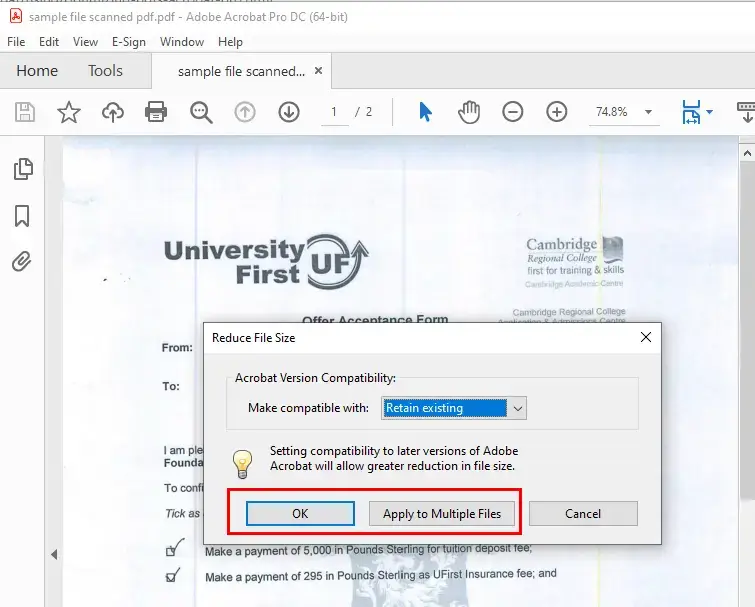 Step 4. Hit Save to start the file size reduction.
The Result

For more information, you can refer to Adobe's official instructions on optimizing PDFs in Adobe Acrobat Pro.
---
Wrapping up
This is our discussion on how to reduce scanned PDF file size without Abode in Windows. You are welcome to try all of the aforementioned approaches until an ideal one is pinpointed. However, it is strongly advisable to use the WorkinTool PDF Converter since it is an outstanding Adobe alternative.
Now, are you ready to compress a scanned PDF file size?