How to Record VR Gameplay on PC for Free 2023
Do you know how to record VR gameplay on PC for free? More and more traditional game fans have tried and changed to play virtual reality games from the original 2D and 3D games. If you want to record new achievements, highlight moments, funny stories, or tutorials, to know how to record VR gameplay on PC is necessary. This article provides three free screen recorders to help you to realize that goal.
How to Record VR Gameplay on PC for Free 2023
Undoubtedly, there is a stable shift from traditional 2D and 3D games to virtual reality games. VR games enter the stage of rapid development, and this has brought us a huge impact on the way we relax and entertain. Numerous game fans would like to capture what they're experiencing when they play VR games, whether achievements or funny moments, and share with friends or post on social media platforms. So, this essay will share some simple and practical methods on how to record VR gameplay on PC.
---
Reasons for Recording VR Gameplay on PC
How do you record VR gameplay in 2022? Although many VR game devices such as Oculus Quest and PlayStation have built-in screen recording features, it is not as convenient as recording gameplay on a PC. Why did I say so? The reasons are as follows.
Time and storage limits: The built-in programs often have time and storage limits when recording. If you need to record longer videos with higher resolution, an external hard drive or a capture card is needed. But if you record gameplay on PC, you don't need to pay additional costs.
Viewing experience: It is hard to record games at a proper resolution suitable for VR game devices, video editing software, and social media platforms at the same time. Although you record a 4K resolution video on VR game devices, it does not represent that the recorded items will give you a 4K viewing experience.
Later edits: In addition, even though you are satisfied with the recording length and resolution, what if you want to perfect your screen record with later edits? You still need to export the recorded videos and edit them on a PC or mobile phone.
---
 How to Record VR Gameplay on PC?
To record VR gameplay on PC is not as difficult as you think. You just need to open a PC VR game or connect your VR game devices to a PC and install a reliable screen recorder. No matter which device you are using, HTC VIVE, PlayStation, Oculus Rift, Oculus Quest, and Oculus Link, it is feasible to record VR gameplay on PC with smooth screen recorders for free.
How to record VR gameplay with WorkinTool VidClipper
Pros
Cons
Free and easy
Only for Windows
Powerful editing feature
Customized recording options
Available recording period presetting
WorkinRool VidClipper is a free and all-in-one desktop screen recorder and video editor available on the Windows system. As a screen recorder, you can select the recording region, convert the output format, record sounds from the microphone and system, and change the video resolution ranging from 1080p to original quality. What's more, this screen recorder allows users to preset the recording period, highlight the mouse pointer, record the click effect, and set hotkeys freely. You will know how to record VR gameplay on PC via VidClipper immediately after you put it into use. Moreover, it also works well in recording a webinar or recording a Webex meeting.
More importantly, it enables users to edit videos like a pro without learning right after the recording is finished, fully satisfying users' need to share and post gameplay. You can also use it as a movie recorder to record YouTube videos.
1.  Download VidClipper and click Screen Recorder on the toolbar.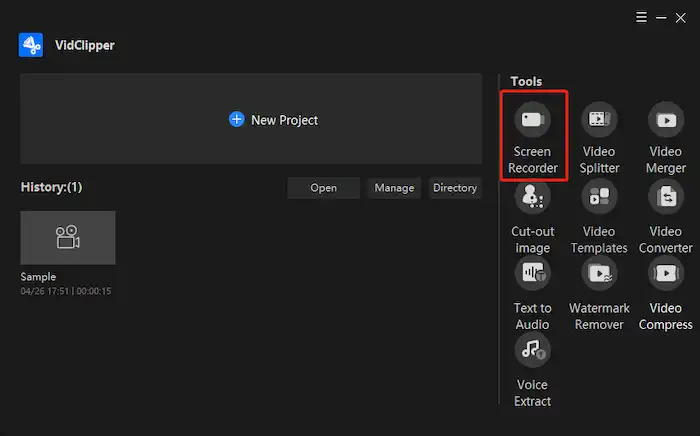 2. Open a game and start recording after configuring your recording settings.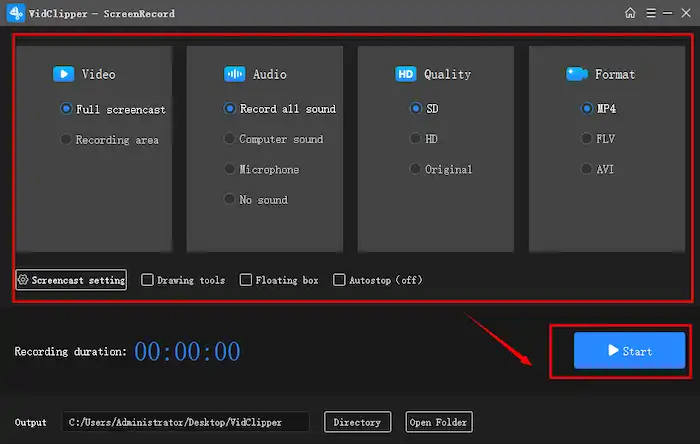 📢Notes:
Many users like to select a full-screen recording region, but if you need to record a window or a specific area, it is also available. To simplify later edits, you can screen record with voice when playing the game by turning on the microphone. You can also add a facecam to the screen as long as you connect a camera to your computer.
3. Click on Stop to end recording, and then you can add clips to edit within VidClipper.(Shortcut keys: Alt+F1 to start/pause recording, Alt+F2 to stop recording.)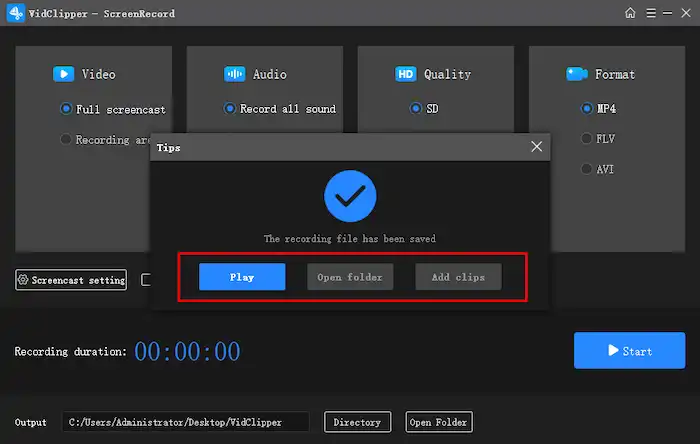 How to record VR gameplay with OBS Studio
| | |
| --- | --- |
| Pros | Cons |
| Free and cross-platform | Unsuitable for beginners |
| Customized recording options | No editing feature |
In fact, OBS Studio is not suitable for beginners due to its complicated operation and sophisticated interface and layout. It is not equipped with advanced editing features like VidClipper. But I have to say that it is also a great and professional screen recorder. As free and open-source recording software, it supports three operating systems including Windows, macOS, and Linux. You can record videos from different sources like browsers, video capture devices, windows, displays, and so on. If you are not satisfied with the basic recording options, you can make general settings on output, audio, video, hotkeys, and quality options as well.
1. Install and launch OBS Studio on your computer.
2. Create a new scene and select a source. Display Capture here is recommended.
3. Click Start Recording to record your gameplay.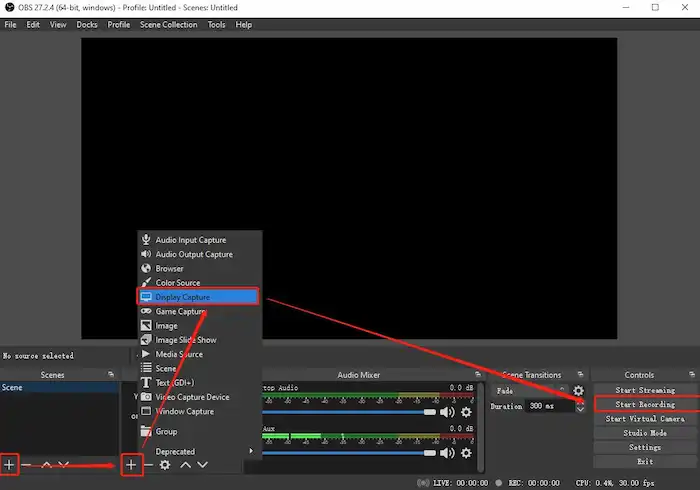 4. Once your game is over, click Stop Recording to stop it. (The recorded VR game video will be automatically saved to your computer.)
How to record virtual reality game with VRCapture
| | |
| --- | --- |
| Pros | Cons |
| Free and easy | Only for Windows |
| Customized recording options | No editing feature |
VRCapture, just as its name implies, is practical VR capture software. If you are playing VR games from Steam, you can download this software from the Steam Store for free. Similar to OBS Studio, it has no editing function. But for those Steam users who want to pull out high-quality videos from the virtual world, VRCapture is a nice choice. You can choose record modes, audio input source, video frame rate, video encoding bitrate, and so on. In addition, it allows you to directly share the video to YouTube, greatly simplifying the sharing steps.
1. Install and open this utility on your computer.
2. Choose recording mode and click the recording option to start recording gameplay.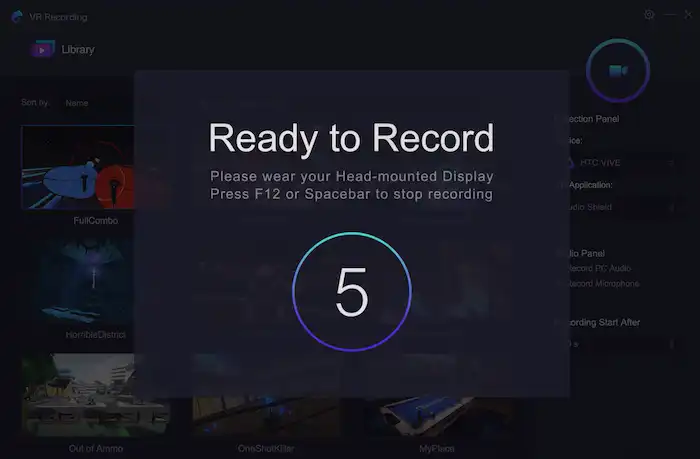 3. When your game is over, click on the stop recording option or press Ctrl+F12 to end recording.
Wrapping up
In conclusion, this article has stated the three best methods of how to record VR gameplay on PC. OBS Studio and VRCapture can be very helpful in recording and streaming your game. WorkinTool VidClipper provides professional video editing features in addition to the basic recording function. Now, you can choose any of them to record VR gameplay and share with others or post on social media platforms!