How to Record YouTube Videos on PC for Free
How to record YouTube videos on PC for free? YouTube is one of the most popular social media platforms. But it is hard to download YouTube videos directly on PC. Many people will install a YouTube video downloader to achieve that. But it may fail sometimes. So why not try a simpler and more reliable way – to record YouTube videos? This article introduces a free screen recorder – WorkinTool VidClipper to help you record YouTube videos.
YouTube, as the most popular online video editing and social media platform in the world, has a great influence on people's daily life. Users would like to download YouTube videos they like. However, YouTube set restrictions on video downloading. So you need to install a YouTube video downloader or a browser extension to help you achieve that goal. But sometimes it is cumbersome and you may fail to do that. So why not change to a simpler way – to record YouTube videos? But how to Record YouTube Videos on PC for free? Today I'm glad to introduce a free screen recorder. It is named WorkinTool VidClipper.
How to Record YouTube Videos on PC for Free with WorkinTool VidClipper?
WorkinTool VidClipper is a powerful but free screen recorder and video editor. You can record and edit YouTube Videos in this handy tool with no hassle.
How to record a video on PC with VidClipper?
Firstly, open WorkinTool VidClipper and find "Screencast" on the right-side toolbar.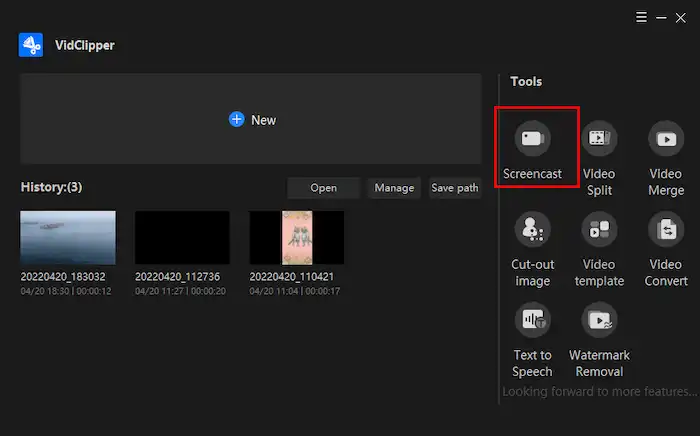 Secondly, make custom settings if you need, and press the Alt+F1 key or hit the "Start" button to start recording.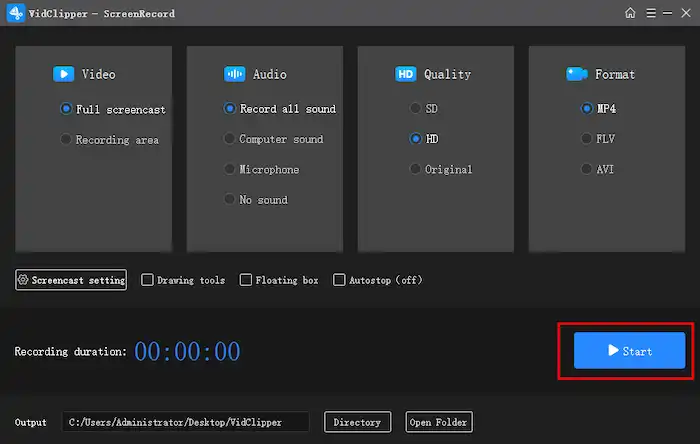 Thirdly, press the Alt+F1 key or click "Pause" to suspend recording, or use the Alt+F2 key or click "Stop" if you finished recording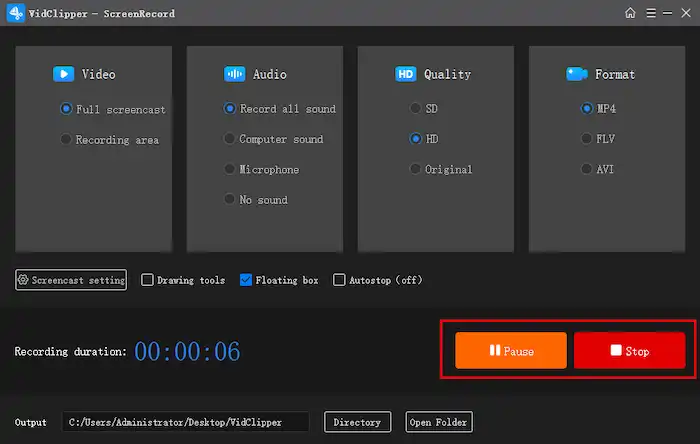 Finally, play the finished recording now or check it in your local folder. Or click "Add clips" to edit it in VidClipper.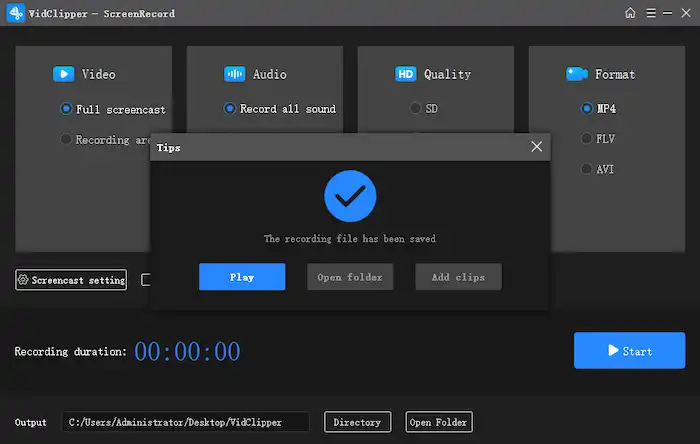 ---
How to record YouTube videos as you like?
(Recording modes settings)
1. Video setting: how to choose the recording area?📌
Full screencast: If you're playing a video in full-screen mode, this one is suitable for you to record information on the whole screen.
Recording area: Select the specific area you want to record if you're playing a streaming video in a window.
2. Audio setting: how to screen record YouTube videos with sound?📌
Record all sound: Record both computer sound and microphone sound. It allows interactions between the original video and the viewers.
Computer sound: Record only computer sound. Tick it if you want to retain the original sound of YouTube videos.
Microphone: Record only microphone sound. It suits for recording a voiceover to explain the video content.
No sound: Record a mute video.
3. Quality setting: how to ensure screen recording's quality?📌
SD: Record a standard definition video (1280P*720P)
HD: Record a high definition video (1920P*1080P)
Original: Keep the video recording resolution the same as the original video.
4. Format setting: can I export videos in different formats?📌
It's not only a screen recorder but also a video format converter. You can set the output format as MP4, FLV, and AVI.
5. Screencast setting: how to record YouTube videos on PC more conveniently?📌
Drawing tools: If you want to add text, draw lines and circle some content during recording. You can tick it to open the brush tool. It facilitates school teaching and office meeting to a large extent.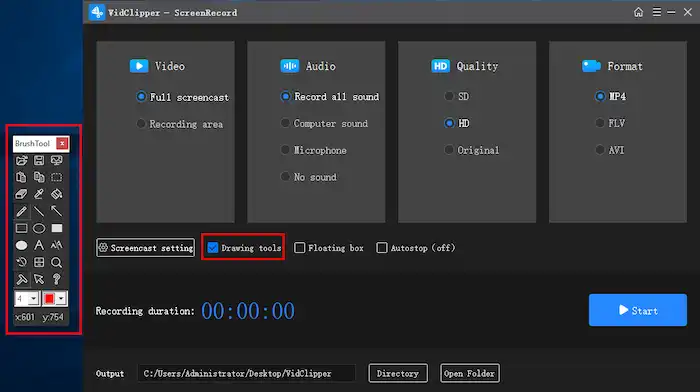 Floating box: A small toolbox will appear on your screen if you tick it. And it shows the recording time and buttons to suspend, stop, and draw the video recording.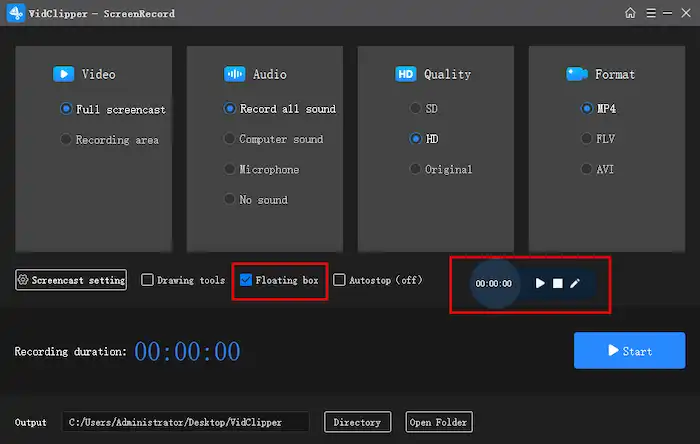 Autostop: With this tool, you can manually set the recording duration before you start recording. That is to say, after pressing the "Start" button, you don't need to worry about anything, the finished video recording will be auto-saved to your Windows PC. And whether to exit this program, make your computer sleep, or shut down your computer is up to you.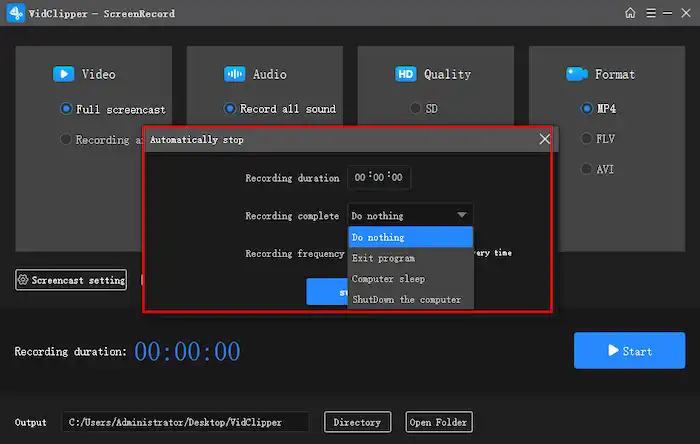 6. Additional setting: can I custom operations as I like?📌
General: You can auto-hide the setting box when start recording. In addition, if you want to make the mouse pointer or the content you select more conspicuous, you can also record mouse click sound, moving track, click effect, and highlight mouse moving trace.
Hotkey setting: If you are not familiar with or not used to using the default hotkeys, custom settings on hotkeys are also available.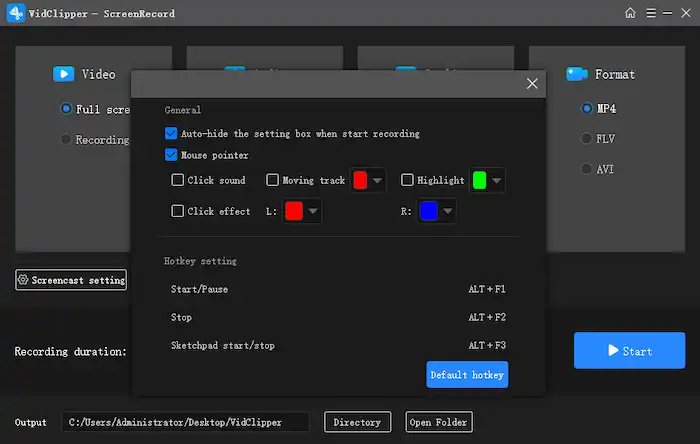 ---
How can WorkinTool VidClipper help you?
If you find it difficult to download YouTube videos on Windows PC, why not give VidClipper a try. It may take a lot of time to try whether a YouTube video downloader works well and wait for downloading. But with this powerful and handy tool, you don't need to worry about how to record YouTube Videos. Just with a few clicks, you can get what you want. Therefore, it largely saves time and promotes your productivity.
How can I record YouTube videos for free? Many people are troubled by paid screen recorders. But as I said before, you can capture videos from YouTube utterly free and don't need to make a license payment. And there is no restriction on advanced features. Do whatever you like and leave financial stress to VidClipper.
Make video editing easier💡
WorkinTool VidClipper is an all-in-one video editing software. Although it is versatile, WorkinTool designs it as a lightweight desktop tool and endows it with a simple interface with concise guides. Therefore, it is of great help and easy to start for both professionals and beginners in the video editing industry.
More Features You Would Like to Try
WorkinTool VidClipper is not limited to solving your problem on how to record YouTube videos on computer for free. It is also a video and audio converter. You can convert your videos to or from multiple formats, including MP4, AVI, WMV, MKV, MOV, GIF, and so on. You can even record YouTube videos to MP3.
In addition, it also works as a video editor. Honestly, it is almost equipped with all the features that a professional video editing program should have. That is to say, you can edit your videos like a pro in WorkinTool VidClipper.
Summing up
At last, you may know how to record YouTube videos on PC for free. So don't hesitate anymore! Download and try WorkinTool VidClipper now. It won't let you down!