How to Record Sims 4 Gameplay with Voice Free (2022 New Tutorials)
Want to record the exciting plots in Sims 4 with voice for free? Just Launch WorkinTool VidClipper, then record the gameplay with system sound, and export it in HD. It also supports re-editing the recorded video. You can share the video that was made from Sims 4 with friends or post it on your social media platform. It is completely free for all functions and editing tools. Moreover, it is quite easy to operate, don't worry if you are a beginner. Just download it to have a trial.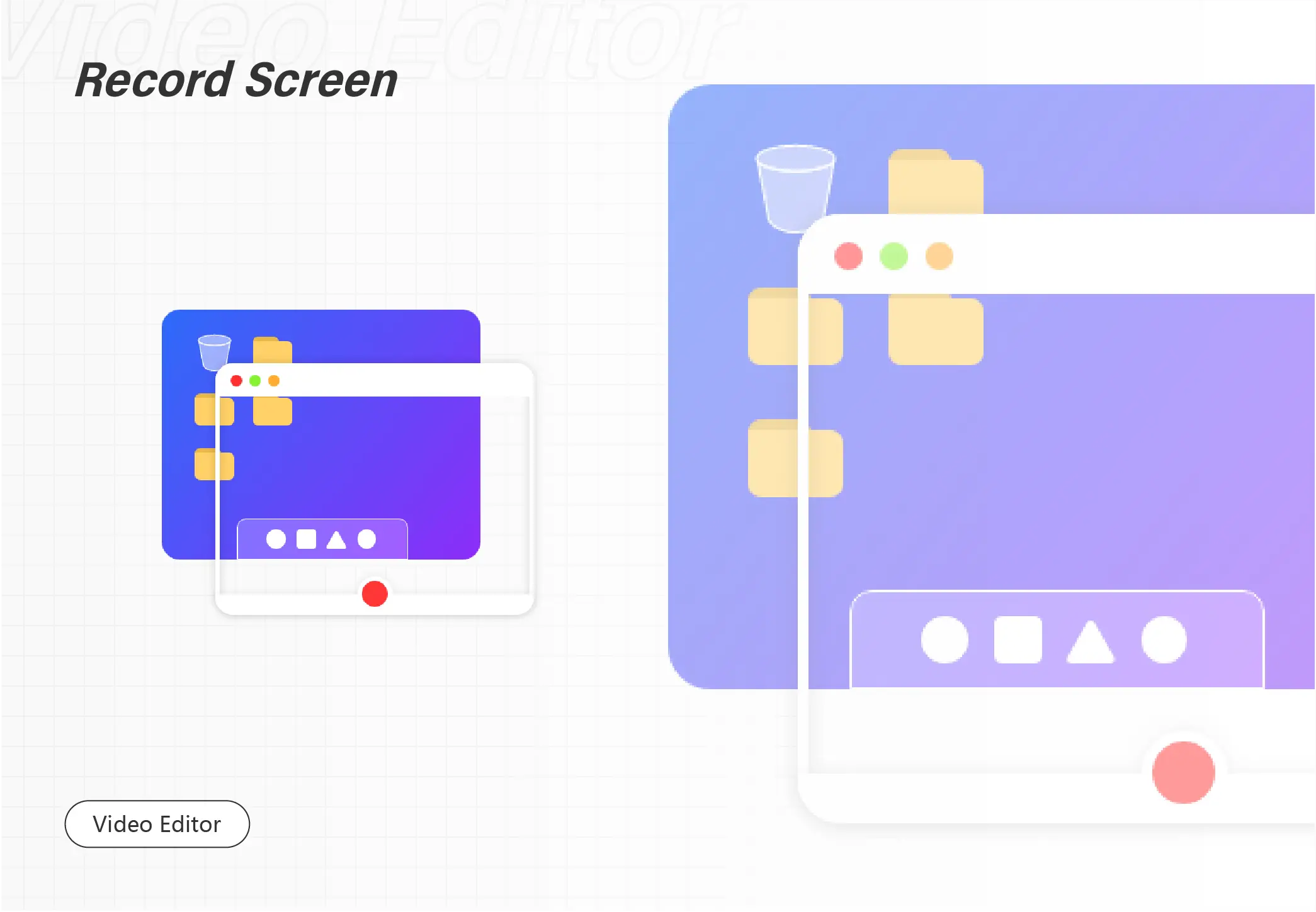 How to Record Sims 4 Gameplay with Voice Free (2022 New Tutorials)
The Sims 4 is a simulation business game developed by Maxis Software and is the fourth generation of the "The Sims" series. In the game, players can create a personalized world, and the game will provide a convenient sharing function to quickly share Sims with friends while supporting offline stand-alone functions. Many players will share funny clips and exciting plots in the game with friends or post them on their social platform accounts. If you also want to do this, then professional screen recording software is your best choice.  This post will mainly focus on how to record Sims 4 gameplay with voice by free screen recorders. Here are step-by-step tutorials provided to you. Hope you can figure out your trouble after careful reading.
📌 How to Record Sims 4 Gameplay with voice 
Screen Record Sims 4 with WorkinTool VidClipper
WorkinTool VidClipper is an all-in-one video processor, which can also record web videos, web courseware, chat page, game video, computer screen, etc. This software is currently available for Windows systems, like Windows 10, Windows 7, Windows 8, etc. It is utterly free, without any limits on the recording time. When recording, you can adjust the video, audio, picture quality, format, and other related parameters according to your own needs. It is available to decide whether to record the entire screen or a specific screen or record gameplay with system audio or microphone voice. It is also in favor of exporting recorded videos in HD, SD, and more qualities, and outputting as MP4, FLV, AVI, etc. In addition to the screen recording function, its video editing function is also very practical, which can realize one-stop post-processing.
✅ How to make a video with Sims 4 using WorkinTool
Step1. Launch the software and pick Screencast on the main page.
Step2. Decide to record the full screen or the specific area, and select the voice that you want to record, the output format of the video, and the quality of the recorded video.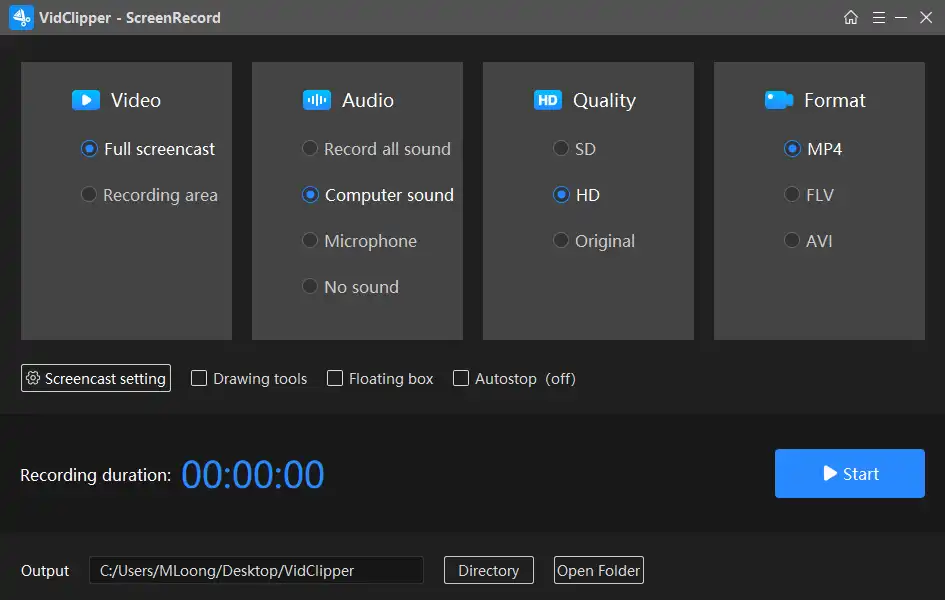 Step3. Set up Autostop time if you want to. Just Click Autostop in the settings toolbar, then add the time and recording frequency.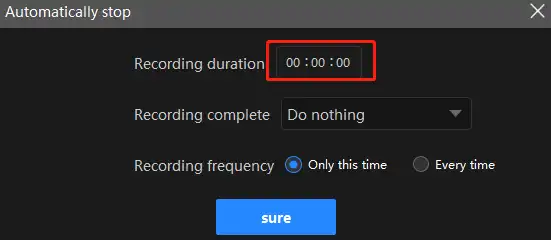 Step4. Click Start to capture the screen (or use the hotkeys to start capturing: Alt+F1 to start and suspend; Alt+F2 to end). There is a flow bar to stop or edit when recording. After that, check the recorded video or add it to edit directly by tapping Add to clip.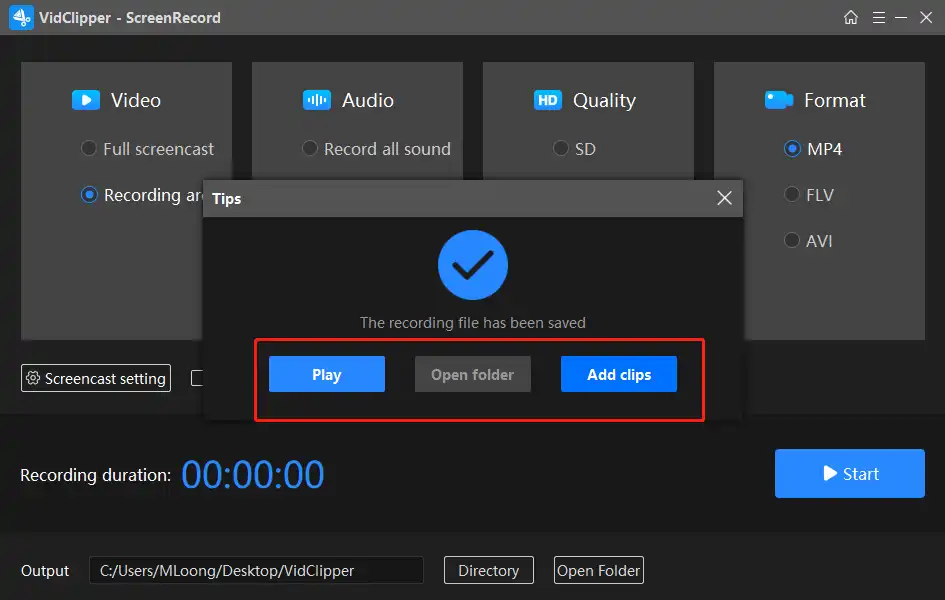 As you can see, its operation is quite friendly to new users. You can easily record Sims 4 gameplay on Windows 10 or other Windows systems without an extra tutorial. Want to know how to edit the recorded video, you can refer to more video editing tutorials on our webpage.
More Functions of WorkinTool VidClipper
As I mentioned before, WorkinTool VidClipper is an all-around video editor that can post-produce the recorded video. For instance, reducing the recorded video size, speeding up the video to shorten the video time, converting the video to other formats, like MOV, AVI, MP3, etc. Here is a summary of its other helpful functions that you can check if needed.
Record Sims 4 Gameplay with Voice with OBS
OBS Studio is a professional gameplay recorder. If you have followed the live broadcast industry, you may not be strange about it. As a free and open-source screen recording and live stream application, many streamers are using it. It is in favor of Windows, macOS 10.13+, and Linux right now. One of its biggest features is that it can record screens by application or by window. After selecting a recording screen, even if other windows pop up suddenly, it will not be recorded, and multiple screens can be recorded at the same time. The highlight is that in terms of game live broadcast, the video quality is relatively good, and the generated files do not need special transcoding. However, it is more suitable for professionals. Its operations are too complicated for beginners. Moreover, it is not in favor of the floating bar and editor tools during and after the recording process.
✅ How to Record Sims 4 Gameplay with OBS Studio
Step1. Launch the software, then add sources by tapping the plus button, then select Game capture or Window Capture as you like.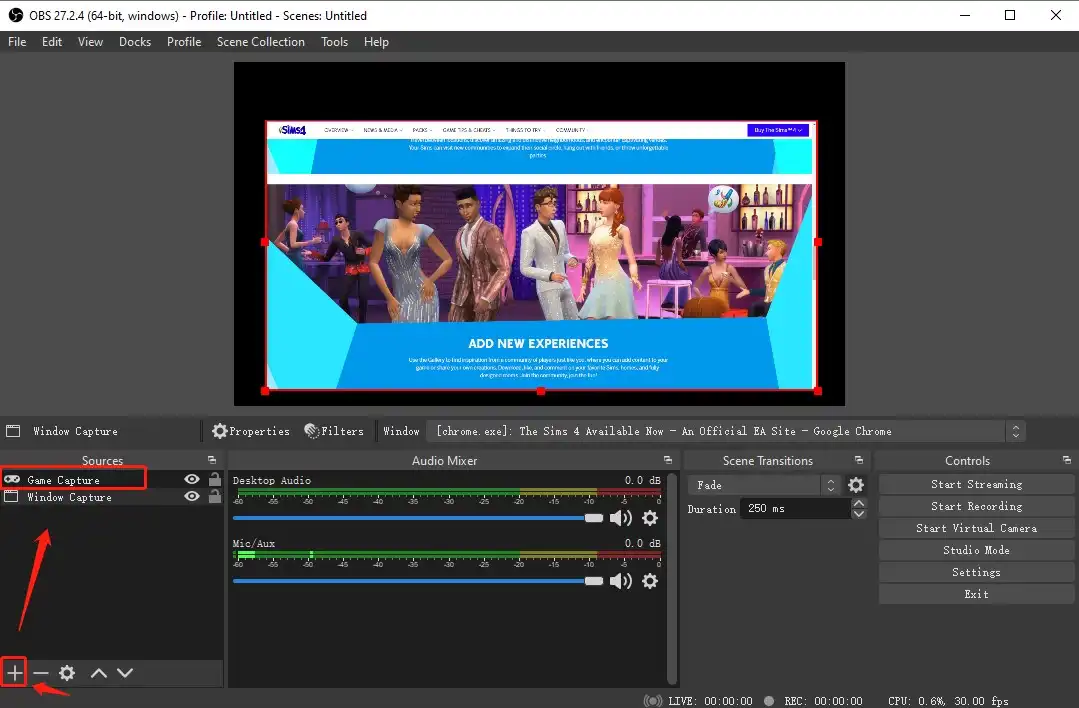 Step2. Click Settings on the main interface. Then set to record with desktop audio and set the output format and quality. You can also adjust the other parameters if you want.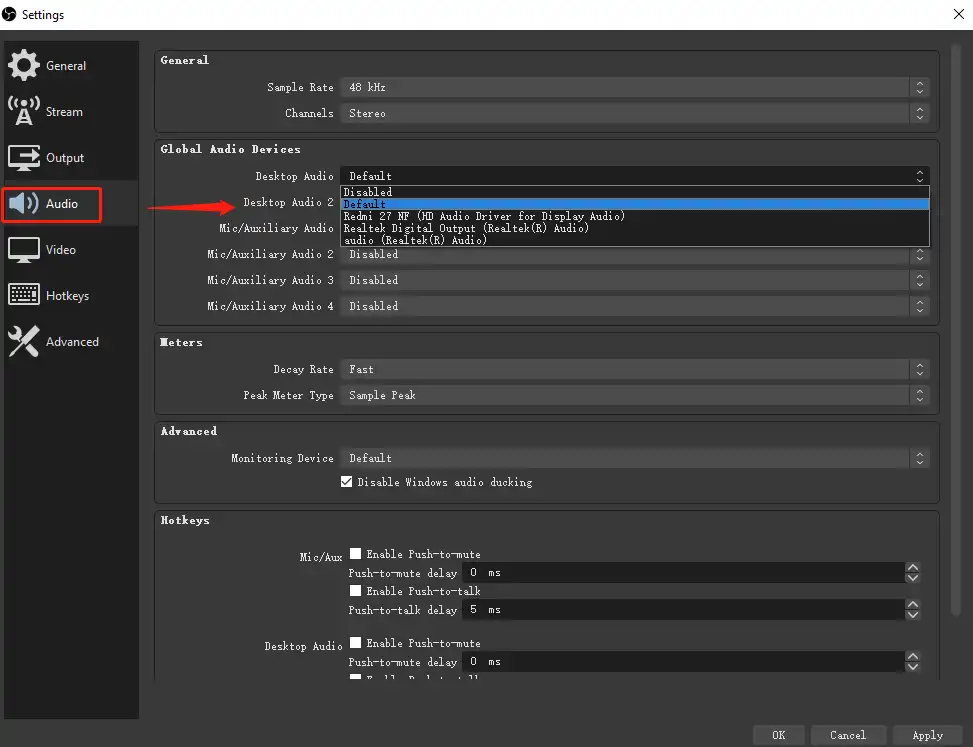 Step3. Tap Start Recording, then open it again and tap the button again to stop recording.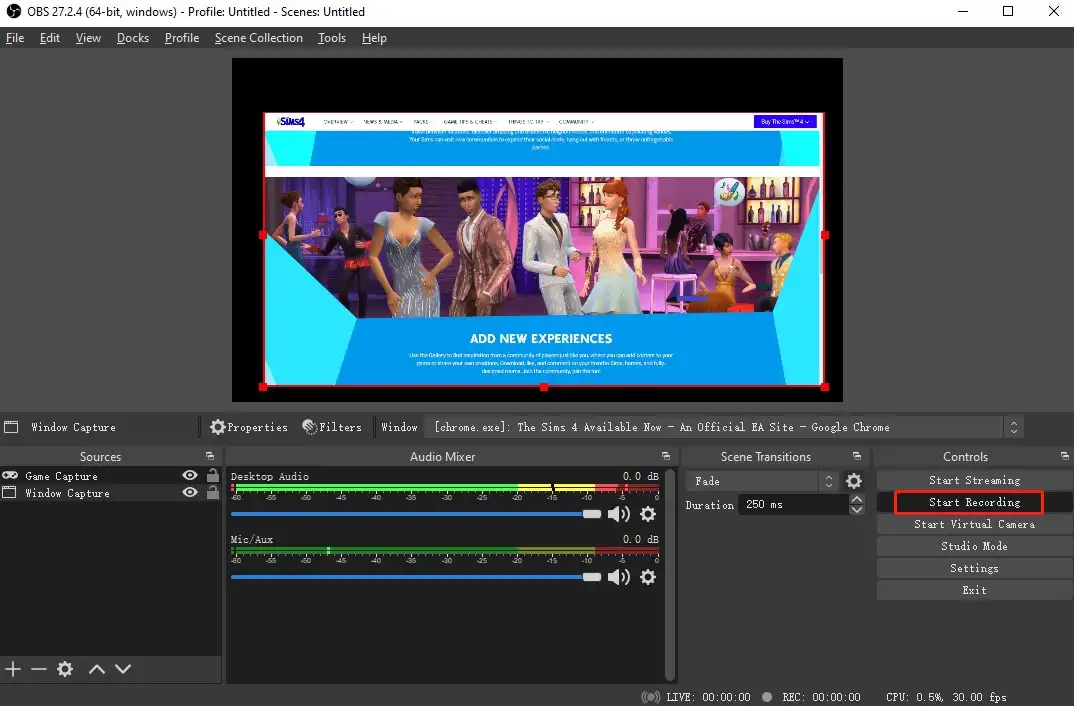 Step4. The recorded video will be saved directly to your folder. Click File>Show Recordings to check it.
Tip: Designed for live-streaming, it can live stream what you are recording on other platforms like YouTube, Twitch, Facebook, etc.
Which Tool is Better?
The two sims 4 screen recording software I recommend today are both effective, and both can record Sims 4 gameplay with voice. It is hard to judge which one is better than the other. They have different focuses, you can choose one of them to download according to your actual needs.
If you require a more professional tool that can set various video and audio parameters and can be used for live broadcasts, then you can try OBS. It is better for recording game live broadcasts. Meanwhile, it supports various systems. It is more suitable for professional game anchors to operate.
If you are looking for a convenient and easy-to-use screen recording tool, then I recommend you to use WorkinTool VidClipper. It has more features and can output HD videos. It allows you to record all activities on the computer screen, synchronously record audio and video, set it to stop recording automatically, and add rich video special effects. You can also edit the video during screen recording with annotated lines, text, highlights, and more to make your videos cool and vivid. You just have a free trial right now.
Products Reviews:
TrustScore
4
|
323
reviews