How to Record a Webinar as an Attendee on Windows 10 for Free
Online webinar becomes increasingly popular among so many countries due to the spread of COVID-19. Many people want to record a webinar to rewatch or share with others. Can you record a webinar? Do you know how to record a webinar you are watching? This article will tell you how to record a webinar as an attendee on Windows 10 with a free and simple screen recorder – WorkinTool VidClipper.
How to Record a Webinar as an Attendee on Windows 10 for Free
COVID-19 has turned the whole world upside down. Everything has dramatically changed. However, on the other hand, it also promotes the development of digital technology and social media. Online webinars and distance meetings are deployed as alternatives to offline meetings in many countries. In this situation, it's better to record a webinar for later viewing in case you need. Last time we talked about how to record Webex meeting as a participant. But can you record a webinar? Do you know how to record a webinar you are watching?
---
Can I Record a Webinar I am Watching? 
Yes, you can. But the case divides on how to record a webinar while watching it. Why do I say so? There are numerous online meeting platforms in the market, from GotoWbinar to Zoom, from Webex to Google Meet, and so on. In general, all of them design an in-built screen recorder to make webinar recording more convenient. However, the situation divides.
If you are the host
You have the default right to record a live webinar and give recording permission to other participants. In general, you need a paid account to record the long-time webinar and save the webinar recordings to the cloud.
If you are not the host
How to record a webinar as a participant? Well, as rule, only the host has the recording right. Therefore, the most direct way is to ask permission from the host. But it may leave you in an awkward position if the host is your boss or other people you're not familiar with, thus forcing you to choose another way – to install third-party webinar recording software like WorkinTool Vidclipper.
---
How to Record a Webinar as an Attendee with WorkinTool VidClipper
Given the situation above, it is wise to record webinars with a third-party screen recorder. WorkinTool VidClipper is a free webinar recorder, which not only endows all the attendees the chance to capture a webinar session or the whole process but also optimizes audio and video quality and features output format.
Let's see how to record a webinar on PC in Windows 10 with VidClipper. 
Firstly, open WorkinTool VidClipper and find Screencast on the toolbar.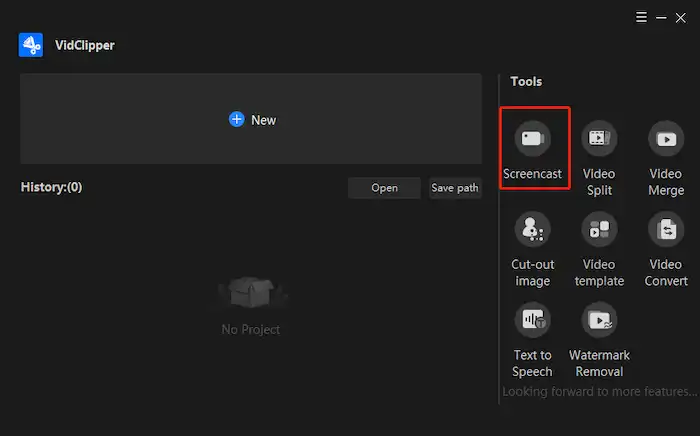 Secondly, tick the options you need and click Start or click Pause to suspend recording.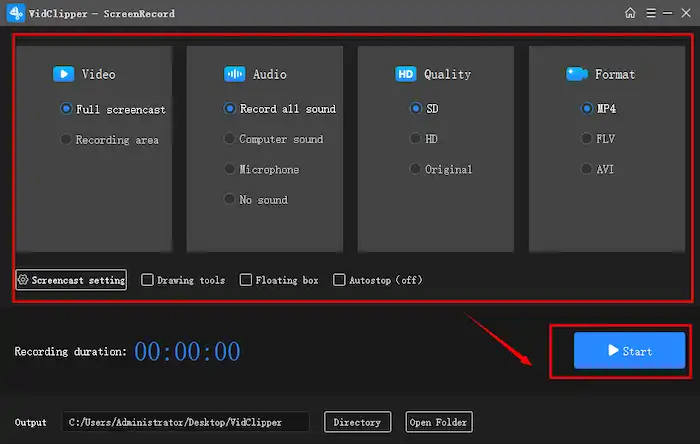 Notes:
You can press Alt+F1 to start or pause the recording as well. 
(This hotkey can aid in recording a webinar session. You'll feel convenient in switching recording modes.)
Finally, press Stop or Alt+F2 to end the recording.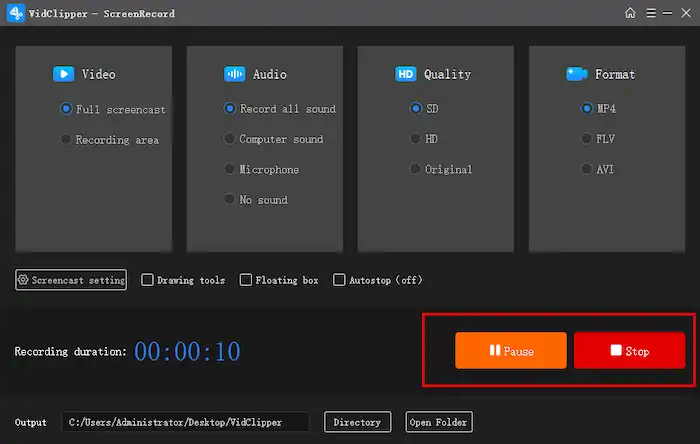 At last, the saved recordings will be auto-saved to your PC. You can play it to preview or check it later in your local folder. More importantly, you can add the video clips to the VidClipper editing panel to directly crop unwanted parts, add subtitles, type notes, supplement details, and so on.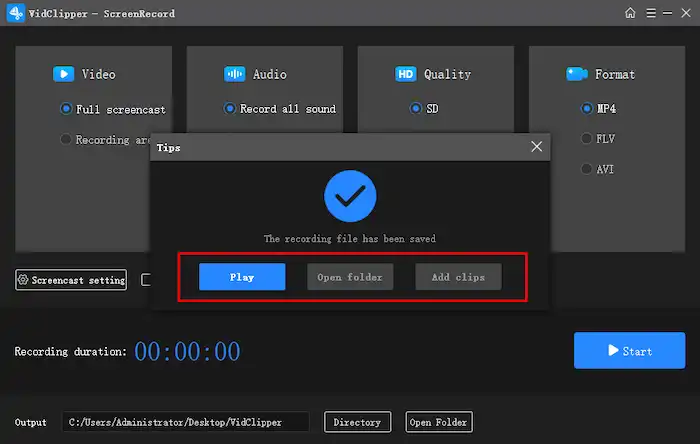 Why do you choose Workintool VidClipper to record a webinar?
Because Workintool VidClipper is an excellent program that balances multiple features with free pricing and simple operation. Reasons for you to choose VidClipper include but are not limited to the following.
1. Suitable for any platform ✨
In case you attend meetings frequently and need to use different online meeting software, this webinar recording software suits all online meeting platforms. You know how to record a webinar now, therefore you can apply the operation steps to any of the online meeting services. It is also simple and convenient to
2. Free of charge✨
Good and bad webinar recording software jumbled on the market. It is hard to find a free but powerful one. For example, Snagit is another classic and professional screen recording software that supports multi-language and equips with powerful features. However, it is not free, you need to pay $62.99 first to enjoy its service. But you can enjoy all the recording and editing features in WorkinTool VidClipper without a cent, and there is no license payment and in-software purchases.
3. Custom settings✨
1) Basic settings
At first, similar to all the webinar recording software, WorkinTool VidClipper empowers you to select recording modes on
screencasting area: capture full or partial screen
audio recording: keep both, one, or neither of the computer sound and microphone sound. (If you just want to record audio instead of video, it is simple to use an audio recorder to record audio on Windows.)
video quality: set the video quality as SD(1280P*720P), HD(1920P*1080P), or the same as the original webinar.
output format: export videos in MP4, FLV, and AVI format.
2) Additional settings
How to record a webinar more conveniently? In addition to the basic settings, it is also available to make additional settings in VidClipper to speed up creating and improve productivity.
Mouse pointer
Record click sound
Show moving track with color
Highlight the mouse pointer with a colored circle
Switch click effect when left-click and right-click
Hotkey setting
Change the Start/Pause/Stop/Drawing tools hotkey
Drawing tools

(a floating toolbar)

Circle and frame out specific content
Draw lines, arrows, and figures
Edit text and change font and size
Magnify screen details
Floating box

(a floating toolbar)

Show recording time
Open drawing tools
Start/Pause/Stop recording
Autostop
Set recording time in advance
Exit program/Computer sleep/Computer shutdown when recording complete
Save settings for only this time or every time
4. Multiple features✨
WorkinTool VidClipper is not confined to letting you know how to record a webinar as an attendee. Besides, as a video and audio converter and editor, it offers a one-stop solution for video processing as well. Multiple features are awaiting to explore.
 5. Straightforward Interface✨
When you open VidClipper, what presents to you is a clean and straightforward interface. So you'll know how to record a webinar on your computer without learning. With a few seconds, you can put screen recording into practice successfully.
---
Conclusion
At last, you probably know how to record a webinar on Windows 10 and have a comprehensive understanding of the features of WorkinTool VidClipper. It is a wonderful tool, right? Then go and get it now! It's waiting for you!