2023 How to Screen Record with Voice on Windows for FREE
People rely more and more on online office software. Especially after the baptism of the epidemic, remote telecommuting is gradually becoming mainstream. Then what follows are surging demand for screen capture software. So how do you screen record with voice that is of speed and high quality at the same time? In this post, we have introduced different solutions for different devices. For the Windows system, we highly recommend you try WorkinTool VidClipper. It is a comprehensive video recording software. With it, you can record any content you want with or without a specific sound. More importantly, it is totally free of charge to use all the functions. Now, go download and experience the magic now!
2023 How to Screen Record with Voice on Windows for FREE
During the time of this post-epidemic era, remote telecommuting has become the norm of life. People often use online meetings to get work done and study done. It also frees up more time for leisure and recreation. Whether you're trying to copy online meeting content to finish your duties, saving an online Twitch gameplay tape that you want to watch later, or keeping some TV films for family movie night, it is always a better idea to screen record with voice and other audio. A few mouse clicks will help you record any content that you want together with screen and audio.
But how exactly to screen record with voice? Well, you will need a practical and handy screen recorder to help you with that. Here in this article, we will give you a detailed introduction on how to record your screen with voice and other audio in it. Four different methods guide you to the best solution on different platforms and how to screen record with voice-over without hassle. Come and check it out.
Page Content:
How to Screen Record with Voice on Windows

How to Screen Record with Voice on Mac/

Methods to Record Screen with Audio on Android/iPhone/iPad

More to Share
---
How to Screen Record with Voice on Windows
If you are trying to search for a screen recorder that is stunning in features and free without any limits, I am afraid that you don't have many options. But don't worry my friend. There is still one that can satisfy all these requirements that you want. We are going to break it down into this screen recording software in every aspect, including screen capturing, audio recording, user-friendliness, and additional features.
💖 Easy Solution: WorkinTool VidClipper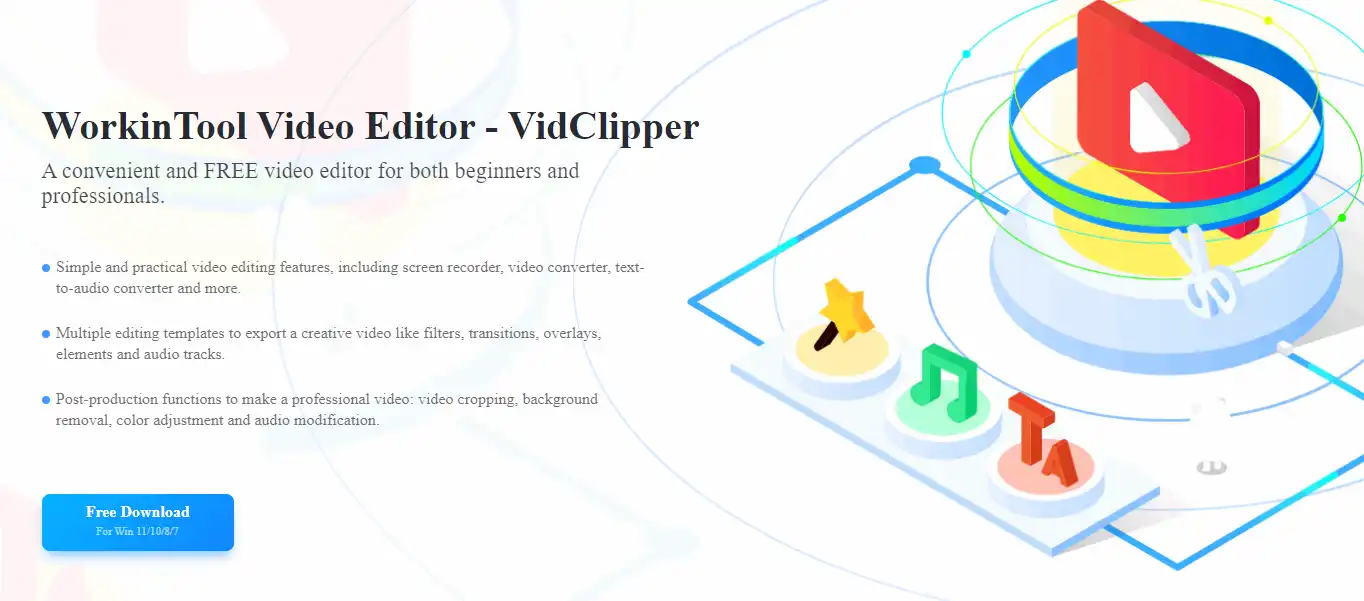 WorkinTool Video Editor – VidClipper is a newly published screen recording software. It's a new product, but it's as good as any screen capture software on the market. With its powerful functions, you can easily screen record with audio of any content you want. Whether it's an online meeting, video call, game tutorial, or live-streaming, it can bring you the simplest enjoyment.
It is more than that. WorkinTool VidClipper is not so much a recording screen software, but rather a multi-functional integration of video processing software. Everything from recording to editing, from changing background music to changing video formats. One software can operate multiple tasks that are for more, so why not try it?
Here's how to use WorkinTool VidClipper.
1. First, go download and launch this amazing software, click Screencast on the recording page.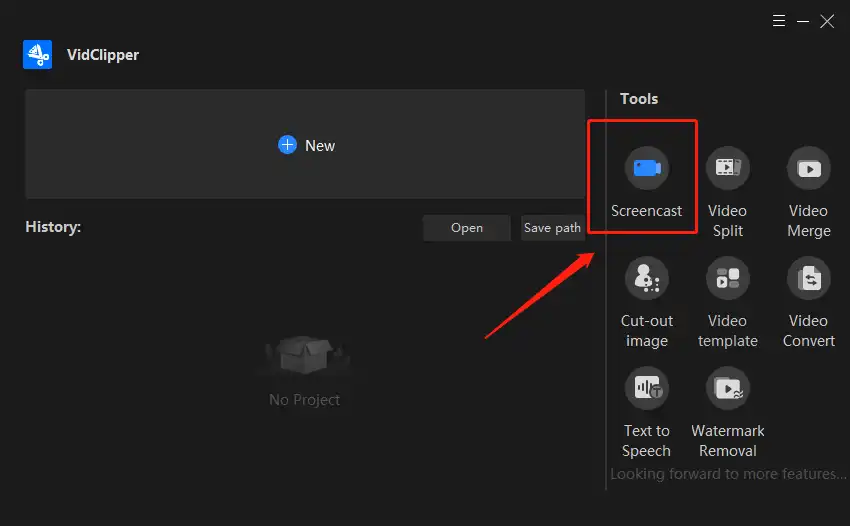 2. Then you need to configure your audio recording settings.
VidClipper has four different basic recording sections on the page for users to select from. One of them is the audio settings. Here you can decide if you want to screen record with voice from a microphone or system audio. It is of equal importance to other video recording settings. Now, let me break down to you the four basic recording options.
The software's default setting is to record all sounds. If you only want a voice from your microphone, you will need to switch this option manually.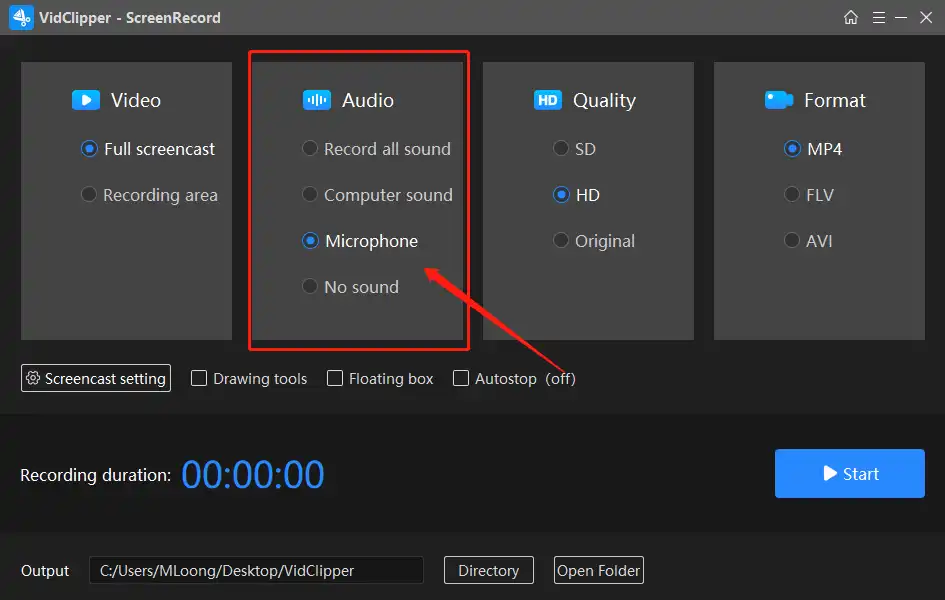 🎉 Basic Recording Options 🎉
Video 

Full Screencast: You will get a full-screen recording once after clicking this button. This will include the entire screen of your computer.

Recording Area: A certain part of your screen will be recorded according to your selection. If you select this mode, you will be noted to set a rectangle and only the content inside the rectangle will be recorded.

Audio

Record all sound: All the audio that your computer has input and output will be recorded together. There could be sound from your computer system, online meeting or live-streaming sounds, your microphone, and others.

Computer sound: Only computer sound will be recorded in the video. The peripheral equipment won't be a part of it

Microphone: No extra computer sounds will be included in your recorded video except your microphone. Simply put, only an externally connected sounder will be recorded.

No Sound: Your recorded video will be muted for the whole video. It is more suitable for post-dubbing video production.

Quality

SD: Normal video definition 720P for most video platforms. AKA 1280X720.

HD: 1080P, it is a higher definition for SD. 1080P AKA 1920×1080. (about 2 million pixels)

Original: It stays the same definition as your recording video.

Format

MP4: Set MP4 as your exported video format, suitable for most video platforms.

FLV: FLV format is the exportation video format, it is for small video clips.

AVI: Convert screen recording video with audio to AVI format, fit for large and lossless videos.
3. Lastly, start to record.
You can hit the Start button or use hotkey ALT+F1, or ALT+F2 to start/suspend/stop the recording. Your video will then be saved to a designated folder.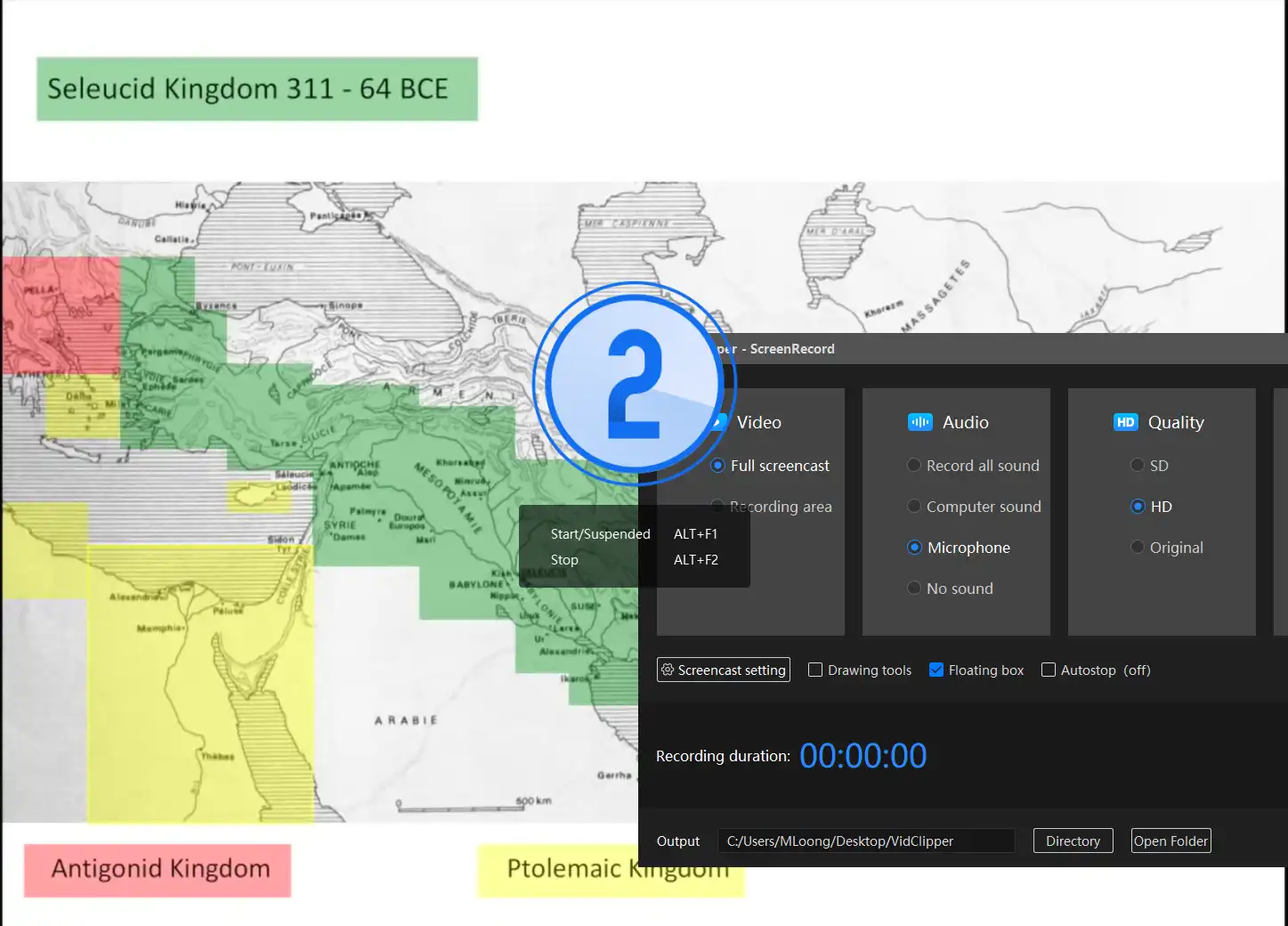 (Record a Harvard History lecture on YouTube)
📣 Additional Options 📣
The four basic features mentioned above are enough to meet the needs of a large number of users. Of course, if you have more subtle needs, such as being able to take notes directly on a video during the recording process, the software can also be offered to users. All user needs are met.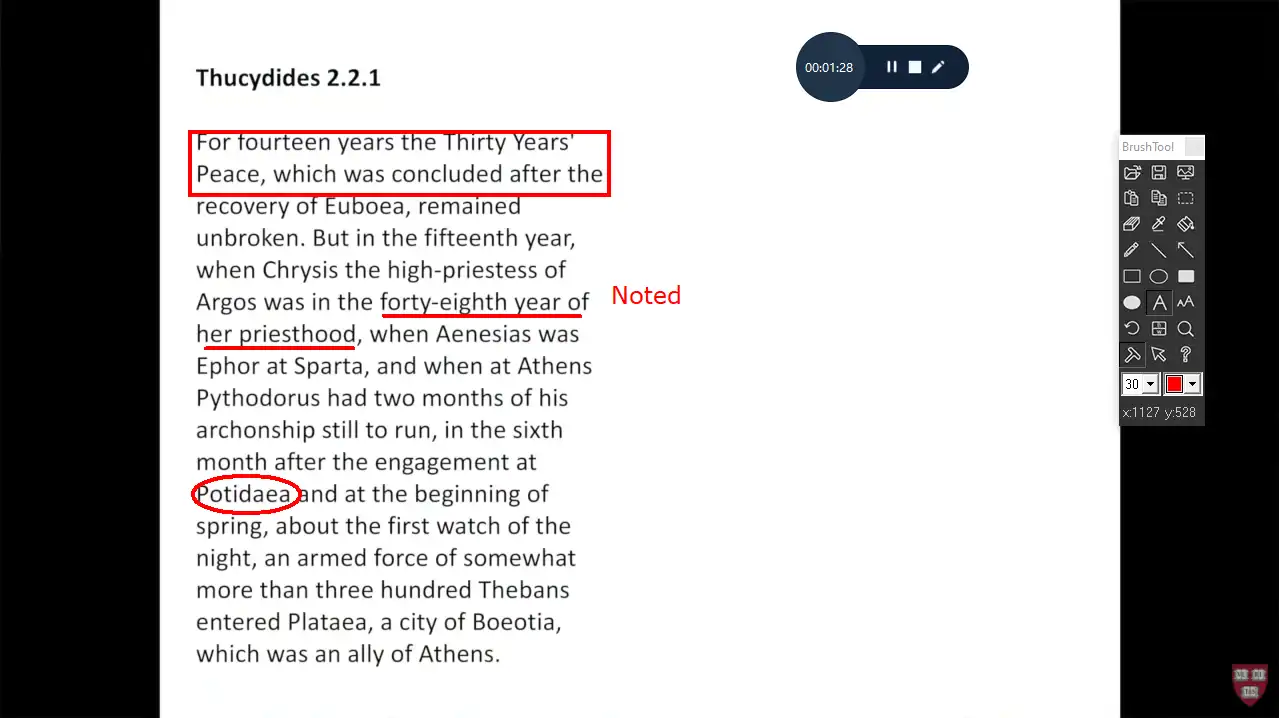 (Taking notes on recording lecture video)
Mouse Tracking
Automatically Stop
Drawing Tool

Auto-Hide: You can hide the setting box by selecting this option.
Mouse Pointer: This section allows you to control the mouse point settings so that you can add clicking sound, add color to the moving trance and highlight the mouse pointer.
Click Effect: Set a color effect when you left-click or right-click your mouse during the recording.

Duration: You can make a duration time, and when the time has come, the recording will stop automatically.
Recording Complete: A simple setting to control your computer to "Do nothing", "Exit program", "PC sleep" and "PC shut down" when the recording is over.
Recording Frequency: You are allowed to make it a regular setting for recording, there are "Only one time" and "Every time".

Save Image: You can screenshot a full-screen image or just a partial screenshot Windows.
Fill Color: Add colors to certain parts of your screen.
Draw lines and shapes: Users can add lines or shapes to emphasize what's important in the video recording.
Add text: Write on the screen during the recording. More suitable for lecture videos.
Magnifier: Enlarge the contents of a specific section on your screen.
Why You Should Use WorkinTool
Just now we mentioned that it is a comprehensive video processing software. Instead of just recording, you can send the finished video directly to the edit function after you've done a series of recordings. You don't need to download any more video editors. It already has all the features you need. You can add a cool video intro, change the background music, or create a video effect. For meetings or lecture videos, you can subtitle them, remove unnecessary waiting times, speed up videos, and so on. to make the video more efficient. Most importantly, it really meets your desire to have a free video recorder with full features. It doesn't limit the number of times the user can use it or the size of the video, nor does it watermark the output. Completely user-friendly.
🎉 More VidClipper Features 🎉
---
How to Screen Record with Voice on Mac
Recording on a Mac is easier and more convenient than on Windows. Because today we're talking about free methods, we're not going to add third-party software here. The best solution to screen record with voice on Mac here is by the built-in application: QuickTime Player.
 📍 QuickTime Player
QuickTime Player is an application on the Mac system. You can use the screenshot utility to create a screen record, configure the audio recording settings, and record and save it on your Mac.
1. Press Command + Shift + 5 on your keyboard to open the QuickTime Player Screenshot and display the tools.
(Or you can open the QuickTime Player app first, choose File > New Screen Recording)

2. Then you will see a video recording option bar. You can choose to record on the full screen or select part of the screen content for recording. The audio recording settings we need are in Options

3. Click Options > Microphone, here you can choose if you want to record the screen with your voice from a microphone or some other external device. Once you are done setting, hit Record to start capturing your screen immediately.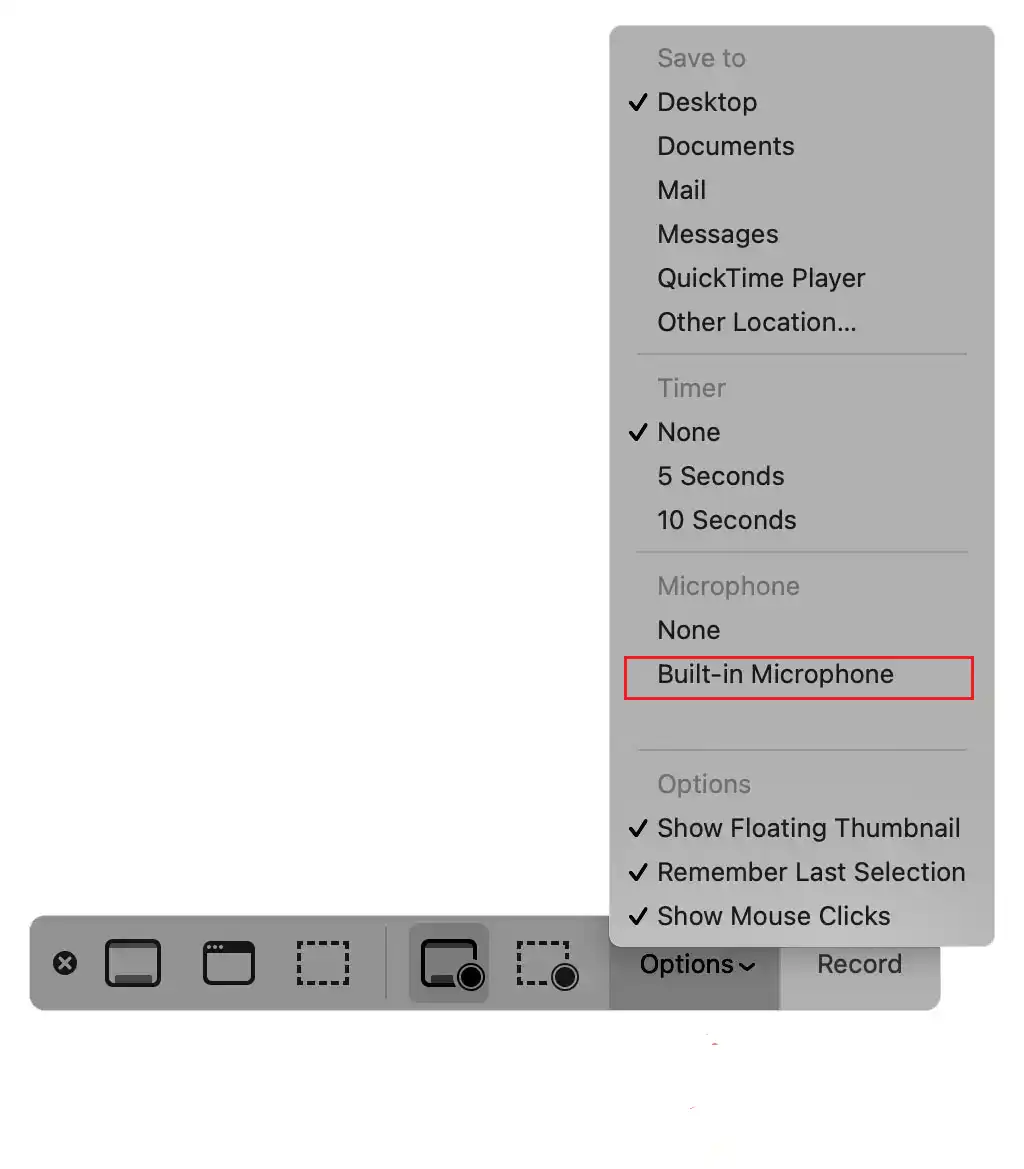 ---
Methods to Record Screen with Audio on Android/iPhone/iPad
Modern smartphones have built-in video recording applications that can work, and both Android and iOS can finish this job without the help of a third-party app.
They are generally the same, but let's take a closer look at the details of the operation.
🎶

Screen Capture on iPhone/iPad
Preparation and notice:
① Your Apple device must meet the minimum requirements for iOS 14 or later.
② Some apps don't permit you to record screens, for example, bank apps that contain your personal information.
③ Screen mirror function won't work if you are recording and vice versa.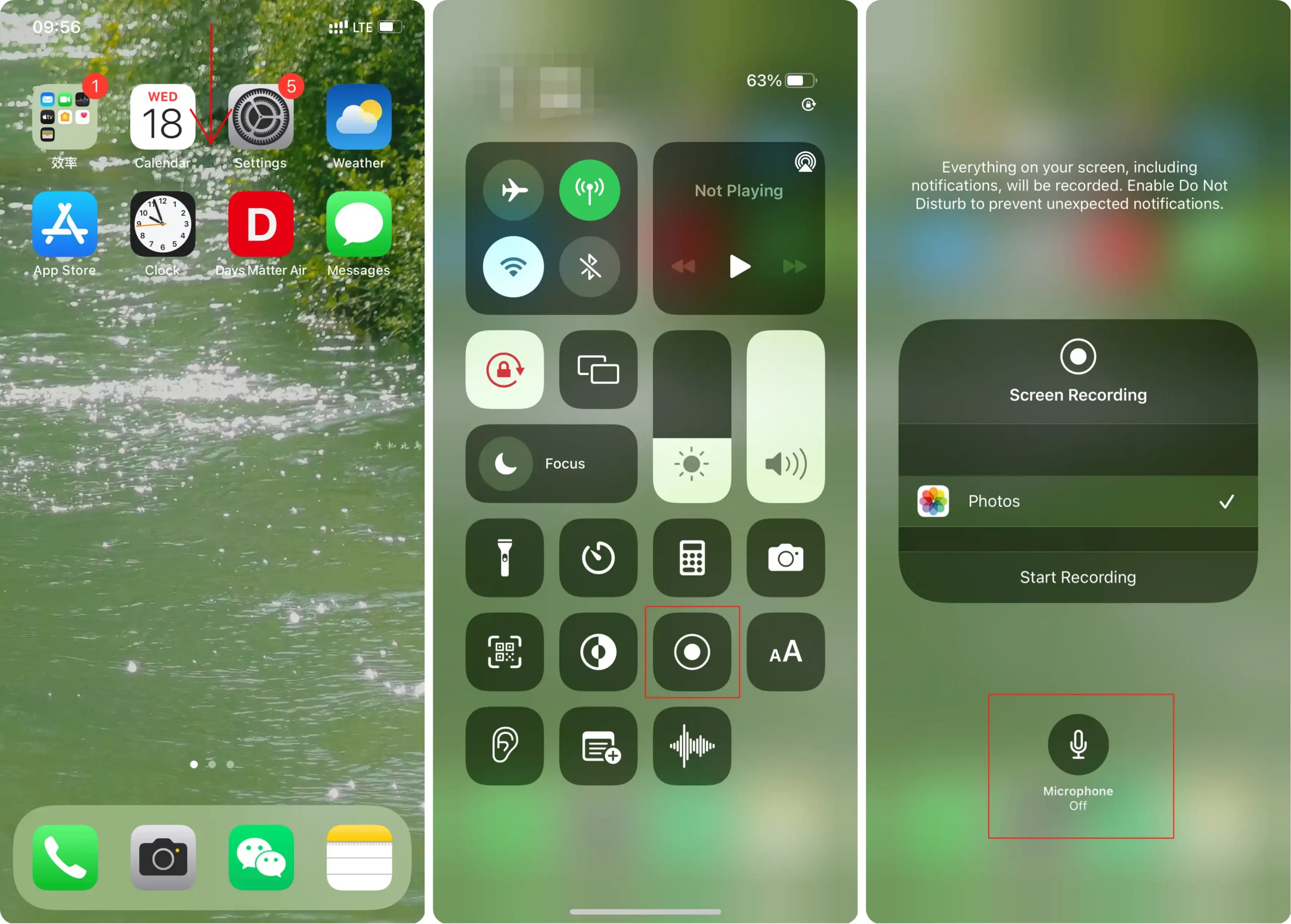 Open your phone and swipe it down from the top of your phone's home screen to get to the quick control screen.
Find the Screen Recording function on the control screen. it is placed there by default. (If you don't find it, go to Settings > Control Center, then add it to the control screen.)
Select your recording screen, and tap the Microphone button to open it.
Start to record, if you want to stop recording, you can tap the red record button or the red status bar to stop it.
🎵 

Screen Capture on Android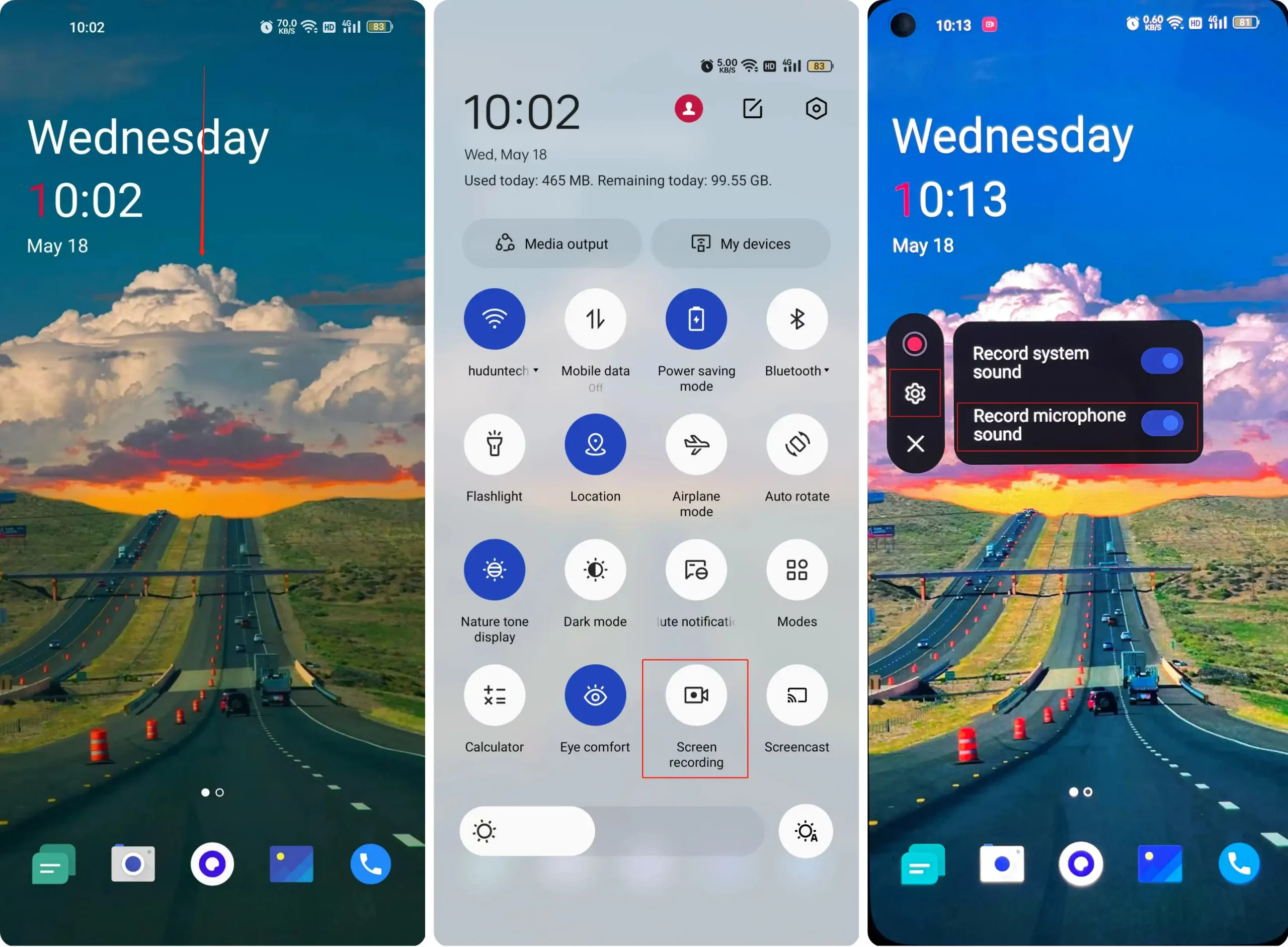 Same with your iPhone, go swipe down the notification bar and get to the quick settings screen.
Then find the Screen Recording function in the list.
Click on it and you will be notified to set the audio recording, if not, there will be at least one option to select.
Lastly, you can start to screen record with voice. When it is done, click the red button again to stop it and check the video in the media library.
---
More to Share
In conclusion, we have summed up the best solution to screen record with voice on Windows, Mac, Android, and iPhone/iPad. And all the methods that are mentioned above are totally free without any limit. After this post, I am certain you will find at least one method that suits your condition. If you happen to use a Windows computer, then I truly suggest you try WorkinTool VidClipper. It is 100% worth a shot for users with various needs.
Don't wait up and go to experience them now!