How to Make a TikTok Sound Your Ringtone/Alarm on Android/iPhone
With the prevailing of short videos, TikTok has become one of the most popular social media apps to share our happy moments. And it is extremely fashionable and cool to turn the trending or favorite TikTok sound into your ringtone or alarm sound on your phone. However, it is challenging to make it for novices. No worries because this post has explained how to make a TikTok sound your ringtone/alarm on Android/iPhone with step-by-step guides and pictures.
🕓 Make a TikTok sound your ringtone with TransVoice on Android
🕤 Make a TikTok sound your alarm with GarageB and Kapwing on iPhone.
——————- Customize Your Ringtone/Alarm on Phone after 4-Min Reading ——————-
How to Make a TikTok Sound Your Ringtone/Alarm on Android/iPhone
With the prevailing of short videos, TikTok has appeared in our daily life and become one of the most popular social media apps to share our happy moments and watch trending short videos at our fingertips. When you hear a melody background music or celebrity voice from TikTok videos, you might want to turn them into your ringtone or wake-up alarms on your mobile phones. So how to make a TikTok sound your ringtone or alarm on Android/iPhone? After reading this article, you can customize ringtones for iPhone and Android from TikTok videos.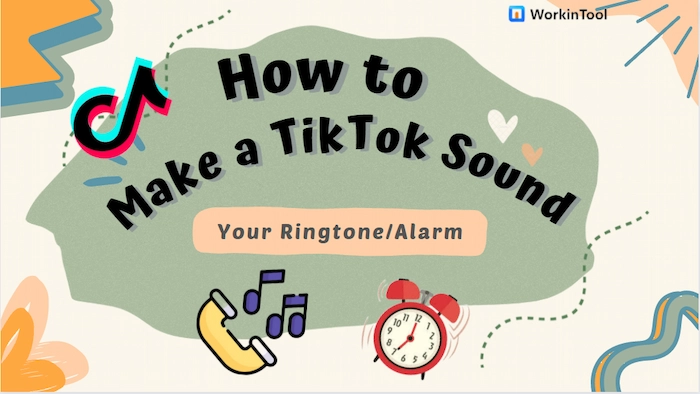 Words Before Starting
🧐 Can you download sounds from TikTok?
The answer is yes. Although TikTok has no built-in tool for users to download the music works or the BGM directly, you can use third-party TikTok sound downloaders or extractors to convert TikTok to MP3. And most importantly, the downloaded or extracted TikTok sounds cannot be used for commercial purposes, which can prevent you from intruding on the authors' copyright or TikTok guidelines.
😆 Can you turn a TikTok sound into a ringtone/alarm?
As long as you can save or extract the audio from TikTok videos, it's possible to turn it into a ringtone/alarm on your Samsung, Android, or iPhone device. And below will give you detailed tutorials with pictures to teach you how to easily make custom alarm iPhone/Android.

How to Make a TikTok Sound Your Ringtone/Alarm on Android
If you want to turn a TikTok sound/video your ringtone/alarm on Android phones, you have to install TikTok sound downloaders or extractors because you have no way to save the music on the TikTok app. Among various apps in the market, TransVoice proves itself and stands out.
With TransVoice, you can choose different ways to make a TikTok sound your alarm/ringtone, including recording, and extracting. Moreover, if you are unsatisfied with the TikTok sounds on your Android, you can improve the audio quality by removing noise using Reduce Noise tool in TransVoice. Furthermore, TransVoice provides 30+ other tools to edit and retouch TikTok sounds, such as
Trim, Merge, and Mix Audio:

Easily crop the unwanted audio clips and merge/mix TikTok audio files for your preference.

Transcribe Audio to Text:

 

If you want the lyrics or text of TikTok, you can make it in TransVoice by using Audio to Text or Video to Text functions.
Change Voice:

Have fun with the TikTok videos or sounds by changing voice from male to female or girl. Or adjust the pitch and add fade-in/fade-out effects.

Convert Audio Formats:

Instantly change any audio file to AAC, MP3, or FLAC with minimal effort.

📝 How to Make a TikTok Sound Your Ringtone with TransVoice
🤍 Step 1. Save or Extract TikTok Sounds on Android
#Method 1. Extract Sound from TikTok Videos
The first method is to download your TikTok videos with liked music and convert them to MP3. At last, you can easily set these desired sounds as your ringtone or alarm on Android.
Firstly, find the TikTok video with the BGM you like and then click Share > Save Video.
Secondly, download TransVoice from Google Play and then activate it. Next, touch Tools > Convert-to-Audio Tools to find Video to Audio.
Lastly, select your downloaded TikTok video and click OK. Within seconds, the converted file will be saved on your phone.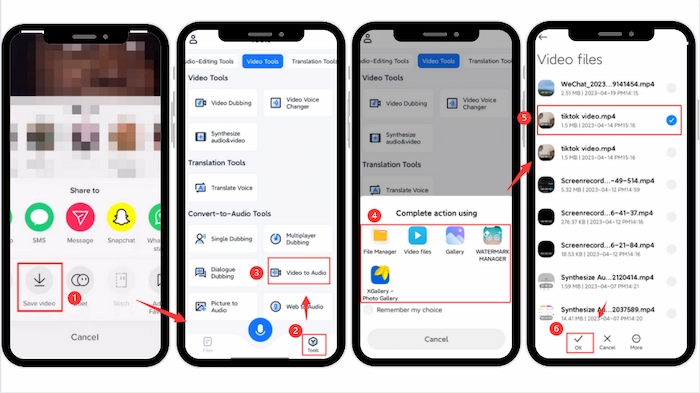 #Method 2. Record TikTok Sound and Set It as Ringtone
Or, you can record TikTok music to get the audio file with TransVoice.
Firstly, find another phone to find your favorite TikTok video in advance.

Secondly, open TransVoice and navigate to Tools > Recorder to select the wanted recording mode with Smart Noise Reduction on. (The Music Mode is the most recommended.)
Lastly, once playing the TikTok video, click the recording button in TransVoice instantly. After finishing, click the Save button, which will automatically keep the voice recording on your device.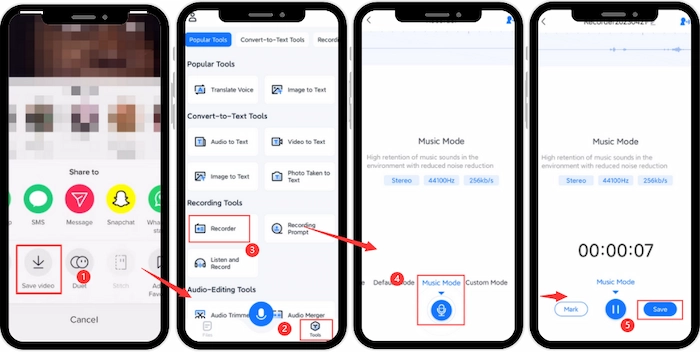 🤍 Step 2. Turn a TikTok Sound into a Ringtone/Alarm
The detailed tutorial might vary slightly for different system versions and Android devices. And the below takes MI 9 in the Android 11 system.
Firstly, head to Settings > Sound & vibration.
Secondly, touch Ringtone or Alarm and find More > Choose local ringtone. Then you can select the extracted TikTok sound as your ringtone.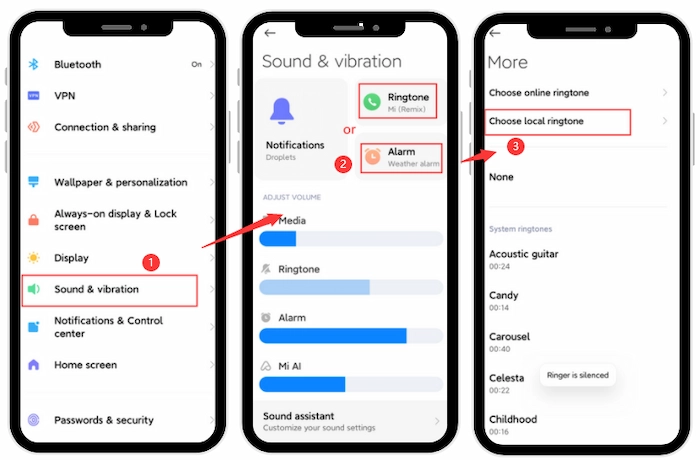 How to Make a TikTok Sound Your Ringtone/Alarm on iPhone
It's much tough to turn a TikTok sound into a ringtone/alarm on iPhone because the local or saved audio file cannot directly be set as a ringtone on iPhone. You need at least two apps to help you solve this problem. 
One is a TikTok sound downloader or converter to convert URLs or videos to audio at the first step. And 

Kapwing Video Convert Tool

 can be both, quickly turning your TikTok links or videos into MP3 on your iPhone with minimal effort. However, the free version can only support video duration within 7 mins. 

The other app you need is the built-in 

GarageBand

 to set TikTok music as your ringtone/alarm. It is a free and multi-functioned music creator with various electronic instruments. With it, you can import third-party sounds to the iPhone ringtone library.  
---
🙋‍♀️ Notes: The whole process looks complex for novices to custom alarm on iPhone. However, it can be much easier after you have practiced how to make a sound your alarm from the TikTok videos on your iPhone. Before you start, you can first see the brief steps to understand the tutorial better.
1. Download TikTok Video or duplicate the share link. (Two methods provided.)

2. Convert TikTok to MP3 with Kapwing. 

3. Insert MP3 File to GarageBand.

4. Loop and export this file from GarageBand.

5. Set the TikTok Sound as your ringtone/alarm.
📝 How to Make a TikTok Sound Your Ringtone
🤍 Step 1. Save TikTok Video or Copy the Share Link.
#Method 1. Download the Video in TikTok.
Open TikTok and then find the video with the sound you want to make a ringtone. Then tap the Share button. Next, you can click Copy link or Save video.
#Method 2. Screen Record.
Find and pause the TikTok video. Then swipe down the hidden iPhone navigation menu to find the screen recording button to record the video.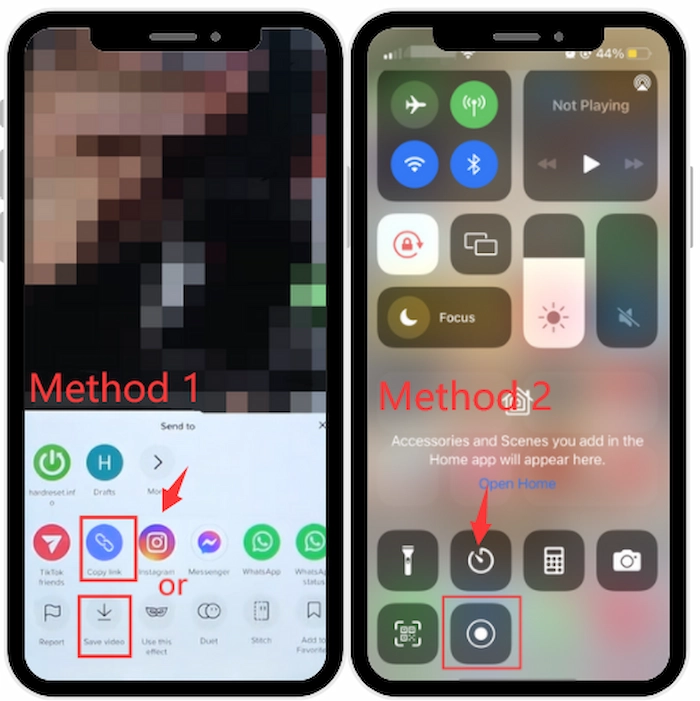 🤍 Step 2. Convert TikTok URL/Video to MP3.
Firstly, copy the Kapwing Video Convert Tool link in your Safari browser to open this tool.

Secondly, click Start converting to paste the video URL or upload the saved/recorded TikTok video.
Thirdly, after entering the video editing interface, touch Export and choose the export format as MP3. Then touch Sign in to export to save the MP3 file on your iPhone.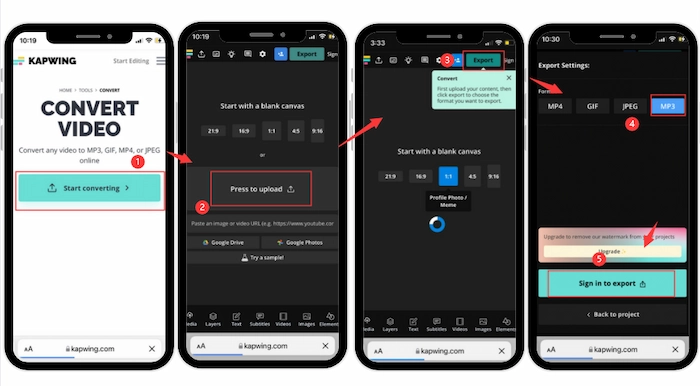 🤍 Step 3. Insert MP3 File to GarageBand.
Firstly, if your iPhone doesn't have GarageBand, you can go to Apple Store to download it free. Then open it and click the 

+ button in the top right corner to create a new project.
Secondly, tap the Audio Recorder function in the TRACKS ribbon.  
Thirdly, click the Track icon in the upper left toolbar. And then find the Loop icon to find the extracted MP3 file.

Fourthly, long press the audio file to drag it to the soundtrack.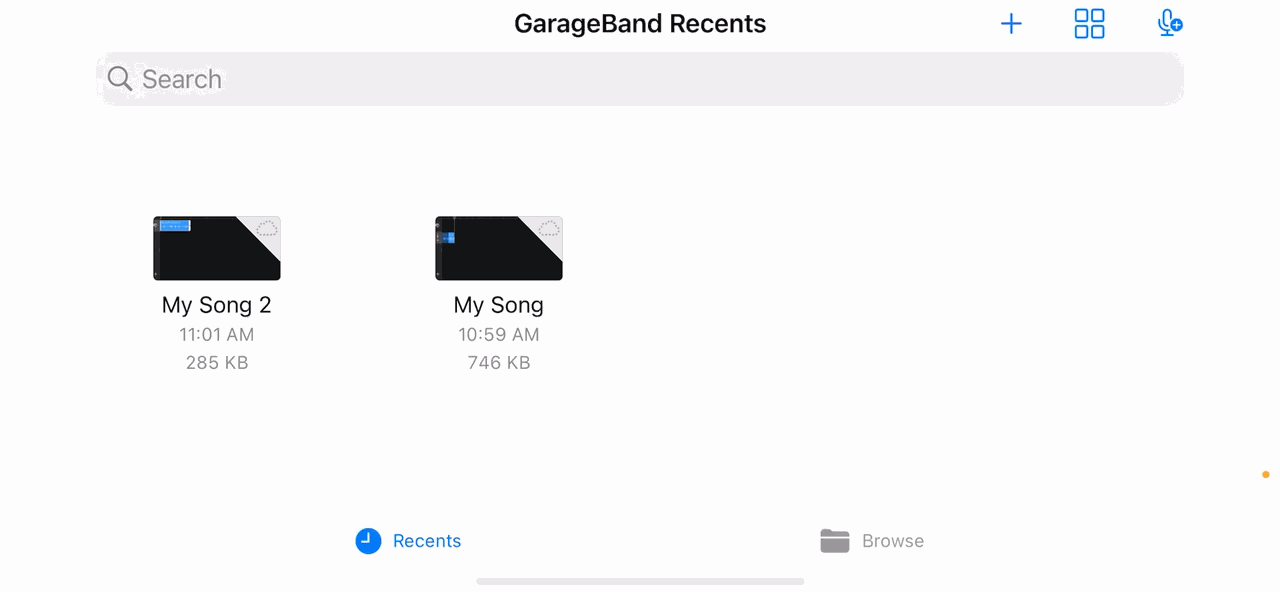 🤍 Step 4. Loop and Export It from GarageBand.
Due to the maximum duration of an iPhone ringtone being 40s, you need to extend the period to 40s by looping if your MP3 is less than 40s.
Firstly, click the + button on the top right corner. Then click Section A to lift the seconds to 40s in the Manual option. 

Secondly, paste the audio clips to fill in the 40s. After that, tap the drop-down icon to select My Songs.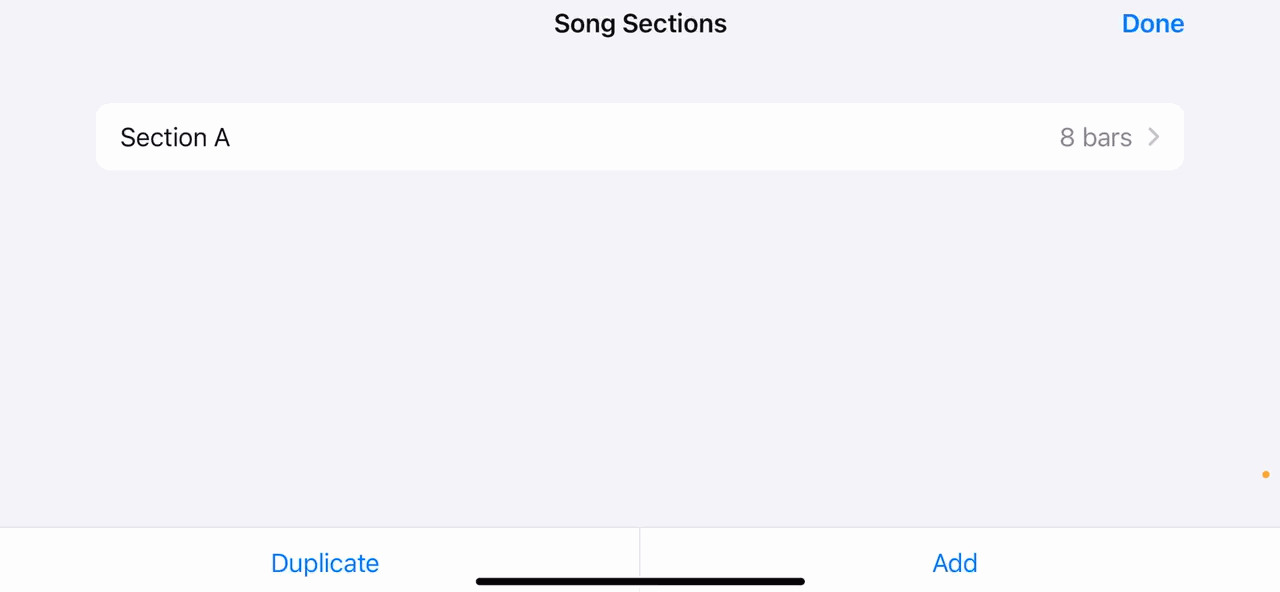 Lastly, long press the saved audio to select Share > Ringtone > Use Sound as > Standard Ringtone.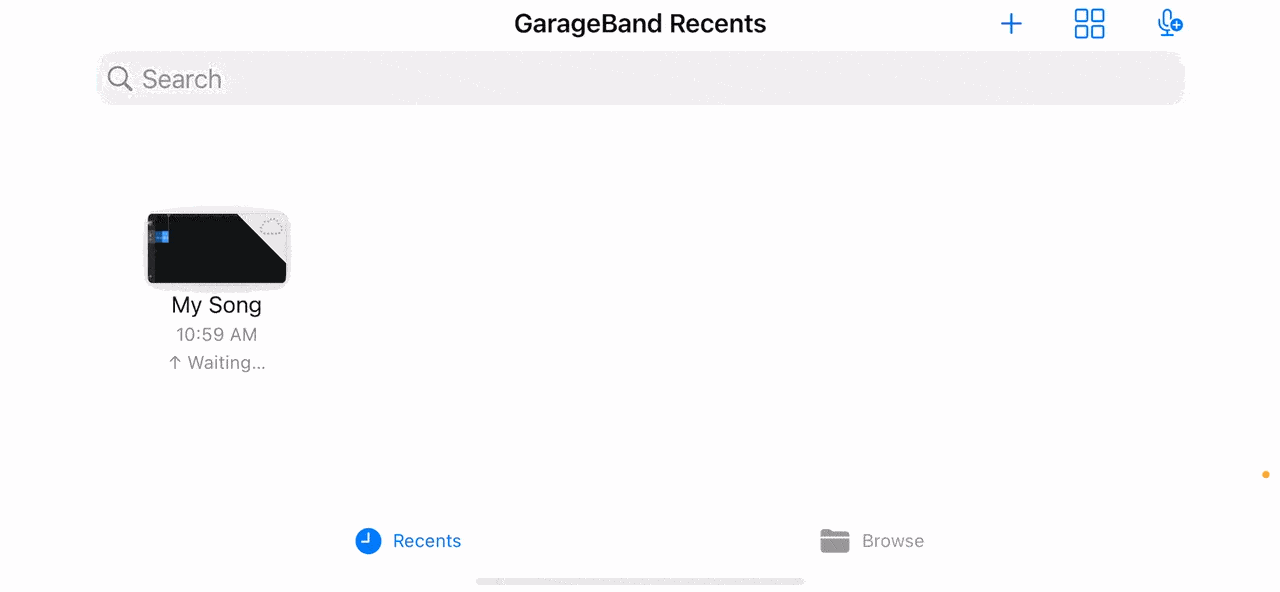 🤍 Step 5. Set the TikTok Sound as your Ringtone/Alarm.
Firstly, go to Clock > Alarm and find the time you want to set the alarm.
Secondly, click the Sound button and select My Song in RINGTONES.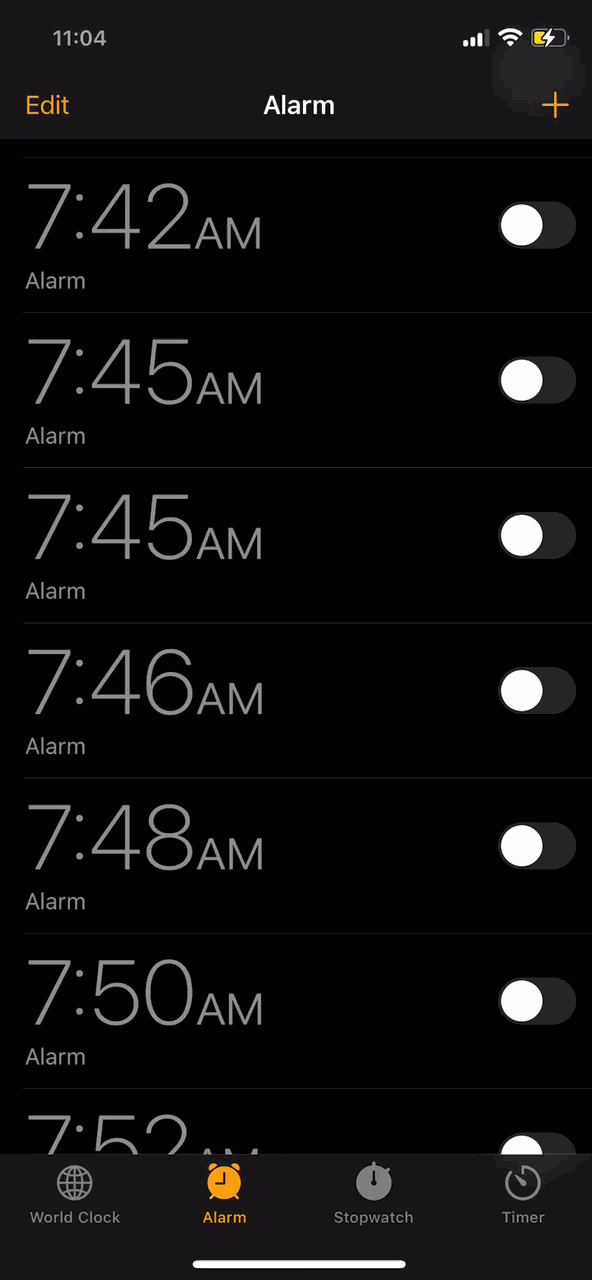 FAQs
✅ How do I set a TikTok ringtone on my iPhone?
It's not simple to set a TikTok ringtone on your iPhone devices. 
First, you need to extract the sound or music from TikTok using a professional audio extractor or converter. 

Then, edit and export the TikTok sound as a ringtone with GarageBand. 

At lastly, you can easily set TikTok as a ringtone on your iPhone. (The detailed steps are mentioned above. If you are interested, just scroll up to find the answer.)
✅ How do I use TikTok sound on my phone?
If you want to employ your TikTok sounds on phones, you can extract audio from videos or convert TikTok files to MP3 in advance. Then you can make full use of the TikTok sounds. For example, you can set them as your ringtones or alarm sounds as you like.
✅ How do I turn a video into a ringtone?
It's easy to turn a video into a ringtone with TransVoice on Android.
Step 1. Open TransVoice and head to the Tools tab. Then find Video to Audio in the Convert-to-Audio Tools area.

Step 2. Choose the video that you want to change to a ringtone. Then click OK. Within seconds, the video will automatically convert to MP3 and save locally.

Step 3. Go to Settings to set the audio extracted from video as your ringtone.  

---
The Bottom Line
Generally speaking, it's fashionable and cool to turn the trending or favorite TikTok sound into your ringtone or alarm sound on your phone. However, it's challenging to make it for novices. Don't give up because this post has explained how to make a TikTok sound your ringtone/alarm sound on Android/iPhone with step-by-step guides and pictures. I hope you can customize your ringtone and alarm using the TikTok sound after reading this post.