How to Record and Transcribe Meeting Minutes | Ultimate Tutorial 2023
Looking for a hassle-free way to record and transcribe meeting minutes? Look no further than the TransVoice app! This powerful tool delivers top-notch transcription capabilities that are sure to help you get the job done right. With features like automated transcription and easy-to-use editing tools, TransVoice makes recording and transcribing meeting minutes a breeze. Plus, it offers support for a range of customizable options, so you can tailor the transcription process to meet your specific needs. Give TransVoice a try today and see for yourself !
😎 30+ different features available
😆 Support multiple languages and dialects
😍 Various audio and video editing functions
😘 Provide instant translation and export
🥰 Intelligent recognition and transcription
How to Record and Transcribe Meeting Minutes | Ultimate Tutorial 2023
Recording and transcribing meeting minutes are necessary to track crucial conversations, decisions, and outcomes from a meeting. However, manual transcription can be laborious, time-consuming, and prone to human error, which could lead to missing out on necessary details or misinterpretation of information. Fortunately, with technological advancements, we can now use speech recognition apps to transcribe audio into text form, making it more comfortable, faster, and reliable to prepare meeting minutes. These apps come in handy for students, professionals, and project managers who often deal with multiple meetings and need a quick and efficient transcription. In this article, we discuss how to record and transcribe meeting minutes by using these tools.
---
What Are Meeting Minutes and How to Make Them
Meeting minutes are a formal document that records the discussions, decisions, and action items from a meeting. They are an essential tool for keeping track of what was discussed, what actions were assigned, and their deadlines. Meeting minutes also provide a reference point for future meetings and can be used to resolve any disputes or misunderstandings that may arise.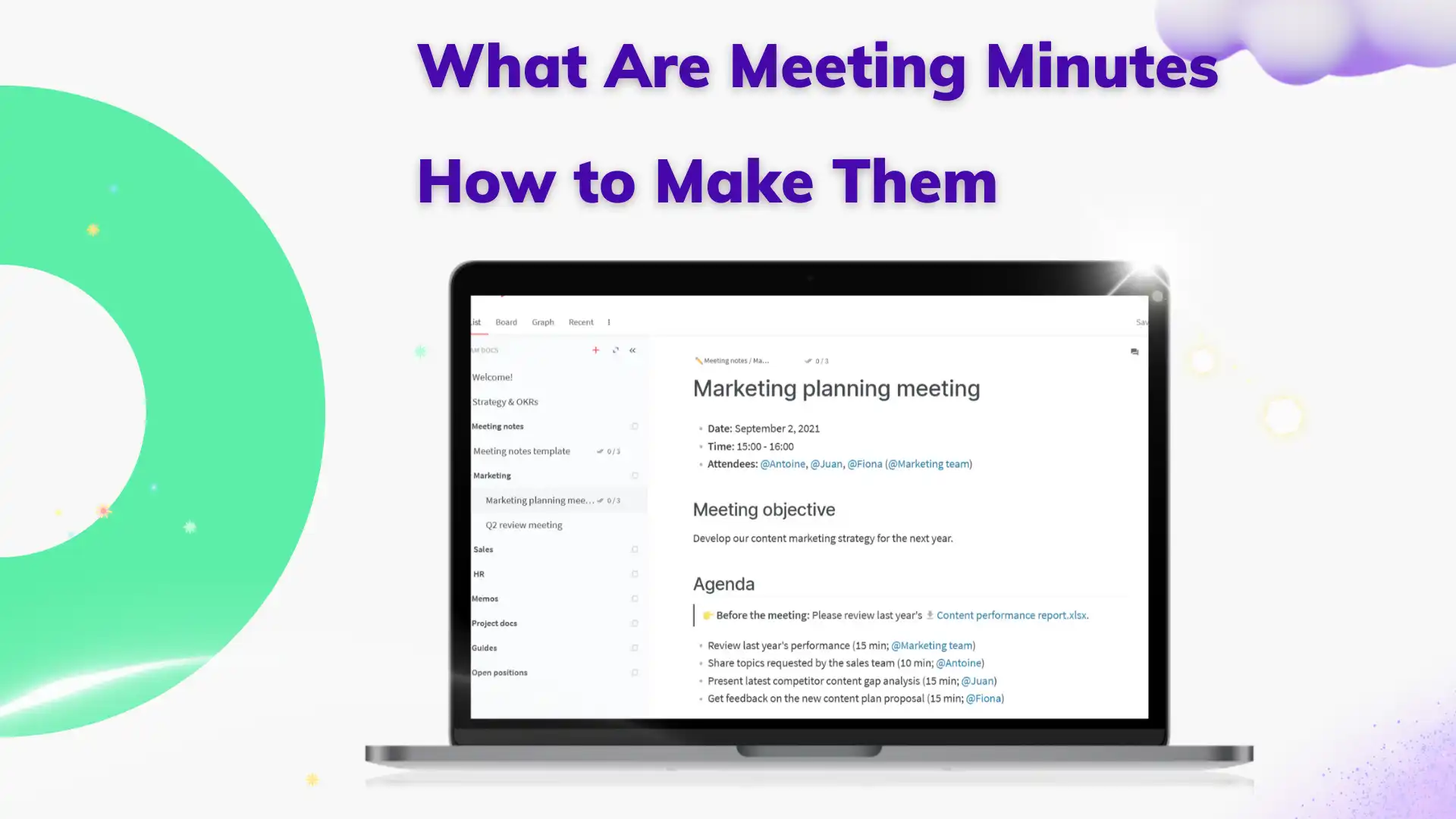 To make meeting minutes, follow these simple steps:
These steps provide a simple template for creating accurate, efficient, and valuable meeting minutes.
---
How to Record and Transcribe Meeting Minutes by TransVoice App
The TransVoice app could be the perfect solution if you are searching for a transcribing app for your Android device. This is an extensive tool that includes all the transcribing features needed for both personal and professional use. The app enables you to transcribe audio, video, and images into text or vice versa. Following the conversion, the app also allows you to record an entire meeting content and transcription at the same time. Surely, in addition to the transcribing functions, the app provides other features, such as audio editing and translation, for better usability.
🎉 TransVoice App 🎉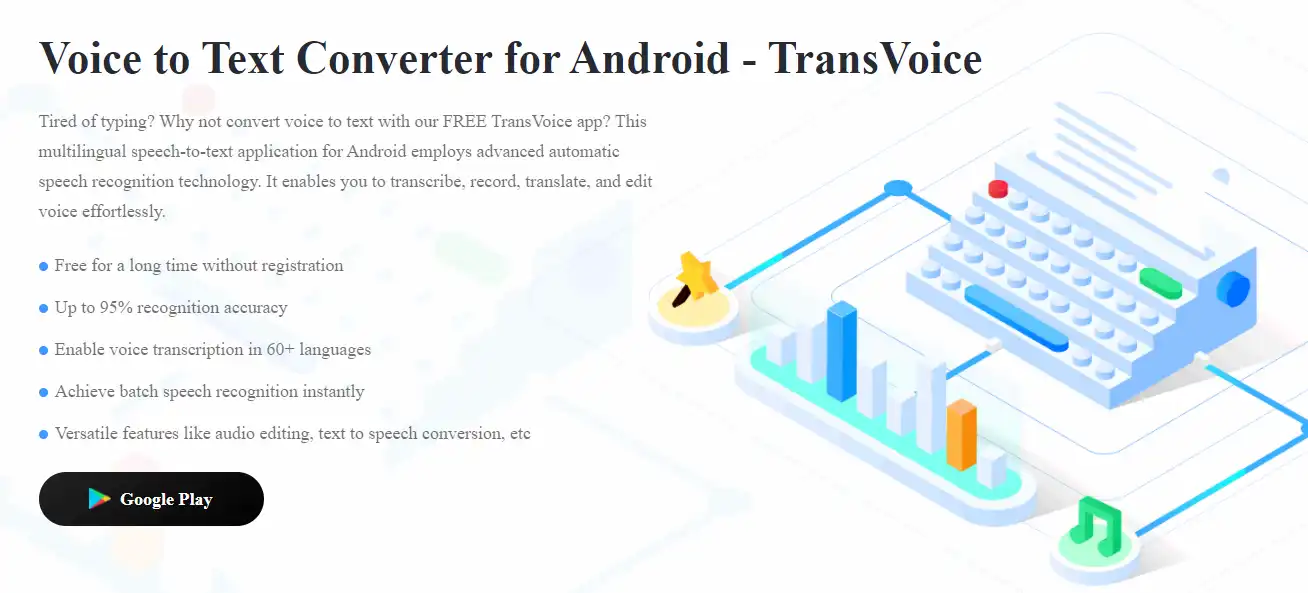 TransVoice is an application that allows you to transform recorded audio into text format. This app uses speech recognition technology, which is capable of recognizing different languages and accents. It is a helpful tool for people who prefer reading to listening or those with hearing impairments. TransVoice can be used to transcribe interviews, meetings, lectures, podcasts, and any other type of audio. And, here we can also use it to record and transcribe meeting minutes.
TransVoice offers straightforward and user-friendly features, including saving transcriptions in different file formats (e.g., .doc, .txt, .pdf) and editing and sharing them via email or messaging apps. This app also has the option to save and reuse frequently used phrases through the customizable dictionary and a feature to edit misspelled words and correct any speech recognition errors.
30+ different features available

Support multiple languages and dialects

Various audio and video editing functions

Provide instant translation and export

Intelligent recognition and transcription
🥇 Record the Meeting: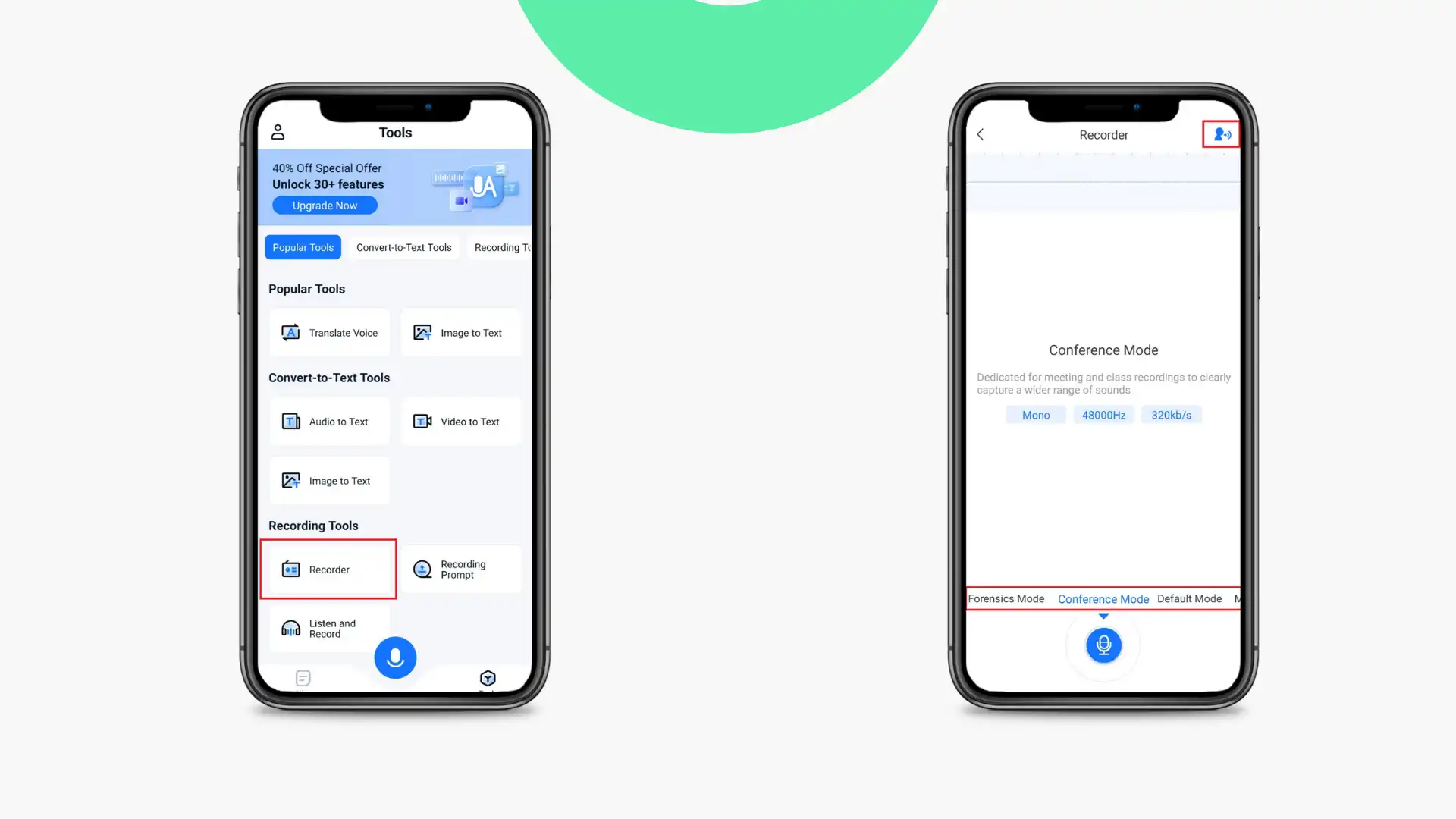 Step 1: At first, open TransVoice and Select the Recorder feature.
Step 2: This tool provides users with five different recording modes and an option to reduce noise. Pick one that suits your situation and start recording.
---
🥈 Start to Transcribe: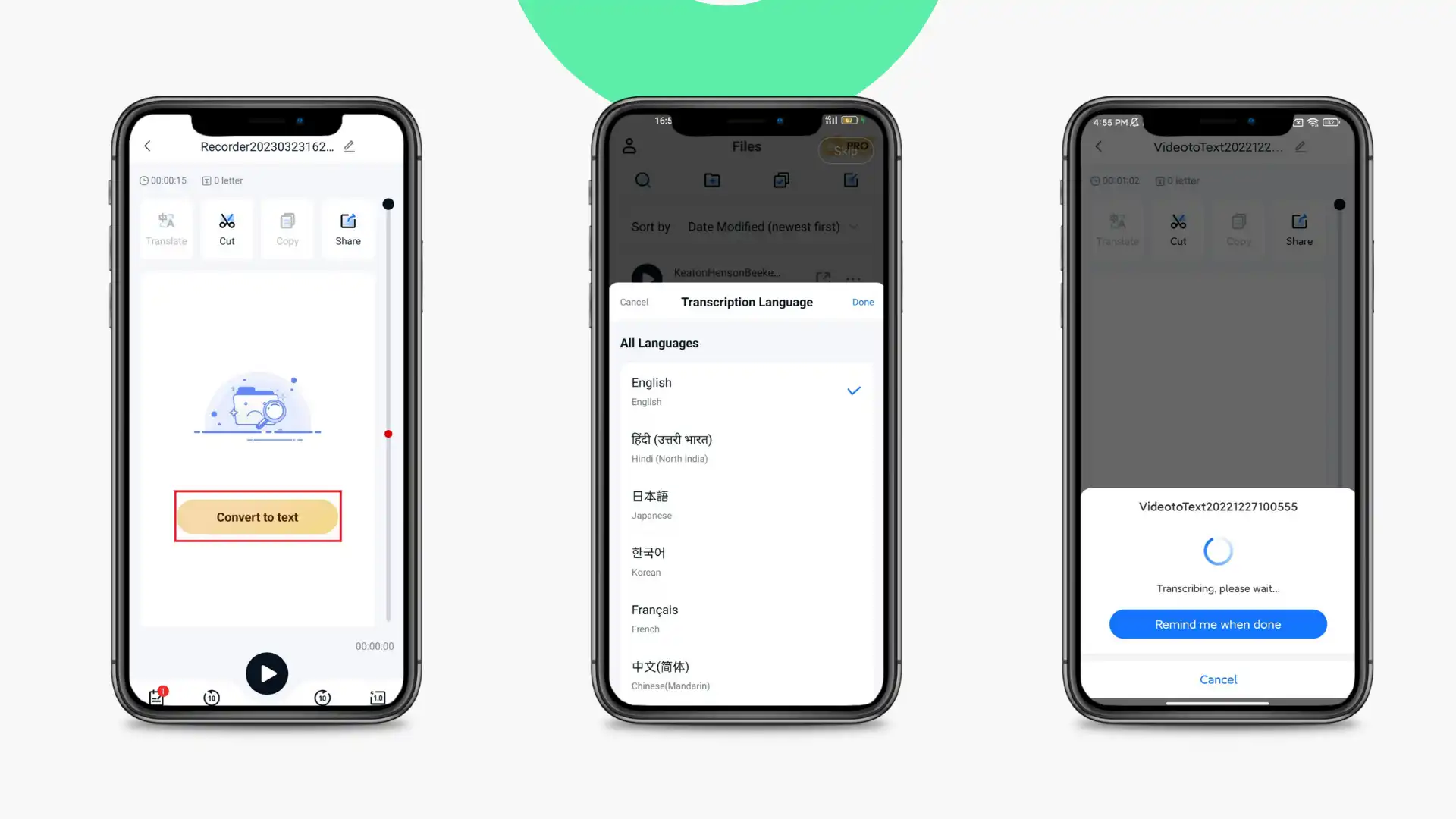 Step 1: At first, once you have finished recording, you will have a conversion button to continue the transcription.
Step 2: Then, click on it and select the language you want to transcribe, then wait for the transcription to complete.
(Don't worry, through our test, a 60 minutes meeting record only took us 3 minutes to transcribe.)
---
🥉 Additional Features
At last, as you've converted your meeting audio file into text, you should make some alterations or additions to the reader to make it a good meeting minute. In case you wish to do further editing apart from the primary transcription, this tool also offers the capability to do so: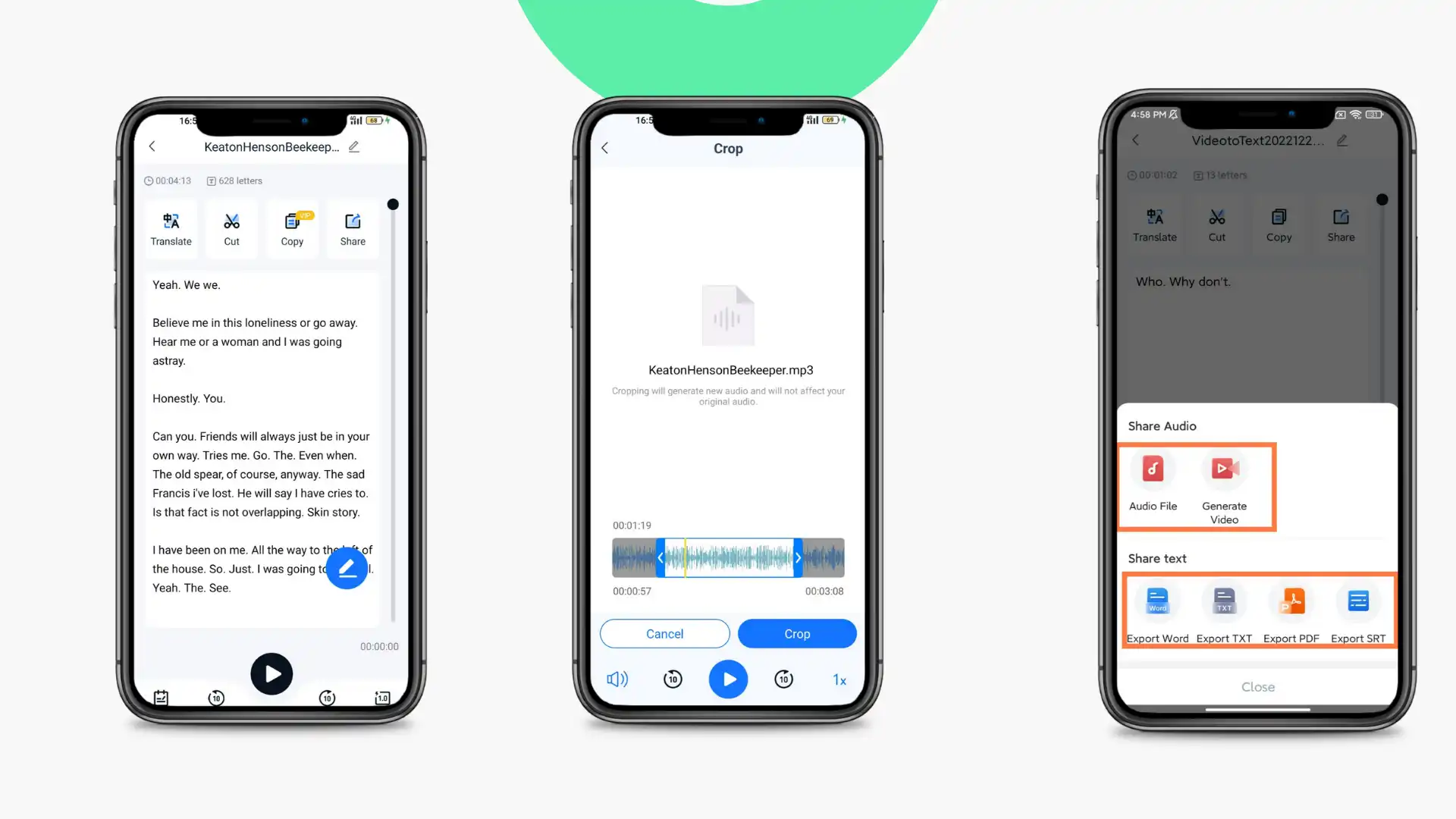 Spotlight Features
Moreover, while considering all the transcribed text are all lines with no format for meeting minutes. Therefore, you need to use an editing function to make some changes:
🎊 More Features in TransVoice 🎊
---
Tips on How to Transcribe Meeting Minutes
👁‍🗨

 

Avoid Distractions

 – Meeting minutes require undivided attention, so make sure to avoid multitasking while transcribing.

🎤 

Check your audio quality

 – Audio file quality should ideally be clear to ensure smooth and accurate transcription results. Choose a quiet location in the meeting venue and test audio capture levels before starting the recording.

📔 

Organize the Notes

 – Organize the audio file and folder where the audio documents are saved for easy access during transcription.

🔊 

Proofread carefully

 – Proofread minutes to ensure that you capture all relevant information.

🧰 

Simplify phrasing and jargon

 – Use simple language rather than intricate phrases or jargon that could be confusing or require specialized knowledge.
In summary, the process of transcribing meeting minutes has become much easier with the help of the TransVoice app. With this app, you can record meetings and have the audio transcribed into text form within a matter of minutes. After all, all it takes is a few simple steps, and you can have accurate and detailed minutes of a meeting. However, by following the above tips and tricks, you can make sure that the minutes are precise and accurate and can be used as a reference for future meetings. So, the next time you're tasked with preparing meeting minutes, remember to try out the TransVoice app for a faster and more reliable transcription experience.