How to Transcribe Phone Calls in Real-Time 2023
This post answers issues related to phone call transcriptions and shares two apps to transcribe phone calls for Android and iPhone. The first app is highly recommended for the following features:
★ Free without ads and registration
★ High transcription accuracy of up to 95%
★ 60+ languages are supported
★ Able to batch-convert pre-recorded files
★ More features like audio editing, text-to-speech conversion, etc
How to Transcribe Phone Calls in Real-Time 2023
Have you ever ended a phone call with someone but forgotten the content you discussed? Most of us will remember the outline in a phone call. But how about the details? Redial and ask the recipient again? It is impolite and awkward if who answers your call is your client or business partner. In this case, it is better to transcribe phone calls in case of ignoring or forgetting critical information. Needn't try to replay what you have said,
What Is Transcribing a Call?
Phone call transcription is a textual record of a voice or video call. It is widely used for quality assurance in business negotiations, government conferences, online meetings, and more. Institutions and individuals can review and organize the transcripts to generate accurate and verbatim minutes for their conversations.
These days, phone call transcription service has become increasingly popular in the customer service experience. It brings many benefits to reps and companies. Many people ask if there is a way to transcribe phone calls. Therefore, in this article, we will share some practical apps to transform phone calls into text. Both Android and iPhone users can find reliable phone call transcription services below.
Let's get started!
---
How to Transcribe Phone Calls?
There is a wide range of phone call converters in the market. Some are strictly transcription tools, while others may have recording and editing features. After carefully picking and comparing dozens of phone call transcribers, in this section, we will share three effective voice-to-text converters that enable you to convert phone calls into text in seconds without breaking a sweat. Read further to know what they are and the detailed steps to use them.
🧿Transcribe Phone Calls on Android
TransVoice is a free phone recording transcription tool provided by WorkinTool. Many call transcription software in the market offers features with certain costs. However, since TransVoice is newly released, it provides all features for FREE. That means you can free download and enjoy all the features without costing a penny. No registration is required as well.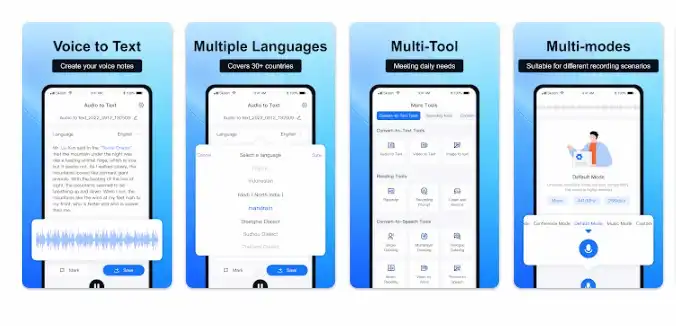 1. Supported scenes
Transcribe a call in real-time

: This phone call transcription service has trained high-level machine learning models for speech recognition, which allows you to convert voice to text in 

real-time

. You can get a transcript of all your incoming and outgoing phone calls anywhere and anytime.

Convert pre-recorded audio

: It is also feasible to transcribe 

pre-recorded calls

 in a batch. Currently supported audio formats are: MP3, WAV, M4A, AMR, WMA, OGG, AAC, FLAC, and the size of 

a single file

 is up to 

800M

 and 

3 hours

. So you don't need to worry about the size and time limitations.
2. More features
95% accuracy

: TransVoice adopts advanced auto-speech recognition 

(ASR)

 technology, enabling you to get high-quality text transcriptions with up to 

95% accuracy

 in seconds.

Fast turnaround speed

: It is 

several times faster

 than manually typing or writing, which helps to reduce workload significantly.

Multilingual environment

: Other than that, more than 

60+ languages

 are supported by this app, so you can note down voice conversations in a multilingual environment without pressure. 

One-stop service

s: This app for Android is not strictly a video and audio transcription tool. On the contrary, it 

integrates versatile features

 into a lightweight interface. When using this app, you can find various tools to record, 

transcribe

, 

dub

, 

edit

, and 

translate

 recordings and many other audio files. Sound-related video editing tools are also embedded. 
3. Features in use
To transcribe phone calls in real-time, follow the steps below.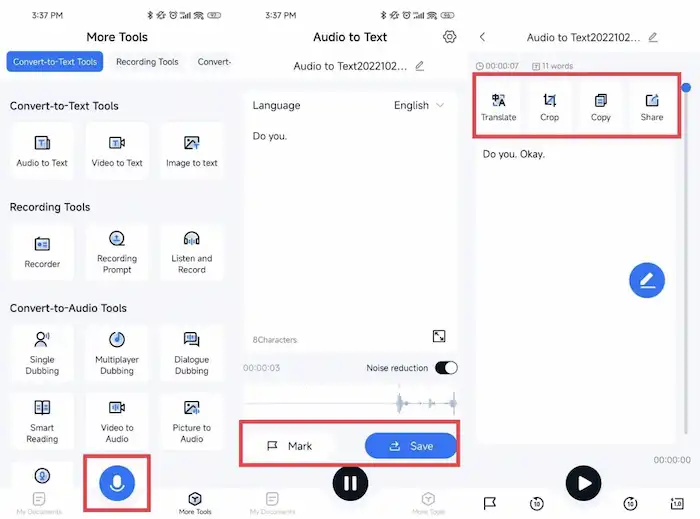 Step 1: Open TransVoice and press the blue microphone button on the main page to start recording and transcribing. (You need to grant this app recording permissions for first-time use. )
Step 2: While talking on the phone, this app will automatically record what you've said and show them in text format in the text box. You can click Mark to make a sign when changing conversation topics.
Step 3: Press Save to save the recording. Then select Convert Text to choose a language and generate a complete transcript.
Step 4: After transcribing, you can edit, copy, translate, and share the text you get as desired. TranVoice allows you to share the audio file directly or share the transcribed text in Word, TXT, PDF, and subtitles as you like.
For pre-recorded calls, go to My Documents. Press the import icon in the upper right corner to select your file(s), choose a language, and press Confirm to convert it.
🧿Transcribe Phone Calls on iPhone
TapeACall is a leading call recorder and transcriber app for Android and iPhone. It offers seamless recording features for incoming calls, outgoing calls, and calls you're already on. However, this app only offers a 7-day free trial. After that, you need to pay a subscription fee monthly or yearly.
1. Main features
99% Accuracy

: Powered by AWS, TapeAcall offers call transcriptions up to 99% accuracy.

Unlimited storage

: Your recordings will be kept well in unlimited and secure storage.

No limits on length

: It sets no limitations on call or recording length.

Easy sharing

: You can easily share the call recordings through email, SMS, Dropbox, Google Drive, and more.
2. Features in use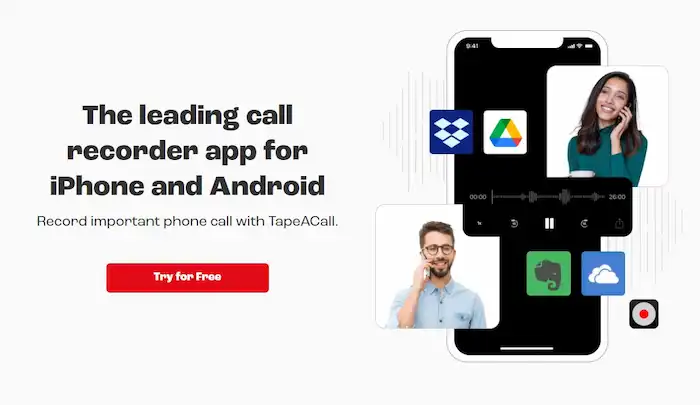 Step 1: Open TapeACall on your iPhone, and select a recording you want to transcribe. A playing window will appear at the bottom of your screen.
Step 2: Tap the folded player to open the expanded view and select the grey Transcribe recording button.
Step 3: Wait for a while. And you will get an effective call transcript.
---
FAQs
Why Should You Transcribe a Call?
The benefits of getting a transcript of a phone call include but are not limited to the following:
Keep records to review the conversation and learn from your audiences.

Search and locate specific information.

Show the recording as a tutorial or proof when necessary.

…
Is It Legal to Record And Transcribe Phone Calls?
The recording laws vary in states. Before starting a phone call recording and transcription, you need to be familiar with the call recording law of the area in which you live. Recording and transcribing a phone call without consent may lead to legal issues.