Top Three Best Video Cutter Software on Windows in 2022
There is a lot of video trimming software on the Internet, but seldom has one that is equipped with a user-friendly interface and without any internal charging function. So, here I highly recommend this video editing software – WorkinTool Watermark Eraser. With this tool, you can easily trim the desired video without any hassle. You can drag the timeline box to cut the video, or directly set the beginning and ending time together to trim it. After everything, you may preview the result on the canvas. Download and experience it yourself right now.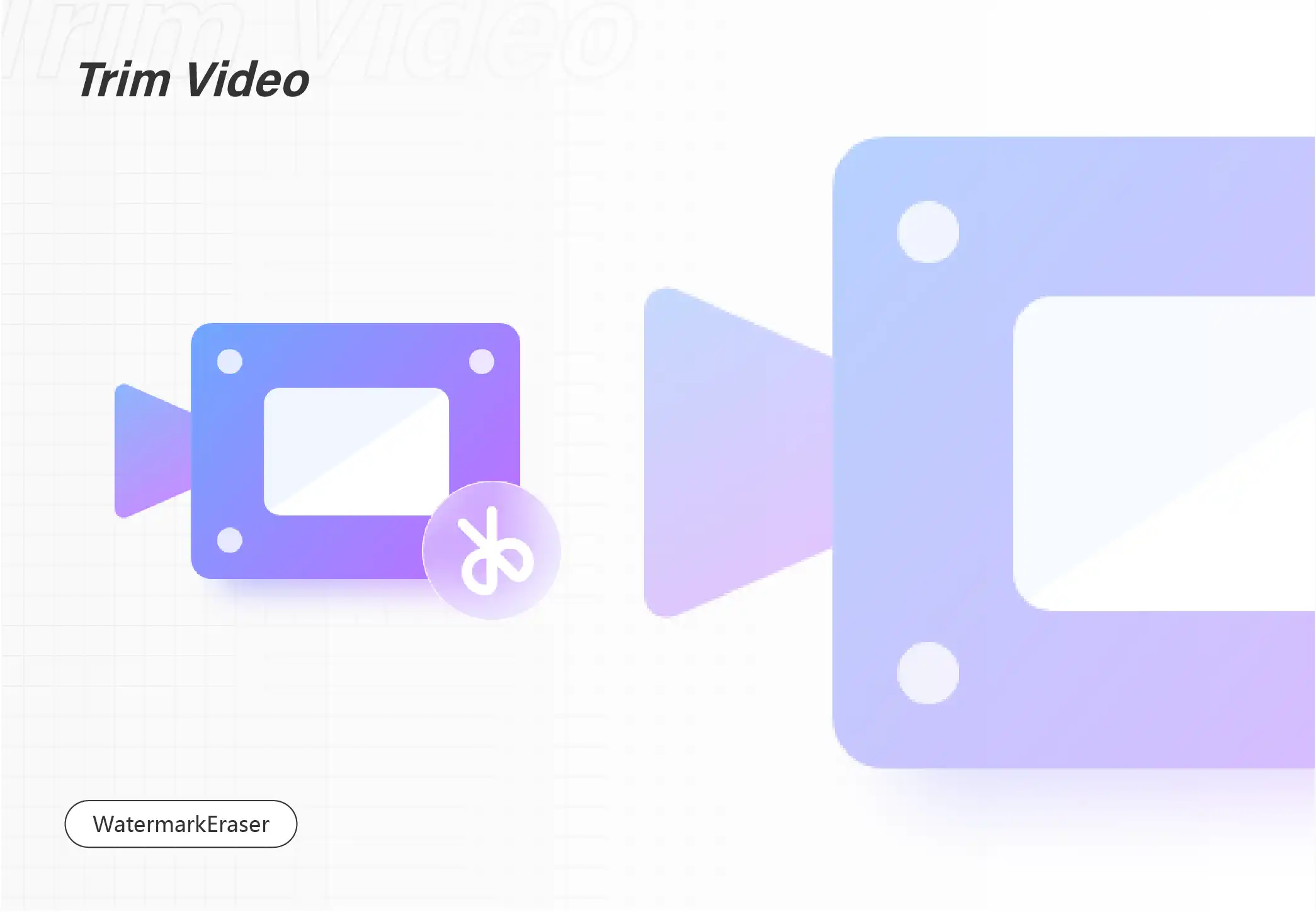 I know there are times that you go out for a family trip or a graduation trip. You want to record your life and upload those clips to online platform media like TikTok and Instagram. However, most of us don't have any professional filming skills. Normal in the case that people always film unwanted objects into the video when they start shooting. Think about it if you often begin to film the video before you can act and put the end button after the final movement. If you want to be a professional video editor, then you will need the best video editing software to crop and trim your video. For this reason, we have selected and contrasted some video editing software on the Internet, and here I am going to introduce the top 3 best video cutter software of this year.
I am sure you will find the perfect tool to cut your video after this post. If I have to pick one as the best video cutter software on the list, then I have to say WorkinTool Watermark Eraser. It has the nicest navigation interface. Users can easily cut the beginning and the ending. Moreover, it exports video copies without changing the original ones. And you don't have to worry about the quality of the output, those copies will remain as the original videos.
Now, let's see all these three best video cutter software.
💖 WorkinTool Watermark Eraser
💙 HitPaw Toolkit
🧡 Filmora Video Editor
---
Top 3 Best Video Cutter

Works on: Windows 11/10/8.1/8/7/Vista/XP,  or later.
The first video trimming tool I want to share is WorkinTool. It is a newly published software. Without any unnecessary buttons, it focuses on the needs of its users. Every feature is tailored to users, making sure they get the best experience. Except for the amazing Resize Video function, trimming the video is another spectacular video editing function. With its clear navigation description and interface, whether you are new to video trimming or have been doing this for years, cutting video can be as easy as eating a banana.
This software provides two different trimming modes. If you are a pro and you want to set an exact time of beginning or ending, you can go to TimeSpan. There will be two boxes for users to enter the starting time and ending times. More importantly, the time can be accurate to milliseconds on this software, pretty cool, right? Or, if you don't know any specific time, you just want to cut unwanted parts of this video. You can directly drag the orange selection box to the timeline. The length of the framed video shows what you want to keep. Remember, the "Preview" button and the little "Play" option allows you to watch the video effect after trimming it on canvas. It spares a redo time if the result is not satisfactory.
What's more, unlike most video editing software on the Internet, it is totally free to use without limiting any functions. And this is why I want to put it in the top place of the best video cutter software list.
Let me show you how to trim a video.
First, download and install it on your computer.
Secondly, open to choose the "Trim Video" option and put your target video in the processing window.
Then you can customize it to cut the video. Either dragging the timeline or entering a time number will do the trick.
Lastly, if you have trimmed your video properly, click "Trim Now" to save this video copy to check on the computer.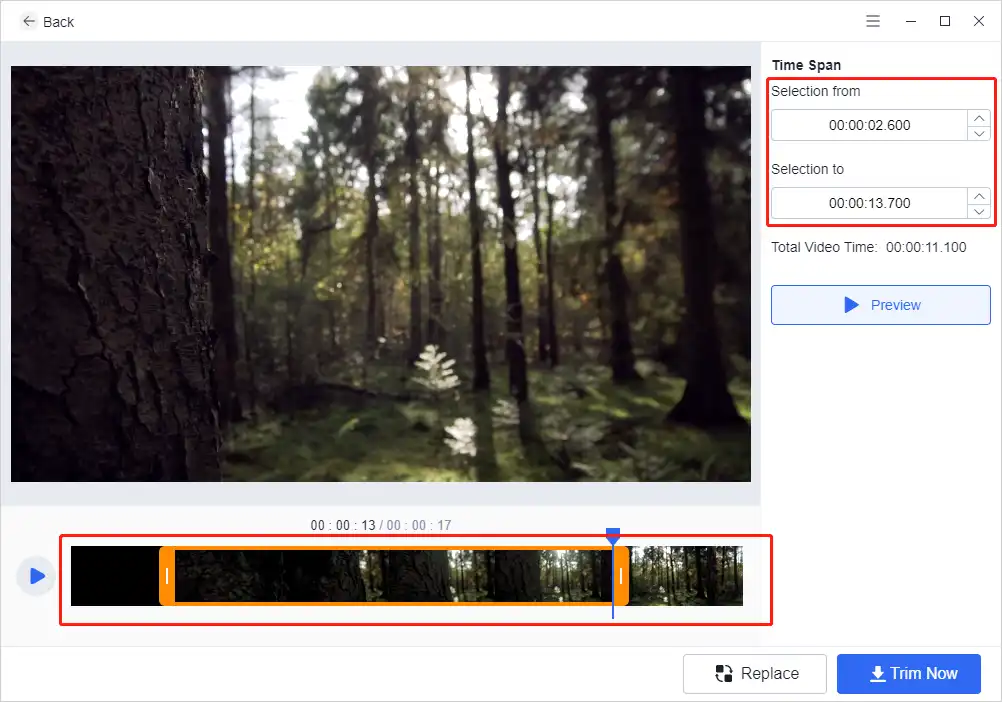 🚨 Note: You don't have to worry as your personal information will be saved to the online servers. Nothing else will be uploaded anywhere except your own computer. If you want to change the save location, tap the settings menu and change the location folder. More importantly, it only saves a copy of your processed video. If you want to redo the video trimming, that won't be a problem.
😍Pros:
Supports multiple video formats.
Easy to operate.
100% free to use.
No internet is required.
Real-time preview on canvas.
😢Cons:
We don't support batch trimming.
---

Works on: Windows 11/10/8/7(64 bits)
The second place of the best video cutter software I want to give to HitPaw Toolkit. Not because of others, just for its simplicity. If you use this video editing tool to cut a video, you will find that it is very similar to WorkinTool. Users can also set a starting time and an ending time on the right time setting boxes. As another option, users can drag the timeline selection box to circle the area they want to leave. But it has its own sparks. Users can use other editing options directly on the top banner of the processing window, which saves the trouble of switching function pages.
However, it is not perfect. The whole operating interface is too dark and it is not very blurry if you have used it to edit your video for a long time. And the worst experience for users is that it is not free. You may use its functions, but all your output videos will be watermarked with the company logo.
I'm here to see how to use it.
Firstly, open and choose "Cut Video" to select a video to import.
Then drag the timeline or set the start and end times to decide how much content you want to leave.
Finally, click "Export" to save it to your computer.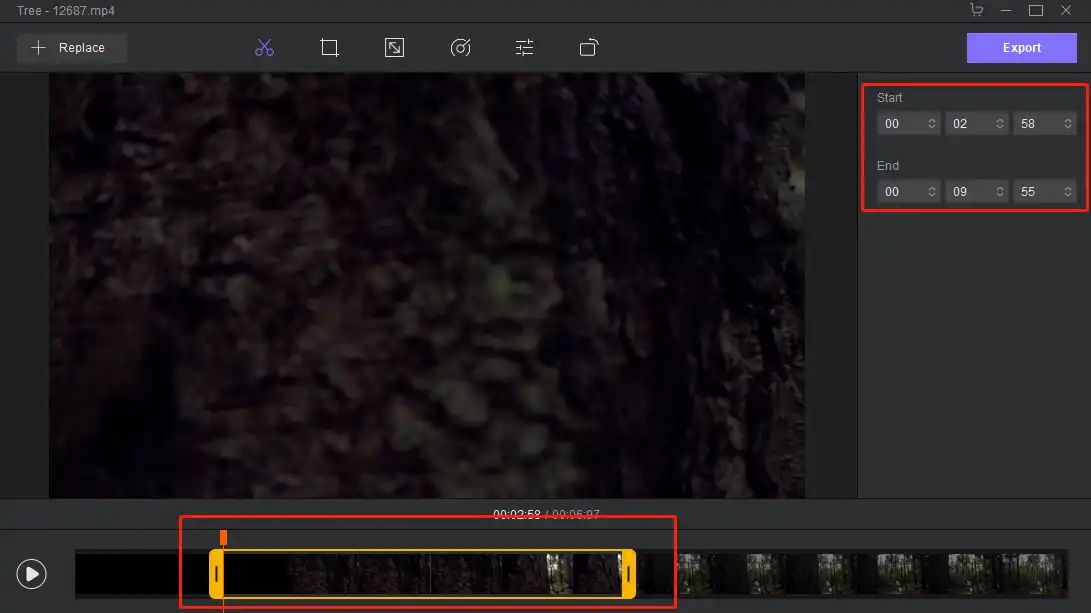 😍Pros:
Simple to use.
Real-time preview on canvas.
😢Cons:
Unclear Interface
Requires membership to delete watermark.
---

Works on: Windows 11/10/8.1 (64-bit OS ONLY), macOS 10.12 – macOS 11
Filmora is a very famous video editing software. It is definitely will show on the top 5 of the search engine page if you enter video editing software on Google. It is a very professional tool. With this, you can add background music, movie effects, crop, and merge the video, let alone the trimming option. The trimming function supports you to cut the video into several parts and merge the parts you like together.
But then again, why would I put such software in third place of the top three best video cutter software? Well, as I said, it is too professional. You can only get tips on how to put and add effects to the video. And that is it. I even have to go to their blog to see how to use it to trim a video. So, it is very much for a rookie first to try. Secondly, just like other professional video editors, it needs you to have a membership to unlock all the features. If not, your output will get the company logo as well.
Check how to make it useful.
First, open this tool and add your target video to this software.
Then, drag the scissor line to the place you want to cut. Double-click this icon to trim your video. you can cut the video into multiple clips.
Lastly, export it back to your computer to see the results.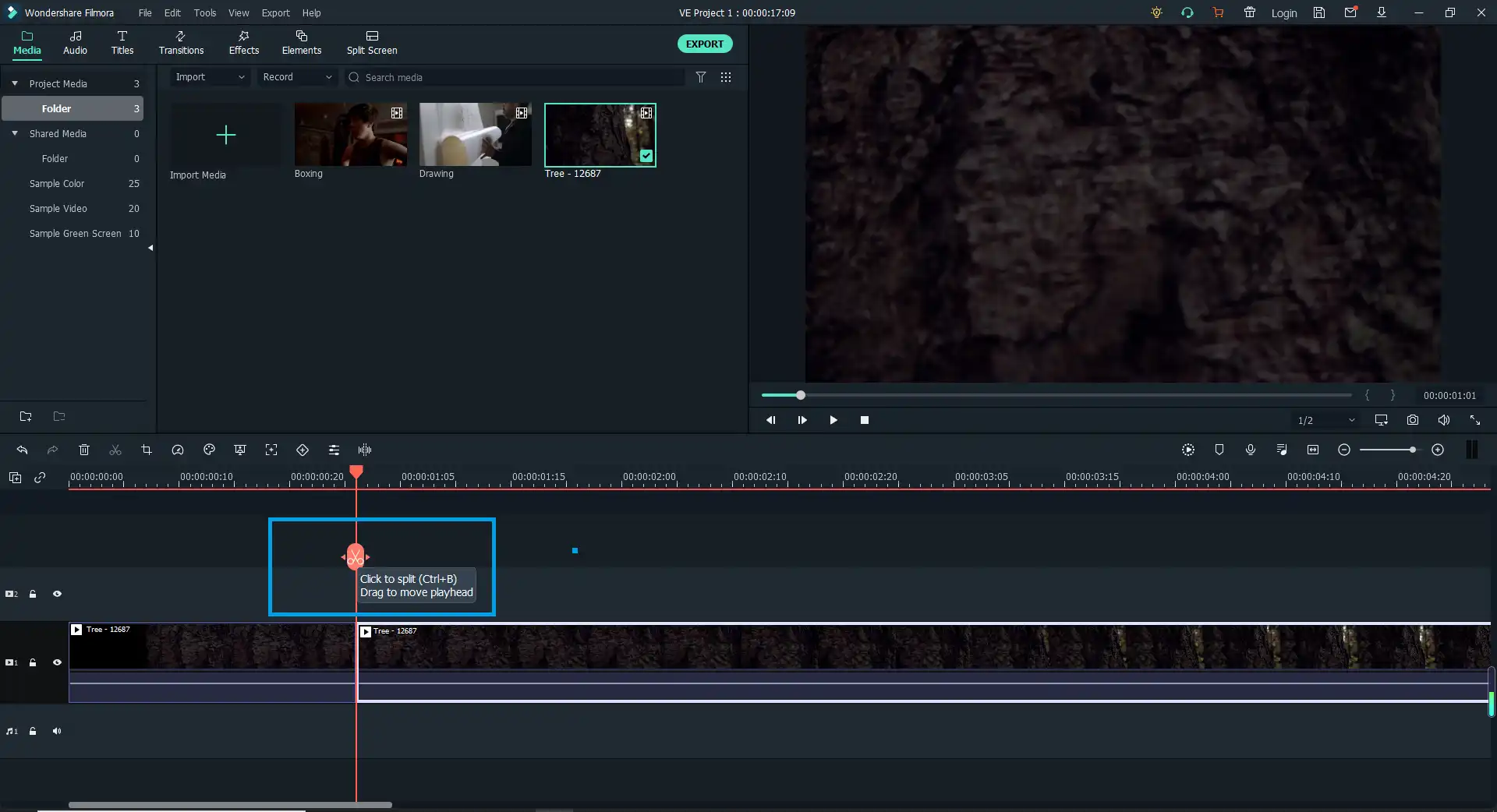 😍Pros:
Supports multiple video processing.
Various media libraries to use.
Real-time preview on canvas.
😢Cons:
Not suitable for beginners.
Exports with watermarks.
Download speed is slow.
---
More About the Best Video Cutter
Generally speaking, in this article, I have introduced the three best video cutter software. As you can see, among all these three, WorkinTool works the best. Not only for its remarkable user-friendly interface, but it is also also100 percent free to use. For that alone, you could call it the most useful and the best video cutter.
Like HitPaw and Filmora, if users don't pay for a membership, their output will get the company logo on the videos. This is a reasonable action to protect the company's rights. Watermarks are the most powerful way to protect one's legal rights. Additionally, if you want to add a watermark to your video, you need practical watermark software as well. By the way, WorkinTool Watermark Eraser can also add watermarks.
I hope you can find the specific tool that suits you the most in this list of the best video cutter software. If you have any suggestions or doubts, please feel free to contact us.
Products Reviews:
TrustScore
4
|
323
reviews