How to Resize Video for Instagram Reels for Free
There are tons of Instagram video tapes that one should consider if their videos need to be resized before uploading. If not, there are chances that the video will be automatically cropped as a part and lose a certain part of the content. In order to avoid this situation, we have provided a detailed list of different aspect ratio options for different Instagram videos and the best tool to resize video on Windows and the method to do it on iPhone. If you are a Windows user, then you must give WorkinTool Watermark Eraser a try. It is an all-in-one tool that can do it for free with high quality. Now, go download and try the magic yourself.
How to Resize Video for Instagram Reels for Free
It must happen to everyone that every time you see a video resolution that doesn't fit the screen size, all the content of the video will be distorted and pulled to fill up the screen, making people feel uncomfortable. Even now, as we come to the times of social media, it is still very common to see similar situations on TikTok or Instagram. According to Instagram, if you upload a video that doesn't fit the size requirements, Instagram will automatically crop the edge of your video and make it look unattractive and weird. So, do you know any easy way how to resize video for Instagram?
If you are tired of the overcomplicating steps to adjust the video size, here in this post, we have the best solution to help you get the most suitable video size for Instagram. I know that resizing an Instagram video can be a little confusing, so we will first walk you through the basic rules of Instagram videos. Then we will introduce all the methods and best video croppers you can use to make perfect Instagram clips.
---
Resize Video for Instagram Ratio Requirements
Understandably, you want to jump on the steps on how to resize the video for Instagram right now. But there is one more thing that you must get yourself acquainted with. Instagram video requirements are essential for users to know before uploading videos so that your videos will show the best conditions for different aspect ratios for Instagram.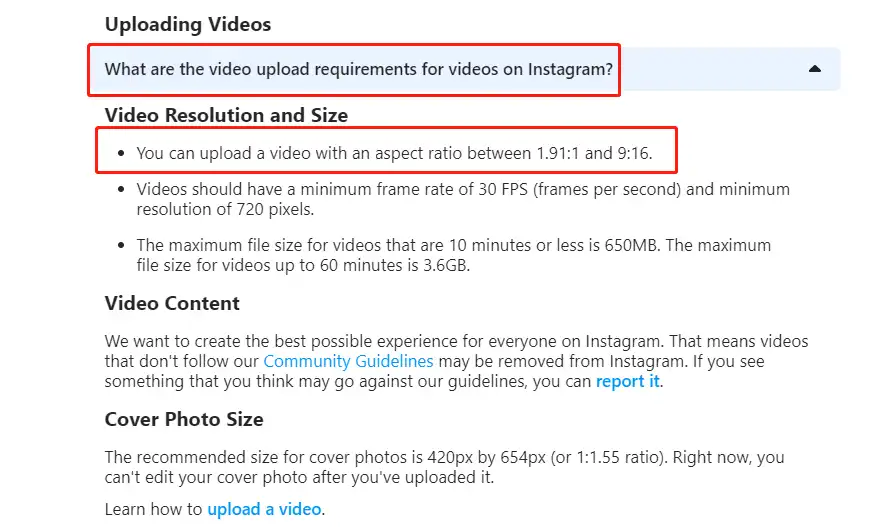 While according to the Instagram website, the best ratio for video playing is between 1.91:1 and 9:16. However, the actual situation varies due to the video's purpose. Now Instagram supports four different types of videos – the Feed, the Story, the IGTV, and Reels. Some of them share aspect ratios, but some do not. If your video doesn't fit the requirements, Instagram will automatically crop it for you to meet the rules. Check it out before resizing to prevent this from happening to your uploaded videos.
| | | | | |
| --- | --- | --- | --- | --- |
| | Instagram Feed | Instagram Story | IG Reels | IGTV Video |
| Aspect Ratio | 1:1 | 1.91:1, 9:16, | 9:16 | 9:16, 16:9 |
| Maximum Resolution | 1080×1080px |  1080×608px, 1080×1920px | 1080×1920px | 1080×1920px, 1920×1080px |
(1:1) For Instagram Feed
Since the square 1:1 ratio is the first ratio on Instagram, it is the evergreen one regarding Instagram users' views. Also, it is the perfect fit for your profile and Instagram Feed Video. There won't be any orientation problem using the square ratio when displayed. Also, you don't have to worry that the compression might destroy your video content. However, one question is whether your 1:1 aspect ratio video will show less video content than others since it is way smaller than the others.
(9:16/1.91:1) For

Instagram Story
These two aspect ratios are more optimized for people viewing content while moving. More screen space will be displayed to display your content, leading to more people watching the video.
(9:16) For IG Reels
Like TikTok's vertical video, Instagram's Reels must also be 9:16 to give users the best full-screen experience. The best solution for short videos that require users to swipe up and down to the next one is always a vertical aspect ratio. The same reason goes for TikTok videos if you want to post there. However, you may find some space in your content that will be reduced once you have cropped a landscaped video into this ratio.
(16:9/9:16) For IGTV Videos
For IGTV videos, there are two aspect ratios. If you prefer others to view your video vertically, use 9:16. 16:9 is what you want, like outside travel, family gatherings, or video blogs, then use a 16:9 ratio to display your video. If you film the video horizontally, you don't have to crop the video again. Though 16:9 is a little bit outdated for the majority of mobile users.
---
How to Resize Video for Instagram on Windows

Now that we have walked you through the detailed Instagram video ratios, next we will present you with the best tools to resize those videos to fit the requirements.
For Windows users, we highly recommend that you use WorkinTool Watermark Eraser. But don't get confused by the name watermark eraser. In addition to the various watermark-related features, it is more than qualified to resize videos. This tool offers users tons of custom functions so that you can try to use it however you want. Except for the operations, the whole application is very user-friendly. Whether you are a new beginner or a well-experienced influencer in editing Instagram videos, you will like it and enjoy the fabulous tool in a short time. More importantly, this tool provides a long-term free trial to use. All simple and convenient features are provided to users without any limits.
As for the resizing video function, it can automatically set all the ratios we have mentioned. The only thing you need to do is to put your video into this software and fix it right to export for posting. Here, let me show you how to make it work.
First, download and install WorkinTool Watermark Eraser. Open the tool and select "

Crop video

" to input your video for resizing.

In this interface, you can choose two different modes to resize videos for Instagram. Once you are done, tap Save to save it to your computer to check the results.
Resize Video for Instagram: Position and Size
Suppose you have resized the Instagram video several times and know the exact size of the video you want to upload. In that case, I recommend you use this feature to manually enter the specific number of X, Y-Axis, width, and height. Then you can make an accurate cropping operation.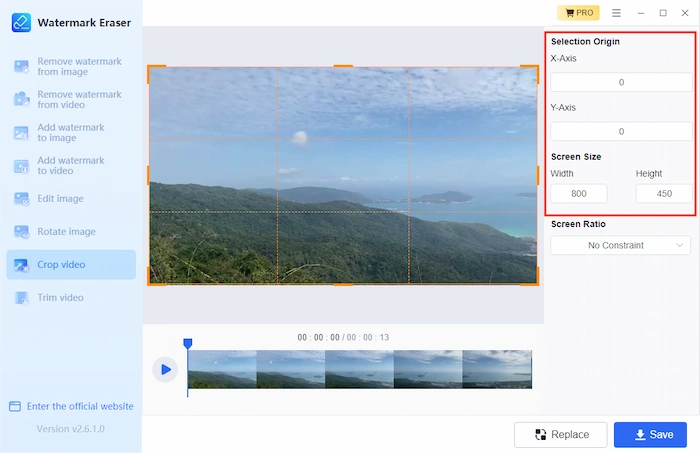 Resize Video for Instagram: Screen Ratio
For most users, however, it is more convenient and easy to use the screen ratio function provided fixedly. Here you can pick all the ratios we have specially introduced. Decide the one that suits your video the most, and move the orange box to find the best place to crop the video. This way, you can use the least time to make the best Instagram video.

No constraints

: users can feel free to drag the resizing box and crop the screen they want.

9:16 (Instagram & Snap story)

: it is more suitable for videos on smartphone apps like Instagram Reels, vertical IG Story, or IGTV videos.

16:9 (YouTube & Widescreen)

: it works best for videos that play on widescreen. It also works fabulously for IGTV videos.

1:1 (Instagram Feed)

: most suitable for Instagram Feed since it is the first aspect ratio on Instagram.
It also gives another two screen ratio options, 3:4 and 4:3, for different needs of resizing videos. Users can pick one according to the specific requirements to fit the screen.
🎉 More WorkinTool Watermark Eraser Features 🎉
---
Bonus: How to Resize Video for Instagram on iPhone
If you want to use your iPhone to resize the video for Instagram, you won't need to download any third-party software to do that. The built-in video editing function in the iPhone Photos app can help you resize videos with all the aspect ratios mentioned above. But there is one thing you should note: it only works on iOS13 or later versions of iPhone.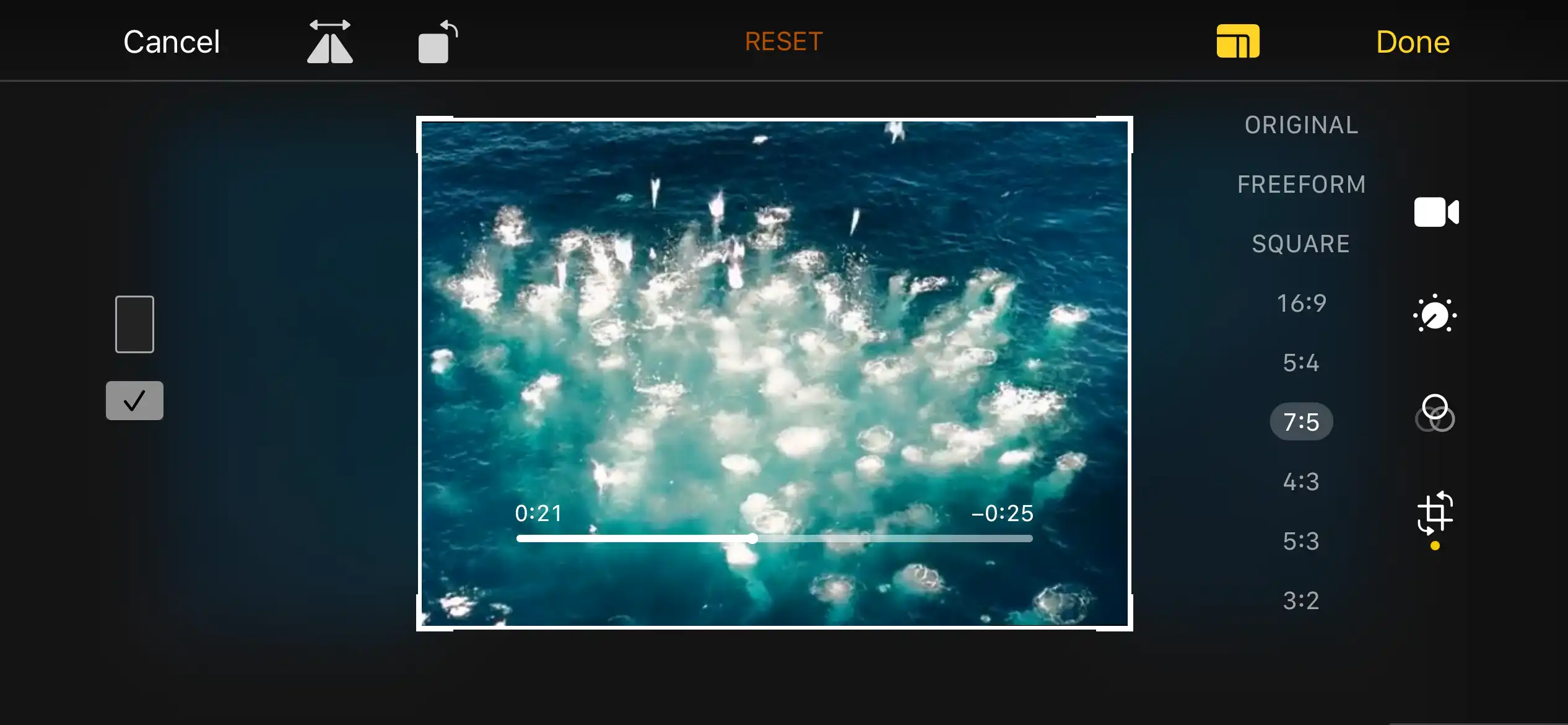 Open the targeted video in the Photos app and click on the

 Edit

 option.

Find the Crop icon and there are tons of aspect ratio options for you to resize for Instagram videos. Pick the most suitable one and move the frame to decide the area for resizing.
Tap Done and you can save it on your iPhone. Then feel free to upload it to your Instagram account and add it to your Story, Reels, Feed, or IGTV.
---
More to Share
Now that we have thoroughly introduced the detailed aspect ratios for different Instagram videos and the methods and tools to solve how to resize videos for Instagram. You can simply share original video content on different platforms by changing the size. Once you have posted videos to various social media platforms, you will get more viewers in other groups to lengthen the trending time of your content. What's more, you will get more attention by separating diverse sizes of videos into different platforms. All of this is thanks to the almighty power of cropping. WorkinTool Watermark Eraser is the most convenient and free video resizer tool we find on the Internet. If you have similar needs, it is a tool that you cannot miss.
If you have any suggestions or problems, contact us anytime.