How to Crop a YouTube Video on Windows in 2023 [FREE]
Can I crop a video for YouTube? It is now a frequently asked question. Well, yes. A video cropper will help you resolve this issue. Please spare a few minutes to read this post on how to crop a YouTube video in Windows. The methods, involving online and offline solutions, prove to be easy, convenient and FREE. They are an offline video cropper–WorkinTool Watermark Eraser and an online video resizer–Clideo. However, it is highly recommended to try the first method since it is:
💖 Lightweight and Simple
🧡Powerful Image/Video Watermark Addition and Removal Features
💛Multiple Pre-Set Aspect Ratios
💚High-Quality Outcome Guarantee
💙Free trial
💜Green and Virus-Free
💝Secure and User-Oriented
How to Crop a YouTube Video on Windows in 2023 [FREE]
YouTube has definitely been one of the largest video-related social media platforms. When uploading your videos onto it, you will sometimes find their frames far from ideal after the automatic editing of YouTube. Also, some unnecessary or unwanted objects or people may occasionally appear in your videos. Without editing them, these annoying elements will remain in them for good. Can I crop a video for YouTube? It is now a frequently asked question. Well, yes. A video cropper will help you resolve this issue. Please spare a few minutes to read this post on how to crop a YouTube video on Windows. Methods involving online and offline – solutions that prove to be easy, convenient, and FREE.
---
Before Cropping a YouTube Video on Windows
📌 What is a YouTube video's typical video resolution and aspect ratio?
The standard aspect ratio for YouTube on a computer is 16:9. If a different one applies to your video, YouTube will automatically change to the ideal size to match your video and the viewer's device.
Here are the recommended resolution and aspect ratios for YouTube:
4320p (8K): 7680 × 4320
2160p (4K): 3840 × 2160
1440p (2K): 2560 × 1440
1080p (HD): 1920 × 1080
720p (HD): 1280 × 720
480p (SD): 854 × 480
360p (SD): 640 × 360
240p (SD): 426 × 240
📌 What is the video resolution and aspect ratio?
🎼 Video resolution refers to the number of pixels (or individual points of color) contained in each video frame. It is usually expressed as width x height, such as 1280 × 720 or simply 720p.
🎼 Video aspect ratio indicates the ratio or proportional relationship between the width and the height of a video or a screen. It generally determines how wide (or long) your video will be. The typical video aspect ratios are 16:9 (widescreen), 9:16 (vertical), and 1:1 (square).
So, how can I crop a YouTube video with minimal effort and in an instant? Please read on to learn about the specific solutions in the following topics:
How to Crop a Video for YouTube on Windows by an Offline Video Resizer?
How to Crop a YouTube Video on Windows with an Online Video Cropper?
Now, let's move on to the central theme.
---
How to Crop a YouTube Video on Windows Offline 
This chapter will instruct you in resizing a pre-uploaded video for YouTube on Windows with an offline video resizer.
A handy desktop tool will undoubtedly be the easiest and quickest way to resize your videos for YouTube, especially if you are a video creator or influencer. So which one should you choose since various options are available in the market? Here, please take a look at WorkinTool Watermark Eraser.
Much as it is primarily designed as an image/video watermark adder/remover, WorkinTool Watermark Eraser boasts powerful additional features, including resizing video.
Key Strengths of WorkinTool Watermark Eraser

Simple and Convenient: Endowed with a highly lightweight interface, even non-tech-savvy users will find operating less stressful. For instance, you can expect to crop your YouTube videos within four steps.
Powerful and Amazing: Although its primary usage is to add watermarks in or remove watermark from image or video, WorkinTool Watermark Eraser surprises users with several extra features like video cropper, video trimmer, image editor, and picture rotator. Therefore, you will have an all-in-one image and video solution.
FREE and Green: All its features are free for a long-term trial without compulsory signup. Much as it is freeware, it is virus-free and will never place an intrusive watermark over your video.
Secure and User-Oriented: Your data privacy and information security are 100% guaranteed based on our concept that your safety is our priority. Meanwhile, WorkinTool Watermark Eraser will be under constant upgrade based on your feedback.

📕 Here are the instructions on how to resize a video for YouTube on Windows with WorkinTool Watermark Eraser:
Step 1. Open the tool and then click Crop video. Hit Select Video to upload your clip.
(You can also drag your video to the highlighted area to import it.)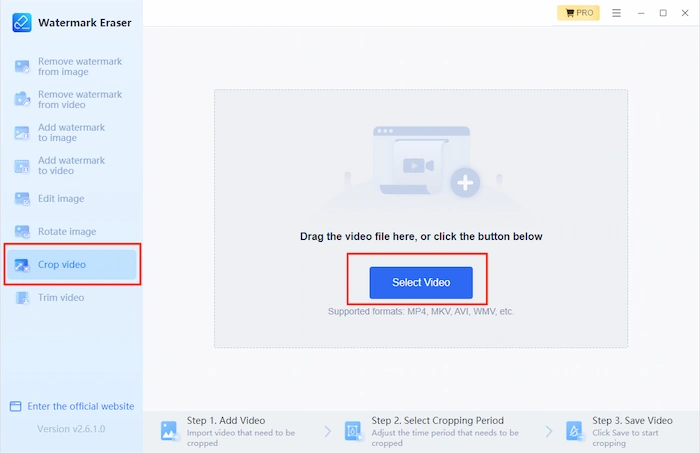 Step 2. Navigate to Screen Ratio > 16:9 in the drop-down box > Save.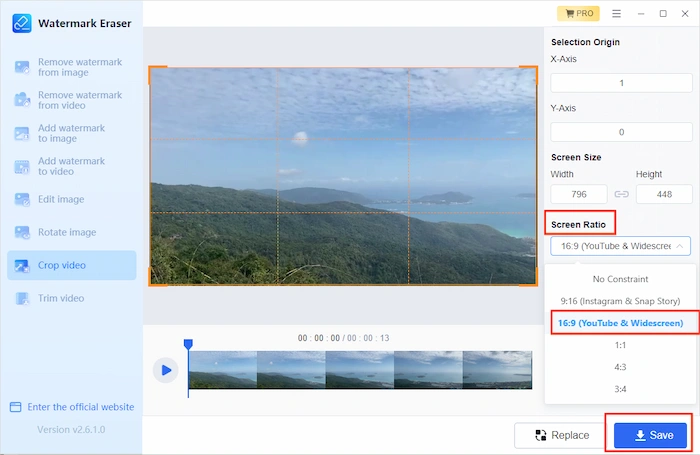 📢 Notes of Aspect Ratios
9:16-Vertical (Instagram and Snap Story)
16:9-Widescreen (YouTube and Widescreen)
1:1-Square
4:3
3:4
💡 Notes
You can also resort to the X-Avis and Y-Avis or drag the frame edge inside the video to adjust the aspect ratio. It is suitable to cut one part out of your video to remove some unnecessary objects or unwanted figures in it.
The option-Screen Size is equipped to assist you in changing the video resolution.
It supports MP4, MKV and MOV.
---
How to Crop a YouTube Video on Windows with an Online Video Cropper
If you truly find it inconvenient to download and install a third-party tool, you are free to make use of some online tools to accomplish this mission. Here, we will present an all-around video issue resolver–Clideo.
Clideo is an online program that aims to solve your various problems concerning video editing, including video resizing, merging, cropping, compression, subtitle insertion, cutting, and more. It is less challenging and convenient for both professional and amateur video editors. Additionally, it works with multiple video formats, such as MP4, AVI, MPG, MOV, WMV, etc. As a video cropper, it would be helpful to crop your video for YouTube use within a few clicks. It is generally free; however, limitations apply to its free version. For example, a brand logo will be added to your cropped video.
📕 Please read the guidance on how to crop a YouTube video on Windows via Clideo:
1. Open Clideo and find Crop among its tools.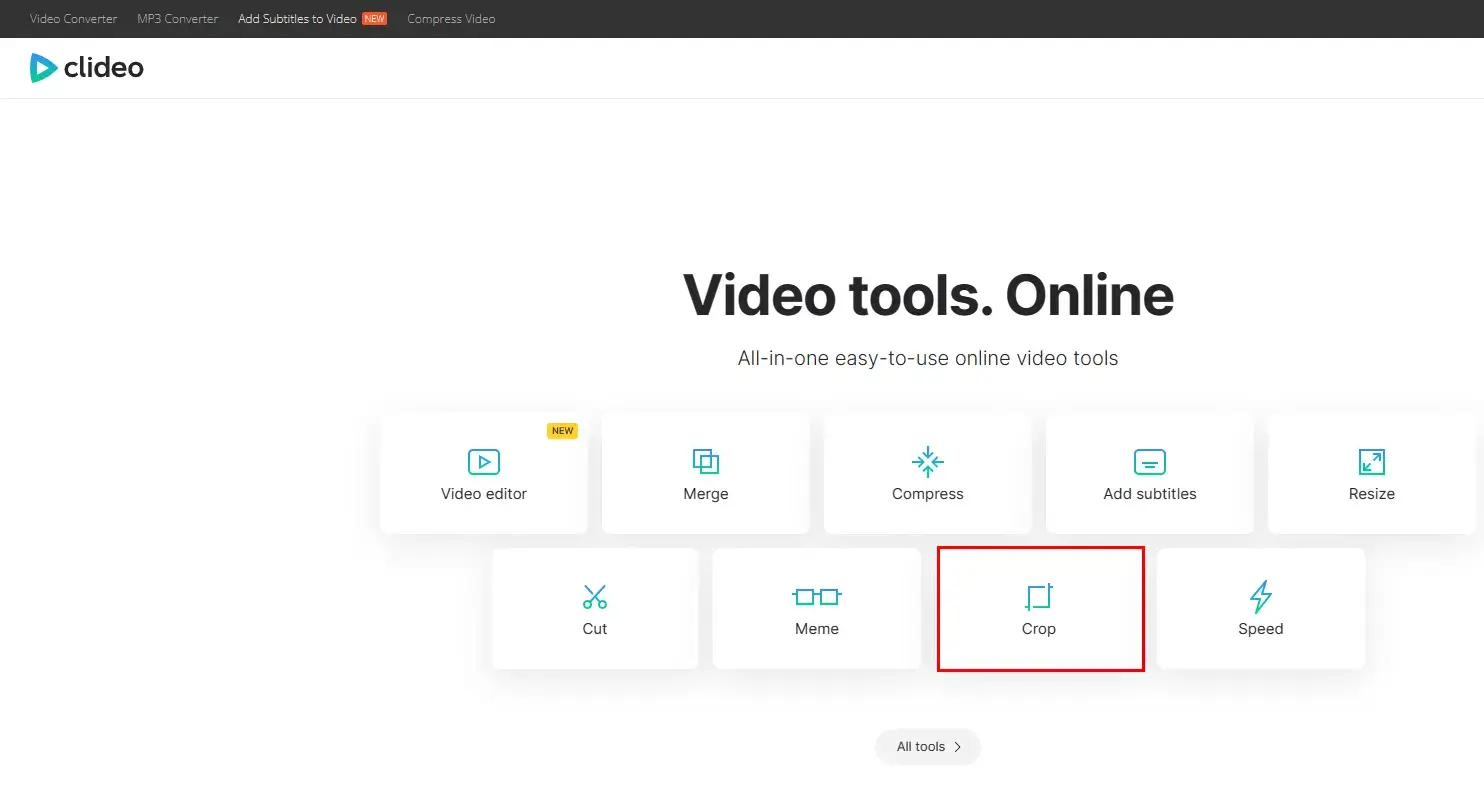 2. Click Choose file to import your video.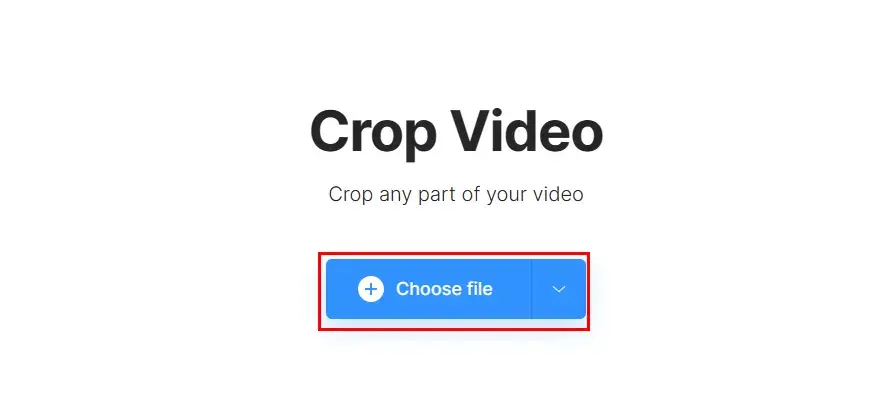 3. Select 16:9 in the aspect ratio option, adjust the pixels if you want to, and then hit Export.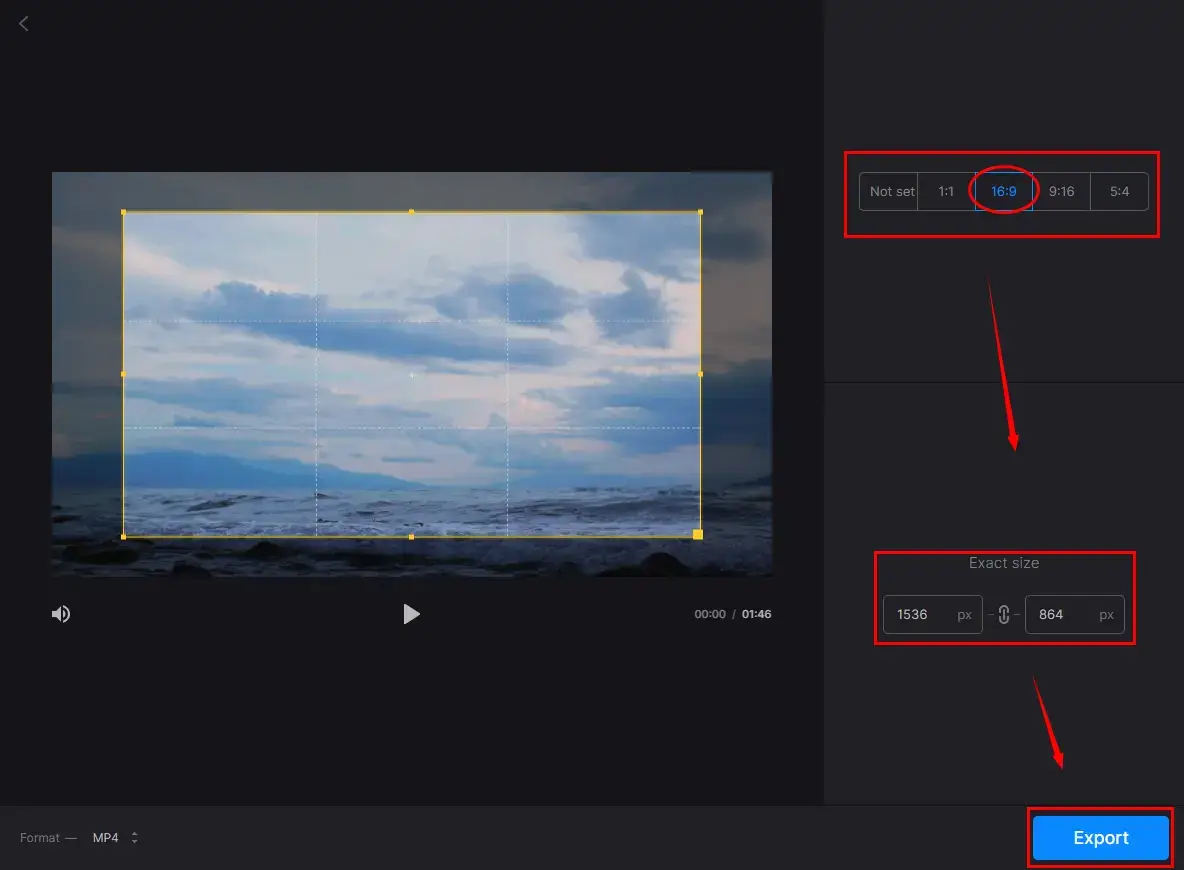 4. Click Download to have your cropped video.

💖 Why Choose It
💔 Why Decline It

No need to download and install
Easy to use
Fully online
Several cropping modes
Pixel adjustment possible
Cloud storage service available

Internet access required
Unstable video upload speed
Intrusive watermark on output (Free Version)
Payment is needed to remove the watermark
---
Additional Words for YouTube Video Cropping
🎯 Which tool fits me the best?
Topics
WorkinTool Watermark Eraser
Clideo
Download & Installation
Yes
No
Internet Access
No
Yes
Interface
Simple and user-friendly
Easy to use
Supported Formats
MP4, WMV, and MOV
MP4, AVI, MPG, MOV, WMV, etc.
Limitations
No
Watermark on Output
Price
FREE with Limitations ($10.95/Month, $29.95/Year, $39.95/Lifetime)
FREE with Limitations ($9/Month, $6/Month for Annual Users)
Supported OS
Windows
Any Device with Internet Access
Other Features

Resize Video
Edit Video
Merge Video
Compress Video
Speed up Video
Cut Video
Loop Video
Rotate and Flip Video
---
Final Thought
How to crop a YouTube video on Windows? I believe that it will be a less challenging question to answer after you finish this article. Feel free to opt for any solution that fascinates you. However, it is strongly advisable to give WorkinTool Watermark Eraser a try since it is easy, convenient, all-around, and FREE.
Now, are you ready to crop a video for YouTube?