3 Most Practical FREE Watermark Software in 2023
Currently, watermarking is the common and best way to protect your images and videos from being copied and stolen. Adding a watermark can not only protect their own copyright, but also make them unique from the others to enhance brand awareness.  Therefore, watermark software is now an important tool for you. In this article, we would like to introduce you to three useful watermark software, including Workintool Watermark Eraser, 123 Watermark and Mass Watermark. You will read the instructions on how to use each of them and a comparative study of their advantages and disadvantages summarized by us.
Free watermark software is undoubtedly an important tool at present. Currently, a watermark is the most common and best way to protect your images and videos from being duplicated and stolen. Adding a watermark can not only protect their own copyright but also make them unique from others to enhance brand awareness.  Once others are familiar with your watermark, they can recognize your creation every time they see your visual works, like pictures and videos. This is an affirmation for amateurs, which undoubtedly applies to professionals as well. Therefore, the demand for watermark insertion and free watermark software is getting higher and higher.
It is likely for me to pose some questions. For example, What is the best watermark software? Do you have recommendations for free watermark software? Since the relevant software on the market is emerging one after another, it is even more difficult to find one that is suitable enough to meet your requirements, which will also be both time and energy-consuming. In this post, we will recommend some best free watermark software researched by us. You can pick the one with which you feel satisfied. This article mainly discusses watermark addition for pictures as an example to display the usefulness of these desktop tools, including:
WorkinTool Watermark Eraser
123 Watermark
Mass Watermark
---
TOP 1 Free Watermark Software: WorkinTool Watermark Eraser
WorkinTool Watermark Eraser is a piece of professional watermark software. Designed with an easy-to-use interface, It's proficient in adding watermark to image and watermarking a video as well as removing watermark from image and deleting watermark from video. In addition, it also allows you to trim and resize a video with the help of its built-in video cropper and trimmer. Therefore, it is a tool under constant improvement to satisfy the users' growing needs. To unlock all its features, you are advised to download and install WorkinTool Watermark Eraser first.
How to Add Watermark to Image by WorkinTool Watermark Eraser
Method#1 Watermark photos by text.
Step 1: Open Watermark Eraser and click Add watermark to image.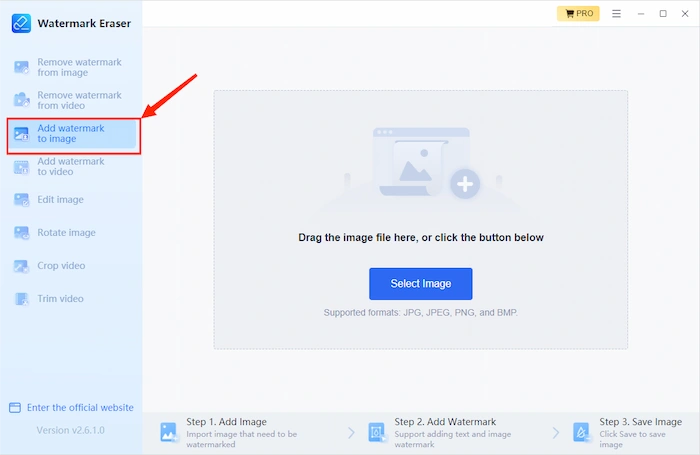 Step 2: Select or drag your file to upload it and then choose Add text watermark.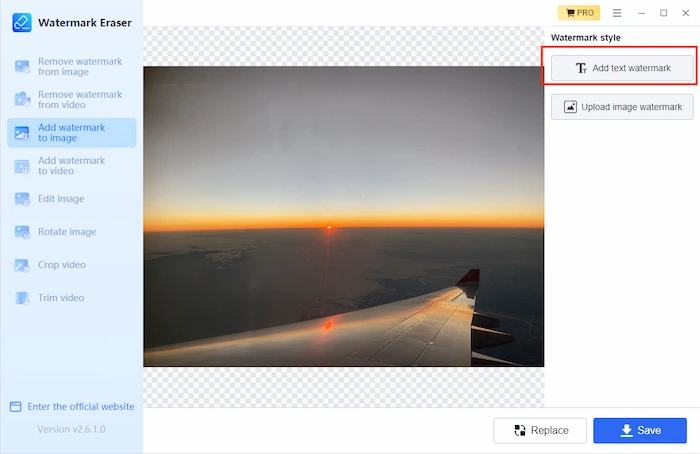 📢 Notes:
Only the formats like JPG, PNG, and BMP are supported.
After clicking add text watermark button, you will see the main interface for modifying the text watermark. Here is some specific guidance:
Firstly, type your texts in the content box.
Secondly, select font style, size, and color.
Thirdly, decide whether to change additional features like bold, italics, and vertical.
Fourthly, adjust the opacity and rotation angle of the text.
Last, alter the text position. You can customize the position; for instance, cover the picture by using tile mode. The density and interleaving spacing between watermarks can also be adjusted. You can also choose the nine-square mode.
Step 3: After adjustment, press the Save button down.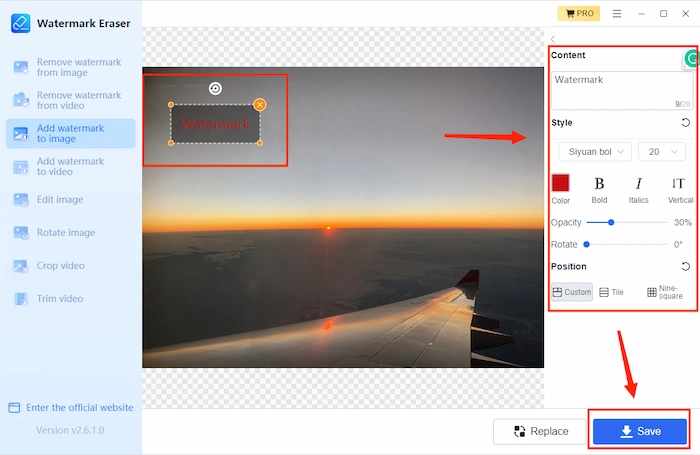 Method#2 Watermark photos in image.
Step 1: Open Watermark Eraser, and find Add watermark to image.
Step 2: Upload your file by clicking on Select Image or dropping it in the designated area and then choosing Upload image watermark.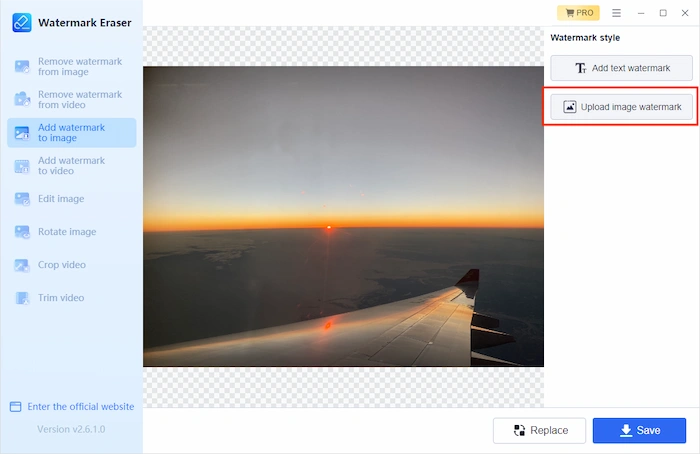 Note: Like adding text watermark to photos, only these formats are allowed, such as JPG, PNG and BMP.
Step3: Adjust the style and position of your image watermark and then press the Save button down.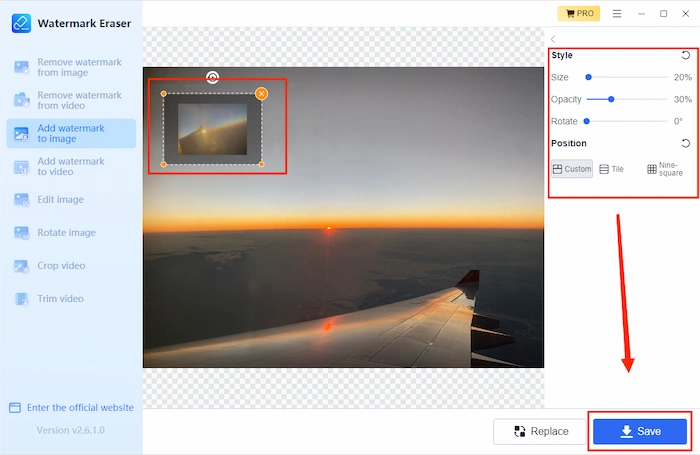 📢Notice:
For image style, you can adjust the size, transparency, and inclination of the picture.
For image position, there are still three modes. You can choose your own location, tile, or nine-square mode.
😃 Pros:
A few steps for watermark insertion with fast speed
Simple design style and clear instructions for easy use
Long-term free trial to enjoy all the features
Powerful and all-in-one functions under constant improvement
😒 Cons:
Limited formats for images and videos
---
TOP 2 Free Watermark Software: 123 Watermark
123 Watermark aims to create great-looking watermarks quickly and easily for protecting your photos or other images. It can add a watermark to one or thousands of images with just a few clicks. Another advantage is that you can optionally upload your images straight to the cloud, then save your settings ready for your next set of images. Here is a tutorial on placing a watermark over an image through 123 Watermark.
How to Add Watermark to Image by 123 Watermark
1. Open 123 Watermark, and click Image to upload a file.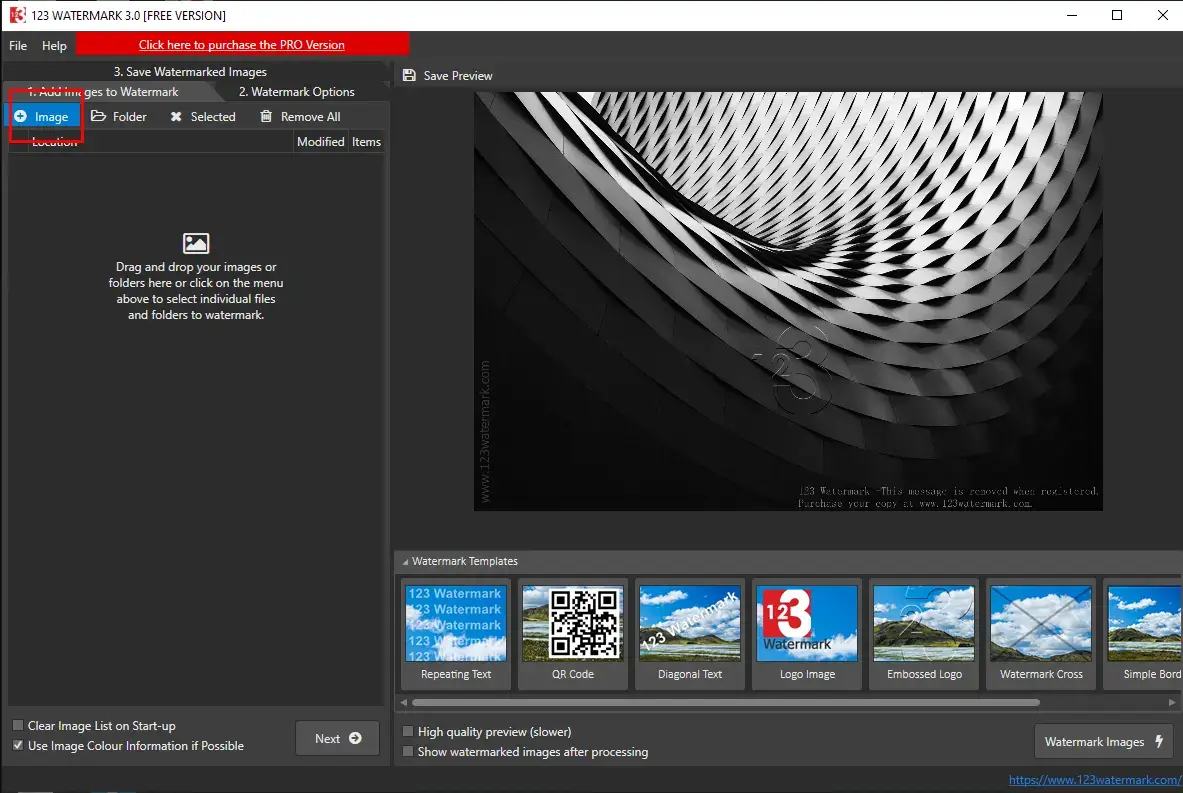 2. Click Watermark Options to create a watermark.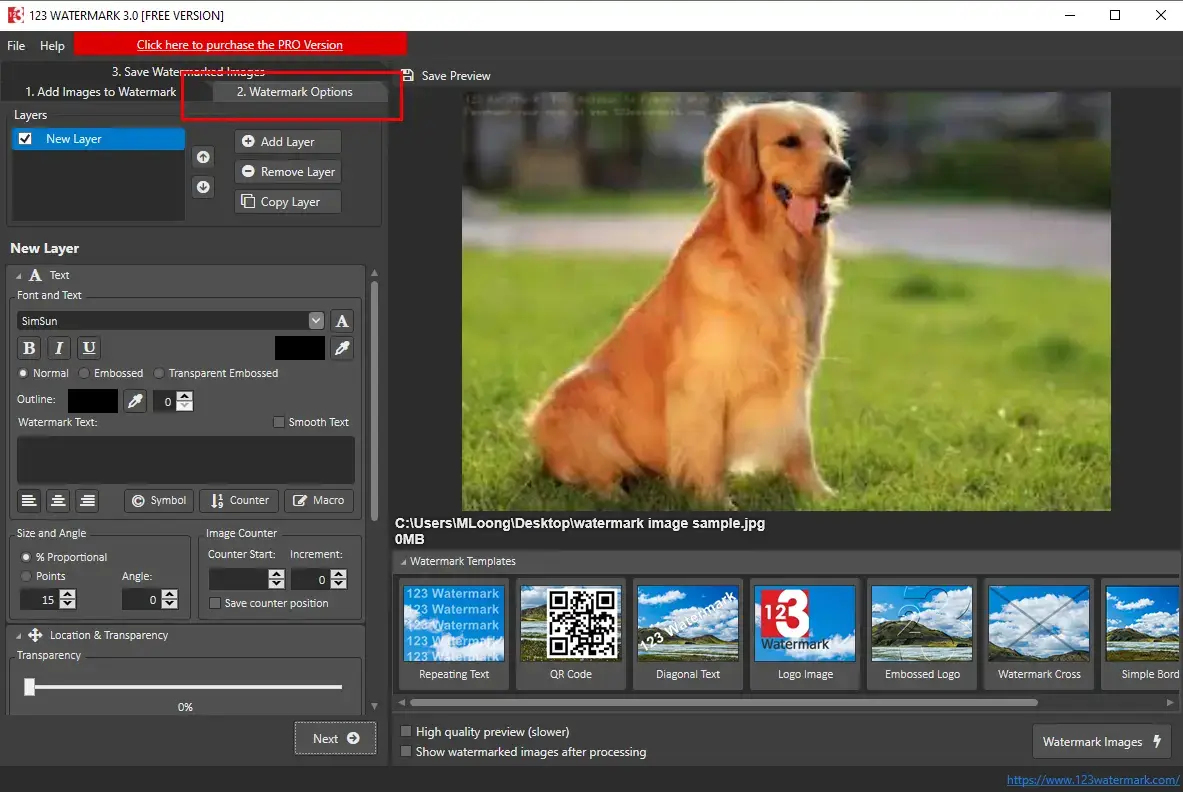 3. Insert your text watermark or choose other watermark forms.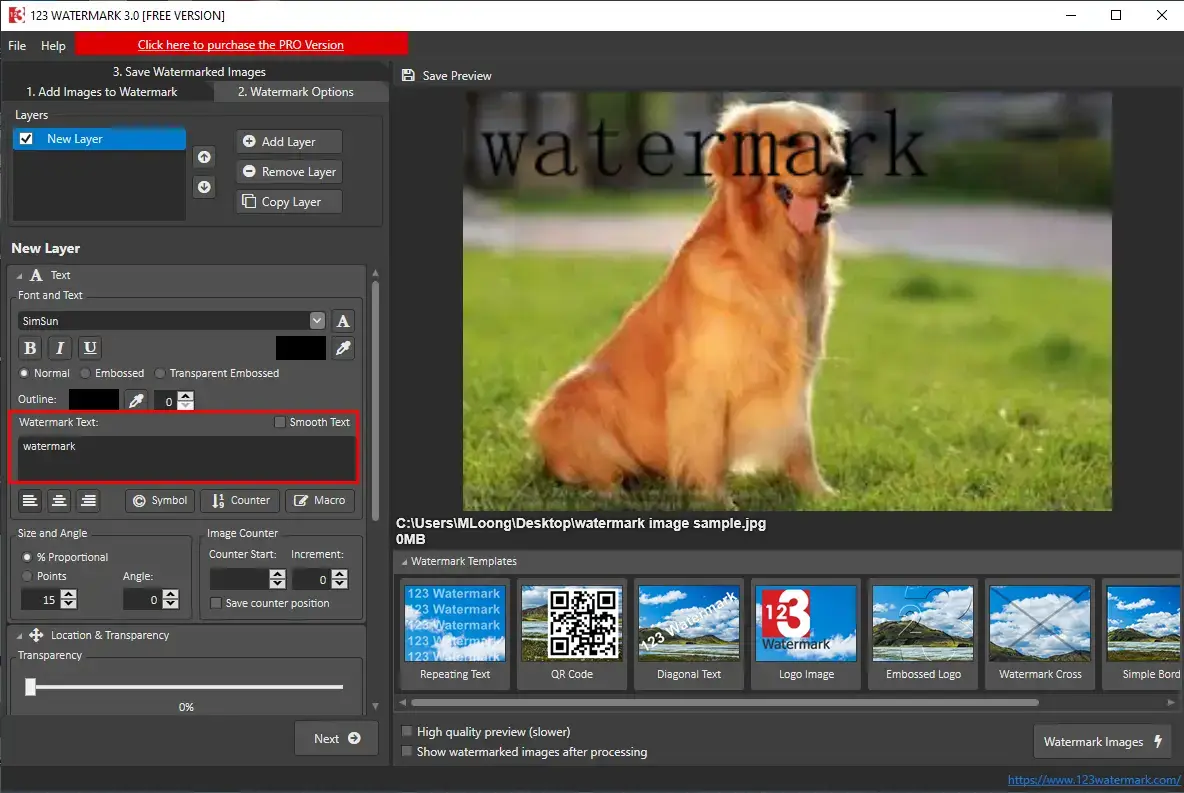 📢 Note: On the one hand, you can adjust font form or select watermark with the styles like normal, embossed or transparent embossed. On the other hand, you can directly select watermark templates, such as repeating text, QR Code, diagonal text, and so on.
4. After your adjustment, click Next to save the watermarked image.
😃 Pros:
You can use one or more layers to build your own distinctive watermark.
It helps to combine layers and profiles.
You can upload your images to the cloud once processed to save you time.
It supplies multiple watermark templates.
😒 Cons:
Page design is fragmented, which is difficult to distinguish and time-consuming.
The autonomy of adding watermark is low, and the finished product is average.
---
TOP 3 Free Watermark Software: Mass Watermark
Mass Watermark is a photo watermark software for Windows and macOS. You can add text or image watermarks to a collection of images. You can also resize images in batches to meet web standards. By Mass Watermark, you can create your own branding watermark with a customized text or logo.
How to Add Watermark to Image by Mass Watermark
Step 1: Open Mass Watermark and click on Add Images.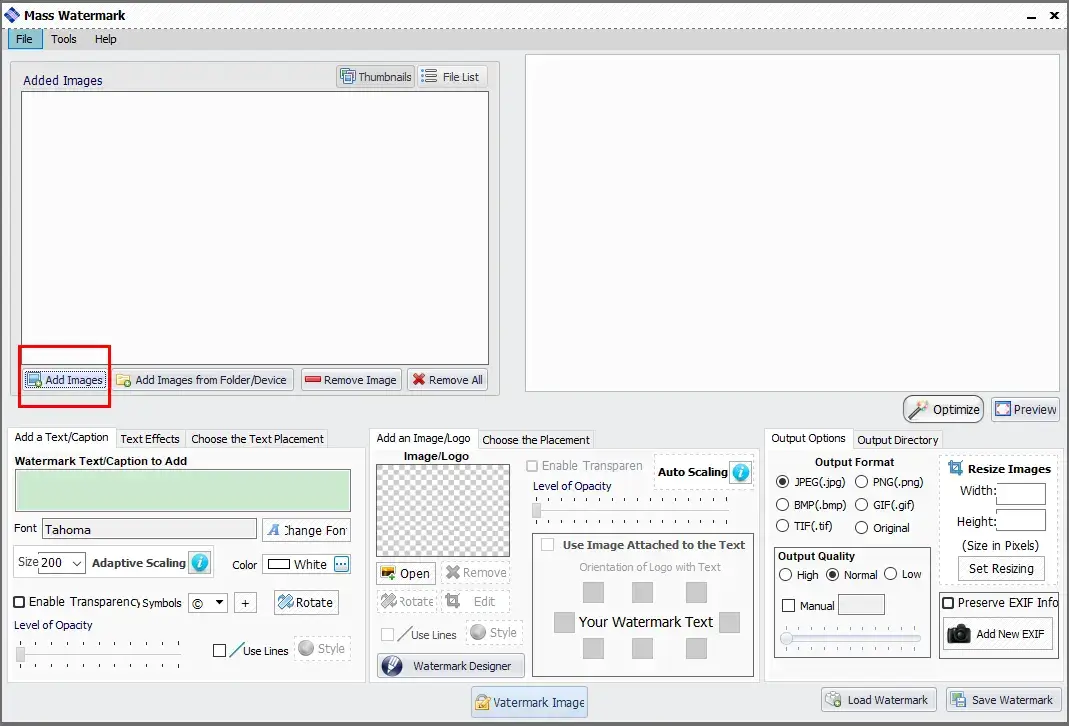 Step 2: Enter the texts or select a logo as your watermark.
📢 Notes: You can adjust the color and size of font as well as choose text effect and position.
Step 3:  Click on Save Watermark after the adjustment of the watermark features.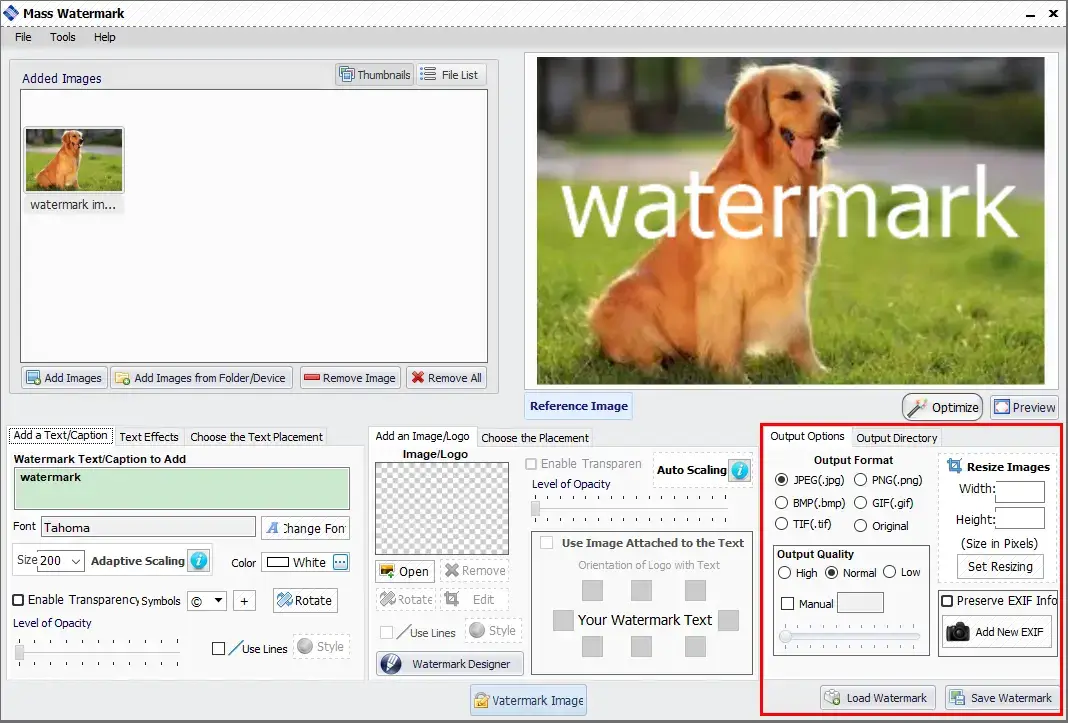 📢 Notes: You can also choose the output format, quality, and directory. In addition, you can resize the watermarked image file.
😃 Pros:
Simple operation process with many surprising features
Batch watermarking available
Free to use
😒 Cons:
Complex interface design style, which isn't conducive to rapid use.
---
Conclusion
The market competition for watermarking software is very fierce. The above are the three offline tools carefully studied by us, and they all prove to have their own advantages and disadvantages.
Of course, from top to bottom is our most recommended order of your choice. Now you can try it at will after reading this article and select the software which you find the most suitable for you.