How to Recover Files After Factory Reset Windows 10/11 for Free
Using a factory reset to get your computer to its original state is a very common move to fix problems. But in the meantime, all personal data will be erased with it. Luckily, there are still ways to get those lost data back. We cover two methods to specifically recover files after factory reset on Windows 10/11. There are two main ways to restore deleted files. 
In this guide:
1. Can data be recovered after a factory reset?
2. How to recover data after factory reset without backup for free with software
3. How to restore files after factory reset on Windows for free with a built-in tool
Read on and try recovering files after a factory reset on Windows 10/11.
How to Recover Files After Factory Reset Windows 10/11 for Free
Overview
We will encounter situations like a Windows 10/11 PC getting itself stuck up, freezing, and the system shut down. Usually, a refresh won't fix issues like this. So, what do people do? "Factory reset" becomes the final solution to get unknown problems done. However, resetting your computer may work, but your new concern is to recover files after factory reset Windows 10 for free.
Factory reset is to erase all the records and changes the user had left on this computer, turning it back to the state when it was first made from the factory. If one has reset their laptop, it should look like the first day they bought it. But don't forget, if you don't have a system backup, all your data, including photos, videos, audio files, and documents, will be removed and lost after resetting. Is there any hope of recovering those lost files after clicking factory reset on Windows 10/11?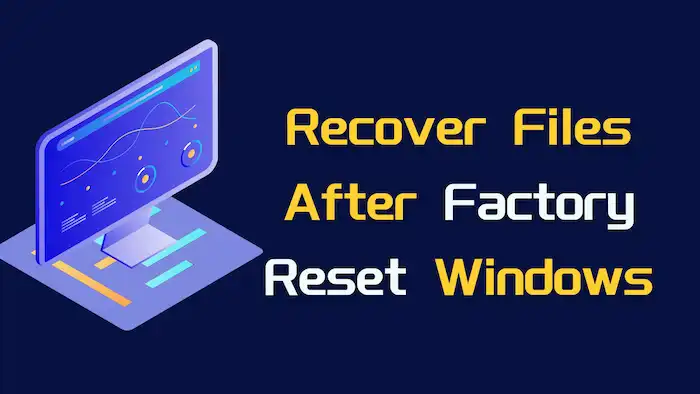 Table of Contents
Can You Recover Files After Factory Reset Windows 10/11 for Free?
How to Recover Files After Factory Reset Windows 10/11
How to Recover Files with Windows 10 File History 
Bottom Line
Can You Recover Files After Factory Reset Windows 10/11 for Free?
If so, can you recover data after factory reset on Windows 10 for free? An affirmative YES. There are still ways to recover your lost files for free after resetting your computer. But before we come to a real solution, there are several situations you need to know about before recovering all the files. 
 1. Recover files that have been lost for too long.
Once you have used the factory reset feature, retrieve your deleted files as fast as you can. Please know that the longer you take to recover that data. The smaller chances you get of finding the back. Since the new data has overwritten the lost ones, even the best data recovery software cannot retrieve all your files.
 2. Didn't recognize the resetting modes.
One thing about this built-in factory reset setting is that there are two options for users to choose from.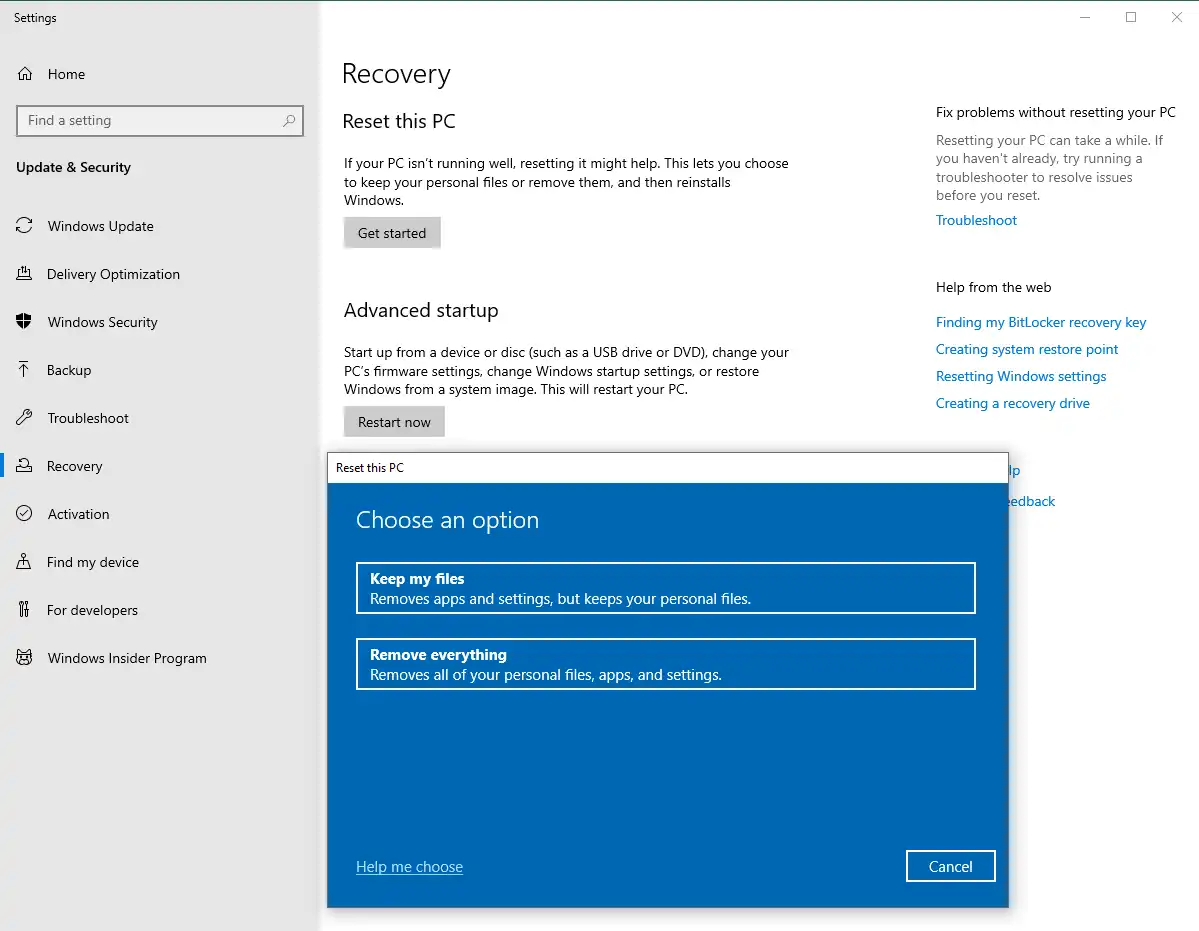 Keep my files:

 This will remove all applications, settings, and recordings. However, all of your personal files will stay the same.

Remove everything: 

As the title says, this will remove all the data from your computer, including your personal files, applications, and settings.
Generally, when the user needs to use the factory reset, the first option is sufficient to meet the user's needs. It will only erase the programs you install on your computer and the changes you make on your computer. However, if you select the second option, all the files you have stored on your computer will be wiped out along with others. So, it is not that easy to get your lost data back, like recovering files from the recycle bin. However, there are still chances to retrieve most of your files after a Windows 10 reset. We recommend you try WorkinTool Data Recovery Software.
In order to maximize your chances of retrieving your lost files from a factory reset, you'd better use your storage device to recover your files on another PC computer so that you can guarantee that nothing will be overwritten by your new operations, which minimizes the chances to fail the recovery.
How to Recover Files After Factory Reset Windows 10/11
If you don't have a prepared backup and use a factory reset on your Windows PC computer, try WorkinTool Data Recovery software to recover files after Windows 10 reset. This allows users to recover all lost data, including audio, videos, documents, emails, photos, and more.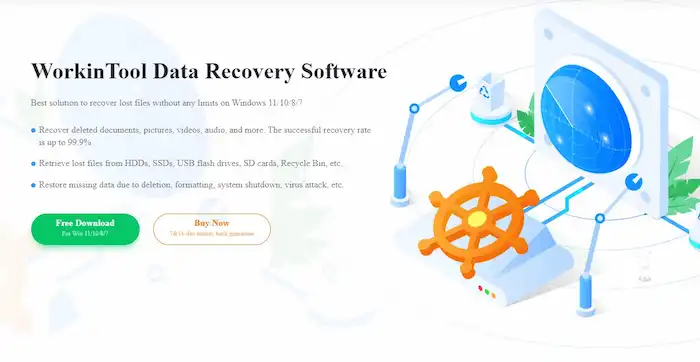 WorkinTool Data Recovery is very professional in retrieving lost files. Only a few steps can help users find their desired data back to where they belong. This tool also has a wide range of scan regions. It can accurately help users find specific documents. Finding a lost video or restoring an unsaved Word file can help you find and recover it in minutes.
With simple navigation and a straightforward interface, users can quickly and safely find any lost data right back in a flash. Other than recovering files lost from reset, data loss due to virus attacks, mistaken deletion, and disk format can also be restored as well. You can use WorkinTool Data Recovery to get those precious files back at your fingertips. It also supports users in recovering files in batches.

Here is how to use this recovery software to recover lost data
1. Open WorkinTool Data Recovery Software and select the drive where you lost files to scan. (However, if you have lost data on your flash drive, connect it to another PC computer and use this software to recover files from your flash drive.)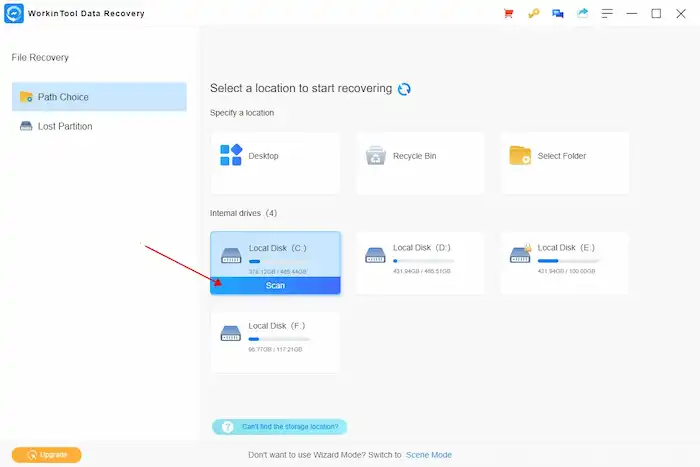 2. Select a scan method and click Scan Now.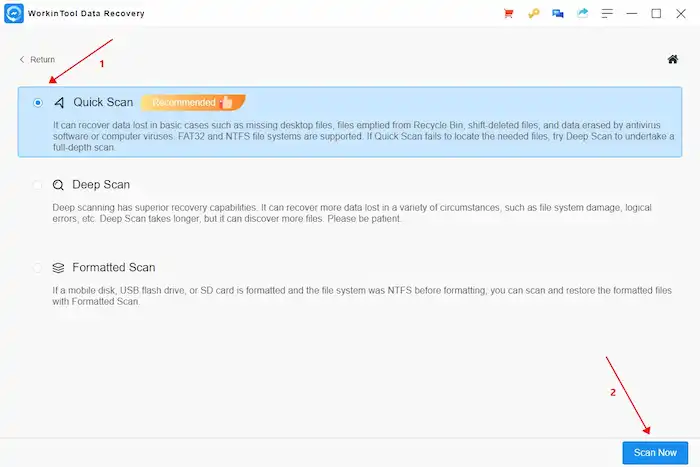 3. Then select the specific type of file you want to recover. For example, if you want to find lost videos, tap the Video option in the File Type menu, then find your lost files and preview them. If there is no problem, click Recover to get them back.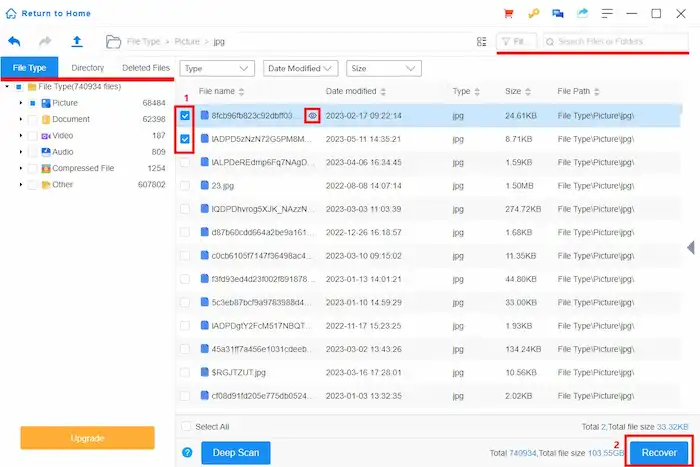 📣 Notice:
If you didn't find your wanted files here, please try the Deep Scan mode underneath. Since the factory reset may wipe out your files, this mode will go deeper through your computer's storage and allow your lost files to return to the state of recovery. But in the meantime, it will take more time compared to the standard scanning mode. Please be more patient on this.
How to Recover Files with Windows 10 File History 
If you already have backups before resetting your Windows 10 computer, using the File History function to recover those lost files would be a lot easier.
File History is a built-in tool that can help users back up and restore files like audio, videos, photos, documents, and personal settings. Once you have turned it on, it automatically saves system data for users every few hours without human intervention. This makes it simple for the user to recover and return all previously saved content.
1. Search for the file history on the Settings page and click Restore your files from File history.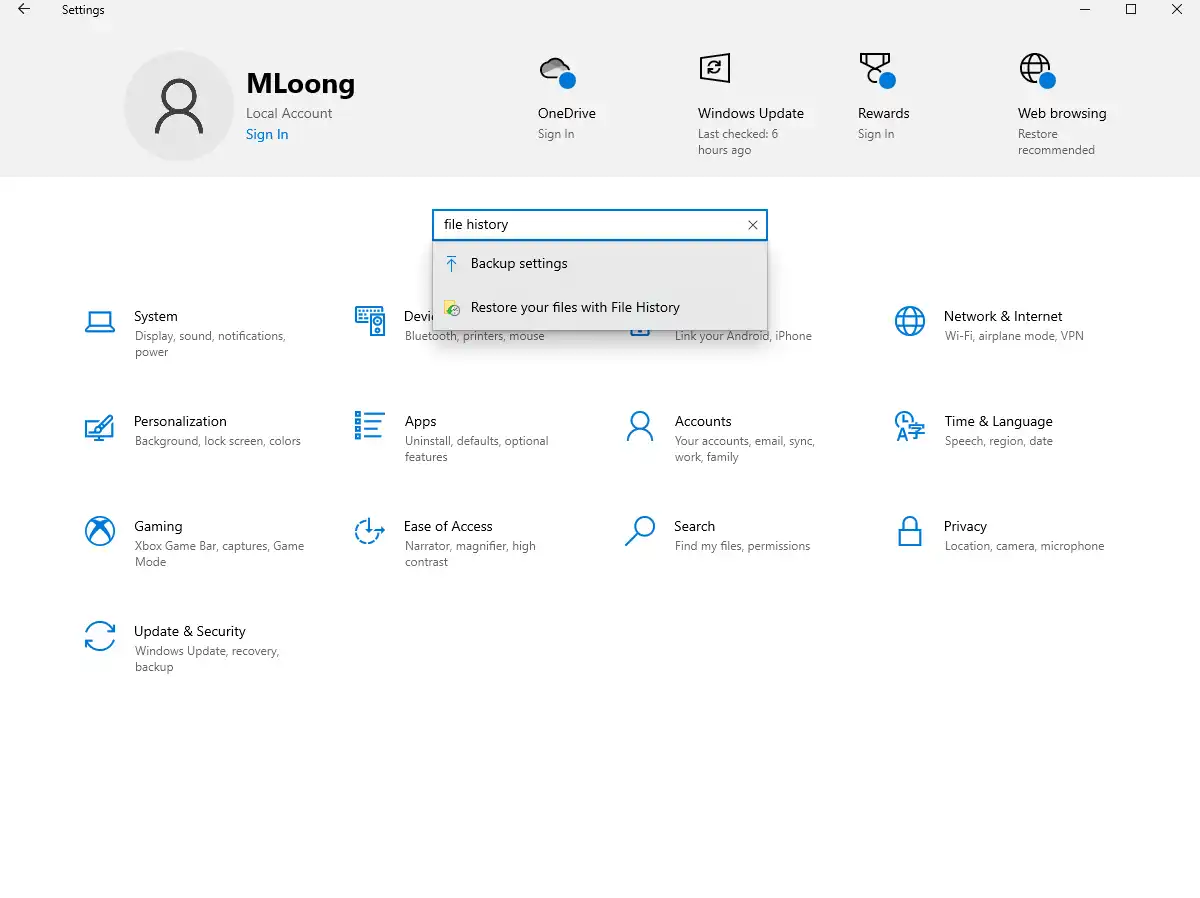 2. Then go to the File History window and see all the backup files here. Click the left and right arrows under the window to adjust the backup version. If you find a file you want to recover, tap the green turn icon to restore it.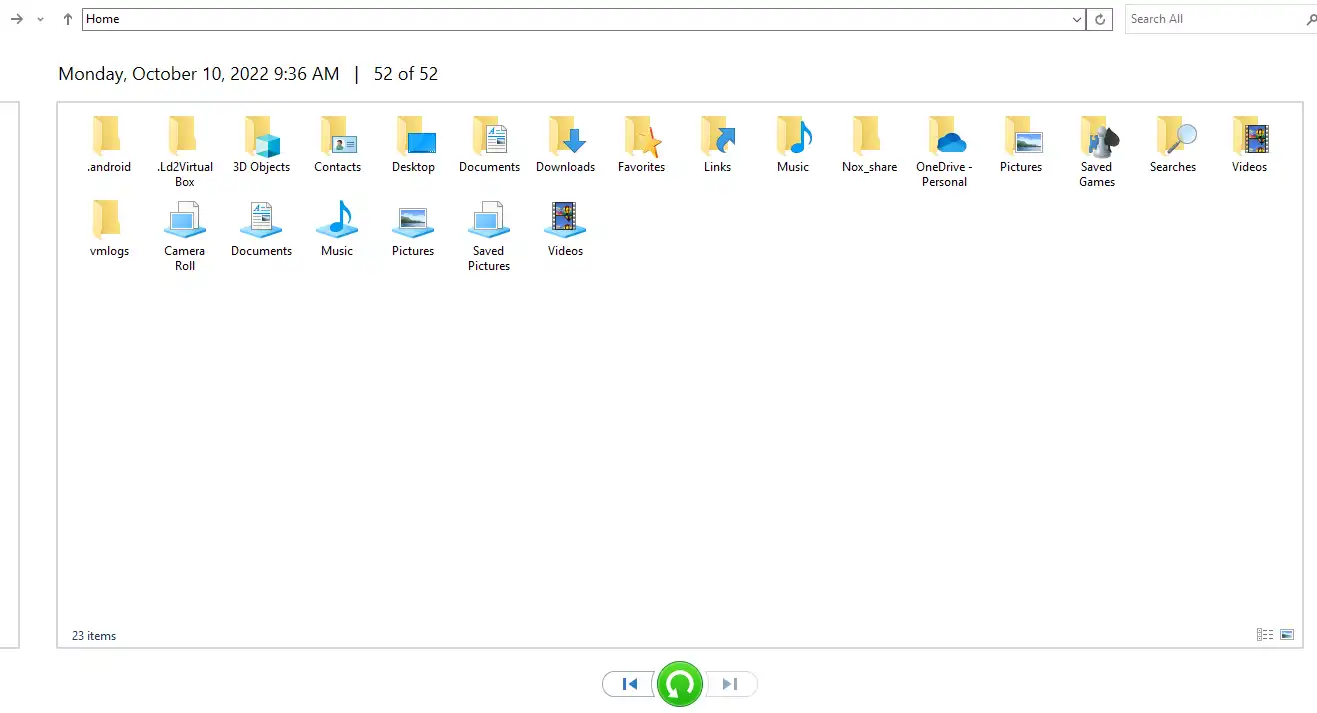 Bottom Line
If you don't know how to recover files after factory reset Windows 10/11 for free, I believe the two methods mentioned above have covered that problem. You can also use Windows File History to recover lost files if you have a recent history backup. If not, try WorkinTool Data Recovery to retrieve your precious data. It is right now FREE to download and use, with no hidden costs or limitations. Come and take a look.