How to Recover Deleted Google Docs [in and after 30 days]
Google Docs files are commonly used in daily work and study. It is a hassle if you deleted the crucial Google doc by mistake. But don't worry. You can restore it from the Google Drive Trash folder. For those permanently deleted files, you can try this WorkinTool Data Recovery to retrieve deleted Google Docs on your computer. The software offers:
🏆 Free trial to recover deleted files
🏆 High data recovery success rate (nearly 99.99%)
🏆 Export recovered documents without watermark
🏆 Rapid scanning and recovery process
🏆 Easy to recover data within a few steps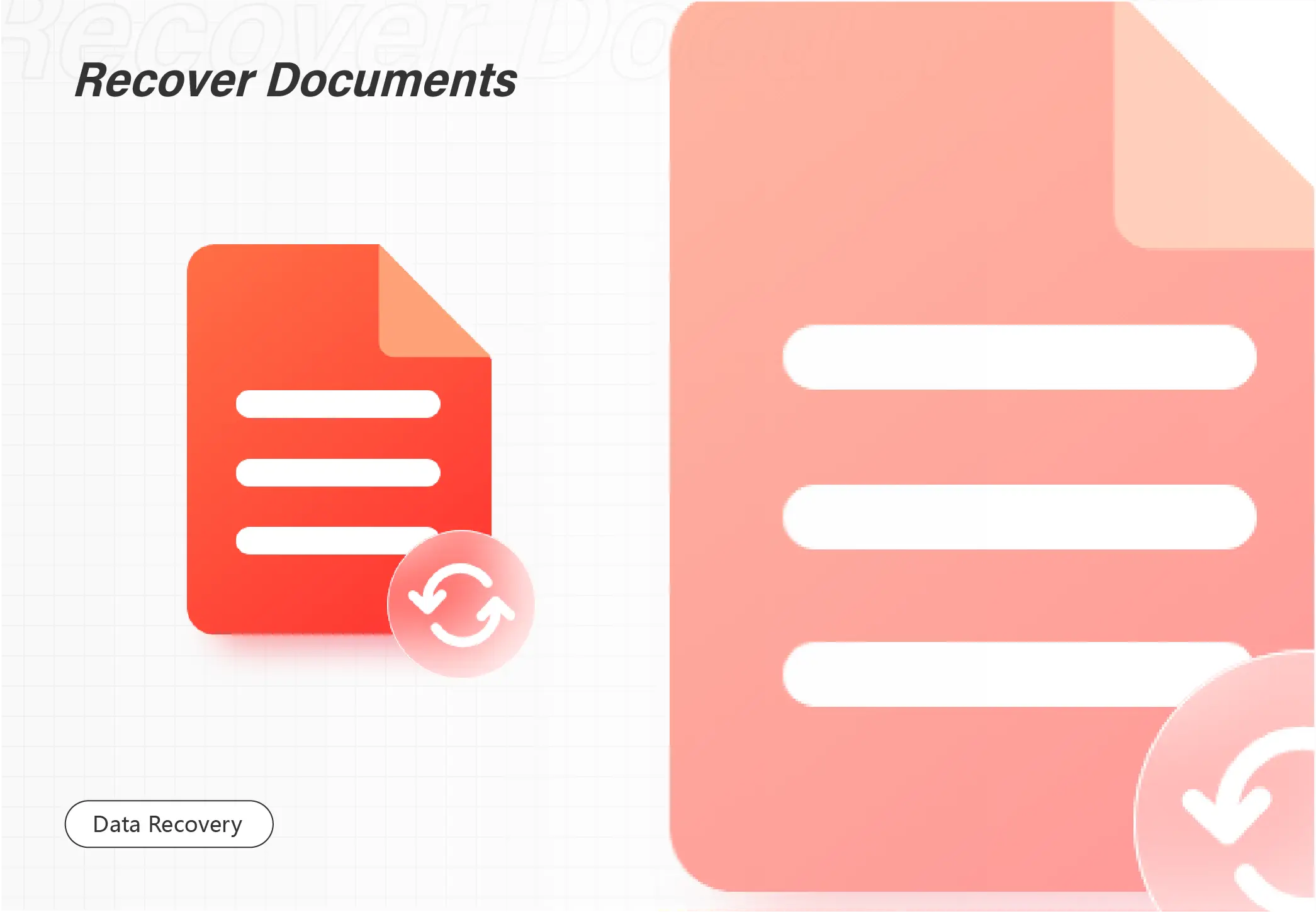 How to Recover Deleted Google Docs [in and after 30 days]
Google Docs is a web-based word processor offered by Google. You can deal with and store several documents, such as Word docs, Sheets, Slides, PDFs, etc. It is compatible with any system and allows you to edit and share documents easily. Therefore, numerous users love it. When using online Google Docs, we may accidentally delete the file. At the same time, we may find that this file is needed again after deletion. So, how to recover deleted Google Docs? This article will show efficient and quick ways to recover both recently and permanently deleted Google Docs files.
How to Recover Recently Deleted Google Docs Files (Within 30 Days)
Two ways are efficient in recovering accidentally deleted Google Docs files immediately. For one thing, you can use the undo feature built-in Google Docs. For another thing, Google Drive allows you to restore deleted items from its recycle bin. Check out the detailed tutorials below.
📌 Method 1. Undo the Deletion of Google Docs
When you accidentally delete a crucial Google Docs file, press the Undo button in the bottom left corner to cancel the deletion operation directly. This way, the doc file will re-exist in your Google Docs account.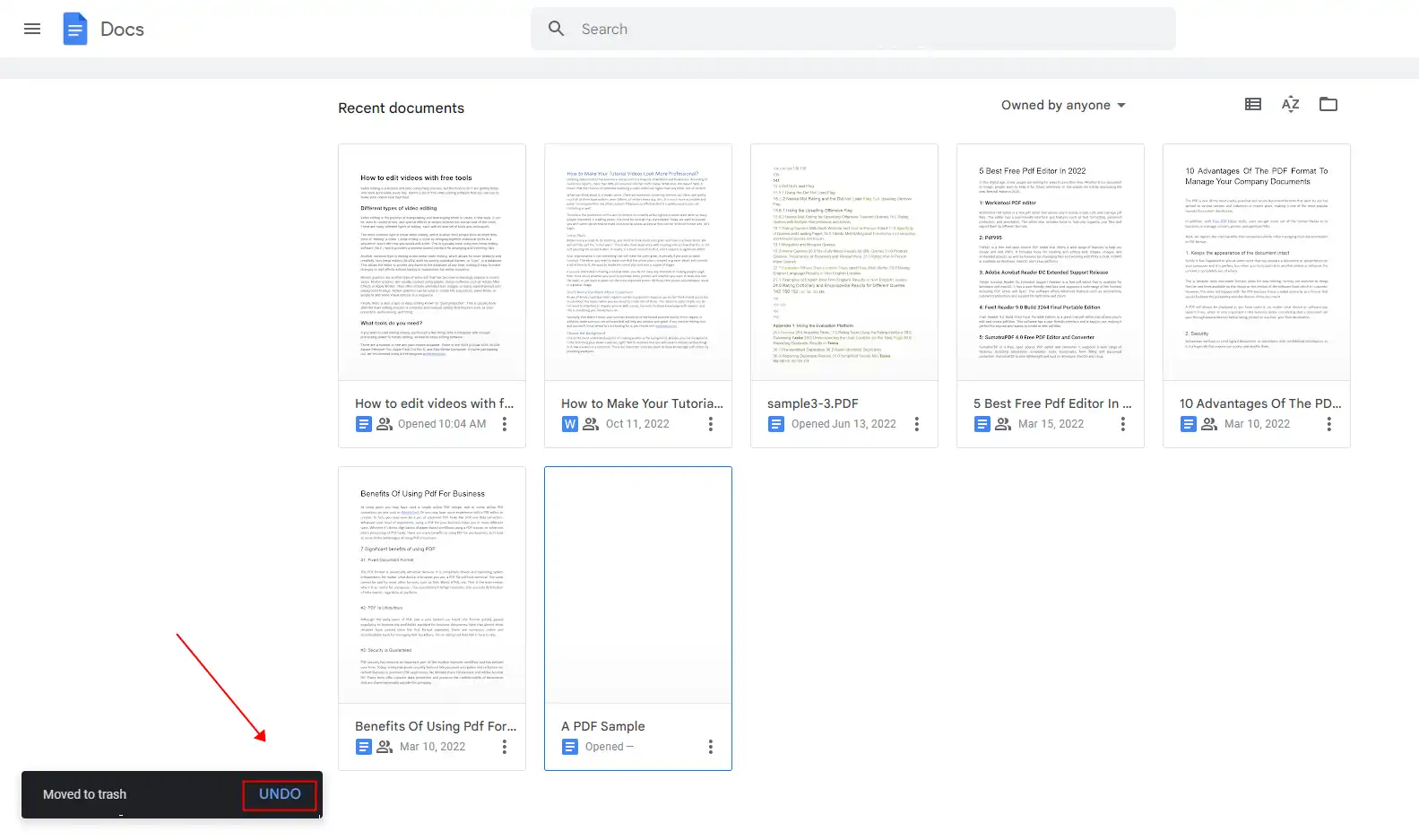 📌 Method 2. Recover Deleted Files on Google Docs in Google Drive
If you missed the opportunity to undo the deletion, you can try to retrieve the deleted Google docs in Google Drive. It provides a trash folder that will preserve the recently deleted items within 30 days. After the deadline, the deleted files will be permanently removed from Google Drive. If you just deleted the file, you have a great chance to recover it from the trash folder.
How to restore deleted Google Docs files on Google Drive
Step1.

Click the main menu button in the top left corner of the Google Docs webpage. Then select 

Drive 

and run to the Google Drive page.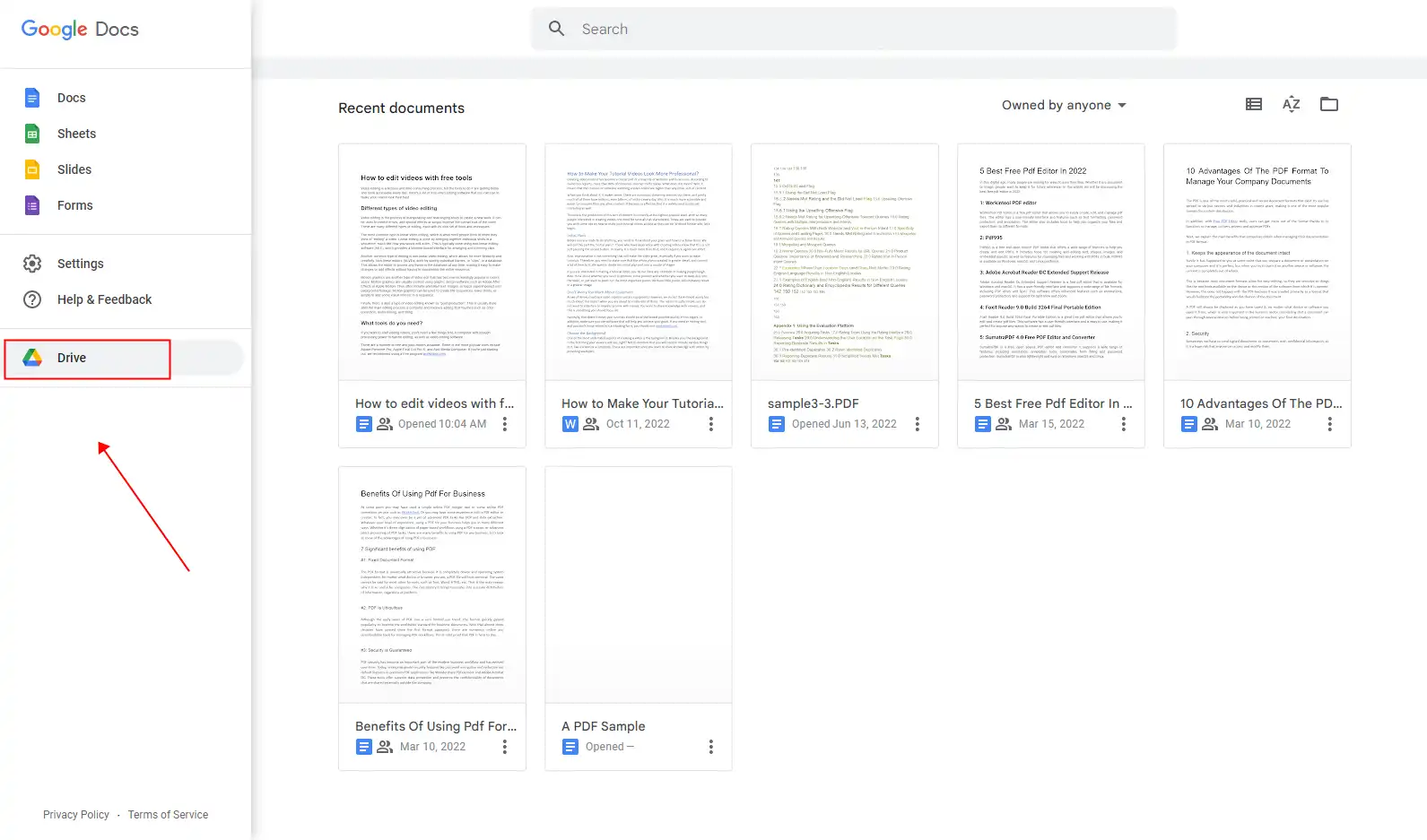 Step2.

 Click the Trash on the panel and find the doc you want to recover. Then right-click the file and press Restore.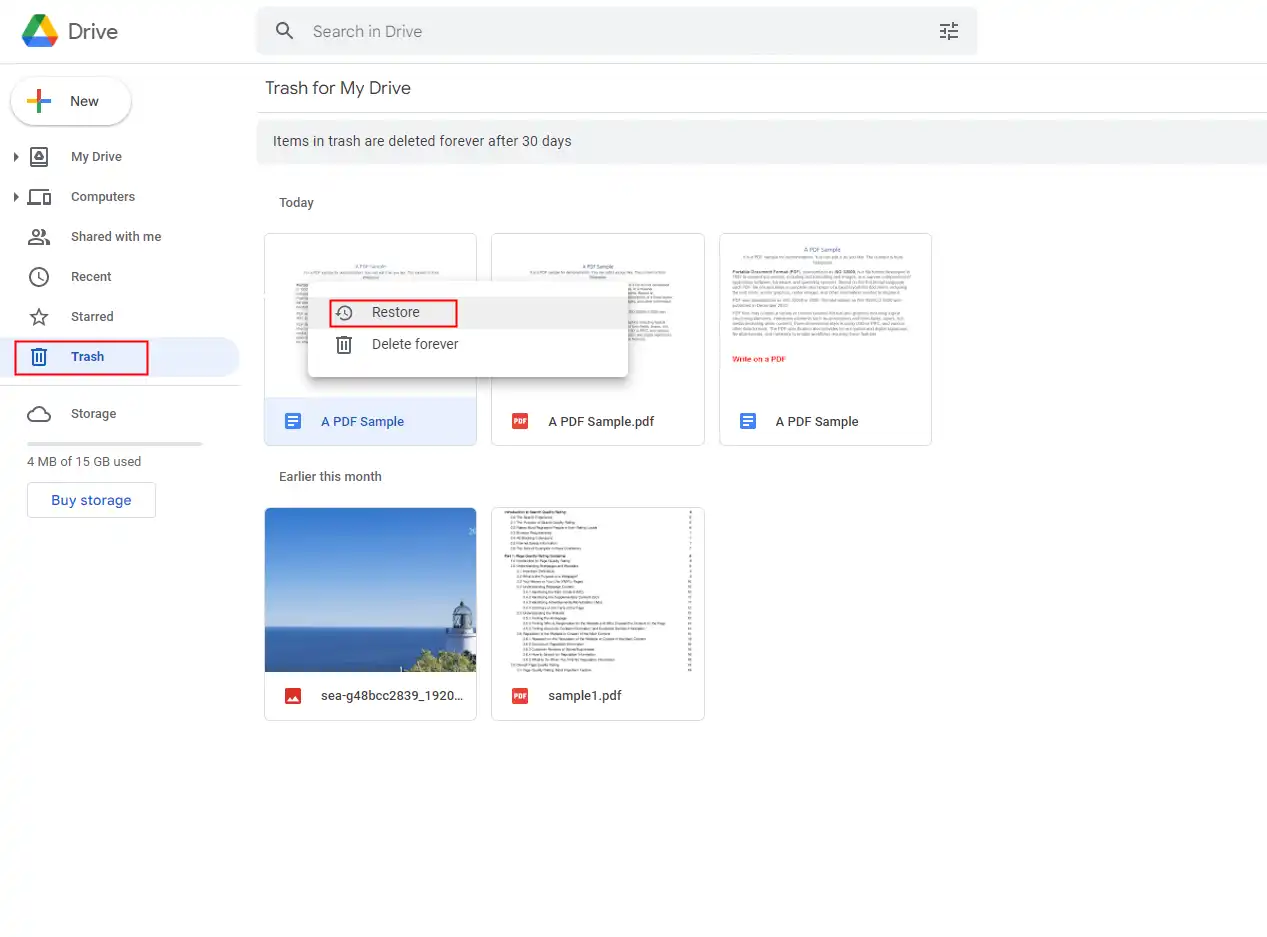 This way, you can recover the deleted Google doc file.
How to Recover Permanently Deleted Google Docs (After 30 Days)
Suppose you empty the Google Drive trash folder or miss the time to restore deleted files; then the Google docs file is permanently deleted from the online Google Docs and Google Drive. But don't be disheartened. There is still a chance to retrieve it. There will be a local Google Drive folder on the Windows computer that saves Google Docs and other files online. If you sync the online drive and the local drive, when you delete the file from web-based Google Docs, the local file will also be deleted. To recover deleted Google docs from your computer, you can search for the local recycle bin or use data recovery software.
📌 Method 1. Recover in the Local Recycle Bin
The local Recycle Bin on your computer will save the deleted files with no time limit. Only if you didn't empty the Recycle Bin can you find and restore deleted items. Check how to find deleted Google docs in it in the following.
How to recover deleted Google Docs from Recycle Bin on your computer 
Step1. Click the Recycle Bin icon on your computer, then search for the deleted Google Docs file.
Step2. Right-click the document and press the Restore button to recover it to your PC.

📌 Method 2. Restore Permanently Deleted Google Doc Files with Data Recovery Software
WorkinTool Data Recovery is a professional and reliable data recovery software compatible with the Windows system. It allows new users to recover up to 500 MB of data for free without restrictions. No log-in is required and no watermarks or other limits to re-download the recovered Google doc files. As for the result, WorkinTool provides a high success rate. During several tests, the recovered documents maintained high quality and original formatting. As for the operation, it is friendly to use, especially for new beginners. With its concise user interface and explicit data recovery scenarios, you can navigate to the deleted file within seconds.
Best FREE solution to recover lost, deleted, formatted data on Windows 11/10/8/7

Recover permanently deleted emails, documents, pictures, videos, audio, and more. The successful recovery rate is up to 99.9%.
Retrieve lost files from SSDs, HDDs, USB flash drives, SD cards, Recycle Bins, etc.
Restore missing data due to deletion, formatting, system shutdown, virus attack, etc.
All data recovery features are available for FREE with NO Ads or other hidden limits at all.
How to recover deleted Google Docs files using WorkinTool Data Recovery
Step1. Install WorkinTool Data Recovery on its official website. Then launch the software and select Deletion Recovery on the main user interface.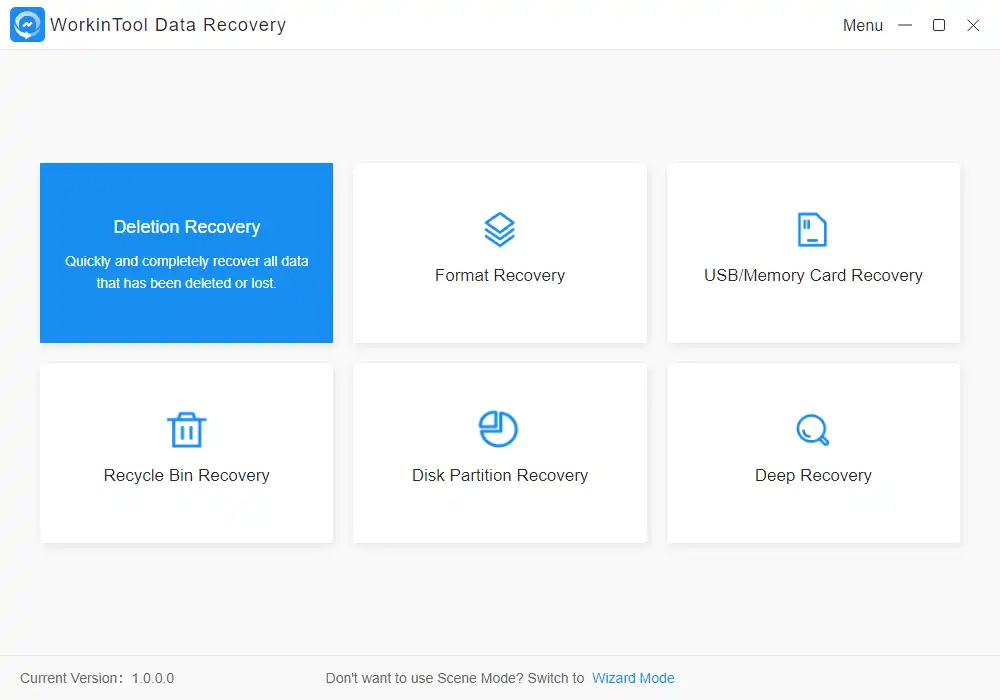 Step2. Select the Recycle Bin to scan. Then filter the scanned files by name, type, size, position, etc. You can also directly search for the Google Docs file in the search bar. However, you have to notice that the file name may be changed during the deletion process.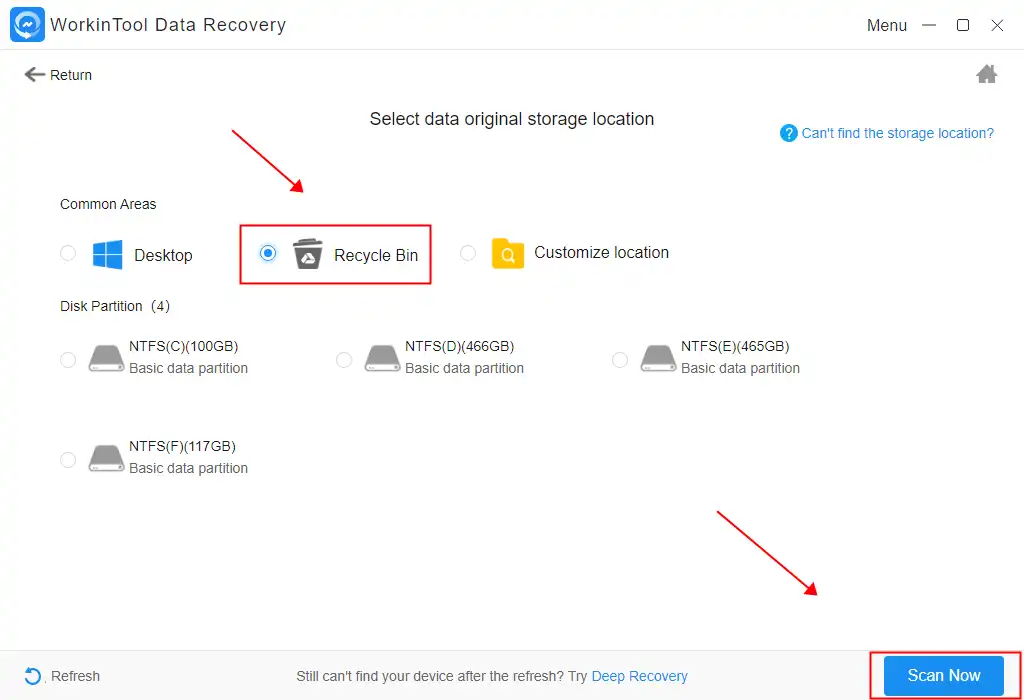 Step3. Target the document, pick it, and press the Recover button to re-download it to your computer.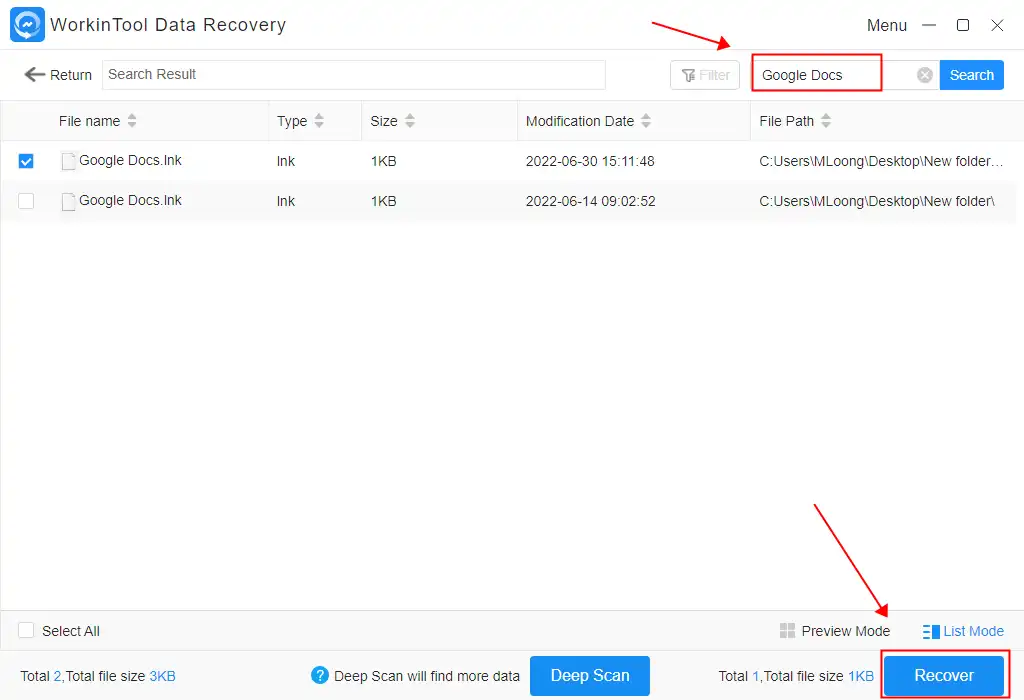 More Tutorials for WorkinTool Data Recovery
💬 FAQs on Google Doc Recovery
🚀 Can you get back deleted Google Docs?
The temporarily deleted Google Docs are in the trash folder in Google Drive first. You can get back google docs after deletion from it.
🚀 Are Google Docs permanently deleted?
If you cleared the Google Drive folder or the deleted item is after 30 days, then the Google Docs will be permanently deleted.
🚀 Is it possible to recover permanently deleted Google Docs? 
Yes. You still have a chance to recover permanently deleted Google Docs from your computer. You can retrieve deleted files with data recovery software if you ever synced the online Google Drive to the local Google Drive folder. 
Wrapping Up
Here, effective methods to recover deleted Google docs are provided. No matter whether the deleted document is within 30 days or after 30 days, there is a chance to retrieve it. Try to use the above solutions to find your Google doc file back.