4 Best Offline PPT File Compressors for Windows in 2023
In this article, we will introduce you to the four best offline PPT file compressors for Windows in 2023. They are WorkinTool File Compressor, FILEminimizer, NXPowerLite Desktop 9 and PPTshare File Compressor. They all prove to be practical, convenient and free. You can read this article carefully to refer to their specific messages, including their basic information, how-to guides and pros-and-cons charts. Please start your reading now.
4 Best Offline PPT File Compressors for Windows in 2023
Microsoft PowerPoint is undoubtedly the most frequently-used file for business proposals or report presentations. It will be a pain in the neck if your .ppt or .pptx file is too large. Why? It will be difficult to send it via email or take you a long time to load it in your presentation, which will be embarrassing. Therefore, it is essential to have a handy desktop PPT compressor on your PC if you have active interaction with this Office document software.
Today, we will introduce you to the four best offline PPT file compressors for Windows in 2023:
WorkinTool File Compressor
FILEminimizer Office
NXPowerLite Desktop 9
PPTshare File Compressor
Now, let's begin our journey.
---
4 Best Offline PPT File Compressor for Windows in 2023
1. WorkinTool File Compressor
Price: Free trial within 200 KB or $39.95/year
Supported OS: Windows 11, 10, 8 and 7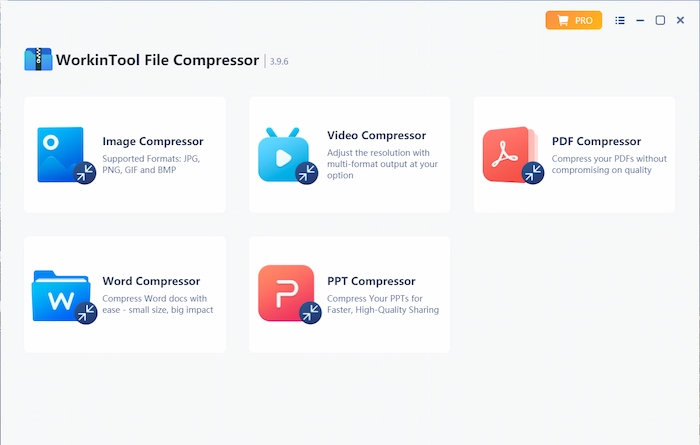 WorkinTool File Compressor is a powerful solution to file compression new in the market. Equipped with a lightweight and simple interface, even beginners will find it convenient to operate. With the help of its feature–PPT Compressor, it takes you merely three steps to complete your file reduction task. Furthermore, there are two compression modes to meet your different requests: Smaller Size and Clearer Output. Meanwhile, batch compression is available in WorkinTool so that you can make multiple shrunk PPT files with just one click.
What is worth mentioning is that WorkinTool File Compressor is FREE to compress PPT below 200 KB without any other limits. Hence, all its features are accessible without a license payment and compulsory registration. Moreover, much as it is freeware, there will be no ads in your compression process and no intrusive watermark on your output.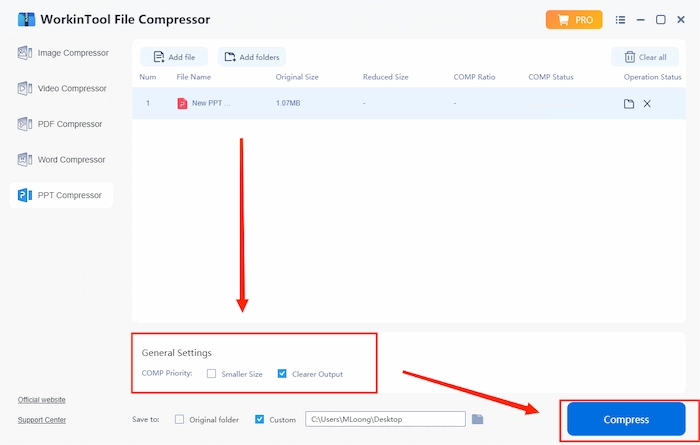 The output

Here is the specific information:
😊Reasons for Having It 
😒Reasons for Declining It

Lightweight and simple interface
Batch compression available
Two reduction modes
Fast compression speed
Outstanding output without losing quality
Long-term free trial
Guaranteed data privacy and information security

Limited operating systems supported
2. FILEminimizer Office
Price: 30-day Free Trial   $ 49.95/year
Supported OS: Windows and macOS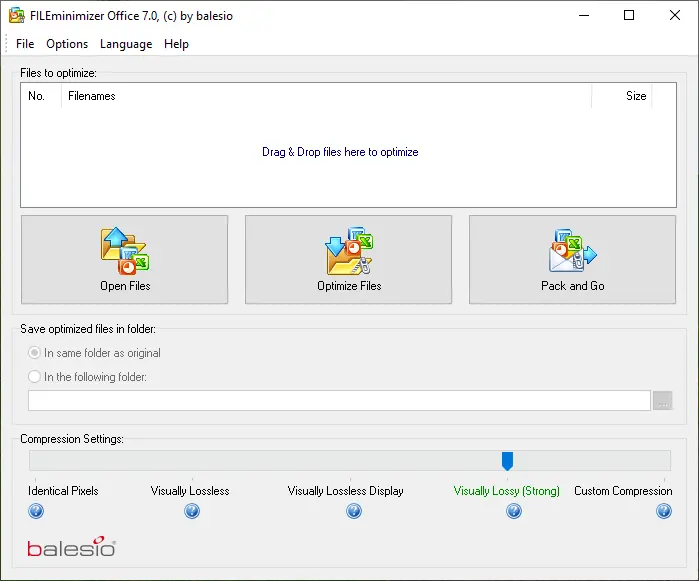 FILEminimizer Office is a practical file compressor designed for Microsoft Office document file size reduction. It is developed by a Swiss tech company–balesio AG.
When it comes to PPT file compression, FILEminimizer allows you to shrink it within four steps. Additionally, it provides five compression modes for users: Identical Pixels, Visually Lossless, Visually Lossless Display, Visually Lossy and Custom Compression. Also, it promises that a maximum 98% file size reduction can be made. Besides, its feature–Pack and go will enable you to send your compressed PPT files as optimized email attachments with one click, which is definitely convenient for a staff or a student.
More importantly, it guarantees a 30-day free trial duration for the customers. But a license payment is required to continue using all its functions. Apart from that, it makes it possible to compress various-formatted MS office documents in batches.
This is a guide for PPT file compression by FILEminimizer Office.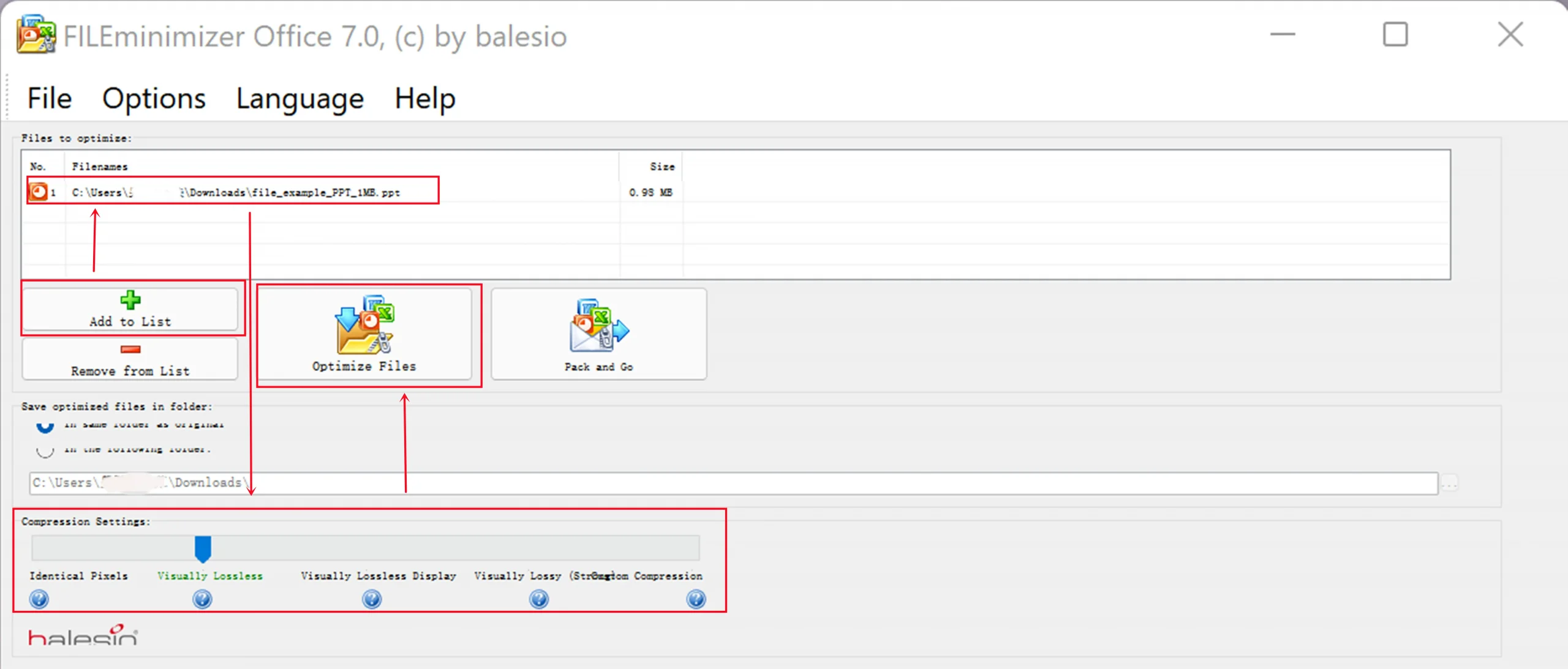 1. Open the FILEminimizer and then click Open Files.
2. Then select the compression mode and alter the save path.
3. Then hit Optimize Files to get your compressed file(s).
The outcome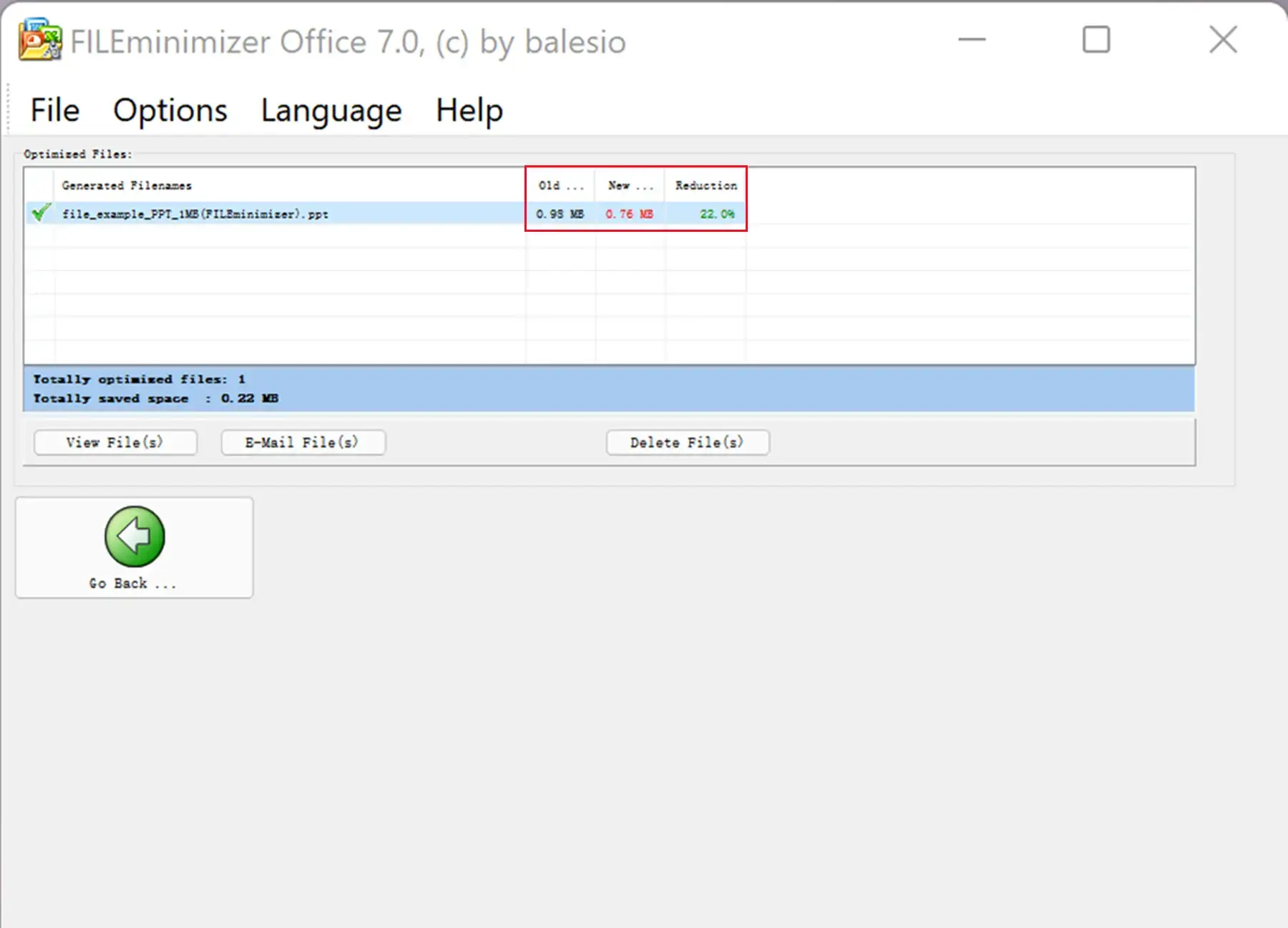 Please see the following messages for further reference:
😊Reasons for Having It 
😒Reasons for Declining It

Lightweight and easy-to-use interface
Batch compression for multi-formatted MS office documents
Five compression settings available
Unique feature: Pack and go
High-quality output
30-day free trial

MS Office document only
License payment required at the end of its free trial duration
3. NXPowerLite Desktop 9
Price: 14-day free trial    $48/year
Supported OS: Windows and macOS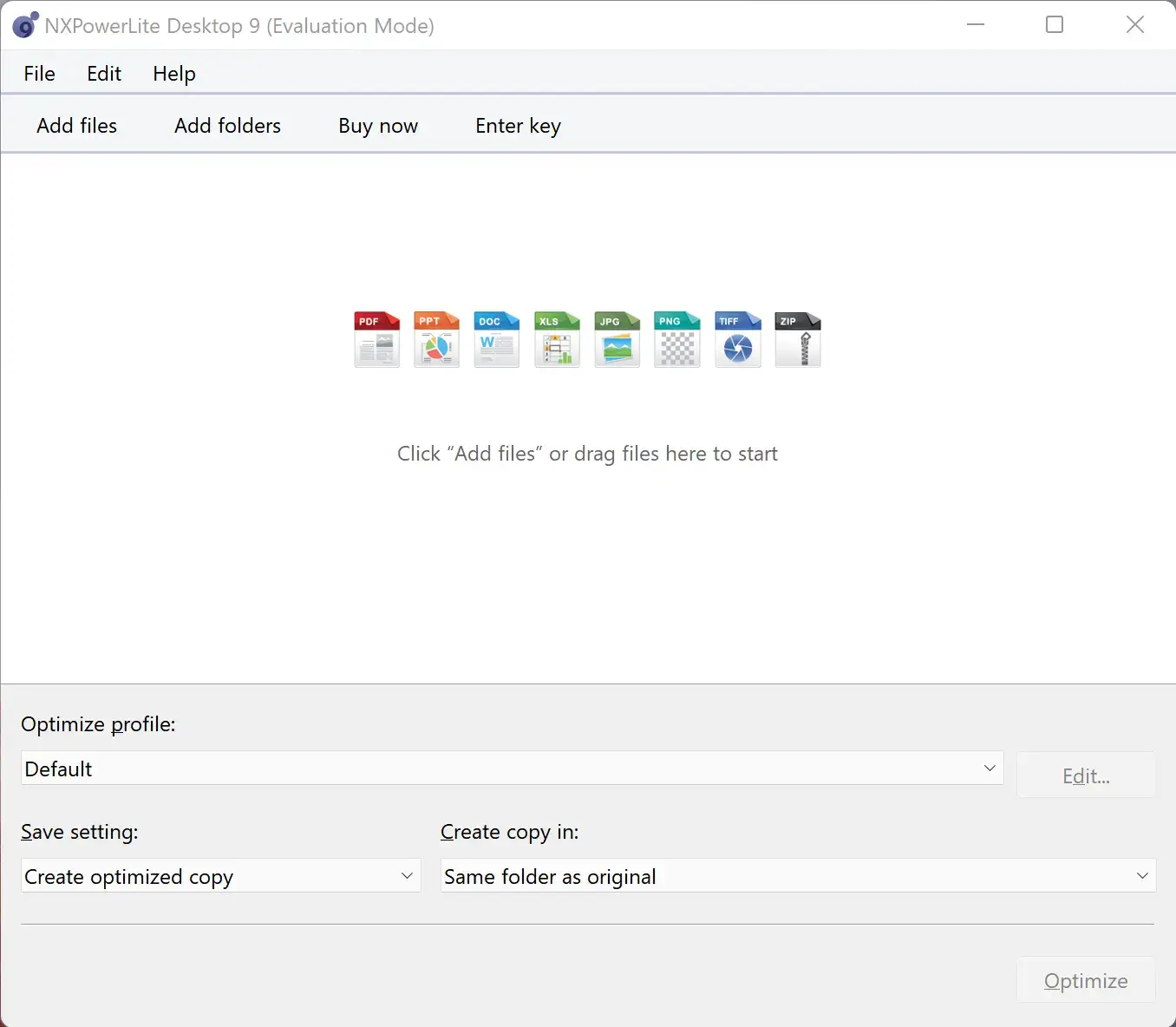 Neuxpower is a globally-reputed and London-based software developer. Compared with this desktop software, Neuxpower arises to fame by its useful online version called WeCompress. As a simply-designed tool, it boasts a simple interface and convenient compressing process for these files: mainstream Microsoft office documents, PDF files and images.
As for PPT file size optimization, you can select the default or the custom modes in order to satisfy your different requirements. For custom settings, the qualities of the image inside your PPT files are adjustable to shrink it to a size you think is appropriate. Moreover, it allows users to instantly compress their PPT slideshows in batches.
Also, a 14-day free trial period applies to NXPowerLite Desktop 9. Meanwhile, only 20 files in total can be processed in its free trial version. Therefore, you will have to make a license payment to continue enjoying the current features and unlock the other limitations.
Here is a tutorial on reducing PPT file size via NXPowerLite Desktop 9.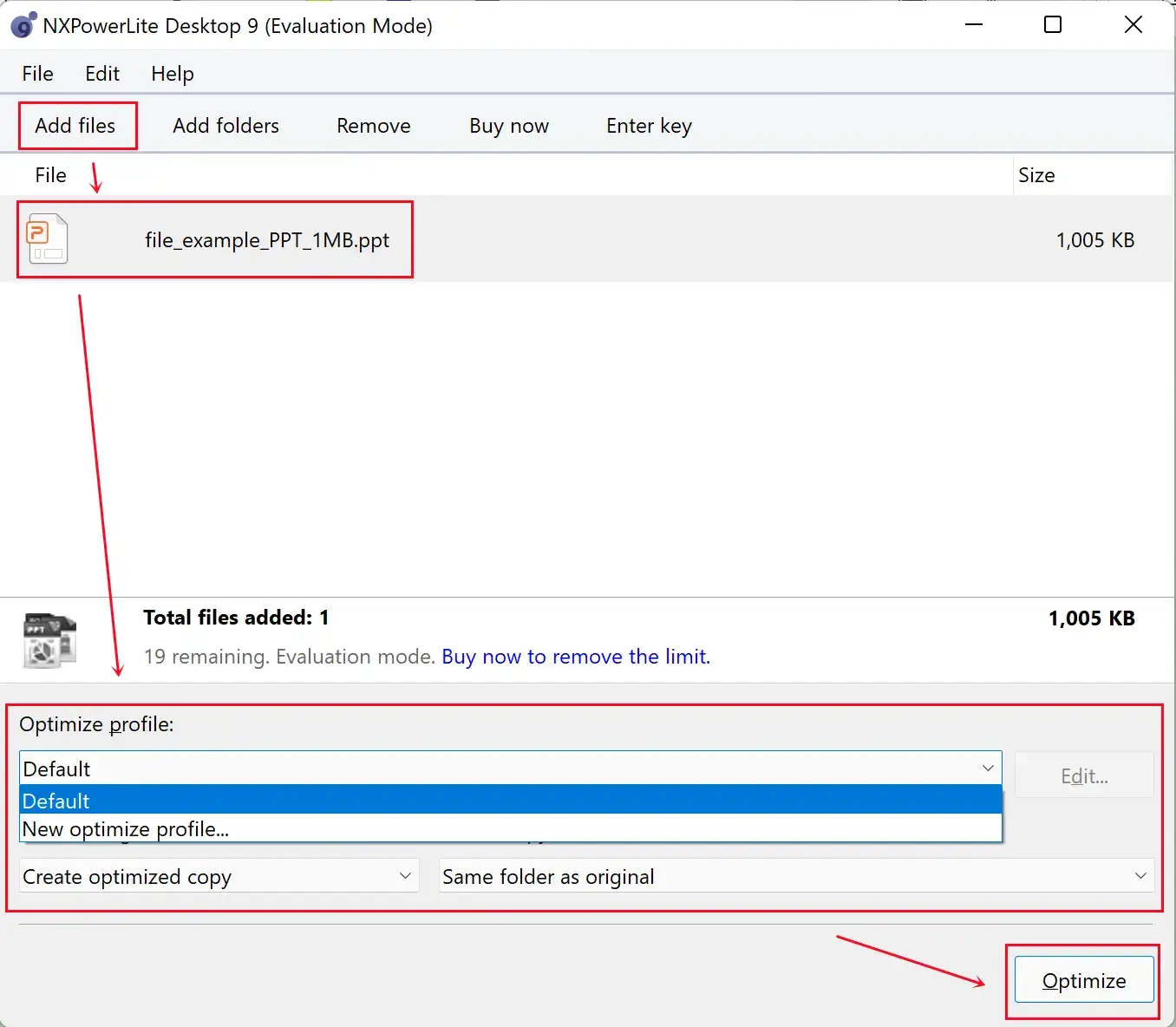 1. Open the tool and then click Add files.
2. Then find Add files to upload your PPT document(s).
3. Select the compression mode, change the save path and then press the Optimize tab.
The result.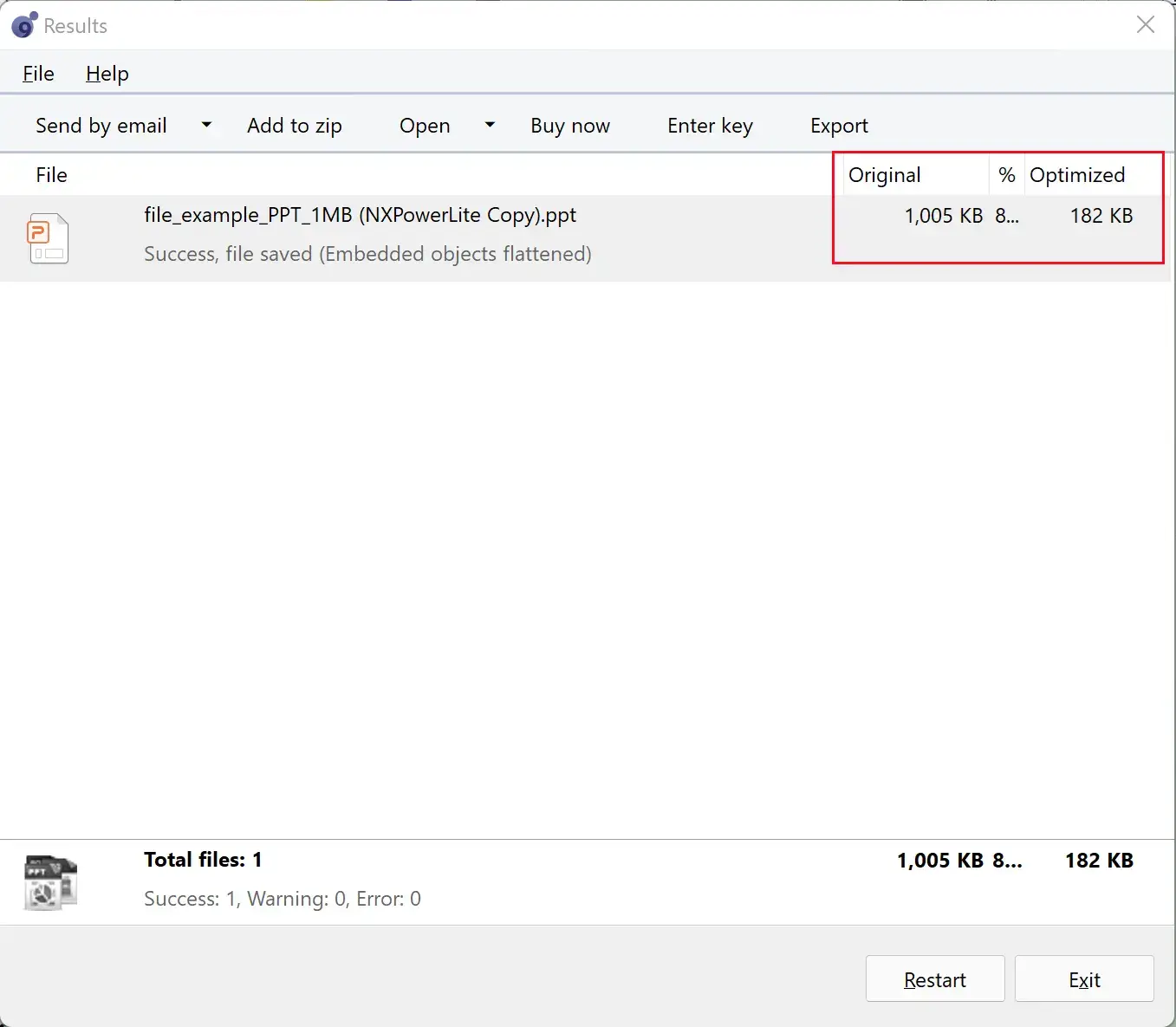 This is our verdict on this software:
😊Reasons for Having It 
😒Reasons for Declining It

Easy-to-use Interface
Batch compression for multi-formatted files
Additional settings for the custom mode
Three saving settings
Good-quality outcomes
14-day free trial

Windows OS supported only
Limited file numbers in its free trial version: 20
License payment needed when the free trial period is ove
4. PPTshare File Compressor
Price: 14-day free trial
Supported OS: Windows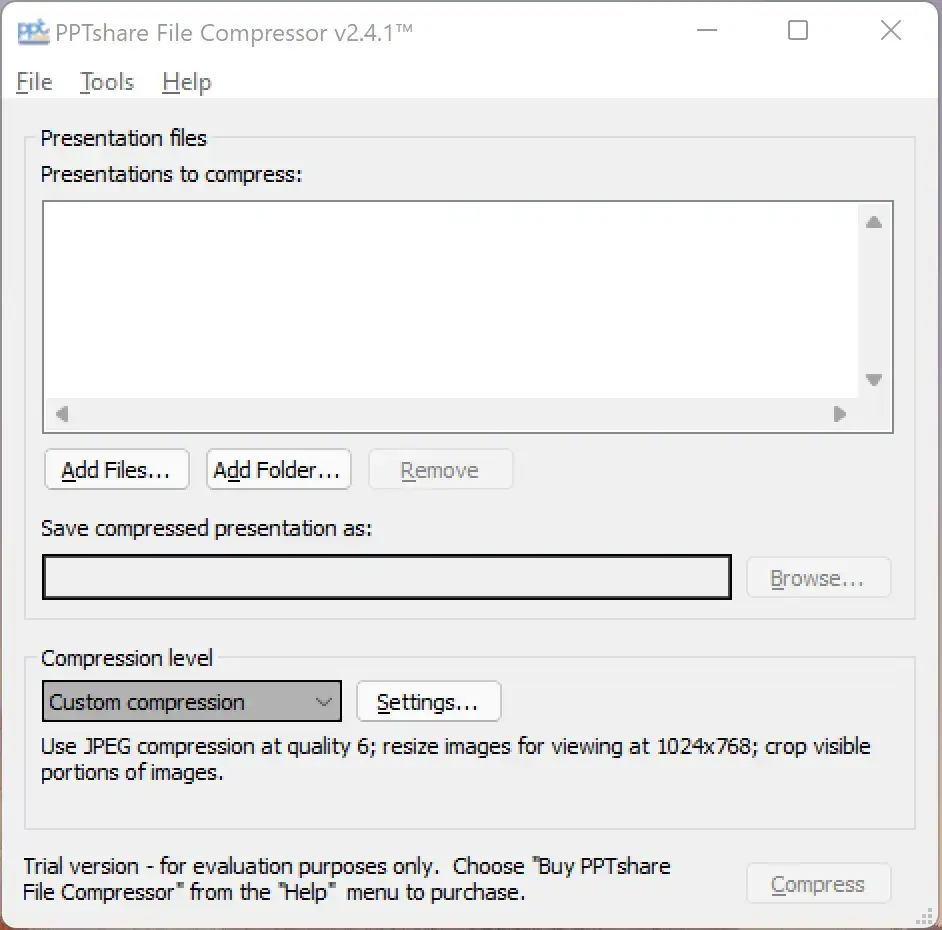 PPTshare File Compressor is a small piece of PowerPoint compression software. As it is designed to shrink PPT file size only, there are no other complicated functions built in this program. In addition, there are four default compression modes: Normal, Extra, High-quality and Mobile Device Compression, plus a custom compression to adjust the final effect of your output as you like.
However, there are some limitations to its free trial version, such as a 14-day duration. After that, you need to pay a fee to get an activation code to continue using it.
Please read the instructions on shrinking PPT file size in PPTshare File Compressor.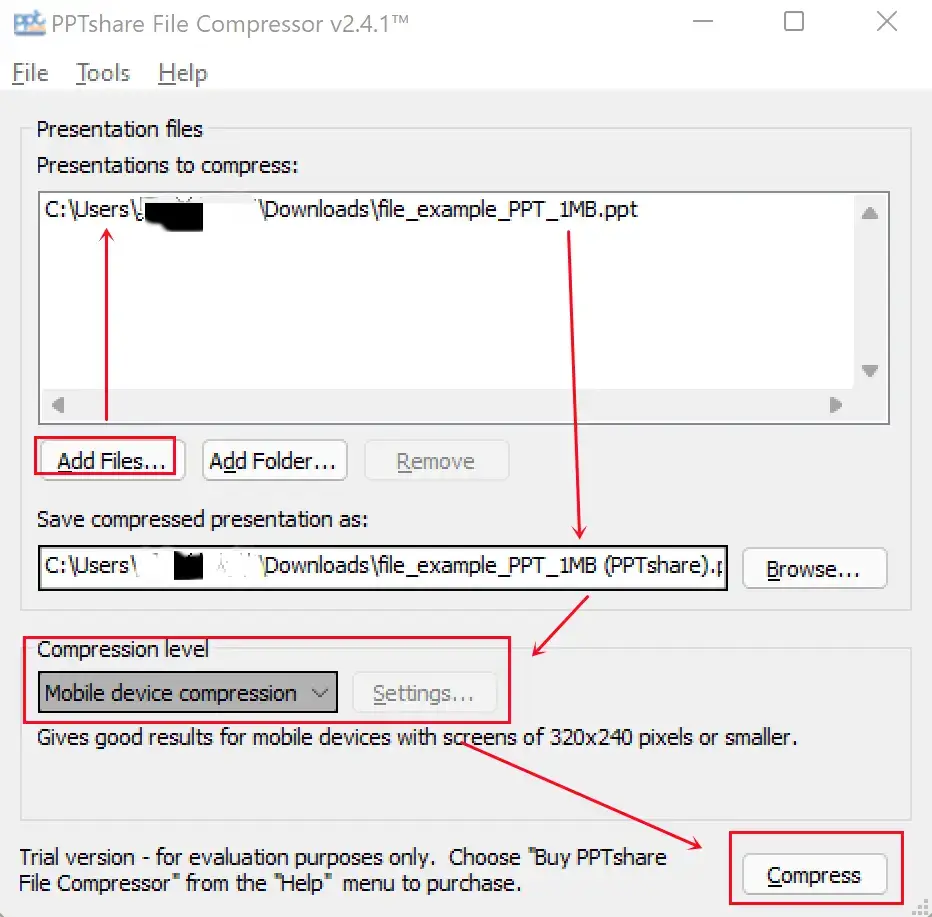 1. Open PPTshare and then click Add files to upload your PPT document(s).
2. Then choose compression mode and change the save path.
3. Then hit Compress to save your reduced file(s).
The effect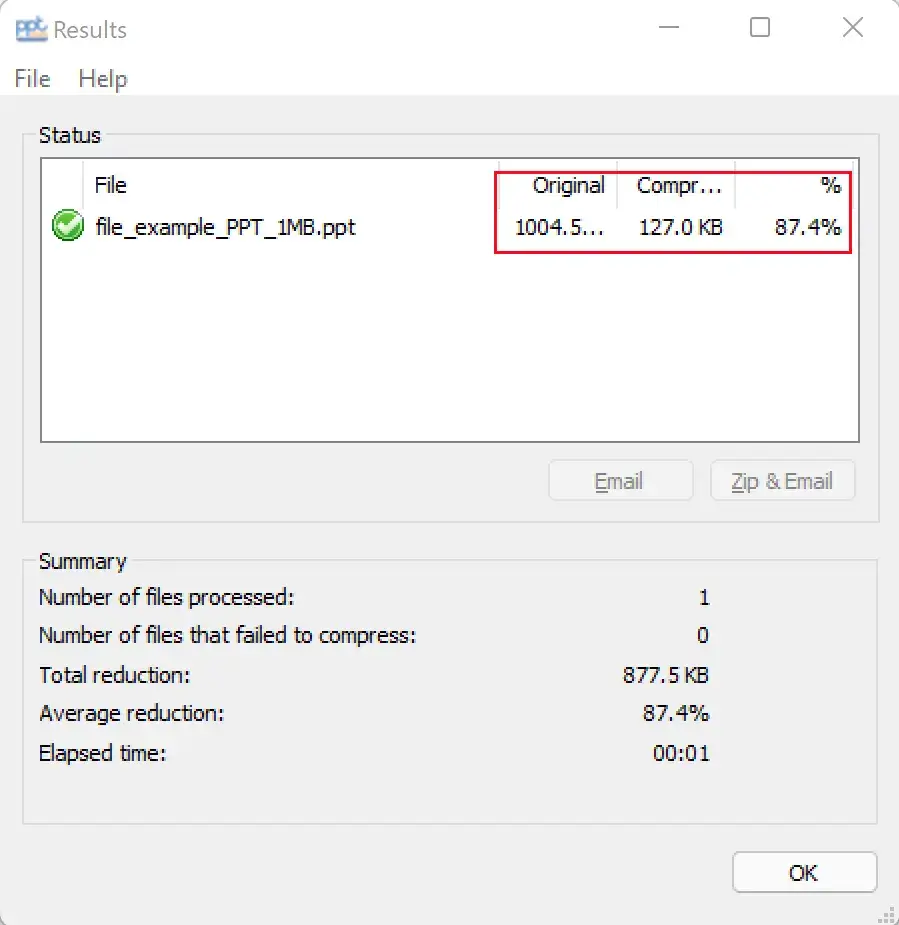 Here is our study of this approach.
😊Reasons for Having It 
😒Reasons for Declining It

Simple interface
Four default compression modes, including one for mobile devices
Custom compression settings possible
Batch processing available
Free trial version

PowerPoint file format only
License fee after the maturity of the free trial duration
---
Final Thoughts on Offline PPT File Compressors
Based on our research, these are the offline PPT file compressors that we think are suitable to solve your problems concerning PPT compression. Whichever solution you intend to try, we sincerely hope it can be ideal for you.
However, it is strongly advisable to give WorkinTool File Compressor a try. It is powerful enough to resolve all your compression issues, totally FREE to use without any ad and intrusive watermark and able to present you with high-quality output.
Now, are you ready to try these solutions and compress your PowerPoint presentations?