How to Convert JPG to PDF on Windows 10/11 | Free Tips
Converting JPG to PDF on Windows 10 and 11 seems to have become a normal task in daily life. And if you're looking for a truly free, user-friendly JPG to PDF converter for Windows, why not check out WorkinTool PDF Converter Offline, a powerful and easy-to-use program. Don't hesitate to try this tool converter to make the conversion of JPG to PDF quick and easy.
👑 100% FREE to use
😘 Batch converts JPG files to PDFs simultaneously
✅ Easy for beginners to operate
✨ Free of registrations, ads, watermarks
How to Convert JPG to PDF on Windows 10/11 [FREE Solution]
With the growing need to transform file formats in our daily studies and work, handling files in different forms is increasingly urgent. As there are too many choices, I will take how to convert JPG to PDF on Windows 10/11 as an example in this article to show you a piece of feasible advice. Although the JPG format can be opened directly, it could be more convenient to read, edit, and preserve. Therefore, it is necessary to convert it to PDF to improve efficiency.
A JPG to PDF converter is indispensable in this process, but finding a proper one suitable for your needs is challenging. After all, most tools make it difficult to finish this transformation. Don't worry; this article will show you the best tool for Windows to convert JPG to PDF.
—————————————————————————————————————————————
📌 Part 1. Convert JPG to PDF with WorkinTool PDF Converter
If there's any trouble with PDF conversion, you will always find a solution on WorkinTool PDF Converter. As an office document management software with complete functions and simple operations, WorkinTool is well-designed and warm-welcomed. It is a suite of PDF tools that is more than just a converter; it covers almost everything about PDF.
As the name suggests, WorkinTool is a standard tool to facilitate and help with daily work. Every function in WorkinTool PDF Converter is designed with users' practical work needs, improving efficiency. It is also compatible with all Windows systems, including Windows 11,10,8,7. If you haven't tried this software yet, download the WorkinTool PDF Converter desktop, as it is truly FREE, user-friendly, and works.
👑 Reasons to Pick WorkinTool JPG to PDF Converter
100%

FREE

to use

Batch

converts JPG files to PDFs simultaneously
Easy for beginners to operate
Free of registrations, ads, watermarks

Customized Features as a JPG to PDF Converter
WorkinTool PDF Converter also supports users with customized choices when you convert JPG to PDF on Windows 10/11, so you can select the appropriate button according to your document requires before the conversion starts.
In the page size, you can select the general A3 and A4; also, you can click Fit to adjust the file to an appropriate size. Note, however, that if the fit is selected, orientation and margins can no longer be adjusted manually.
In the orientation, there are also two options, "Portrait and landscape." If you need to print the file, you should consider this option. The landscape option publishes the page with the longer side at the top, while the portrait option means that the printed page is on the shorter side of the top.
In the margin, there are three ranges of sizes to select from: wide margins, narrow margins, and no margins.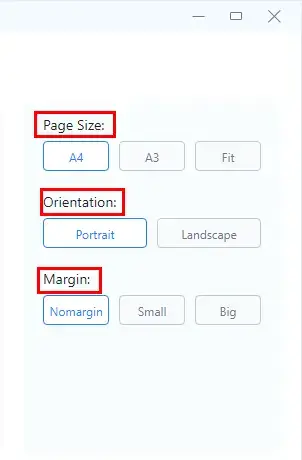 How to Convert JPG to PDF on Windows 10/11 with WorkinTool
First, you must install the WorkinTool PDF Converter on your device and follow the steps below.
Step 1. Click the button "Convert to/from PDF," then select the "Image to PDF" option that appears.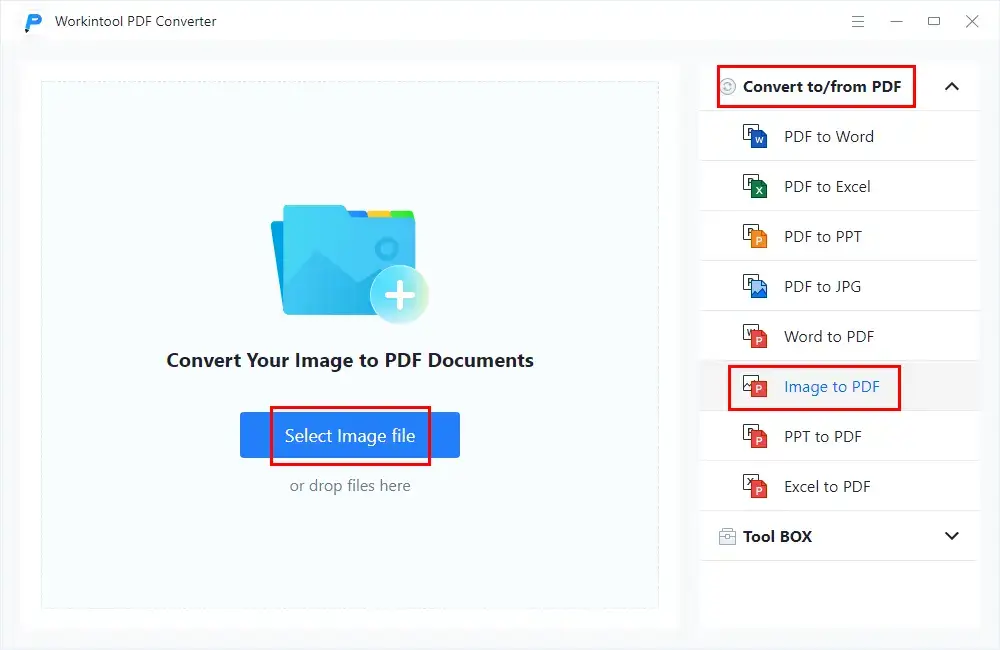 Step 2. Click the "Select Image File" or drop your target files into the space; batch conversion is available if needed.
Click the plus sign or "Add File" to upload more files, which can realize a one-time mass conversion. It saves more time and energy, and the quality is consistent with single-sheet conversion.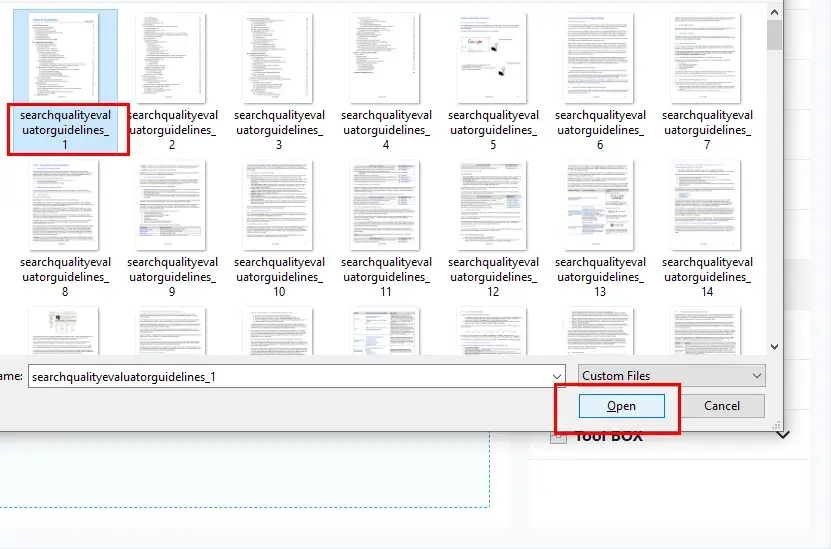 Step 3. Press "convert," and new files will be downloaded automatically.
You can successfully batch-convert pages of JPG files to PDF in a few seconds. More conveniently, if you're going to convert numerous JPG pictures which belong to one file at one time, WorkinTool PDF Converter will generate them into one PDF file automatically, which brings great convenience for reading, sorting, and saving.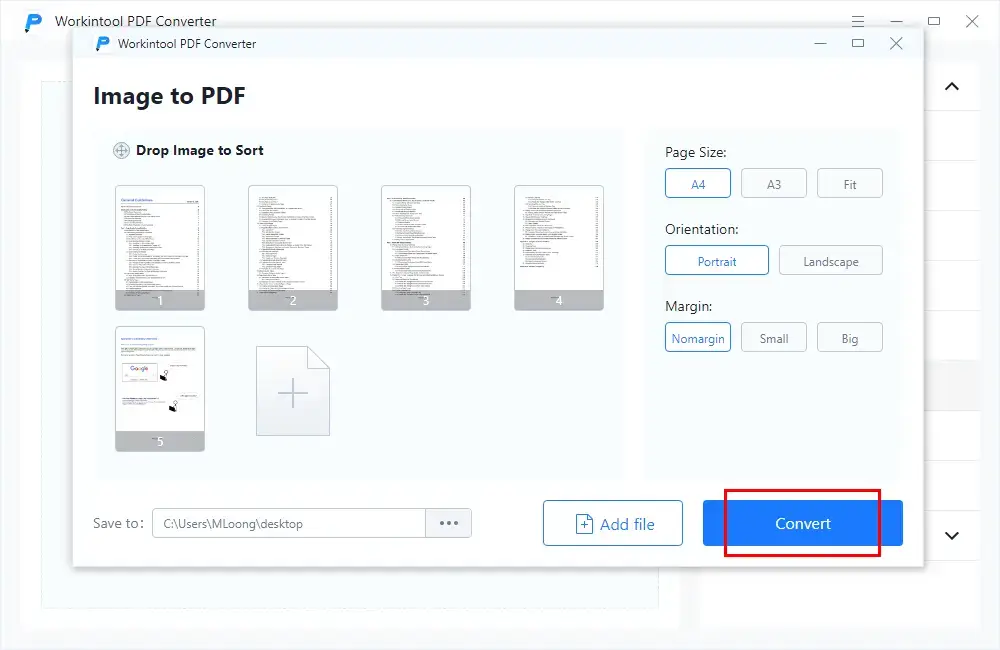 The above are all the steps to use WorkinTool PDF Converter to save JPG as PDF on Windows 10/11. Three steps can finish this conversion. Action is better than watching. Try it by yourself.
😘 Bonus: How to Convert JPG to PDF for Free Online
Use WorkinTool PDF Converter; you can easily convert JPG to PDF on Windows 10/11. In addition to the desktop software, WorkinTool also explored an online JPG to PDF Converter. This online tool is available on any system and suitable for those reluctant to install third-party software. The online converter is easy to access. Just upload your JPG image to transform. You can batch convert up to four images at a time.
More Helpful Features in WorkinTool PDF Converter
📌 Part 2. Convert JPG to PDF on Windows 10/11 in Adobe
Adobe is the most authoritative PDF managing software launched when the PDF file format is created. Admittedly, it can solve all PDF editing and conversion issues. It is an integrated PDF document management software that provides a simple tool and the most direct operation steps. Besides, plentiful function selections and easy-to-use operations are this tool's advantages, making users more convenient. However, Adobe Acrobat is only partially free to use. Several advanced features are charged, like editing text in a PDF, filling PDF, etc. In addition, to use Adobe Acrobat successfully, you must log into your account and fill out your personal information. A new user of Adobe will get a seven-day free trial of its advanced features. Remember to cancel the subscription after seven days if you don't want to pay for it.
How to Convert JPG to PDF on Windows 10/11 in Adobe
Step 1. Download and install Adobe on Windows, then open it. Click Create PDF on the dashboard.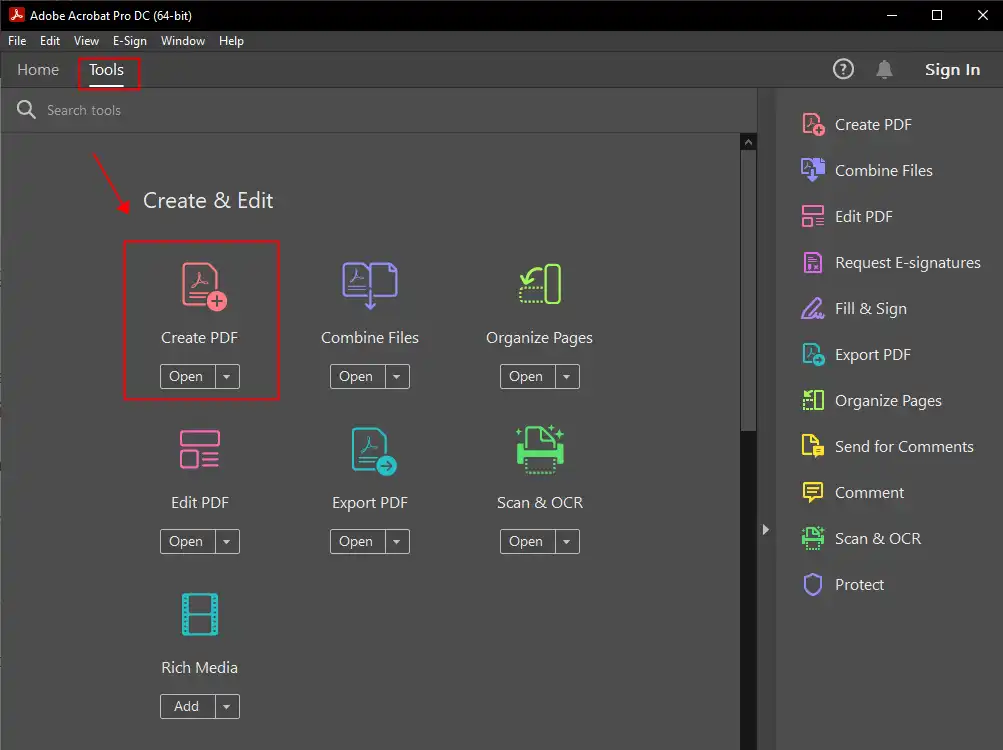 Step 2. Upload your JPG file, and then click File> Save As. Then select PDF as the output format.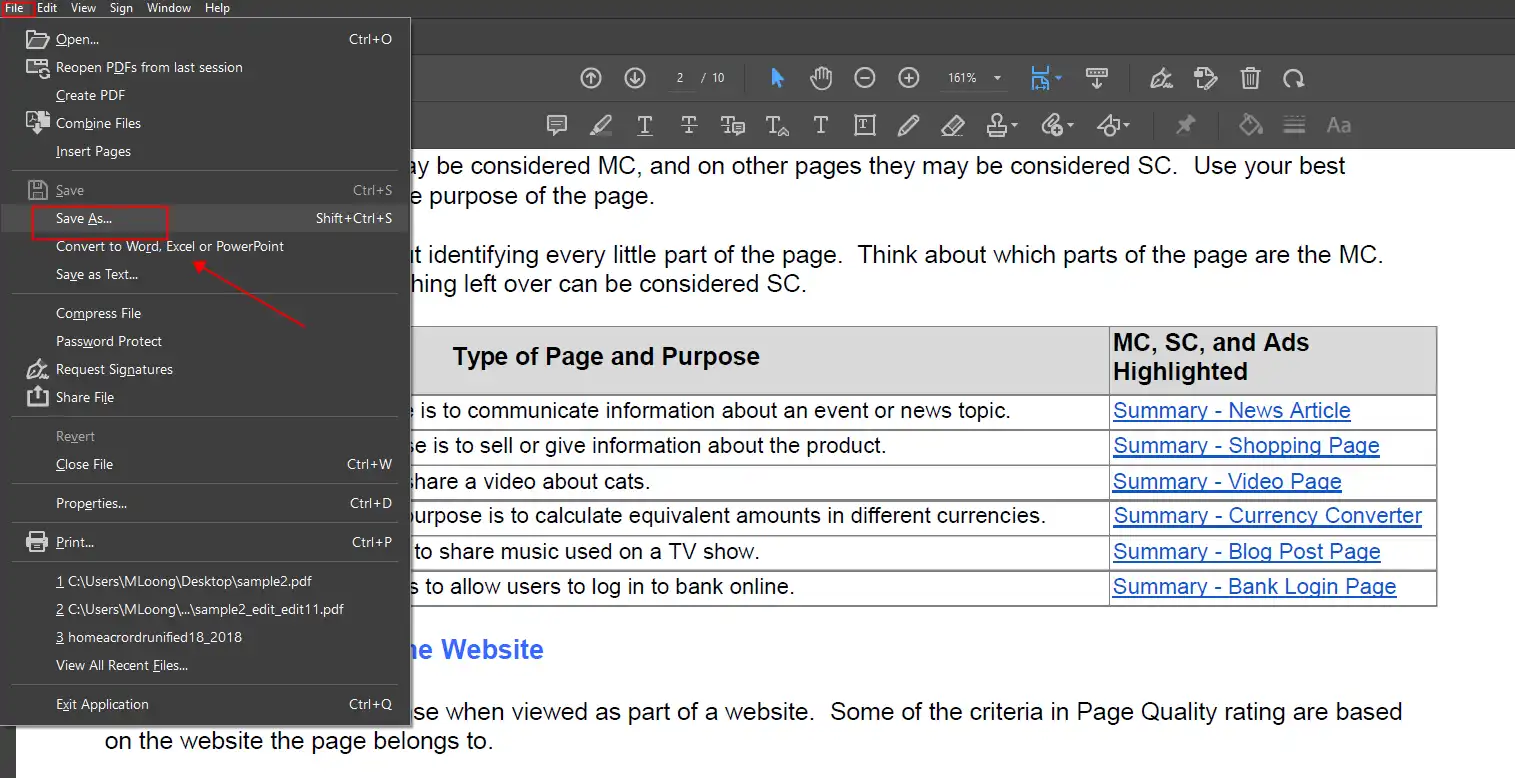 The Bottom Line
That's all about how to convert JPG to PDF on Windows 10/11. WorkinTool PDF Converter is the best tool for processing PDF files, which comprehensively deals with your PDF problems. Except for converting JPG to PDF, you may also use it to merge those PDFs. Moreover, your privacy and security are under high protection because it is equipped with an entire SSL-encrypted process. Hopefully, you can use this tool once you finish reading the article. It won't let you down.