How to Organize PDF Pages with WorkinTool PDF Converter
WorkinTool PDF Converter provides functions like merging, splitting, removing, and rotating pages. Merging PDF puts all the needed files into one. Splitting PDF helps users to keep the wanted information with ease. Removing and rotating pages aims to put pages in the right position. All of these functions can really help users solve the problem of organizing PDF pages, to customize their files as they like.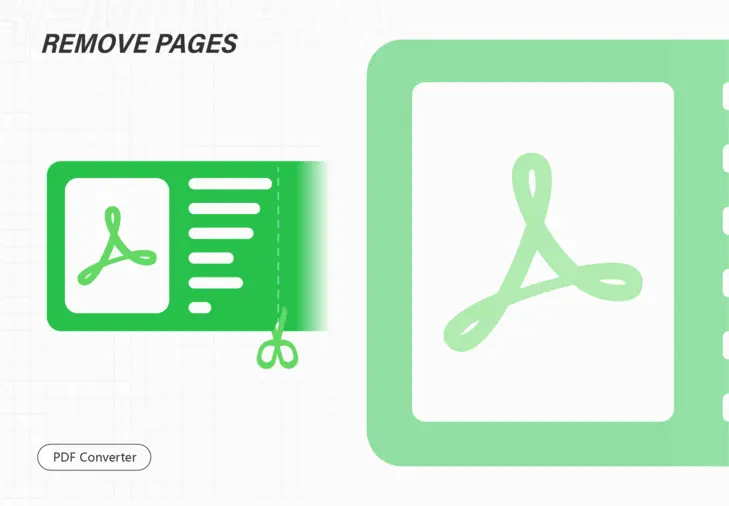 What if there are a number of PDF files waiting for you to organize and you don't know what to do? Are you planning to scan them all in a specific order or just find another way to organize PDF pages as you need? Believe it or not, there is a newly published tool that owns multiple functions as a whole. An easy-to-use organize PDF tool allows you to rearrange your PDF pages in seconds. All you need to do is just put your targeted PDF files into the tool and adjust them in the way you want. And you get an organized file in seconds. isn't that sweet?
This all-in-one free PDF tool can help you save your precious time and energy. No more making orders to your files before scanning, which is too time-consuming and inefficient. Plus there is a great chance to make mistakes when manually placing the order. With WorkinTool PDF Converter, you can add pages to your PDF files and split different files into several ones.
Besides that, if you want to properly organize PDF files, you have to use other functions. This useful tool can delete pages that you no longer want. And it allows you to rotate PDF pages at your convenience. Disassemble and reassemble your PDF files by using this PDF organizer has never been any handier. It is available right now with zero in charge.
 💖 Merge PDF
 🧡 Slit PDF
 💛 Remove Pages
 💚 Rotate Pages
---
When Do We Need to Organize PDF Pages?
There are chances that you need to pick out specific pages from a pile of scanned PDF documents and combine those pages into one PDF before sending it to your boss or manager. With this tool, you can effortlessly extract pages from different PDFs by using the "Split PDF" function.  Dividing PDF content into various sections is also possible if you combine merge and split features of this tool.
Maybe a remarkable book or article has fascinated you and you want to make a PDF copy of it. Now, it is the moment for this PDF organizer to spark. You can use it to process every page. For example, you can only keep the pages you want by removing other unwanted ones in just a second. What about papers like reports or legal contracts? Merge pages you need and leave extra pages out, rotate them in the right direction, and split them into different ones. Just simple as that.
---
How to Organize PDF Pages with WorkinTool
With WorkinTool PDF Converter, organizing loads of PDF files into a professional document set becomes magically easy. Putting pages in the right order and right place just the way you want it is the privilege this tool provides you.  Now, please let me show you how to make a decent PDF document by using the following functions:
Merge PDF
If you have a great number of PDF files waiting to be scanned, you need to merge these documents as required.
Follow these steps to merge your PDF files:
Go to the "Merge PDF" option in the ToolBox section.
Then, put PDF files you want to merge into the window. (Select or drag-and-drop both work)
Click "Convert" to complete the combining process.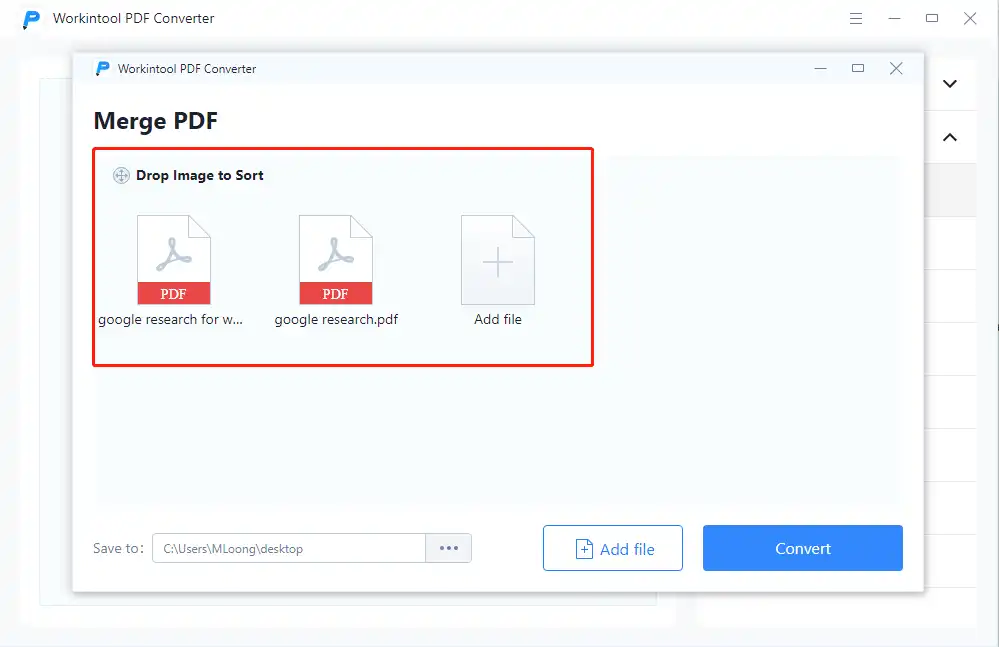 🚨 Note: By doing this, you can only paste several files into one. Changing the order of its pages is not allowed. If you want to reorder it. you have to combine other functions.
Split PDF
When PDF pages are too many it is not easy to tear a whole PDF file into multiple pieces to extract the PDF pages you need. In moments like this, you have to try the Split PDF function. Or you can copy-and-paste the content you need page by page. Although it is a little bit too much of wasting time.
First, put your file into the "Split PDF" section (Select or drag it into the window)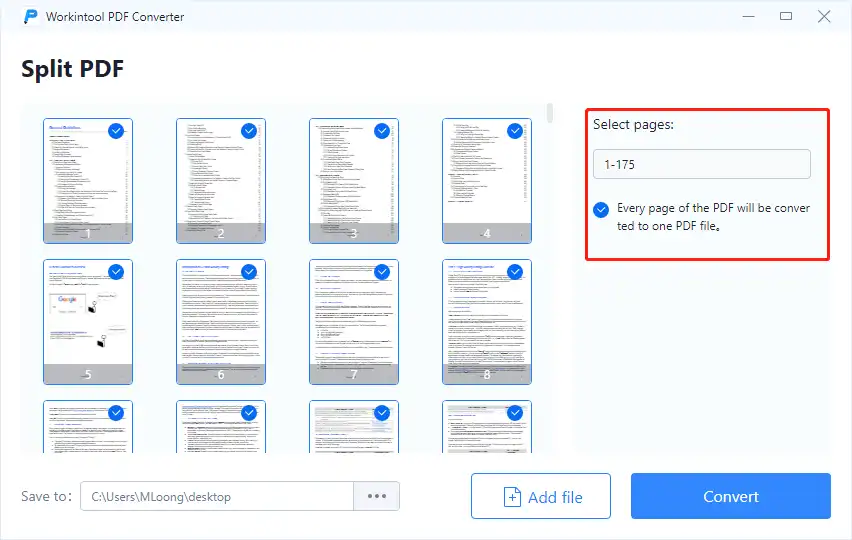 Now, select pages you want to leave, and the unchecked pages will be deleted. (left pages will be put into two different PDF files)
Last, hit "Convert" to start the process.
You may use this splitting function to separate and extract pages for later use.  Users mainly use it to place the right order by combining merging and splitting tools.
Remove PDF Page

s
Unlike Splitting PDFs and tearing them apart, Removing PDF pages is only to delete unwanted pages and remain the rest. It is especially useful when you need to pick specific pages out of your files and keep others in their original place. Then this function in WorkinTool PDF Converter can be of great help.
Open this tool and find "Remove Pages".
Select your file and pick out pages you don't want. ("Shift" key can help you to set a wide range if you need to)
After the last movement, you only need to click the blue button-down there to process this document.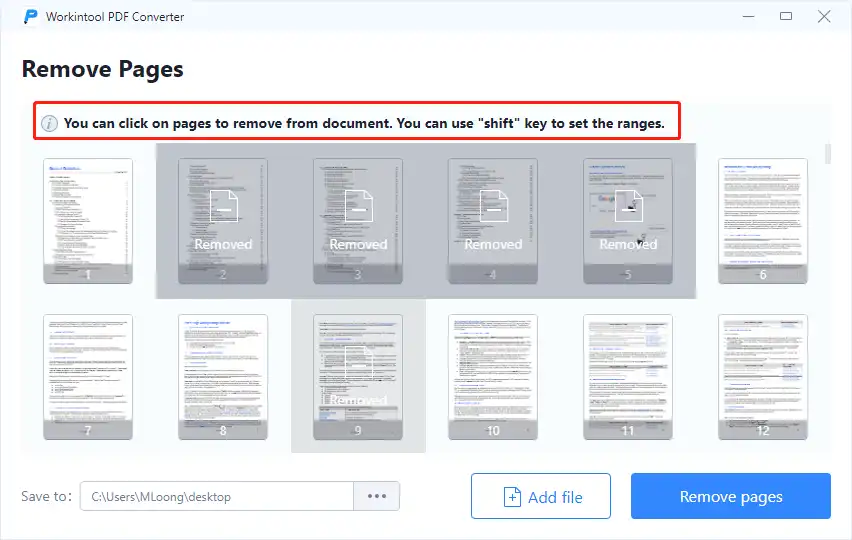 Rotate PDF Pages
When you scan PDF documents into computers, there are chances that the papers like legal documents or credit card records are turned upside down due to the wrong setting.
Now it is too much of a hassle to scan again. If you have encountered this problem, you can easily deal with it by using the Rotate Pages function of the WorkinTool tool. All PDF format files are supported.
Open WorkinTool PDF Converter and choose "Rotate Pages".
Then drag the PDF you want to adjust into this window, select which direction you want to rotate.
(In the window below, you can choose to rotate all the pages at the same time, or move one page at a time)
Last, "Apply Changes" helps you to get the best PDF files you want.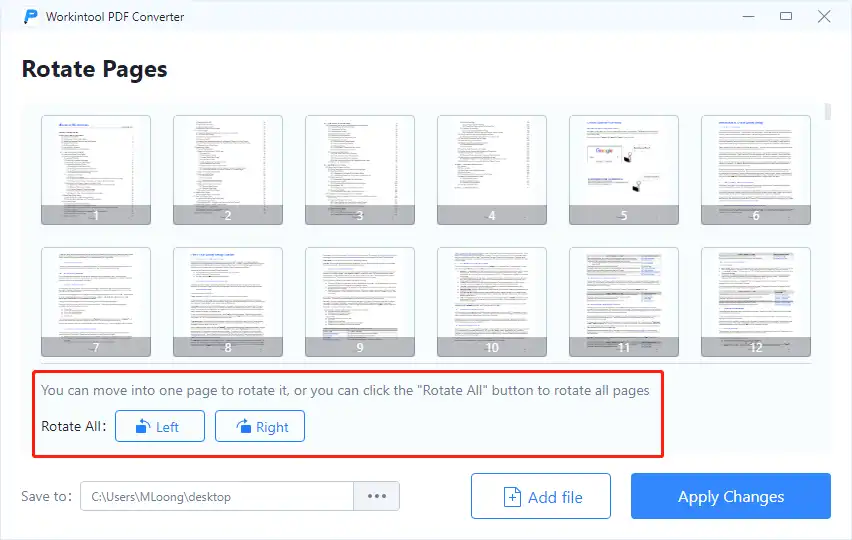 ---
More We Wanna Say
Users matter to us. And that is why we published this PDF converter aiming to deal with the most common issues in peoples' lives. WorkinTool PDF Converter not only provides users a way to solve the difficulty, but also a life concept to minimalism. Why bother to find troublesome methods, an all-in-one PDF tool is fair enough. Besides powerful management functions it owns, users may also use the fantastic converting features. With all the images and layouts it saves, it enables seamless conversion of PDF files to other formats. All of these are in this tiny software. Truly worth a shot!