How to Duplicate a Page in PDF Free Offline and Online in 2023
Want to duplicate a page in PDF for free? Just have a free trial of WorkinTool PDF Converter. You can use it to copy PDF pages online and offline. Multiple helpful PDF editing tools are available on it, like converting PDF to editable Word document, PDF to Excel, PPT, JPG, HTML, etc., compressing PDF file size, splitting and merging PDFs, unlocking and protecting a PDF, etc. It can process nearly 90% of PDF problems. Just download it right now.
How to Duplicate a Page in PDF Offline and Online for Free in 2023
How to copy one page of a PDF file? You will inevitably encounter some PDF documents in daily work and study. In our perception, PDF files are files that cannot be edited directly, not to mention the operation of copying pages from PDF. PDF documents have a very stable structure, and there will be no disordered content layout, but the unmodifiable properties of PDF will also make us distressed when we want to modify a PDF document. That is because PDF is a portable file format, which encapsulates everything including images, text colors, etc., so they display the same on any device. If you want to edit PDF files, you need an additional professional PDF editor. In this post, I'll elaborate on how to duplicate a page in PDF for free on Windows and Mac offline and online with effective PDF editors.
✅ How to Duplicate a Page in PDF Free on Windows 
Double a Page in PDF with WorkinTool PDF Converter
WorkinTool PDF Converter is an all-around PDF processor that combines multiple helpful PDF editing tools into one. It is free to duplicate PDF pages without any request for free users. With its clear and comfortable interface, even new users can deal with PDF problems without referring to tutorials. As a PDF editor, it can not only annotate the text content in the PDF but also adjust the page layout, rearrange the order of page numbers, increase or decrease pages, copy pages, etc. In addition to editing PDF, it is also an all-in-one PDF converter that can convert PDF from/to Word, Excel, PPT, JPG, HTML, etc. It can also be used to protect and unlock PDFs, merge and split PDF files, add personal watermarks to PDFs, etc.
How to Use WorkinTool PDF Converter to Copy PDF
Here is a step-by-step tutorial on how to duplicate a page in PDF with WorkinTool PDF Converter.
Step1. Download the software from WorkinTool official website, then open it.
Step2. Select PDF Edit, then upload a PDF file by choosing from the folder or dragging it directly.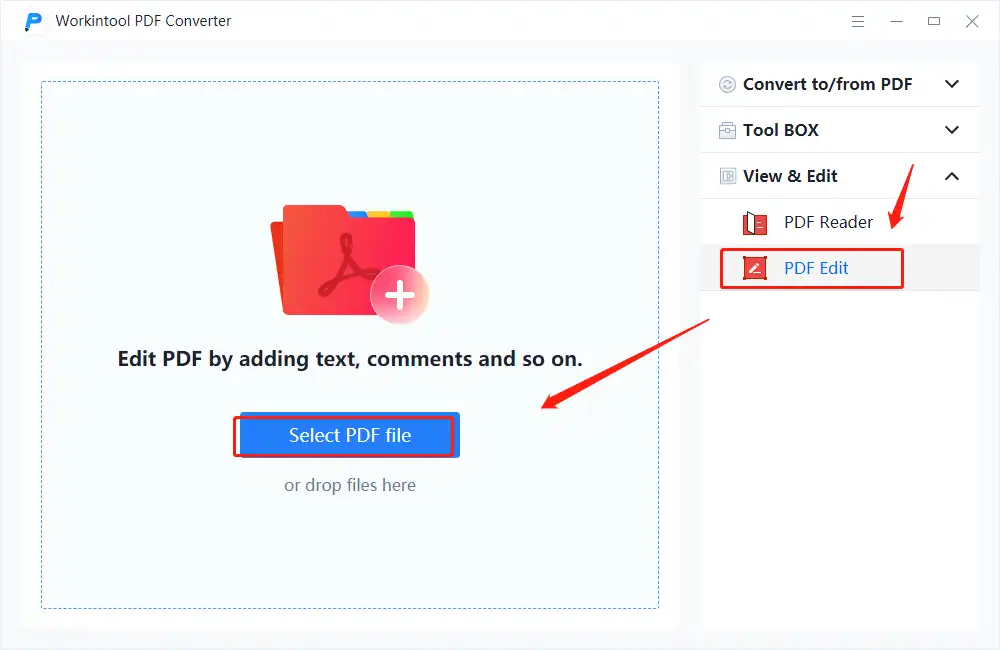 Step3. Click Document Editor, then pick a page in the PDF file and paste Duplicate.

Step4. Press Save As to download the edited file to your local folder.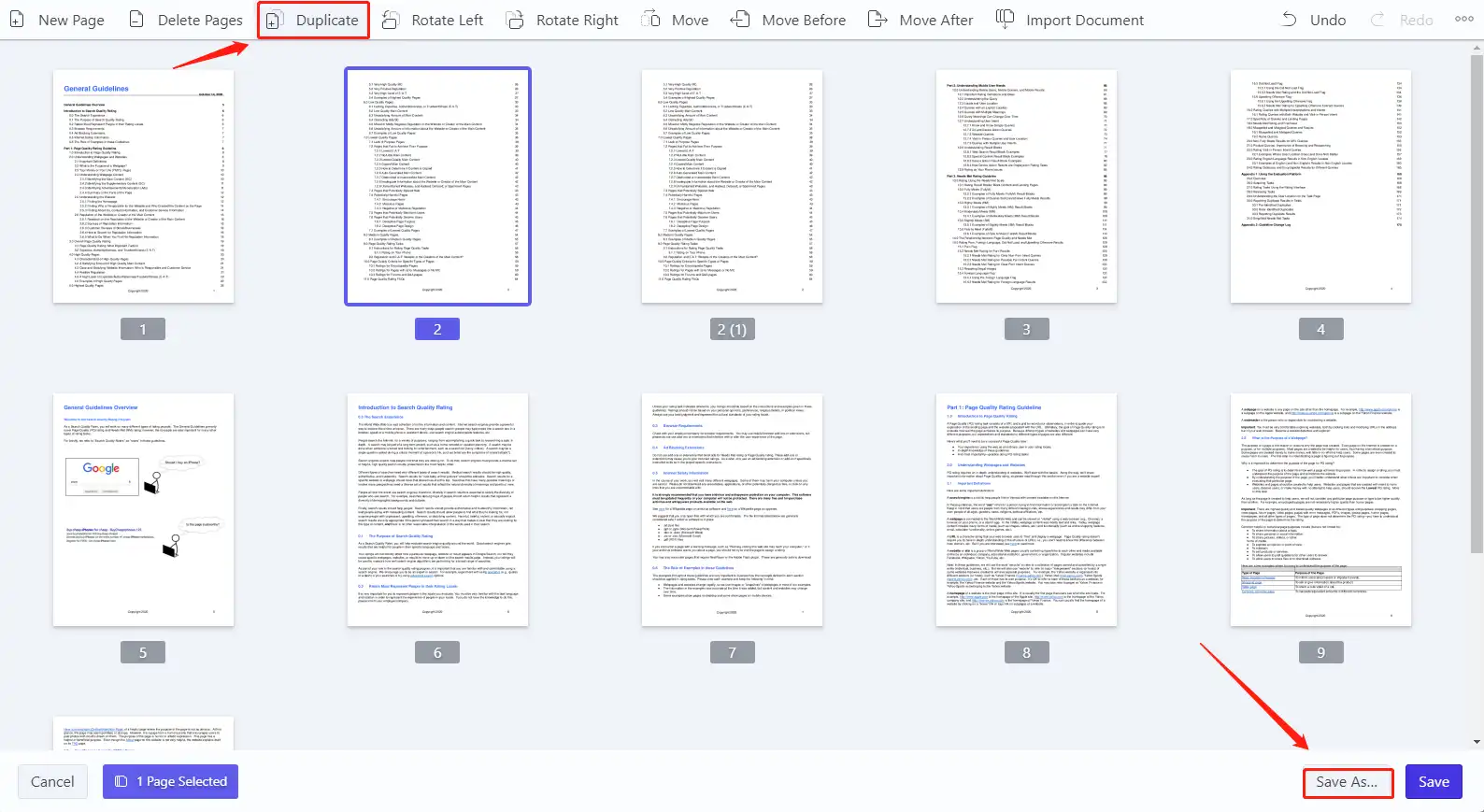 Reasons to Have It
Among a variety of PDF editors in the market, WorkinTool PDF Converter has outstanding merits. Here are the reasons why you should pick WorkinTool PDF Converter:
Easy to use: It has a user-friendly operating interface. Beginners can operate it with ease.
Free to Copy PDF Pages: Copying PDF pages in WorkinTool are completely free for all users. To get the free trial, you don't have to finish extra tasks as well.
Page management: Rich PDF page editing tools, including inserting new pages, extracting pages, replacing pages, deleting pages, cropping pages, inserting watermarks, PDF encryption, etc.
Full features: Can read, convert, compress, edit, protect, unlock, annotate PDFs, and more. It is a fully-featured PDF toolbox.
Safe and virus-free: High-security servers free you from viruses and pop-up ads.
More Tutorials on WorkinTool PDF Editor
✅ How to Copy a Page in PDF Document Free on Mac
Duplicate PDF Pages with Apple Pages
If you want to edit PDF files on Mac, Apple Pages is a good choice. It is a powerful document processor developed by Apple. With it, you can easily cope with PDF and Word editing issues completely for free. It runs on macOS, iPad, and iOS operating systems. It is also available on iCloud on the web. Furthermore, it is equipped with multiple PDF page management options, like adding and removing pages, rearranging the page layout, making a copy of a PDF, etc.
Now let's check how to duplicate a page in PDF with Apple Pages.
Step1. Launch the software and upload your PDF file.
Step2. Right-click on the page that you want to copy, then press Duplicate.
Step3. Click the file button and then save it to the local folder.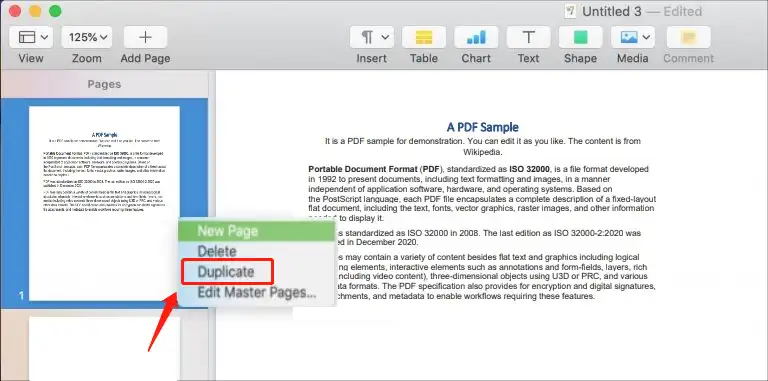 ✅ How to Duplicate a Page in PDF Online
In addition to the desktop software, WorkinTool has also developed a free online PDF processing tool – WorkinTool PDF Converter Online. If you are unwilling to download an extra desktop program, then you can have a trial of it. You can convert PDFs with it easily and fast. The online tool of WorkinTool is suitable for any device and any system. No matter whether you want to copy PDF files on Windows, Mac, iPhone, or Android, you can accomplish this with it. Here is the tutorial on how to duplicate a page in PDF online.
Step1. Open the WorkinTool PDF Editor Online, then upload a PDF file.
Step2. Click the Document Editor icon, then pick one page from the file.
Step3. Choose Duplicate, then click Save As to download.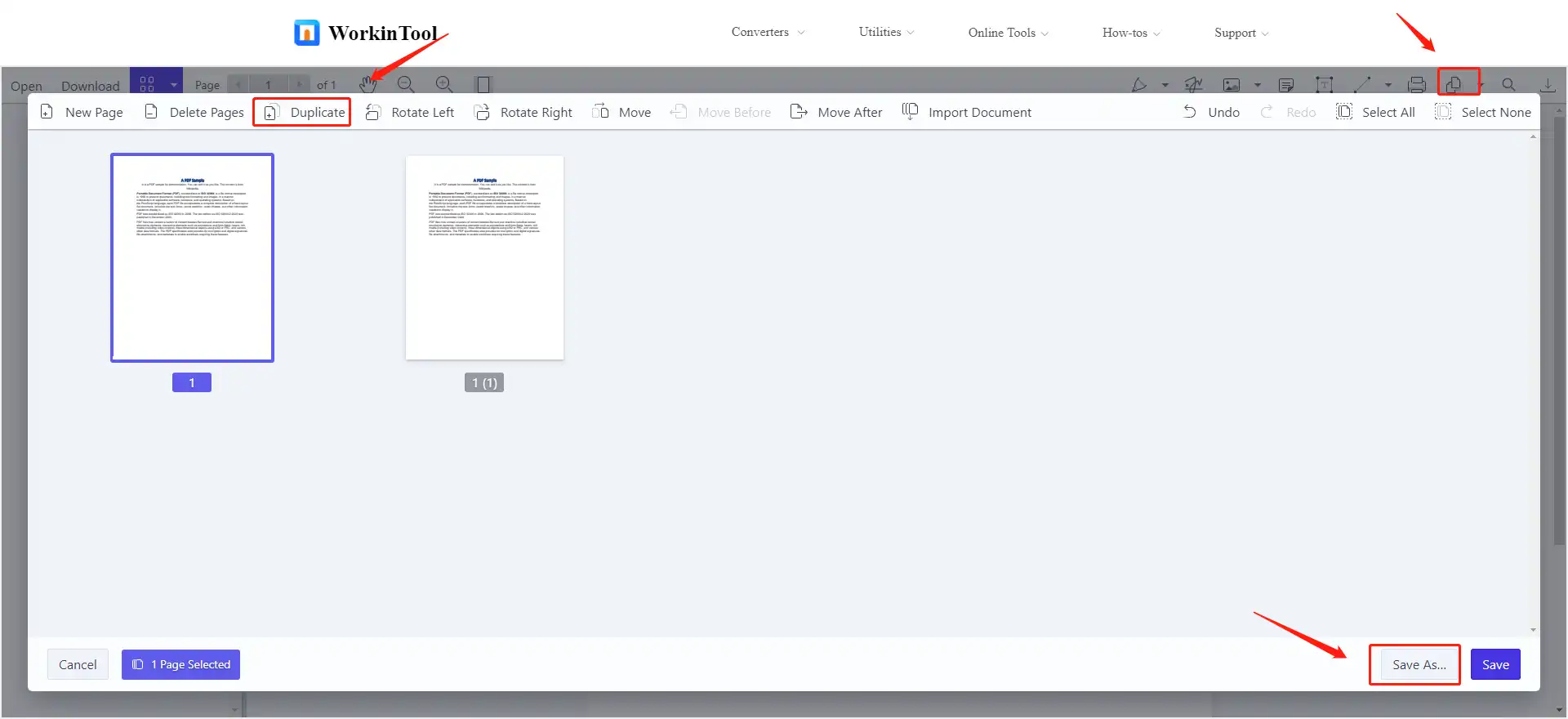 More Online Tools for WorkinTool PDF Converter
Except for an online PDF editor, WorkinTool also provides you with multiple helpful online tools to process PDF documents. The following are the functions that are available now.
Conclusion
In today's article, I have talked about how to duplicate a page in PDF on Windows, Mac, and online for free. If you need to cope with numerous PDF files in daily work and study, then I highly recommend you pick a desktop PDF editor tool, for it contains multiple tools and can be used without a network. If you only need to edit the PDF file occasionally, then you can try WorkinTool PDF Online. We are updating more online functions right now, and we also provide a long-term free trial for all users. Just launch it to figure out your problem.