How to Add Page to PDF Free Online and Offline 2023
Want to add page to PDF for free? WorkinTool PDF Converter provides you with online and offline free PDF editing tools. With this, you can easily add a page to a PDF, no matter if you want to add a blank page or insert a new PDF document to it. More PDF processing tools are available, and just download it right now or try the online version.
How to Add Page to PDF Free Online and Offline 2023
PDF files should be in contact with a lot of people. When you send documents in the office, you will choose PDF format, which is convenient for transmission. However, there is a point that the PDF file is not easy to modify. If you want to add blank pages or insert pages of another PDF to the unchangeable PDF file, you can use professional PDF editing tools. Today, I will share with you how to add page to PDF files online and offline for FREE. If you are interested, come and find out.
⭐ How to Add Page to PDF Offline with Free PDF Editor
WorkinTool PDF Converter is what I highly recommend among the numerous PDF editing tools on the market. It is a free, effective, and powerful PDF Converter that is available on Windows. It combines nearly all PDF processing functions into one, such as converting PDF to Word, Excel, PPT, JPG, and vice versa, splitting and merging PDF, editing PDF with OCR, unlocking and protecting PDF files, managing PDF pages, etc.
Most importantly, all its tool in WorkinTool PDF Edit and PDF Reader are free to all users without any limit on usage times and file size. However, you can only select single file within 2 MB in other tools for free. If you are a beginner, don't worry, with its clear interface and reasonable layout, you can figure out the PDF issues with ease. What's more the uploading and downloading speed is fast, just within seconds, and it asks for no registration as well, saving your precious time to a great extent. As for adding PDF pages, you can use it to add a blank page to a PDF or insert a new PDF document to the current one at random.
Now it's time to check how to add a page to a PDF document with WorkinTool PDF Converter.
Step1. Launch the software and select View & Edit> PDF Edit. Then upload a PDF file that you want to add pages to.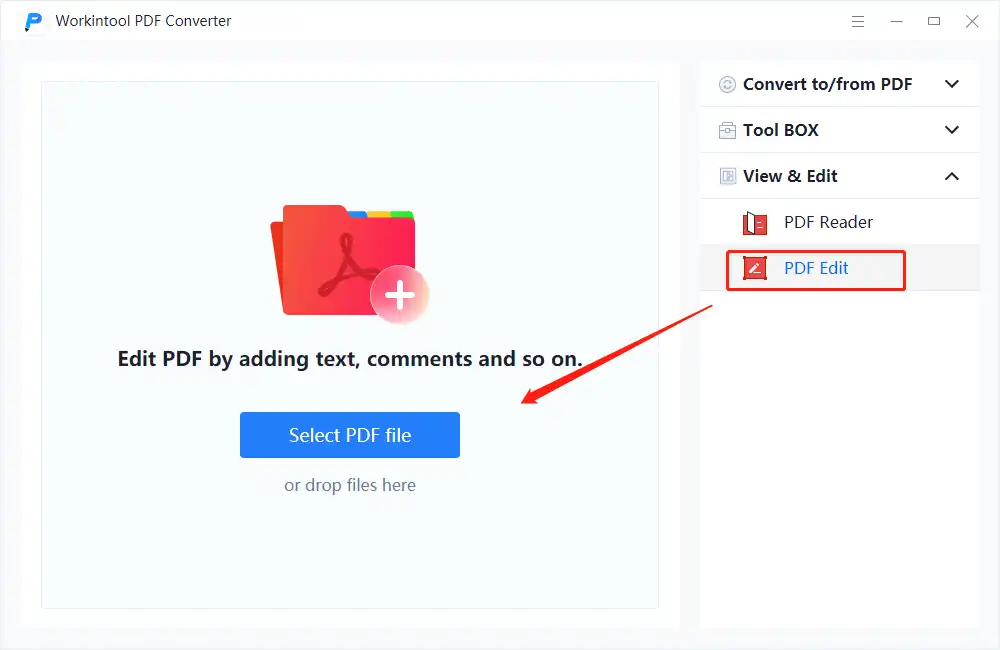 Step2. Click the Document Editor icon, then pick the page that you want to insert the pages after. It is available to add a blank page to your current PDF file or add pages of other PDFs to it. Click New Page to add a blank page and paste the Import Document to insert other PDF documents.
Step3. After the operation, press Save As to download the converted PDF file to your local document.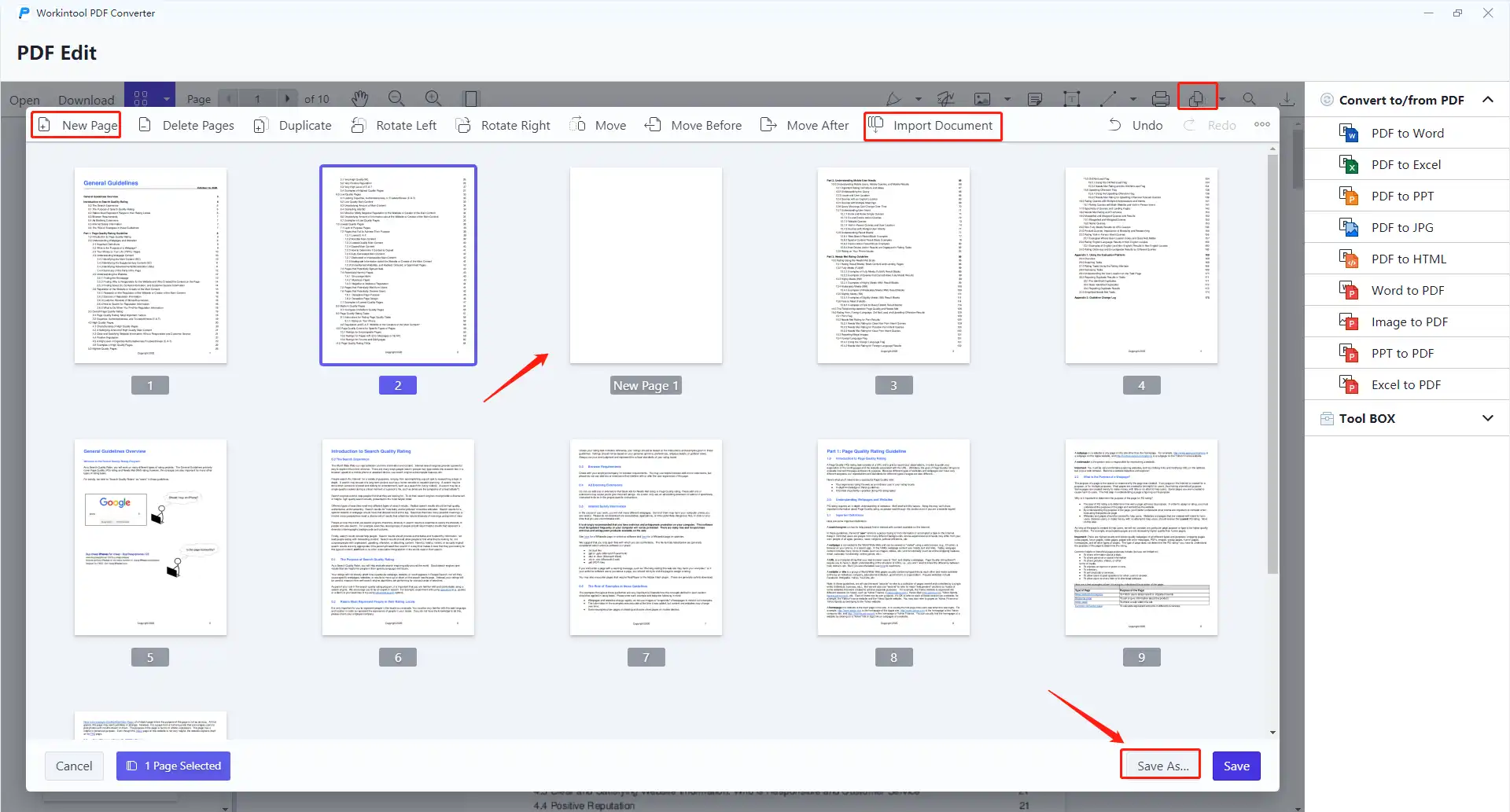 Other PDF Editing Tools 
⭐ How to Add Page to PDF Free Online 
If the downloaded software is not what you are looking for, then you can have a trial of WorkinTool PDF Converter Online. It is suitable for any device and system. You can use it whether you want to edit PDF documents on Windows, Mac, Android, or iOS. It ensures your data privacy and personal information and your uploaded files will be deleted after 24 hours from its server, so you can rely on it with ease. It is quite easy to operate, but you have to make sure the PDF you want to upload must be within 2 MB. If the file you want to edit is too large, then I suggest you try the desktop version, which has no limits on the imported files.
Here is a tutorial on how to add a page to a PDF for free with WorkinTool Online PDF Converter.
Step1. Open the online tool on WorkinTool's official website, then find WorkinTool PDF Editor online.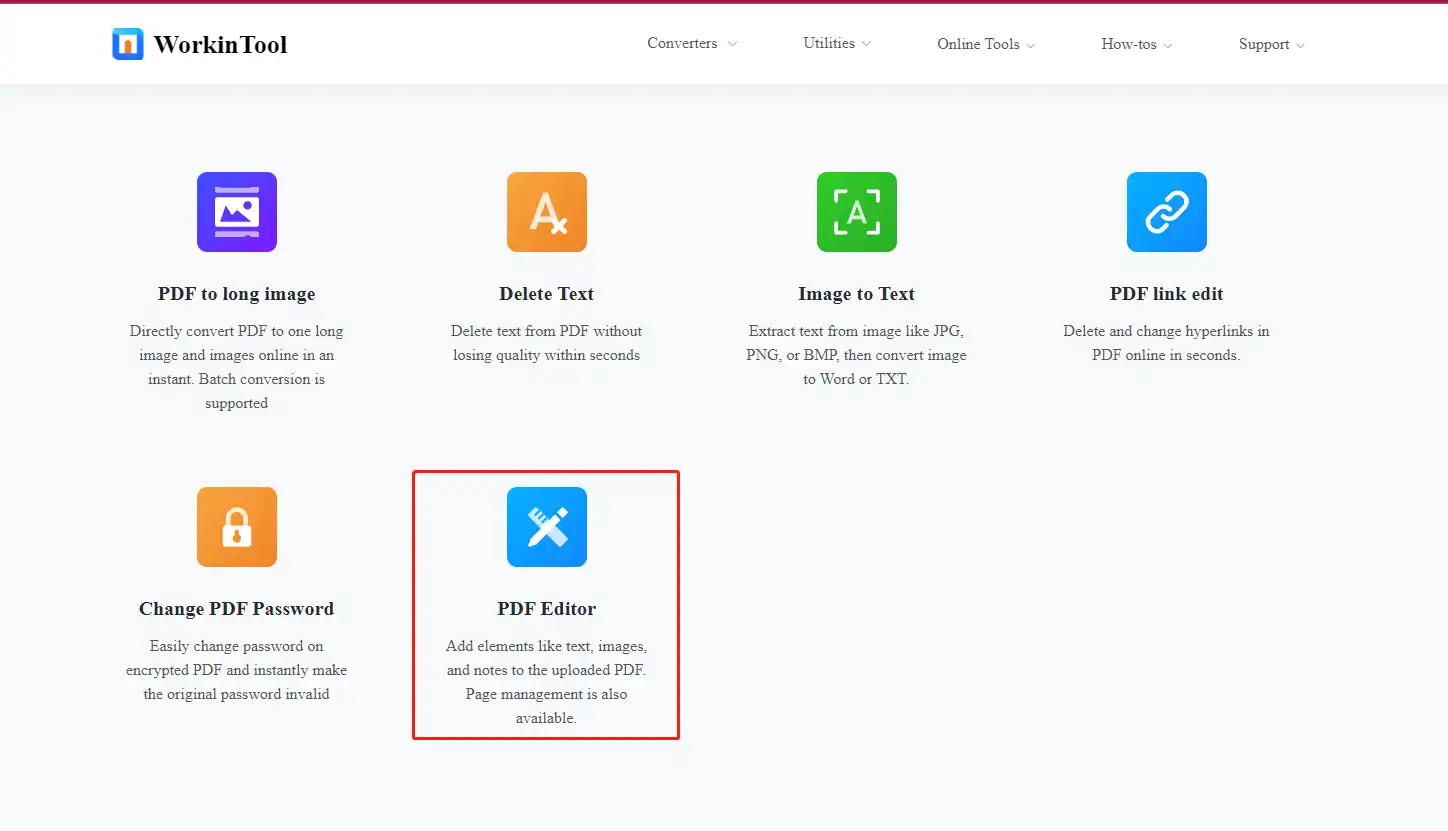 Step2. Import a PDF file to edit by selecting it from the folder or dropping it directly.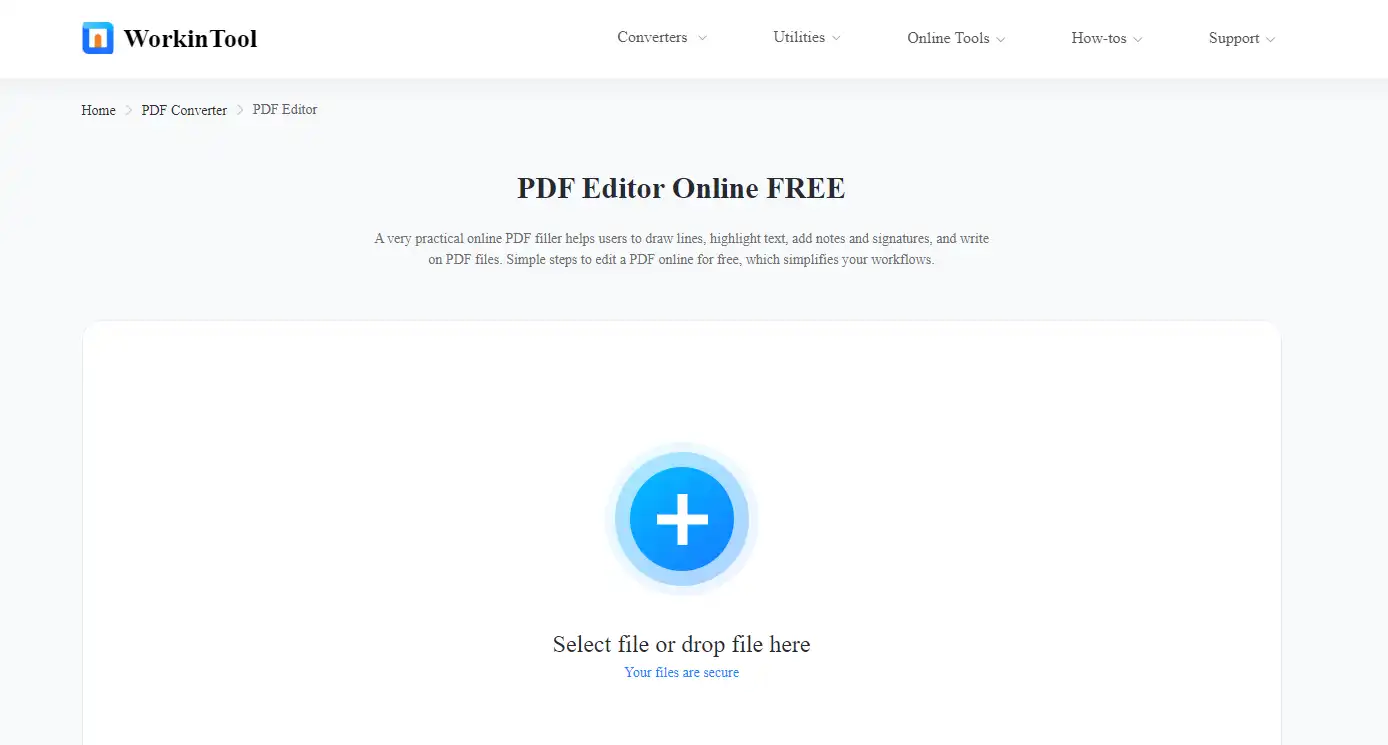 Step3. Click on the Document editor tool, then press New Page/Import Document to insert pages.
Step4. Choose Save As to download the file.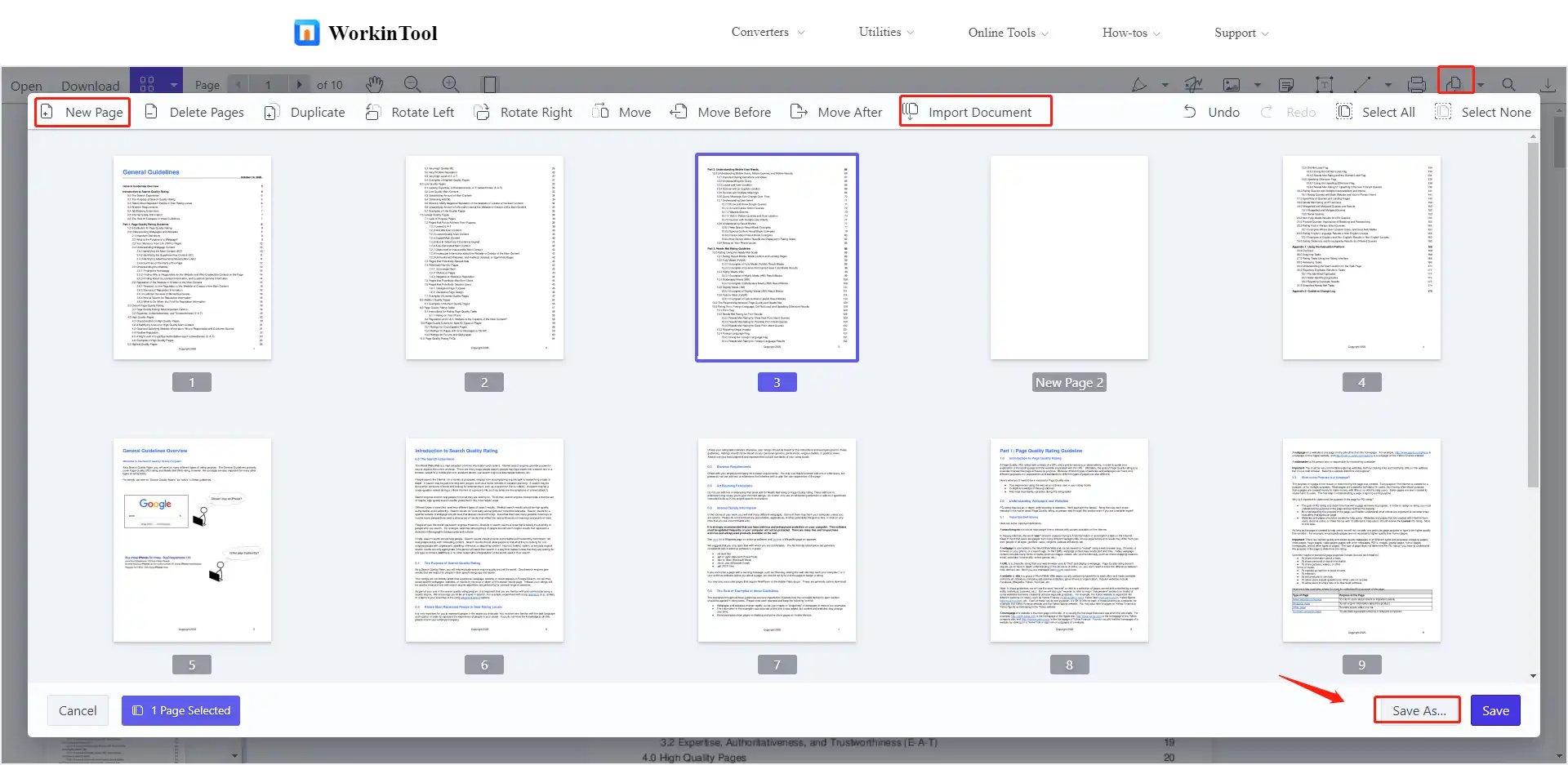 Comparison of Online and Offline PDF Editor
Both online and offline PDF editors have advantages and disadvantages, you can pick according to your practical needs. Here is a detailed comparison of them.
Desktop Software
Online Tool

Combine all PDF editing tools into one
Faster conversion speed and not affected by the network
Only supports the Windows system right now
Your files will only remain on your computer without uploading
No limits on uploaded file number and size in PDF Edit tool

Some online editing tools are still exploring
Converts within seconds, but depends on the network
Supports any device and system, like Windows, Mac, Android, and iOS
All uploaded images are safe and to be deleted within 24 hours

Only four files at a time to convert

The maximum size of each uploaded file is 2 MB
More to Share: Why not Add a Page to a PDF with Adobe Acrobat 
It can be said that Adobe Acrobat is the most popular PDF processor, after all, it is the creator of the PDF format. You can undoubtedly add a page to a PDF in Adobe Acrobat. However, it only provides a short-term free trial (only seven days) for new users. If you have already had its free trial, then you have to subscribe, which costs a lot. What's more, to have its free trial, you have to log into your account and fill in your payment information, which takes a lot of time. Adding pages to PDF can be done by many free PDF software, and the effect is very good, so there is no need to choose a paid software.
Summary
Now, you may have figured out how to add a page to a PDF document. If you need to handle PDF documents frequently, then I recommend that you download the free WorkinTool PDF Converter. It can solve nearly 90% of PDF editing problems. And with its OCR technology, you can convert uneditable PDF files to editable ones, like converting PDF to Word, Excel, PPT, etc. Compressing PDF file size, adding watermark to PDFs, and removing passwords from PDF documents are available as well. Have a trial right now.