How to Convert Voice Recording to Text on Android 2023
Looking for an easy way to convert voice recording to text? Then, you should definitely try out TransVoice app. This amazing application offers remarkable transcription services that will help you complete the task efficiently. With its automatic transcription and user-friendly editing devices, transcribing your audio files becomes a breeze. In addition to this, the app permits you to export the transcription in multiple common formats. Experiment with TransVoice today and witness how it meets your requirements!
😎 30+ different features available
😆 Support multiple languages and dialects
😍 Various audio and video editing functions
😘 Provide instant translation and export
🥰 Intelligent recognition and transcription
How to Convert Voice Recording to Text on Android 2023
To convert voice recording to text is an incredible advancement in technology, especially considering how common it is for people to use their mobile devices for a wide range of tasks. By converting voice recordings to text, individuals can save time and effort that would have been spent transcribing audio manually. This conversion also enhances accessibility, making it easier for people with hearing impairments to participate in lectures or interviews. Additionally, converting voice recordings to text provides a written record that can be easily searched, edited, and shared, making it a valuable tool for professionals, students, and anyone who wants to streamline their workflow. As technology advances, we can expect voice-to-text conversion to become even more accurate, efficient, and widely available.
Therefore, this article will discuss a new Android application to help you convert voice recordings to text without limits.
---
🤔 Why Convert Voice Recording to Text
By converting voice recordings to Text, people can benefit a lot. Here are some reasons why people would choose to convert a voice recording to text:
In order to achieve all these, you definitely need a great way to help you make voice recordings transcribed to a text file. So, how do you do that? The following content will introduce two clever methods to solve it using Android phones and an online tool. We promise you they will work. Check it out.
---
How to Convert Voice Recording to Text on Android
As you can see, here are eight examples of voice-to-text benefits. And there could be more depending on the actual user. Of course, you can manually transcribe voice recordings yourself. But this is not only time-consuming or labor-intensive. The accuracy could be higher too. Instead, why not choose an automated transcription tool to help you get the job done in one step?
Now the vast majority of user scenarios will be the direct use of a mobile phone for recording and transcription. In this case, what you need is a transcription application on Android. Then it would help if you gave the TransVoice app a try. It provides users with a variety of features, including audio/video/image transcribing to text or vice versa. Also, there are more features like translations and editing. It can totally cover your needs.
🎉 TransVoice App 🎉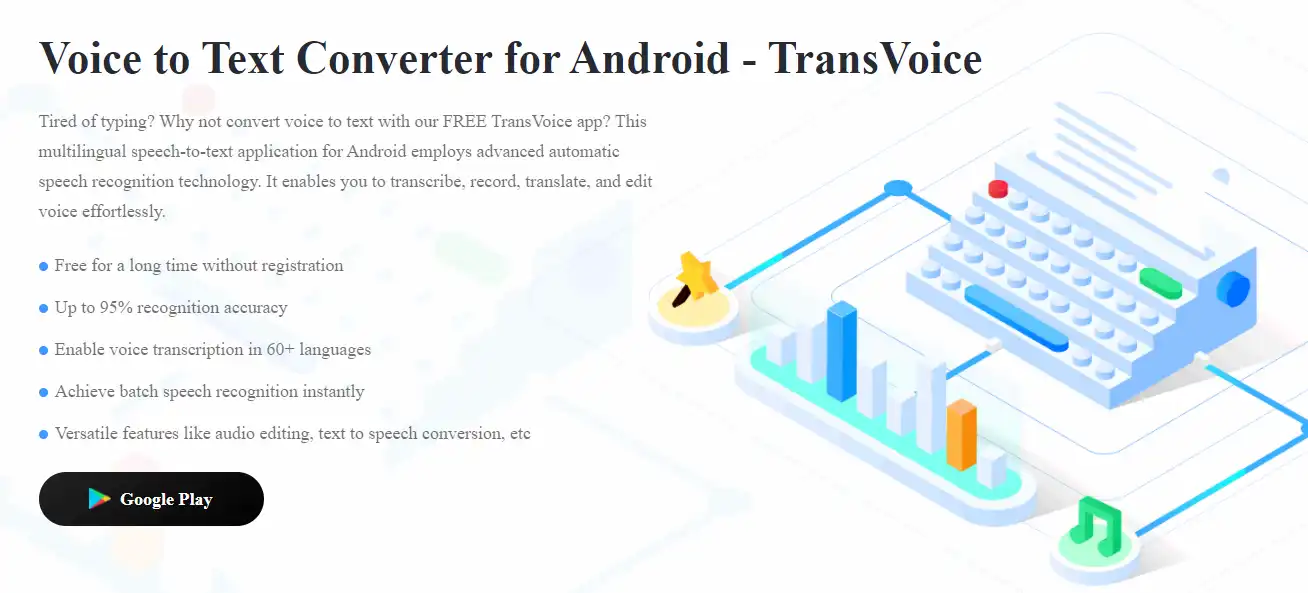 The TransVoice application is accessible for download at the Google Play Store and functions as a potent tool for converting audio, video, and images to text. Apart from its transcoding function, the app also includes editing and translation tools that make it useful for anyone working with multimedia files. With a straightforward user interface, it's simple and straightforward to use, even for those with previous transcription experience. It operates with a variety of file formats, including MP3, MP4, and WAV, making transcribing any media file quick and simple. Depending on your personal transcription requirements, you can change your settings, including language, speed, and tone.
There are two ways this tool can use to transcribe voice recordings to text. You can input recorded audio files into this tool to do transcription. Or, try directly using this tool to record what you want to transcribe. In this way, you can also save more time.
30+ different features available

Support multiple languages and dialects

Various audio and video editing functions

Provide instant translation and export

Intelligent recognition and transcription
🥇 Record the Audio/Input the Voice Audio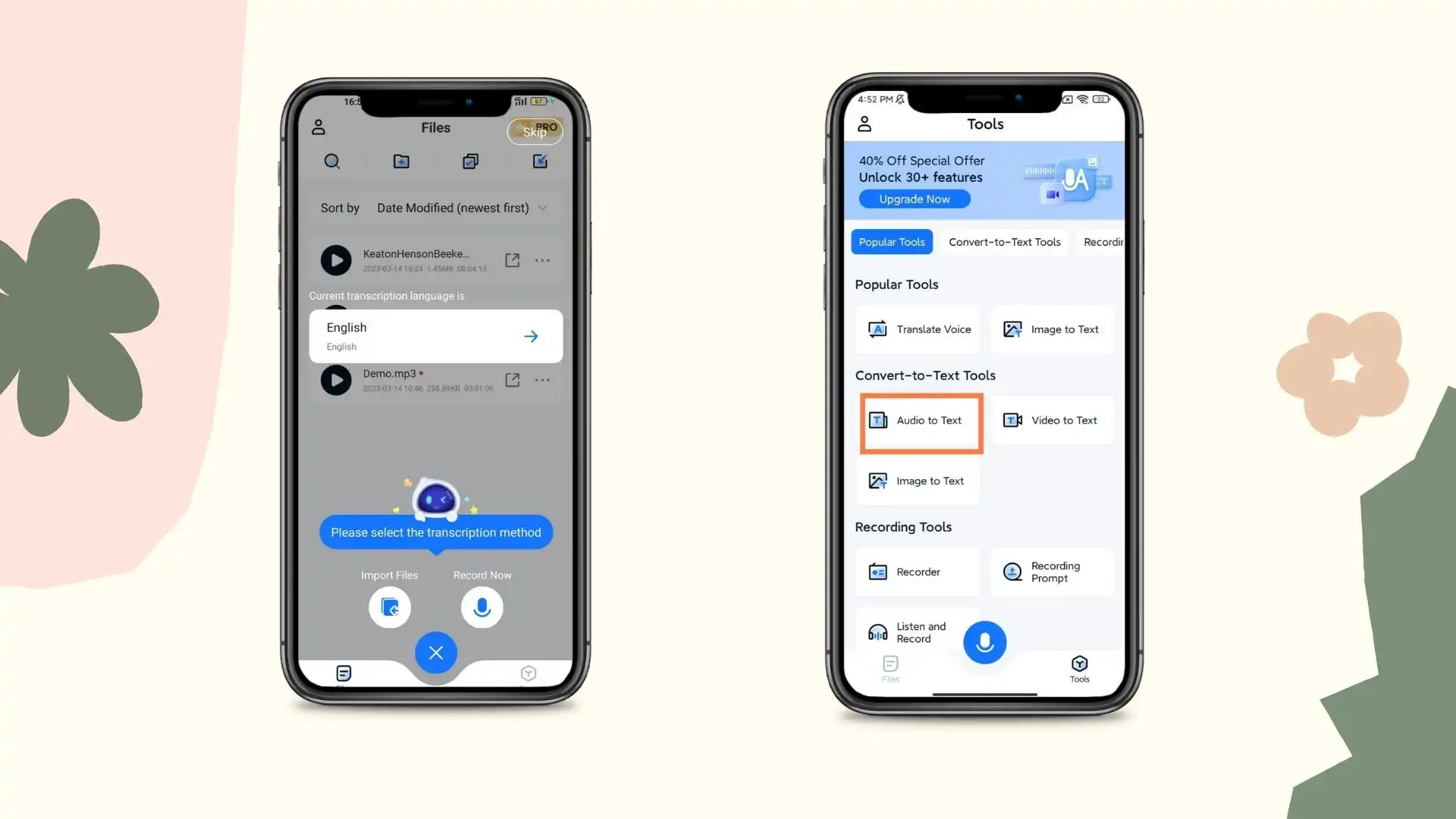 Step 1: At first, launch TransVoice and decide if you want to input the audio recording or record it right now.
Step 2: ① Click Audio to Text to add the audio file directly. ② tab the middle microphone icon and record the audio.
---
🥈 Start to Transcribe: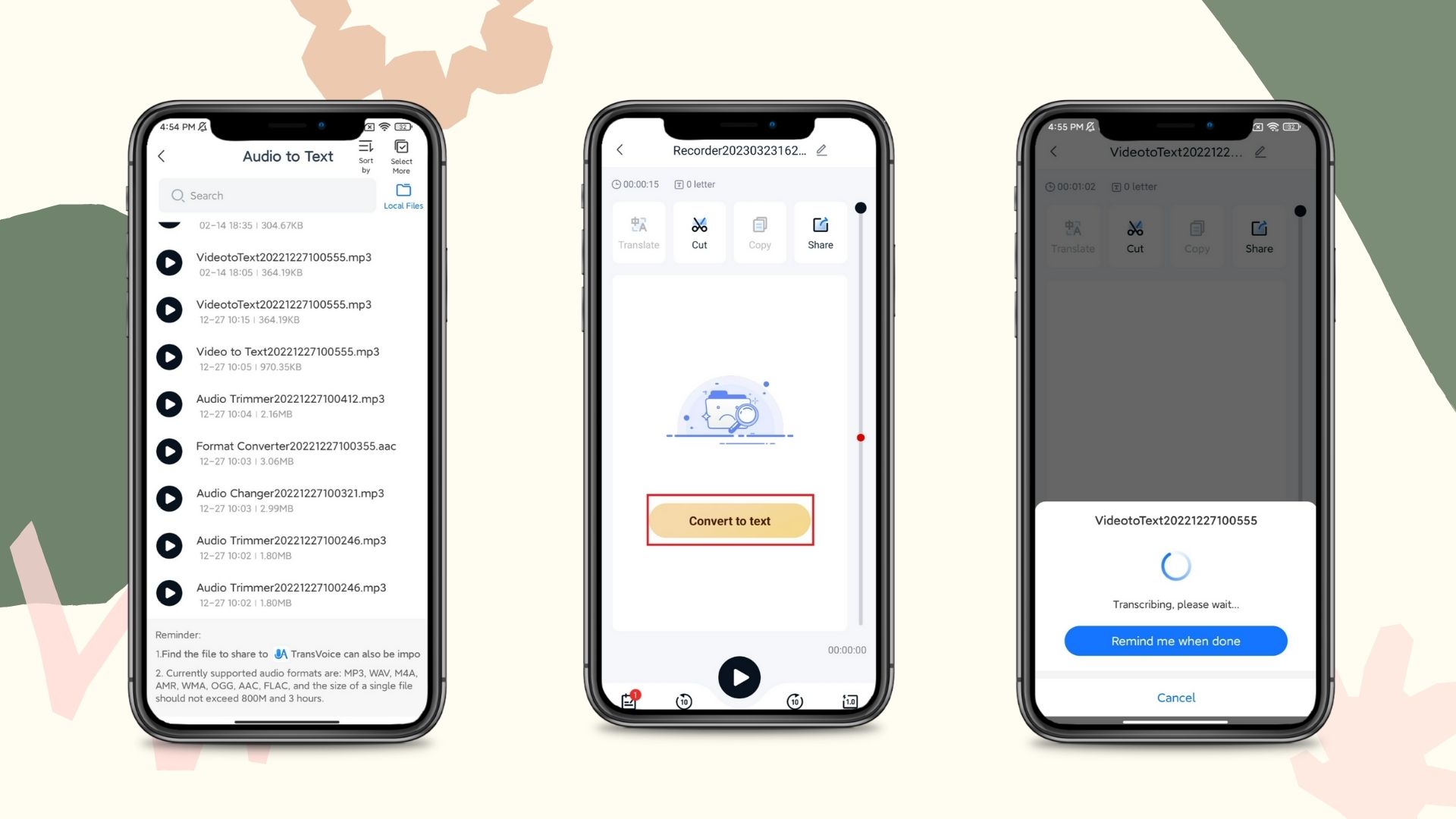 Step 1: Whether you are recording audio or adding files directly, you need to pick the transcribed language and click the Convert to text button here.
Step 2: All you need to do is wait for the transcription process to complete.
(Don't worry. According to our tests, transcribing a 120-minute audio recording takes about 5–6 minutes.)
---
🥉 Additional Features
Of course, more than just converting voice recordings to text is required for a well-developed application. It has to offer more functions so that it can satisfy all users' needs. Therefore, you can see tasks like translation, cropping, and format conversion: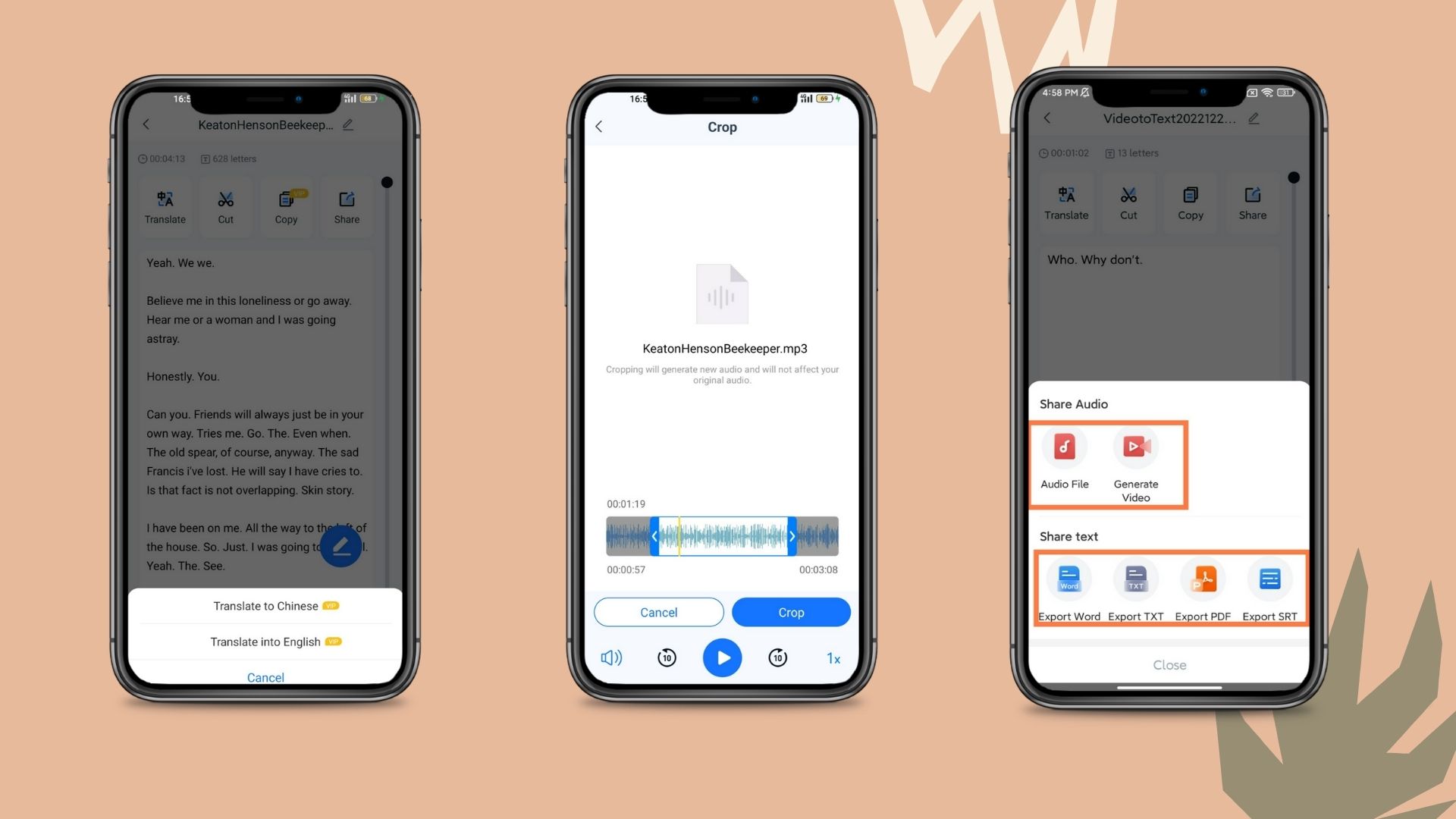 🎊 More Features in TransVoice 🎊
---
How to Convert Voice Recording to Text Online
Except for using apps to convert voice recordings to text, there are many online services that you can use to make it work. For example, Notta is quite handy when it comes to transcription. You can use the versatile voice recording and transcription features to get what you want in a short time.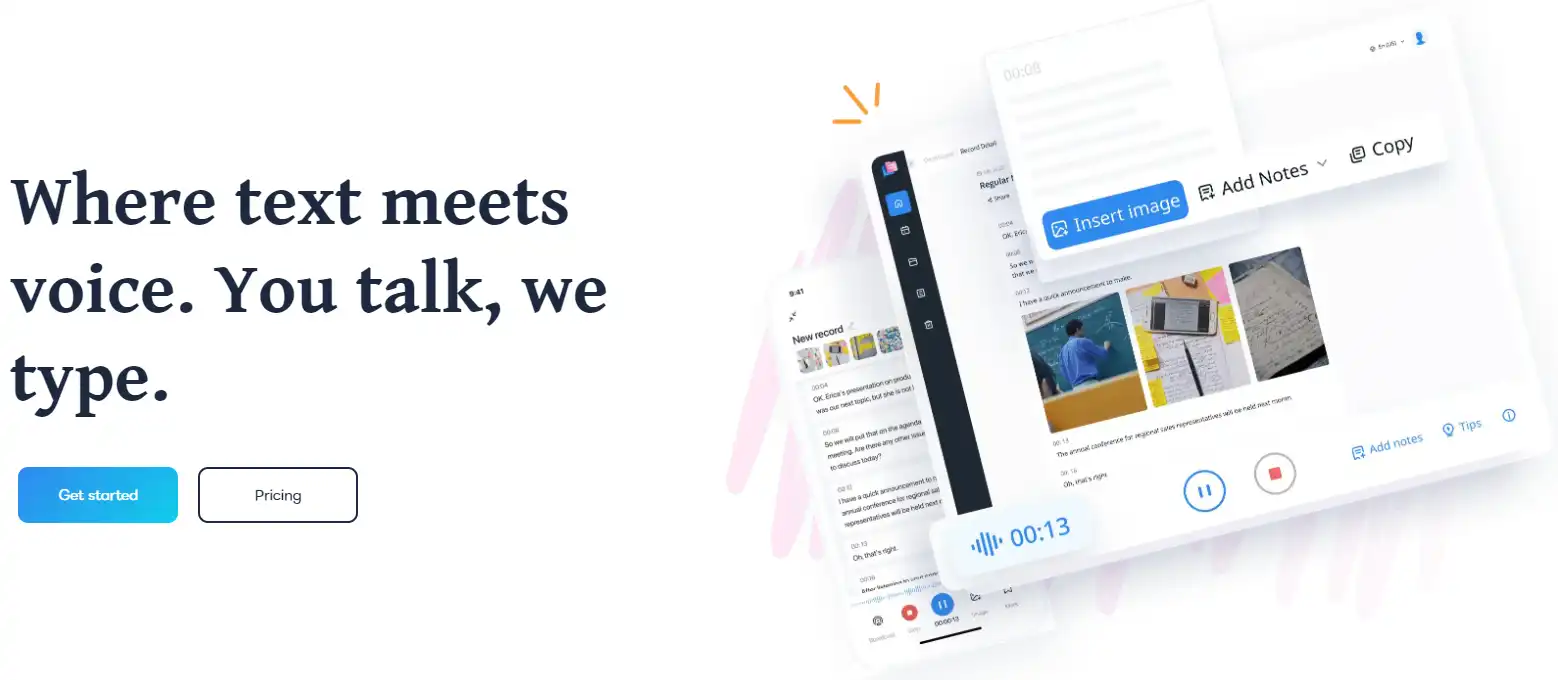 This online tool is designed to transcribe and summarize meeting discussions, which means it should also be able to transcribe voice recordings accurately. You can upload the audio file to the Notta.ai platform or use Notta.ai's built-in Voice Memo feature to record your voice and have the software transcribe it in real-time. Notta.ai is focused on transcribing meeting discussions, so there might be some limitations when it comes to transcribing other types of audio content. Nevertheless, it is worth trying the software to see if it provides an accurate transcription of your voice recordings.
How to use this online tool to transcribe: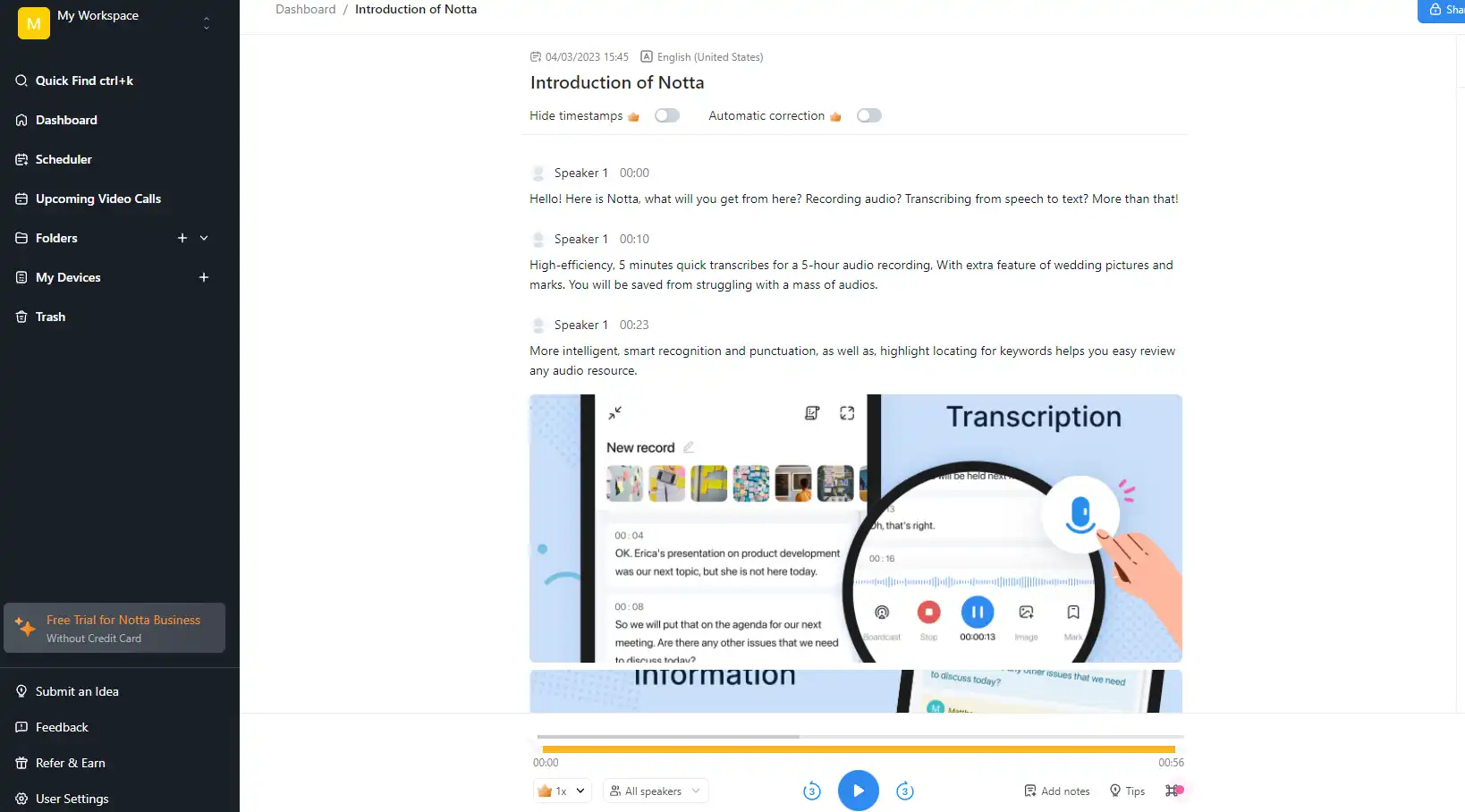 First, open this online tool and upload your recordings.

Then it will automatically start to transcribe this file. Be patient.

After it is finished, check the whole transcript for accuracy.

At last, click the export option and download it in DOC, TXT, PDF, or SRT formats.
In Conclusion
To sum up, the function of converting voice recordings to text has become increasingly important, particularly in the modern world, where people are always on the go. Android devices have made this process incredibly easy and user-friendly with an app like TransVoice. With this tool, users can quickly and easily transcribe their voice memos, lectures, or interviews with great accuracy and speed. This feature is handy for busy professionals who need to keep track of critical information or remember key details without spending hours transcribing audio files. Additionally, voice-to-text conversion is an excellent tool for students who want to take practical notes during lectures or for anyone who wants to archive essential conversations or meetings. So, the next time you record a memo or an interview, remember that you can easily convert it to text for quick sharing, editing, or review.
Now, it's your chance to get your voice recording converted to text in no time.