Best Solution How to Convert AMR to Text 2023
If you need an easy way to turn AMR files into text, you should check out TransVoice app. This amazing app provides exceptional transcription services that will help you finish the task effectively. With its automatic transcription and user-friendly editing tools, transcribing your audio files becomes easy. Moreover, the app allows you to export the transcription in various common formats. Try TransVoice today and see how it suits your needs!
😎 30+ different features available
😆 Support multiple languages and dialects
😍 Various audio and video editing functions
😘 Provide instant translation and export
🥰 Intelligent recognition and transcription
Best Solution How to Convert AMR to Text 2023
Have you ever recorded a voice memo on your phone and wished you could turn it into a text document? Or have you ever received an audio message from someone and wanted to read it instead of listening to it? If so, you might be interested in learning how to convert AMR to text. AMR is a type of audio format that stands for Adaptive Multi-Rate. It is a compression scheme that reduces the size of speech files without compromising the quality. AMR files are widely used for voice recordings on mobile phones and other devices.
But how can you convert AMR to text? Do you have to type it out manually or use some complicated software? No, there is a much easier and faster way to do it. All you need is an Android transcription tool like TransVoice. And here in this following article, we will walk you through all the detailed steps about using TransVoice to convert AMR to text. Let's find out:
---
🤔 Why Convert AMR to Text
AMR (Adaptive Multi-Rate) is an audio codec format for digital audio broadcasting and voice communication. AMR files must be converted to text because they must be processed by speech recognition or text-reading capabilities.
Specifically, here are some possible reasons:
In summary, converting AMR files to text can be used for a variety of speech-processing tasks, including speech-to-text, text-to-speech, and speech recognition. These tasks all require converting an audio file to a text format for further processing.
---
How to Convert AMR to Text on Android
We list three specific people's needs for AMR file transcription. As you can see, if you rely entirely on yourself to do manual transcription, even if we ignore the accuracy problem, just the time-consuming and labor-intensive issues are severe enough to put one down. Therefore, why don't you seek help from the automated transcription app to do all the work for you?
Because AMR is a dedicated audio format for mobile devices, the quickest and most convenient way for users is to do the conversion directly on the phone. The TransVoice app is definitely one tool you should try. It offers the best transcription service for audio, video, and image files. And it supports more file formats than you can think of. It totally covers all your needs.
🎉 TransVoice App 🎉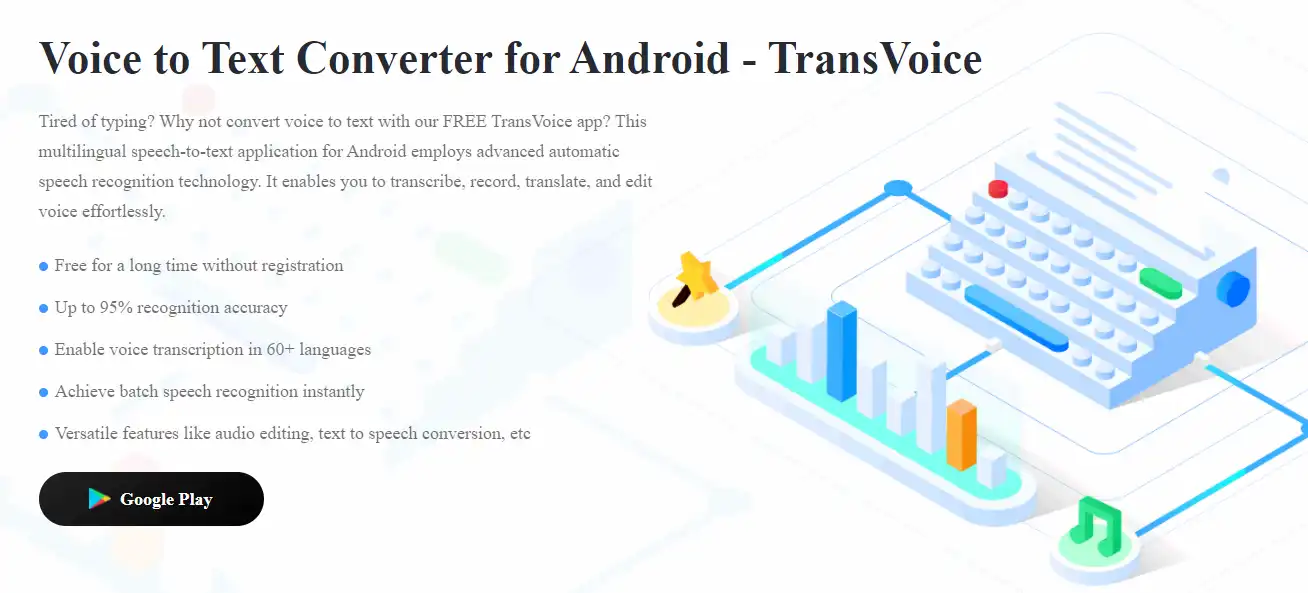 You can download the TransVoice app from the Google Play Store and use it as a powerful tool to turn audio, video, and images into text. Besides its transcription function, the app also has editing and translation tools that make it handy for anyone working with multimedia files. It has a simple user interface that makes it easy and convenient to use, even for those who haven't done transcription before. It works with various file formats, such as MP3, MP4, and WAV, including AMR, making it fast and easy to transcribe any media file. You can adjust your settings according to your personal transcription needs, such as language, speed, and tone.
It also supports users to record audio; in the meantime, it automatically transcribes it to text. However, here we won't be using this recording feature. Inputting AMR audio files is enough.
30+ different features available

Support multiple languages and dialects

Various audio and video editing functions

Provide instant translation and export

Intelligent recognition and transcription
🥇 Input the AMR Audio File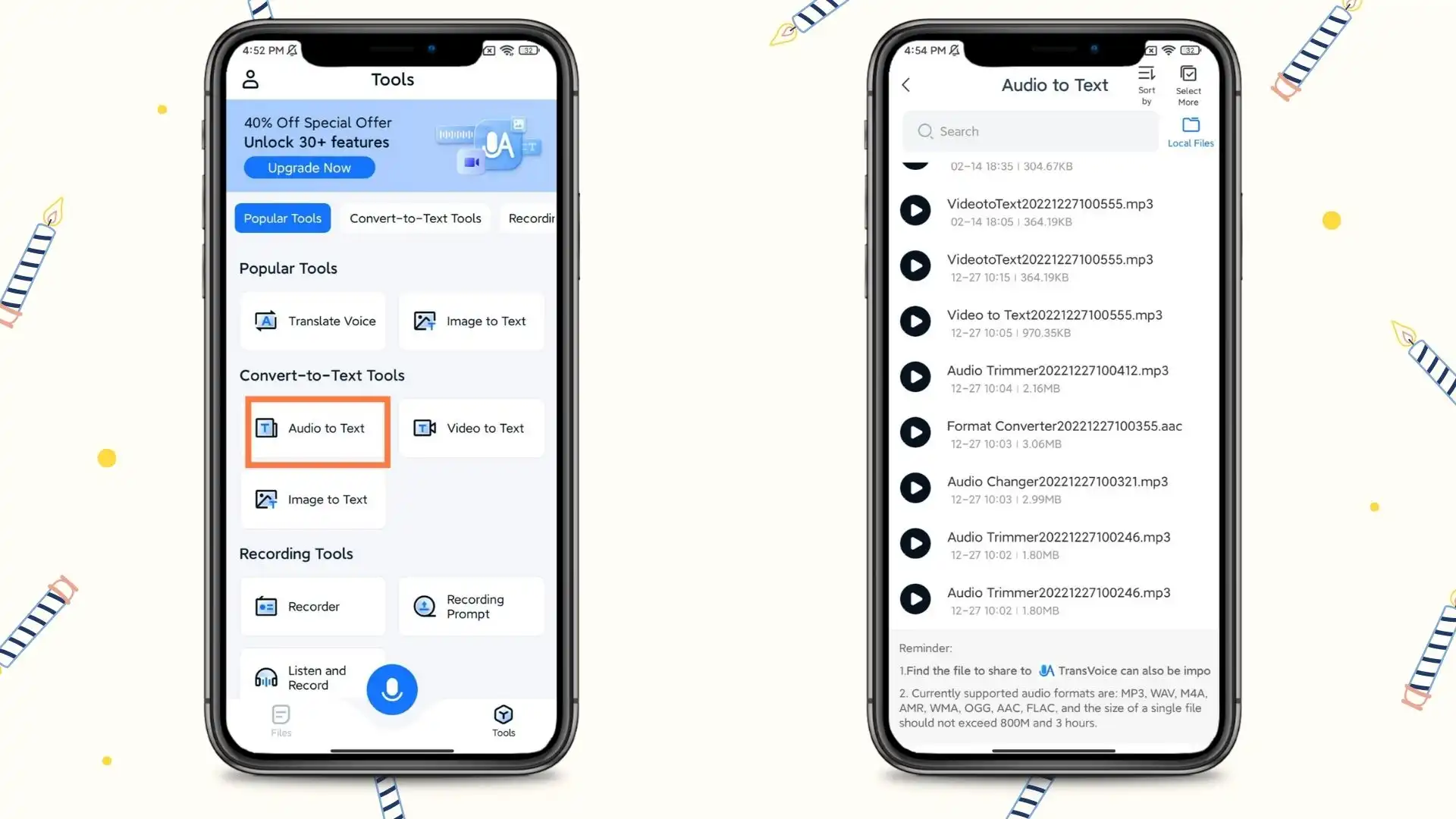 Step 1: At first, open TransVoice and click the Audio to Text button.
Step 2: Find the AMR file there and prepare it to transcribe.
---
🥈 Start to Transcribe: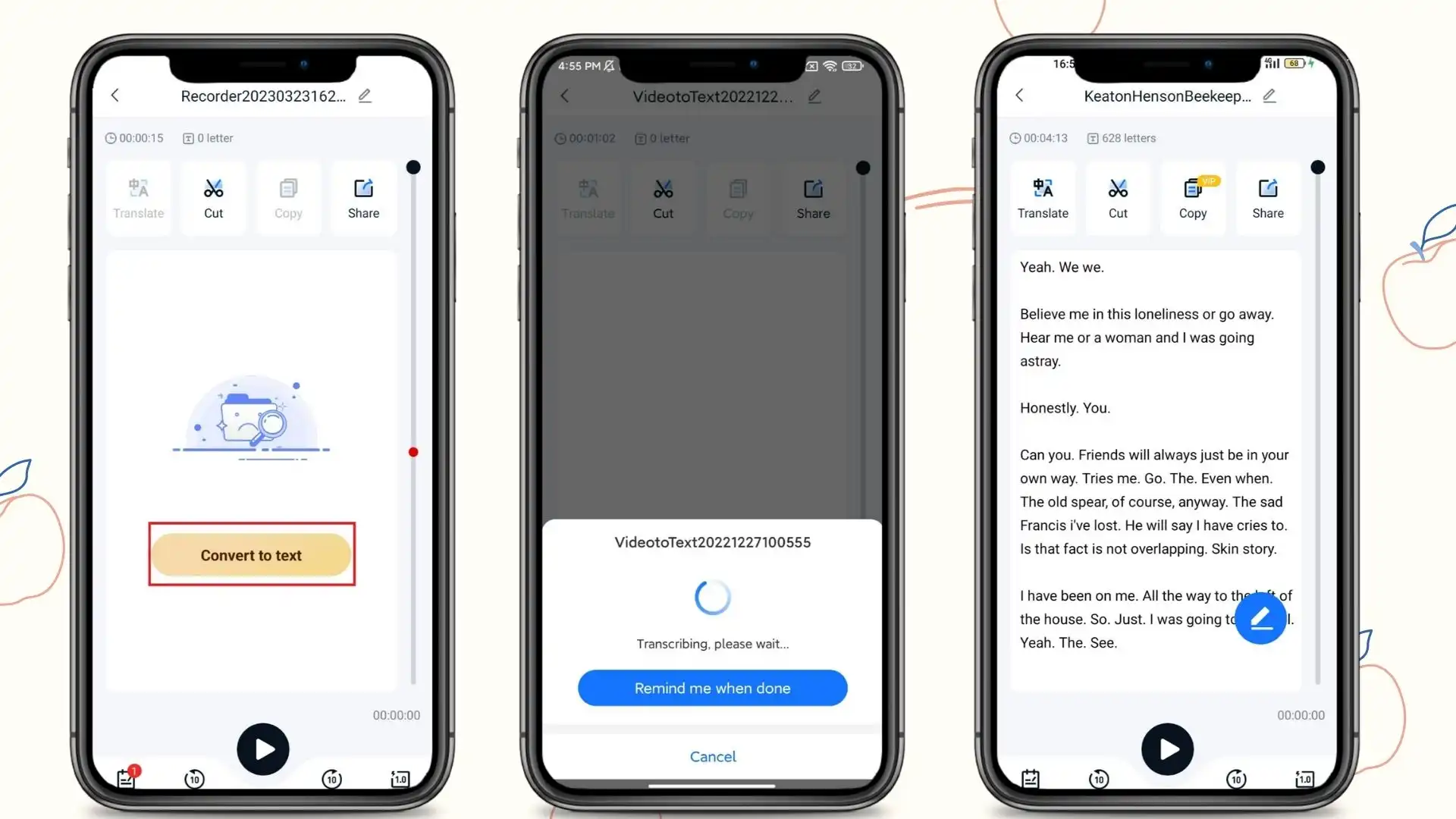 Step 1: After adding the AMR file, go to pick the transcribed language and tap the Convert to text button here.
Step 2: Then, it will automatically start to transcribe. All you need to do is wait for the process to complete.
(Be patient. According to our tests, transcribing a 40-minute audio recording takes about 30–60 seconds.)
---
🥉 Additional Features
A good application needs more than just turning voice recordings into text. TransVoice also needs to have other features that can meet the different demands of users. Some examples of these features are translating, editing, and changing the format of the recordings.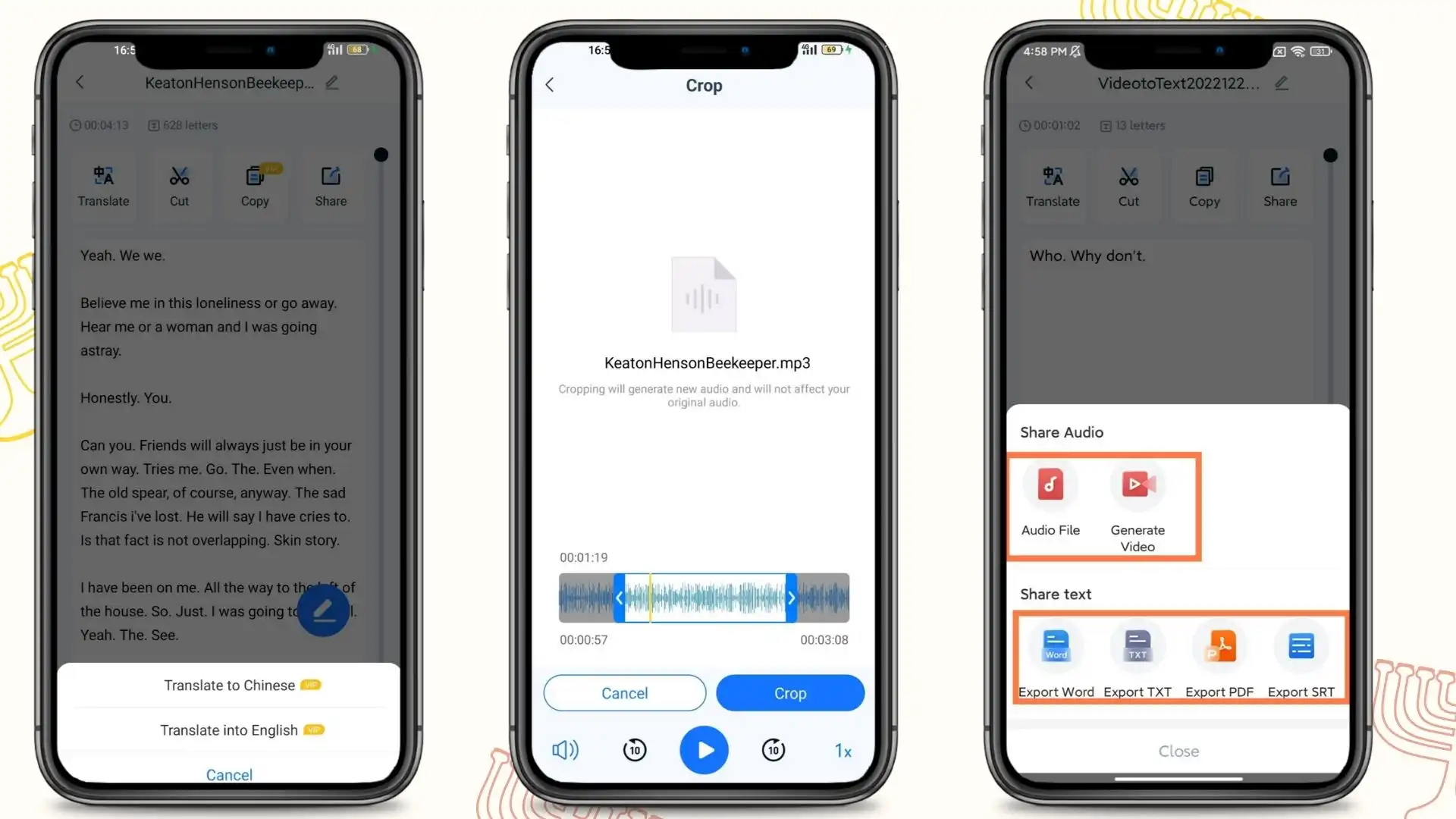 🎊 More Features in TransVoice 🎊
---
How to Convert AMR to Text Online
Besides using apps to turn AMR files into text, you can also use many online services to do it. For instance, Notta is very useful for transcription. You can use the flexible voice recording and transcription features to get what you need in a short time.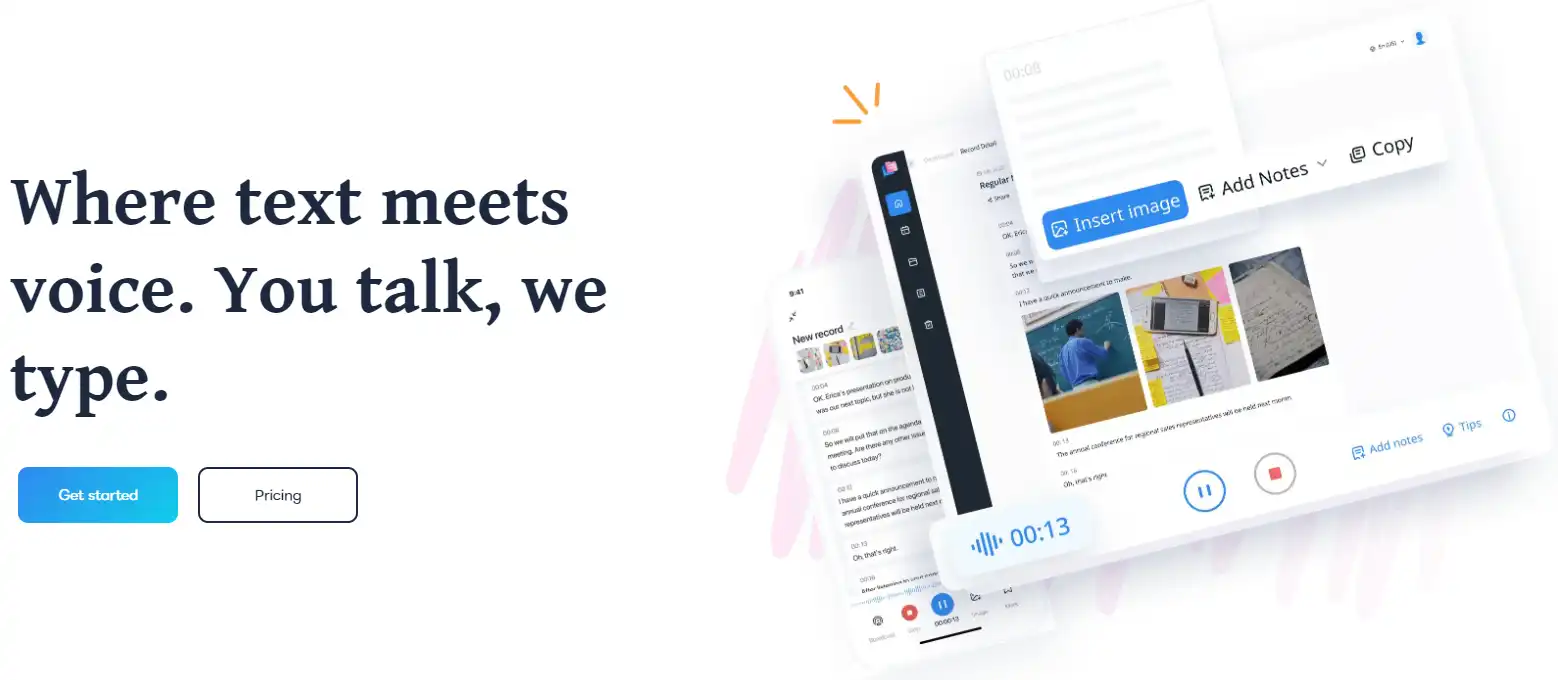 This online tool can turn meeting discussions into text and summaries, so it should also be good at turning audio files like AMR into text. You can either upload the audio file to the Notta.ai platform or use Notta.ai's Voice Memo feature to record your voice and let the software turn it into text in real time. Notta.ai specializes in turning meeting discussions into text, so it may not work well for other kinds of audio content. However, testing the software to see how well it transcribes your voice recordings is worth testing.
How to use this online tool to transcribe: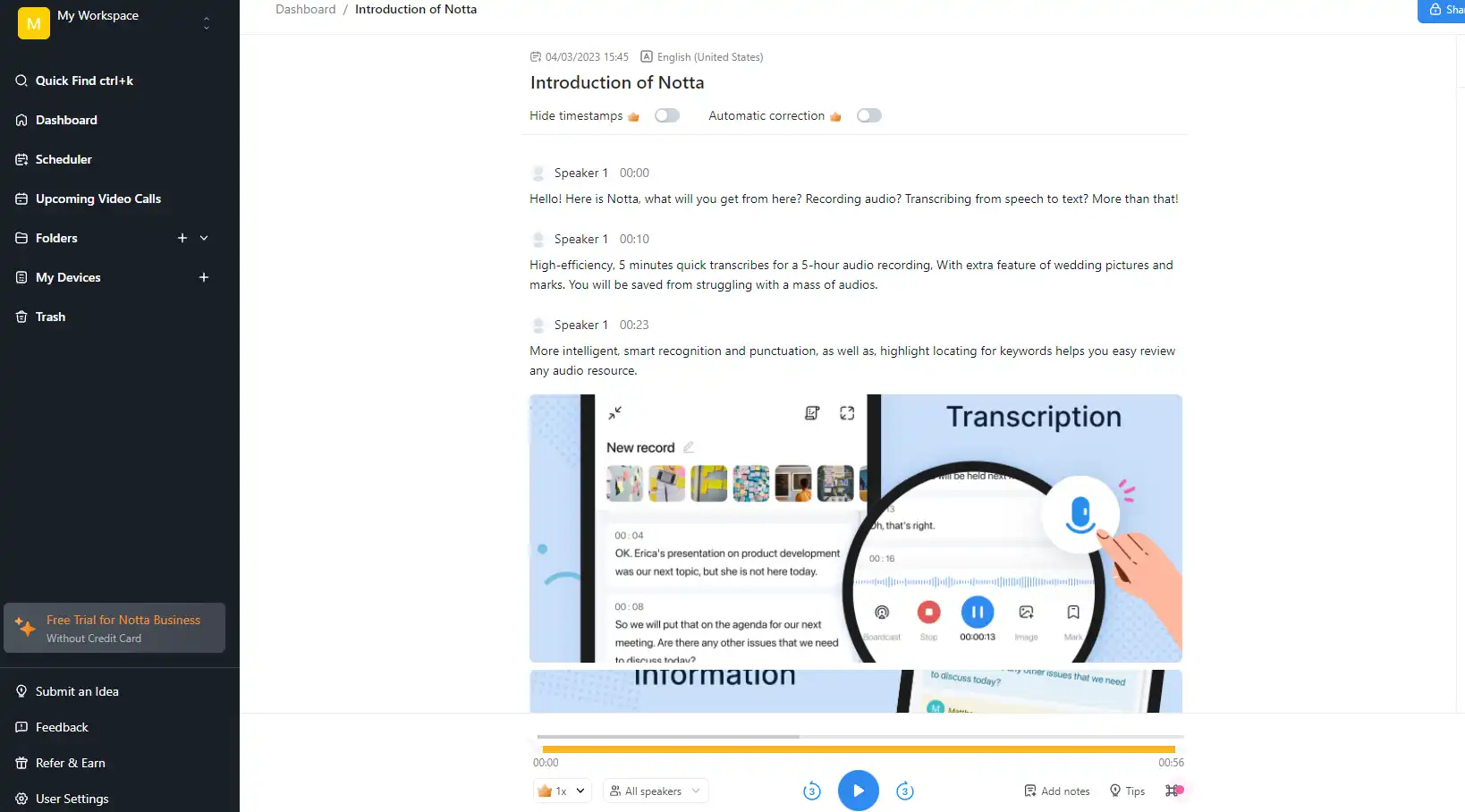 F

irst, Visit this online Notta and upload your AMR file.

And the next step is for it to start its transcription process. 

Please wait for it to stop and check for the accuracy of the transcript.

Finally, click to export and download it in DOC, TXT, PDF, or SRT formats.
In Conclusion
In conclusion, voice-to-text conversion is vital, especially in today's fast-paced world, where people are always on the move. TransVoice is an app that makes this process very simple and convenient for Android users. This tool allows users to transcribe their voice notes, classes, or interviews accurately and quickly. This feature is helpful for busy professionals who need to record important information or recall key points without spending a lot of time transcribing audio files. Moreover, voice-to-text conversion is an excellent tool for students who want to take efficient notes during classes or for anyone who wants to save critical conversations or meetings. So, the next time you record a memo or an interview, remember that you can easily solve the problem of converting AMR into text for fast sharing, editing, or review.
Now, it's your chance to convert your AMR files to text in no time.