How to Make a Video Montage for Free with Music
Do you know what a montage video is? Are you planning to make a video montage but need to know how to get started? This page covers everything you need! We introduce basic information about montage, how to make a montage video for free with music, and some intuitive tips about video montage making. And we also present a free video montage maker for its features below.
💙 Completely free.
🤍 User-friendly to beginners.
💙 Various features and tools.
🤍 No watermark or any limitation.
💙 Rapid processing speed.
How to Make a Video Montage for Free with Music
A montage can be a powerful storytelling tool. It has been popular for years in the filmmaking industry to convey emotion and drive attention. A montage can spice a movie up with dramatic narration skills and emotional expression techniques. On social media like Instagram, YouTube, and TikTok are a variety of effective montage videos too. Multiple video editors like this technique to make their creations a movie sense.
However, creating an attractive video montage could be tricky for video editing beginners. No worries! This post will show you how to make a video montage with music and stunning effects for free in minutes—using WorkinTool's practical video editor VidClipper. This video montage maker empowers users with versatile editing tools to create a montage video easily. So you can customize your montage videos of different types and themes with various transitions, special effects, music, filters, etc. Whatever the occasion, you can capture and record it with montage editing techniques.
---
What is a Video Montage?
What is video montage meaning? Montage is derived from 'monter' in French, which means 'to assemble'. Simply put, a video montage compiles a series of video clips, images, text, or soundtracks together to convey information, emotion, or both, in a short time frame. For example, a documentary usually uses a montage at the beginning to show scenes over time. A drama montage would like to gather various scenes together to build suspense. A highlight montage may assemble specific people or events to showcase exciting moments, like World Cup stars and their memorable moments.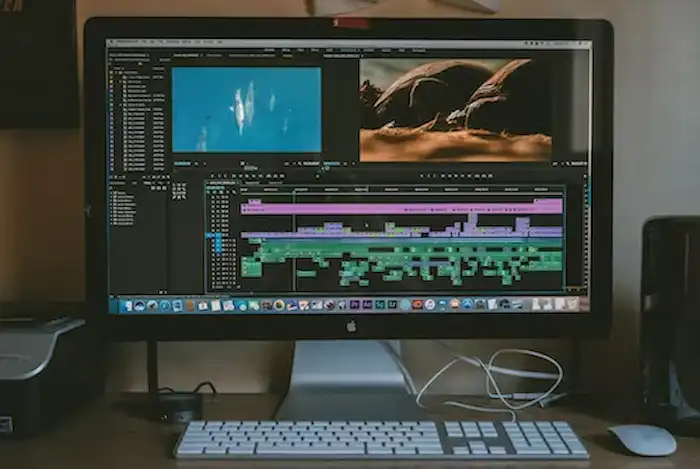 Unlike photo montage or slideshow that only combines photos and music, video montage can tell a story in motion. This filmmaking technique can shorten things taken over a long period of time in a variety of places into one video clip and tells the whole story in seconds.
Types of montage videos
🔮Boiling up

: Focuses on a theme—war, childhood, competition, etc.—and shows how people experience the theme.

🎶Multiple storylines

: Tells stories that happened to different people or places and brings these different experiences together.

☔Gestalt

: Stress on a specific subject, such as a person, a place, or a product, and show various details about this subject.

🎵Contrast

: Combine two completely different things to illustrate something or convey strong feelings.
---
How to Make a Video Montage with Music for Free?
"Where can I edit a montage-like video? What program should I use to make a video montage? How do I make a video montage with pictures and music? "
You must have a lot of questions in your mind. Never mind. Because this section presents a free and reliable video montage maker—WorkinTool VidClipper. And we will show how to make a video montage with short video clips, photos, music, and more using this montage video editor to create stunning effects.
Why Choose WorkionTool VidClipper?
100% Free
. This free montage maker offers all its features without any limitations. No watermarks, ads, or locked features.
Various Elements
. Users can freely use all the special effects, fonts, overlays, transitions, animations, filters, sound effects, and music in the media library.
Easy to Operate
. You don't need to learn sophisticated skills. This montage video editor labels each feature clearly on its intuitive interface. Anyone can create a thumb-stopping video in seconds.
Auto Save
. WorkinTool VidClipper automatically saves your video during editing at intervals. You will never lose unfinished work with this video editing software.
Versatile Tools
. You can find everything you need to make a stunning video. Adding keyframes to video, adjusting composition, adding text and filters, inserting transitions, and more.
How to Make a Video Montage with Music via WorkinTool?
1. Select your content.
Ensure the theme of your creation, launch WorkinTool VidClipper, and then press New Project to enter this montage editor's workspace. Then upload videos and photos to this video maker and drag the materials in sequence to the timeline. You can also make a photo slideshow / a montage of photos with music using WorkinTool VidClipper.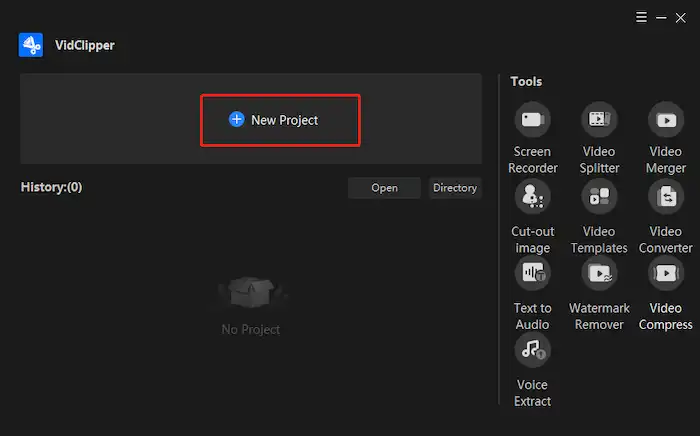 Under the preview window, you can see the video aspect ratio is 16:9 by default. But you can click it to change different dimensions based on your video's destination.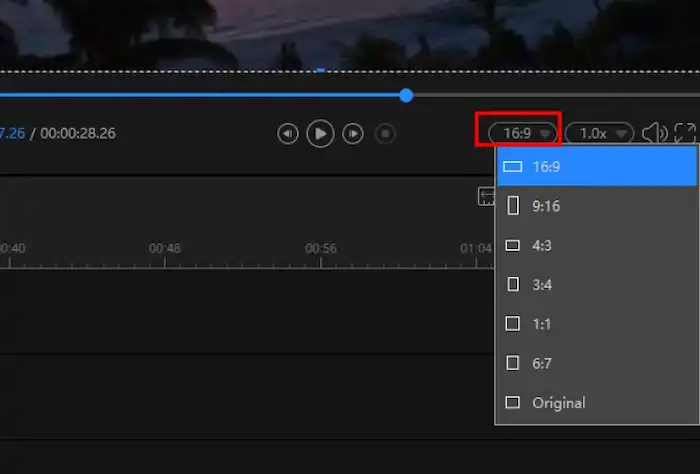 3. Trim your video footage.
After adding video clips to the timeline, move the playhead on each video, and then click the scissor icon in the middle of the toolbar to trim a key moment.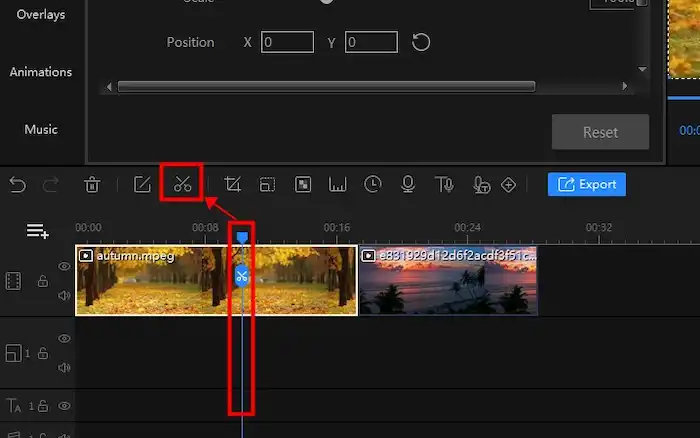 4. Add flavors to your video.
Choose appropriate transitions, filters, fonts, and other elements to spice your video up. You can add voiceover to a video, animate your videos by adding keyframes, add overlays for edits to video clips, and more as desired.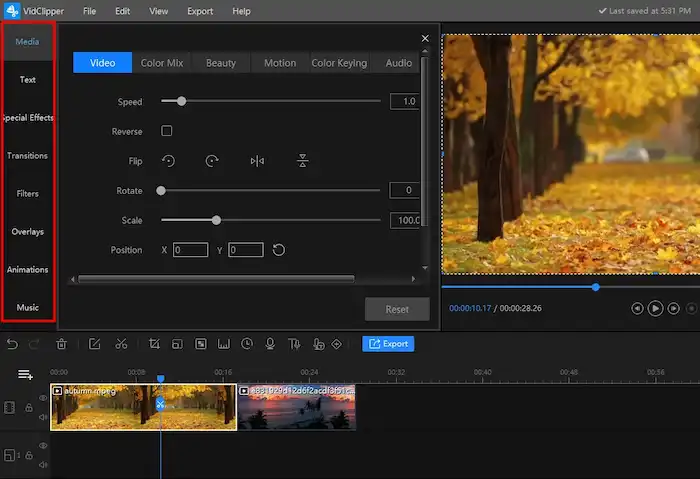 5. Select background music.
You can use the preloaded library of songs and sound effects for free. Or you can upload your own music files to this editor to add an extra dimension to your video montage. Inserting music into a video is always an inseparable part of video editing.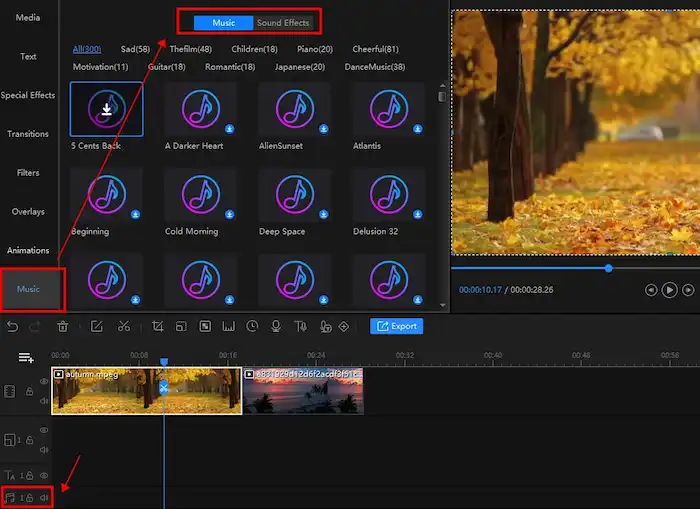 6. Export your video.
Once the editing is over, hit the Export button to download your video and share it across social media instantly. You can customize the video quality and output format according to the video's destination.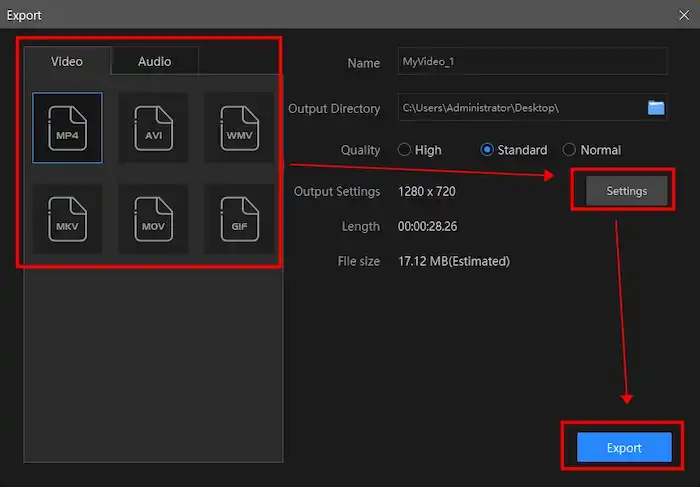 ---
Video Montage Ideas
After learning the tutorial to make a video montage with music using WorkinTool VidClipper on Windows, you probably know the overall process of how to make a video montage on iPhone with iMovie—selecting content, editing the materials, adding BGM, etc. It equips with most of the basic features VidClipper has in addition to the vast library of resources. You can try the built-in video montage app to do a stunning effect.
However, creating a stunning montage video is challenging for beginners. So this post summarizes some tips that might be of help for your creation.
🌈1. Stick to your core purpose. 
Figure out what type of video montage you want to make and the expected effect. Make sure every clip you add and edit ties back to the theme of your video. It is the core to let your audience generates a pleasant feeling while watching.
🌂

2. Select the first frame wisely.
The establishing shot will set the tone and feel for the rest of the footage. Try to make strong shots at the beginning to draw your viewers' attention and engage them as soon as possible. Thus you have a greater opportunity to retain viewers' interest during watching.
🌊

3. Visual variety is important.
Do not compile video clips that always shoot at a single angle/place/speed, which might bore your audience. Instead, you can select video clips captured with different modes, like from wide shots to tight shots, outdoors to indoors, still to dynamic, etc. The more shot types, the more visually compelling your videos.
⚡

4. Select a perfect BGM.
Music is the key part of setting the mood and conveying feelings in a video. So make sure the music you apply coincides with your video's mood and narrative arc. You can also add some sound effects to stress the movement in your video.