How to Add Text to a Photo on iPhone/Windows/Mac/iPad
Whether you want to add cute text to your photos due to your interests or work needs, you need a tool for adding watermarks to your photos. Among the numerous watermark software on the market, we have carefully selected several useful and free to try software that are suitable for different devices such as Windows, Mac, iPhone, Android, and iPad. And you can learn how to add text to a photo in this post. You can choose the software that suits your needs.
How to Add Text to a Photo on iPhone/Windows/Mac/iPad
You might encounter countless situations where you need to know how to add text to a photo. You might want to insert text into your pictures as a watermark or add a couple of letters for art. For whatever reason, you want to add text to an image.
If you just need to add text to a picture, you can do it with any drawing tool. However, if you want to add a beautiful font that does not affect the quality of the original image, you will need to seek help from professional software. With tons of image editing tools on the market, you must think it cannot be that hard, right? If you only want to pick a random device to finish the job, then yes. However, if you want to find a tool that is free to use and also covers all the features you might need to type in pictures, it is still pretty hard. We will give you this detailed list of tools and methods to add text to photos. Now, check this out.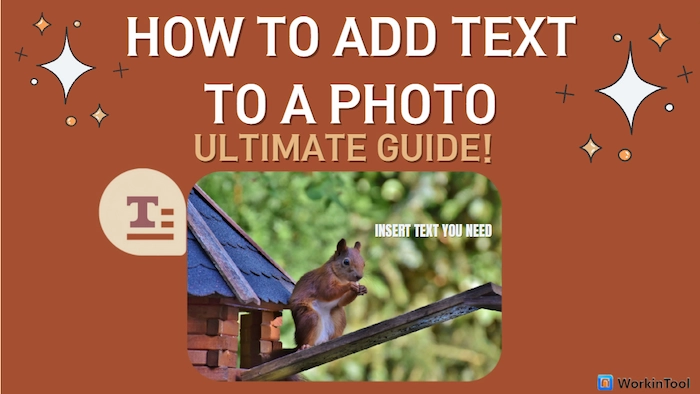 Part 1. How to Add Text to a Photo on iPhone/iPad/Android
📌 Fix 1. Using the Photos APP on iPhone/iPad/Android
The last method to add text to a photo is to do it on mobile devices. This is a mutual way to work on Android and iPhone/iPad. And it is totally free. Since it is already 2022, all Androids and iPhones/iPads are equipped with Photos APP, and you can use the Markup or text feature to finish the job. But you should know that this feature is fundamental. You cannot change the font, only the color and size. Fortunately, it is free and can meet users' needs to add text.
🔎 Guide to Adding Text to a Picture with Photos: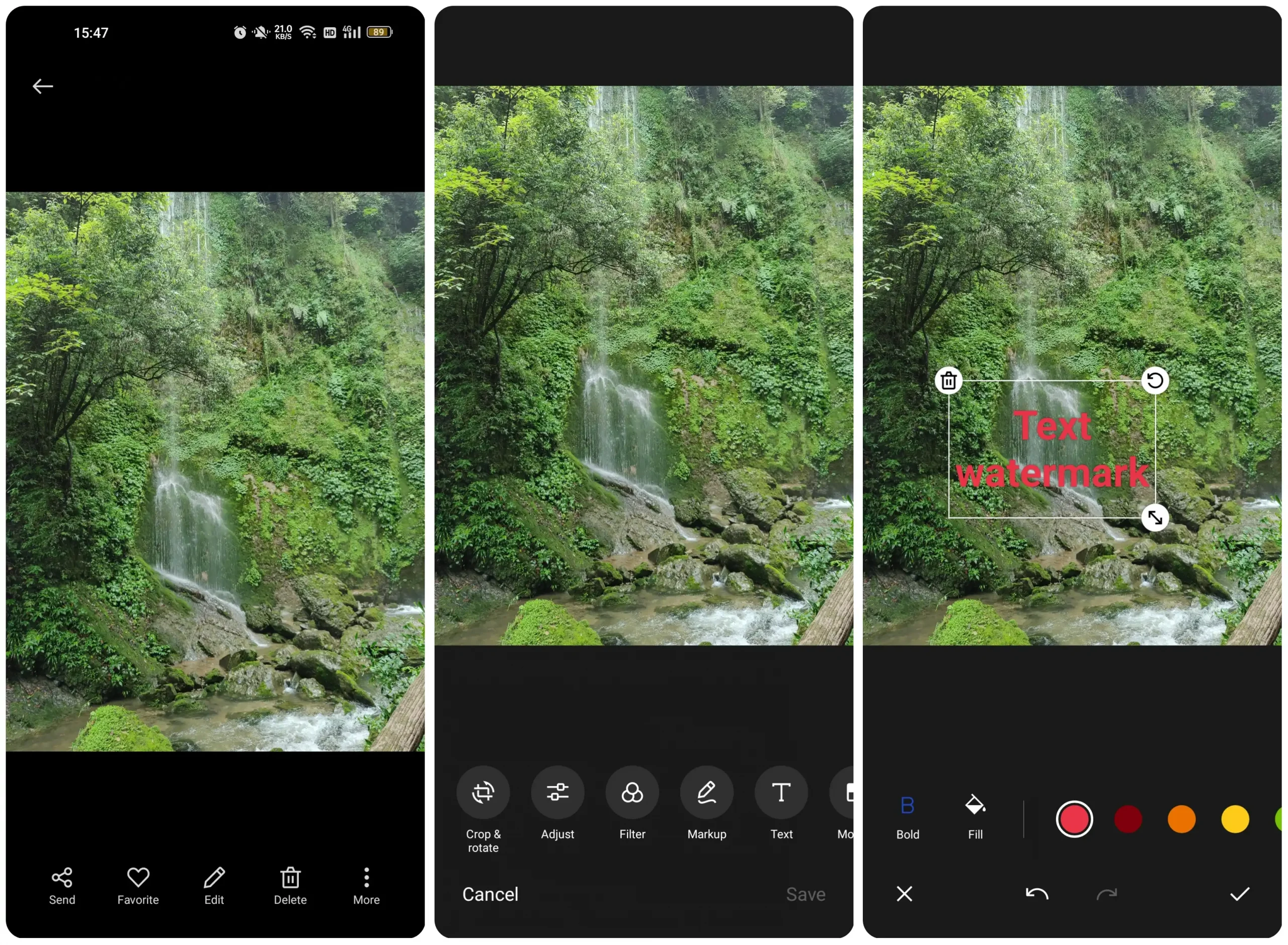 Open your desired picture with the 

Photos

 app.

Click on the 

Edit

option. There is a

Markup

 and 

Text

feature to pick from.

Markup allows you to draw patterns or sign your name on the picture manually. The text is to enter the content using the keyboard.

Write your text on the photo and adjust the color, size, and location.

Save the picture on your mobile phone.
📌 Fix 2. Using the Professional Photo Editor App – Picsart
If you want to edit photos or add text to pictures on mobile phones, you cannot miss Picsart, a handy and powerful photo editor tool. You can easily add styled text to your photos. Moreover, Picsart provides multiple font styles for users to select. Besides adding text, it can turn your words into a painting with AI, combine your photos, remove the background, etc.
🔎 How to Add Text to a Photo in Picsart: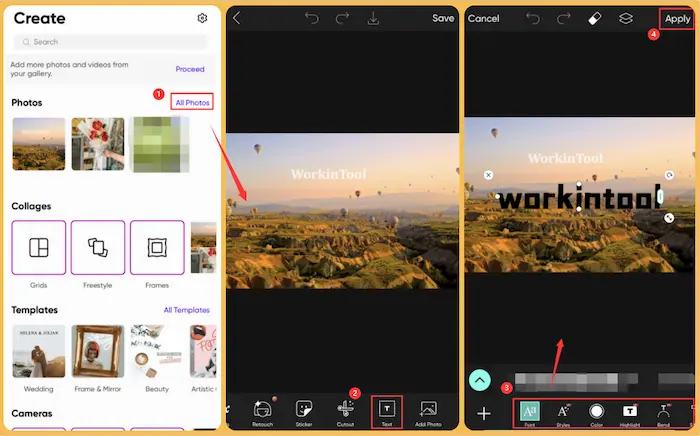 Step 1.

Download and open Picsart on your mobile phone. Click All Photos> Proceed to add a new image file to Picsart.

Step 2. 

Find the Text at the bottom. Then, type the words you want to insert into the image.

Step 3. 

Choose the desired font, styles, and colors. Finally, click Apply to keep the changes.
Part 2. How to Add Text to a Photo on Windows
Since Windows systems have taken the most share of the market, the first tool we put on this list will be the video editing tool that works on Windows. Here, we give the ultimate tool to deal with every watermark problem – WorkinTool Watermark Remover. You may wonder how a watermark remover tool can help you with adding text. Well, except for removing unwanted watermarks from images and videos, WorkinTool also increases functions to add watermarks, including text watermarks. You can customize your unique text watermarks by using the multiple options it provides. Also, if you are not using text as watermarks, you can try the image editing features to have an artistic effect. It is totally your call.
🏆 Easy to Add Text to Photos with WorkinTool
🛺 Long-term free trial.
🚋 Add/remove watermarks from photos and videos.
🚢 Filter, rotate, crop, blur, and overlay photos in one software.
🚖 Fast processing speed without losing quality.

🚀 Have a clean interface and the most straightforward operation.

🔎 How to Add Text to a Photo with WorkinTool:
The first step in adding text is figuring out your purpose. Because there are two methods in the tool to help you insert text into the picture, there are some differences due to the effect you want it to have.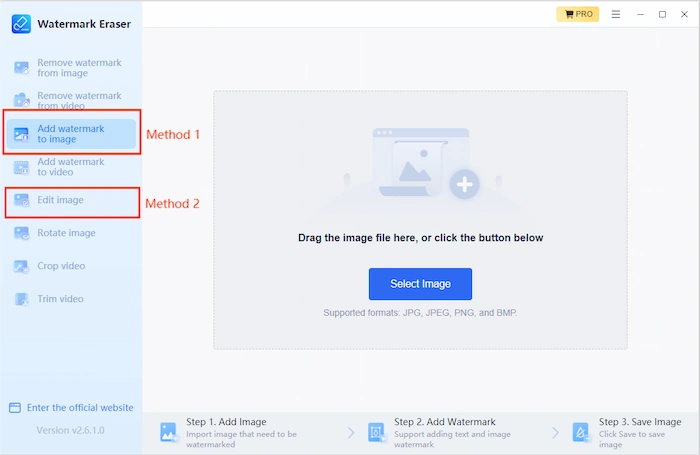 Method 1: Add text to a photo as a watermark.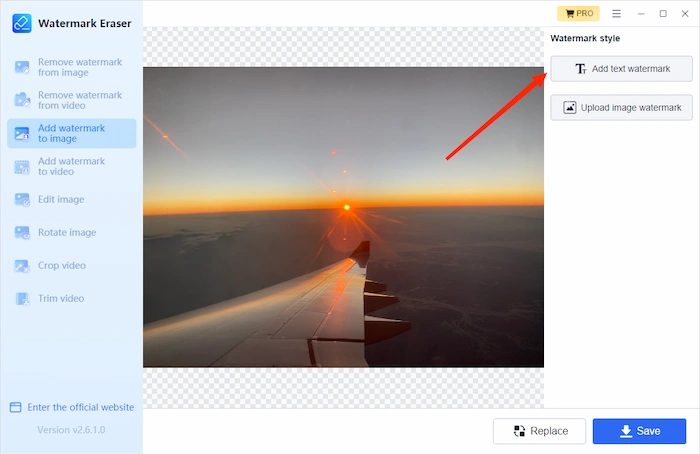 Click 

Add watermark to image

 on the main page.

Insert your picture and click 

Add text watermark

.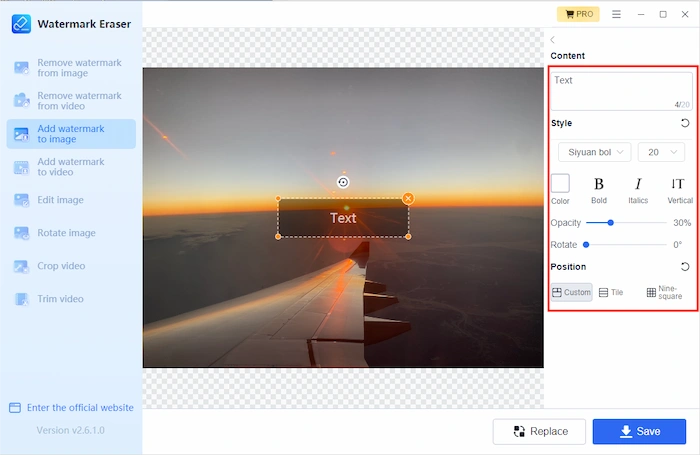 Enter your text watermark in the box and adjust the font, size, color, location, and other details.

Then click Save to keep it.
Method 2: Add text to beautify your pictures.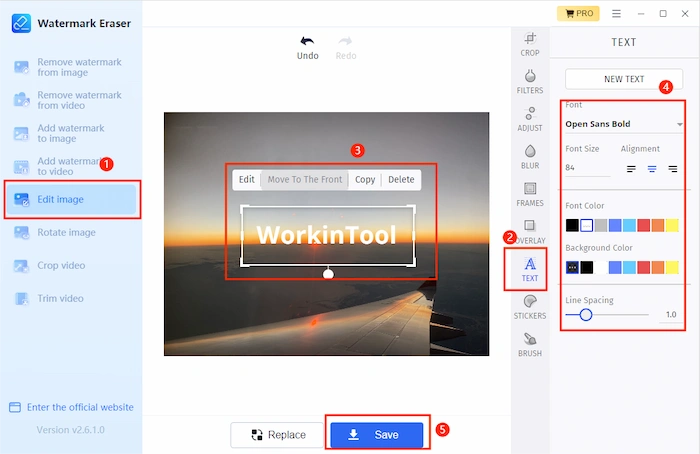 Find the option

Edit image

.

Input the target image and click the

Text

 icon on the right bar.

Use all the custom features to create your text in the picture. Multiple text bars are available.

Lastly, you can save the edited image to your computer for later use.
🎉 More WorkinTool Watermark Remover Features 🎉
Instantly Add Words/Text/Logo to Photos for Free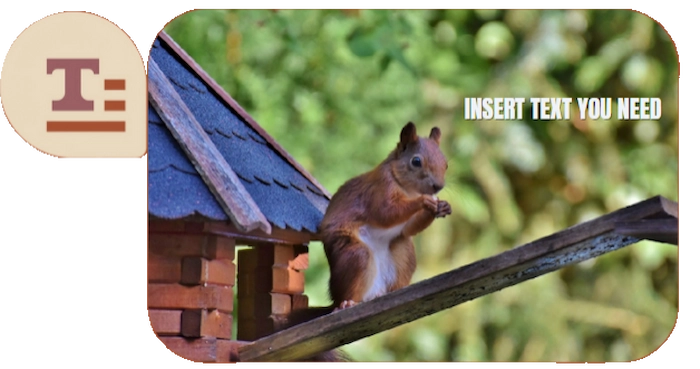 with a comprehensive WorkinTool Watermark Eraser

---
Part 3. How to Add Text to a Photo on Mac
📌 Fix 1. Add Text to an Image with Preview
If you use a Mac instead of a Windows system computer, this app will be more accessible for you to apply. Now, without the trouble of downloading a third-party app, you can directly use the Preview app to type in the images you want. You can find it right on the Mac and use it to edit your pictures right away.
🔎 How to add text to a picture using Preview: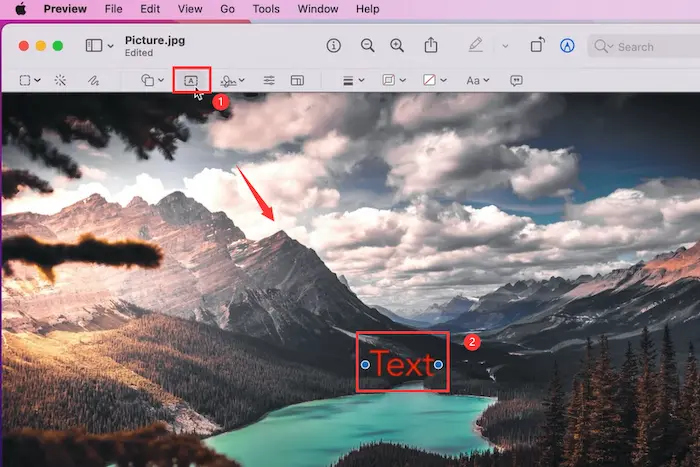 1. Open 

Finder

on your Mac and input the picture you want to add text to.

2. Click the 

Tools

 button at the top screen and find the 

Text

 button from the drop-down menu.

3. Tap the picture screen to create a text box and type your text.

4. You can click the A button at the top to choose your text's size, font, and color.

5. Finally, click 

File

 to 

Save

 your photo with text.
📌 Fix 2. Add Words to Pictures in Photoshop
PhotoShop is one of the professional and comprehensive editors for photos and videos. It holds various tools to refine your photos, such as removing background, adding filters, stickers, etc. Adding text to images is the basic feature of Photoshop. However, you need to upgrade to premium after the free trial to continue using this workable software.
🔎 How to add words to pictures in Photoshop: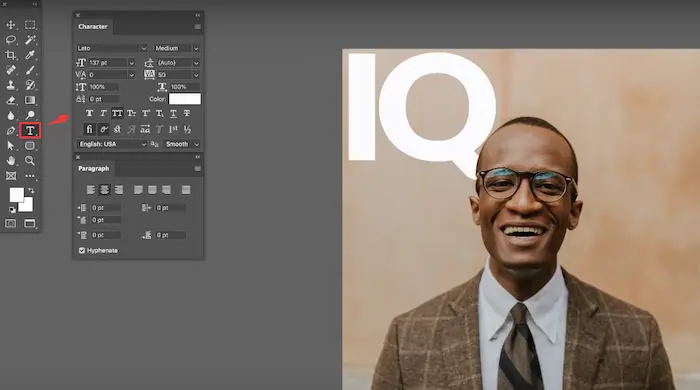 Step 1.

Launch Photoshop, and click

 File > Open

 to load your image in Photoshop.

Step 2.

Click on the 

T

icon on the left sidebar. Then, enter the words that you want to add to the photo.

Step 3.

 Adjust font size, style, color, and location. Finally, tap File and select 

Export > Save for Web

 to keep the changes.
Reference to: Adobe Support
📌 Fix 3. How to Add Text to a Photo in Adobe Lightroom
Adobe Photoshop Lightroom was launched by Adobe company, a photo editor tool for professional photographers to refine and beautify photos. Moreover, like Photoshop, Lightroom is equipped with various practical editing tools, including focus shifting, level adjusting, cropping, face recognition, etc. The most impressive feature of Adobe Lightroom is the capability to process large RAW files while keeping the original quality. If you want to add text to RAW photos, Lightroom is your best option. Nonetheless, you can only edit ten images within 30 days for free.
🔎 How to Add Text to an Image in Adobe Lightroom: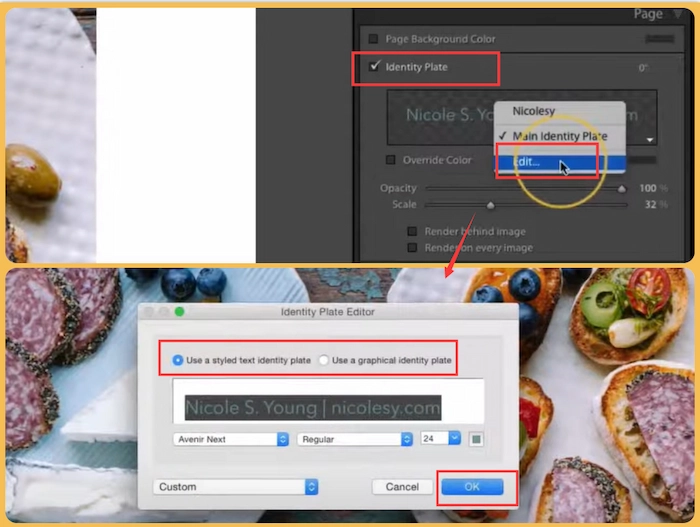 Step 1.

 Load your image file with Lightroom

Step 2.

 Click the Identity Plate > Edit and enter words in the pop-up window.

Step 3.

 Select Use a styled text identity plate or User a graphic identity plate. Then click OK. Lastly, you can move it to a proper place and save the edited photo.
---
FAQs
1️⃣ How can I add text to a picture for free?
Suppose you plan to add text to a picture for free on a Windows PC. In this case, all you need is WorkinTool Watermark Eraser, a free, all-in-one photo editor. It's super easy to put text on a photo with WorkinTool. Let's check how to do it together.
Step 1.

 Download and open WorkinTool. Then select 

Add watermark to image. Third, click Select Image

to insert a photo file into this software.

Step 2.

 Click

 Add text watermark or Upload image watermark

 to write on photos.

Step 3.

 Move the watermark location and click

 Save to keep the modified photo on your PC.
2️⃣ How to add text to a photo in iMovie?
Don't be cheated by the name iMovie, which you might think has no photo editing functions. In fact, it can edit photos, write, and add a text box to photos. Moreover, the steps are super easy and only take several seconds to finish text adding. However, the outcome format will be in video format. Therefore, this method is most suitable for those who want to add text to pictures to make video clips.
Step 1.

 Touch iMovie APP on your iPhone or iPad device. Then click

 + > Movie. Next, select your wanted photos and click Create Movie to continue.
Step 2. Touch the image in the editing panel. Then click the T

icon to enter text on the images.

Step 3.

 Tap 

Done

 to confirm.
Add Text to a Picture on Windows 10/11 for Free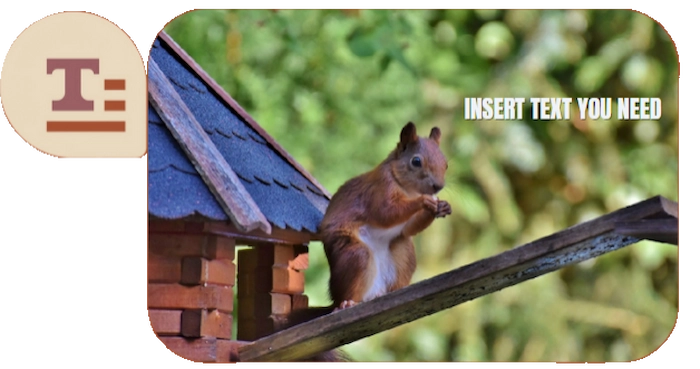 with a comprehensive WorkinTool Watermark Eraser

---
Thoughts
In this article, we have concluded the best ways and tools on how to add text to a photo on Windows, Mac, Android, iPhone/iPad. As a newly published Watermark tool, WorkinTool Watermark Remover has magically made it all. I mean, it can create a text watermark for pictures and videos. And, of course, you can erase any watermark from pictures and videos since it is called a watermark eraser. Plus, it provides a long-term free trial to edit images within 500 KB. What do you expect from a free-to-use tool with all these power functions? Just download it to experience it yourself now.