How to Remove Text from a Picture without Photoshop
WorkinTool Watermark Eraser can quickly help you remove the brand logo, date, watermark, and other objects from your picture without removing the background. It can smartly fill the erased part with the surrounding color. No blurs on your image. Apart from eliminating text from a picture, it can also remove video watermarks, cut out photos, resize videos, rotate images, etc.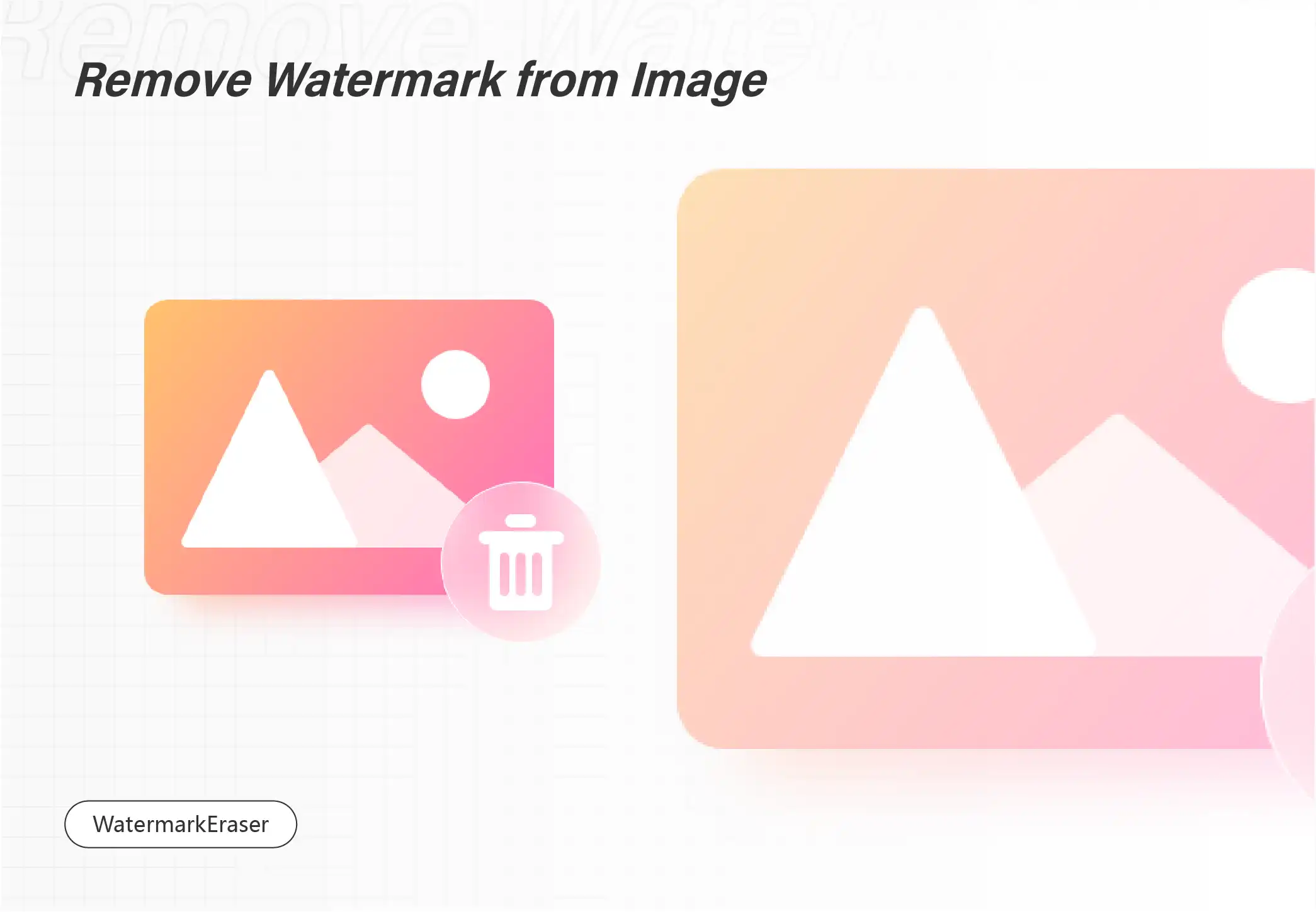 How to Remove Text from a Picture without Photoshop
You may often encounter this situation: you want to download delicate pictures from the Internet but find that the downloaded images have a text watermark. What can you do to avoid this situation? How to remove text from a picture? As this case becomes more common, numerous watermark eraser tools come into being. Photoshop can be said to be the most comprehensive photo editor in the field; however, it costs highly, and it is complex for beginners to operate.
In this guide, I'll present you with effective watermark erasers for Windows and Android that can effortlessly remove text from images. If the logo, time stamp, or other unwanted text in a picture seems like a hassle for you, you can eliminate it with the following recommended watermark removers.
📌 How to Remove Text from a Picture on Windows
WorkinTool Watermark Eraser is a helpful desktop tool for Windows that can remove text watermarks from pictures with high clarity. It won't bring blurs to the erased part. With its AI removal feature, you can get rid of the unwanted object from a picture in seconds. Whether it's brand logos, annotates, or time stamps, it can eliminate it without removing the background. One outstanding benefit is that it can batch process watermarks in an image. In other words, you can erase many text watermarks in one go. After removal, you can preview the removal result and re-operate if you are not satisfied with it. Another prominent advantage is that it offers multiple removal modes for you to select. Here is the detailed intro of the four removal modes in WorkinTool Watermark Eraser.
Smooth: in this mode, there will be no apparent layering between the eliminated part and other parts of the image. The color of the picture will have a natural transition effect.
AI: its AI removal helps you recognize the text watermark with high accuracy and erase the unwanted object from the picture smartly.
Edge: this removal mode can fill the color of the erased part and make the edge natural.
Texture: it can select the background color around the erased part and repair it with the most suitable one.
Check out how to erase text watermark with WorkinTool Watermark Eraser in steps:
Step1. Open the software on your computer and find the Remove watermark from the image on the main interface.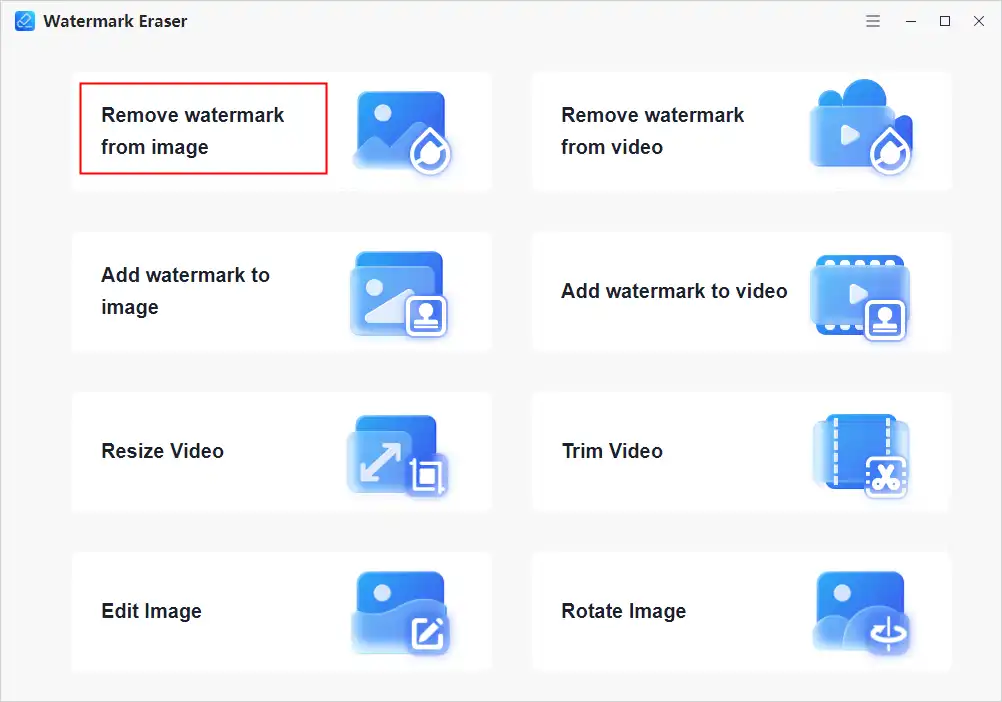 Step2. Select your picture from the folder or drag it to upload. This software supports image formats like JPG, PNG, and BMP.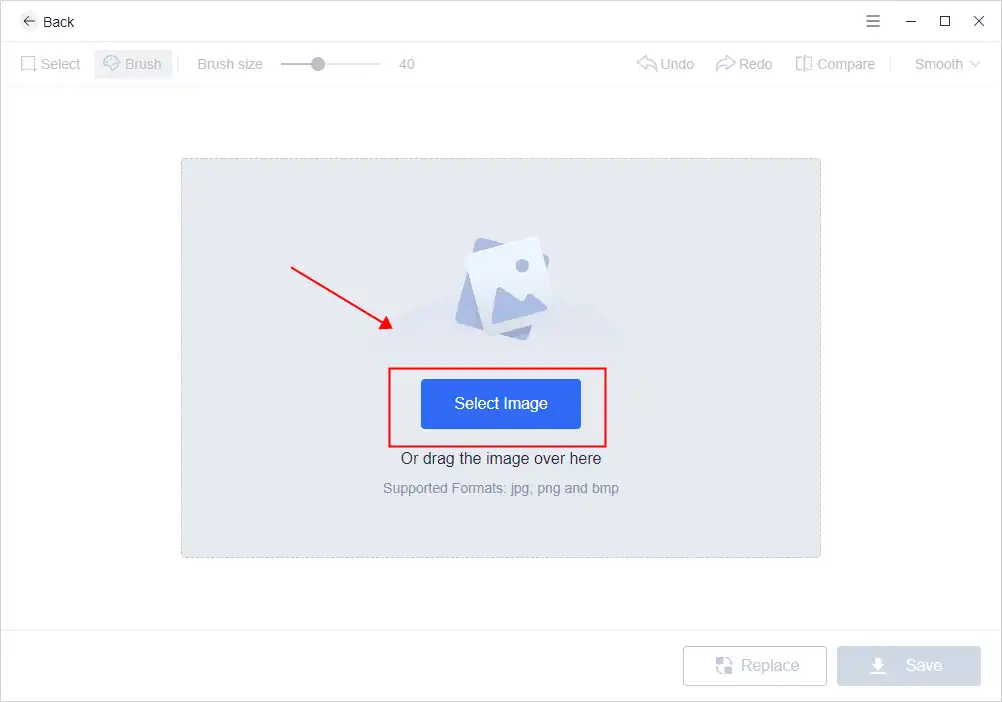 Step3. Select removal mode, then cover the text in the picture with the brush or the rectangle, and it will remove the text immediately. Click Compare to preview the removal result. If you need to re-operate, you can press Undo on the toolbar.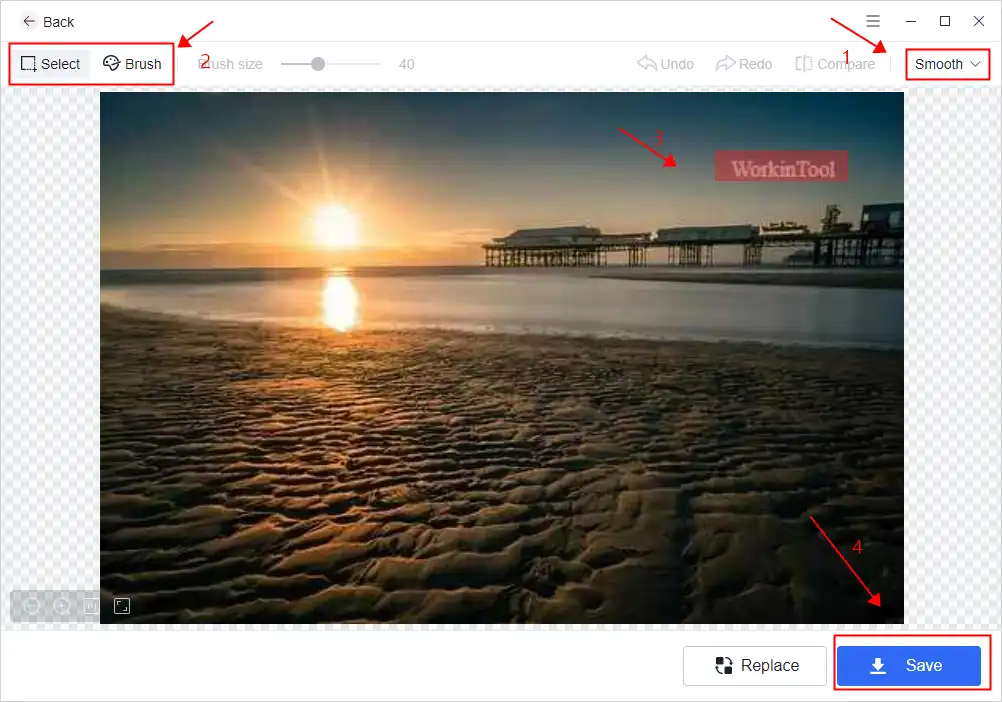 Additional Tutorials
📌 How to Erase Text from Image on Mobile Phones
If you prefer to edit photos on your mobile phone, you can use a professional watermark remover app. Video Eraser is what I want to recommend. It is a professional watermark processor that is available on Android phones. It is free to remove text from a picture and save the edited image to your phone. Meanwhile, it can lead to a brilliant watermark removal effect. There is no noticeable blur on the erased part. Furthermore, not only can it remove watermarks from an image without removing the background, but it also can cut out the image and change the background, process video watermarks, compress, reverse, resize videos, etc.
Pros:
Provides several free tools for all users
Great watermark removal results
Fast and smooth to operate
Batch remove watermarks
Straightforward interface: friendly for beginners
No ads or pop-ups throughout the operation
Multiple editing tools are available
Cons:
Single watermark removal mode
Slight blur on the erased part
Only for Android phones
How to remove text from a picture on Android phones with Video Eraser.
Step1. Install the application from Google Play and open it. Choose to log in with a Google account or continue as a guest.
Step2. Select Remove watermark from image and pick the picture from your album.
Step3. Cover the text watermark with the rectangle tool and adjust the size and position of it. You can tap on the screen to generate more rectangles if you need to remove multiple watermarks. After picking up the text, press Done to remove the text from a picture.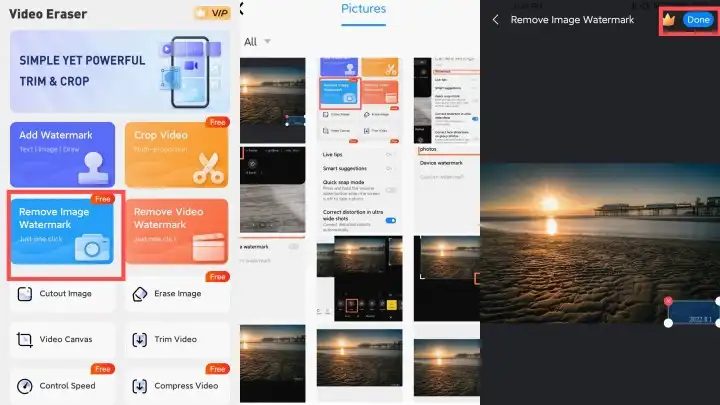 Bonus: Why Choose Watermark Erasers to Remove Text from Pictures
There are several ways that can remove watermark from an image. Usually, we may take screenshots to remove the logo from the picture, but this method will destroy the composition and content of the entire image. Moreover, many platforms and websites have decided to place the watermark in the middle of the picture, so taking screenshots doesn't work. Based on this consideration, I deem a professional watermark eraser necessary to remove text from a picture. In addition, some photo editors in the market can also remove unwanted objects from images. But the operations of photo editing software, like Photoshop, are relatively complicated for novices.
In comparison, watermark removal software is more proper for eliminating logos, time, and other watermarks. It can smoothly and effortlessly remove things from photos. Also, because it is designed to process watermarks, you can navigate to the feature more quickly.
Summing Up
This article mainly explains how to remove text from a picture on PC and Android phones. Watermark remover software is what we'll use. The above tools can solve most of the watermark removal problems you encounter in your work. And both of them are relatively simple and suitable for most novice users. Have a trial if you have this kind of trouble.