How to Remove Watermark from Video: 4 Free and Paid Ways
Overly large watermarks will decrease video appreciation and distract audiences from fully concentrating. Therefore, this post explains four ways, free and paid, that enable you to erase watermarks. Read on to learn how to remove watermarks from videos on Windows, Android, iPhone, and online. In this post, you can get a reliable watermark remover for the following features.
💙 Completely free.
🤍 Easy to use for beginners.
💙 Remove watermarks from pictures and videos.
🤍 Get rid of watermarks without blur.
How to Remove Watermark from Video: 4 Free and Paid Ways
Adding watermarks to videos can promote file security and protect copyright. You may have noticed that when you download videos from social media platforms like TikTok, there will be a significant watermark to show the TikTok logo and user name. This is a practical way for content creators to protect their work from being stolen or used without permission. Many business owners often add their brand names to videos when marketing to protect their copyright from being violated by those who sell shoddy products.
Watermarks include but are not limited to logos, dates, signatures, brand names, institution names, and more. There are many advantages to putting watermarks on videos and images. But one notifying shortcoming is that overly large video watermarks will distract audiences from fully enjoying the video content.
Imagine this scenario, when you need to re-edit something or add a video sample to your presentation, the big watermark on your video makes the situation awkward. So, in order to make post-creation more convenient and not disturb the overall appreciation, this article will share how to remove watermark from video without blur, with both paid and free solutions attainable, including a video watermark remover online.
---
How to Remove Watermark from Video for Free via WorkinTool
Deleting watermarks from videos with WorkinTool Watermark Remover is a quick and straightforward process. This video watermark removal tool suits everyone, whether you are an experienced video editor or a novice. All you need to do is download this watermark remover to your Windows PC and select the corresponding option to erase video watermarks.
WorkinTool Watermark Remover allows you to eliminate logos, dates, text, and other patterns from videos without being blurry. You can shorten or extend the period that watermarks are not showing freely by dragging the timeline.
You can replace the watermark, crop your video to remove the watermark, and remove the logo from the video using the frame selection tool in this software. Let's have a look at the detailed technique you can use to get rid of watermarks for free without blur with WorkinTool.
First step: Open WorkinTool Watermark Remover and hit Remove watermark from video.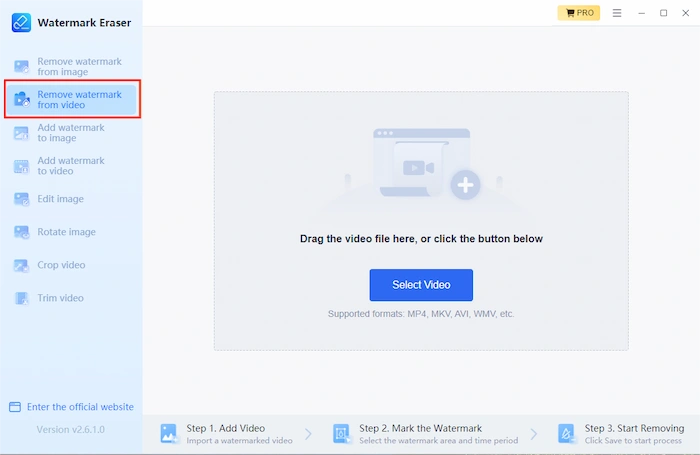 Second step: Upload a video and click Create selection to frame select watermarks. (You can create unlimited selections and adjust the disappearing time for each one.)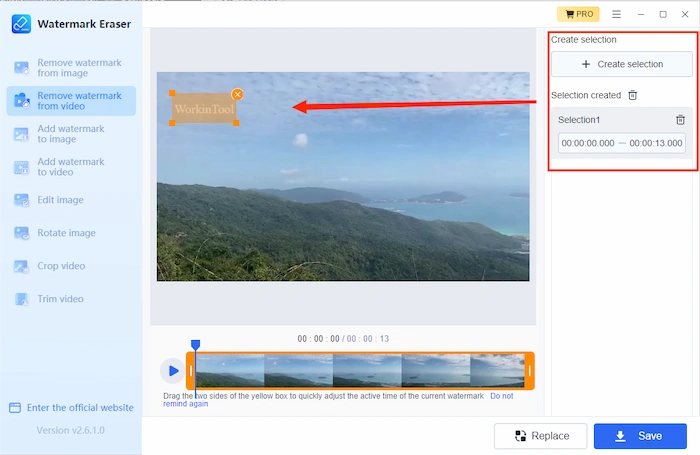 Third step: Click Save to export the dewatermarked video.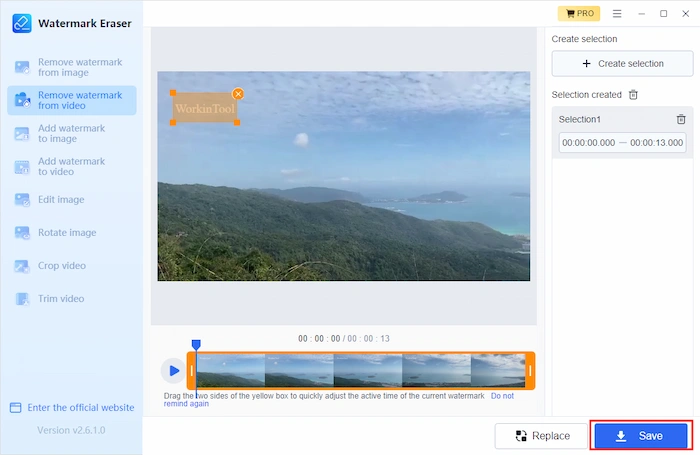 📢More to Share
Besides removing watermarks from videos, WorkinTool Watermark Remover provides solutions to remove watermarks from images. It offers four modes to make watermarks disappear from images and naturally enrich more details. You can also add watermarks to images and videos without pressure. It is feasible to add text and image watermarks with custom size, opacity, angle, layout, text font, text thickness, and text color. It also works as a video trimmer, video cropper, and image editor. Refer to the table below for more details.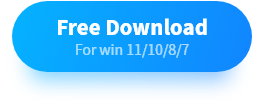 ---
How to Remove Watermark from Video on Phones
This part explains two apps, one for Android and one for iPhone, to eliminate icons, logos, text, and patterns from videos. Both of them have free and paid features. Read on to learn how to remove video watermarks on mobile!
Erase Logos from Videos on Android
If you want to remove unwanted logos and stamps on your mobile phone, this part shows an easy-to-use watermark remover available on the Android system. You can get Video Eraser from Google Play Store. It is feasible to free download this app and enjoy parts of its features for free without signing in, such as removing watermarks from images, cropping videos, controlling video speed, and compressing videos.
You can enjoy one of the advanced features once per day, like removing video watermarks, adding watermarks, cutting out images, changing video canvas, trimming videos, reversing videos, and creating video thumbnails. After the free trial, it will require you to register and upgrade to a membership plan. You can get the membership for only $1.99/month, $8.99/year, or one-time purchases at $20. Here are the detailed operational steps.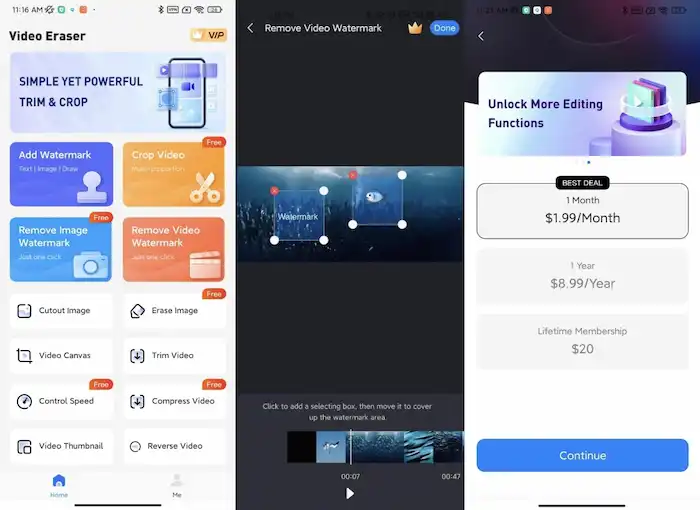 First step: Open Video Eraser and tap Remove Video Watermark.
Second step: Upload a video and select the watermark area.
Third step: Preview the outcome, save it to your album, or directly share it with your friends.
---
How to Remove Watermark from Video on iPhone
You can get the iOS version of Video Eraser from App Store for free. To clarify, this one and the last Android app are provided by different servers. That is to say, they just use the same name but differ in features. You can also use it to delete unwanted icons, logos, patterns, and words from videos. But you must pay for other locked features like video edits and ad removal. Here is how to remove watermark from video without blur on iPhone Video Eraser.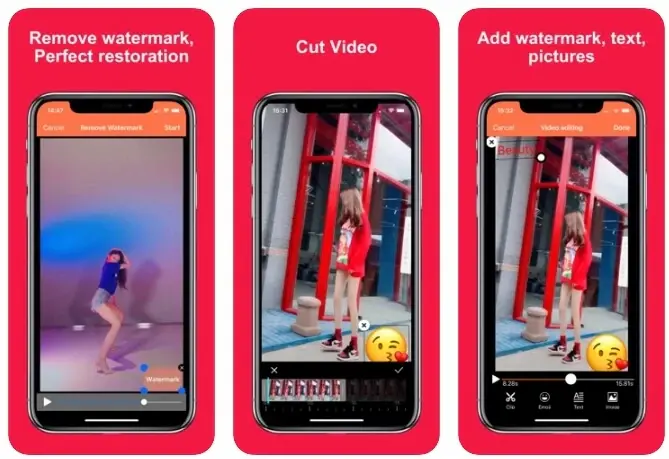 First step: Click the + icon on the upper right corner of your screen to import your video.
Second step: Press the video icon and tap Remove Watermark.
Third step: Select the watermark area and press Start to begin dewatermarking.
Final step: Go to the Processed tab to preview the effect.
---
How to Remove Watermark from Video Online
If you don't want to download a third-party app or are not willing to buy another watermark removal tool when switching devices, try Apowersoft video watermark remover to remove watermark from video online without blur. You can upload multi-formatted videos, including MP4, MKV, FLV, MOV, and more, to remove logos from videos online in a batch. This is a free watermark removal software that will not charge a penny. But you can't expect it provides more features. And one weak point is that you can't preview the final effect before downloading. Here is the how-to tutorial.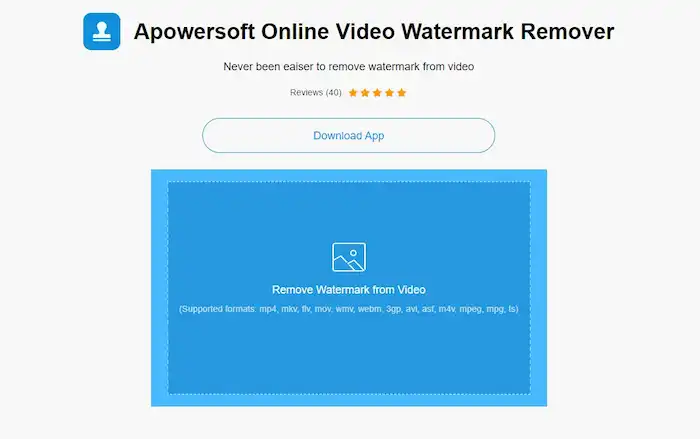 First step: Go to Apowersoft and hit Remove Watermark from Video to upload materials.
Second step: Select the watermark and press Erase.
Final step: Download the erased videos to preview the final effect.
---
Conclusion
This post explains four video watermark remover tools you can use on various devices, including WorkinTool Watermark Remover on Windows, Video Eraser on Android, another Video Eraser on iPhone, and Apowersoft video watermark remover online. Both free and paid solutions are elaborated, including their operation steps. I believe you already know how to remove watermark from the video without blur for free now. Pick one that best suits you, and delete watermarks from videos! Remember, don't erase watermarks for commercial use, or you will violate copyright regulations.