How to Add Instagram Watermark to Photos for Free
How to Add Instagram Watermark to Photos for Free Before the advent of the Internet, many unknown artists had no place to display their work. At that time, if you don't have a well-known teacher or sponsor to recommend you or be famous, it isn't easy to make a living by selling works. However, the… Continue reading How to Add Instagram Watermark to Photos for Free
How to Add Instagram Watermark to Photos for Free
Before the advent of the Internet, many unknown artists had no place to display their work. At that time, if you don't have a well-known teacher or sponsor to recommend you or be famous, it isn't easy to make a living by selling works. However, the time has changed. Now, you can share your artwork anytime, anywhere, at your fingertips. Only a few buttons can put your name out on the Internet. Instagram is the first choice for most creators. If so, you must know how to add an Instagram watermark first.
Since Instagram was founded in 2012, it went viral this year, and the heat will not go down. More than one billion people use this app every day. People post their daily life, their happiness, and sorrow. People also commute through this app, making friends up there. There has already been an application people cannot miss. However, the bad came along with the good because this platform has also made it easy for people to steal art. Fortunately, watermarks can protect your creative work and simultaneously put your name on it.
---
Why You Should Add Instagram Watermark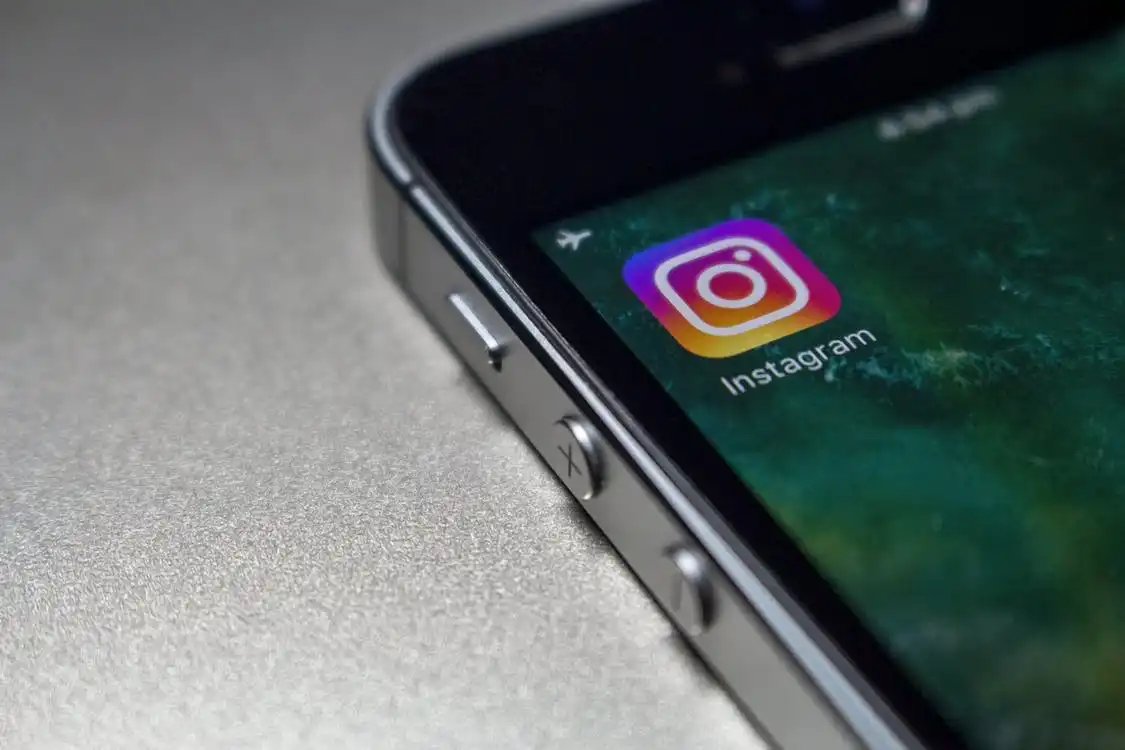 Let me put it straightforwardly. It is all about Brand and Money.
Nowadays, it's not just individuals who will sign in to Instagram to post their pictures. Most companies will do the same thing. Why? Online marketing is now a must for any company, and social media like Instagram are great platforms. Instagram watermark works just like an advertisement. For individuals, watermarking every post is tiring, I know. But for companies, letting people know about your products and brand is indispensable. Watermarks seem to be the most feasible way to achieve the goal.
Another reason is that watermarks can prevent art stealing problems that happen to you. Or worse, some people use your photos to do criminal matters, and you end up in jail. Even if Instagram doesn't support the download feature, it doesn't mean your artwork is perfectly safe. Like any other software, people can always find a way to get those pictures down to their phones from Instagram and do unspeakable things. If you are that unlucky, you will spend hundreds of times longer than adding a simple watermark to explain that you are innocent. It's just not worth it. Do you see what an Instagram watermark can do now? When your picture is shown on some websites without your permission, standing up for your rights is more tiring. So why can't you be one step ahead?
---
How to Add Instagram Watermark on Windows

People always say a watermark on Instagram photos will affect the entire picture result. If you do that, others will concentrate on the watermark rather than the picture itself. And there is a wrong idea thinking that they are not famous enough to attract cyber thieves to steal. First, those thieves are looking for photos with no watermark to copy and paste. Second, because people with similar thoughts are all over the Internet, online stealing and plagiarism are getting worse. To avoid your art being easily stolen by others, I recommend you use WorkinTool Watermark Remover to put another safety lock on Instagram Photos.
WorkinTool Watermark Eraser is an all-in-one professional watermark editing software. It has all the watermark-related features in it. From adding all sorts of watermarks to photos and videos to removing unwanted watermarks from pictures and films without a trace, you can all find them here. It's even equipped with functions to edit images and videos for you to enjoy. In addition to its features, it is also designed to be clean and convenient for any group of users. Whether you have any image editing experience, you'll get the hang of it quickly. Most importantly, it is free to edit images within 500 KB.
Steps to add Instagram watermarks:
There are two types of watermarks that you can add to your Instagram photos: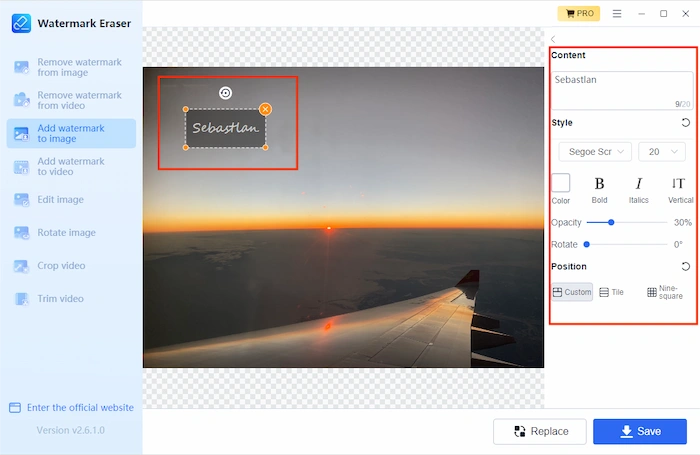 First, download this fantastic watermark tool and click "

Add watermark to image

."

Select or drag your desired photo into the editing window.

Then, pick the first one: 

Add text watermark

.

Here you can input the text watermark you want. You are offered to customize it with multiple options by adjusting the font, size, color, bold, italics, vertical, opacity, rotation, and position.

Once you have added the watermark, click on the 

Save

 button.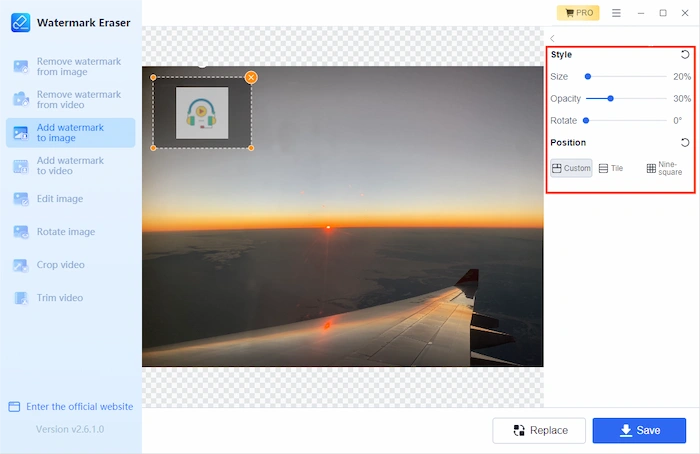 First, download this incredible watermark tool and click "

Add watermark to image

."

Select or drag your desired photo into the editing window.

Then, pick the second one: 

Upload image watermark

.

After you have selected the logo from your computer, this tool will also offer you custom features to adjust the size, opacity, rotation, and position.

Once done, you can click the 

Save

 button to save it to your computer.
🎉 More WorkinTool Watermark Eraser Features 🎉
---
Add Watermark to Instagram Pictures on Mac

If you are a Mac user and don't care for a third-party tool to add watermarks, then maybe you can try using the built-in Mac tool Preview. It is free and available for you to add text as a watermark to your pictures. But unluckily, that is all you can do with the tool. You are using it to sign your name on your work. Please see the steps:
First, open your photo with Preview and find the 

Markup

 button to open the edit menu.

Select the

 Sketch

 option and the perfect color on the menu.

Then you can draw the watermark you want and adjust the opacity and details.

Once the watermark is added, save this edited image to your computer.
---
Bonus: A Simple Watermark App for Android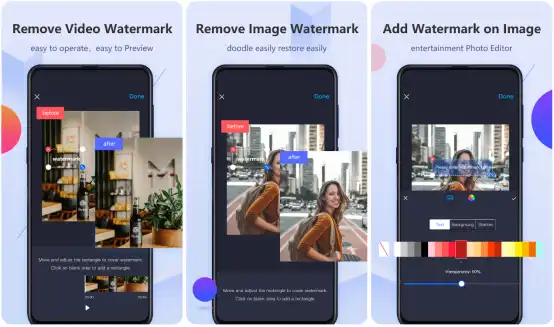 To be honest, Instagram users are supposed to be mobile users, so naturally, it would be more convenient to add an Instagram watermark to an image on your phone. So, here I recommend a simple watermark application for Android users. WorkinTool Video Eraser is just the tool you need. Like any desktop tool, it covers all watermark features, including adding custom watermarks to your images or videos or removing them from your targets. You can now finish it on your phone without any hassle.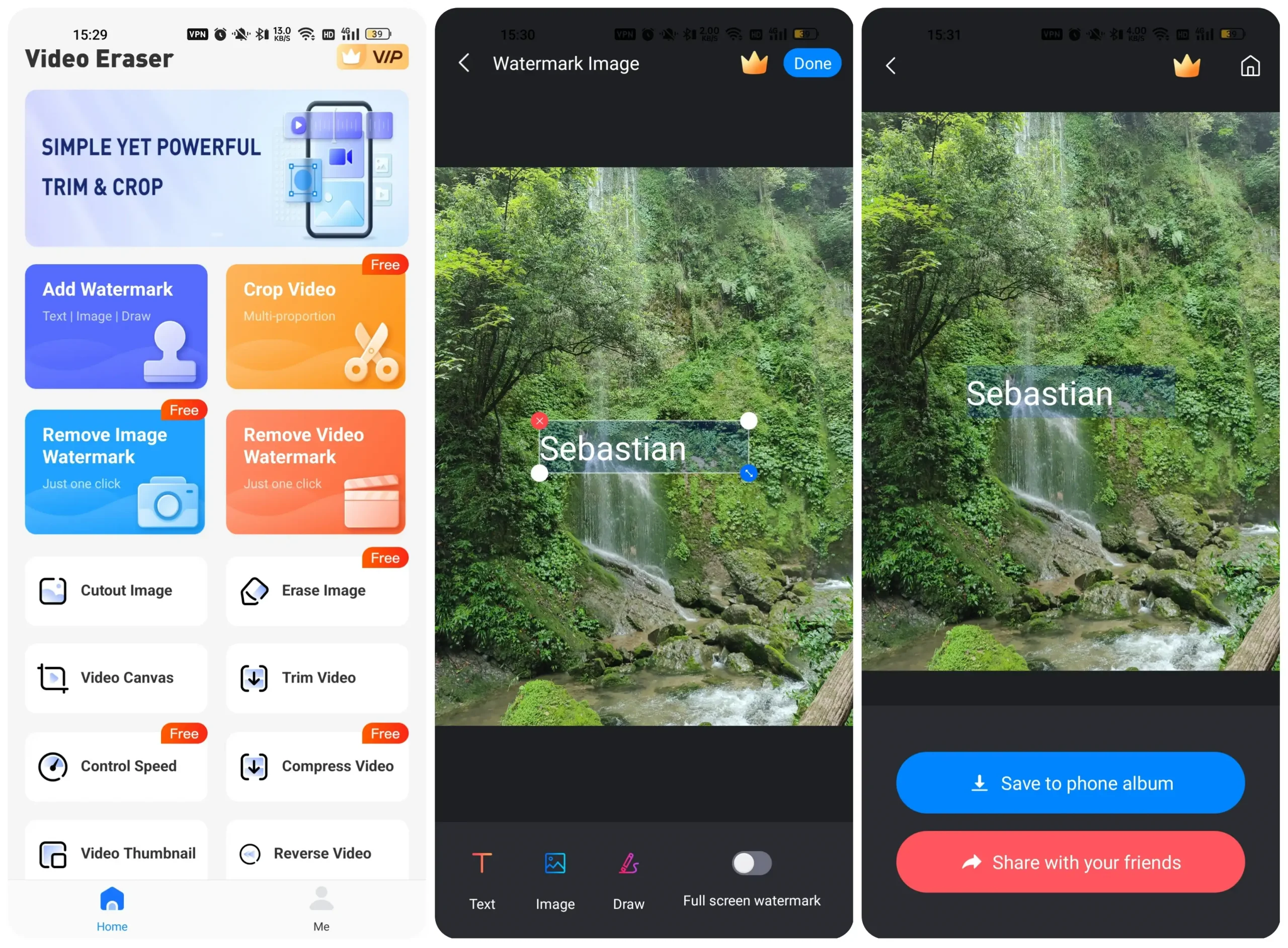 After downloading the app, please open it and click on the 

Add Watermark

 button.

Select the wanted image, and at the bottom of the image, you will see three types of watermarks you can add.

Pick any one of the options and add it to your photos, then tap 

Done

 and save it to your photo album for later posting.
---
More to Share
I know many blogs say that you don't have to put watermarks on Instagram photos. But I must tell you that if you are an Internet artist, be wise. Adding a watermark to every posted picture may seem a bit troublesome. But it is better to see your work stolen and claimed to be others but not yours. So it's never too late to make your particular logo and add an Instagram watermark. With this all-in-one WorkinTool Watermark Eraser, I believe you will get relief from worrying about plagiarism. Plus, it provides a free trial to use right now. Just go and experience all the fabulous functions.