How to Add Trademark Symbol or Copyright to Protect Photos
As Internet technology matures, many great artists tend to share their work on their social media accounts, but that's where some people come in. If you don't pay attention, your work will be stolen and claimed as the work of others. Trust me, no one wants to experience the process. The best way to avoid situations like this is to add a copyright symbol to your work. In this article, we thoroughly introduce the methods to type trademark or copyright symbols and how to add them to photos. Among all the methods, WorkinTool Watermark Eraser works best on Windows. It is easy-to-use and powerful in features. Most importantly, it is totally free right now. Come download and experience the magic yourself.
How to Add Trademark Symbol or Copyright to Protect Photos
With the development of modern Internet technology, any media content can be shared. Its spread is often beyond your control. Let's say you upload your fine work to image-sharing social media like Facebook, Instagram, Pinterest, or other websites where people can find your artwork. You can't be sure that some people will directly save your artwork and post it right to their account as their own. If they do that, there is high chance that they won't credit the original creator. So, no matter if they steal or plagiarize your work, it is obviously a problem you don't want to encounter. So how do we avoid it from happening? Well, if you can learn how to add trademark symbol or copyright to protect your Photos, this issue will be resolved in no time.
The solution to adding a trademark symbol is not hard at all if you can find the right tool. First, you will need to know how to type a trademark symbol, and then you need an image editor to add it to your artwork, just like adding a logo to your image. In this article, we will walk you through the easiest way to type trademark symbols, two Windows tools, and a mutual way to add trademark symbols on Android and iPhone.
How to Type Trademark Symbol
Trademark (™) symbol, copyright (©), and registered trademark (®) symbol are three symbols that you can't find on the keyboard. But they are widely used in artwork to indicate ownership. So, if we want to insert copyright and trademark symbols, what do we do? There are two standard ways to add a trademark symbol to any program on your computer.
Microsoft Word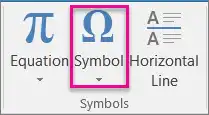 First, create a Word file and open it.

Then, click on the 

Symbol

 button on the 

Insert

 tab.

There are three options, click the middle 

symbol

 option or click 

More Symbols

, and select the symbol you want.
Or on the Word file, you can use the exclusive keyboard shortcuts:
① Press Ctrl+Alt+C to add the copyright symbol (©).
② Press Ctrl+Alt+T to add the trademark symbol (™).
③ Press Ctrl+Alt+R to add the registered trademark symbol (®).
Four key combination shortcuts
In addition to using Word files to find these symbols, the Windows system has an easier way to type them out directly. You can find them on the keyboard, but you can use the hidden code to find them. These are all four key combination shortcuts. While typing, you cannot let loose the Alt button, and the symbol should show on your computer when the four numbers are classified in order.
① Press Alt 0, 1, 6, and 9 on your keyboard to add the copyright symbol (©).
② Press Alt, 0, 1, 5, and 3 on your keyboard to add the trademark symbol (™).
③ Press Alt, 0, 1, 7, and 4 on your keyboard to add the registered trademark symbol (®).
---
How to Add Trademark Symbol on Windows
Now, after knowing how to type those commonly used symbols to mark your ownership, let's see how to add them to your artwork. As we have said, once you have found the right tool to help you, it is like a piece of cake. Now that, with so many online watermark tools on the internet, you can't tell which is good or bad. We have found that for you to save you unnecessary trouble finding the perfect one. If you are a Windows PC user, you must try WorkinTool Watermark Eraser.
WorkinTool Watermark Eraser

It is an all-in-one Windows PC watermark editing software. The whole navigation interface is obvious and intuitive. Whether you are new to this field of image editing or already have experience doing tons of watermarks, you will enjoy the convenience it brings you and get used to it immediately. Of course, the main features are also essential, and this tool nails it as well.
It offers all watermark-related functions to users. It has them all, from adding text to photos to removing logos from videos. As long as you have the needs, you can find exactly what you want in this tool. As for adding a trademark symbol feature, it provides various custom options for users to decide. Like font, size, color, bold, opacity, rotation, and place, these are provided for users to customize for free. Yes, you can do all of these operations for zero charges.
Come and take a look at the detailed steps:
Download and install WorkinTool Watermark Eraser on your computer and open it.

Find the 

Add watermark to the image

 feature, input your targeted picture, and click 

Add text watermark

.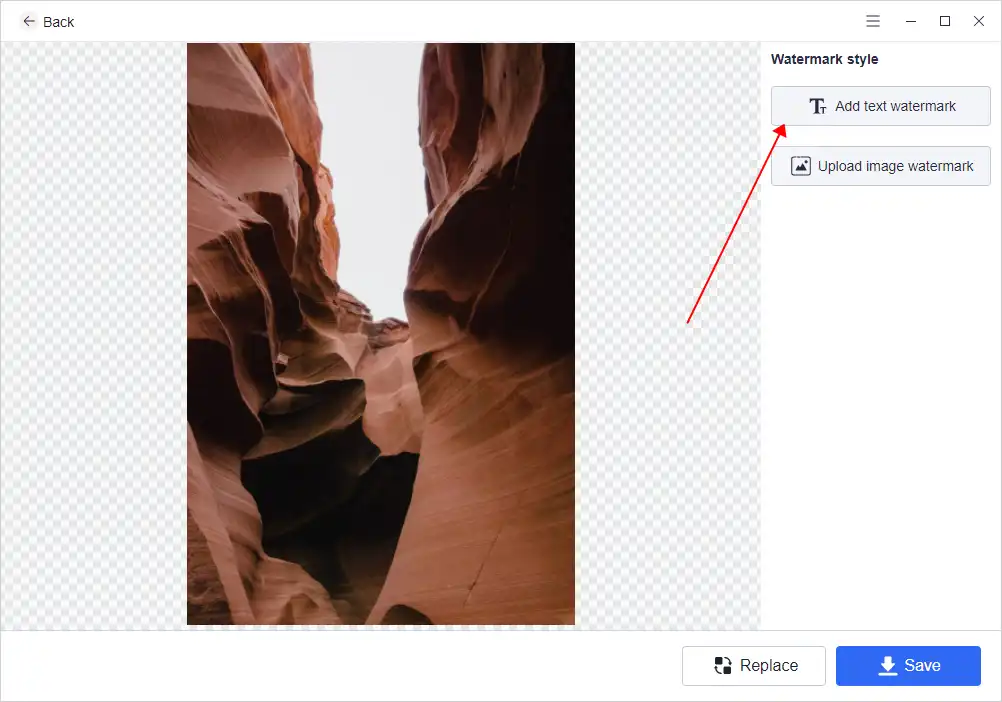 Type the trademark or copyright symbol in the content box and modify the watermark.

Once the whole process is done, preview the effect, and if it is satisfying, press Save to keep it on your computer. If not, then redo it again.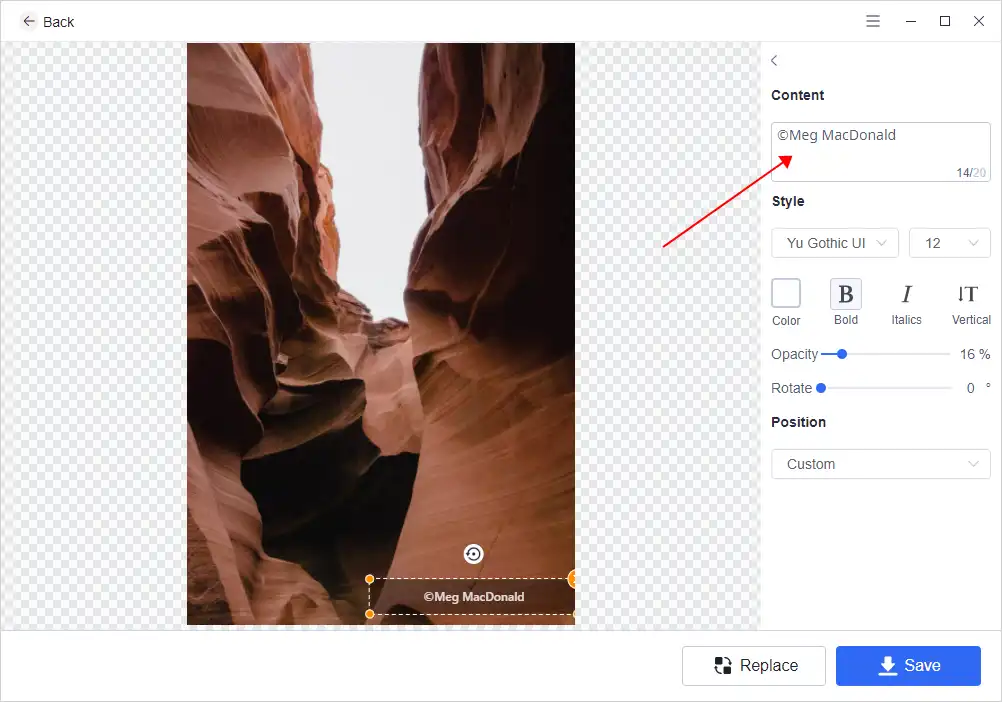 ---
Microsoft Paint 3D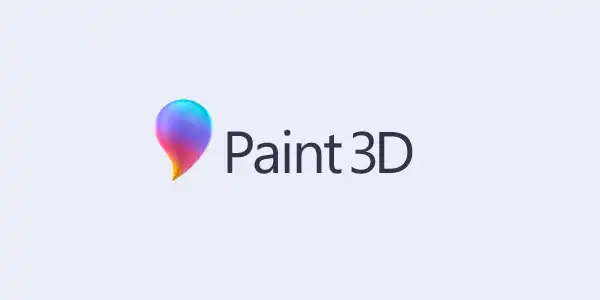 Another way allows you to add text to pictures directly if you have a Windows 10 system computer. The built-in application Paint 3D can add a text box to the image and adjust the font, size, color, bold, and place. However, you cannot use it to modify the transparent intensity. Most importantly, none of the keyboard shortcuts will work on this tool, meaning you must copy and paste the needed symbol to the text box.
Now, let's see how to do it on Paint 3D: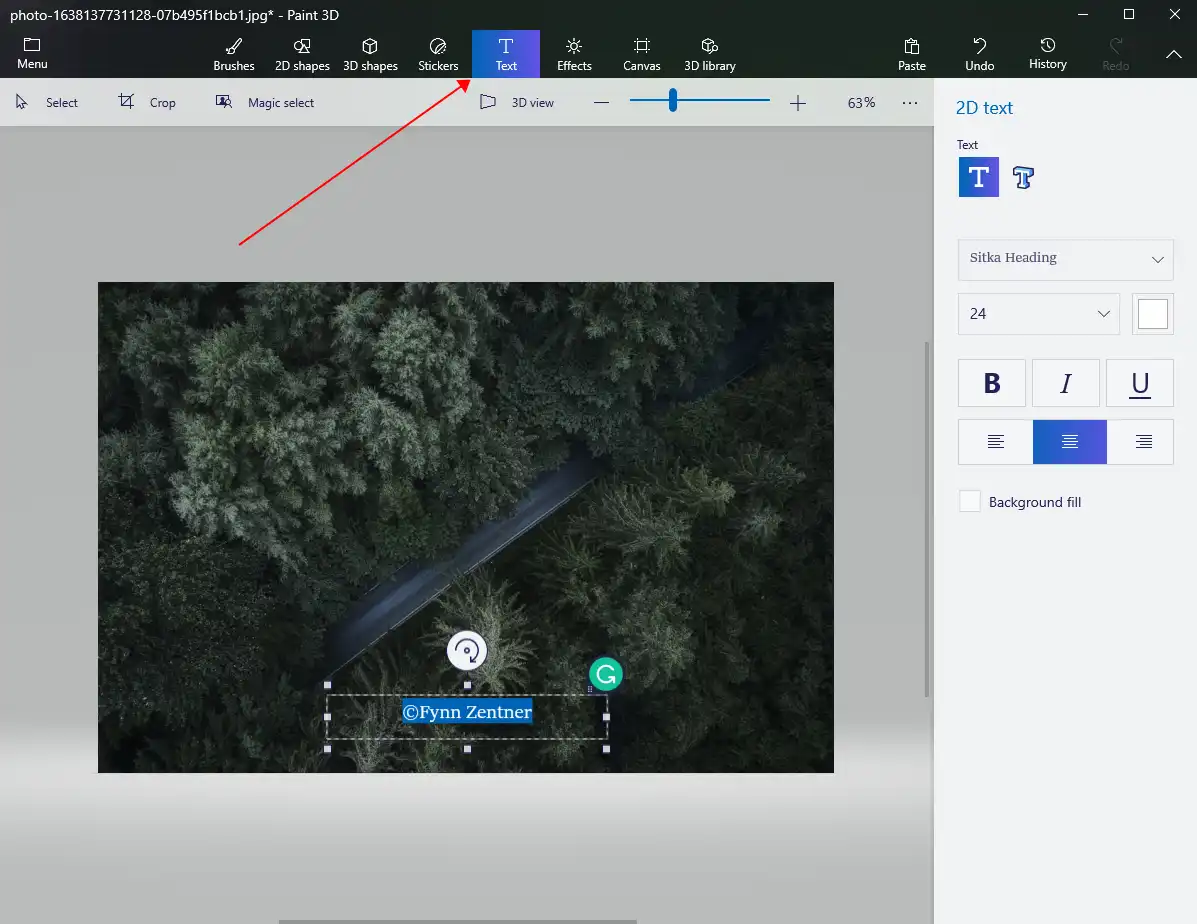 Open your image with Microsoft Paint 3D.

Select the 

Text

 option on the top bar to create a text box.

Type the symbol you want and adjust other customized options.

Once satisfied with the result, click on 

Menu

 to save it to your computer.
---
How to Add Trademark Symbol on the Phone
If you're a mobile user and you often handle uploading images to your social media account on your phone, here's a way to quickly add trademarks and copyright symbols to your work, letting you no longer worry about the problem of unwarranted theft of works. You just need to use the built-in Photos app to edit your pictures, which is free.
This method works both fine, and it is very familiar with both Android and iPhone, so I will take the Android system as an example: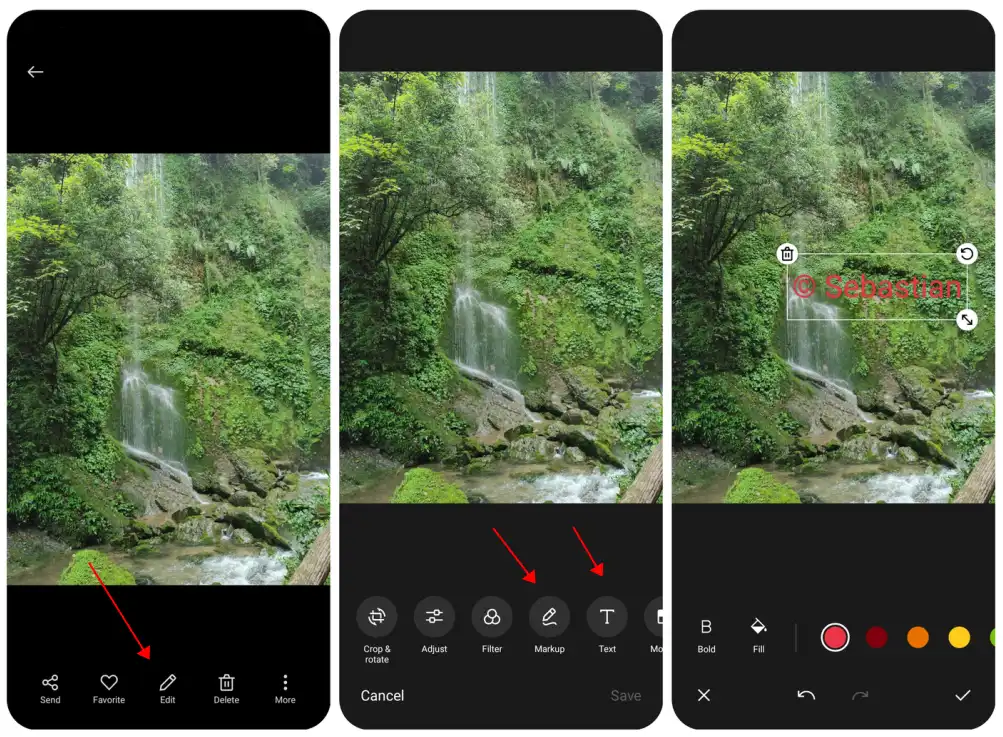 First, open your artwork using the Photos application and click the 

Edit

 button.

Here are two options that you can use: ① you can draw a copyright symbol using the 

Markup

 feature, or ② you can tap the 

Text

option, create a text box to type the mark, and add it to your work.

Once the process is completed, please Save it to your phone and post it to your social media account.
---
More to Share
This post has thoroughly walked you through how to add trademark symbols to photos. From the methods to type those symbols to the approaches of watermark tools and how to use them, you can feel very easy to follow these steps according to our provided solutions now. As you can see, if you use Windows system PC, then the WorkinTool Watermark Eraser is your best choice. You won't regret it if you have tried it.
If you have any suggestions or encounter any problems, please feel free to contact us anytime.