How to Time Stamp Photos on PC and Phones 2023
Watermark processing software helps you add time and date stamps to your photos and further record pictures. It is designed for watermarks on videos and photos. Multiple watermark styles are optional here. You can decide the size, font, color, transparency, and position of the date. Compared to simple photo editing tools, it can lead to better results. You can also use it to remove watermarks from videos and photos. Read this article to learn how to time stamp photos on PCs and phones.
How to Time Stamp Photos on PC and Phones 2023
Some mobile phones will automatically generate a time and date watermark after taking a photo, but some devices fail to do this. Adding a time watermark to a picture is not very complicated; many photo editing and watermark processor tools for PC and mobile phones can do a great job. However, since numerous photo editing tools exist in the industry, finding a constructive one is time-consuming. In this guide, I'll show you several effective tools and tell you how to time stamp photos already taken on PC, Android, and iPhones. Effective watermark processing software and applications are accessible here.
How to Add a Date Stamp to a Photo on a PC
Generally, there are two ways to time stamp photos on your computer; one way is to add a time watermark with professional watermark processor software. Another way is to type the date on your image. In comparison, the first method will bring a better effect; you can also adjust the transparency of the time stamp. At the same time, the second way is more accessible and can be fulfilled with many photo editing tools on Windows. You can select one method that can mainly satisfy your needs.
💡 Method1. Time Stamp a Photo with Text Watermark
WorkinTool Watermark Eraser is an effective watermark processor that allows you to time and date stamp photos and videos. Also, consistent with its product name, it can remove watermarks from videos and images with excellent results. As for adding watermarks to photos, there are multiple modes of watermarks optional. You can decide whether to add text watermarks or image logos to your videos and pictures. It is feasible to determine the watermark style as well, such as the color, size, font, position, number, etc. The operating process is maintained fast. You can obtain the photo with the time or date in seconds. The main reason to pick this software among numerous tools is that it can effortlessly and efficiently cope with watermarks for video and photos. Here are the key features of the WorkinTool Watermark Eraser:
Edit photos while maintaining high resolution
Fast and easy to add watermarks to a photo
Clear user interface and reasonable layout of tools
Multiple watermark styles to choose
Smooth operations and great results
Free of ads and pop-ups on the user interface
Requests for no personal account registration
How to time stamp photos with WorkinTool Watermark Eraser
Step1. Open the software, then select Add watermark to image. Upload your picture from the folder or drag and drop it to import. Images in JPG, PNG, and BMP are suitable to upload.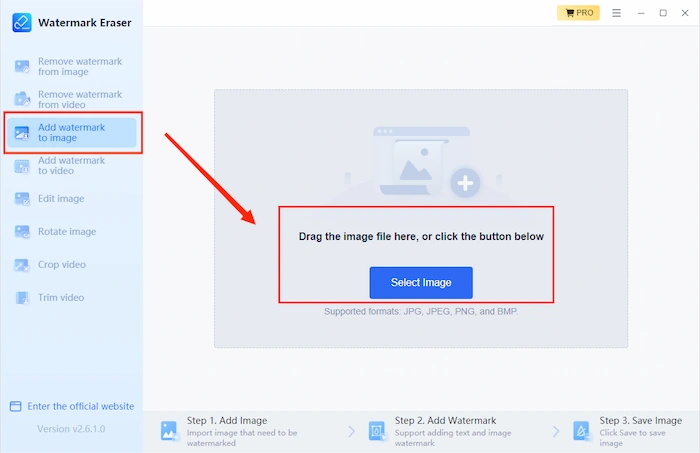 Step2. Click Add text watermark.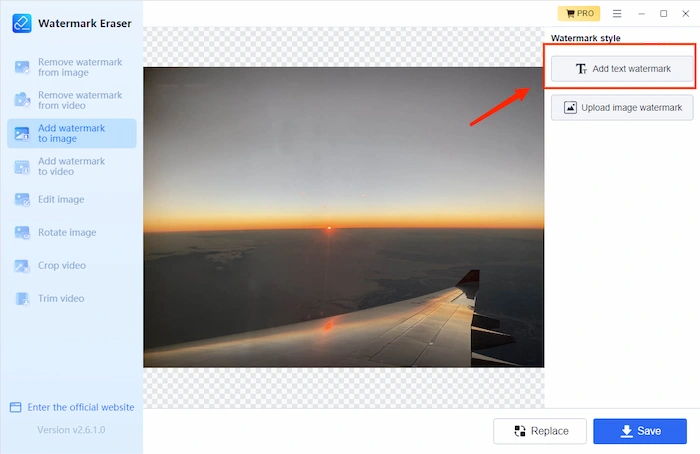 Step3. Type in the exact time and date. You can type up to 20 characters. Then, set the font, size, clarity, and location of the text watermark. After setting, press Save to download the photo with time stamps to your local folder.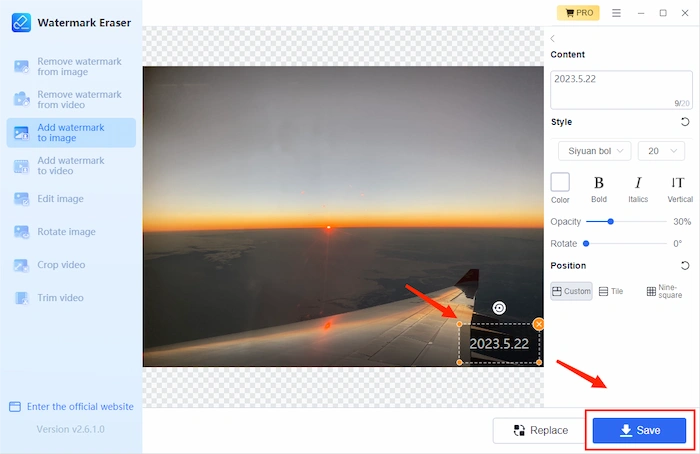 💡 Method2. Type the Time/Date of the Photo
In addition to inserting and removing watermarks, WorkinTool Watermark Eraser can edit images with text, filter, brush, sticker, etc. If you want a timestamp or date stamp on your photos, you can directly add text to them.
How to Time Stamp Photos by Adding Text
Step1. Open WorkinTool Watermark Eraser and find Edit image on the main user interface.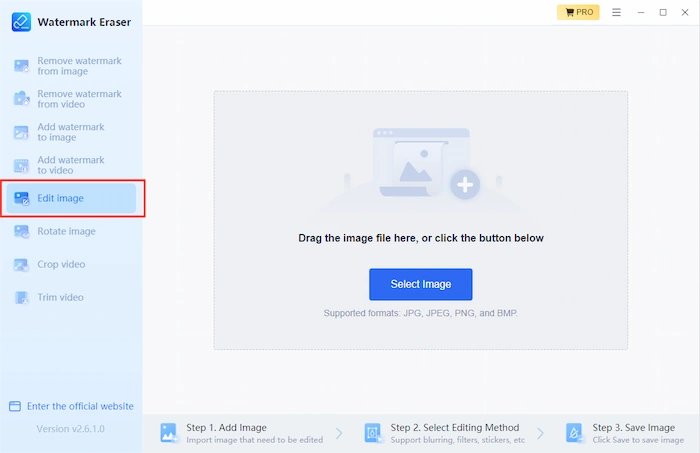 Step2. Select your image to upload. And choose TEXT in the menu bar. Then adjust the text's color, background, size, position, etc. Then press Save to download it.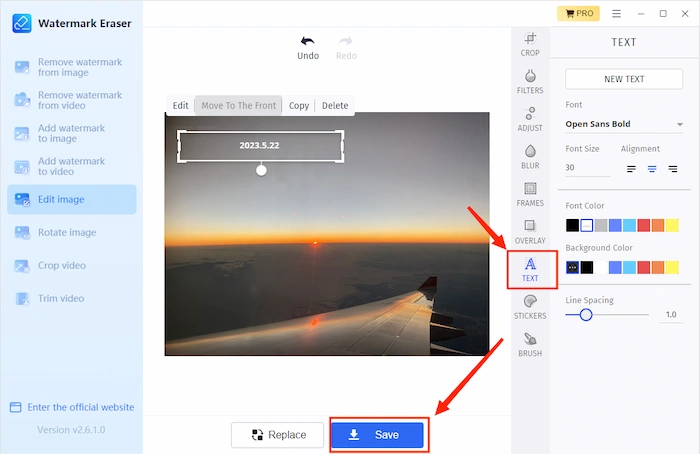 How to Date Stamp Photos on Android
If you are eager to date stamp photos on your mobile phone, you can try this Video Eraser app for Android. Though some default photo checkers on mobile phones can add text to phones, they are not as effective as a professional watermark processing tool to date stamp photos. Designed as a watermark eraser for videos and pictures, Video Eraser can also insert watermarks into videos and images. And it does excellent work. As for its price and plan, this app provides you with a daily free trial to fix watermark issues. The subscription fee is relatively lower than most watermark processing apps in the market. Aside from coping with watermarks on videos and photos, you can also use it to cut out images from a video, compress video, reverse video, etc.
How to Time Stamp Photos with Video Eraser App
Step1. Get the application from Google Play and install it. Select Add watermark on the user interface.
Step2. Select the photo you want to add time to. Then click Text in the toolbar. Enter the text watermark and set its color, transparency, background, shadow, etc. Then paste the confirm button to save the change.
Step3.

Click Done in the top right corner. Then the phone with the time stamp will be saved to your album.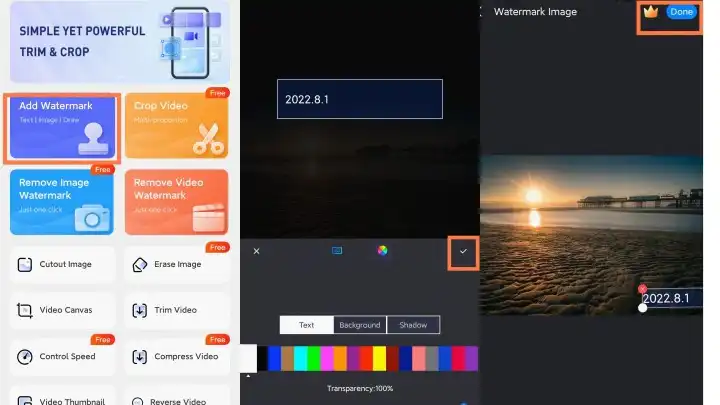 How to Time Stamp Photos on iPhone
Adding a date stamp to photos on iPhone is easier with its built-in photo editing tool. You can edit your pictures with Photos for iPhone without using a third-party app. Generally, this default tool allows you to draw on, type, and highlight phones without effort. However, in Photos, you cannot change the transparency of the time watermark.
How to Time Stamp Pictures on iPhone with Photos:
Step1. Find Photos on your iPhone, then pick and click the photo you want to edit.
Step2. Click on the three dots in the top right corner and select Markup to edit the photo.
Step3. Add timestamp with text and then click Done to save the edited photo.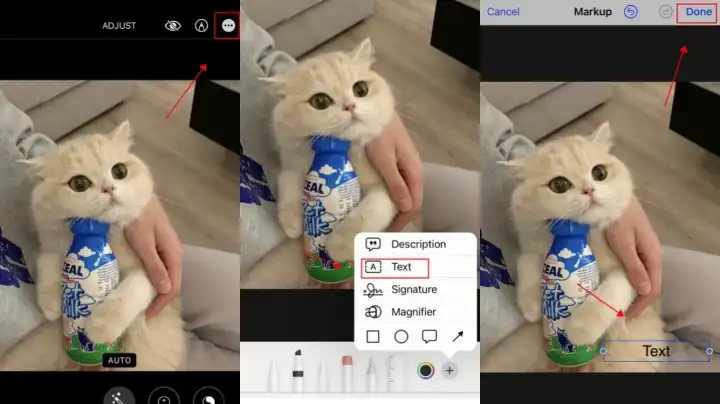 Wrapping Up
After scanning this guide, I believe you have learned how to time stamp photos on PCs and mobile phones. Adding a time watermark to a picture is one of the best ways to record pictures. Software that can add a date stamp to a photo already taken is introduced here. Solutions for Android and iOS mobile phones are also available. The methods provided here are easy to access and operate as well.