How to Remove TikTok Watermark on Windows
I know when downloading TikTok videos, the jumping TikTok watermark can be really annoying. And you want it gone. That is why I recommend you to try this totally free and super easy to use software – WorkinTool Watermark Eraser. With this handy software, you can easily remove the TikTok watermark from your download video clips on Windows. And it won't leave any trace of editing nor change the original video file. So, don't be afraid to try. I promise you will love it once you have used it.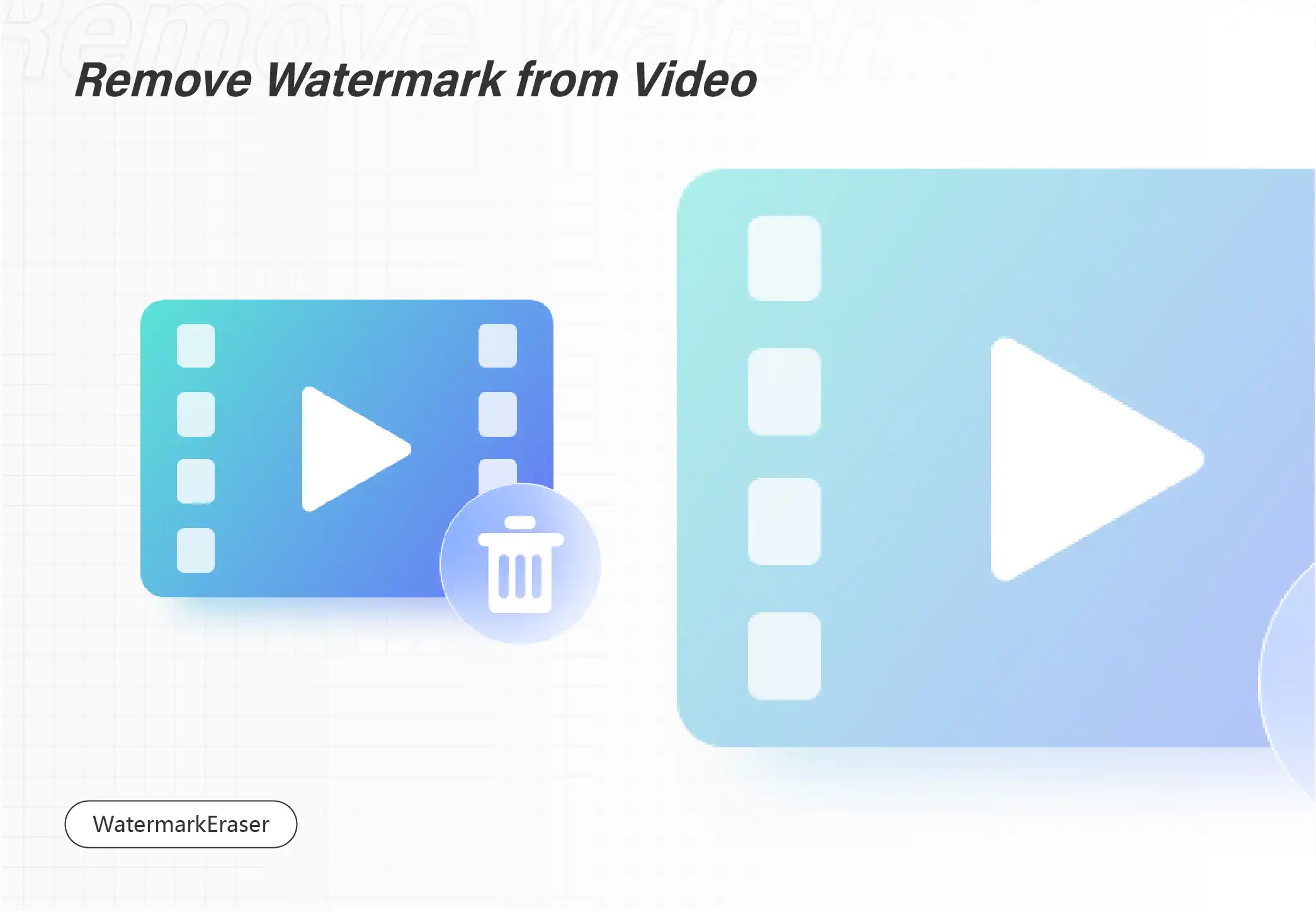 If you are making videos on TikTok and also using Instagram, you have probably started sharing some of your TikTok videos on Instagram Reels, which is a great way to save time. But you may have noticed that the videos with TikTok watermark are not getting you as many views as videos without that TikTok watermark. And that is ranking down videos that have TikTok watermark. Because Instagram wants users to have a better experience and low-quality content is clearly out of the list now. I know you have probably searched for methods of how to remove TikTok watermark from original clips.
Here in this article, I will show you how to properly download the TikTok video and how to remove the TikTok watermark in two quick and easy ways. Even though I do have to say the best practice to match the rules of both platforms is to create new and original content. However, on the other sides, I kindly know how hard it must be to create a high-quality video clip. The cost is too much if double the time to create another hours-spending video. And that is why I recommend this simple watermark remover – WorkinTool Watermark Eraser.
---
How to Download TikTok Videos
Here before telling you how to get rid of the TikTok watermark, I will give you two tricks about downloading them. When you know how to download them, you can save them to your phone or computer, very easy to share. In this way, whether you want to watch them again or edit them to a better version before uploading again, are all accessible. But both the two methods I am going to introduce come from the native function that built-in TikTok. So, the TikTok watermark will remain in the corner of those videos.
Standard Method
TikTok only allows users to download videos by its application and downloaded videos contain the watermark. So the first method is to use the "Save Video" option to download a TikTok video as a standard video file. This is the easiest way to download. However, it is only for video clips that the creator has allowed viewers to download. Follow me to see how it works:
First, open the TikTok app on your phone and log in.
Then find a video clip that you want to save.
Look to the left navigation bar and go to the "Share" button (Normally it is shown as a white arrow.)
After that, you will see "Save Video" down the screen. Click it to save the video to your phone.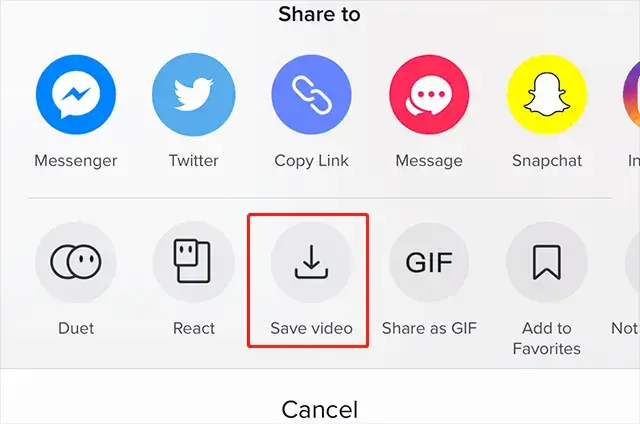 There is a chance that you won't be able to find this button. And that is because the creator has banned the download function. If you really want to save the video then you have to find another way.
Save as Live Photo 
Another option we want to share to download TikTok videos is to make them as Live Photos. In this way, you can save all the TikTok clips. But be aware, only videos can be saved in GIF format, so audios are not supported. Plus, after downloading them, you need to reverse their format to normal video formats like MP4 or MKV. Let me show you how to save a TikTok video as a Live Photo.
Step one and step two are the same as the first method, you open TikTok and find your desired video.
And then what are you going to tab in the "share" button is not "Save Video". You will see "Live Photo" and "Share as GIF", choose either one is ok.
Last, after saving the video on your phone, find it and convert it back to Video format.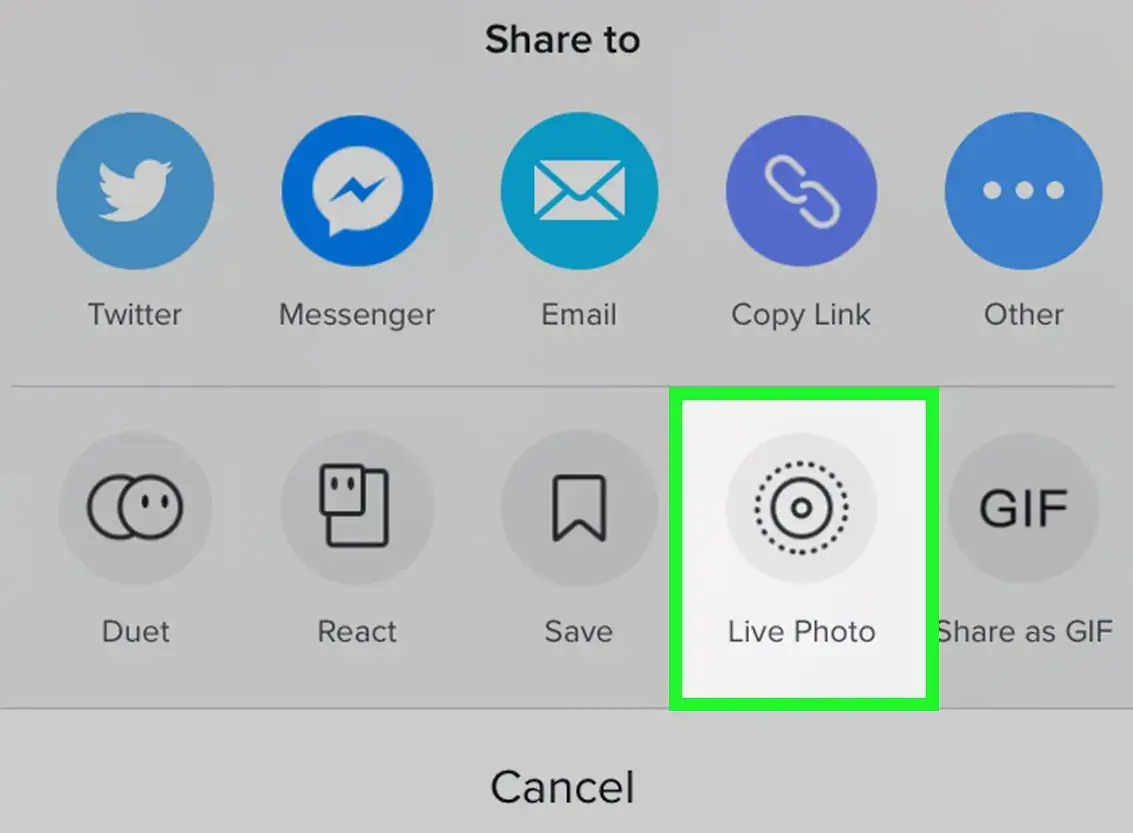 ---
How to Remove TikTok Watermark
Regardless, due to TikTok's policy, all the videos that are downloaded by the two methods we have covered still have the annoying TikTok watermarking popping in the corner. And that is why my friend I am going to welcome this amazing Water eraser. With WorkinTool Watermark Eraser, you can magically make any unwanted watermark disappear, whether it is text or images. Let's check out how to operate it.
Cropping It out
The first way to remove the TikTok watermark is by simply cropping it out of your video altogether. This can be a little tricky, but it is possible. Just follow these steps:
Option one to remove the TikTok watermark is by the "Resize Video" function to crop unwanted parts out of your video. Unlike other cropping software, WorkinTool offers users a customized box to adjust the area that they want to leave. You can precisely enter the height and width or drag the selection box to shape your video area. This tool even thoughtfully gives you ratios that are already set for different purposes.
Open This tool and go to "Resize Video".
Select or drag and drop your downloaded video into this window.
From here you can customize your video. Just drag the selection box to shape the video area to crop out the TikTok watermark.
After you have adjusted the video, click "Resize Now" to save your video.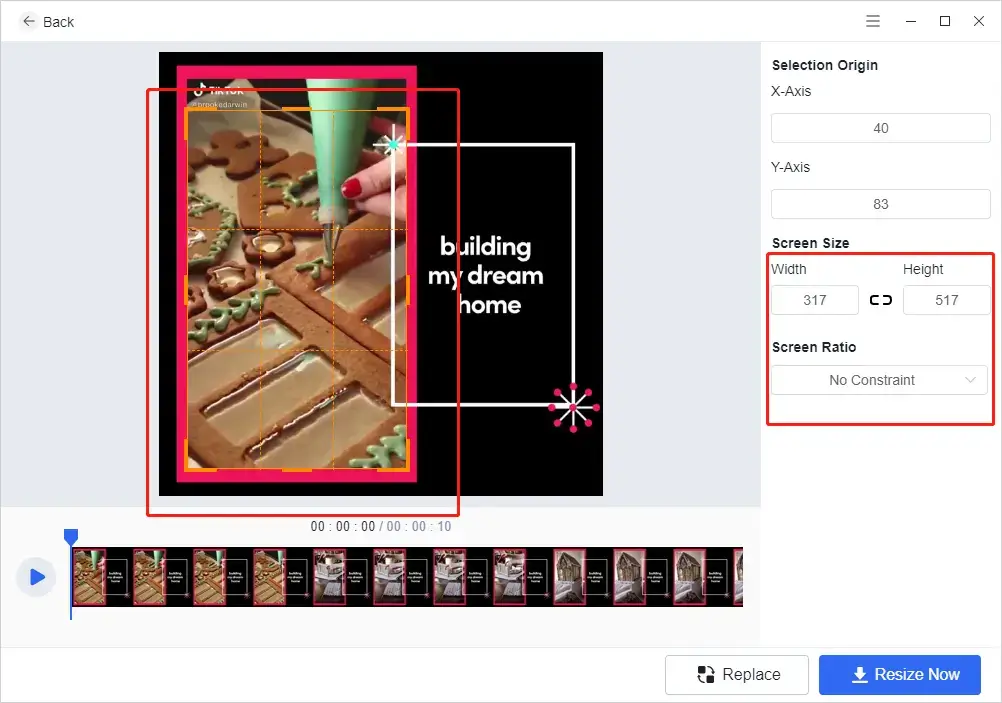 Rubbing It out
The downside of cropping to remove a watermark is that it can also crop out important parts of the frame. And if you also mind that cropping might affect the video viewing experience, you can try the watermark deleting function. It is definitely the easiest way to rub out the TikTok watermark. You only need to box the watermark area and set the time right. Let's see how it works:
Open Watermark Eraser and go to "Remove watermark from video".
Put in your video and click "Create selection" to box the watermark.
On the bottom of the window, you can set the start time and end time of the watermark removing area. And you can create multiple selection boxes to delete.
Click "Save" after you have erased the unwanted TikTok watermark.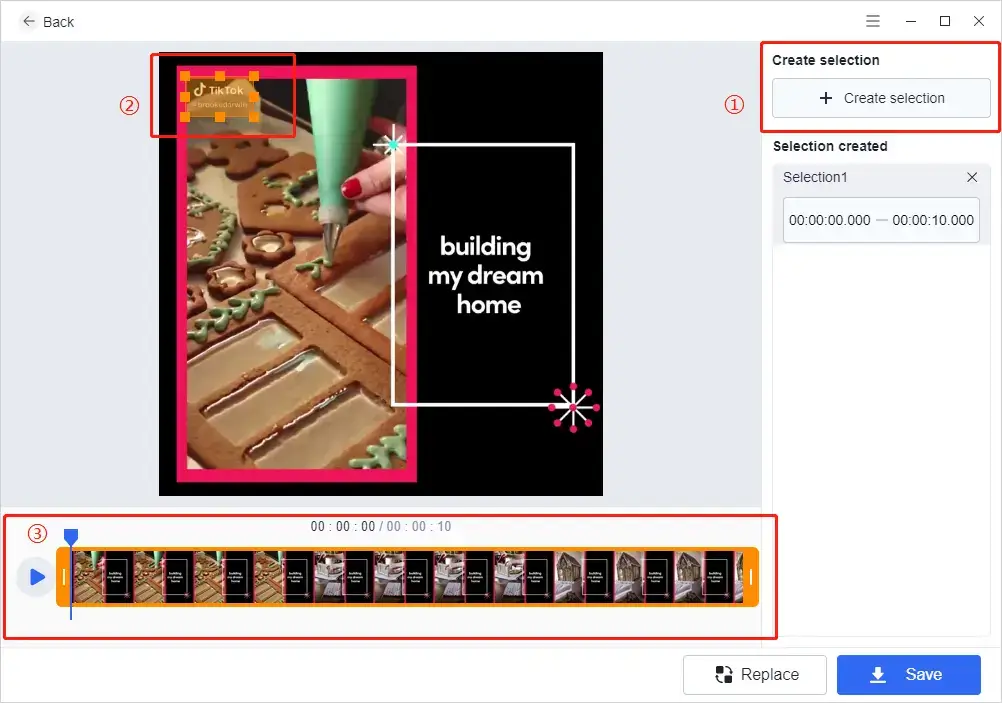 ---
More to Share
If you are using the approaches we have shared to download, remember to transfer them to your computer to cut the watermark off. WorkinTool Watermark Eraser won't alter the original video in case you have already saved it before properly adjusting these videos. You can change the saving path by the "settings" button. And since we are talking about removing the TikTok watermark, normally there will only be one watermark in one video. And the watermark will stay from the beginning to the end So, it won't be necessary to specifically set the timeline and create several selection boxes.
If you have read here, you must realize how easy to remove the bothering TikTok logo from your videos using this easy watermark tool. With this fresh interface, even a beginner who has zero knowledge about video editing can understand how to operate these steps. Plus it is totally free to use now. There is no cost to try right? Take the first move to enjoy all these fabulous functions.
Products Reviews:
TrustScore
4
|
323
reviews