TikTok Watermark Remover App for Windows and Android
If you need an efficient tool to remove the TikTok watermark from your video, the tools here will help you a lot. There are the best TikTok watermark remover apps for Android and PC. They can effortlessly get rid of the TikTok watermark in high quality. No distinct blurs on the erased part. Have a free trial of it. You can also access other helpful features in it.
Best TikTok Watermark Remover App for Windows and Android
TikTok, as we all know, is a video-focused social networking service that is loved by thousands of users. Many people post their daily life and funny moments and share shopping on it. It is a powerful platform that can provide people with joy. It is very common that you are willing to download videos from it to appreciate or share with others, but there is always an annoying TikTok watermark on the video. To figure it out, I'd love to present you with the best TikTok watermark remover app for mobile phones and PC. Here is a list of watermark erasers that I will recommend today:
Video Eraser App
WorkinTool Watermark Eraser
SnapTik
Apowersoft Watermark Remover
🎯 Best TikTok Watermark Remover App for Android – Video Eraser 
Video Eraser is an effective tool to process watermarks on videos and photos. It is available on Android mobile phones. With this application, you can effortlessly remove watermarks from TikTok videos, regardless of the brand logo or your account information. It leads to great removal results as well. There are no evident blurs on the erased part of the video. Except for watermark removal, it is also bound by multiple video and photo editing tools, such as cutting out images, cropping video size, reversing video, compressing video, etc. Many features are free to use, and it also provides you with free trials for the advanced features every day.
How to Remove TikTok Watermark with Video Eraser
Step1. Download the TikTok video to your album.
Open the video you want to edit, then press the share button and find the Download icon to save it to your photo album.
Step2. Upload the TikTok video to the Video Eraser App
Launch Video Eraser and select Remove Video Watermark on the main user interface. Then select your TikTok video to upload.
Step3. Remove Watermarks from Video and Save 
Click on the video to generate rectangle boxes to cover the TikTok logo, and press Done to remove watermarks.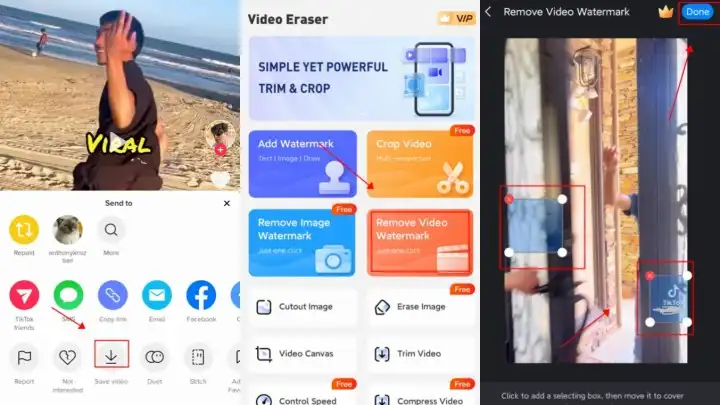 🎯 Best TikTok Watermark Remover App for Windows 
WorkinTool Watermark Eraser
WorkinTool Watermark Eraser is a powerful and efficient watermark-removing software that was released recently. If you are a beginner, you can give priority to it. Its concise and comfortable interface lets you remove watermarks from videos and images effortlessly. What's more, it is powerful. Not only WorkinTool Watermark Eraser a TikTok watermark remover app, but it is also an all-in-one video processor. You can use it to add watermarks on images and videos, resize videos, trim videos, etc. Moreover, it will ensure your privacy. It provides a long-term free trial for all users to edit videos within 10 MB. You can use it with ease.
How to Use It
Step1. Open it, then choose "Remove watermark from video".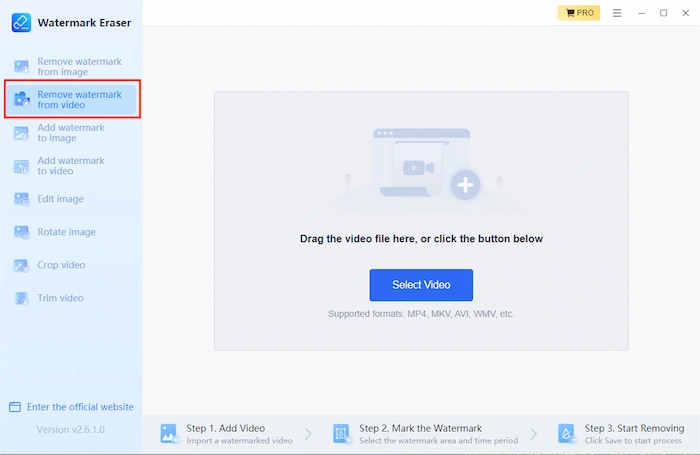 Step2. Select the video from your folder or drag it directly. By the way, please make sure your video is in MP4, MKV, or MOV format.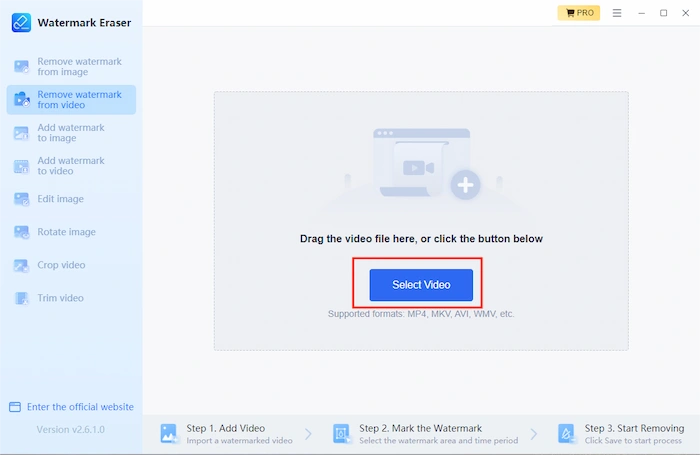 Step3. Click "Create Selection" to cover the TikTok watermark with a box. It is available to adjust the size of the box according to the watermark. Then drag the two sides of the yellow box below to set the period of the current watermark you want to eliminate. You can press the play icon to check the result.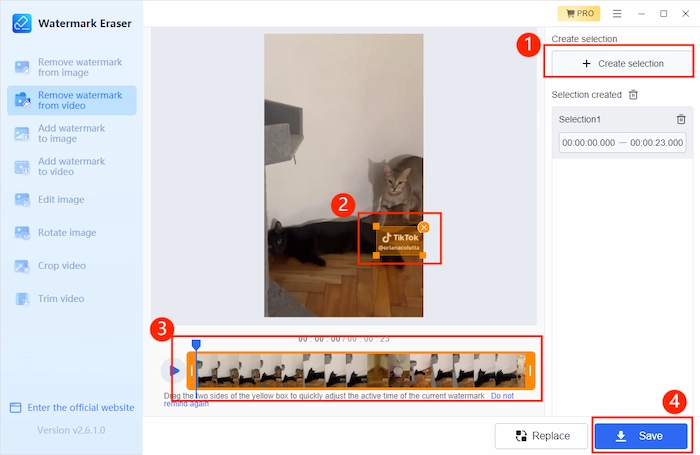 Finally, after you check, change the file location if you need to, by tapping the settings icon in the top right corner. Then press "Save". After that, you succeed to remove TikTok watermark from your video.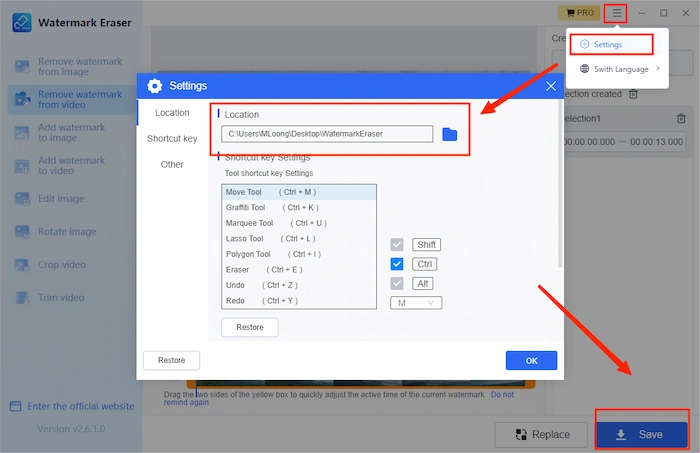 Here is the result of removing TikTok watermark from the WorkinTool Watermark Eraser. As you can see, this eraser will not take a toll on the quality of the video.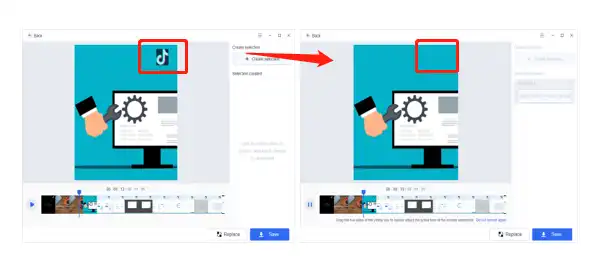 Apowersoft Watermark Remover
Apowersoft Watermark Remover is an effective desk tool that fulfills getting rid of watermarks from the video as well. It has two functions: remove and add a watermark to videos and images. It is as easy as the first desktop tool that I have suggested. However, unlike WorkinTool Watermark Eraser, not all its functions are free. Want to enjoy advanced functions, like removing multiple watermarks at a time, you have to be their pro user, which costs highly. In addition, the length of the converted video is limited for the free trial. You can only remove the watermark from 30% of your video. So, if the watermark runs through the video, you have to operate about three times with Apowersoft Watermark Remover.
How to Remove TikTok Watermark with Apowersoft
Step1. Open the software; choose the option "Remove watermark from the video". Then add a video by selecting or dropping it.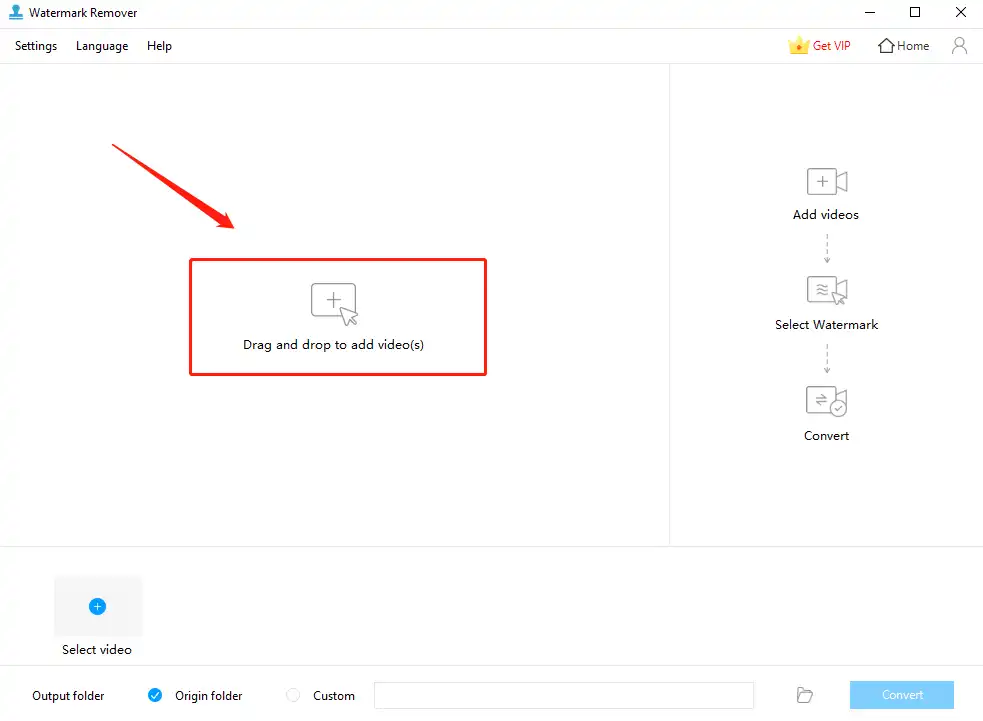 Step2. Use the "Selection tool" and "Trim tool" in the top right corner to decide what and where to cut. Preview is available for you by pressing "Preview" beside the video. After your settings, remember to click "Convert" to get a new video.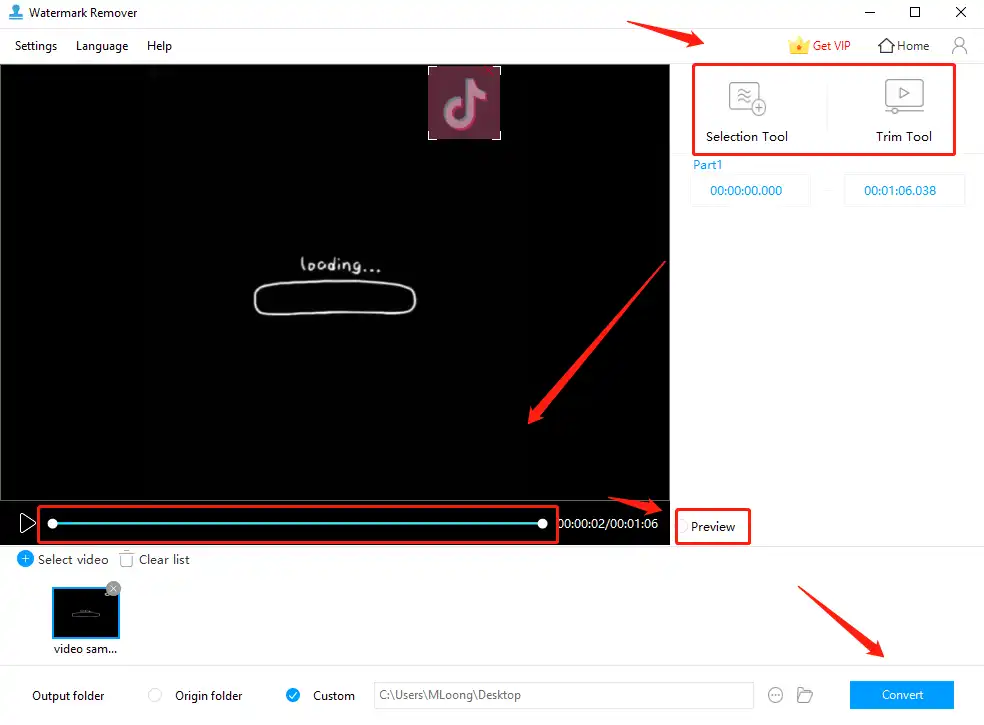 🧐 Comparison of Two TikTok Watermark Remover APP for PC
As I mentioned above, all those three TikTok watermark remover app have different key features. I have sorted out their pros and cons in the following excel. You can refer to it and find a truly suitable tool to remove TikTok watermark.
📍 Tool / Feature
😊 Pros
😞 Cons

Completely free without any request
Powerful; endowed with many other functions
No ads
Safe; registration is unnecessary
High-quality output
Beginner-friendly

Apowersoft Watermark Eraser ⭐

⭐

⭐

Easy operation
Clear interface
No ads

Many limits to a free trial
Free users can only convert 30% of the video.
Only for editing watermarks
Need to download
🎯 A TikTok Watermark Removing Website – SnapTik
SnapTik is a website that can realize downloading TikTok videos without a watermark. The reason I recommend this tool to you is that it is always free and easy for you to use.  All that you require is to paste your TikTok video link on its home page. It is quite a fast way to remove TikTok watermark from the video. However, it has some handicaps as well. On the one hand, there are ads on its interface, which may cause some trouble for you. On the other hand, it may cause the audio and visual track of your video to be out of sync.
How to Download TikTok Video without Watermark with SnapTik
Step1. Open the video, then click

share to copy the link to your video.

Step2. Paste the link to SnapTik, then tap download to get a video without a watermark.
📢 Note: In this way, you cannot alter the location of the new video. You can check it after downloading.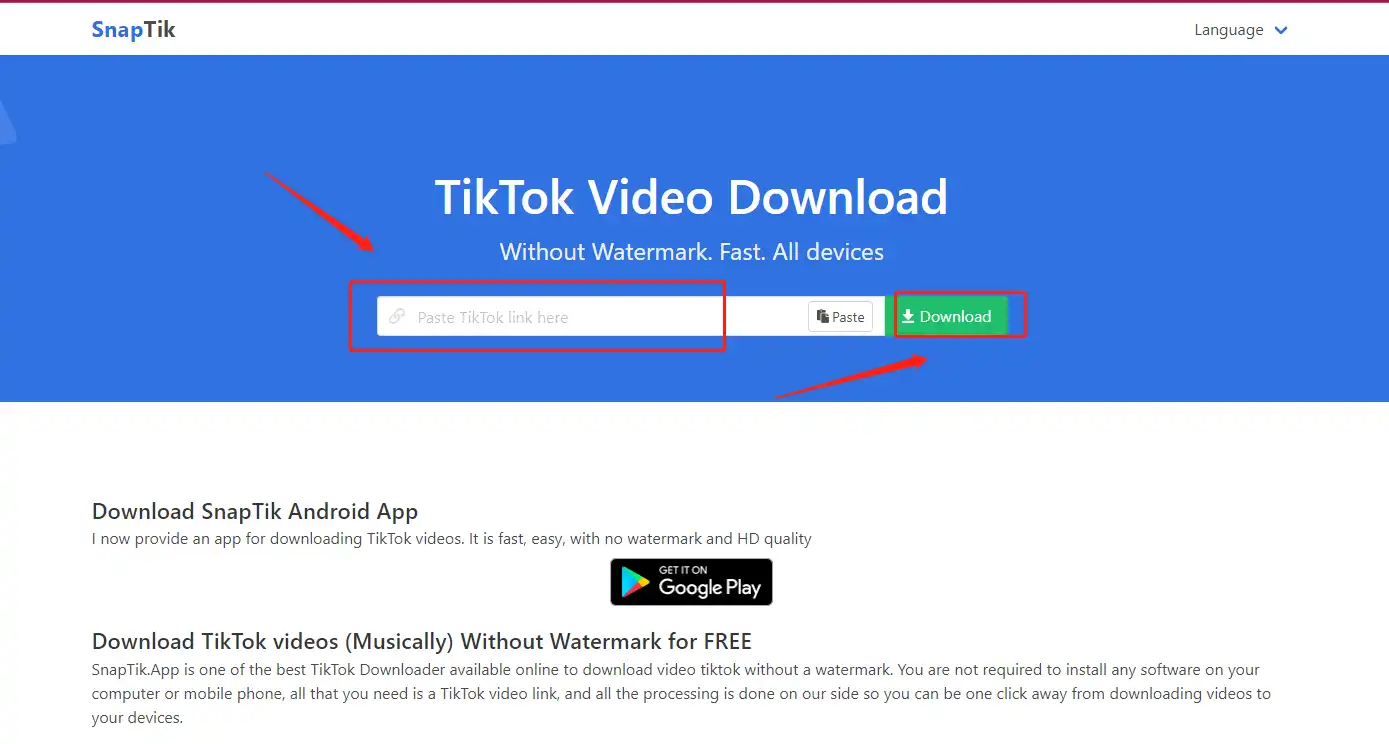 🔔 Final Thought
In this article, I have presented you with the best TikTok watermark remover app. If you want to eliminate the TikTok watermark on Android phones, you can try the Video Eraser App. If you need to cope with video watermarks with desktop software, I'll give preference to the first one, WorkinTool Watermark Eraser, because it has countless merits and fewer shortcomings. Besides watermark removers, there are still other solutions to remove video watermarks. For instance, if the TikTok watermark is at the beginning and end of the video, then you can choose a video trimmer to cut that part. WorkinTool Watermark Eraser has this function too. It offers you another choice. You can decide how to remove it according to your video.