Remove Getty Images Watermark | 4 Simple Ways
A number of people like to download pictures from Getty images stock. However, pictures without watermarks cannot be directly downloaded unless you pay the royalty fee. Consequently, many customers flinch at the expensive cost. In this scenario, you can remove Getty images watermark to get a clean image. This article explains how to remove Getty watermark on computers, mobile phones, and online. We highly recommend the Windows Getty images watermark remover for the following advantages.
🤍 Completely free without any limitation.
💙 User-friendly and easy to use.
🤍 Versatile features such as image converting, editing, etc.
💙 High-quality output.
🤍 Fast running speed.
How to Remove Getty Images Watermark | 4 Simple Ways
Getty is one of the most popular and largest suppliers of stock images, editorial photographs, videos, and music for businesses and consumers. It watermarks its stock photos to protect them from unauthorized use. Anyone who downloads Getty pictures without paying for a royalty license can't get the watermark-free pictures. However, the royalty fee ranges from $130 to $475 per download. It is not surprising that a majority of people will flinch at a high expense.
The only way you can use Getty images for free without a watermark is to use its Embed feature, which allows you to insert over 70 million photos into your websites, blogs, and presentation. But from an alternative perspective, you can remove Getty images watermark to get clean images. This article explains how to remove a copyright watermark from a Getty image. You can use the four methods below to legally remove Getty images watermark as long as you don't use them to sell products, raise money, promote, endorse, or do anything else for commercial use.
---
How to Remove Getty Images Watermark on Windows
It is not rocket science to remove watermarks from images. You can choose professional watermark removers or image editors to handle that. This section introduces how to delete Getty images watermark in the shortest time using WorkinTool Watermark Eraser and how to make dedicated dewatermarking edits with Photoshop.
Remove Getty Images Watermark with WorkinTool
Designed with a straightforward interface, WorkinTool Watermark Eraser endows users with the simplest steps to use to handle image watermarks. You can get a watermark-free Getty Images without breaking a sweat. There are mainly two fields you can make use of this tool.
The first one is for watermark edits. You can leave all watermark-related issues to this watermark adder and remover, such as adding watermarks to images and videos, removing watermarks from videos and images with different modes, etc. The second one is the editing functions on images and videos. You can crop videos, trim videos, and edit images with ease. Here are the detailed steps for removing Getty watermarks.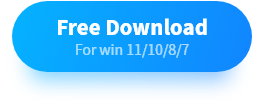 Open WorkinTool Watermark Eraser and click on Remove watermark from image.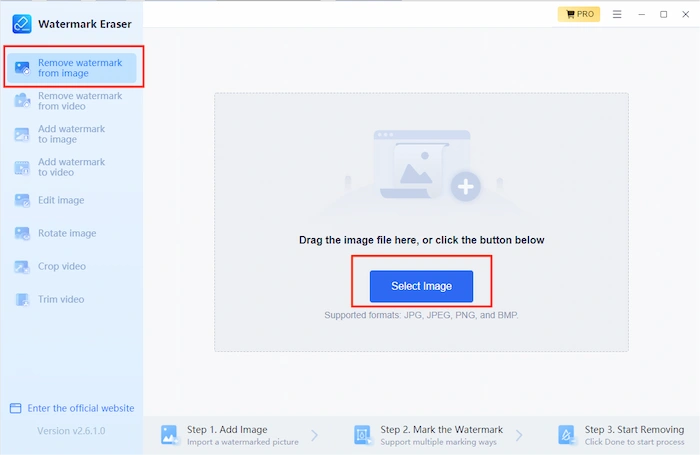 Upload a picture you saved from Getty, and you can choose a mode first, then select the watermark you want to get rid of.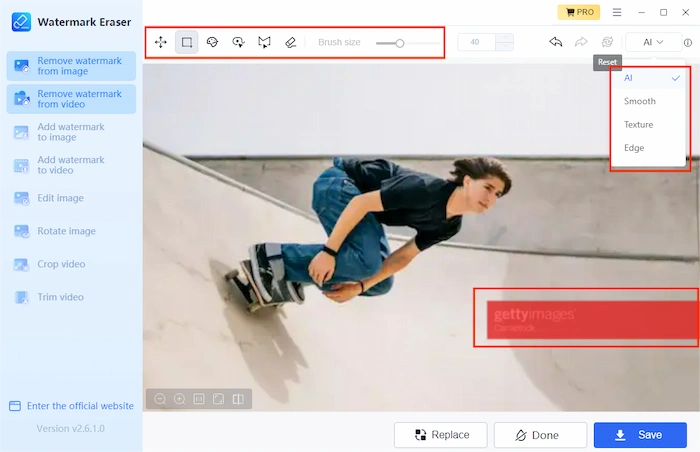 Adjust the effect until you are satisfied, then save the edited image.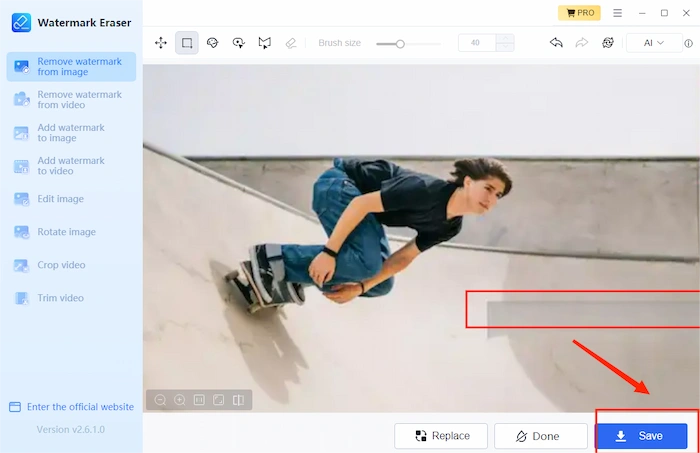 📢Notice
There are four modes you can choose. The AI mode will present you with the most natural effect after AI calculation. You can also apply the other three modes according to picture pixels and textures.
Only JPG, PNG, and BMP images are editable in this watermark removal tool.
WorkinTool Watermark Eraser is compatible with the Windows system only. If you are not a Windows user, check the next product.
You May Also Want to Know
Remove Getty Image Watermark with Photoshop
You can also use Adobe Photoshop to get rid of image watermarks. It is attainable on Windows, Mac, and Linux systems, unlike WorkinTool Watermark Eraser, which lets you delete logos and other unwanted objects from video in just a few clicks. Photoshop has a higher standard of skill level for the users, so you need to pay more patience in the removal process. It might be a little cumbersome, but you can fine-tune your pictures with more details and apply the technique to multiple occasions after learning. Follow the steps below.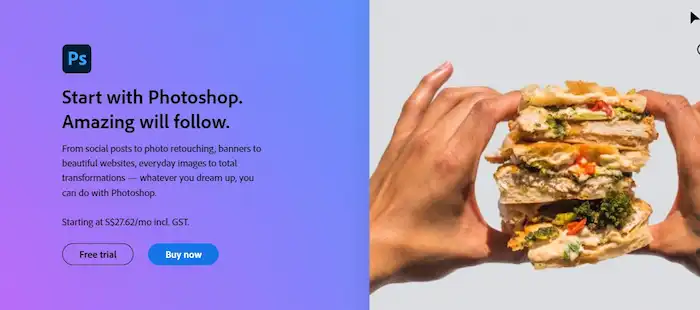 Drag and drop a Getty photo in Photoshop that you want to remove the watermark from. Or you can click File > Open to select a picture from your local folder.
Find the Lasso tool in the toolbar and select the watermark.
Open the Edit menu, find the Fill function, and select Content-Aware Fills to remove the watermark.
---
How to Remove Getty Images Watermark in Mobile
Mobile users are able to remove watermarks faster. Compared with computers, mobile watermark removers are easier to use. It enables you to get a clean Getty image anytime.
Watermark Eraser on Android
Video Eraser is such an app that you can remove Getty images watermark for free without pressure. You can visit the app as a guest and continue to imagine watermark removal at no extra cost. Other features, like adding text and image watermarks to pictures and videos, video watermark removal, video cropping, video reversing, and more, are attainable as well. Some of them are paid, but you can try one of the paid features for free once per day. So you don't need to worry about the unworthy cost. How to cut out Getty images watermark with Video Eraser?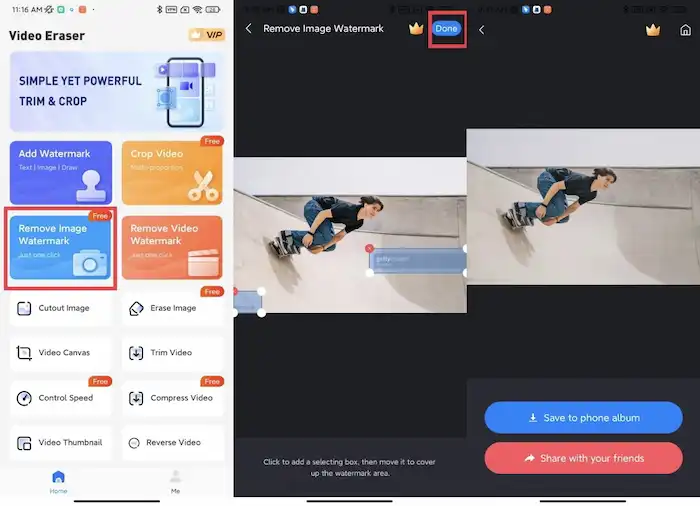 Open the Video Eraser and tap Remove Image Watermark.
Upload a Getty image and select to remove the watermark.
Click Done to save the changes or share the picture with your friend.
---
Erase Getty Images Watermark Online
Aiseesoft is a free online watermark removal tool. The online method opens the door for Getty images watermark removal on any device with a stable network connection. You can erase watermarks in seconds without downloading any software. It provides three selection tools, including the lasso tool, brush tool, and polygonal tool. So you can make the selection more convenient. The shortcoming lies in that it offers only one removal mode. Therefore, it becomes cumbersome when editing images that are mixed in colors and textures. You need to try more times to get an ideal effect. Here's how to remove Getty images watermark using Aiseesoft online.
Go to Aiseesoft Watermark Remover online and click Upload Photo to import a picture.
Choose the tools to select the Getty watermark and hit Remove to start removing.
Press Crop & Save to crop the picture and save it or hit Save to download it directly.
Conclusion
Among the four methods, there are two desktop tools, one mobile watermark remover, and one online watermark removal tool. WorkinTool Watermark Eraser combines many of its advantages, such as simple operations, fast running speed, high-quality outcomes, multiple watermark removal modes, network-free, and reasonable pricing. To be honest, it is indeed worth trying to remove Getty images watermark.