How to Translate a Letter from English to Spanish
What is the best way to translate a letter from English to Spanish? How do you translate a document from English to Spanish? In this guide, we provide everything you may need about letter translation. Read on, and you can easily translate a letter from English to Spanish, whether it is in PDF, Word, or image format.
In this guide:
1. A practical and free AI translator software
2. Two ways to translate a letter from Spanish to English for free
3. Useful translation techniques and tips
How to Translate a Letter from English to Spanish
Overview    
Translating a letter is a valuable skill that allows users to communicate effectively with individuals, organizations, or companies from different countries. Effective and accurate translation can always help you resonate with the sender, whether you receive a handwritten letter or an email. Similarly, performing and optimizing the translation of documents from English to Spanish is also essential for maintaining good communication with Spanish-speaking individuals. Whether for a personal letter, a business correspondence, or a legal document, a high-quality translation can always help you understand and convey the message accurately.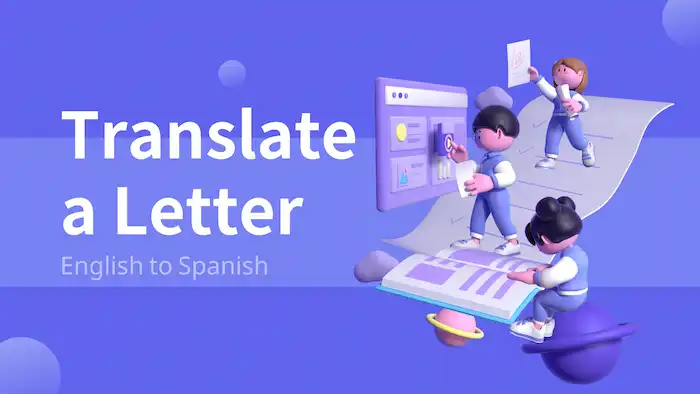 However, a well-executed translation requires various factors, such as attention to detail, linguistic proficiency, and cultural understanding. It is also advisable to adopt a practical machine translation tool to simplify your workflow. In this guide, we will provide you with the necessary tools, detailed steps, as well as practical strategies to help you navigate the intricacies of translating a letter from English to Spanish.
Table of Contents
An AI Document Translator That Offers One-Stop Service
How to Translate a Letter from English to Spanish
Translate a Letter from English to Spanish Online Free
Translation Strategies and Tips
An AI Document Translator That Offers One-Stop Service
Firstly, if you want to simplify your workflow and reduce the time it takes to translate a letter, you definitely shouldn't miss this AI translator—WorkinTool TranslateAI. It is a versatile translation software designed for Windows systems, with its primary function being document translation. It can translate PPT, Word documents, TXT files, Excel spreadsheets, PDF files, as well as images, videos, audio, and other multimedia files into over 100 languages. In addition, with its clean interface design, extensive features, efficient translation speed, accurate translation results, and support for various file formats, this software can be applied in various scenarios.
The Best English to Spanish Translation Software for Windows Offline
Pricing: $10.99/Month, $29.99/Year, $39.99/Lifetime

Support of 100+ languages
Batch translation available
Quick responding speed
Versatile translation features
Support of PDF, Word, Excel, TXT, Video, Audio, as well as more file formats.
Various tools apart from file translation
Free trial available

 
If you need to quickly translate a letter from English to Spanish, this software will be your best choice. It not only supports translating documents but also enables the extraction and translation of text from images or screenshots. The recognition and translation results of images are displayed as text within the software, allowing you to easily view, copy, edit, as well as export the translation results. The provider also offers online document translation tools, enabling users to convert TXT files, images, and Office documents to another language for free with ease. Now, let's explore how to use WorkinTool TranslateAI to translate documents from English to Spanish.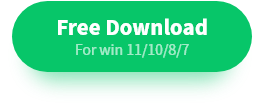 How to Translate a Letter from English to Spanish
Step 1. Launch TranslateAI, go to Translation and then select a translation tool based on the letter format. You can translate PDFs, Excels, Word documents, images, screenshots, and more files to English as desired.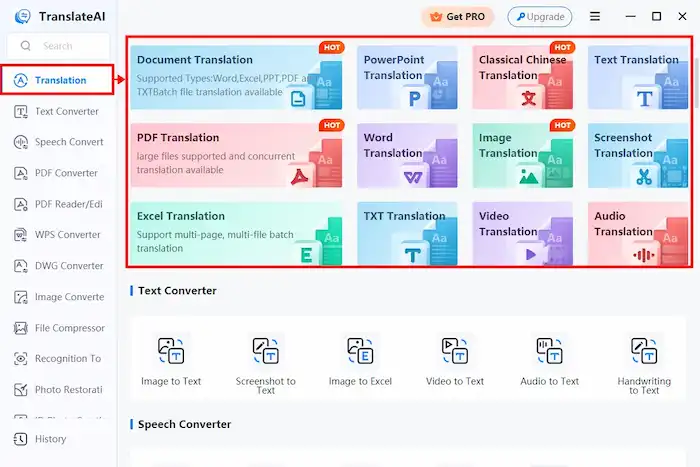 Step 2. Add files or folders of your letter and configure the source language, target language, as well as destination path.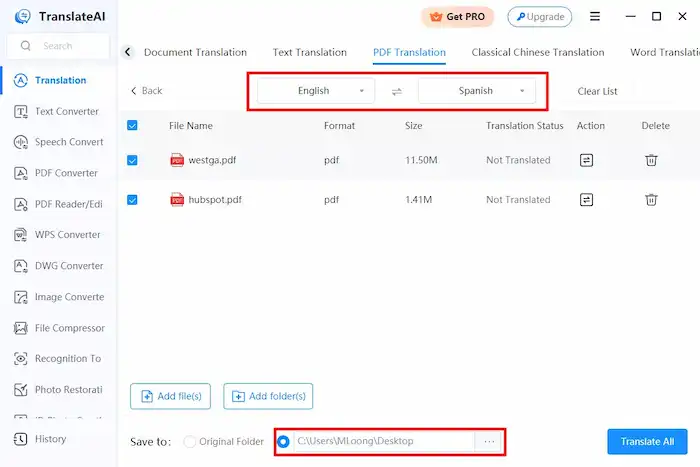 Step 3. Hit Translate All to let this software translate your letter to text.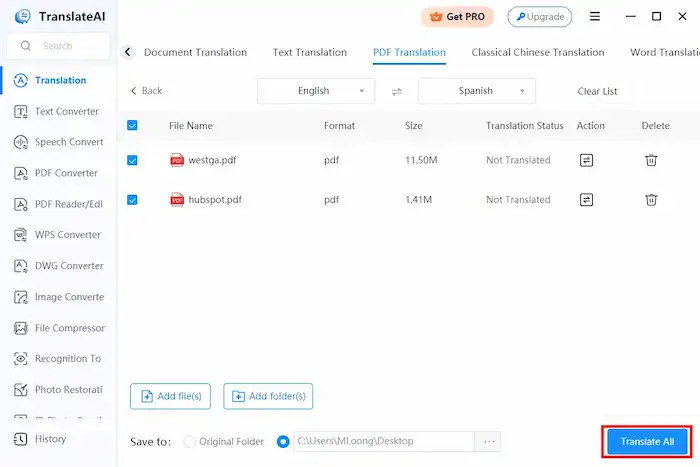 Additional Features and Details of TranslateAI
Apart from English to Spanish document translation, Translate AI also comes with a plethora of additional features you can use for free.
Additional Features

Text Converter: 6 converters
PDF Converter: 13 conversion tools
Image Converter: 5 modes
Speech Converter: 5 subsidiary features
PDF Reader & Editor: 15 features
WPS Converter: WPS to/from Word/Excel/PPT/Image
File Compressor: 6 supported file categories
Recognition Tools: 12 models
Photo Restoration: 4 subsidiary features
DWG Converter: 4 modes
ID Photo Creation: 9 modes

Specifications

Free version: Always available
Pricing: $10.99/Month, $29.99/Year, $39.99/Lifetime
Supported OS: Windows
Supported File Formats: Images, videos, audio, PDF, DOC, DOCX, XLS, XLX, PPT, PPTX, TXT, etc.
Available Tools: 100+
Supported Languages: 100+
Translate a Letter from English to Spanish Online Free
In addition to desktop translation software, you can also use online English to Spanish translators like Google Translate. Google Translate can not only convert the text and sentences you input but also translate images, websites, as well as Office documents such as .docx, .pdf, .pptx, and .xlsx. It only takes three clicks to translate a letter from English to Spanish. Here are the detailed steps.
Go to Google Translate and then click on the Documents tab. If the letter is in image format, select the Images tab instead
Upload your files, and this online letter translator will automatically get started.
Download the translated document or image to your local storage.

📢Note:
The image translation tool will present the translated text in a picture, which means you cannot copy and edit the translated text.
Google Translate can only handle a single file at a time. So, you need to try several times if you have multiple files to translate.
This method may not preserve the formatting of your document intactly.
Translation Techniques and Tips
To generate a high-quality translation output, it is essential to pay attention to details and the following tips.
Tailor the translation according to the context, purpose, and the target audience.
Adapt the Spanish language and culture differences such as structure variations, formalities, and levels of politeness.
Break down the letter into smaller sections and convey the meaning more accurately.
Research and utilize Spanish vocabulary but avoid word-for-word translations.
Maintain consistency of the terminology, style, and tone throughout the letter.
Check grammar and style correctness, such as tenses, genre agreement, syntax, etc.
Proofread the translated letter for typos, errors, and formatting issues.
Related Articles of WorkinTool TranslateAI